The August Americana, Fine Art and Marine auction at Rafael Osona is one of the most anticipated events of the Nantucket season for collectors and antiques aficionados. Since 1980, the family owned auction house has been known as an outstanding source for Nantucket and marine related items. But they also present a wide range of excellent 18th  – 21st century decorative and fine arts.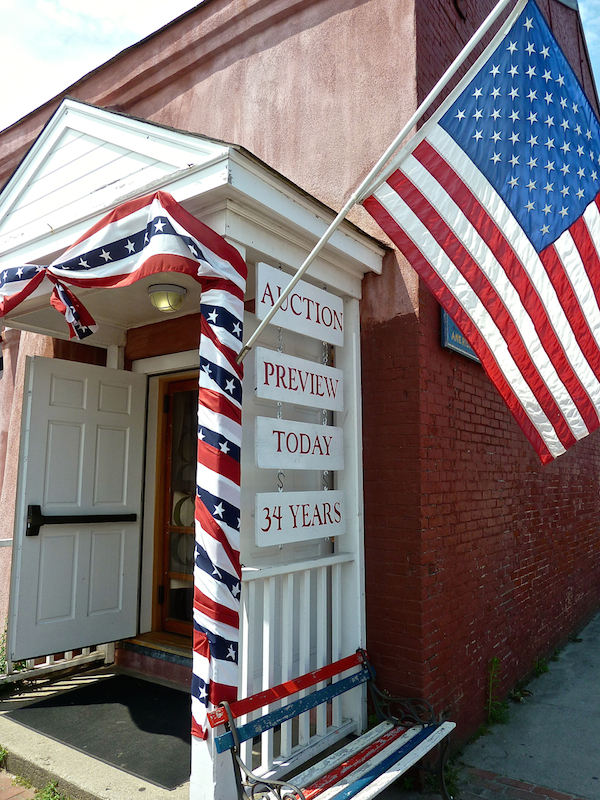 Owners Rafael and partner/wife Gail Osona met while working together at William Doyle in New York City and then later decided to permanently relocate to the island, where their two sons have now joined the business. I attended the preview and auction last weekend and thought I would share a peek of some of my favorite pieces. Even if you're not buying, auctions are an excellent way to educate your eye and keep abreast of the market. Those who follow along on Instagram saw me post these vintage brass dolphin andirons. Even without a pedigree, many vintage finds like these make marvelous decorative additions to a room.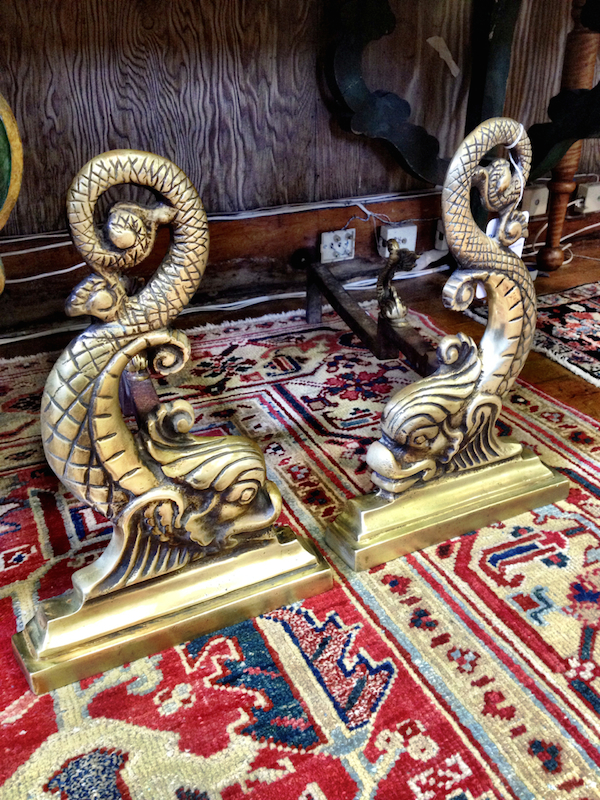 Another pair that would be perfect for an oceanside home were these brass ship andirons with the wonderful detail of the ocean beneath the bow of the square rigged ship.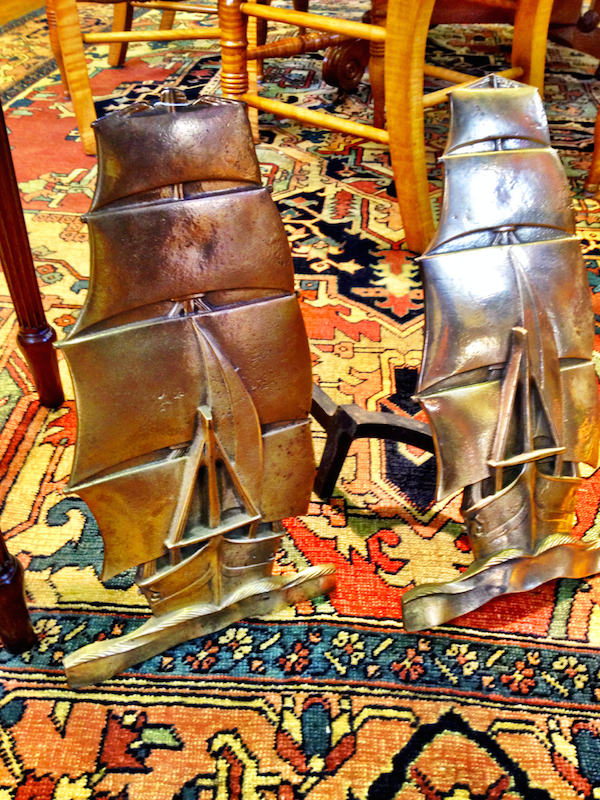 One of my favorite pieces of furniture in the auction was this beautiful George III English Mahogany Chest on Chest. As we know it's all in the mix, and any room can benefit from the inclusion of a good antique to help ground the design and lend a certain sense of provenance.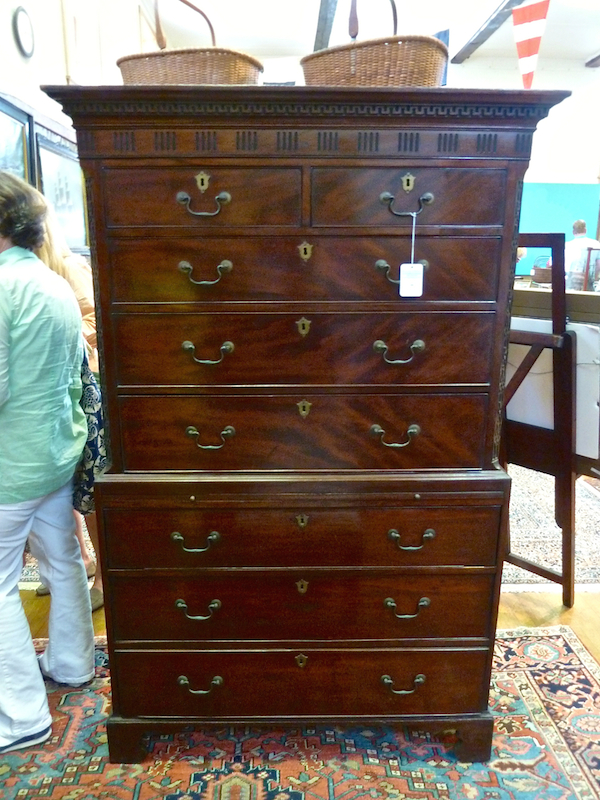 From the estate of Bob Hope, this 18th c. beauty was a versatile smaller size with exceptional details that went for a shockingly reasonable price.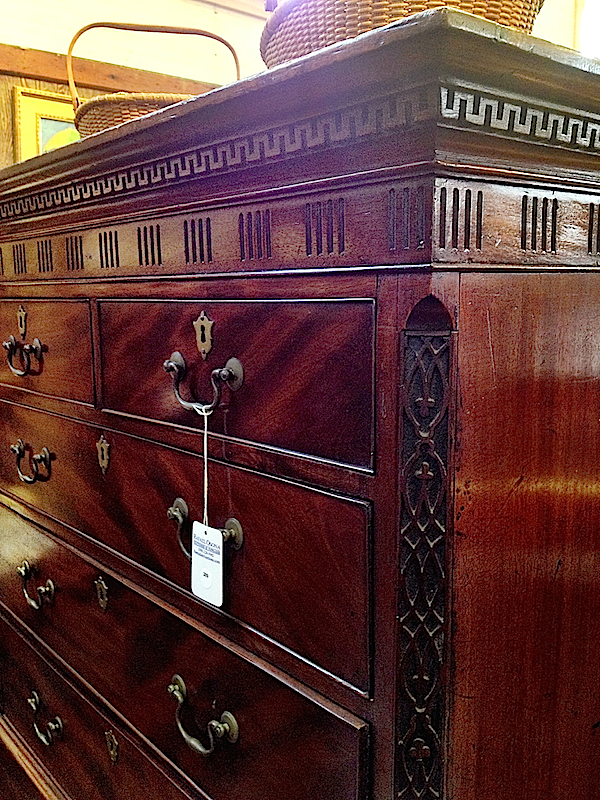 There were quite a few of these wonderful Liverpool jugs, mostly from around 1800. With maritime themes, they are decorative, useful (wonderful for flowers or kitchen utensils) and always tell an interesting story.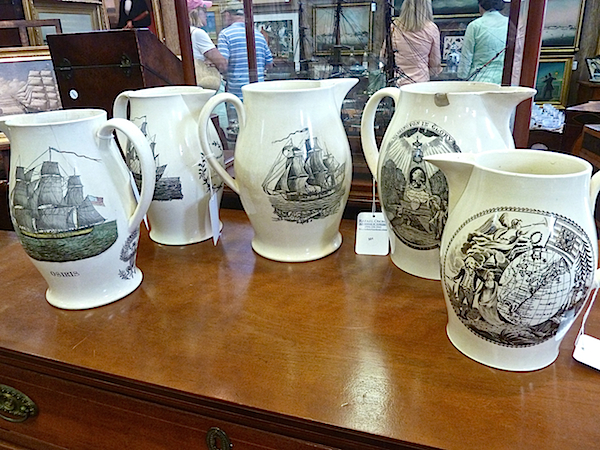 I also loved these American Buffalo Pottery Transfer Decorated Marine Jugs from around 1908, with lighthouses sailors, ships and ropework.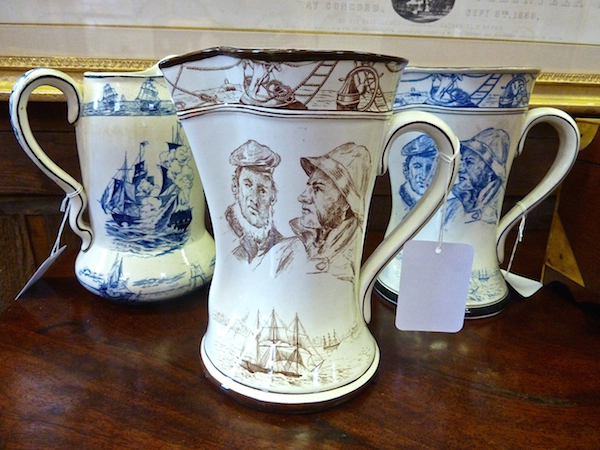 And of a very different style and origin but equally decorative was a pair of Italian majolica marbleized covered urns. The pattern felt similar to aptware but in a great yolky yellow and useful size of just under two feet tall.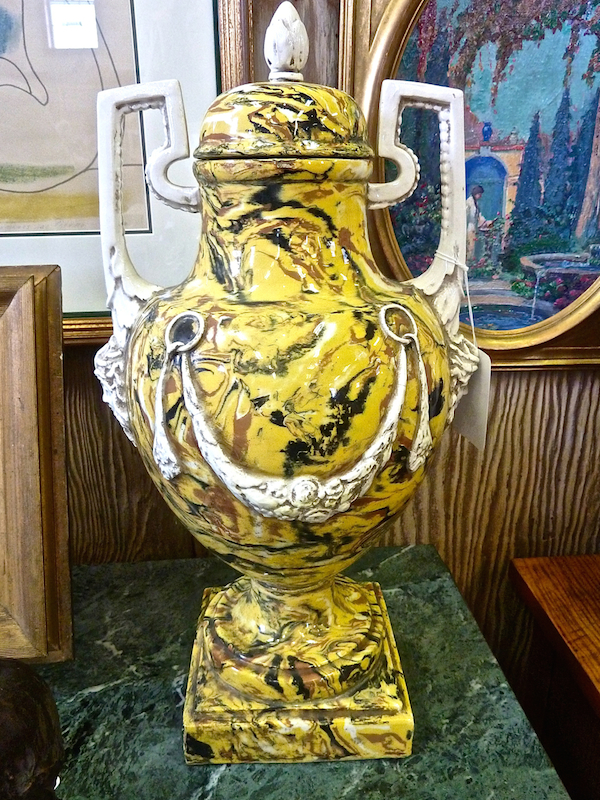 Quite a few fine paintings in the auction commanded high price tags so I was hoping these lesser known yet exquisite early 19th c. China Trade watercolors on paper might be within my range. But alas they went for far more than my budget would allow.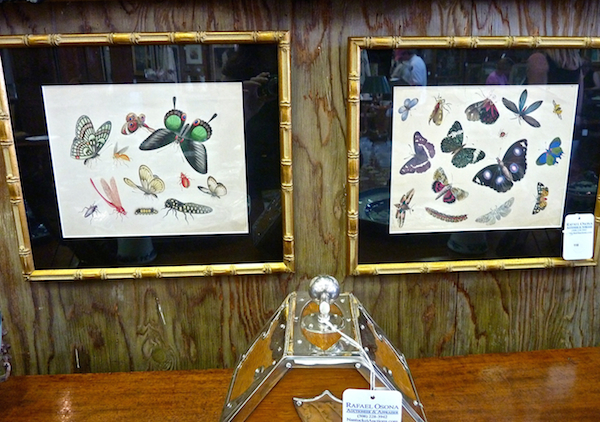 I also bid on this charming hand painted cast iron 19th c. Nautical Umbrella Stand. It would have been wonderful in our entry but again went for more than my wallet was willing to spare.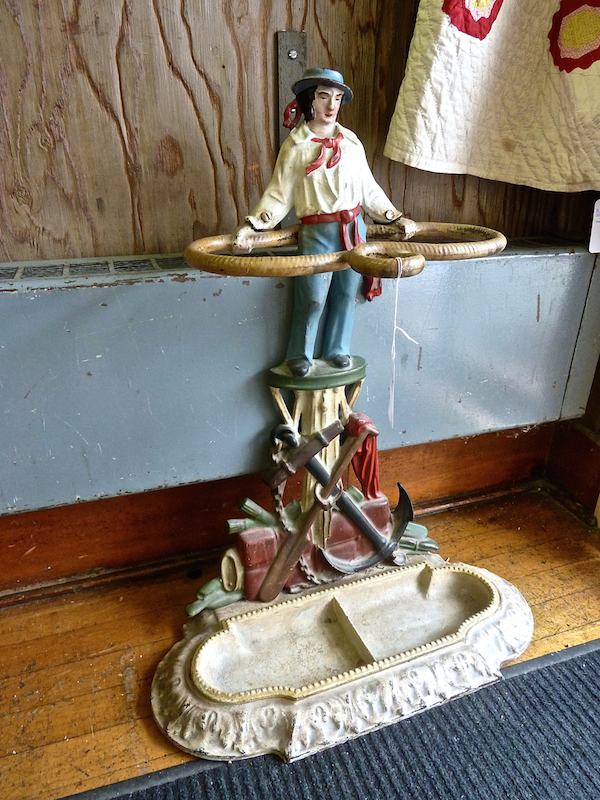 If I were decorating a room for one of my boys when younger, I would have bid on this colorful hand colored engraving depicting the standards, flags and kettle drums which hung in the Great Hall of Amsterdam.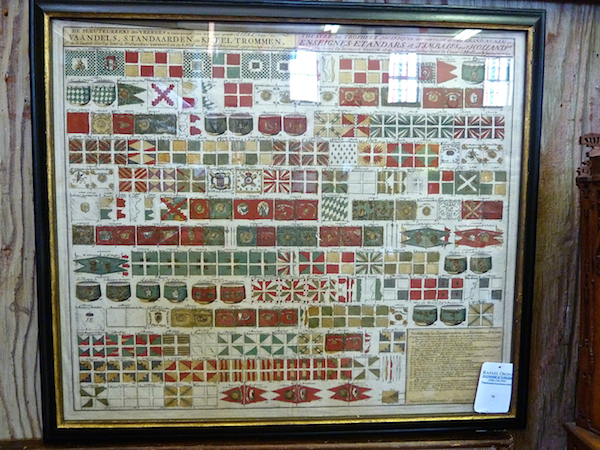 I loved the colors, they would have loved the military ephemera, and with my husband's Dutch heritage it would have been a home run.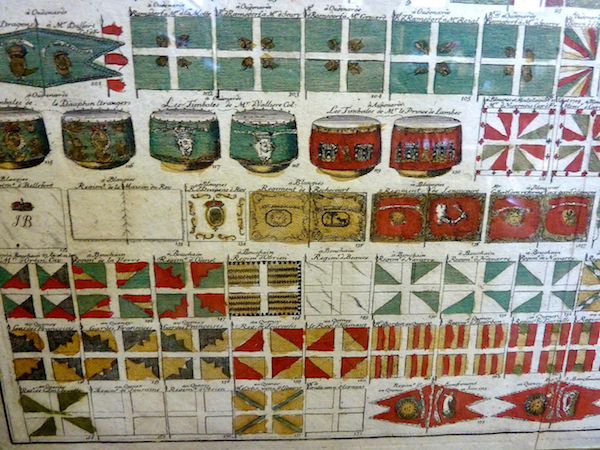 There were a bevy of beautiful antique rugs. I was tempted by the handsome colors and just-right patina of this c. 1920 Heriz. It went for much less than comparable city prices and in retrospect, I probably should have placed a higher bid.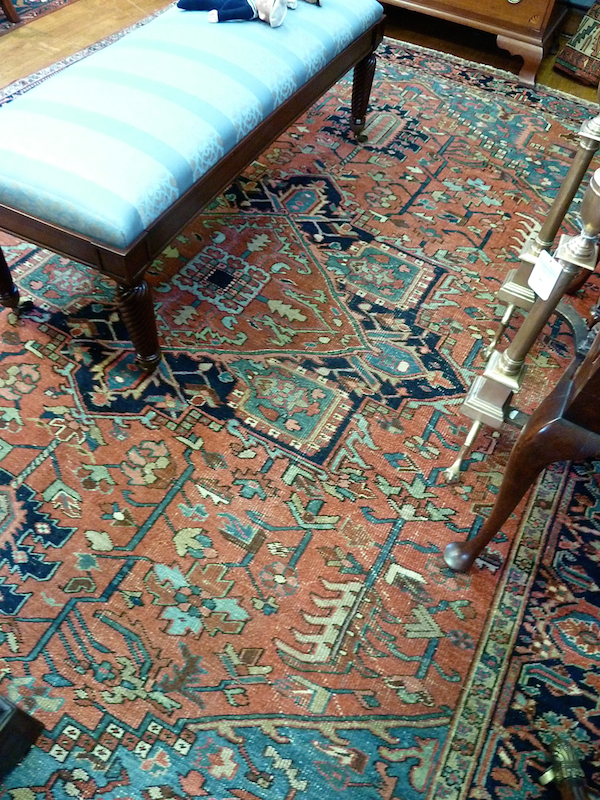 Not surprisingly, the Nantucket themed items were very popular and netted high price tags. This fabulous Ralph Cahoon oil, "Brant Point" went for $49,000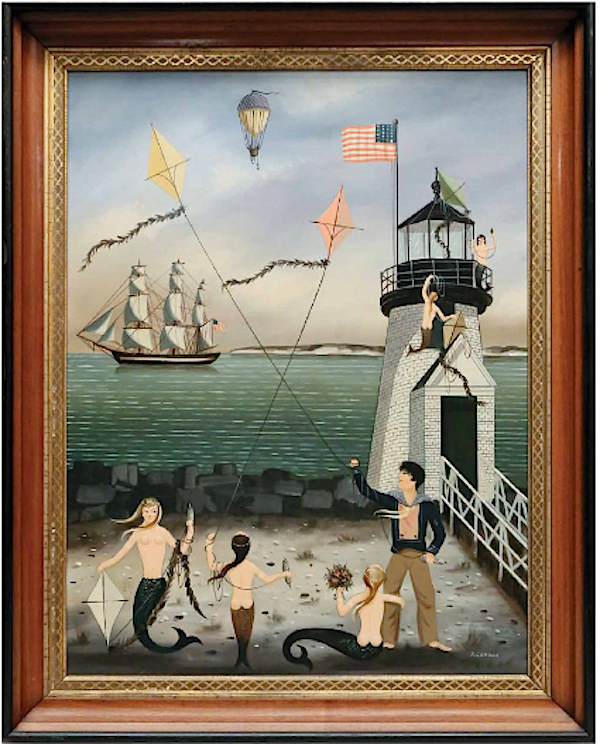 making his painted tin clothes hamper seem like a steal at $1,000.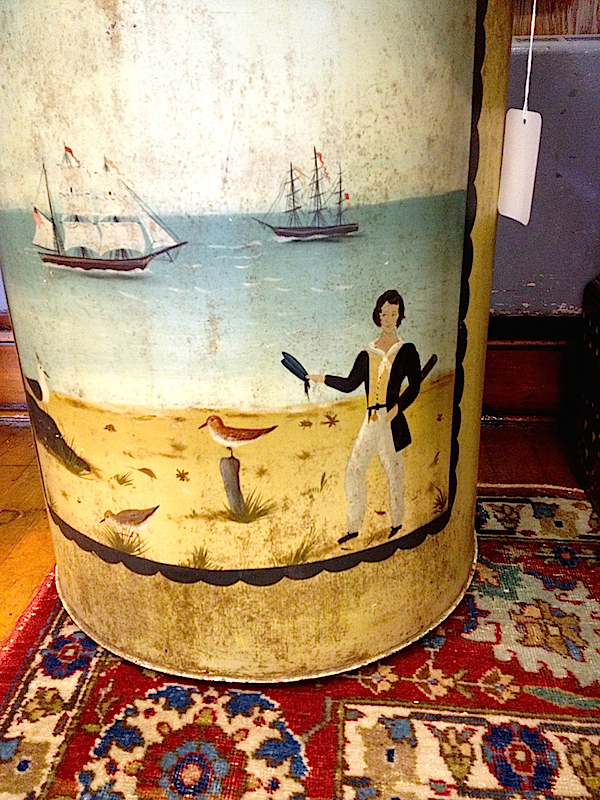 Nantucket baskets are highly collectible and always popular auction purchases. This scarce Charles Ray round basket with two miniature Charlie Sayle carved ivory whales was a classic example.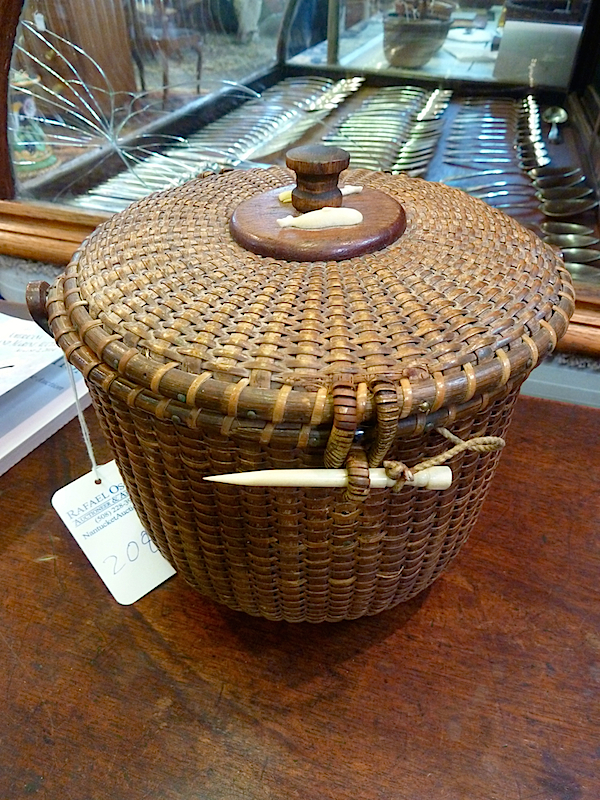 This was just a very few of the over 400 items at the auction. All in all, a memorable weekend for antiques on Nantucket.