The 2014 Antiques & Design Show of Nantucket has been a highlight of the busy first weekend of August on island. With dealers ranging from local to those from across the pond, the offerings extend from rustic vintage to fine formal antiques. I perused the show pre-opening on Thursday and picked a few of my favorites.  One of the most dramatic displays is that of long time favorite Yew Tree House Antiques.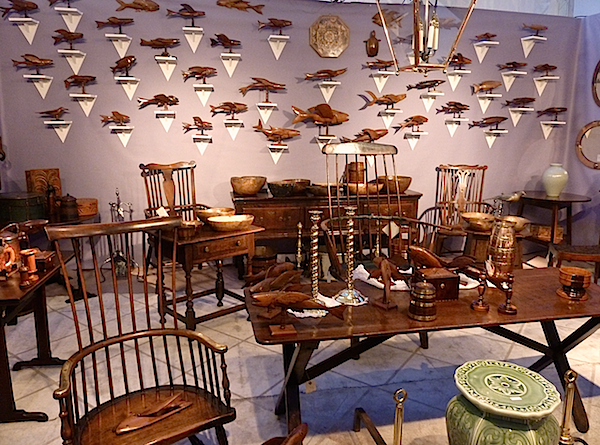 Their impressive collection of Pitcairn Island carved wooden fish is the perfect backdrop for an antiques show on the island. Each miro wood fish is signed by its maker, all of whom are descendants of the "Bounty" mutineers, including First Mate Fletcher Christian, Ned Young, Christie Warren and Roy Clark. Hand carved as souvenirs from the tiny remote Commonwealth island between 1890-1950, they were used to barter supplies from the infrequent visitors.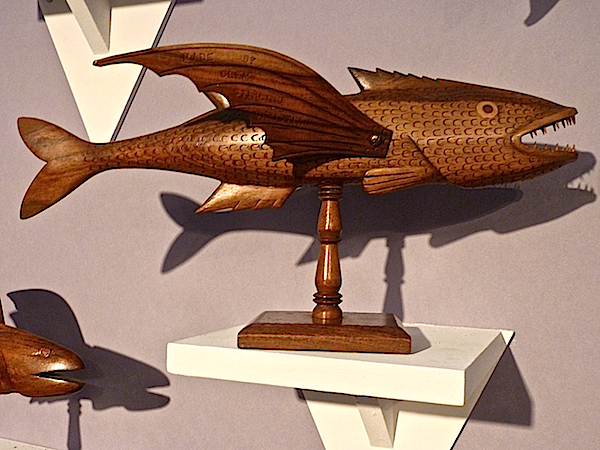 A fabulous contemporary offering from Yew Tree is the imposing woodblock print by British artist Julian Meredith. Noted for his imagery of whales and fish, this limited edition on hand-made rice paper with hand-made ink is a stunning indigo colored scene depicting an enormous tuna.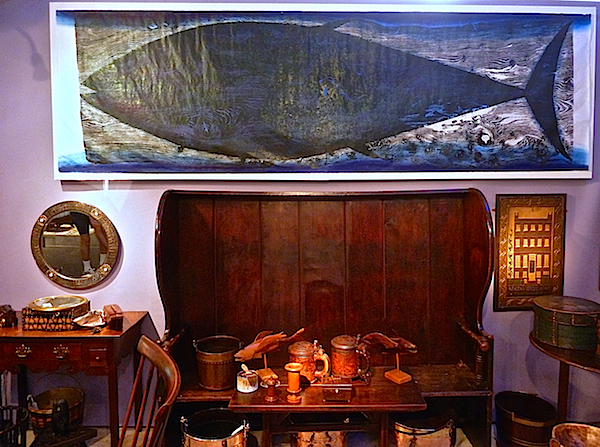 You can see the color and texture more accurately in this shot as well as a peek at their beautiful collection of Yoruba (Nigerian) 20th century indigo textiles.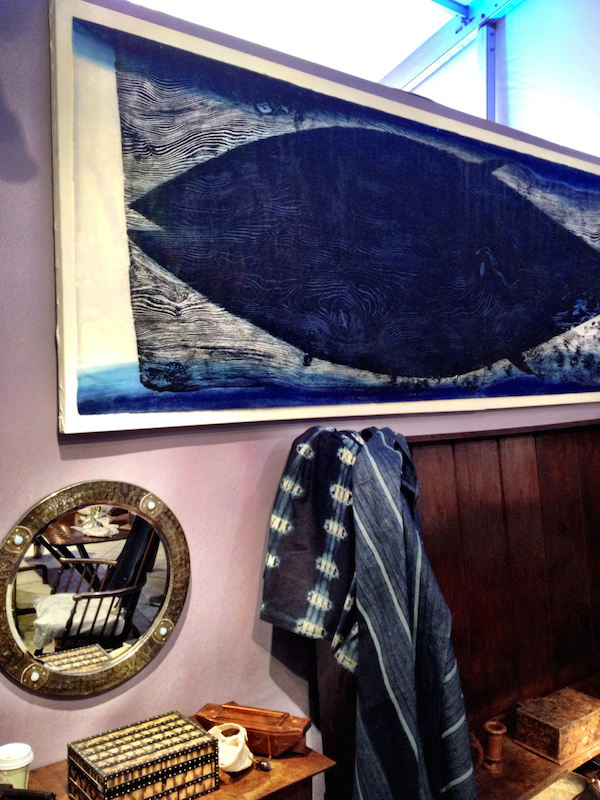 Across the way is the charming booth of Antique American Wicker.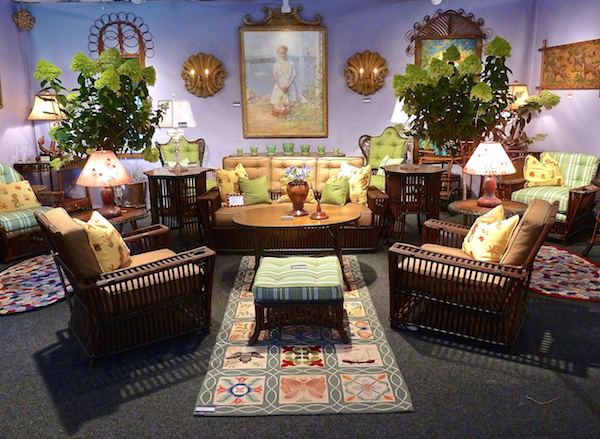 With some of the very best examples of wicker from the golden age of 1870 – 1930, the collection includes many extensive sets but also unique pieces such as a pair of wonderful early 20th century shell shaped sconces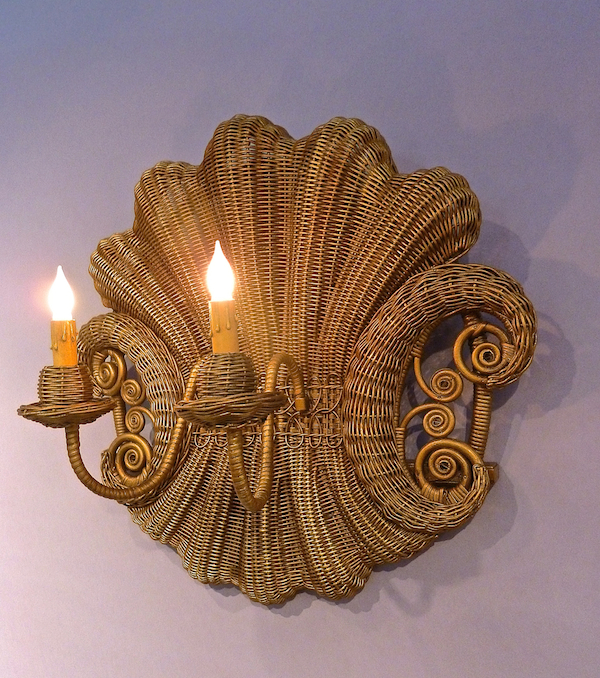 and a tea cart from c. 1920 shown with fun mid century barware.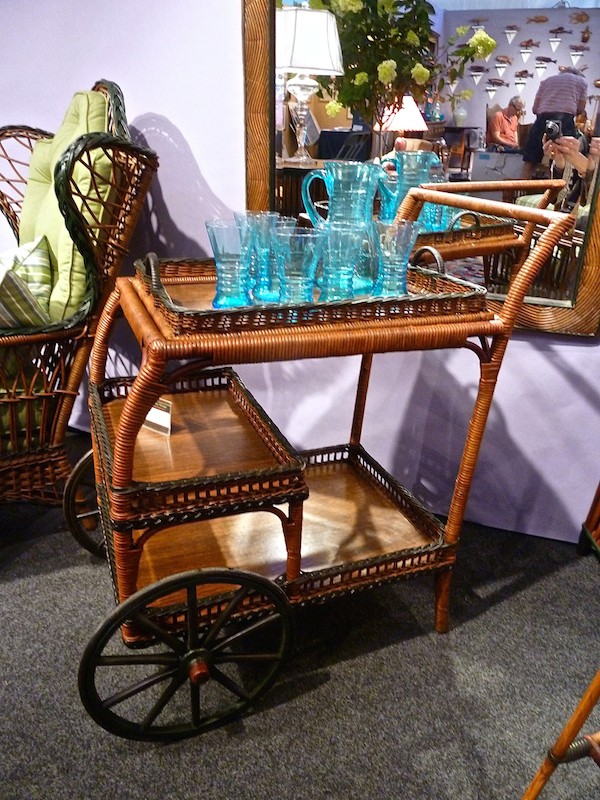 They also occasionally carry miscellaneous decorative art pieces such as this unusual late 19th c. American folk art mirror with a painted tropical scene. The parrot figurine is mid century Italian.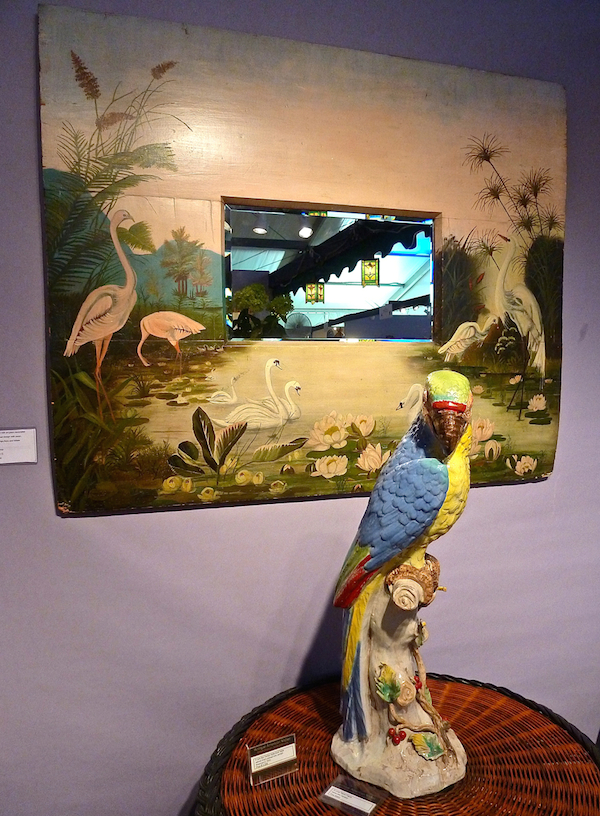 And speaking of tropical figures, I was totally smitten by these magnificent 19th century Chinese cloissoné cranes from Imperial Fine Books & Oriental Arts. I felt like they would have been right at home in one of the glorious iterations of Auntie Mame's apartment.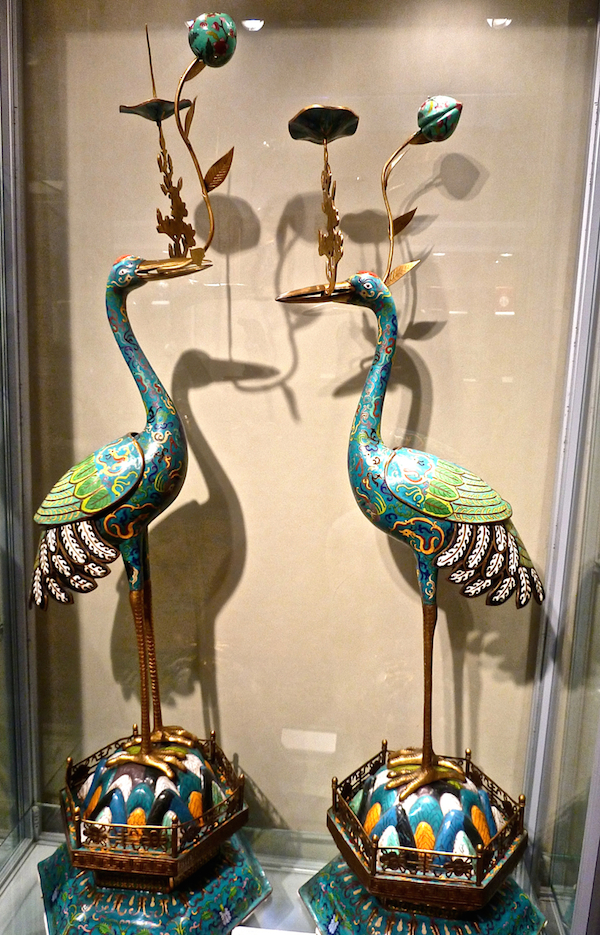 Most likely used as censers and candleholders, the detailed workmanship and vibrant colors are marvelous.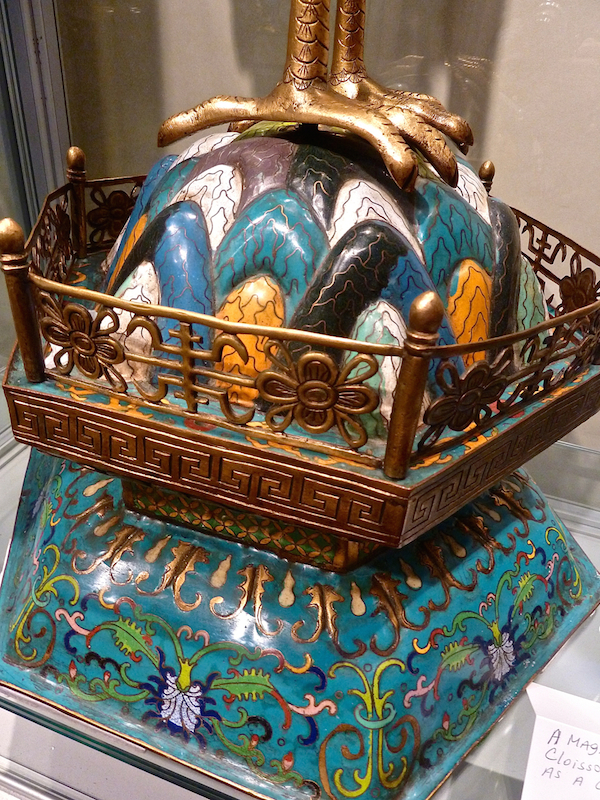 And for more colorful offerings, there is the booth of Charles L. Washburn's majolica.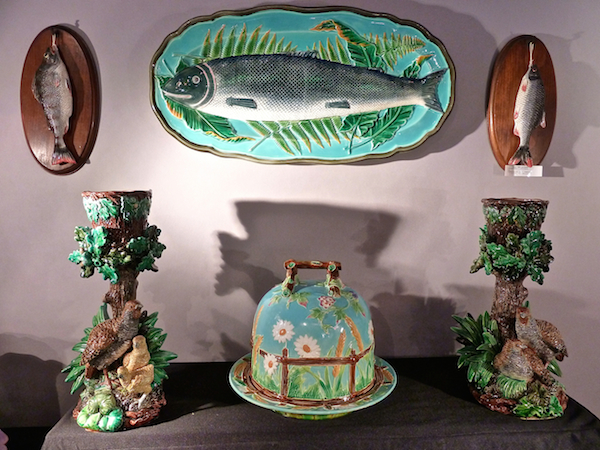 Their enormous collection includes every form of the decorative pottery from primarily English makers.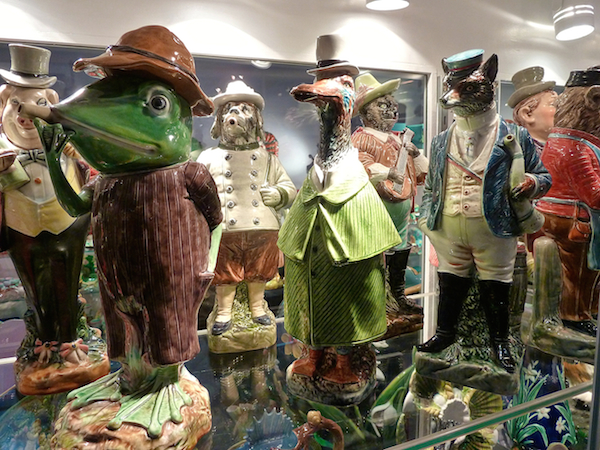 For a wildly eclectic and eccentric mix of objects, look no further than Leatherwood Antiques.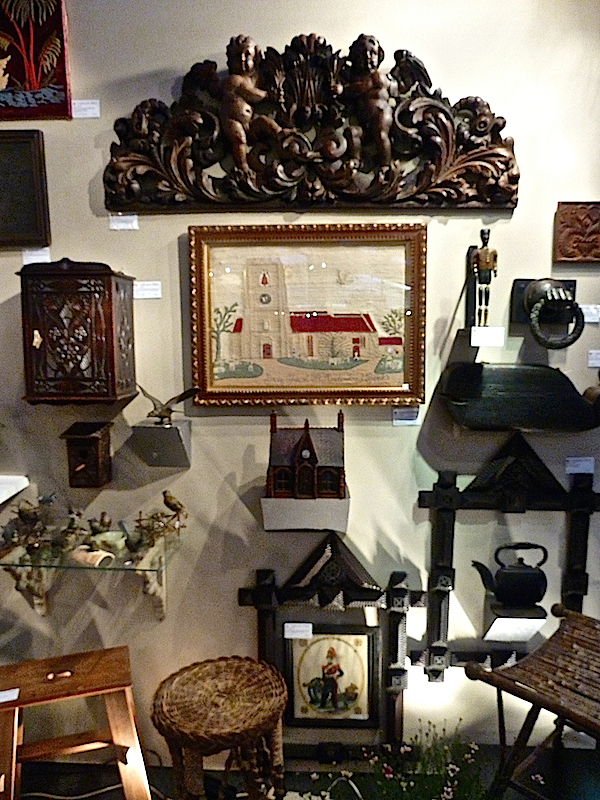 From Black Forest carvings to Vienna Bronzes to garden and folk art, you never know what you might find. I especially liked these stoneware jardinieres of faux tree trunks from Bangor Stoneware c. 1900.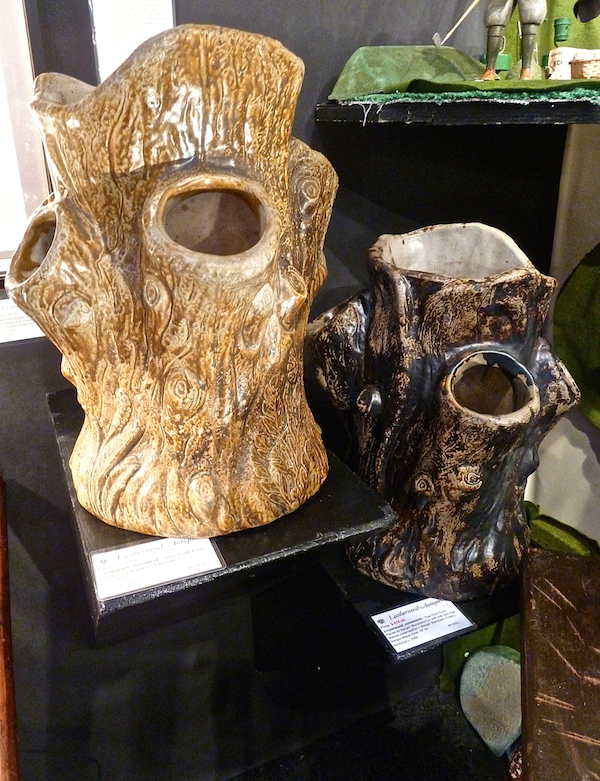 Earle Vandekar of Knightsbridge has a booth of wide ranging antiques. Known as a source for exceptional antique ceramics, they have branched out into other artforms as well including woolies, textiles and watercolors and engravings such as this handsome set (one shown) of six China Trade Watercolors from 1850 in exquisite églomisé and decoupage frames.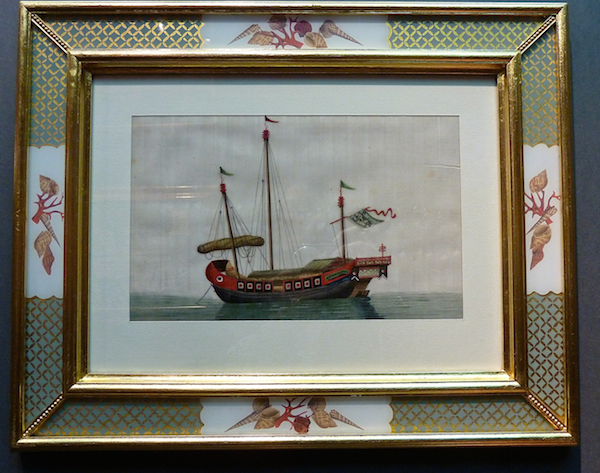 A gorgeous pair of Large Mason's Ironstone Japan Pattern vases with covers from 1820-30 were spectacular at over 2 feet tall.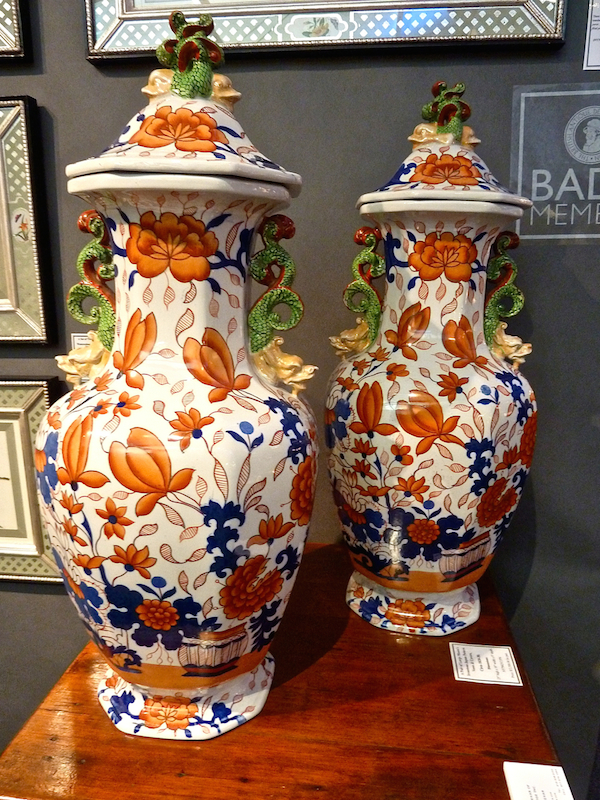 On a wonderful American five tier shell decorated 19th c. corner stand is a lovely collection of 18th c. Neal & Co. creamware with feathered blue edge.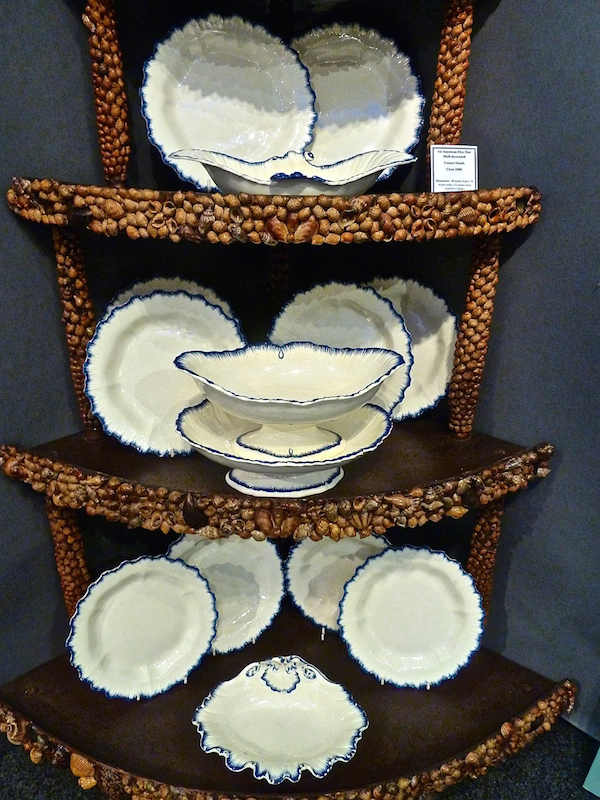 But what really intrigued me was an entire corner of products from Fornasetti.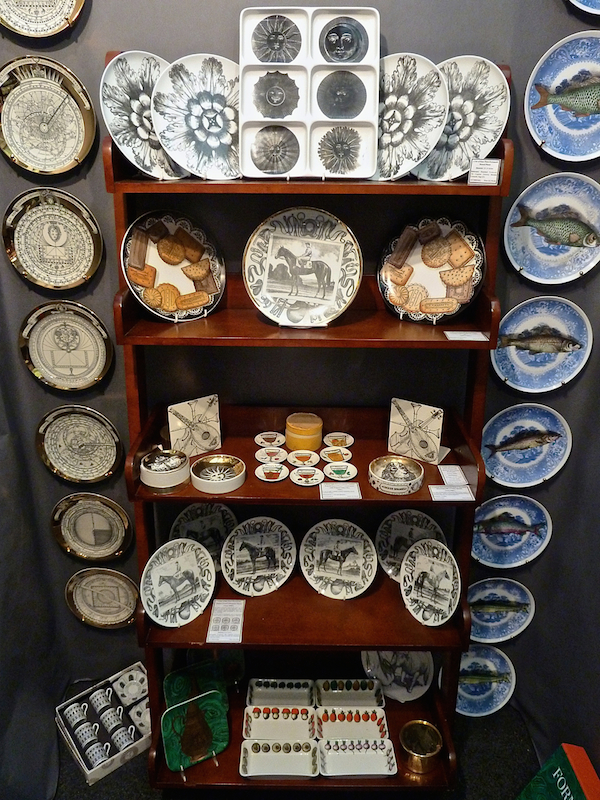 Perfect for a beach house are a set of eight vintage trompe l'oeil Piscibus Plates from the 50s.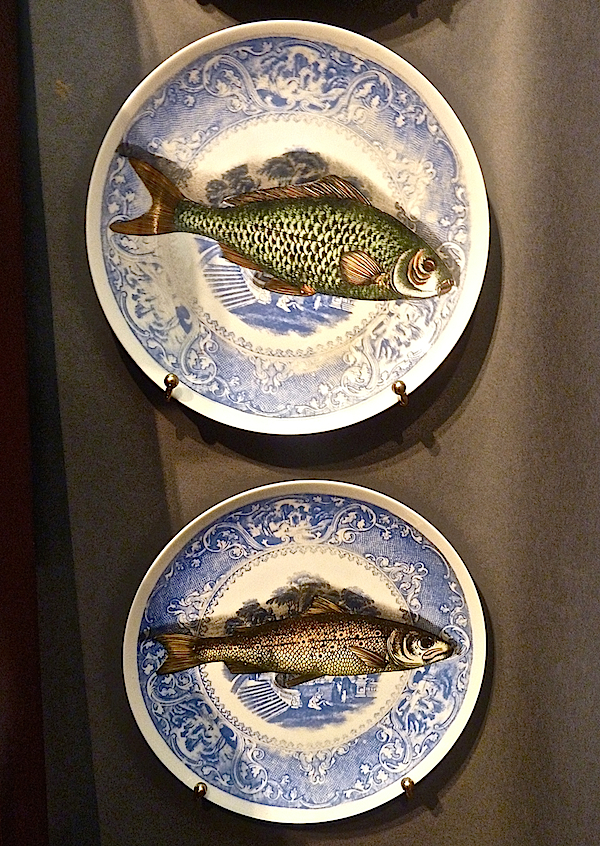 These intricate bronze gilt Astrolabe Plates depict the portable instrument used by astronomers, navigators and astrologers.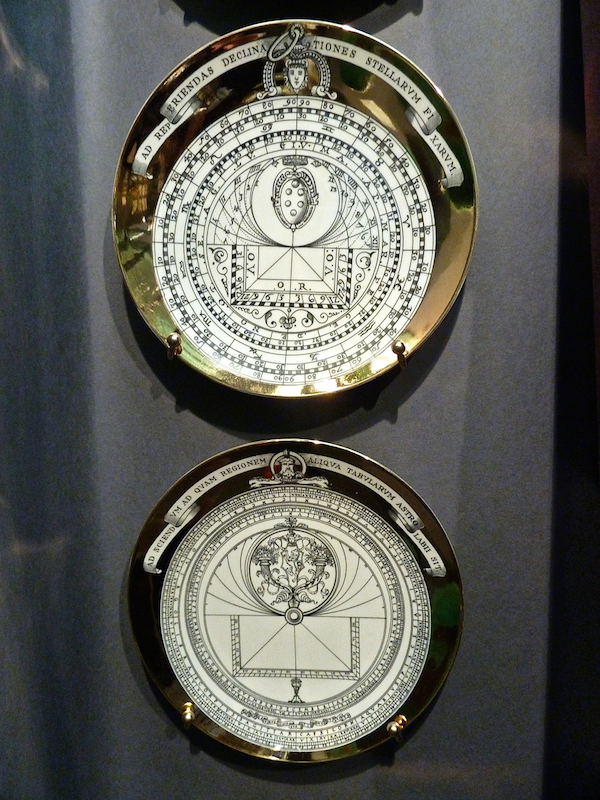 But my favorite have to be the recipe plates designed by Fornasetti for leather company Fleming Joffe to be used as client gifts. Each of the twelve plates depicts a "decidedly improbable recipe," such as Python a l'orange or Snake a la Cleopatra.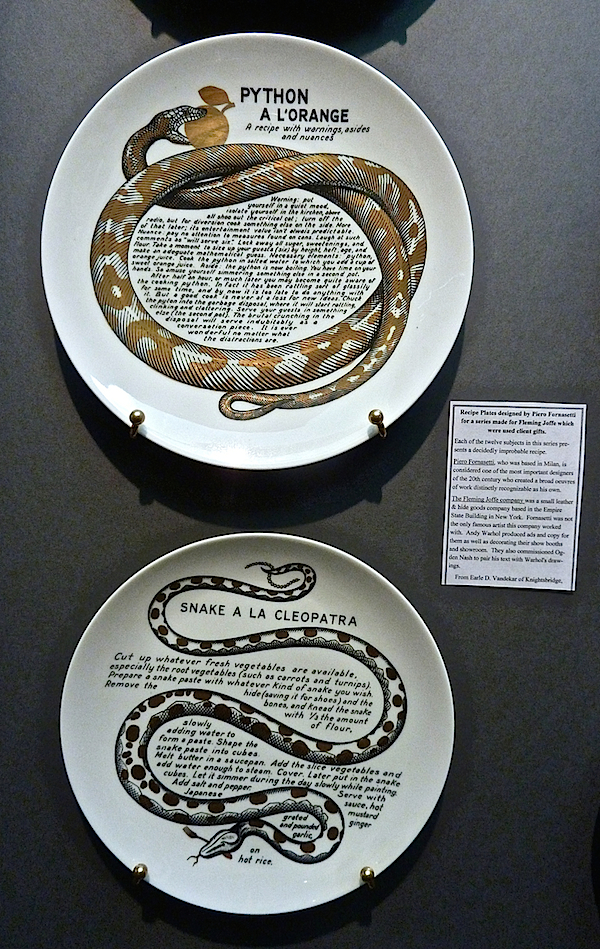 The Finnegan Gallery out of Chicago brought a terrific selection of garden antiques, from urns and planters to statuary, furniture and accessories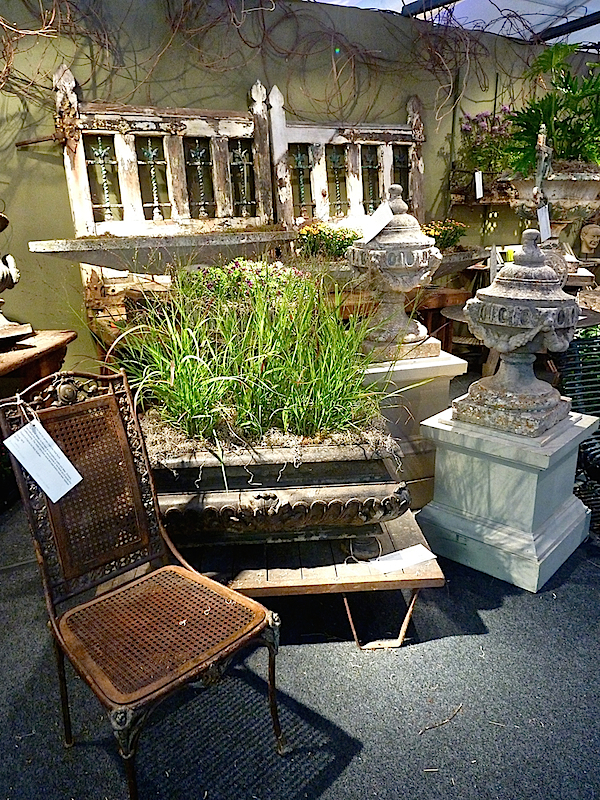 Local galleries were of course represented. Since 1983 Nina Hellman and husband Bob have had a shop on island. Specializing in marine antiques, Nina is a well known expert on scrimshaw and Bob on whaling. In addition to antique scrimshaw, ship models and nautical items, they also sell Nantucket related collectibles such as lightship baskets and maps. Their booth was assembled in conjunction with Parke Madden of Paul Madden Antiques, another well respected local source. Their showings, among other items, include art and antique decoys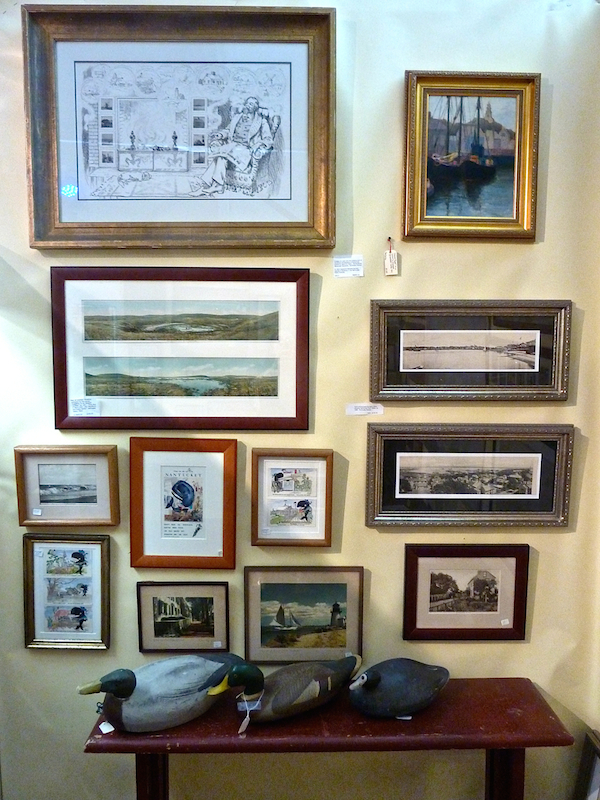 Nantucket baskets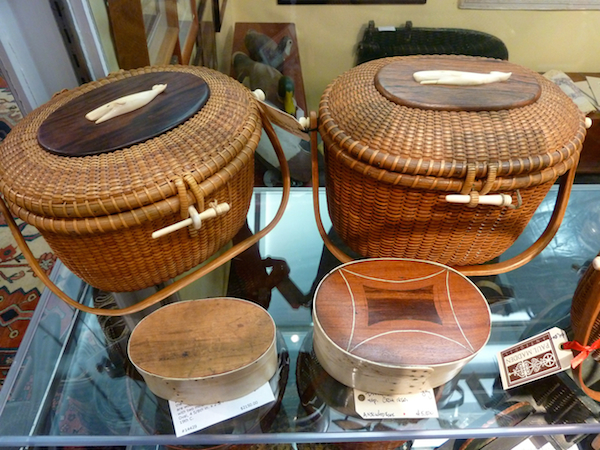 and a wide variety of scrimshaw.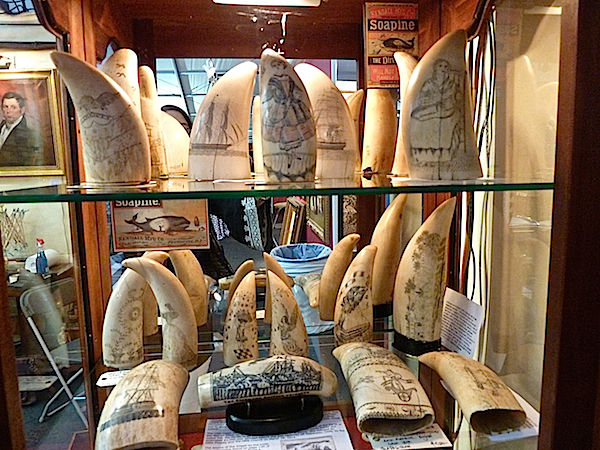 Sylvia Antiques who shows with their contemporary division Four Winds Craft Guid in the historic Pacific Club Building at the bottom of Main Street is offering a pair of Floral Shellwork Dioramas.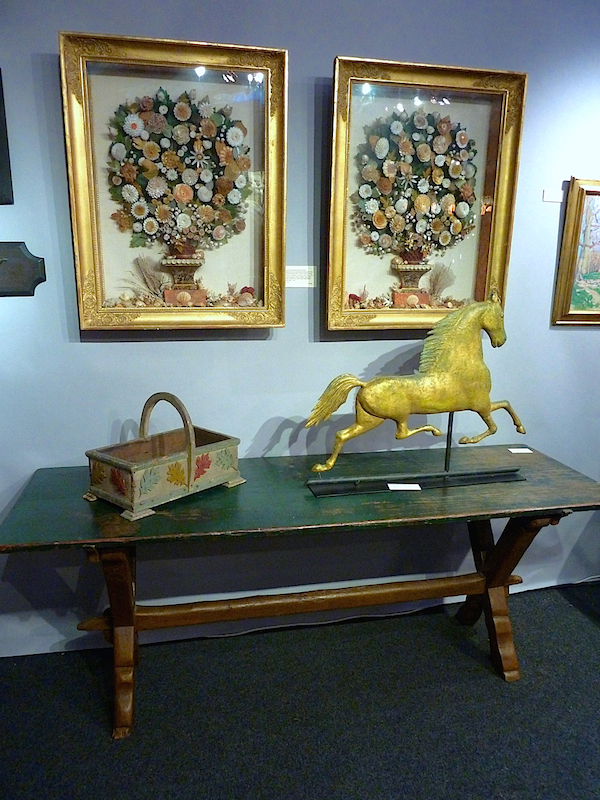 In their original frames, these late 19th c. Italian works are striking with their incredibly detailed craftsmanship.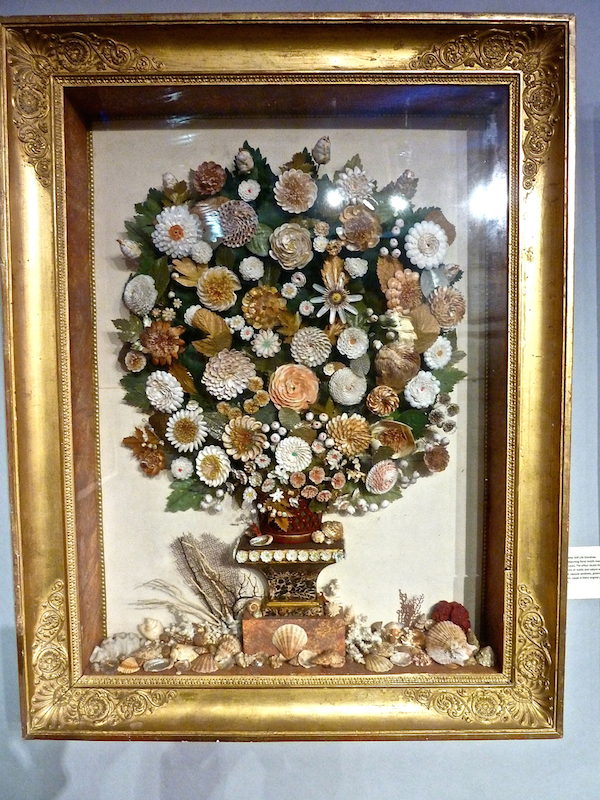 There's still time to see the show, benefitting the very worthy Nantucket Historical Association. Tomorrow, the last day, the Antiques Show will be open from 10 am to 3 pm. Have fun!