Miele always has a large presence at the AD Design Show with inventive and oft stylish displays. You saw their chic green fridge interior a few posts back and I also loved their wine refrigerator with room to cool a decanting carafe and glasses, below.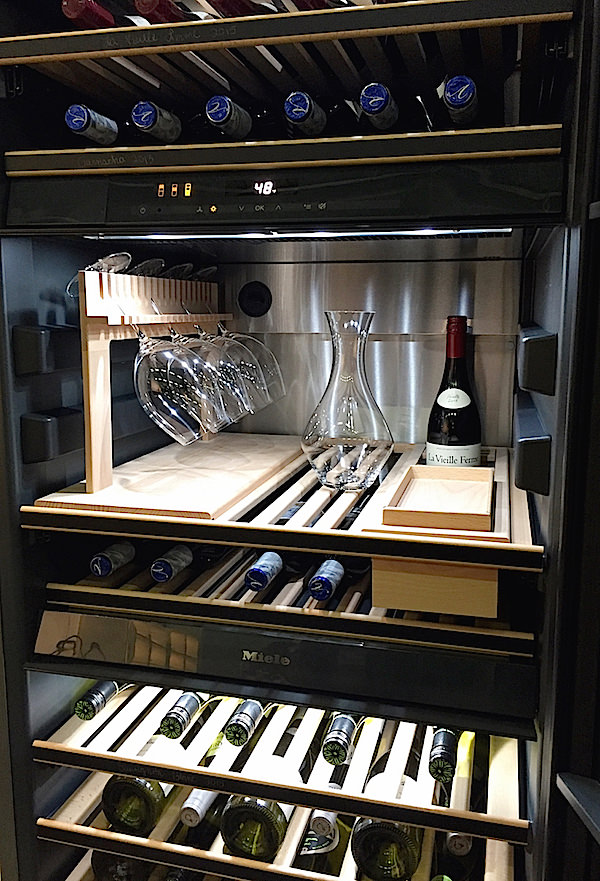 A wood wall with truffle brown appliances, showing how rustic and modern are not mutually exclusive, featured their sleek dishwasher with Knock2open technology. For a seamless, handle free look, these models open automatically by, you guessed it, simply knocking twice on the door.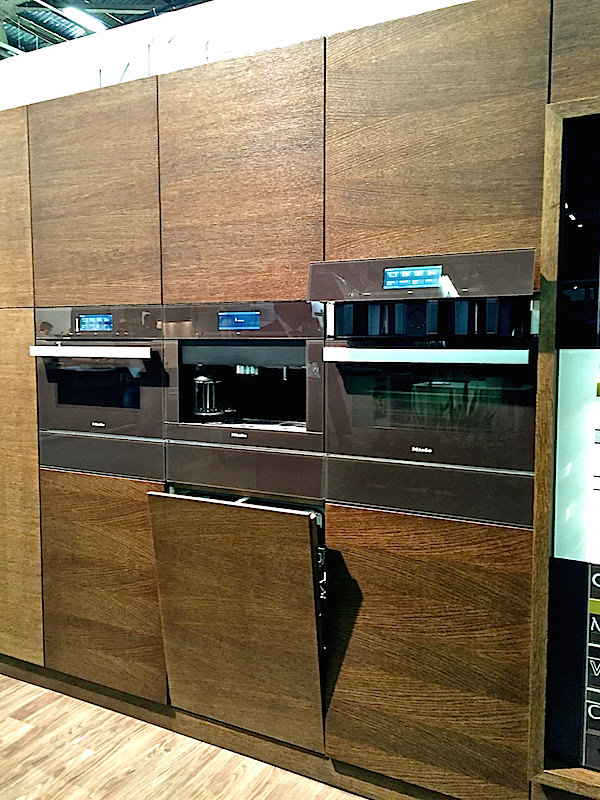 And while Miele waited until last year to unveil a new series of ranges, it was because they spent years developing the technology so that these can do everything their sophisticated wall ovens can, combining top technology with ease of use.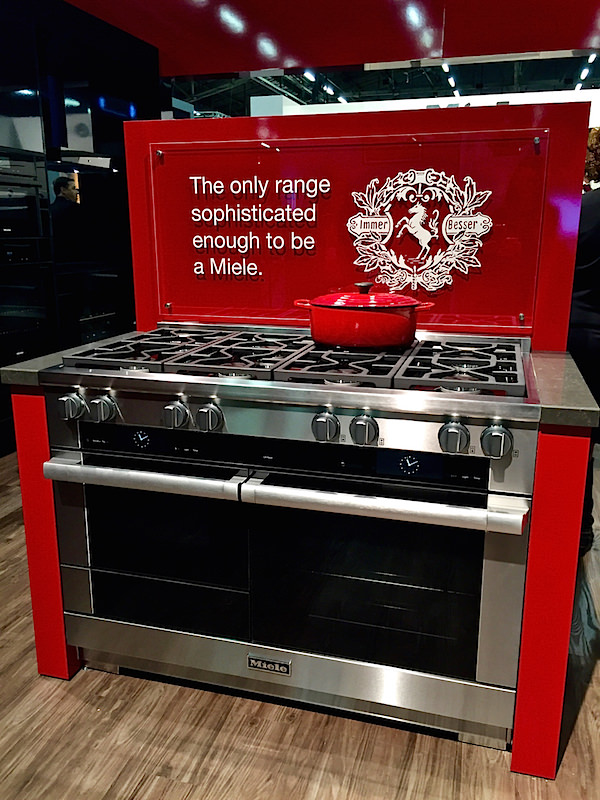 Last fall, Miele invited me to host a luncheon for a small group in their spiffy new New York City showroom/Experience Center, below, and it was then that I received my education on this constantly evolving brand. Immer besser (forever better) is their slogan for a reason.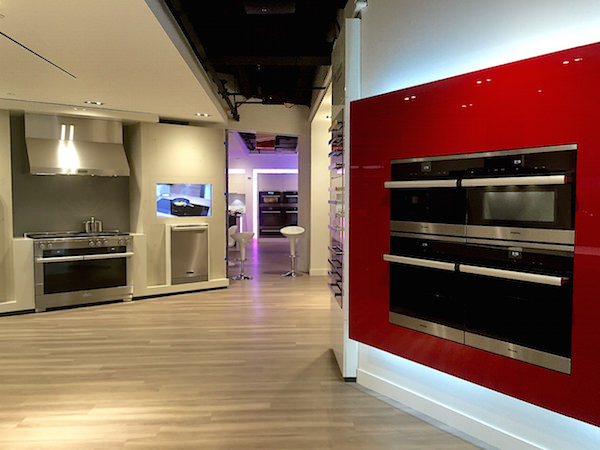 About ten designer friends and I were guided through and assisted in the meal preparation, learning about and utilizing many of the special features in Miele's cooking appliances.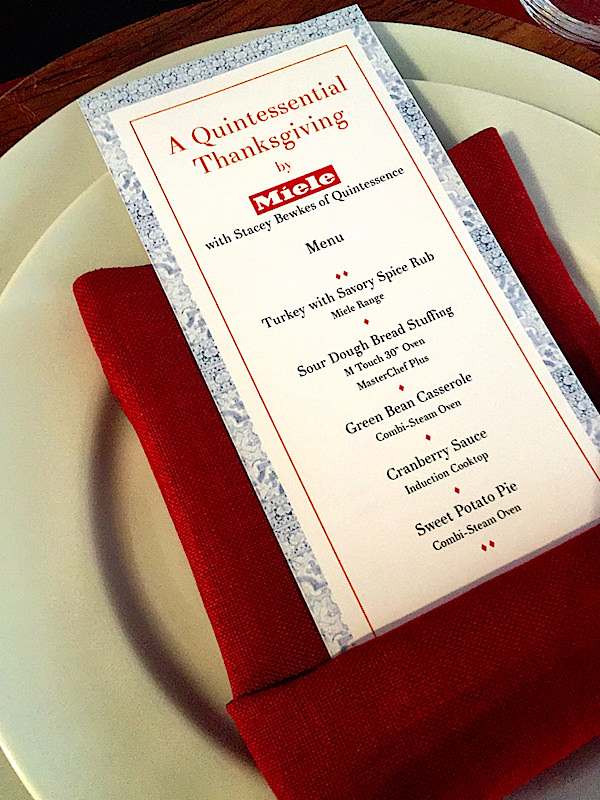 We were than all treated to the fruits of our labor – a delicious Thanksgiving dinner, completely cooked in the showroom.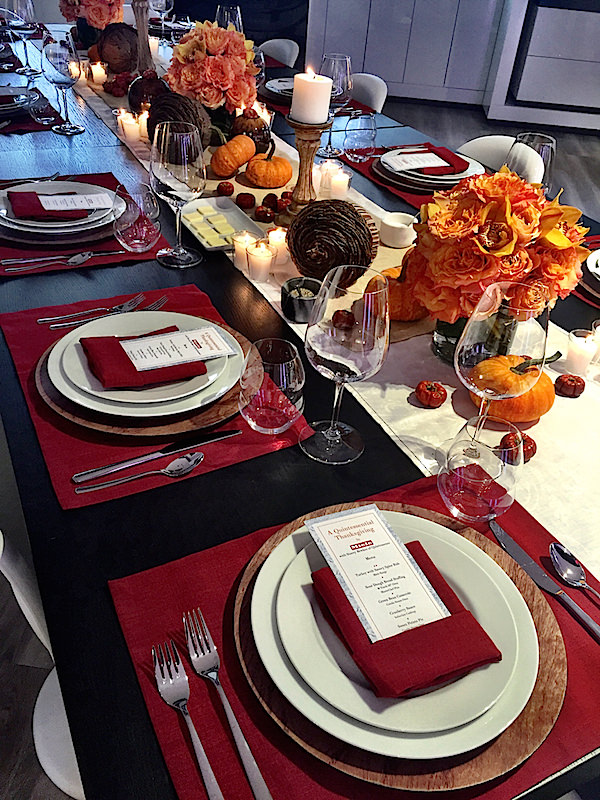 I was already a longtime Miele fan, having owned many of their vacuum cleaners, dishwashers and even a fabulous stacking washer/dryer over the years, but I was not familiar with the many impressive cooking features of their ovens and cooktops. In fact, I think I speak for everyone in attendance, that we were all blown away by their outstanding capabilities and advantages. The 20 pound turkey, using their "Auto Roast" range setting with a wireless probe, cooked in about 2-1/2 hours, resulting in a moist and flavorful bird. No preheating or basting necessary. I highly recommend the Tiny Town Turkey Rub, a savory all natural, handcrafted spice mix that was not only tasty but amazingly aromatic when roasting.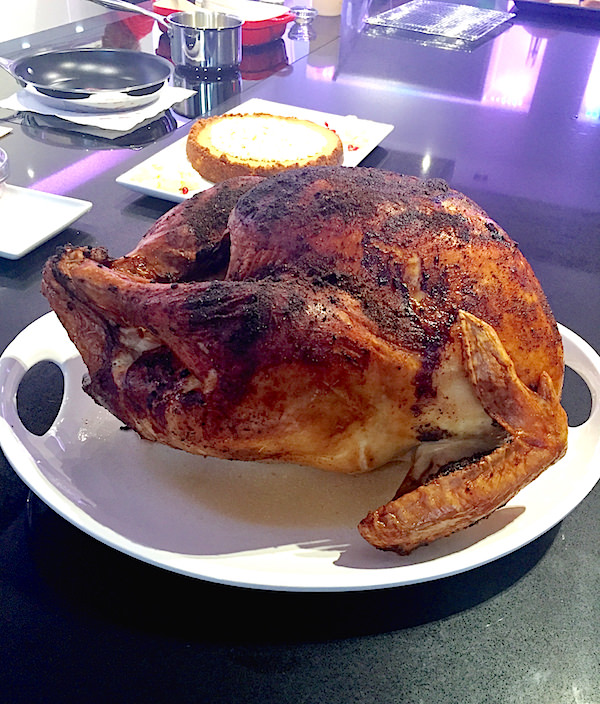 The delicious stuffing was baked in the cutting edge Speed Oven, which combines convection and microwave abilities (to use separately or together) with over 100 of the MasterChef automatic cooking programs installed. And note the well designed glass baking dish. All Miele ovens are fitted with the perfect cooking vehicles – whether stainless or glass, they all fit exactly into the racks and many have specific functions.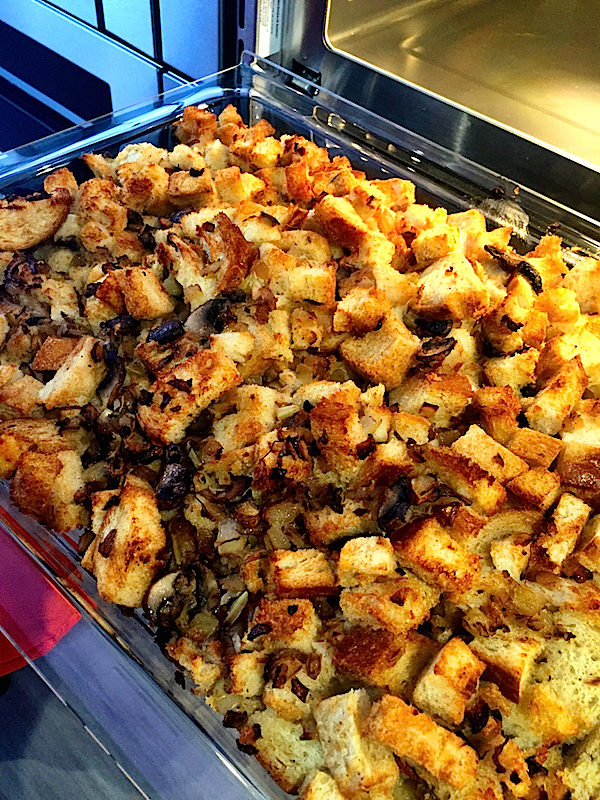 Even novices can turn out perfect bread with the almost foolproof pre-set controls in the Combi-Steam oven. We used a mix from Terra Momo, a company near Miele's US headquarters in Princeton, NJ that began like this
and shortly, with no additional attention required in the oven, emerged perfectly browned and crispy crusted.
One of the brilliant aspects of all the Miele cooking appliances is the varying levels of technology. Like a high end camera, you can keep it on auto (Miele's MasterChef can do it all for you) and get perfectly good results until you are ready to move to the next stage and master the more advanced controls. And, like a smart phone, once you understand the concept of how it works, it is completely intuitive.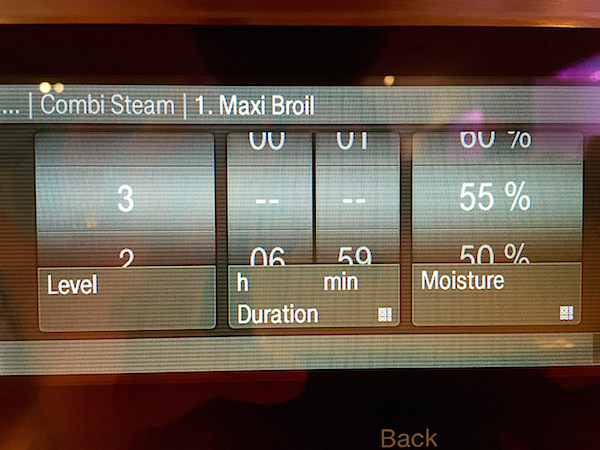 Founded in 1899, Miele is still family owned and is, in fact, the largest family owned appliance manufacturer in the world. In 1978 they invented the first touch control appliances. becoming the first company to make their own electronics which they continue to do today. This in-house development of the sophisticated technology in their products, offers Miele vertical integration with complete quality control. And every single item is tested before it leaves the factory – not one in every 100 or even every 5, but every single one. So if you receive a dishwasher from Miele, it may still have water in the bottom from its final factory test run. Of course the genius is in the details such as Miele's revolutionary cutlery rack in their dishwashers. Invented over 20 years ago, they continue to refine it, never resting on their laurels. Immer besser!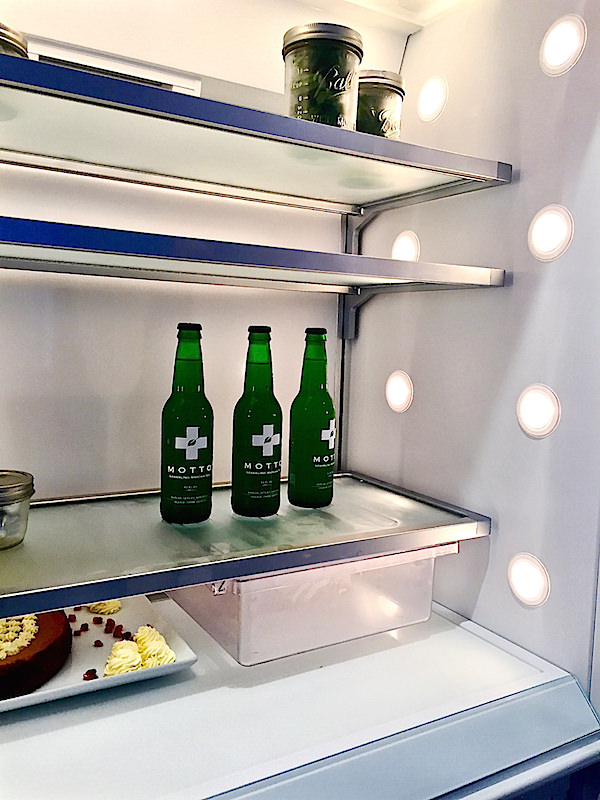 The refrigerators are also thoughtfully designed, with great lighting and note no exposed screws. Their proprietary technology allows optimal moisture levels to be set individually for the fruit and vegetable drawers. The result? Fruit can, amazingly, last perfectly for a month. While Miele may not have invented the category of built-in refrigeration, they have most definitely perfected it.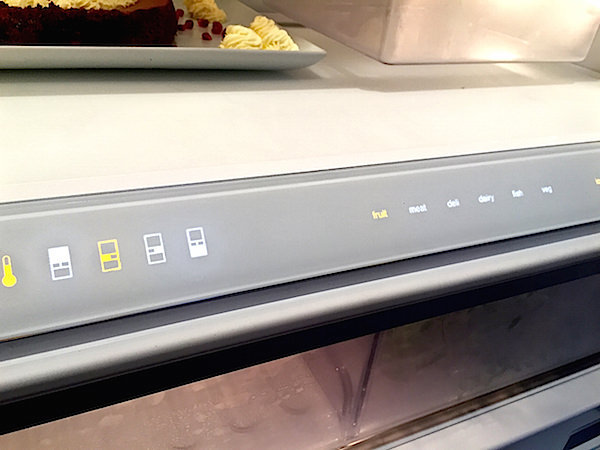 It would be impossible to regale all the marvelous products, features and techniques we learned in our day of culinary adventure. We ended our visit caffeinated to make it through the day thanks to Miele's marvelous M-Touch coffee machine.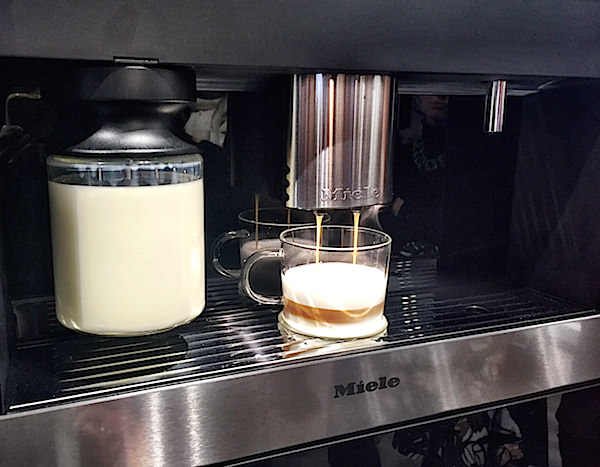 Always considering ease of use, Miele designed the milk for the cappuccinos and lattes to be stored in a removable container that can go straight from fridge to machine and back. So handy!
all photos by Stacey Bewkes for Quintessence
Immer besser is an enviable quality. I'd like to think I am on this path as well but I know that I can count on Miele to continually produce appliances that make our lives better, more efficient and certainly more delicious!