According to art critic Brooks Adams, who spoke several weeks ago at the preview of the Pierre Soulages show being held jointly by Dominique Lévy and Galerie Perrotin, below, the key date was October 1950.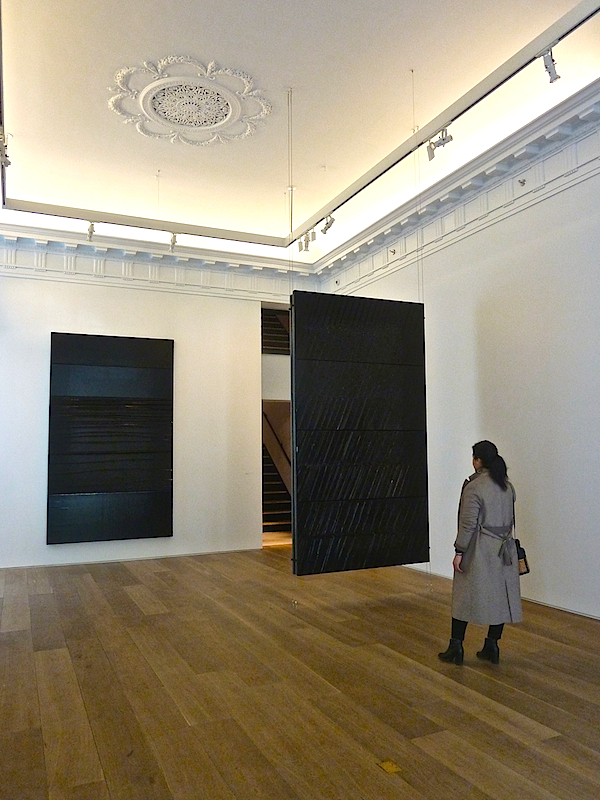 That was when Leo Castelli organized a show for Sidney Janis juxtaposing young French and American artists. In the exhibit, an early Pierre Soulages hung next to an Yves Klein and de Kooning was hanging next to Dubuffet, setting up a tense dialogue between the New York and European artists. James Johnson Sweeney, the second director of the Guggenheim, subsequently did an important show in 1953 called the Younger European Painters, including Solages, which was very influential in promoting the European artists across America, adding fuel to the fire. So when Samuel Kootz signed Soulages exclusively for his gallery in 1954, Robert Motherwell and Adolph Gottlieb left in protest. This rift, however, did not affect Soulages' personal relationships with many of the New York School artists, particularly Mark Rothko, who would later visit Soulages in Paris and ask his opinion on what color to paint the walls in his eponymous chapel in Houston. But when Kootz closed his gallery in the mid 60's, Soulages left the American art scene where he had been so successful, his name to disappear from the U.S. art arena.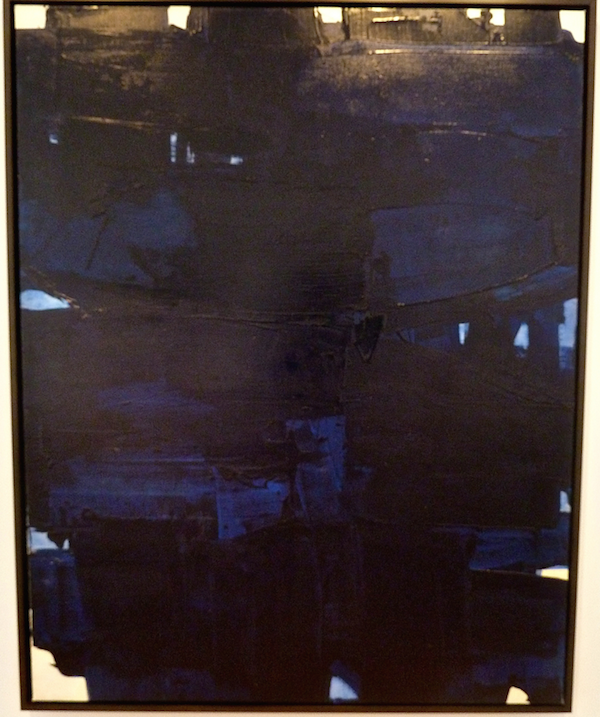 Soulages now returns to New York with his first American exhibit in ten years. Since his early years in the 50's, he has become the most significant and successful living artist in France. His 2009 exhibit at the Pompidou was the largest show of a living artist ever staged by the museum. Still actively working at 94, the show presents fourteen recent paintings on the first two floors with important works from the 50's and 60's, all on loan from major museums and collections, on the top floor above. The exhibit coincides with the publication of the first book about his American post-war years, Soulages in America and the imminent opening of Musée Solages in the south of France.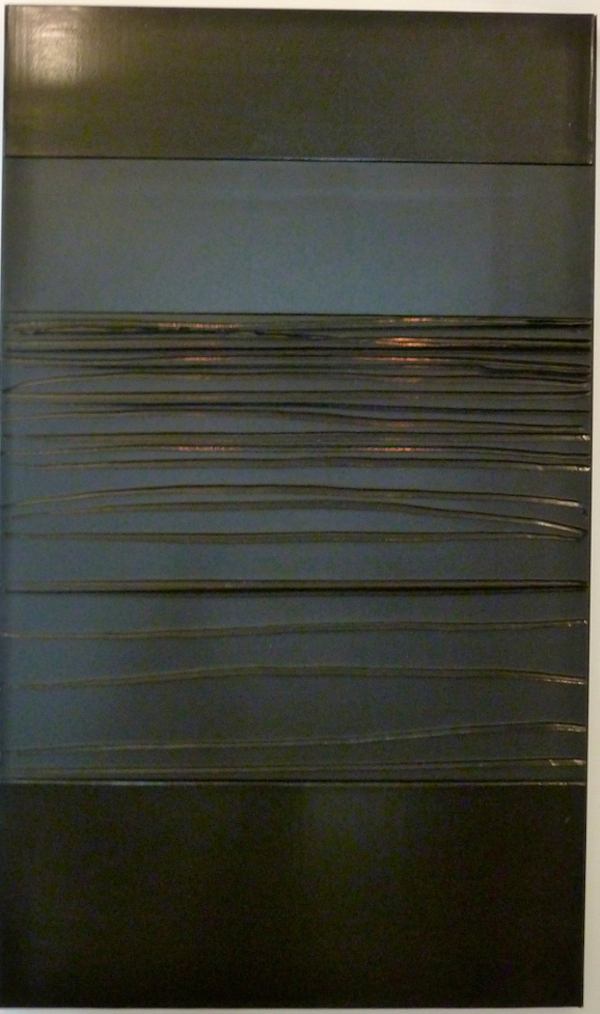 The new paintings, known as Outrenoir (beyond black), represent the theme of his last 35 years. While Soulages has always favored black as a major element in his work, these are totally black abstracts with gutsy paint application and strong muscular movement.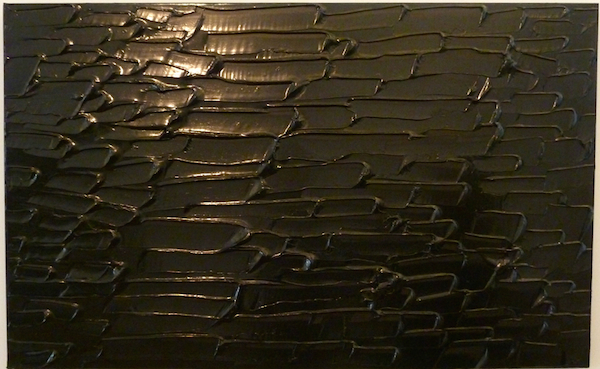 They perhaps reference the prehistoric cave paintings that so impressed Soulages as a teen, now reinterpreted as a field reflecting both light and a primordial experience.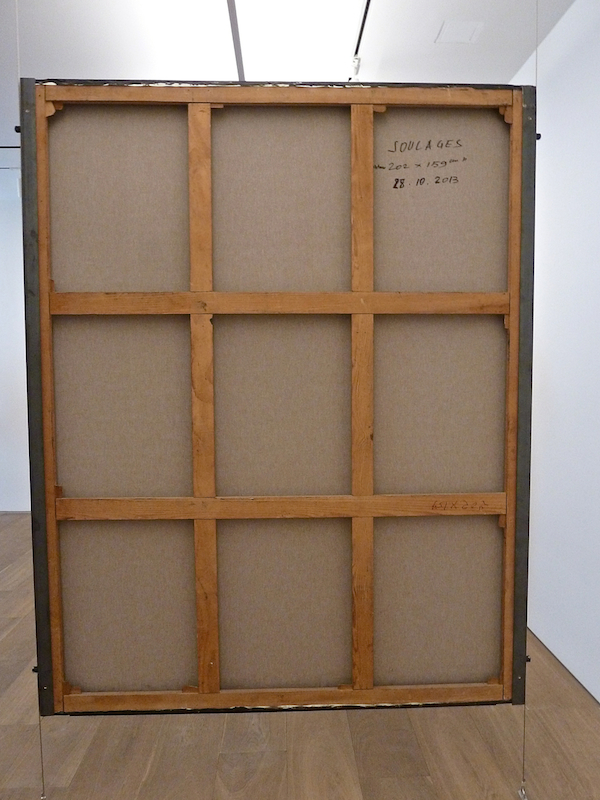 Beautifully hung, they create a unique spatial environment to experience the work. The elegant free floating technique, developed during the artist's first US retrospective in 1966 at the Museum of Fine Art in Houston with James Sweeney, then director, I found especially effective on the first floor in contrast to the building's classic architectural details.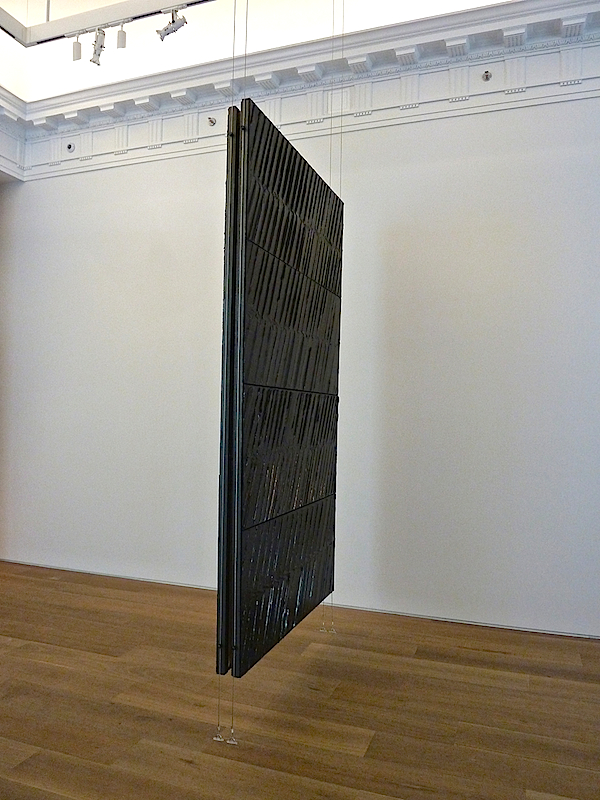 The back to back hanging, allows viewers to experience the art on their own terms. "I want people to discover their own essence in their relationship with a painting. What I hope is that whoever looks at a painting sees him or herself in it. … For me, there are always three players: the painter, the painting and the viewer. It's a three-way relationship."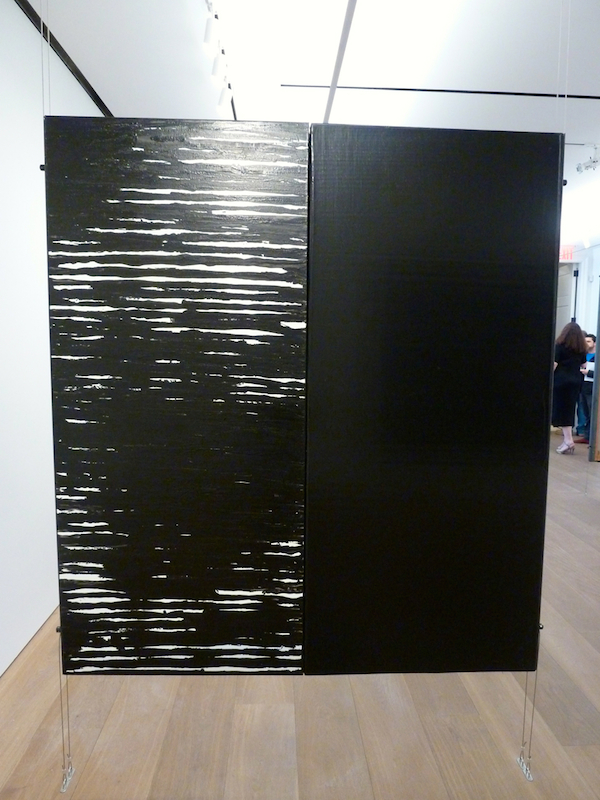 A visit to the show is a little lesson in art history and a testament to the power of creativity. These large energetic paintings are the work of a 94 year young artist, who, still painting every day, is producing relevant if not seminal works. With peers who have ranged from Willem de Kooning to Christopher Wool, it's worth a trip to 909 Madison sometime before June 27 so see why, as Soulages says, "opening one's eyes naively to what one doesn't know offers a wealth of possibilities."