It all began with the furs. The new collection at Richards was the ultimate temptation. In fabulous spring colors and fun wearable styles, it beckoned me every time I passed by. I think I tried on every coat or jacket in my size – on numerous occasions! Friend Linda Levy made the introduction to the charming Anthony Orlando, Director of Retail Sales for the division. It wasn't long before we were chatting away and I was addicted. And as things go, one thing led to another…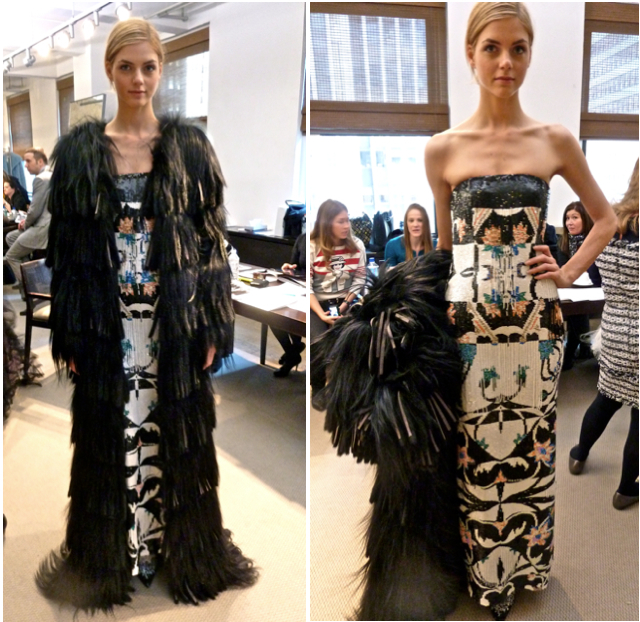 Like everything Oscar touches, the furs are simply sublime. An essential part of the fall collection, it is difficult to separate them from the rest of the line, as with the incredible paillette and beaded silk gown worn with the fabulous black goat and fringed mink coat above. The fur collection embodies the same luxurious sensibility as the ready to wear, with impeccable quality, styling and Oscar's vibrant sense of color. For the fashion girl looking for something special she can add some of the pastel color story with the ice dyed mind scallop edged jacket or rose dyed shadow fox chevron vest.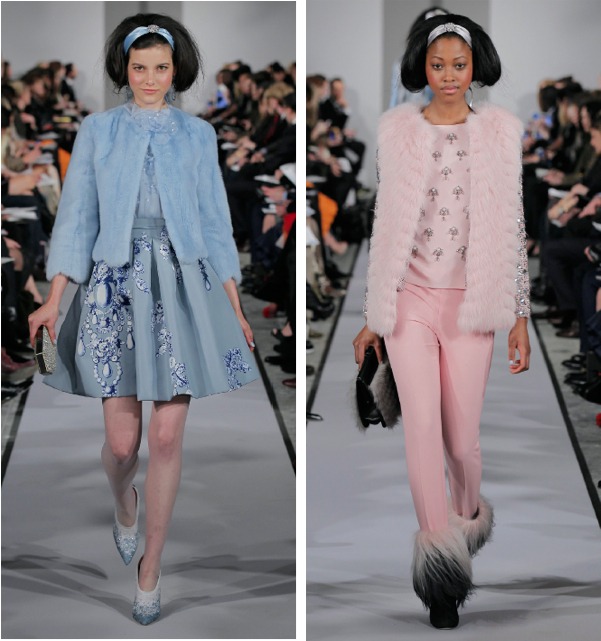 Or for a more understated color, try these elegant dyed karakul coats, the nile with a matching mink collar and the rose with a separate chinchilla hood.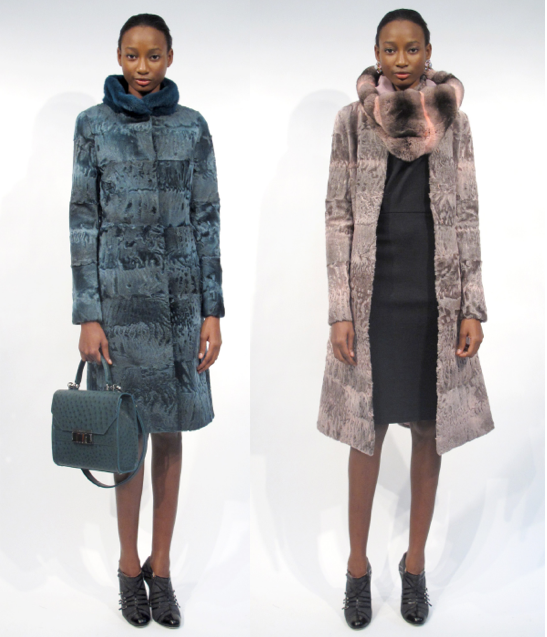 The creative more forward pieces are masterful blends of fashionable flair and cutting edge technique. This blue multi dyed fox fringe jacket with ice dyed chinese lamb sleeves and hood would be a fabulous addition for someone looking to augment a fur wardrobe!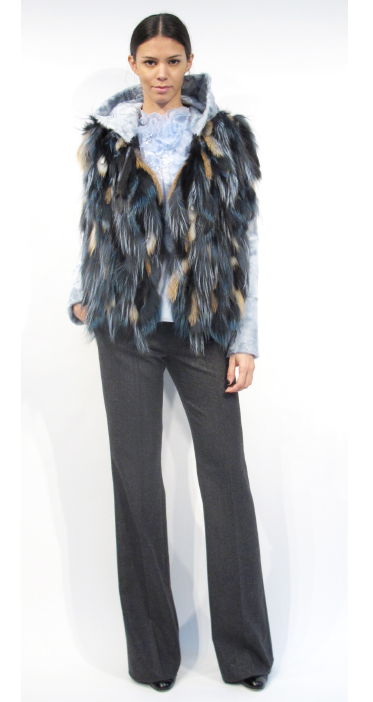 I tried this jacket on (well – I tried almost every piece on) and the intricacy of the workmanship is incredible.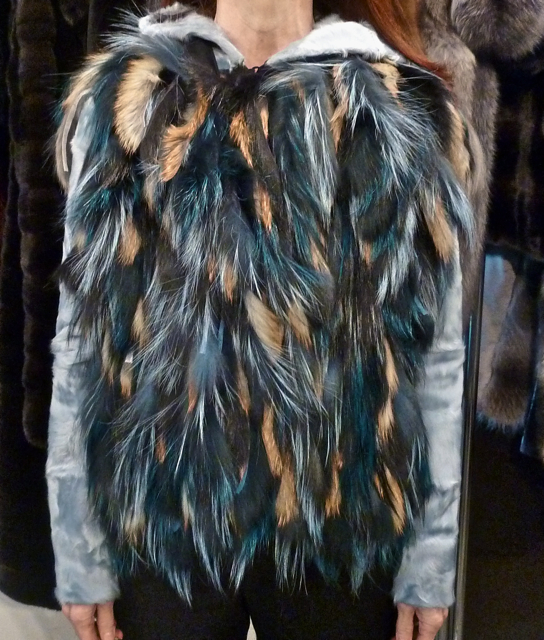 The contrasting lamb sleeves is a fabulous feature, offering the lighter look of a vest with the warmth of a jacket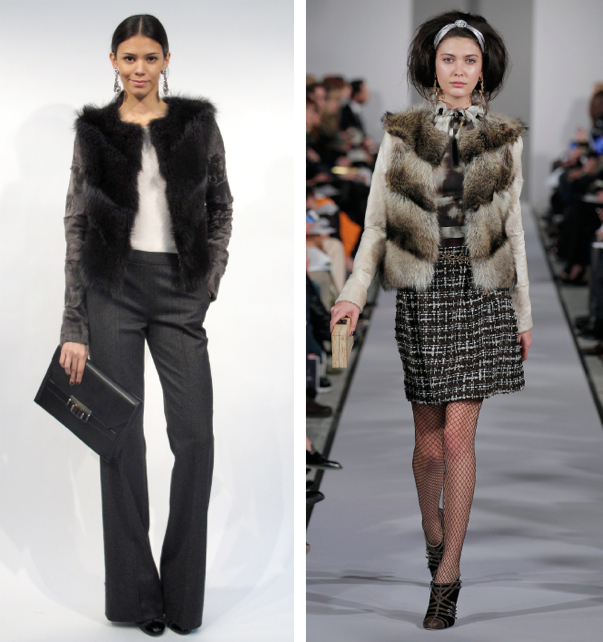 I was in love with all three of these very wearable pieces – the arctic marble frost fox stole with cashmere lining, goat and mink fringed capelet and raccoon bolero with goat trim (and notice the brooch on the stole? – I tried it out below as well)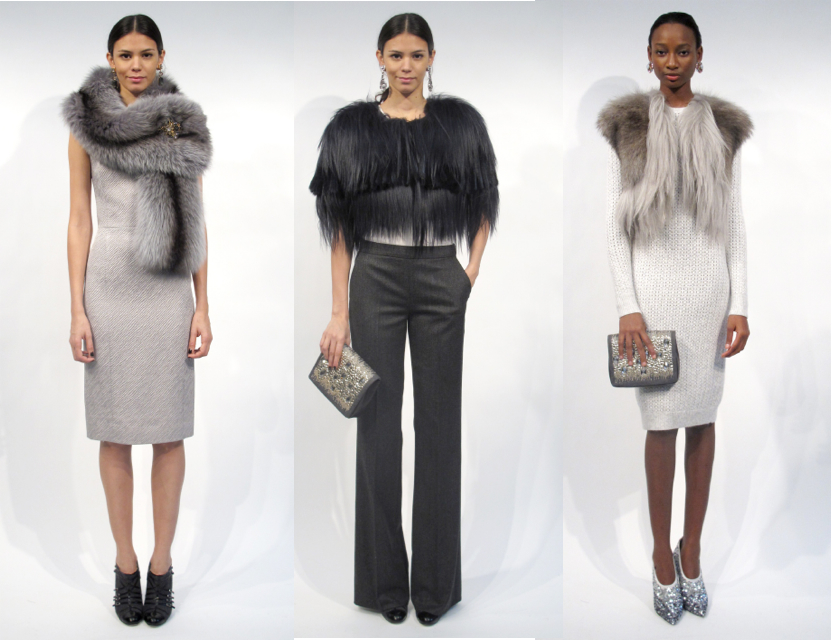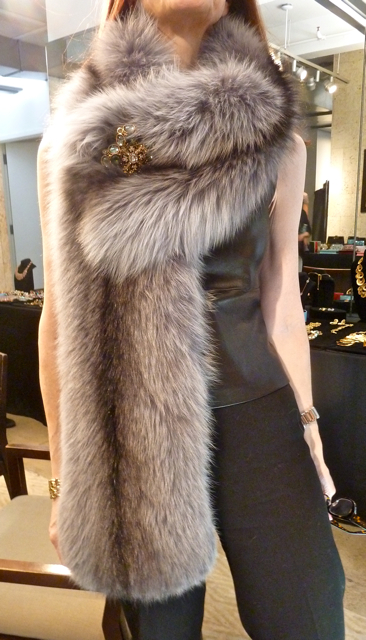 One of the remarkable aspects of many of Oscar's furs is the incredible weightlessness. This is achieved with a process called airgallon where the fur is hand cut by razor through a diamond shape pattern to achieve a softer three dimensional drape on the body. Both the stole and bolero above are created this way as is the voluminous fox coat below which is actually light as a feather.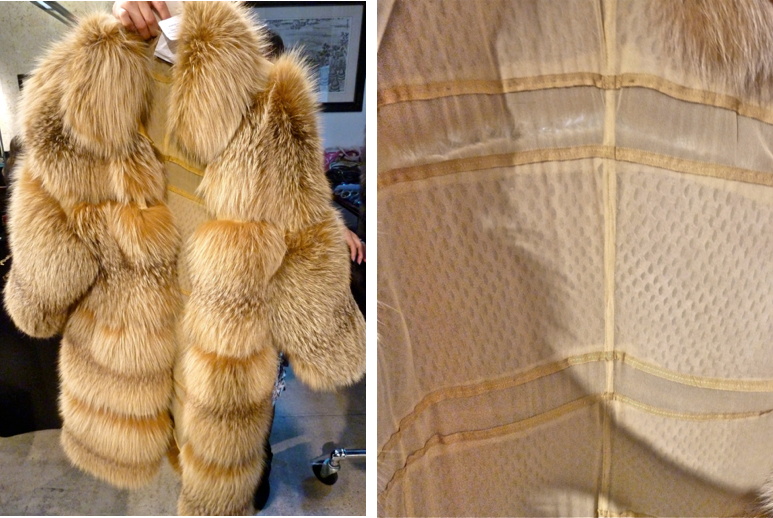 And if you're in the market for a more classic fur, look no further, Oscar is your man! Each style is the peak of chic! This mink vest and shawl collared jacket are both timeless yet modern, just like the designer himself – someone, who represents the epitome of gracious living, who designs the most elegant daywear and gowns and yet, who is also obsessed with Fox's hit series Prison Break – most definitely a man of our time!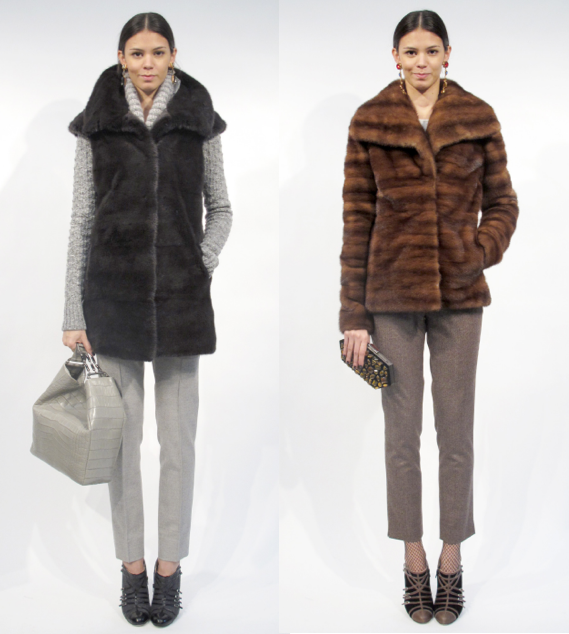 And this attitude is expressed across the board – from ready to wear to accessories to fur, you can expect an abiding respect for the classics with a healthy glance toward the future. This is a house that has it all!
In addition to Linda and Anthony, I'd like to acknowledge everyone at Oscar who facilitated my visit and made my day such a pleasure. Maria Reich and Heather Roe in particular – sending big thank you's your way!!!