A week of amazing design inspiration has me (and my photo file) on visual overload. Contemplating where to even start, I thought I'd actually work a bit backwards, beginning with the always fabulous DIFFA (Design Industries Foundation Fighting AIDS) Dining by Design event at the Architectural Digest Home Show. Tablescapes benefitting this worthwhile cause, draw major industry notables and this year's creations were especially spectacular. Here is a sampling of a few of the incredible tables.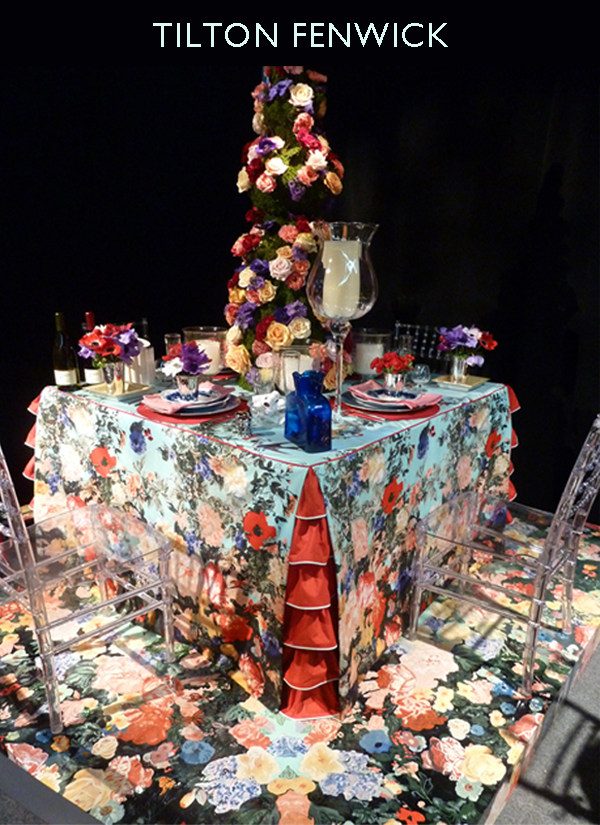 The talented Tilton Fenwick team took their inspiration from the colorful Christian Lacroix fabric Vuelta, which makes reference to the flowers thrown to bullfighters after their matches and the bouquets of carnations Lacroix receives after his runway shows. The base is actually a tour de force of trompe l'oeil by decorative painter Augustin Hurtado. I love how the corner pleat cleverly mocks the red cape of a matador – what a fabulous decorative detail.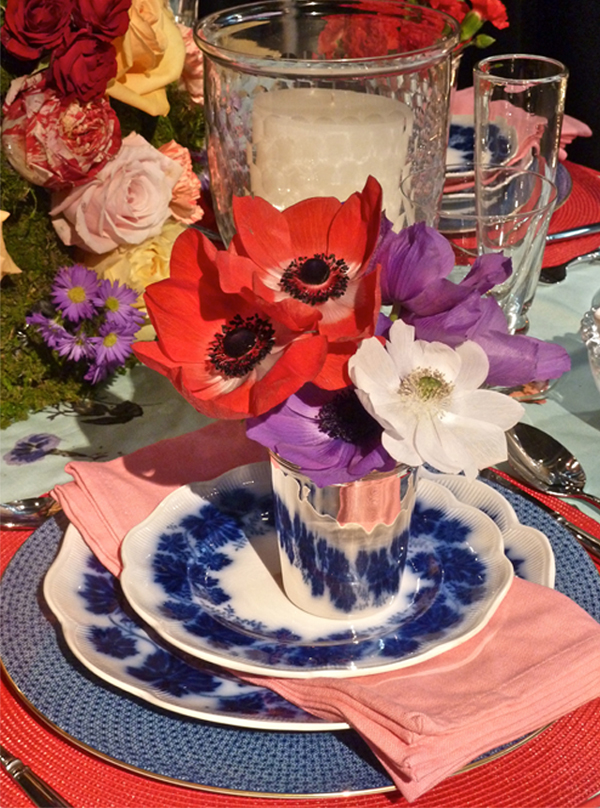 The table was beautifully layered with a coordinated mix of vintage blue flow plates, Mottahedeh Blue Lace chargers and William Wayne napkins and placemats. For more details, visit the designers' fun blog here.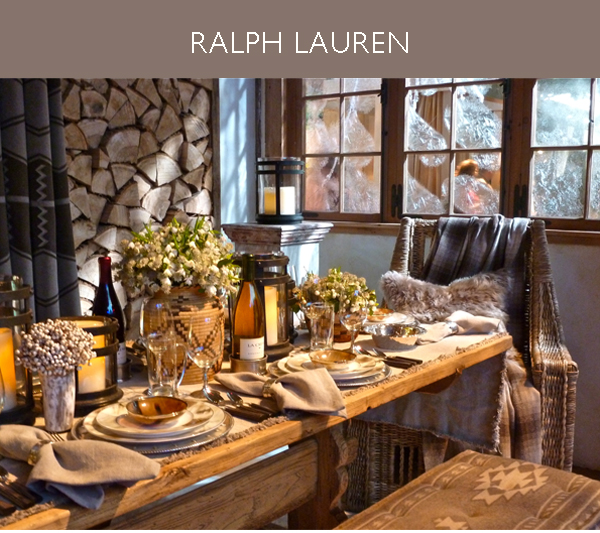 Ralph Lauren's space was really more than just a table – an entire room of winter chic was created to recognize the fact that DIFFA Trustee Alfredo Paredes, EVP and Chief Retail Creative Officer for Ralph Lauren, will be the honoree at the gala dinner for the event. In true Ralph fashion, every detail was perfection, from the throws, to the log piles, to the roaring fire. If it hadn't been 75 degrees on Thursday, I would have wanted to hop right into this vignette.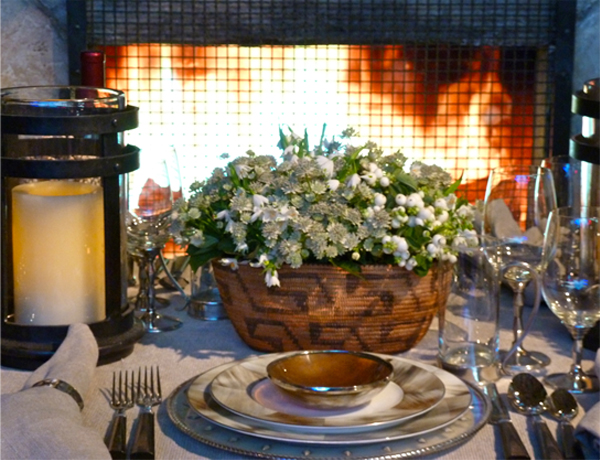 I continue to be amazed by the prolific creativity of David Stark, whose fabulous Wood Shop I featured recently. He and Benjamin Moore have paired before to create Dining by Design tables but this year's was a vignette that especially spoke to me. Based on the new Color Stories full spectrum paint collection, the room (more than just a table) played off of Benjamin Moore's clever campaign for the line – "a whole new chapter in paint color technology is being written."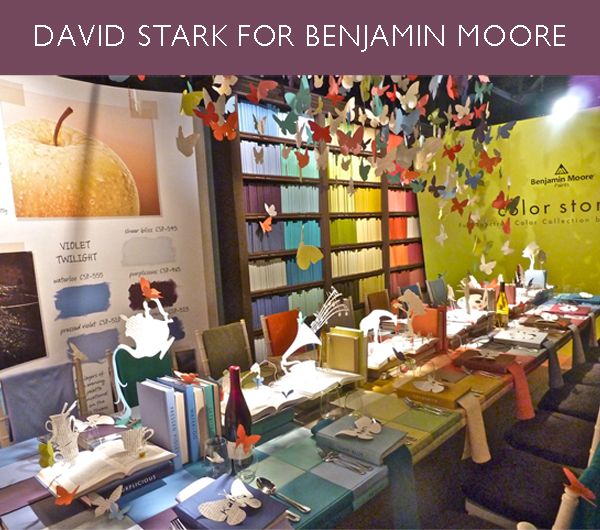 The color coded wall of faux books segueing into descriptive open pages, a charming paper cut-out mobile and individual pashminas on each chair all celebrated Benjamin Moore's story. Even the table itself was constructed of volumes with spines representing individual hues and book place cards with color coordinated napkins. You couldn't help but be happy in this cheerful whimsical space!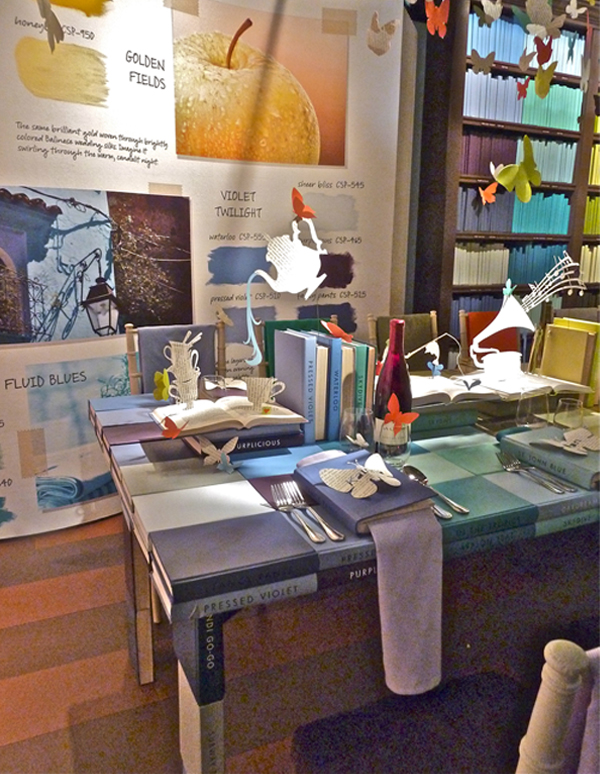 Kravet's table and "booth" debuting the new Jonathan Adler fabric collection was a delightful salute to the art of ceramics, with cut outs mimicking the shape of vases. The genie in a bottle feeling of the enclosure was the perfect foil for Adler's playful patterns and colors.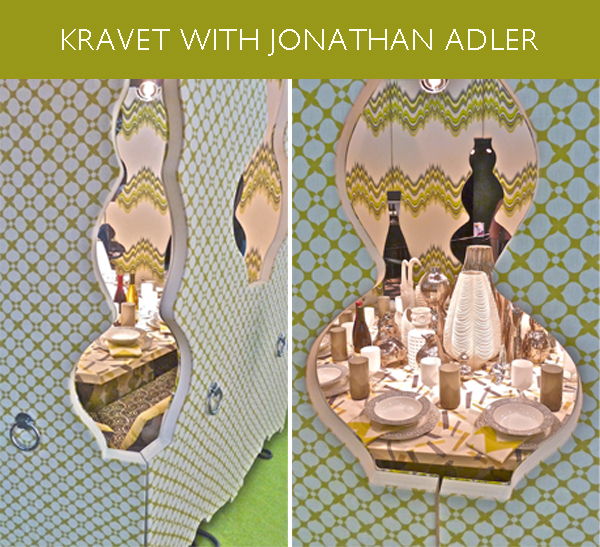 Inside, the table was set with Adler's chic Greek key inspired Gray Nixon dinnerware, Pop Highball Glasses and Goblets. I love the fresh gray and citrus palate which we have been seeing for spring fashion as well. I remember learning about the Kravet/Adler collaboration at Blogfest last year – wondering what exciting projects they'll unveil in May?!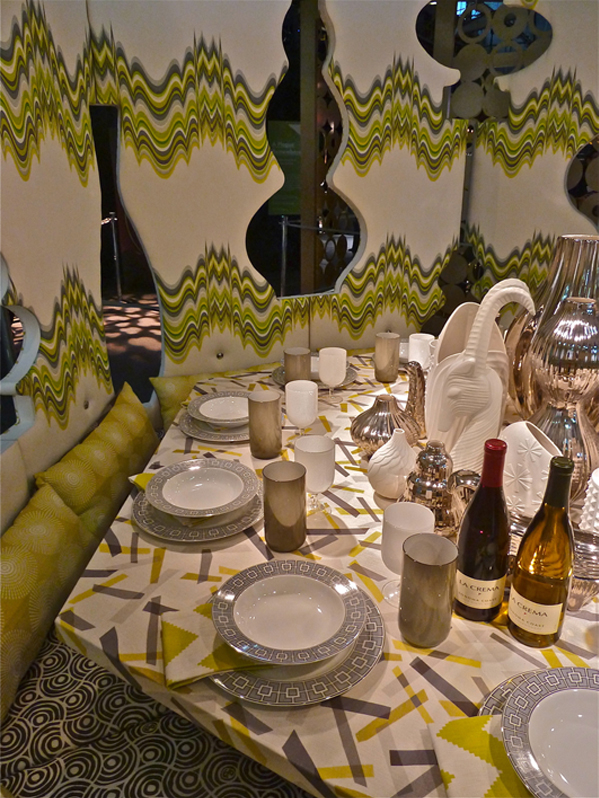 I loved the contrast of textures and materials at RDYC Interior Design + Architectural Development's table. The tonal sophistication of the lucite chairs and glass chandelier paired with the stone and mosaics were like a magical underwater grotto. (The colorful hangings on the right were part of a neighboring table).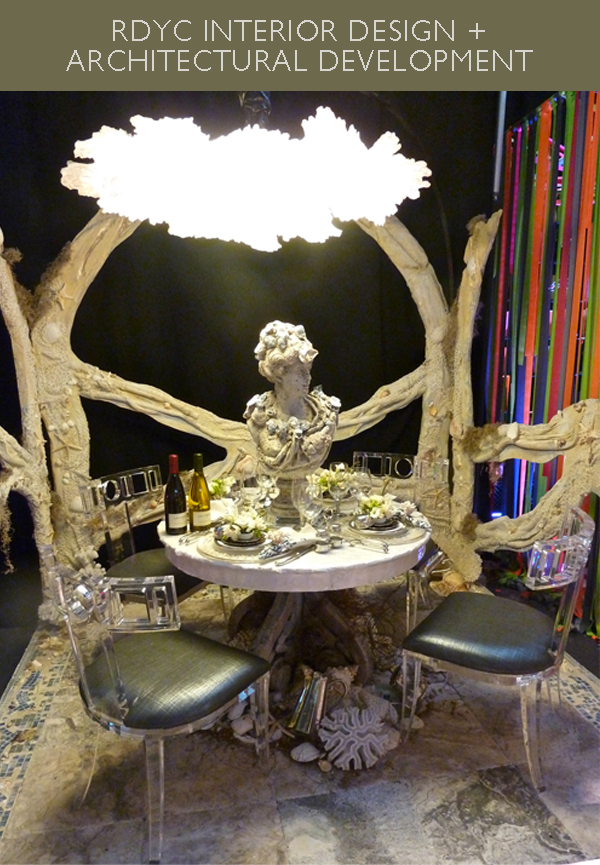 The scene included tablewear by Arte Italica, the pewter trim adding a subtle sheen to the fantasy.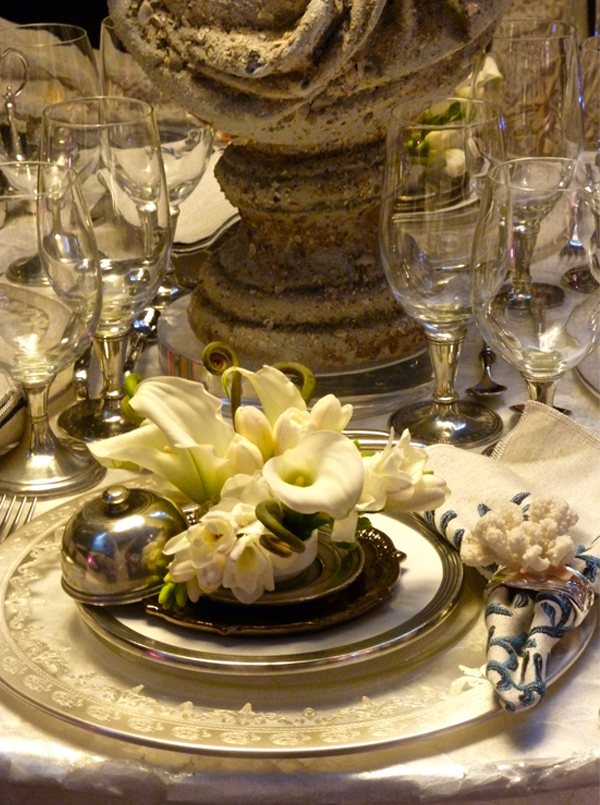 Stop by tomorrow to see a few more of the beautiful tables at DIFFA.