All the tables at the DIFFA Dining by Design event this year were beautiful. Editing the selection down was a difficult task and please know that if a table was not included here, it might just mean that I did not have good enough photographs or information!
It was especially fun to see the lovely Maya Romanoff table when we had just visited the showroom the day before. Designed by Roger Thomas, whose collection for the house will be launching this spring, the glamorous gold toned tablescape was like a glittering woodland wonderland. Featuring their Fabricadazzle™ as drapery, chair banners, and table skirt, the fabric can also be used as a wallcovering. The metal leaf on canvas Gilded Cloth™ on the back wall (also used for the napkin rings below) is hand finished with a textural surface that offers subtle sheen, anchoring the space with an understated golden glamour.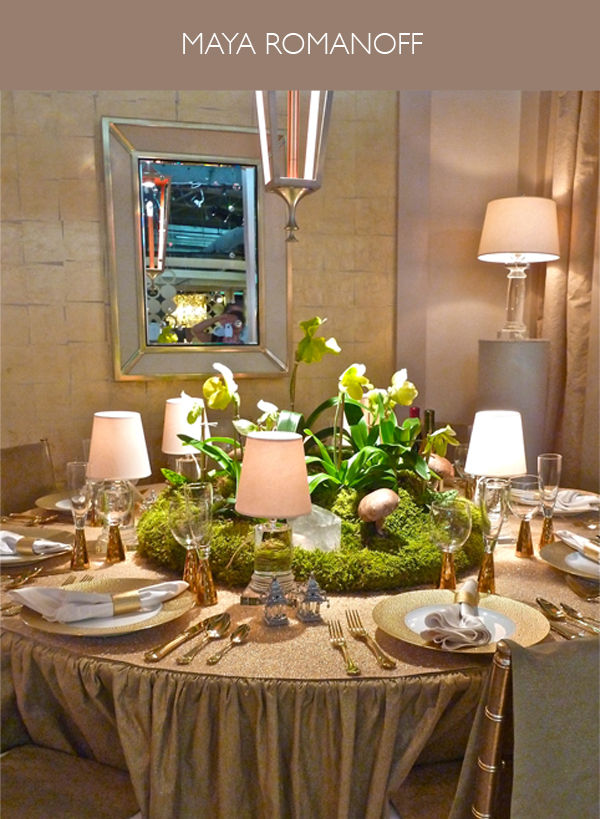 The tabletop began with a base of Beadazzled Geode, a flexible glass bead surfacing for which the house is well known. Bernardaud's beautiful Ecume gold service plates and stemware from Impulse! added to the luxurious setting.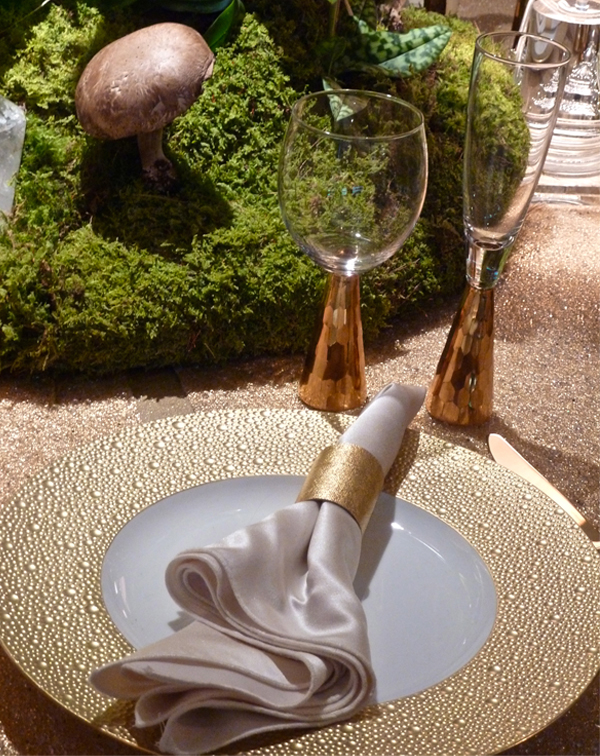 The glamorous girls, Georgina Chapman and Keren Craig, from fashion house Marchese designed the Empire Pearl Indigo Dinnerware for Lenox's Couture Collection which dressed the historic company's table. I think we will be seeing more and more fashion icons venturing into tabletop and home collections in the future as the lines between industries continue to blur.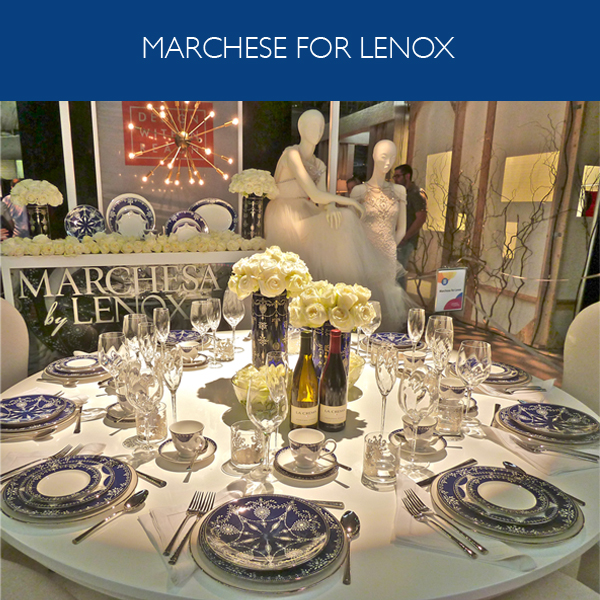 I love the mix and match pieces in the collection and how it can be dressed up or down depending on the accoutrements – so glamorous here with the plethora of white roses.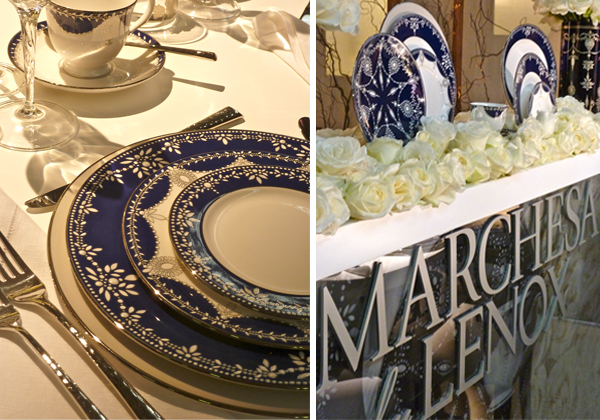 Ethan Allen presented a colorful resort themed table. Young and fresh with a beach background and flamingo accent, the traditional company showed they can do playful and fun while remaining true to what they do best. The lacquered Chippendale chairs were a great contrast to the more formal chandelier proving yet again that it's all in the mix!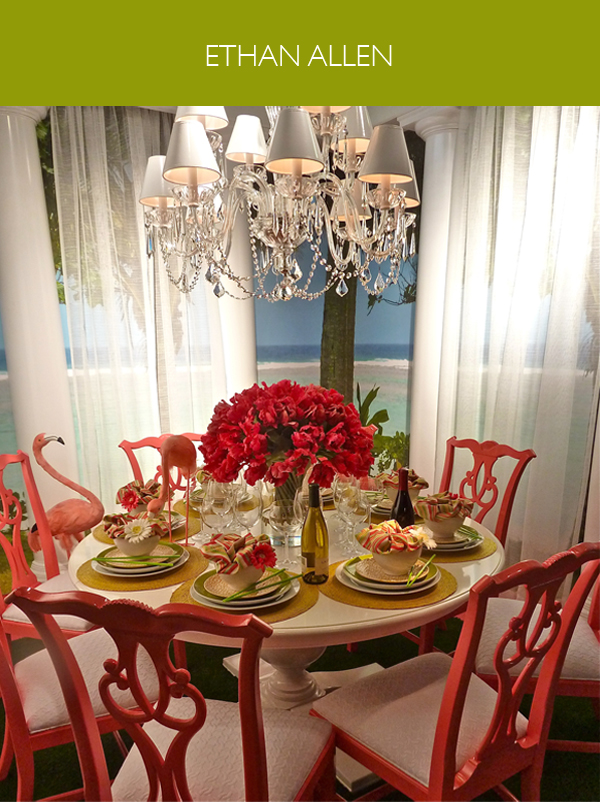 The light hearted attitude extended to the tabletop where the pink and green mixed with a straw yellow for a casual easy going setting.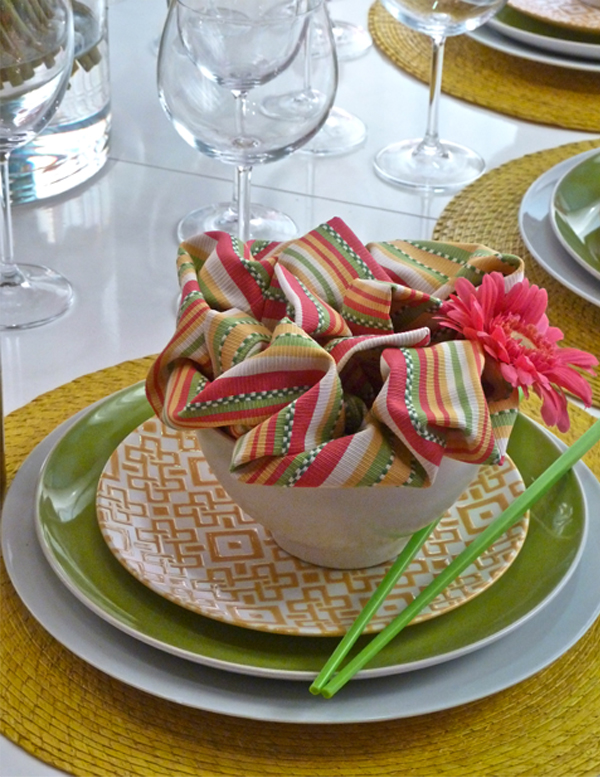 Designer Libby Langdon created her tables for Liebherr, the upscale German appliance company. I loved the clever theme of "Creating the Perfect Climate" for the environmentally friendly refrigeration specialist. Langdon's setting for a temperate al fresco dinner was a cool combination of blue and taupe starting with the ikat on her chairs for Braxton Culler. The fun hand crafted wine bottle chandelier by By Gordon added a whimsical touch to the plein air scheme.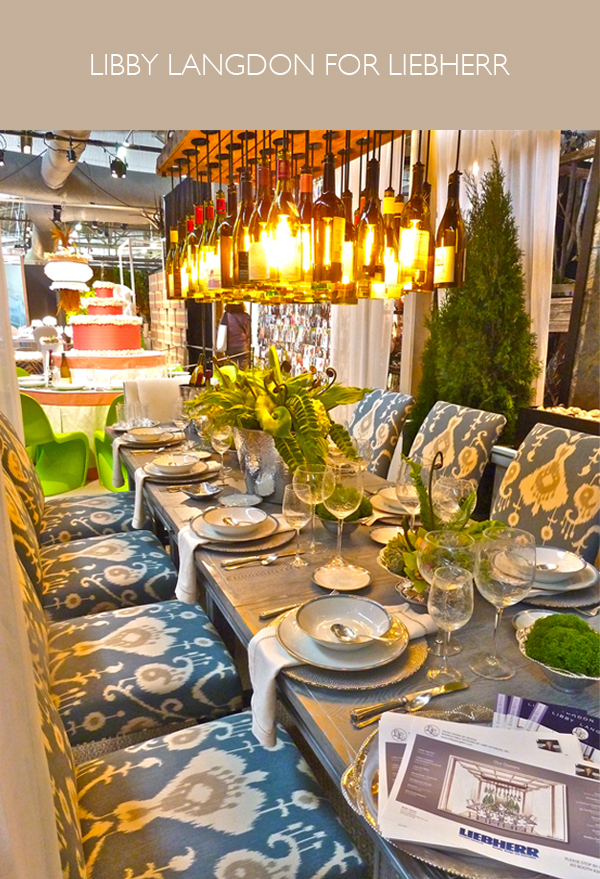 The tabletop featured a casually chic mix of Pillivuyt dinnerware from La Maison Supreme and sand cast aluminum serving pieces from Mariposa. I own pieces from both these companies and frequently mix them for casual entertaining.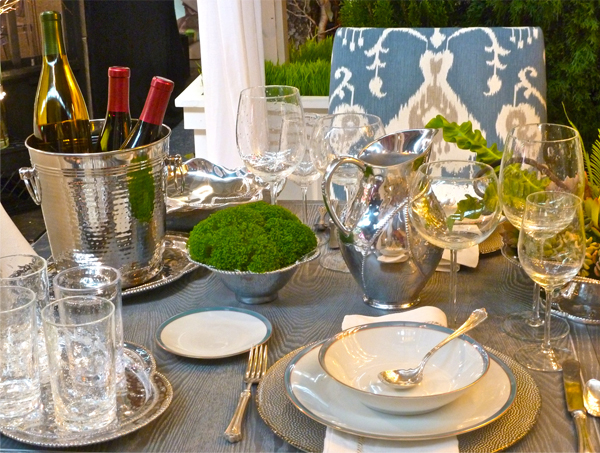 Congratulations to all the designers who were a part of the event – such wonderful inspiration for such a worthwhile cause!