After almost four decades of presenting the Nantucket Antiques Show as their major annual fundraising event, the Nantucket Historical Association updated and rebranded this much anticipated week, introducing Nantucket by Design this year. Honing in the focus on design and designers, they organized, under the capable, enthusiastic and energized leadership of inaugural chairman Maureen Bousa, a terrific week of events highlighting established and emerging talent as well as iconic island properties and local resources.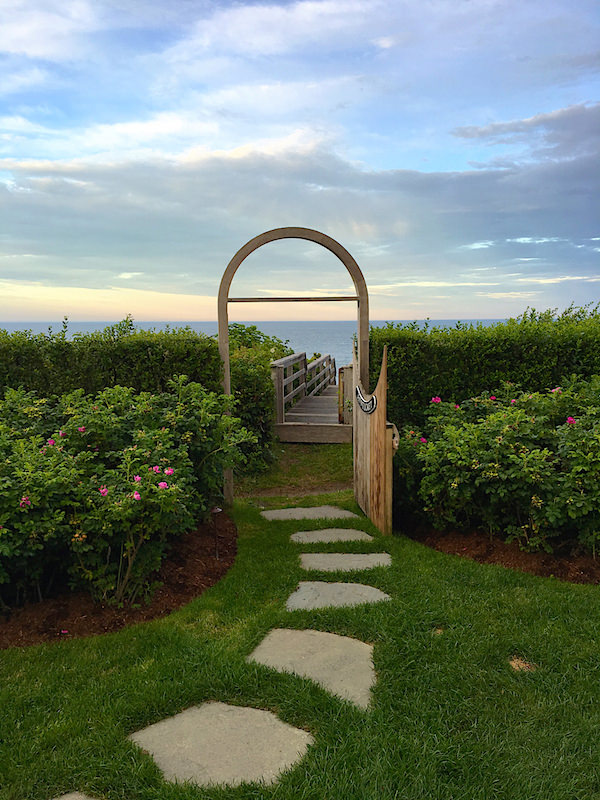 Several of the popular events remained, including the kick-off VIP cocktail party, the Design Luncheon and the "All-Star" Design Panel, moderated by Susan Zises Green. In its fifth year, the Design Luncheon features an esteemed speaker from the world of design, this year a team of three – John Ike, Tom Kligerman and Joel Barkley, partners in the distinguished architectural firm Ike Kligerman Barkley. As in the past, the cocktail party took place at a property designed by the speaker, this year a beautiful house in Sconset (sneak peek of view, above, and guest house, below, including one of my favorite Urban Electric fixtures) that I will hopefully have time to share further.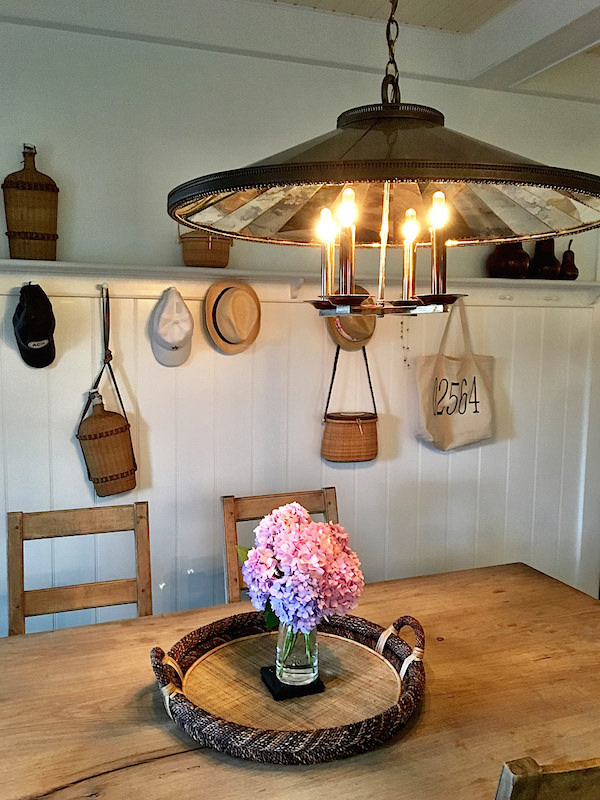 Moderated by friend Hilary Gustafsson, the discussion focussed on the architects' approach to an archetypal style so prevalent on the island, highlighted in their recent book, The New Shingled House, below.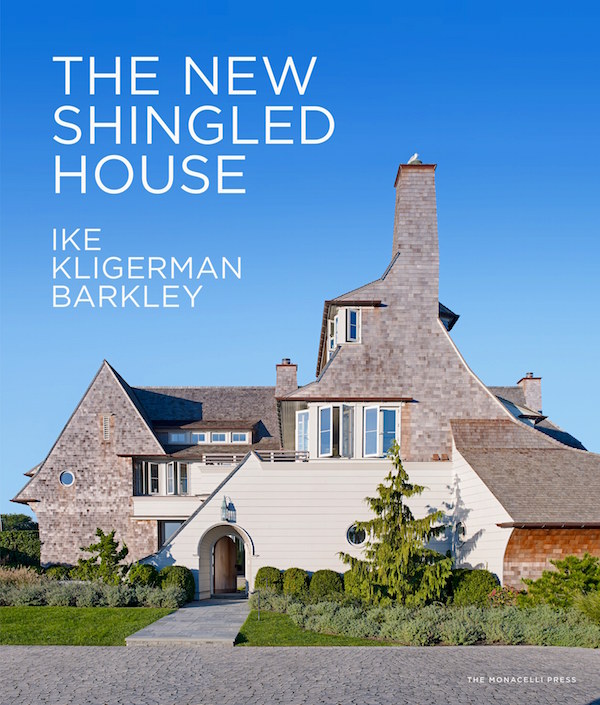 The popularity and long-lasting appeal of the shingle style is, as the authors explain, due to its versatility. It is not only flexible in terms of how it can be appropriated for both traditional and modern homes, relevant for beach, country, mountains, or even city, but it represents the best of both past and future, allowing for distinct individual interpretations of what home can mean. The firm even coined the term "Shinglish" to express their melding of English Arts and Crafts and shingle styles in a house in Deal, New Jersey, below.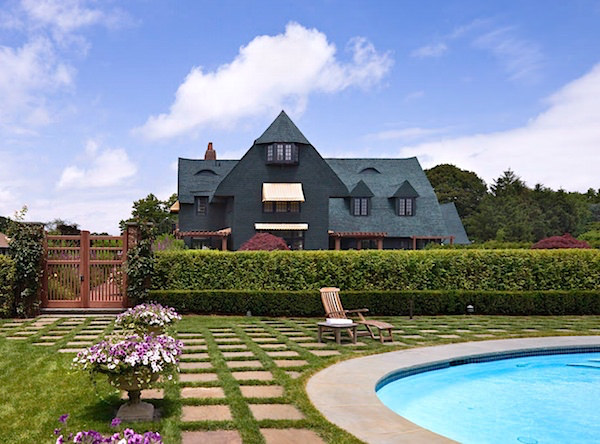 Shingle style is nothing if not inclusive, embodying many attributes, from the actual materials to the incorporation of  indoor/outdoor rooms, to, perhaps most importantly, its forgiving quality – "its ability to absorb and reconcile unusual or conflicting concepts." It is this warm, human, "shaggy" virtue that gives Ike Kligerman Barkley the ability to create homes that fit their clients to a tee and will age with them like a perfect pair of well worn jeans. An IKB designed house in Sagaponack, below, is a great example.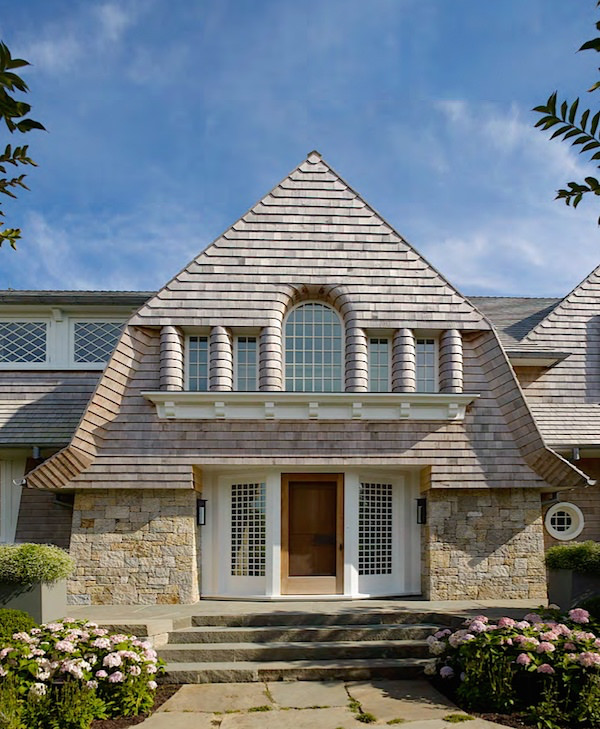 The request was for a traditional shingle style exterior with an interior incorporating the owner's art collection and spaces for a modern lifestyle. The front elevation, above, with its central gambrel over the entrance, and below with a charming hooded dormer,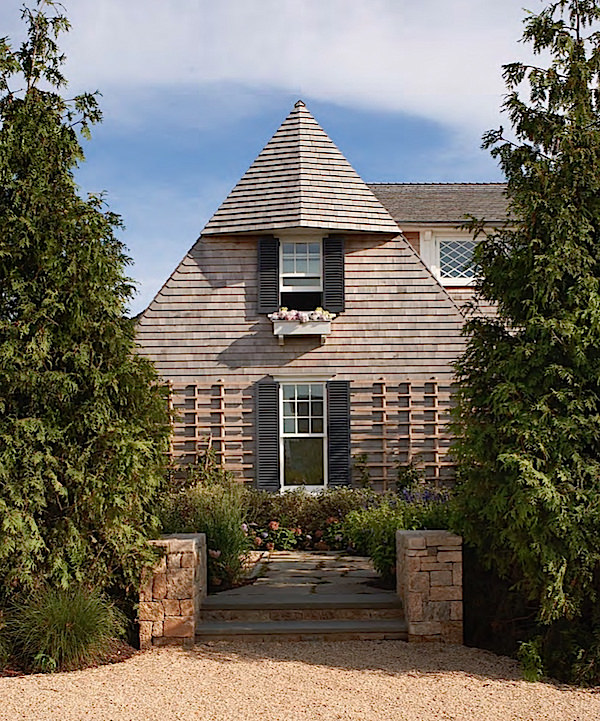 shows how the firm updated the classic shingle form for a contemporary spin on tradition. Tom Kligerman's thoughts for the inside, influenced by project interior designer Ellie Cullman, combined refined materials and finishes. Simplified geometric forms meet elegant stone, wood and metal for a presentation of understated luxury, as seen in a guest bedroom below lined with bleached oak.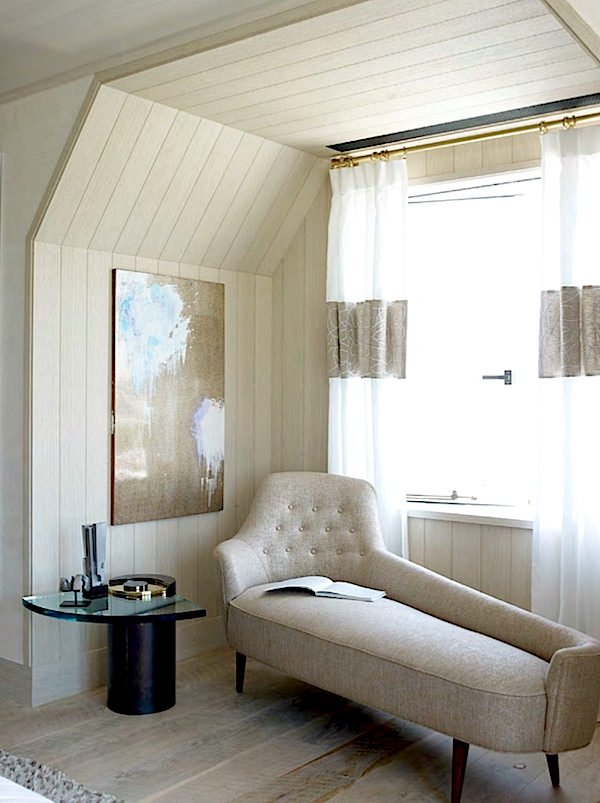 Tom spent his childhood summers in coastal Rhode Island, and it was his love of sailing wooden boats that in part sparked his fascination with design, craftsmanship and the area's shingle style homes. For a house in Watch Hill, he channelled this passion by using long boat inspired shapes, multiple decks, and a clean nautical color combination of contrasting gray and white. The entry below, with its black framed windows, crisp millwork and brass hardware clearly references life on the water,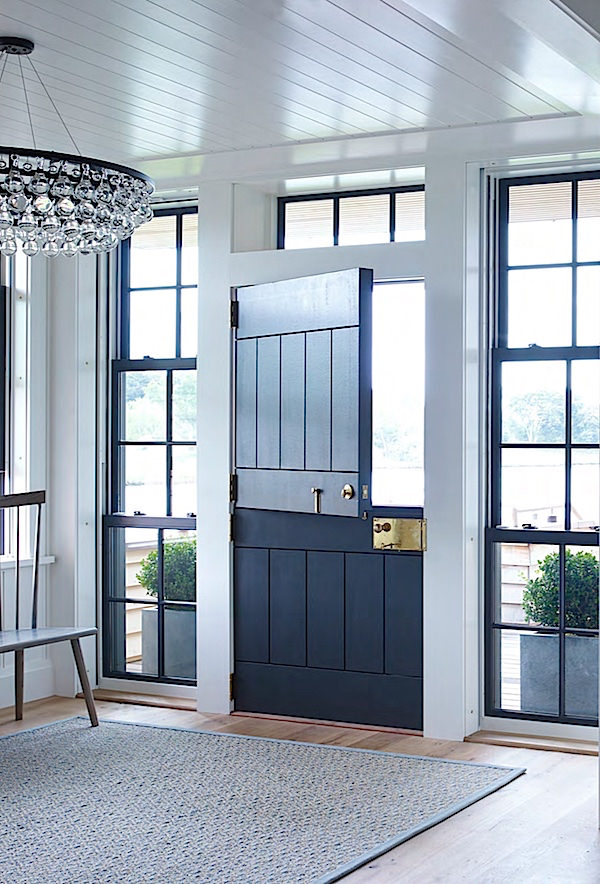 while the den and study, below, painted in a dark high gloss, recall elegant staterooms.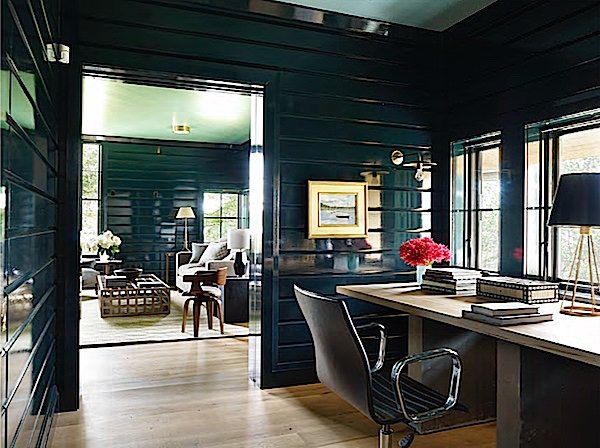 Listen to Joel Barkley speak and you will often hear metaphors describing his artistic process. In the book, he compares shingle style projects to "salad design." When the salad is successful, the main component of lettuce (shingles) is mixed with an unexpected yet limited assortment of ingredients (picturesque architectural elements), all expertly tossed together for a cohesive result. Barkley cautions, however, that it's all in the toss.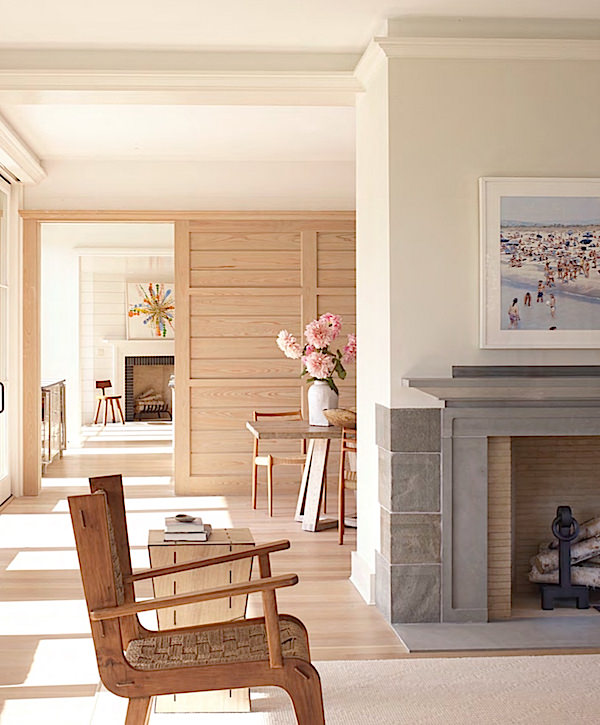 His toss in this Southampton house he designed, pictured on the cover above, is a masterful mix of eclectic spaces surrounding an enclosed courtyard plan. Sweeping volumes echo the ocean's waves and innovative geometric details combine for a house that both welcomes and protects its occupants from its environs. In the airy enfilade from living room to kitchen, above, straight lines appear as a repeating motif within a pale and elegant palette.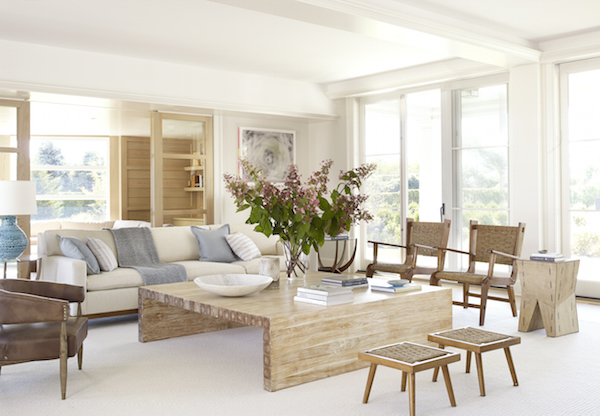 While the plan feels open, Barkley found subtle ways to connect and delineate the spaces. Interior glass doors separate the open, sun-filled living room from the cozy cypress-clad study below, an artful melding of architecture and materials. Barkley cleverly lowered the ceiling in this room to create a separate, more intimate space.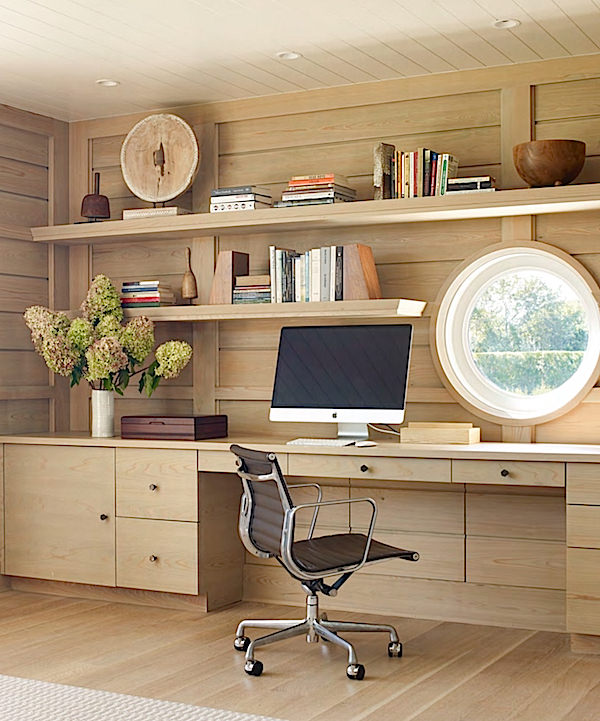 The firm not only designs custom homes, but also undertakes renovations, where they enjoy the creative challenge of working within constraints. John Ike's masterful restoration and reinvention of a 1906 Adirondack-style lodge, below,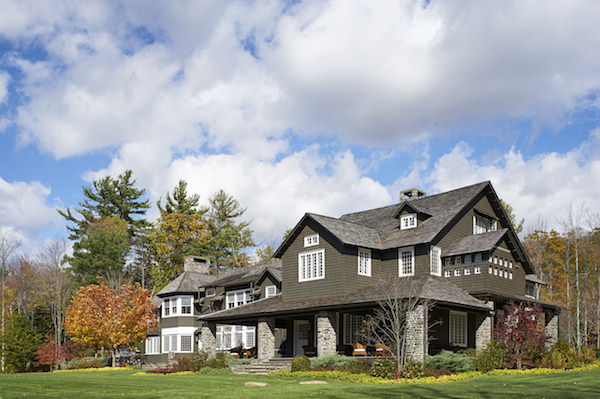 shows how shingle style can unite disparate forms. A classic shingle style hallmark, the multifunction entrance hall (so very modern in concept), was added as a double height appendage, below, segueing to the original core of the house.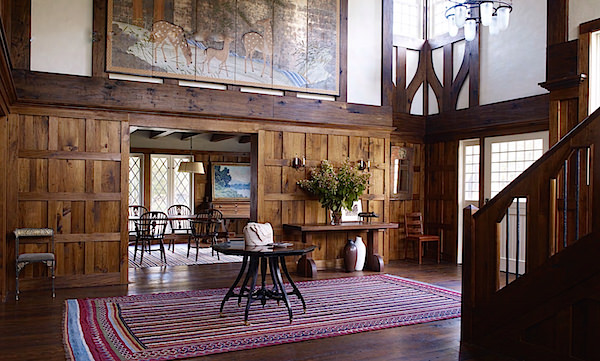 The melding of old and new in the project was accomplished not only through architectural renovation and additions but choice of materials. In the entry hall, for example, reclaimed chestnut millwork, above, was dyed, oiled and waxed for an authentic finish. New rooms reflect the same aesthetic choices as seen in the handsome kitchen, where bookmatched slabs of Calacatta Paonazzo marble mixes with brass and copper trim and the warm chestnut millwork.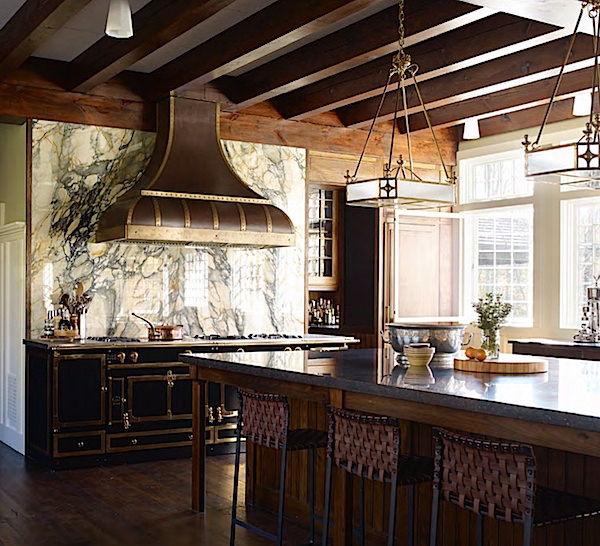 The interiors enhanced and enriched the architecture with Arts and Crafts elements from around the world. Semi-transparent screens, a traditional shingle house feature, were made in Morocco and Egypt, for the the front hall, below.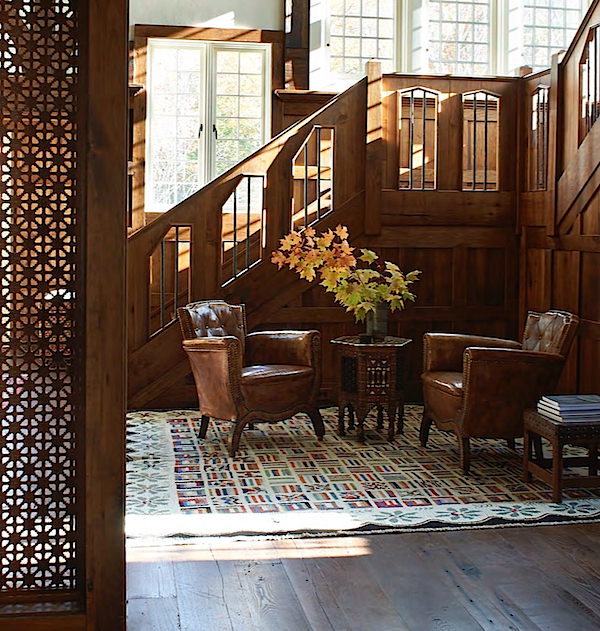 The resulting house, while not necessarily typical for the firm, is a perfect representation of the Ike Kligerman Barkley ethos. As Ike explains, the house is "a layered richness of outcome that spanned countries and epochs, united by a respect for history, a knowledge of how things are made, and a love of craft – all qualities that distinguished the shingle style when it was new, and now serve to make it distinctive and thoroughly of our time."
All photographs from The New Shingled House by William Waldron