I was delighted to see that the New York Gift Fair featured hardboard placemats. Not only are they classic and elegant, but practical, and who doesn't love that combination? With stylish designs and wipeable surfaces, it's a win win. Several examples were seen at the Gift Show in a variety of categories and price points.
At the winter New York Gift Show, I had discovered Holly Stuart's smart collection of mats. This show, she moved from the smaller venue of Pier 92 to the mainstream at Javitz with great success. And no wonder, her custom cut, hand silk screened hardwood mats are beautifully executed. Backed in black, trimmed in gold and protected with two coats of matte clear polyurethane, they are a great addition to the well dressed table.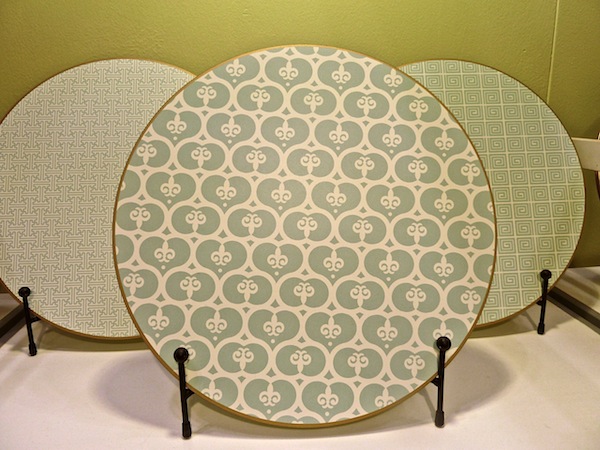 One of the new pattern introductions was the handsome "Spade" above in sky. With a reference to the exotic trend in the market, it maintains a timeless appeal. Born out of the discovery that "dressing the table is as much fun as planning the meal," Holly's designs celebrate the tradition of connecting around the table.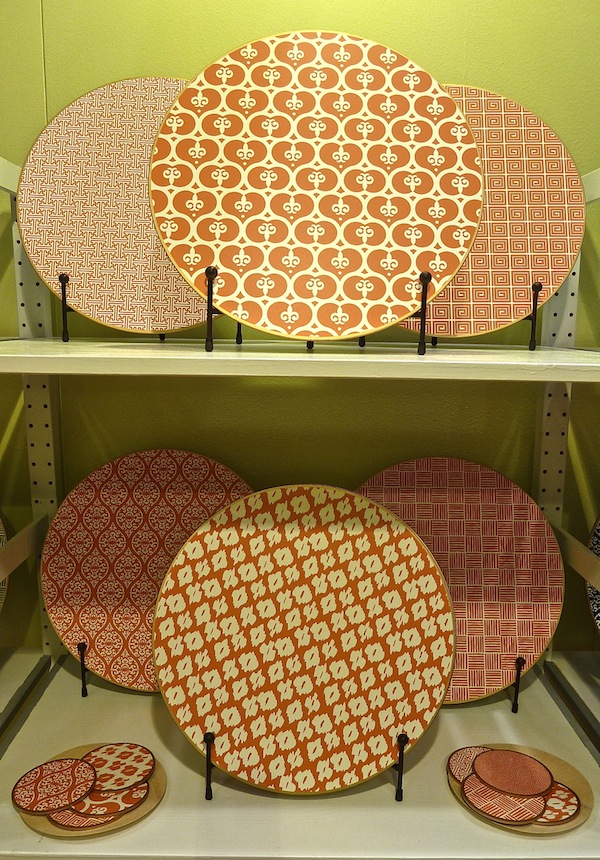 You can imagine how much I liked the new persimmon colorway above and the second new pattern, Persia, can be seen in the bottom back left. The designs are also available as sets of coasters, perfect as hostess or holiday gifts.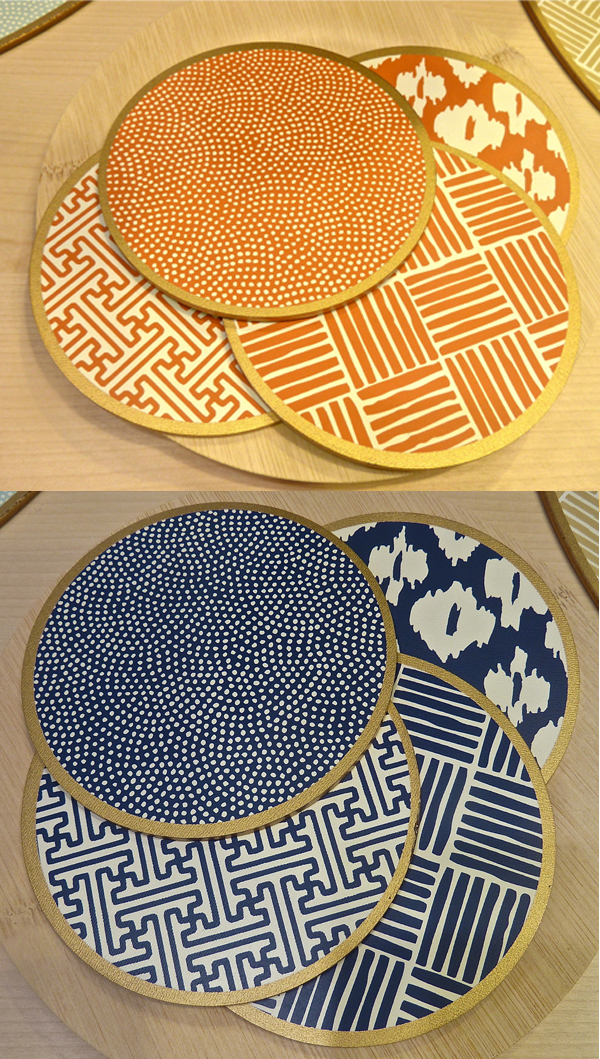 A new entry at the Gift Show was Monique Ogilvie's elegant couture collection. An interior designer out of Palm Beach, Monique's hardboard placemats are hand-painted in watercolor and gouache and then digitally transferred to the placemat surfaces that have been primed, sanded, hand painted, and coated with applications of protective varnish and backed with velour. From graphic designs such as this snappy Nautical mat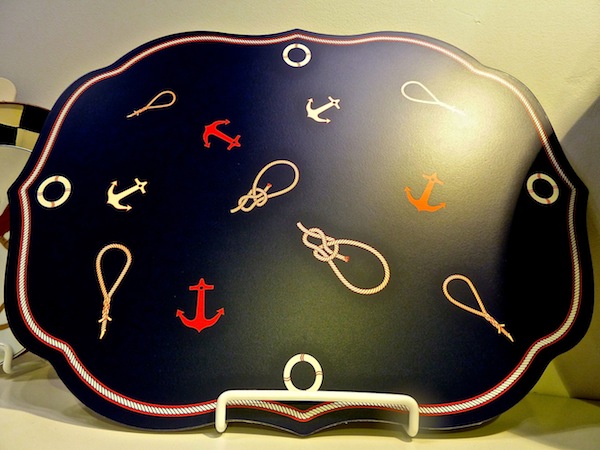 to delicate florals like the limited edition Les Papillons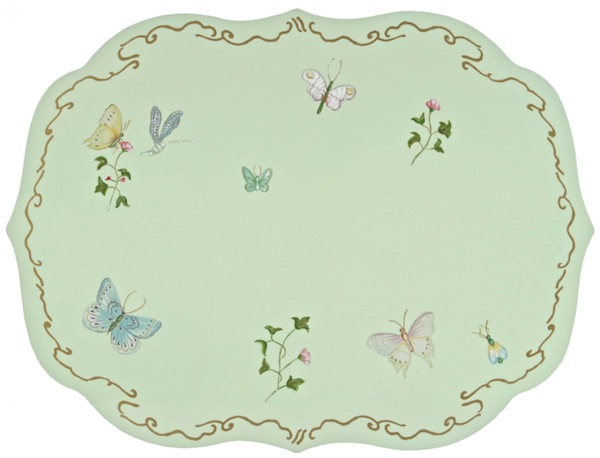 to other natural subjects such as this Water Lily collection,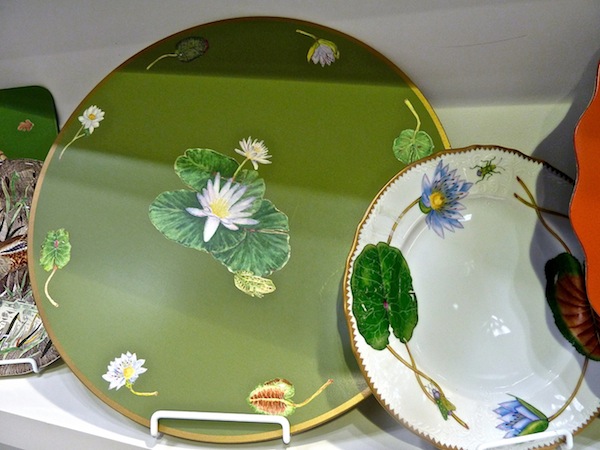 Ogilvie's mats are designed to work with and complement fine china patterns from around the world. Available in a variety of shapes and designs, they make wonderful gifts for anyone who appreciates dining in style.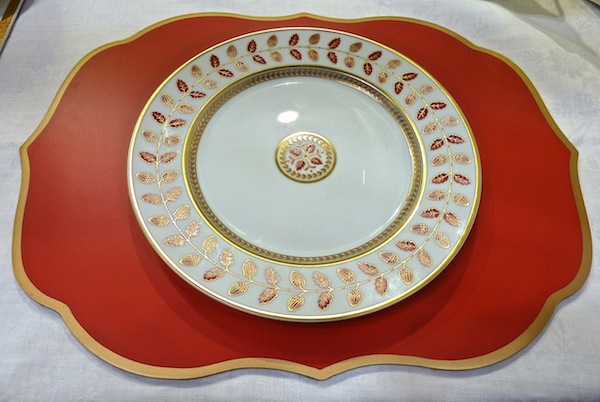 You can see here how the same mat in marine blue gives a completely different effect.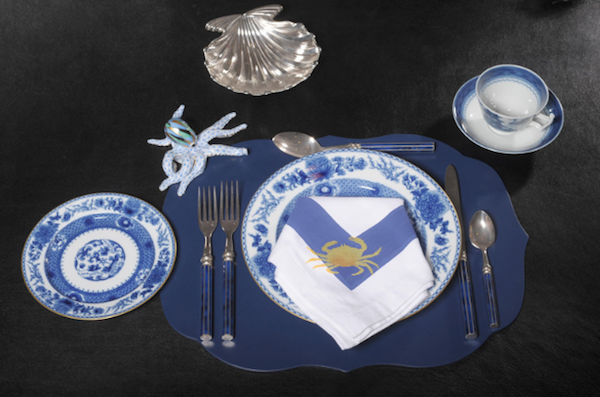 In addition to her limited edition existing designs, Monique Ogilvie is pleased to create placemats to any specifications including monograms, insignias etc. or to complement your china. The possibilities are endless!
Wishing everyone a very happy long weekend!!