It was in the 1960's and early 70's, when Ward Landrigan, then head of Sotheby's jewelry department, first spied the distinctive work of jewelry designer Suzanne Belperron. By 1987, Landrigan had purchased Verdura and had hoped to augment the collection at the landmark Sotheby's sale of the Duchess of Windsor's jewels in Geneva. While the realized prices were astronomical and he didn't acquire any Verdura pieces, he did note the Duchess' sixteen Belperron pieces (only five of which were identified) and was officially hooked.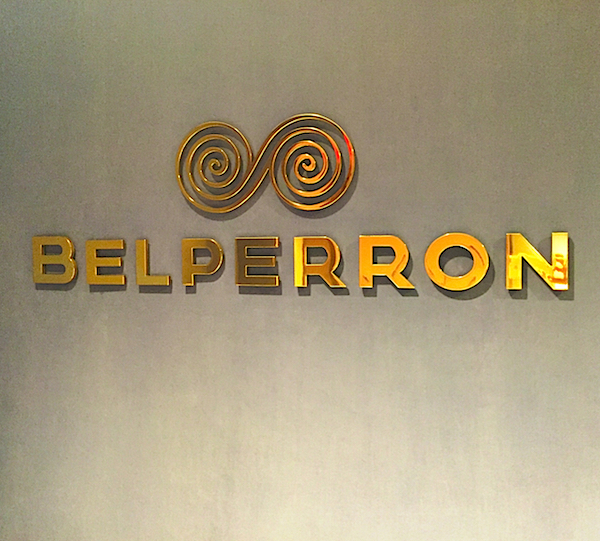 In 1999, Landrigan finally bought the Belperron name, archive and worldwide rights, including over 9,200 original gouache paintings and designs. And this October, the Landrigans (Ward and son Nico, President of the new Belperron) relaunched the maison, with a new website and an elegant flagship boutique, next to their Verdura location.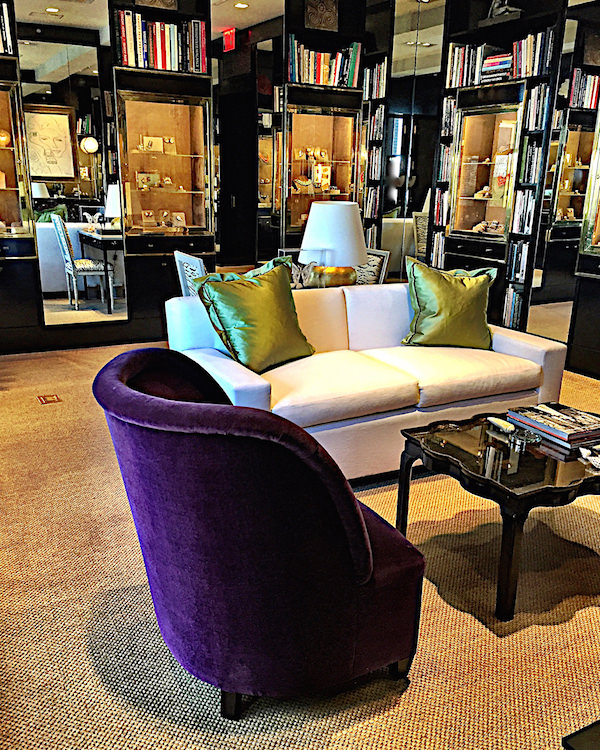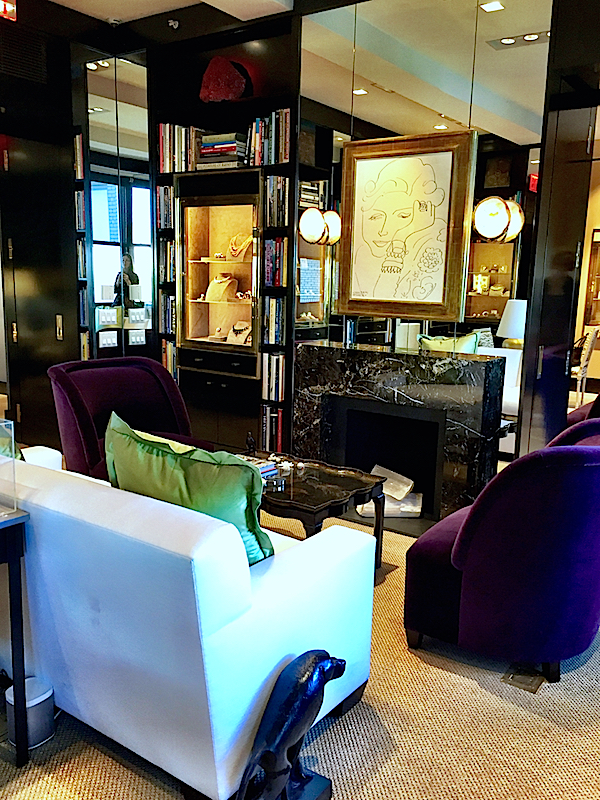 Designed by Daniel Romualdez, the salon has the feel of a glamorous Parisian apartment. Within the four galleries, black lacquer and brass cabinetry with amethyst velvet and chartreuse silk mix Deco flair with contemporary chic.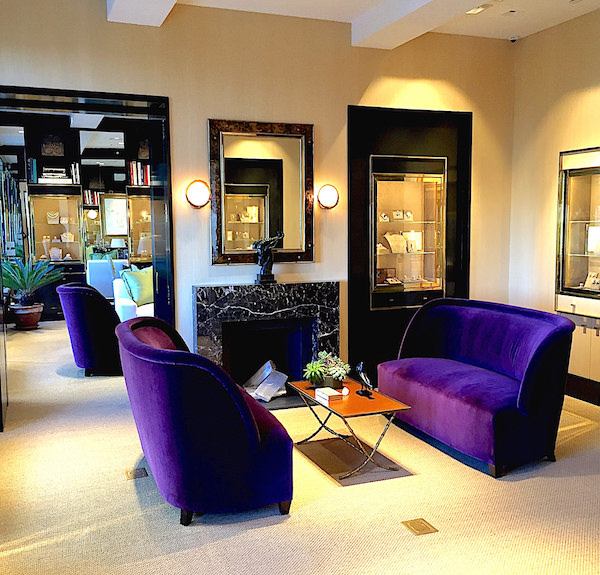 With an extensive design library, various seating areas and marble fireplaces, the space has a luxe and private residential feel. As Romualdez says, "I wanted to create an environment that spoke to the elegance and glamour of this spectacular Fifth Avenue location whilst still evoking the intimate and private world of Suzanne Belperron in Paris of the 1930s."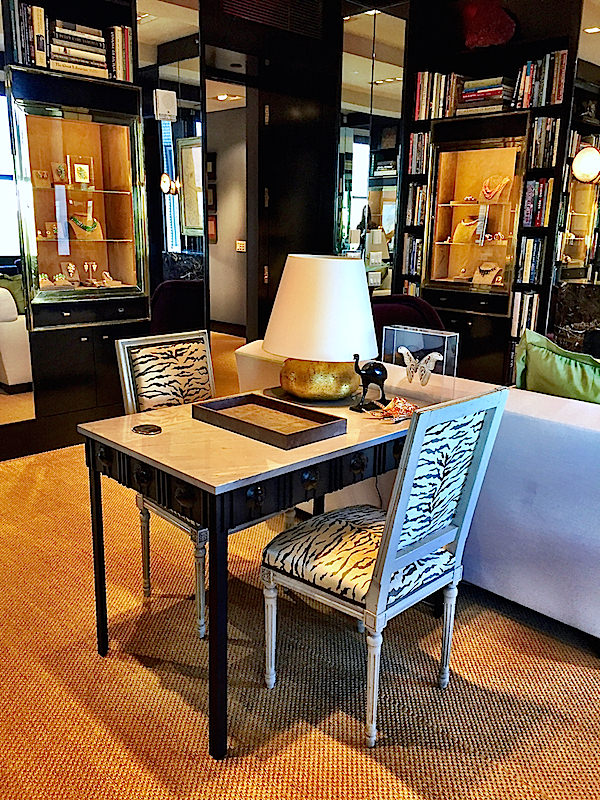 One of the most important master jewelers of the 20th century, and arguably the only female, Belperron remained, until recently, largely unknown. It didn't help that she never signed her work. Her now famous line, "My style is my signature" is indeed true.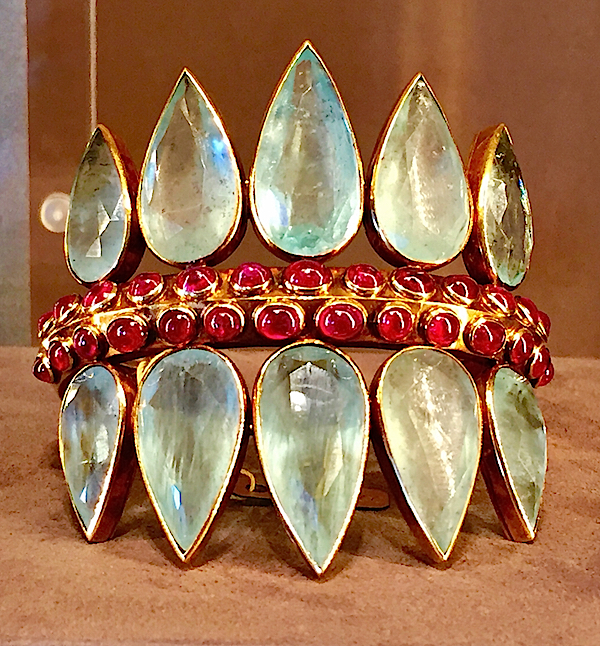 Her iconic designs, such as the tribal inspired vintage Double Coronet Cuff with aquamarine, ruby and gold, above, were not only groundbreaking in their bold and sculptural simplicity, but different from anything else, earning her admirers and clients from Jean Cocteau and Colette to Elsa Schiaparelli and Diana Vreeland as well as modern devotees such as Karl Lagerfeld and Daphne Guinness.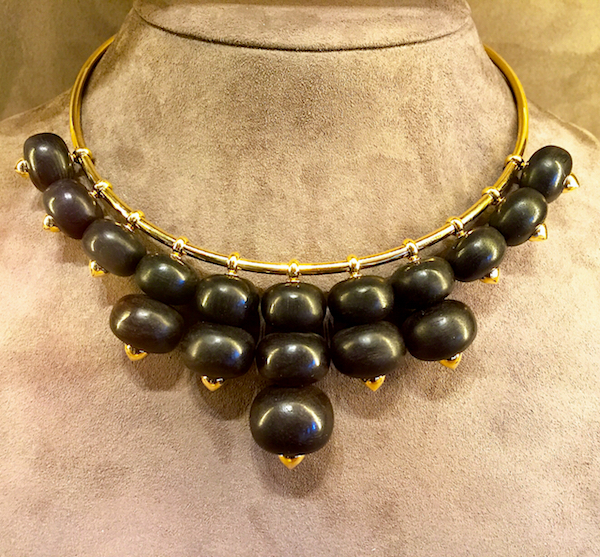 Taking inspiration from a wide range of cultures, her fearless fusion of forms and pioneering mix of materials as seen in the ebony and gold Abacus necklace, above, set her apart.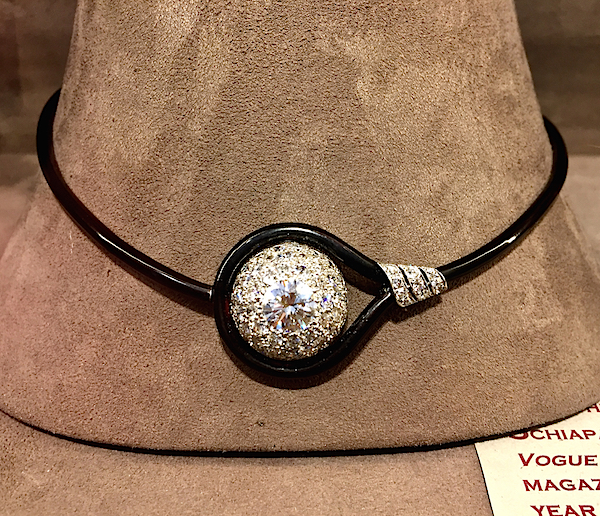 As they have done with Verdura, the Landrigans will sell both vintage and new pieces, the latter created entirely from her archives, many of the designs never having been executed. An original of the new diamond and lacquer Toggle Torque Necklace, above, was owned by Schiaparelli. Photographed for Paris Vogue wearing it in 1933, she declared Belperron's creations "the new theme in jewels."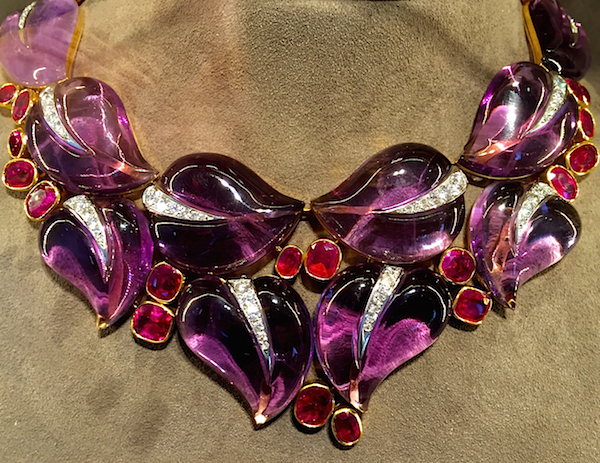 While Belperron may not be as recognizable a name as other giants in jewelry design, many top stylemakers knew and bought her work. The necklace of carved amethyst, ruby, diamond, gold and platinum, above, from 1938, was originally from the collection of Dorothy Paley (the first Mrs. William Paley – before Babe), who also collected Verdura. And her set of Belperron carved emerald and gold cuffs, below, show the adventurous spirit of both designer and collector.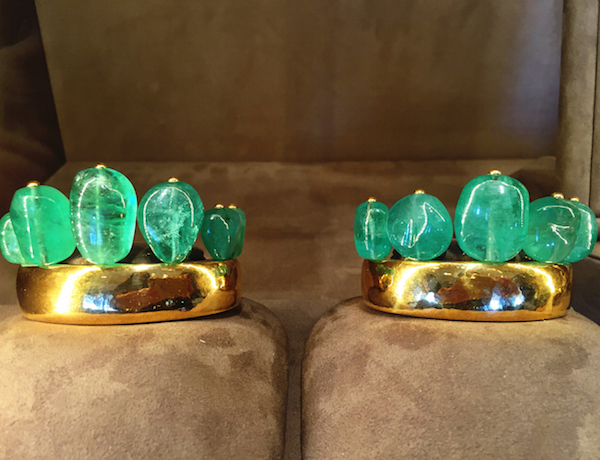 The vintage bamboo necklace, below, with detachable brooches, is emblematic of her impeccable technique and innovative organic designs.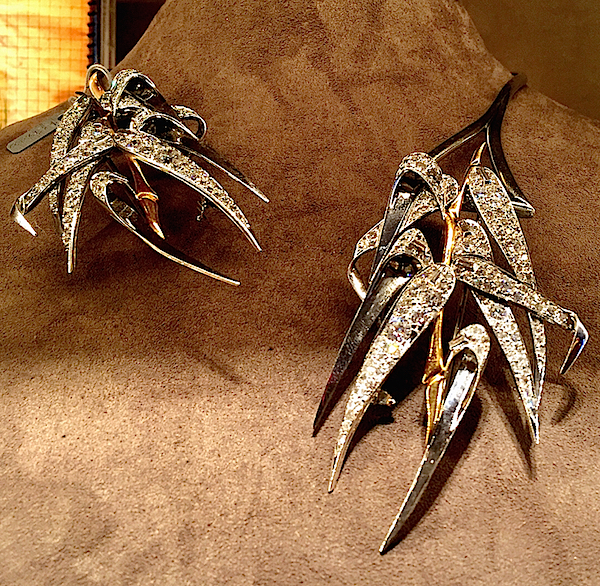 Some pieces are a combination, as the pair of new Tonneau, or Barrel, Cuffs below, with detachable vintage brooches of gold, ruby, emerald, sapphire and lacquer.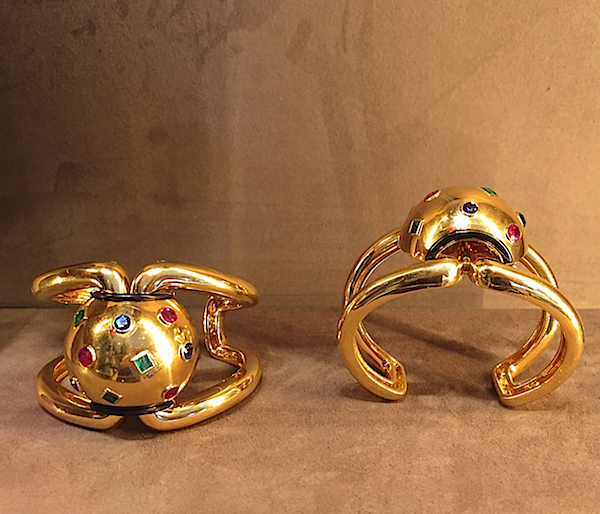 Another style below with detachable vintage dress clips.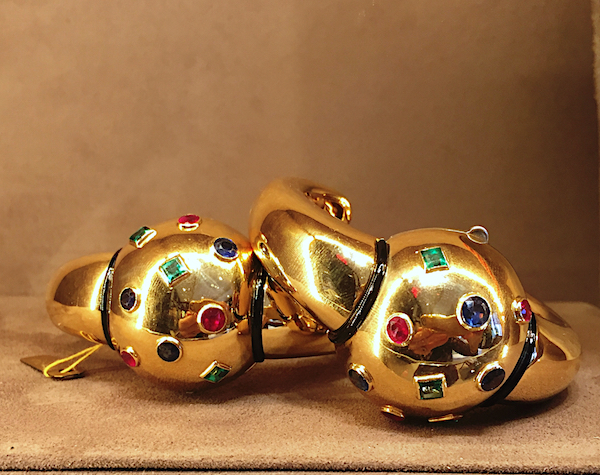 To differentiate themselves from the originals, pieces in the new Belperron Collection, such as the Wai Gu necklace below, will be signed, but will continue to be made in some of Paris' oldest workshops, one of which has a direct connection to Belperron's original master craftsmen.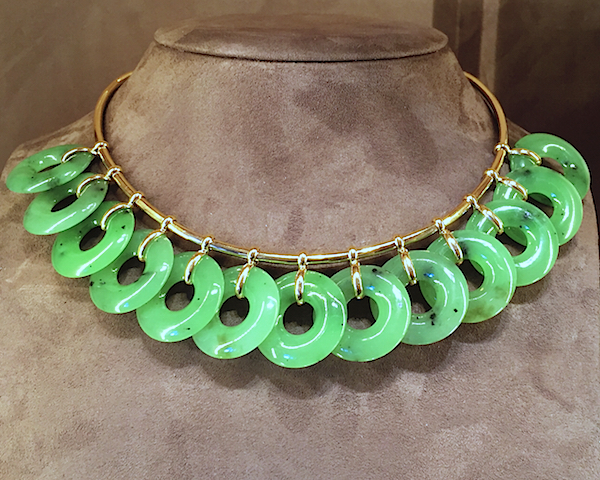 The new work will be shown in the salon alongside a large number of vintage pieces, such as the stunning Pagoda Bib necklace below. Culled from important private collections around the globe, these pieces will be continually changing as items are sold and new ones discovered.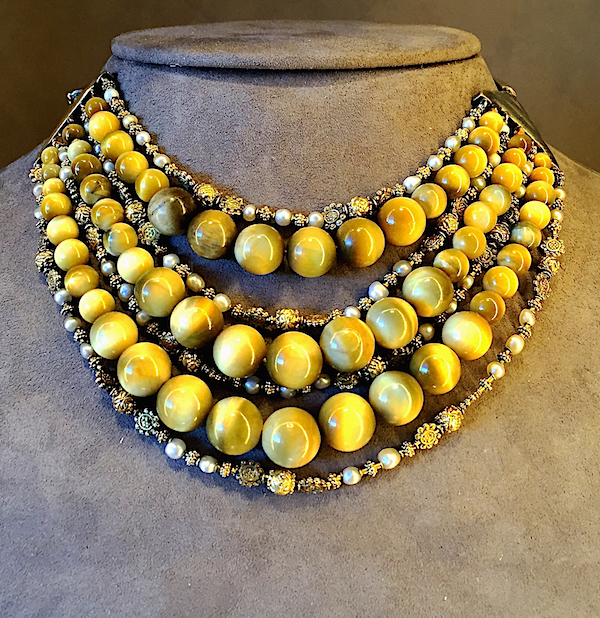 To learn more about Suzanne Belperron and her influential artistic legacy, Belperron has co-authored a definite monograph on its namesake designer.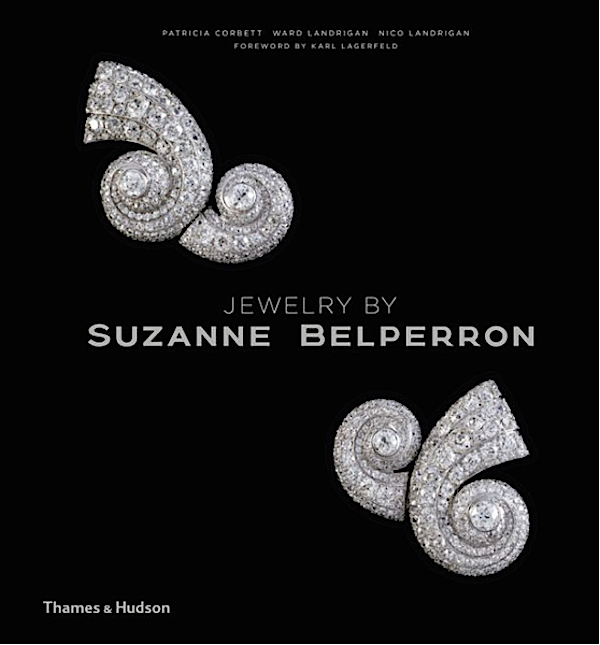 With over 300 photographs of jewelry from private collections, as well as illustrations from the archives and new editorial, this is a must have for any jewelry buff or Belperron aficionado. But of course a visit to the exquisite new flagship salon is the ultimate immersion!
all photos by Quintessence