Today (Thursday) is the final day to tour the Kips Bay 2016 Decorator Show House. While there is never time to tour all the rooms here on the site, today we take a look at the three bathrooms and powder rooms in the house. With projects spanning retail, corporate and hospitality as well as residential, Groves & Co. is generally known for their clean modern aesthetic. Inspired by the classic black and white bathrooms found in pre-war New York buildings, their master bath effortlessly references the romance of these timeless designs while maintaining a fresh contemporary look.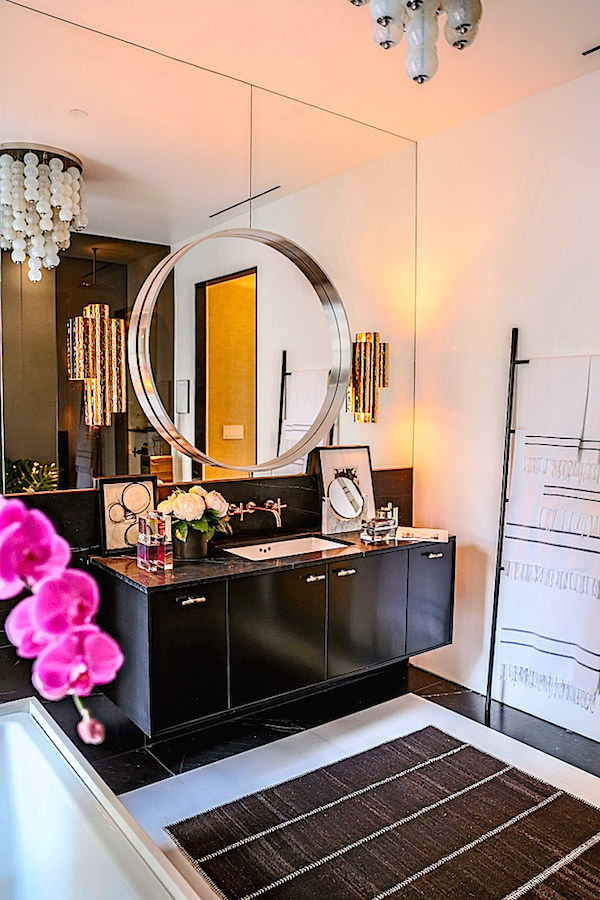 A luxurious combination of materials and accessories lend the room a feeling of sumptuous indulgence.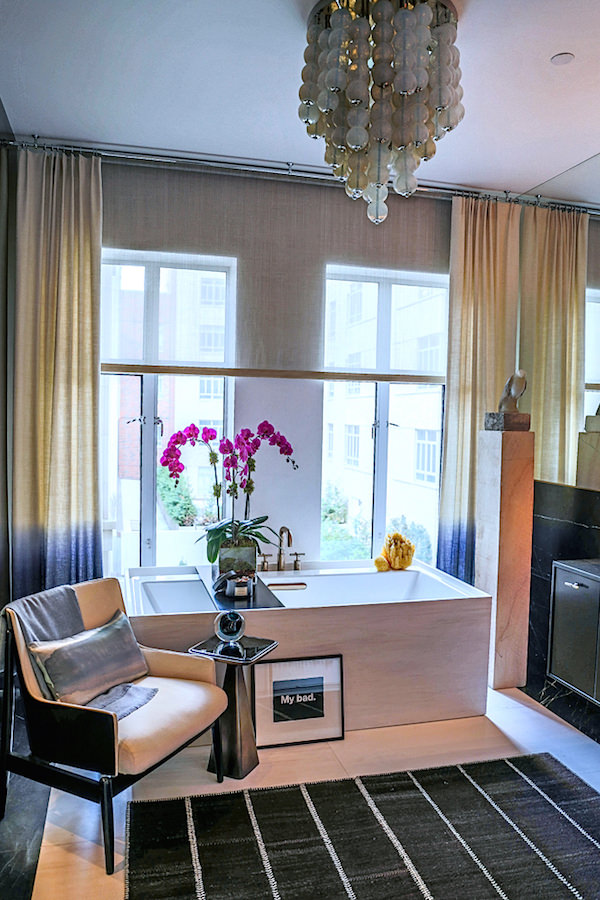 The high contrast color scheme and hard stone of tub and floor are softened by the ombre linen curtains and warmth of the Kohler bronze fixture finishes.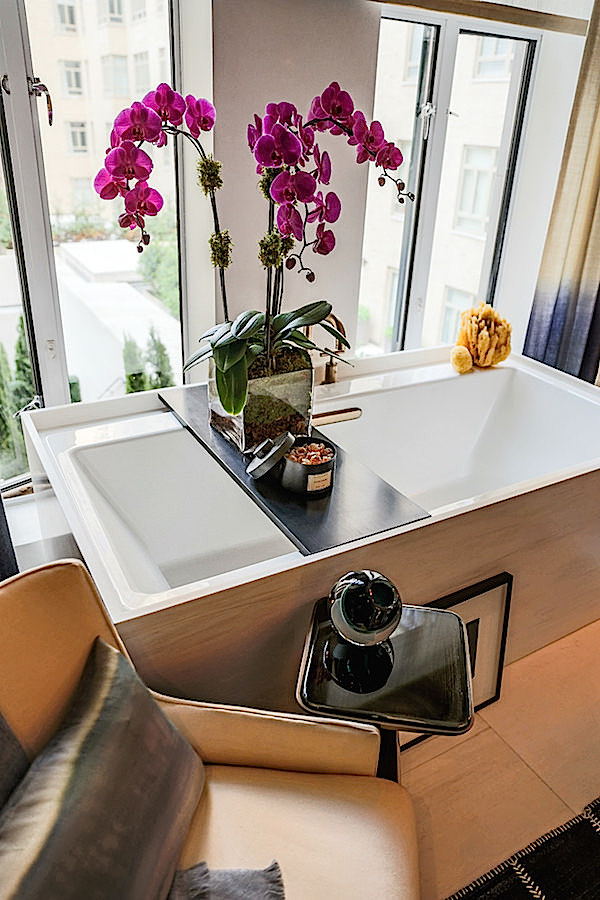 Ann Sacks' Nero Marquina tile is a personal favorite that is a refined and elegant choice, harkening back to those classic 1920's baths yet the perfect backdrop for the modern Kohler Purist faucet.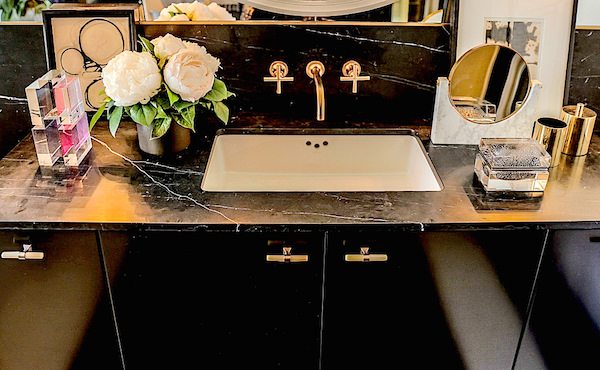 Harry Heissmann found inspiration from a rare Swedish mosaic panel for his powder room. The "Queen of Malaren" by Einar Forseth, created in 1923 for the Stockholm City Hall, was digitally reproduced from the original for the show house.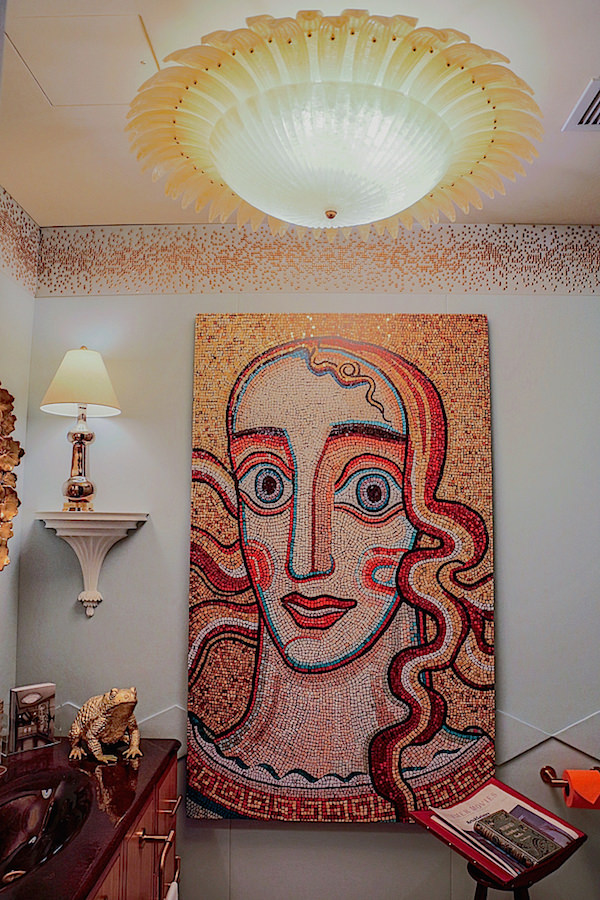 As a backdrop for the art, Dualoy created custom blue leather panels for the walls, upon which Harry commissioned a border of bespoke Ankasa embroidery, all lit by a graceful sunflower shaped Murano glass fixture from l'Antiquaire. A gorgeous geranium leaf mirror by Christopher Spitzmiller is a jewel-like addition to the room.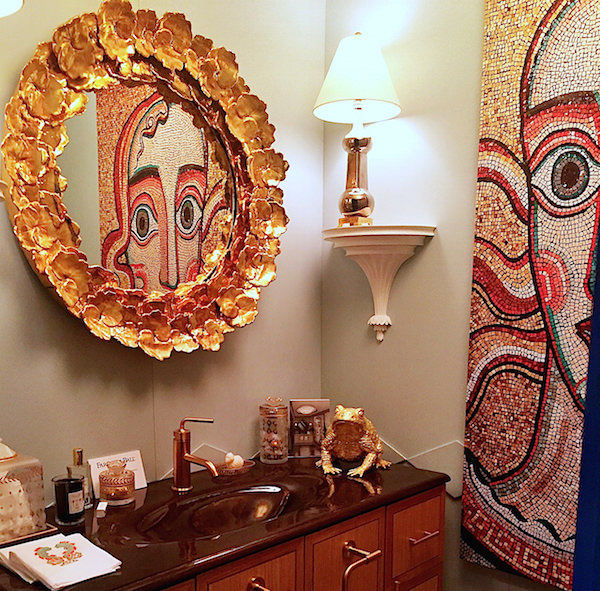 "Powder rooms are some of my favorite spaces to decorate," explained designer Gil Walsh."Because of their small size, you can be indulgent with materials and finishes." Inspired by a Tony Duran photograph of Jennifer Lopez, a childhood member of the Kips Bay Boys and Girls Club performing arts program, Walsh designed her "Beauty of Strength" powder room with the contrast of bold elements and sparkling finishes. Mica wall covering and curvaceous mirror from Baker offset the architectonic lines of Kohler's  Damask vanity.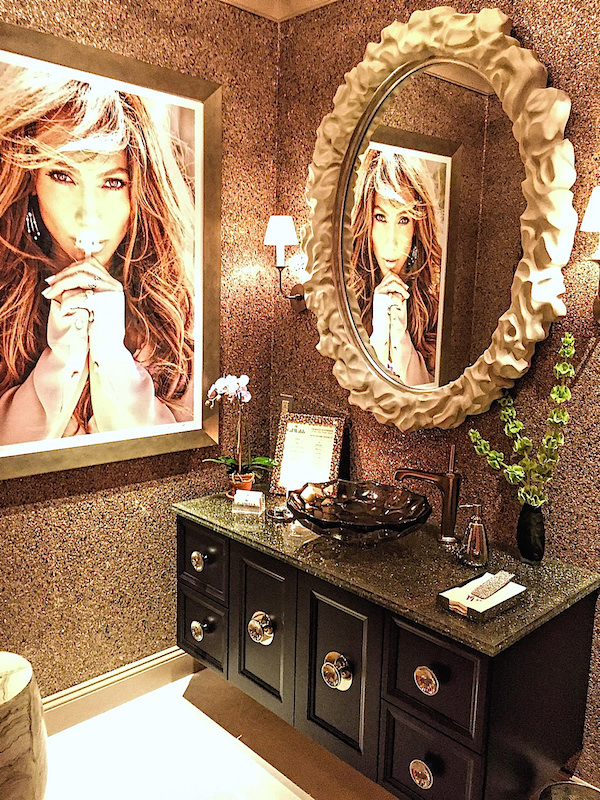 In the hall outside, nature is the inspiration as glittering Tony Duquette Dandelion Chandeliers for Remains sparkle over an undersea photograph by Chris Leidy on the left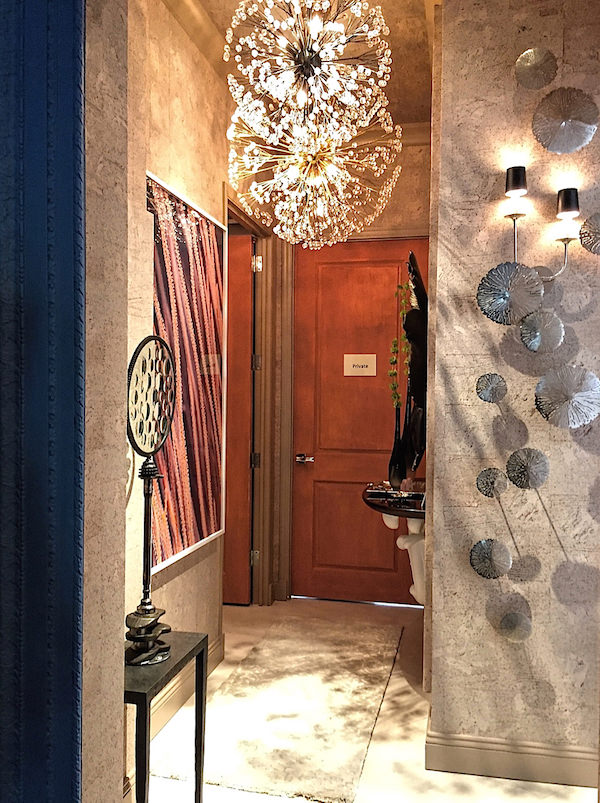 facing a floral sculpture by Nancy Lorenz over a Christopher Guy console.
all photos by Stacey Bewkes for Quintessence
Congrats to all the designers and everyone involved in the Kips Bay 2016 Show House. As always, it is a testament to the talent and commitment of our design community in working toward this worthy cause.