Wallpaper is a wonderful way of imbuing spaces with instant pattern appeal. Whether textural grounds, simple stripes or more elaborate scenes, people have been recently rediscovering the power of this design medium. One of my favorite finds at the AD Home Design Show was Voutsa, a lifestyle and interiors brand fulfilling Texan-born, NY artist George Venson's mission of "bringing life to our walls and our walls to life." Full of imaginative imagery and creative expression, his whimsical wallpapers "generate fantasy through brush strokes, abstraction and bold coloration."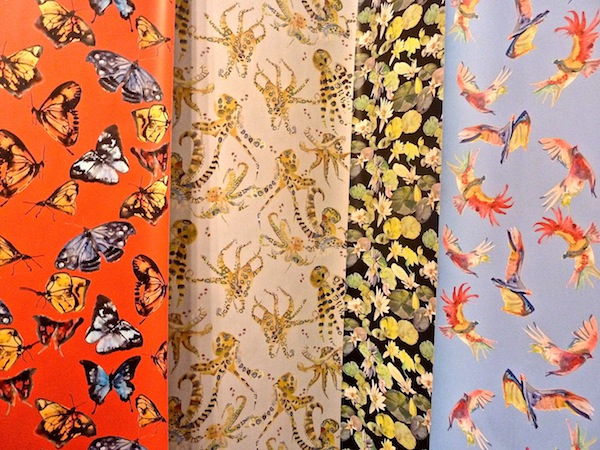 Originally inspired by cave paintings, he produces both digitally printed and hand-illustrated designs. Venson's signature works are lively, original and charismatic, full of movement and life.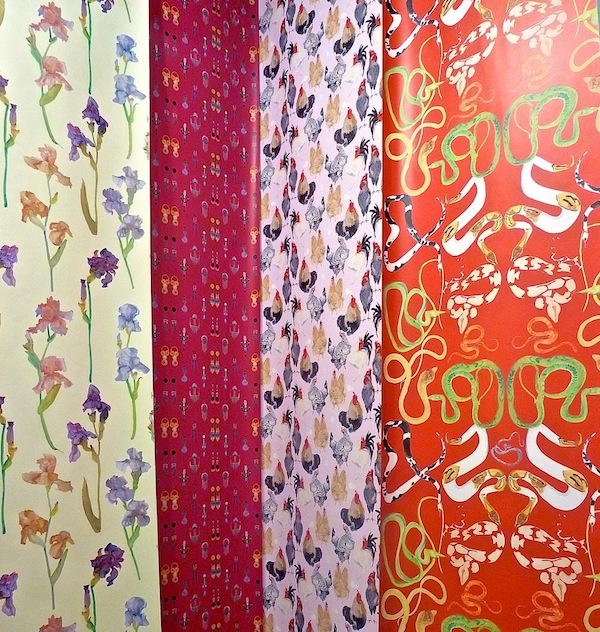 And while you can purchase from his collection,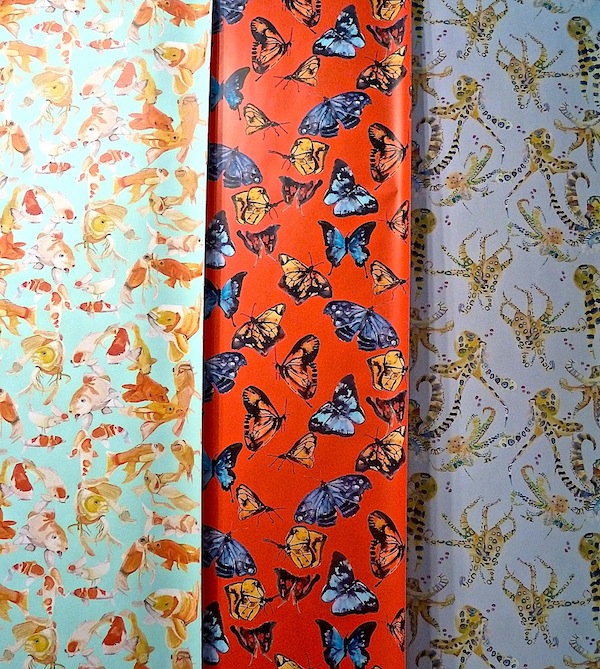 he also creates custom papers and installations and is working on a line of geometric tile patterns that should debut this summer on rugs, textiles and other decorative objects.
photo courtesy of Voutsa
St. Frank textiles is another recently established design firm worth noting. With a dual mission of helping indigenous artisans in developing countries and preserving and promoting traditional handmade craft, St. Frank provides "a unique art option for the chic and cultivated collector."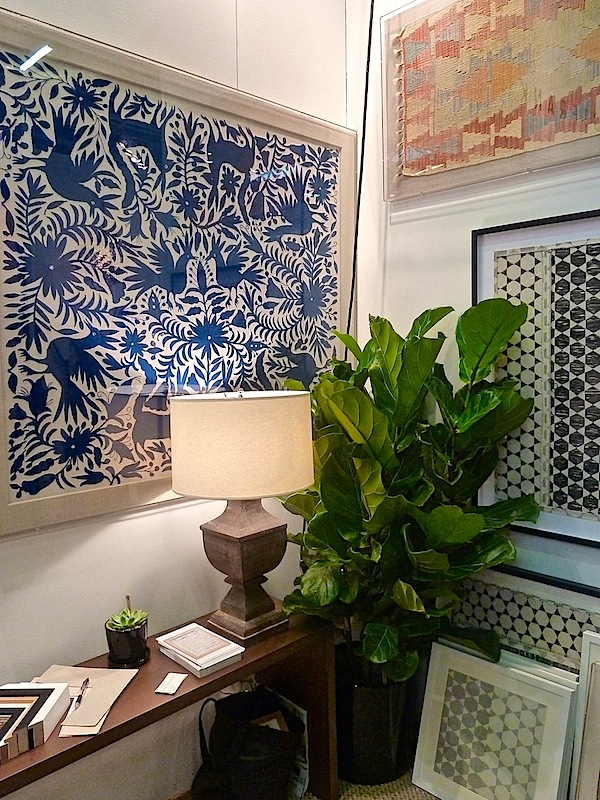 In a cozy and welcoming booth, I chatted with founder Christina Bryant about her concept. With a background in both art and international development, she established St. Frank as a way of bringing exceptional art from isolated and economically challenged environments to the attention of collectors everywhere. Each of their pieces are heritage textiles with a rich cultural history, both in the way in which they are made and the iconography of the work.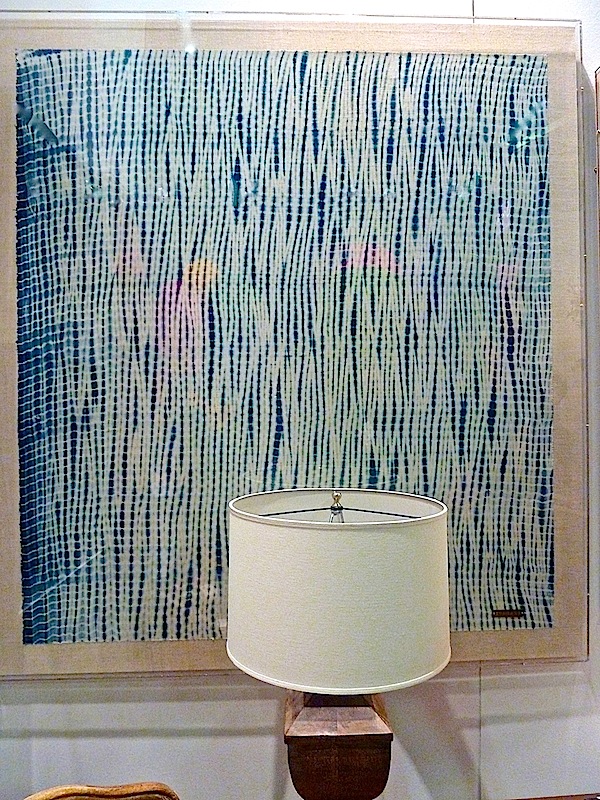 Organic Indigo, for example, is created within the tradition of indigo dying across North Africa. From ancient Egypt to West Africa, this precise and time consuming practice has produced fabrics dyed this color to symbolize opulence but also the passage from the world of the living to that of the dead, linking the heaven and earth. St. Frank collaborates with the African artist Aboubakar Fofana, who is dedicated to preserving this fast disappearing art. Having studied in Japan and France as well as Mali, he has found the finest remaining indigo dye masters. After personally studying with them, he sought out local craftsmen and farmers and trained them to grow organic indigo and cotton and then dye it in his Bamako (Mali) workshop.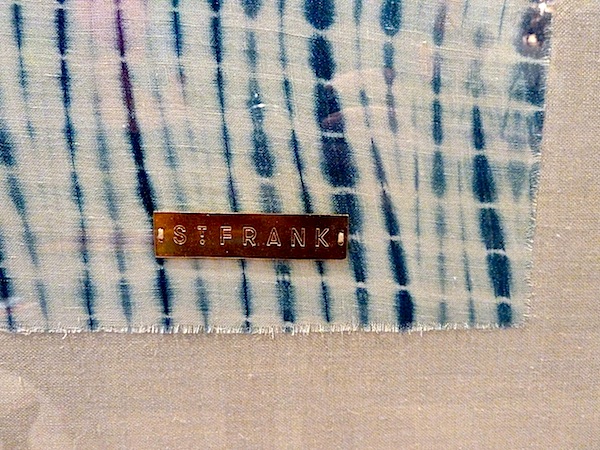 Each textile is then elegantly framed in a shadowbox with St. Frank's signature plate on the bottom corner. The result is a clean modern interpretation of tradition. Shoppers can choose by collection (from Berber to Grand Bazaar), size (ranging from the largest, sublime, to the most affordable, petite), origin, color or price. Works are also categorized by one of a kind, limited edition, vintage etc. And for those who are visually challenged imagining a work in their home, the collectors page shows images of pieces in situ by owners who have uploaded to the site. See how one of my favorites, Blue Tenango, an intricate embroidery from the Otamí people of central Mexico, looks in different sizes, environments and with different framing options.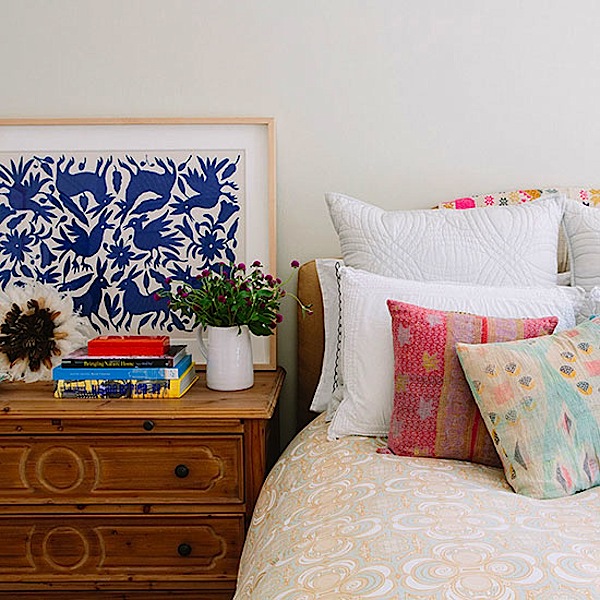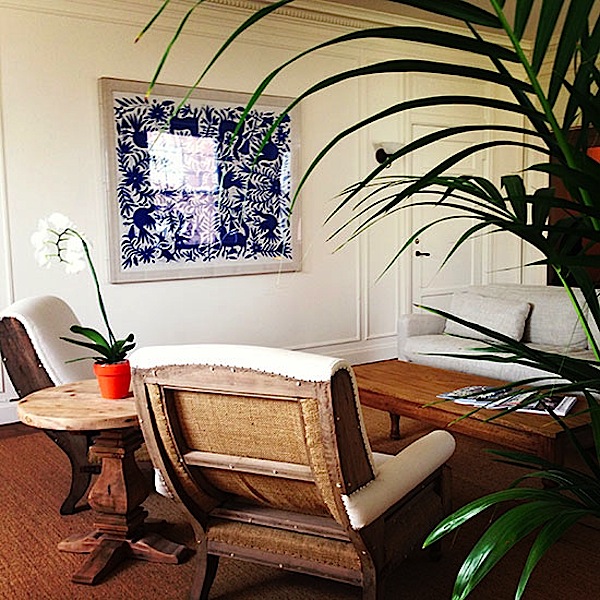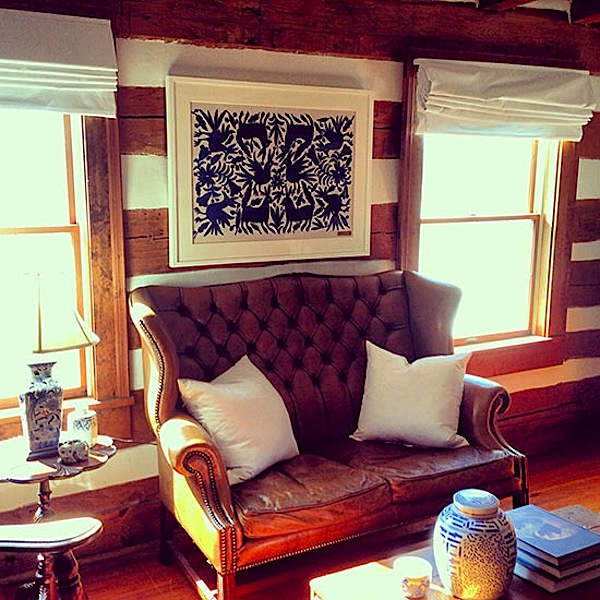 Another favorite from this and past shows is the elegantly detailed work of Fiyel Levent. An architect by training, her interest in Central Asian and Islamic Architecture shows in her delicate almost calligraphic designs. Her Hikari pendant lights are constructed from white lasercut watercolor paper available in 5 different hand drawn designs, finished with custom milled brass hardware.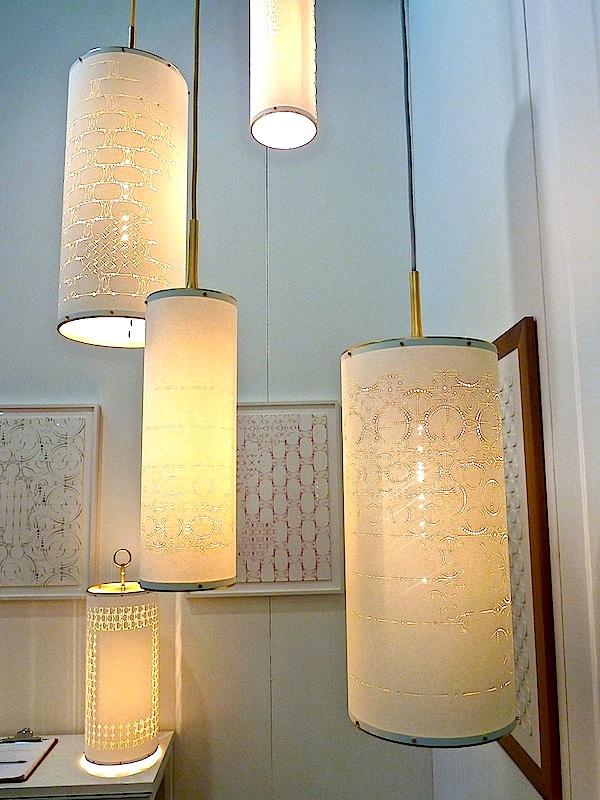 Hikari is available as a table light and Fiyel also frames her designs as artwork, an ethereal expression somewhere in between architectonic and anthropomorphic form.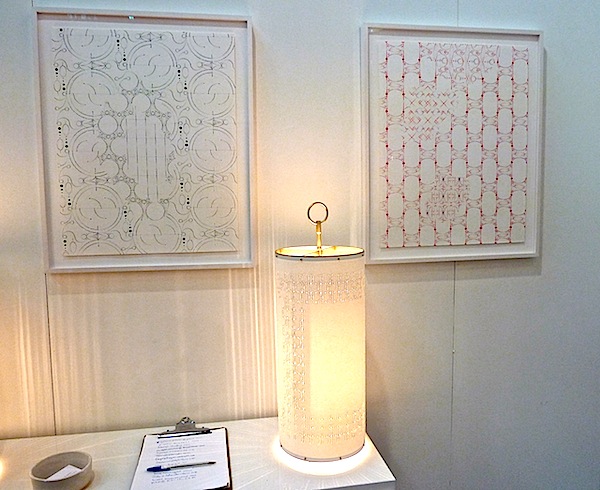 But you really need to visit her site to experience the wide range of projects in her repertoire. From architectural installations to design products to photographic essays, (she was awarded the Deborah J. Norden (a college classmate of mine) Foundation Travel Grant by the Architectural League of New York resulting in a photo essay of Andalucian Architecture, below), she is clearly an artist of many talents.
photos of Andalucian Architecture by Fiyel Levant
Elizabeth Lyons is a perennial show favorite. A sculptor and designer, she is commercially best known for her gorgeous decorative glass jars, a favorite of many interior designers, that can be found at Barneys and other design-savvy retailers. Each one-of-a-kind jar is hand-blown and signed by Elizabeth at her More Fire Glass Studio in Rochester, NY, which also provides a glassmaking facility for artists to produce their work as well as glass education programs for the community.
 photo courtesy of Elizabeth Lyons
At the show, Lyons featured her nature-inspired Natural Form Chandelier, a beautiful juxtaposition of organic shaped sculpted glass against the rigid structure of steel.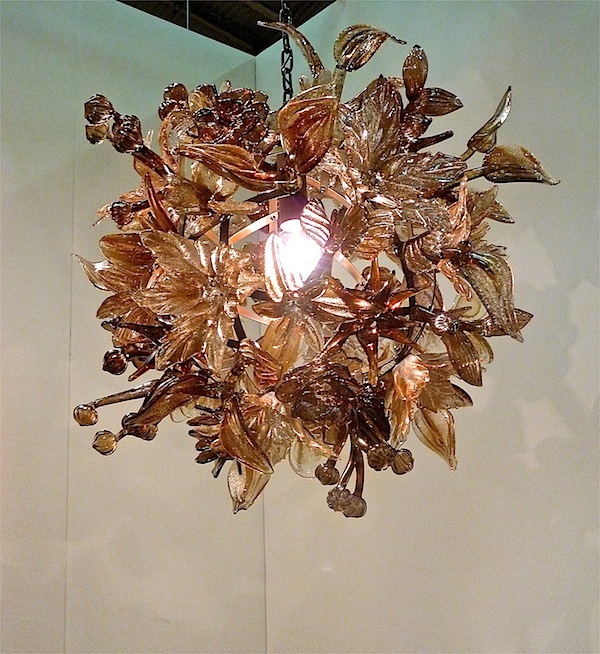 Her sculpture series, Tools for Earth, are objects of blown, cast, and solid-formed glass, branches, wood, found objects, steel, expressing Lyons' interest in the qualities of process and materials, "defining space and a sense of age and time. "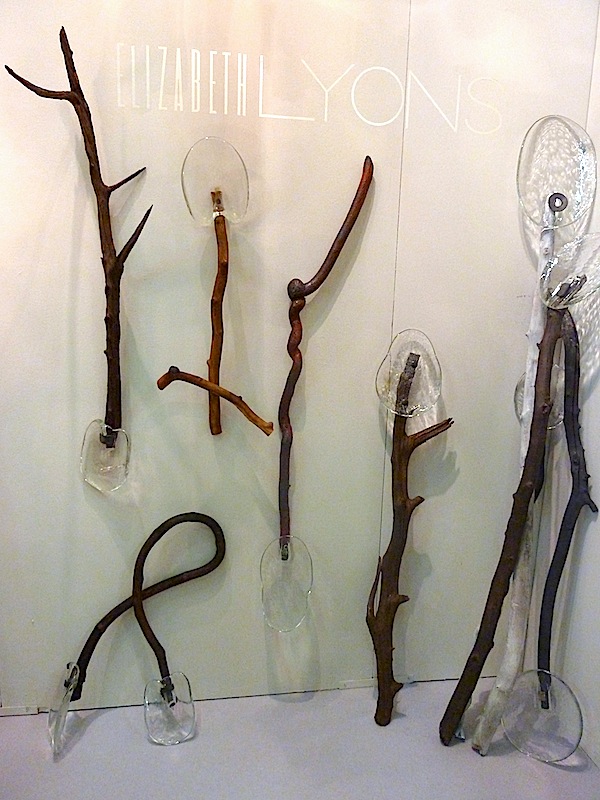 Another past show favorite, Wild Chairy, brought more of Andrea Milhalik's whimsical melding of vintage furniture and modern upholstery. I loved the lace detail on this otherwise prim Victorian frame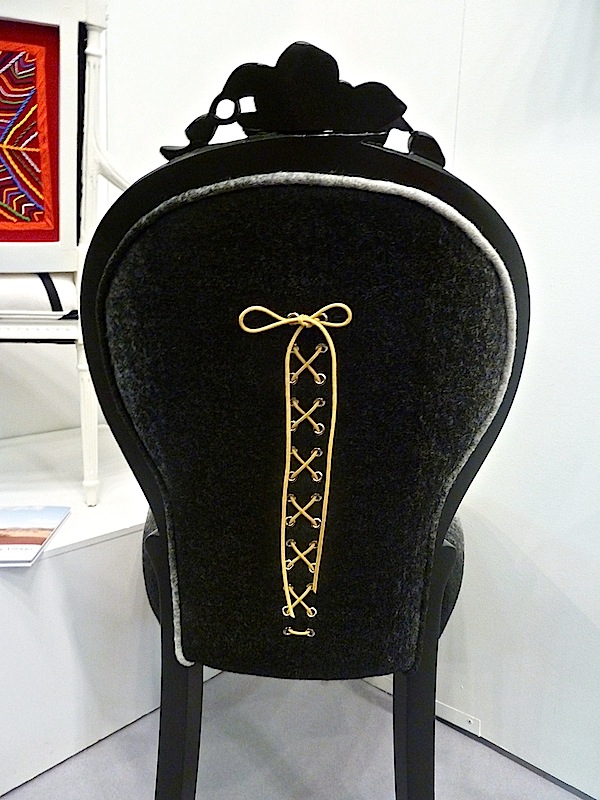 and the vibrant color pairing on this armchair.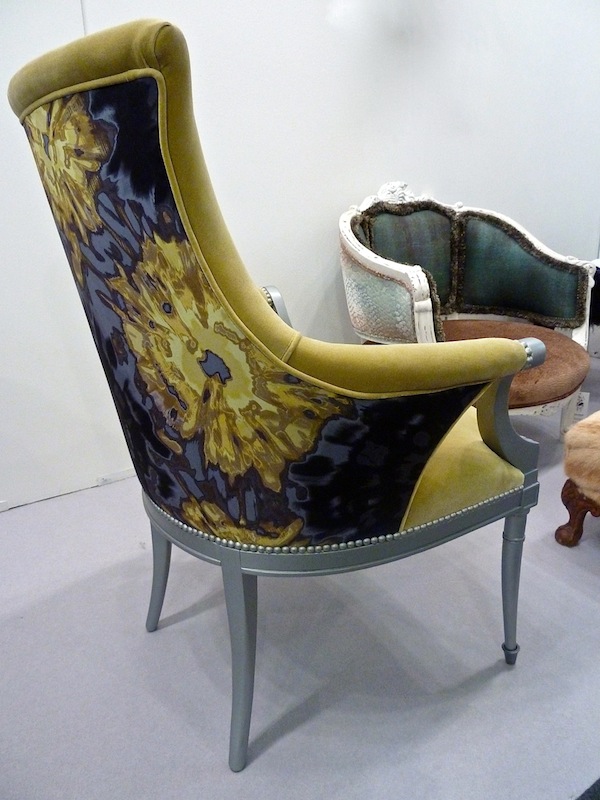 Hygge & West's graphic wallpapers are the result of collaborations with artists and designers. Their Diamante, far left and right, designed by Laundry in Portland and screen printed in Hygge & West's Chicago facility, is inspired by a painted mural in an old hotel bar in San Miguel de Allende. Created using a stippling technique, it is a delicate yet playful pattern. Also by Laundry are Entrada, back left, and Trozo, middle, both graphic interpretations of Mexican influence.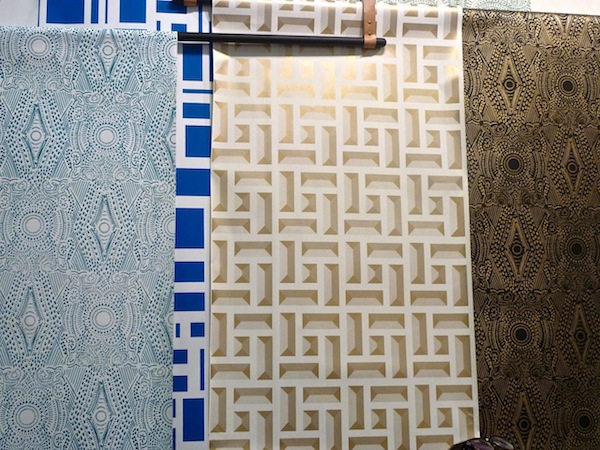 I'll be sharing more great finds from the AD Home Design Show next week. In the meantime, Monday evening I am honored to be attending the DIFFA Dining by Design dinner. Stop back on Tuesday and Wednesday to view the beautiful tables benefitting this worthy organization. And then on Thursday, Susanna Salk's and my next video episode of Stylish Shopping will debut with guest Mary McDonald. It's a busy week – be sure to stay tuned!