The 2014 Architectural Digest Home Show features fresh finds from old favorites as well as new design discoveries. In the MADE section, exhibiting artists, artisans and custom as well as limited edition works, there is always new talent to be found. And I often admire the displays and their ability to effectively enhance the products. Furniture company Seventeen/20 was noteworthy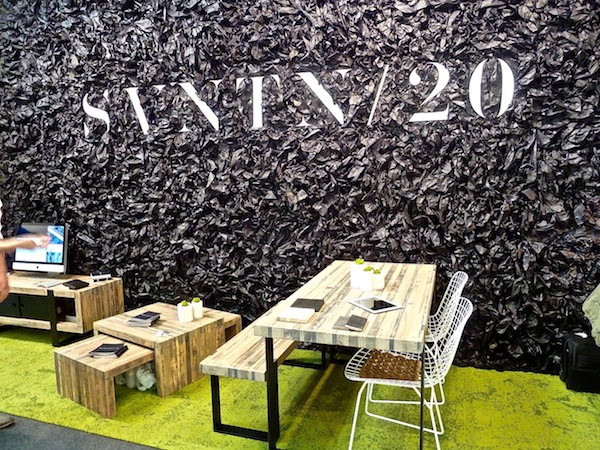 as was the creative booth at workworking firm Palo Samko.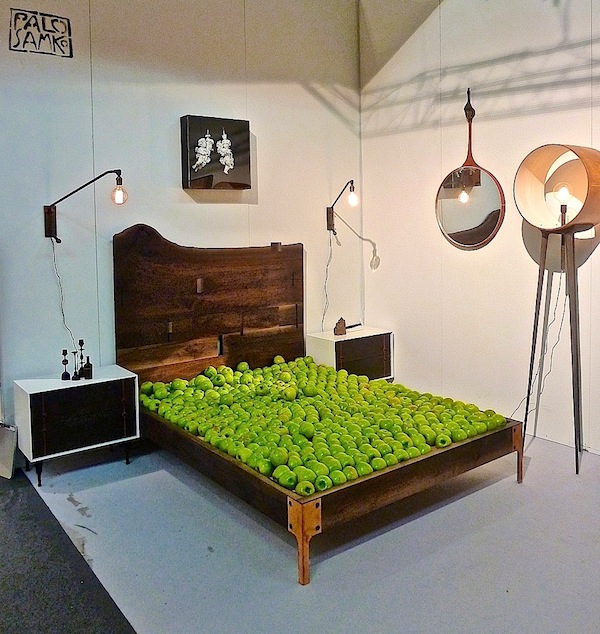 Swiss born Patrick Weder's honeycomb sculptural lighting melds his background in art, design and architecture, yielding structured yet somehow anthropomorphic forms.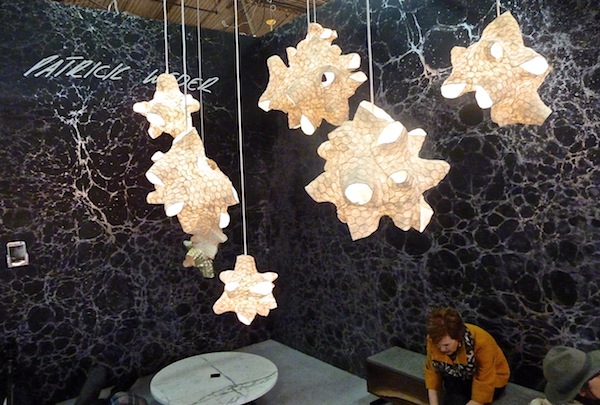 Dramatic and distinctive, the oversized pieces would be fabulous in a large loft or high ceilinged space.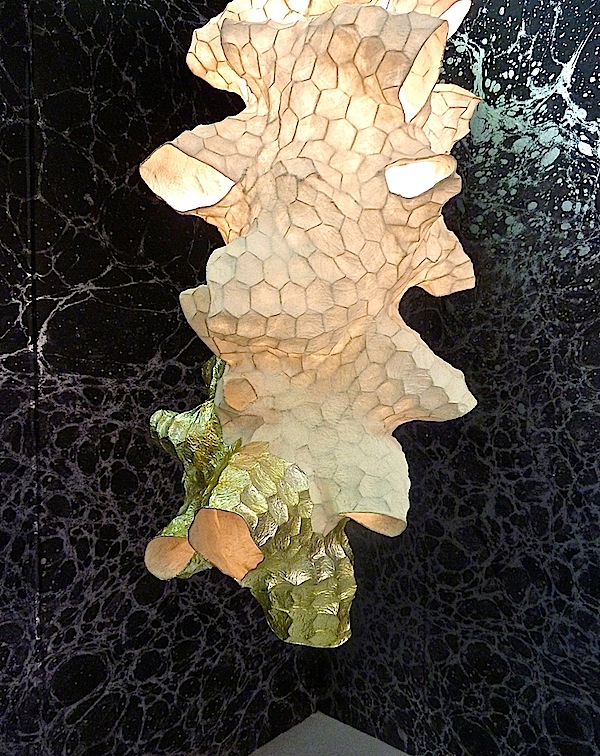 Pelle, the interdisciplinary design team from the creative Red Hook community in Brooklyn, showed their beautiful bubble chandeliers, combining cotton and leather cording with blown glass globes. Available in nine different sizes and configurations, they are a great addition to the modern classic lighting vocabulary.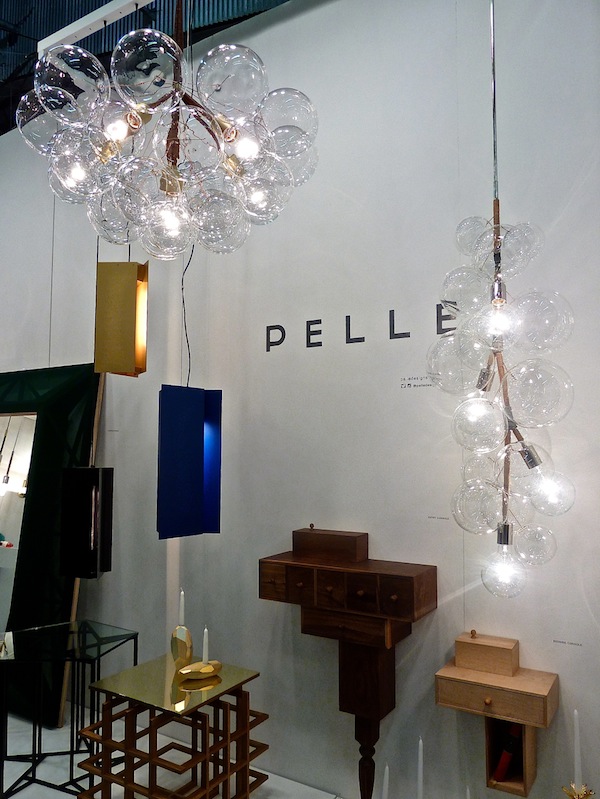 More quality handcrafted lighting can be found in the booth of Allied Maker, an independent design and manufacturing studio based in Sea Cliff, NY. Brass, opal glass and a maple bracket are combined into a refined modern form in their arc wall lamp.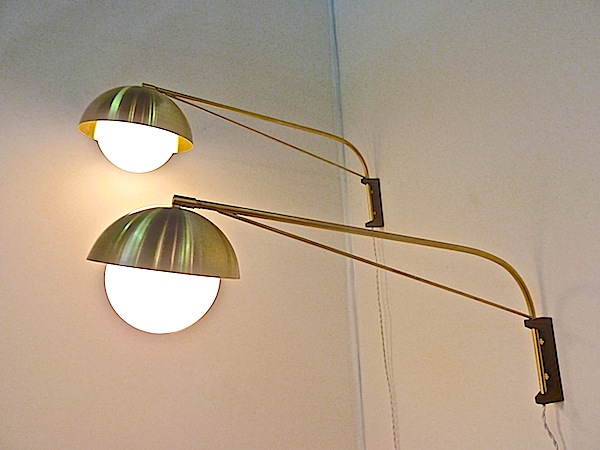 As the warm weather is approaching, I was drawn to the faux concrete pieces at Zachary A. Design. With the look of concrete at a fraction of the weight, the modern rustic aesthetic would be chic anywhere from the south of France to a NYC terrace. Cast by hand in Chicago, each piece is unique and custom orders are welcome as well.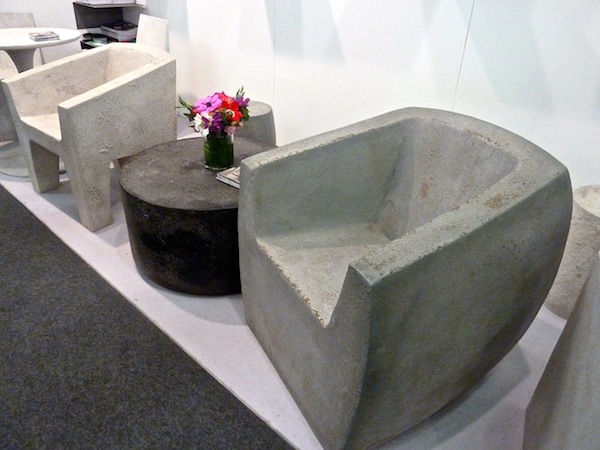 It's no secret that I have a weakness for tabletop so I was delighted to see Daniel Levy's beautiful porcelain at the show.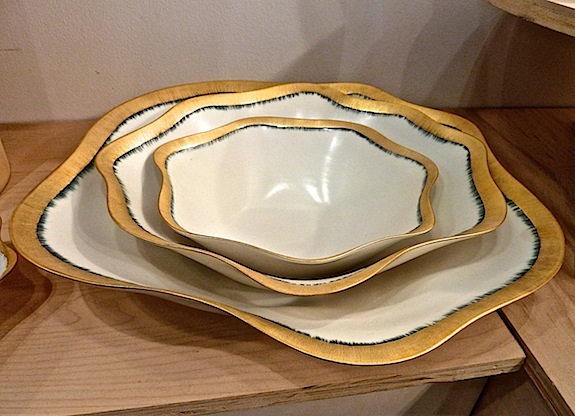 A high quality artisanal brand, it has a strong sense of the handmade within a functional format.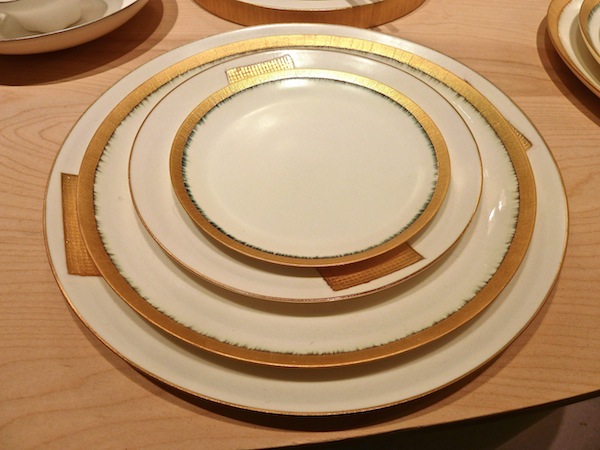 The combination of craftsmanship, technical expertise and artistic expression result in a winning synthesis.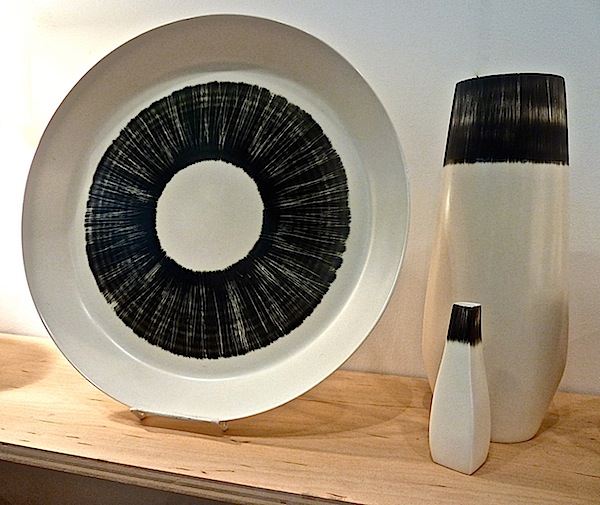 Several favorite artists from past shows were back showing best sellers and new designs. Karl Springer trained Eileen Johnson, had a busy booth with her chic occasional tables. Her JMF table, named for Jean-Michele Frank, looks stylish in a variety of finishes. Although she offers a wide range of options, from gold leaf or parchment to snakeskin and shagreen or painted burlap, she also accepts custom orders.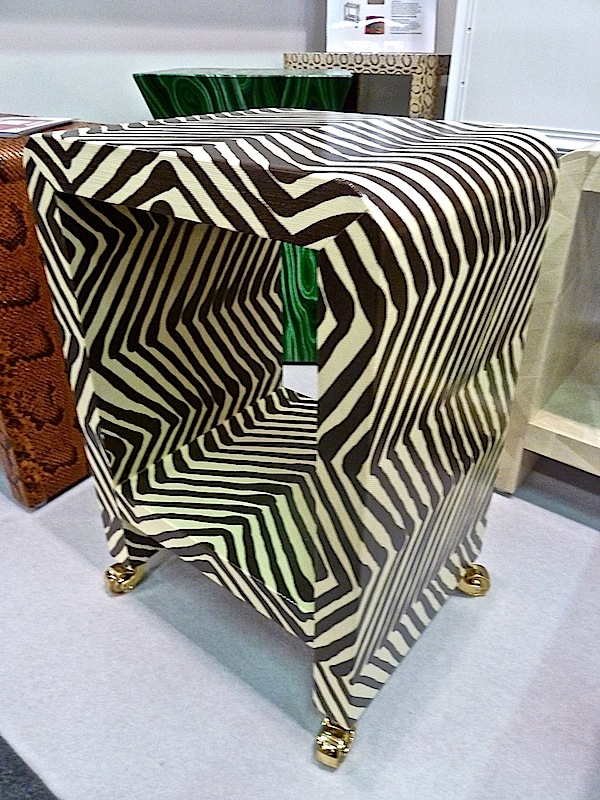 The KS Petite Telephone Table in genuine snakeskin is evocative of her mentor Karl Springer, using the same methods and highest quality materials as the master. They are each made to order in a choice of colors and skins and then lacquered with multiple coats of clear high gloss.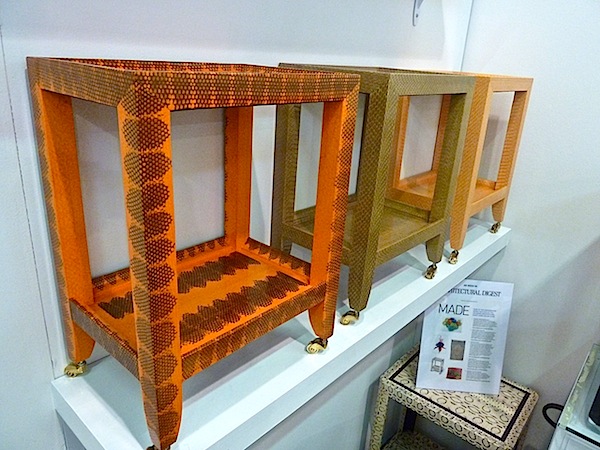 A favorite discovery from Rooms with a View was the chinoiserie chic furniture of Corbett Wright. Exhibiting for the first time at this 2014 Architectural Digest Home Show, founder/designer Nancy Corbett brought an elegant new parsons table along with her other classic pieces.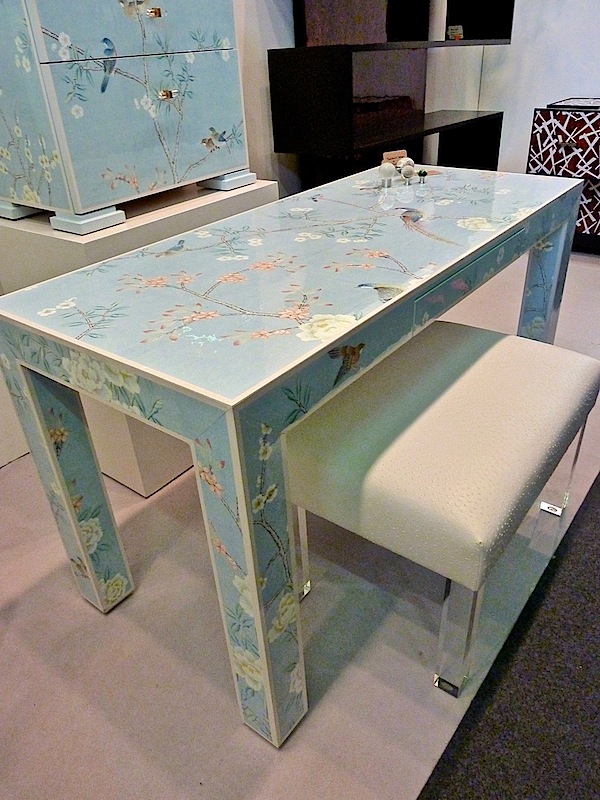 She also gave me a sneak peek at a new pattern she is working on.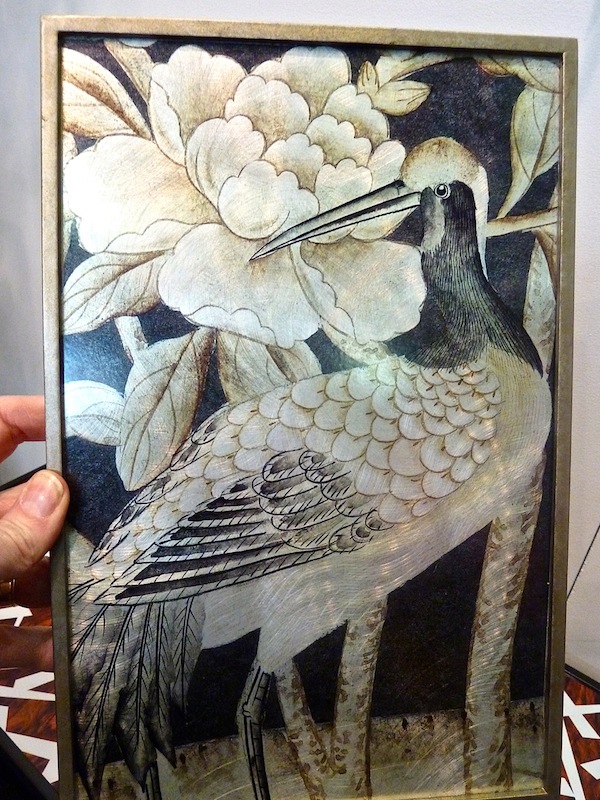 I'll be back with many more favorite finds from the show but wanted to give any attending on Sunday a heads up about the new cash and carry area in the back, past the MADE section, where you can find great gifts from such upscale brands as Cire Trudon, displaying, among their fabulous scents, their new Benjamin Franklin bust candle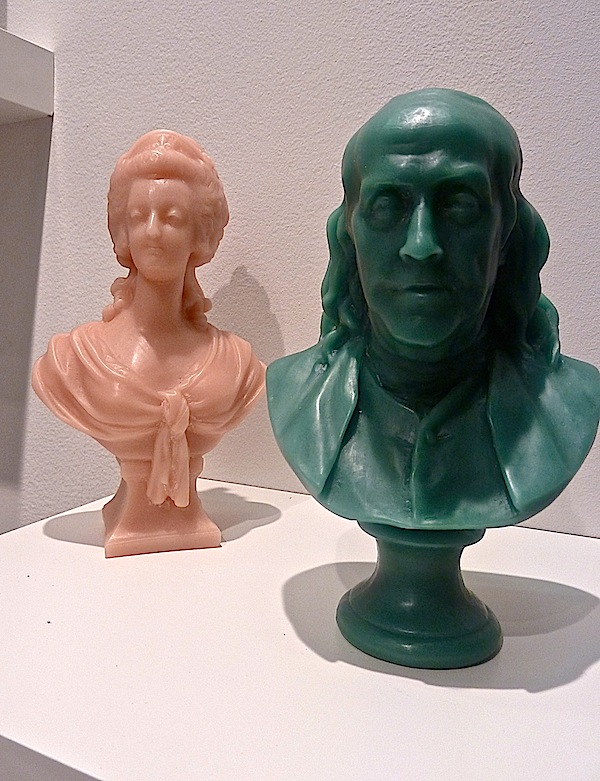 and their elegant giant matches illustrated with six whimsical reproductions of drawings Lawrence Mynott created for their catalogue.