The next Christie's collaboration celebrating the upcoming Peggy and David Rockefeller Collection auction is with designer Frank de Biasi. The Christie's alumnus creatively reimagined the Lobby Gallery at the auction house incorporating items from the sale. A brilliant Mongiardino-like solution for the walls of the blank-box-of-a-space, using a cut and paste collage of Doug and Gene Meyer (Gene is Frank's partner) wallpapers for Holland and Sherry, set the stage for a stylish interpretation of the collection.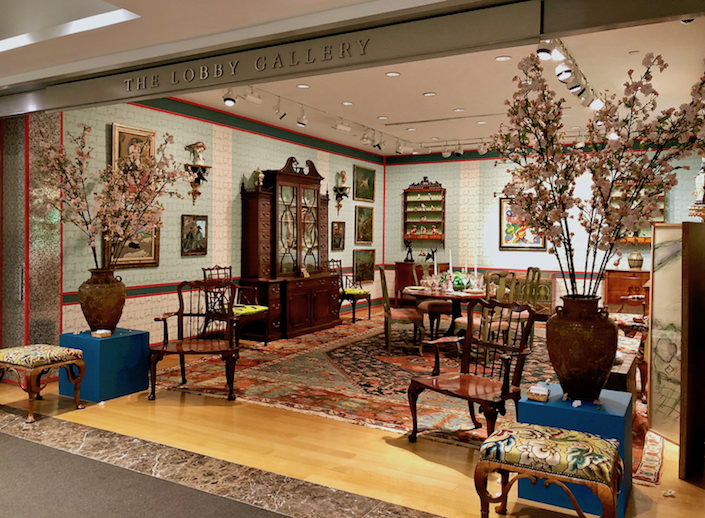 Two large cherry blossom filled 17th – 18th c. Asian storage jars flank the entry and a go-with-everything 19th c. Bakshaish carpet anchors the space. Below you can see the clever graphic wallpaper design along with two Milton Avery paintings hung alongside one of a pair of Chinese export reverse mirror paintings. Frank updated the handsome pair of George II armchairs (possibly by Chippendale) with modern cowhide cushions.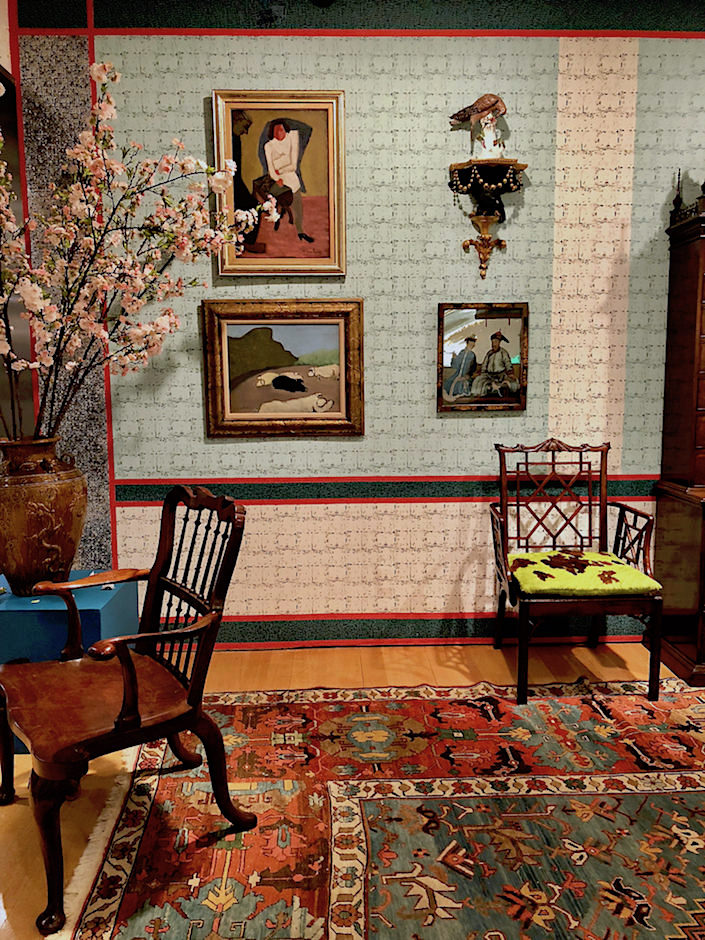 The center of the gallery features a classic George III breakfast table accompanied by a set of four north Italian blue and polychrome-painted 18th c. chairs.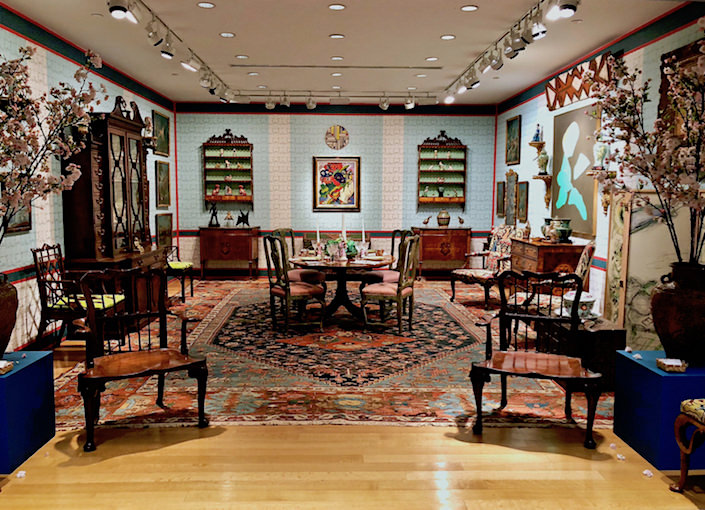 I love the beautiful early 19th c. Vienna Porcelain ornithological plates Frank chose. Mixed with Creel and Gow placemats (which I also own and shared here) and sparkling Saint-Louis crystal, he shows how you can give new life to antique pieces.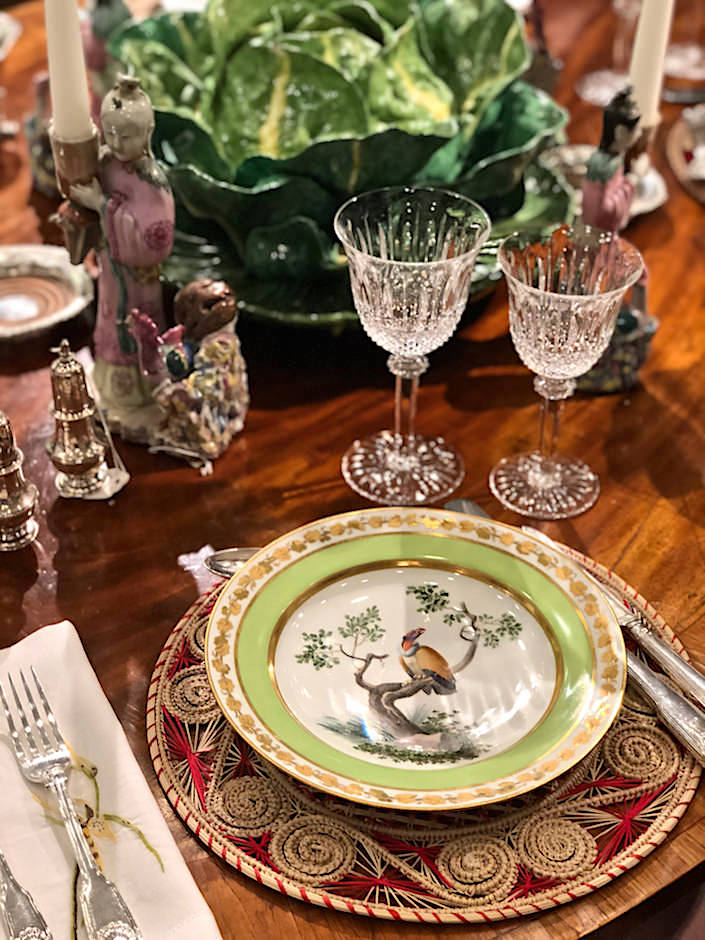 You can see that each exquisite handpainted bird vignette is different and coordinates beautifully with the spectacular large 18th c. Strasbourg faience cabbage tureen.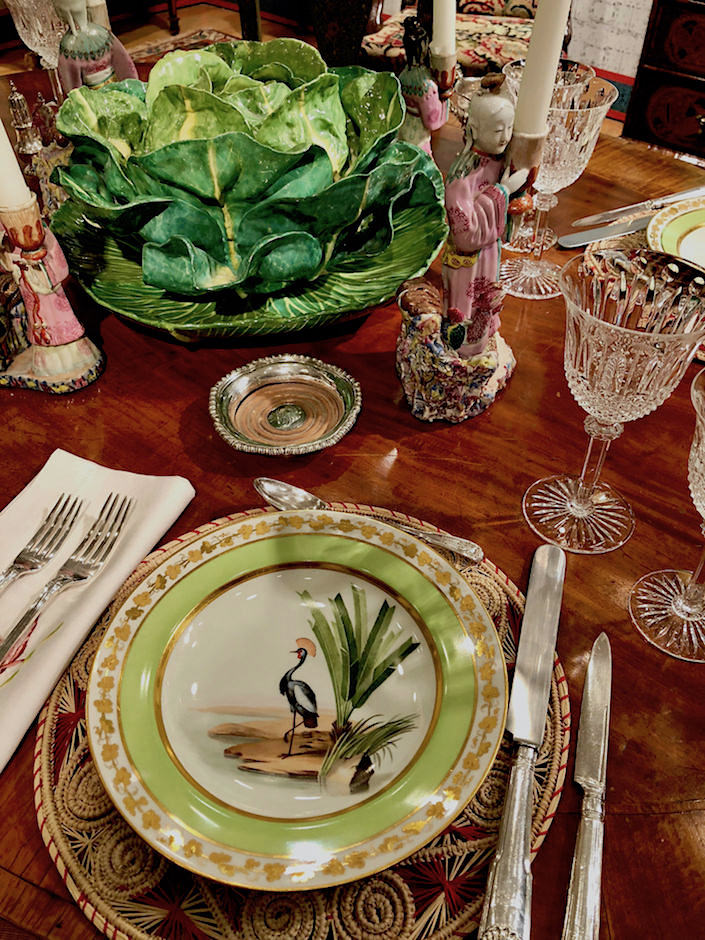 Emphasizing the dining area, a George III breakfront with marvelous detailing holds an assortment of porcelain. In fact this piece and the overall enlightened eclecticism of the room reminded me of Frank and Gene's apartment – video visit coming later this year!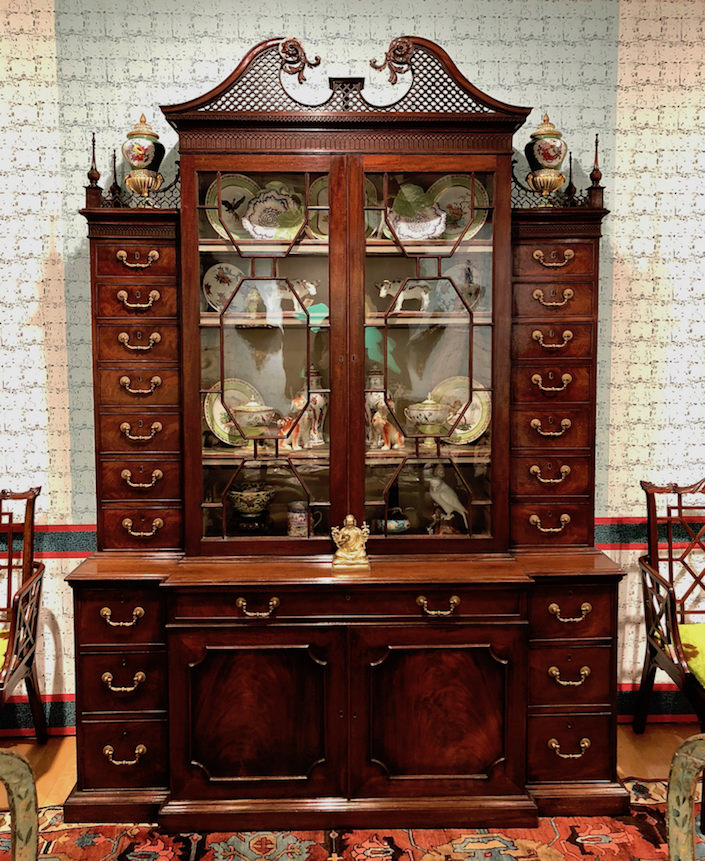 A favorite vignette in the space deftly demonstrates the art of the mix. David and Peggy Rockefeller appreciated and collected art from around the world. Here a fine William and Mary oyster-veneered chest of drawers sits below a Telofomin houseboard (a  decorative tradition among these Papua, New Guinea people) and Japanese artist Kenzo Okada's abstract expressionist "Night Sunflowers" flanked by a beautifully preserved pair of George II armchairs with 18th c. needlewoork.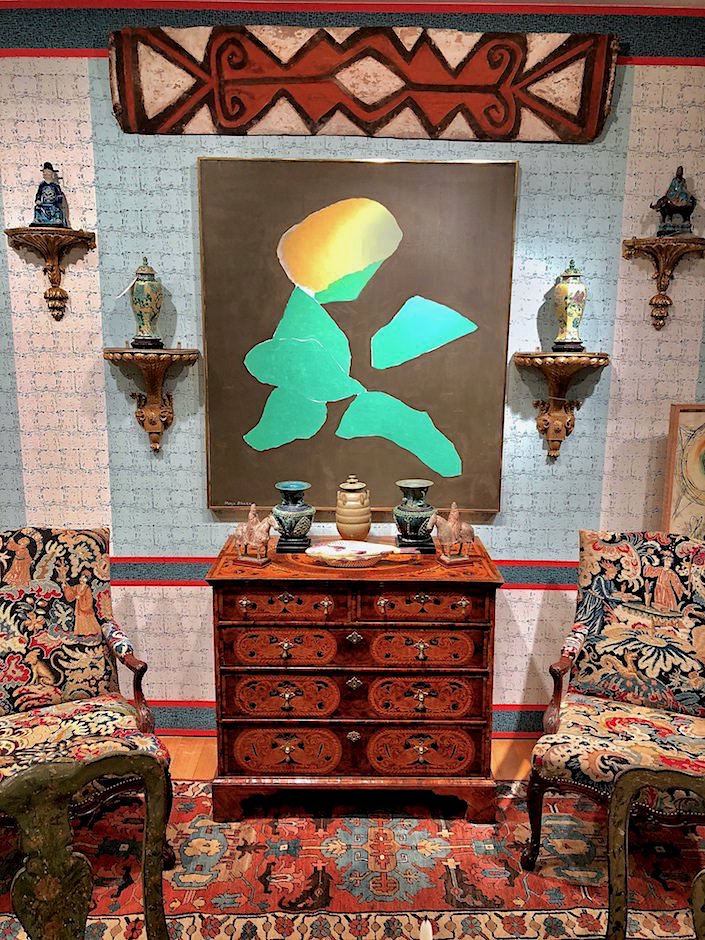 And to the right, a wonderful Chagall screen sits below Gaugin's "Fleurs dans un Vase" that was hanging in the Christie's boardroom for the lunch with Martha Stewart and Kevin Sharkey with an 18th c. Chinese export famille rose soup tureen on a German steel strong box from the same period – quite the mix!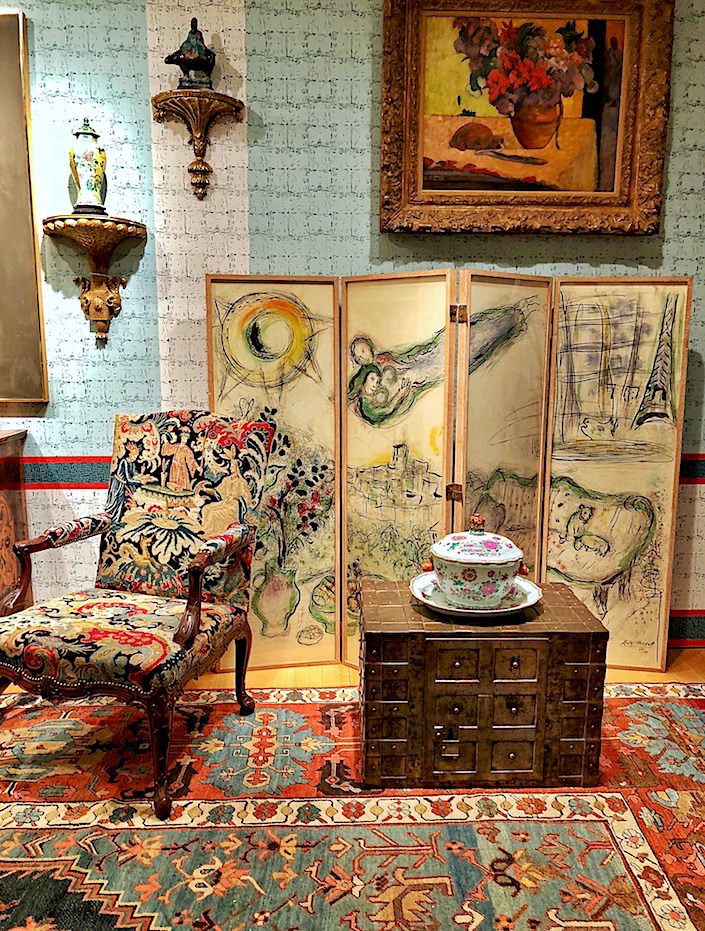 There are really too many marvelous details to recount here but as a final nod to Frank's masterful musings is this melding of three (of 6) oils of La Fontaine fables by a follower of Jean-Baptiste Oudry with a gorgeous mid 18th c. Chinese export reverse mirror painting,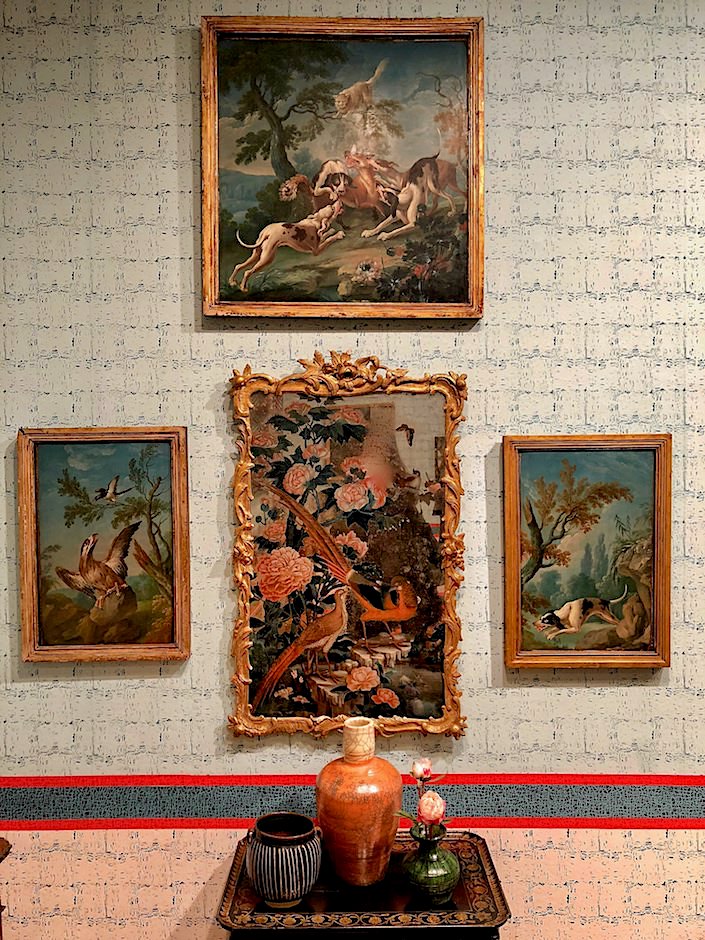 with Chinese and Japanese pottery sitting on a classic George II penwork side table. Frank's design for the lobby gallery will remain open through March 23rd, concurrent with Christie's expansive displays for their Asia Week NY auctions.
all photos by Stacey Bewkes for Quintessence