Monday is the final day to visit The Salon Art + Design at the Park Avenue Armory. In its fifth year, the show features 55 top galleries from around the world, exhibiting everything from ancient to contemporary classics. While I wish I could have stayed longer for a more comprehensive visit, I am including a few favorites that caught my eye on my whirlwind tour of this elegant show. British gallery Sarah Myerscough presents an innovative fusion of artists and materials including Masie Broadhead's mixed media photographic Pearls series which explores classic 17th century female portraiture, reflecting on womens' roles in society today.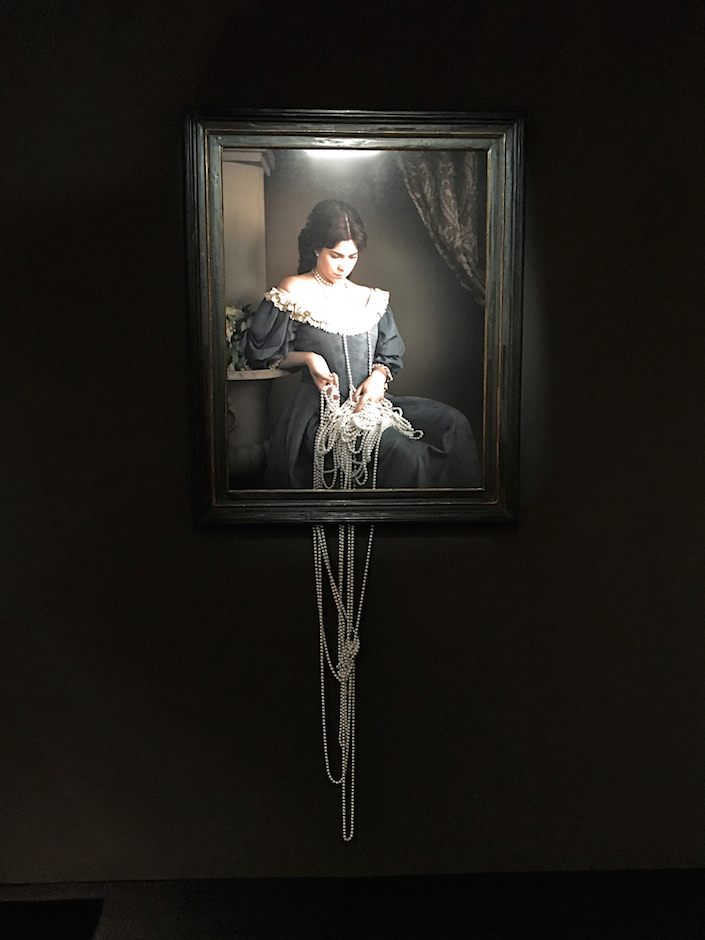 Christopher Duffy's work blurs the lines between art and function. It look his team a year to develop the Abyss Table, below, experimenting with wood, acrylic and glass to create a feeling of depth like a geological map. "I was looking into sheets of thick glass at my glass manufacturer's factory, and noticed how the material darkened as they added more layers – the same way the sea does as it deepens. I wanted to use this effect to replicate a real piece of the earth's sea bed. Like a mythical power had lifted a perfect rectangle straight from the earth's crust to use as his personal ornament."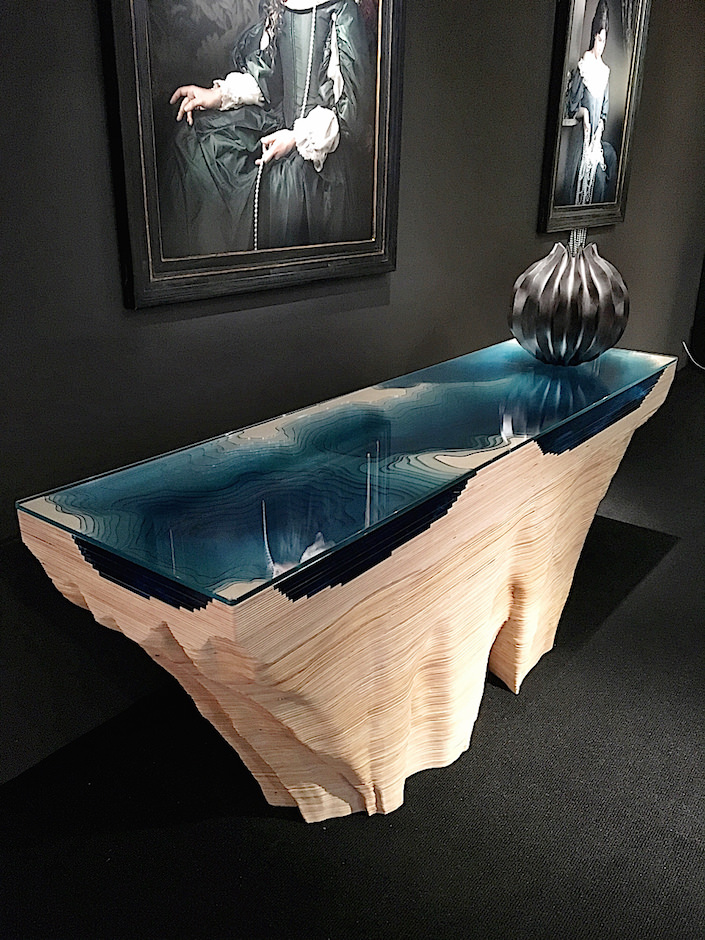 Danish ceramicist Michael Geertsen's hand-thrown earthenware is elegant and sculptural. Starting with everyday pieces such as cups and plates, he looks back into history for inspiration to create something new that "transcends our everyday life."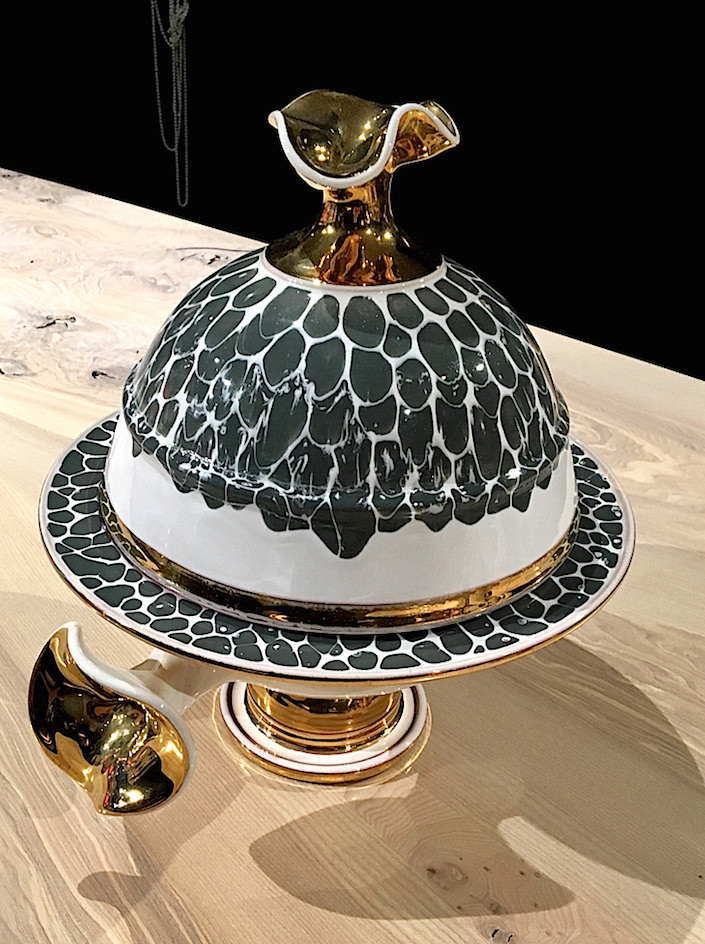 Galerie Chastel-Maréchal represents a prestigious group of 20th century French artists, specializing in mid-century from 1930-1970. Their booth was a chic air airy space including a stunning and rare bronze and marble André Arbus table with two spectacular Marianna Kennedy natural plaster Artichoke vases.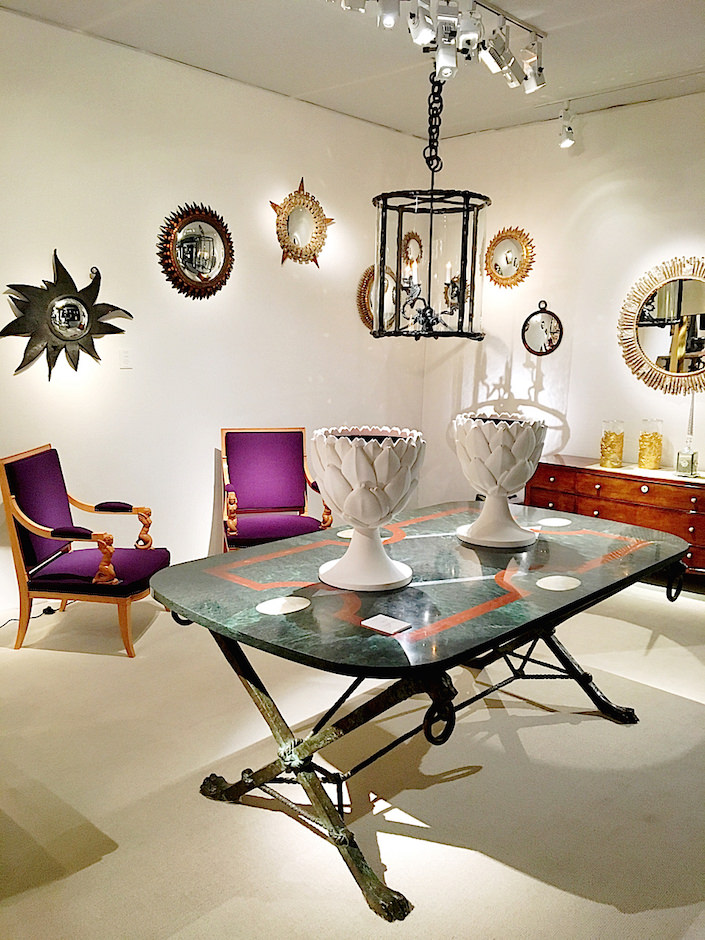 Also specializing in 20th century French design, Demisch Danant's chic booth was entitled The Silk Road. Anchored by a stunning Maria Pergay sofa and Sheila Hicks Textile Fresco, the space also featured pieces by Jacques Grange (the pouf), Claude de Muzac (lamp) and Pierre Paulin (wood and cane chair) among others.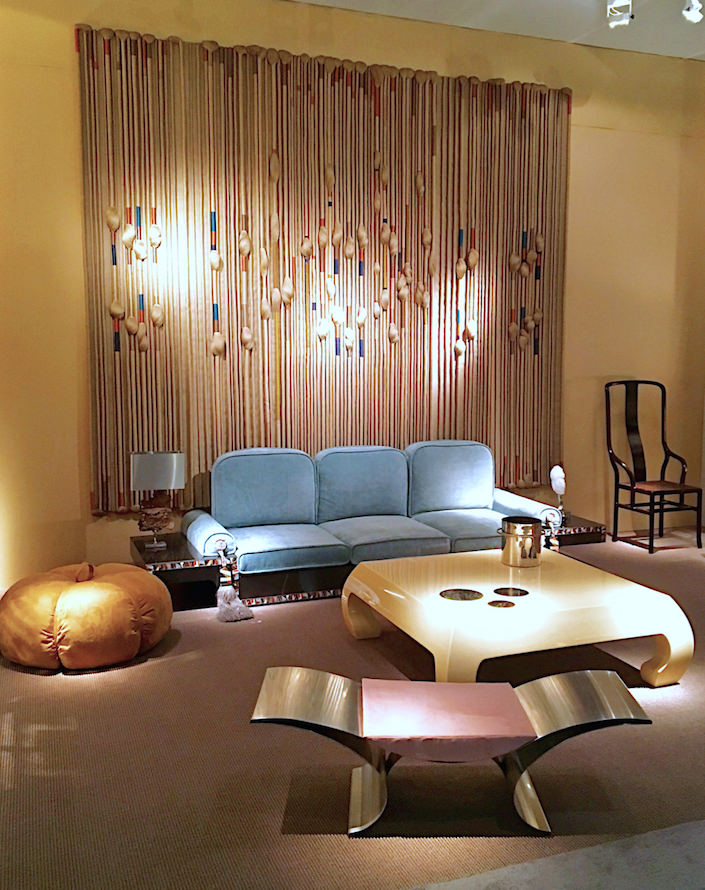 Brussels based dealer Victor Hunt presented a peek at Spanish designer Tomás Alonso's Vaalbeek Project, a complete living space made for an interiors project in Belgium that will be completed next year. With a focus on functionality, every element, from rug to furniture and lighting, was designed by Alonsoto as contemporary rivals to 20th century classics.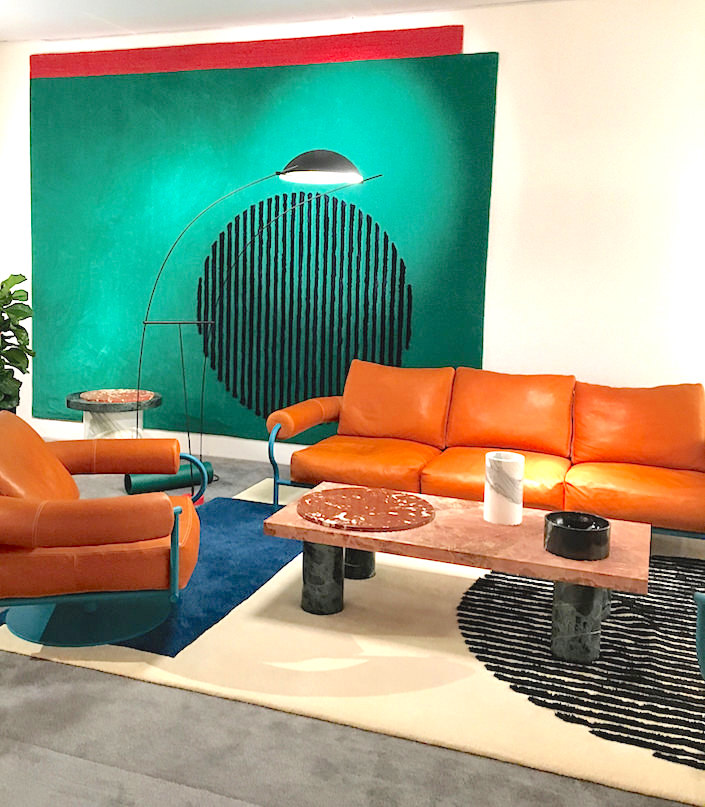 While Galerie Maria Wettergren is in Paris' Saint-Germain, the focus is on Scandinavian design. The standout in her booth was no doubt the amazing Coral Sea wall hanging by Norwegian artist Gjertrud Hals.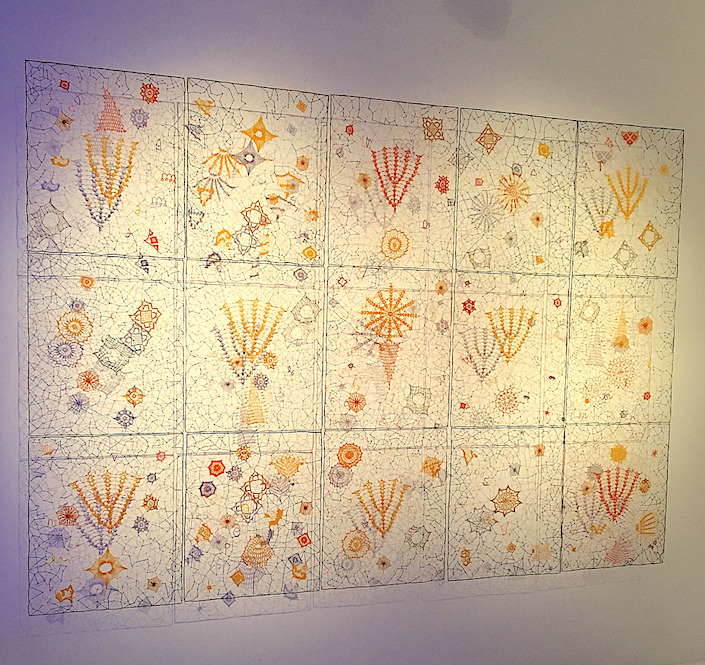 It isn't until you get close that you can see the work is made entirely of thread with intricate and delicate detail.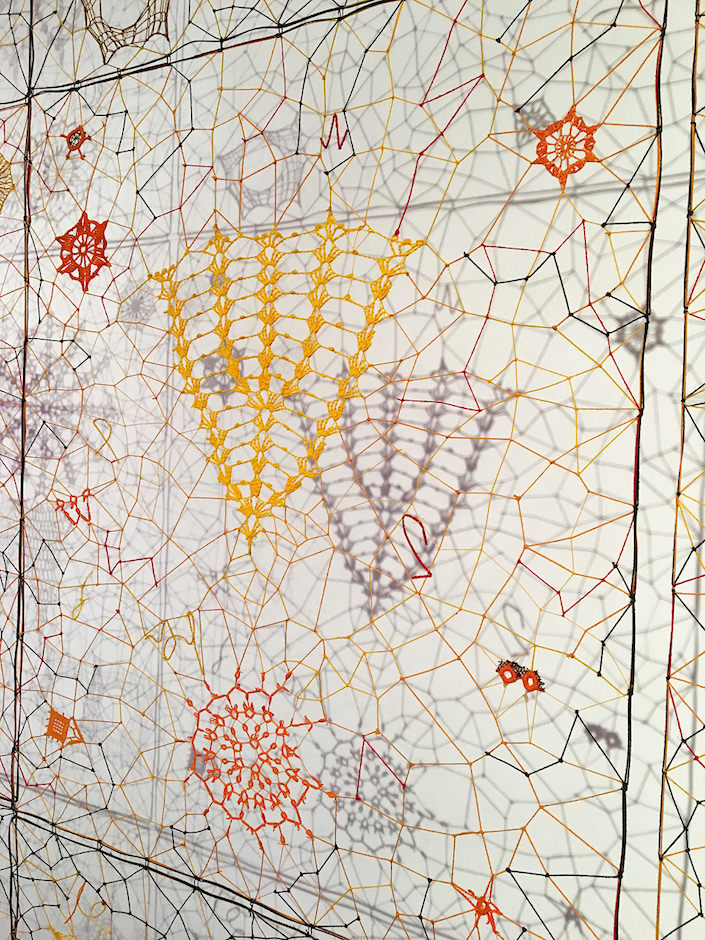 Modernity, a Stockholm gallery, also specializes in Scandinavian Design and a favorite in their space was this beautiful Josef Frank cabinet from 1930s, entirely encased in hand colored paper.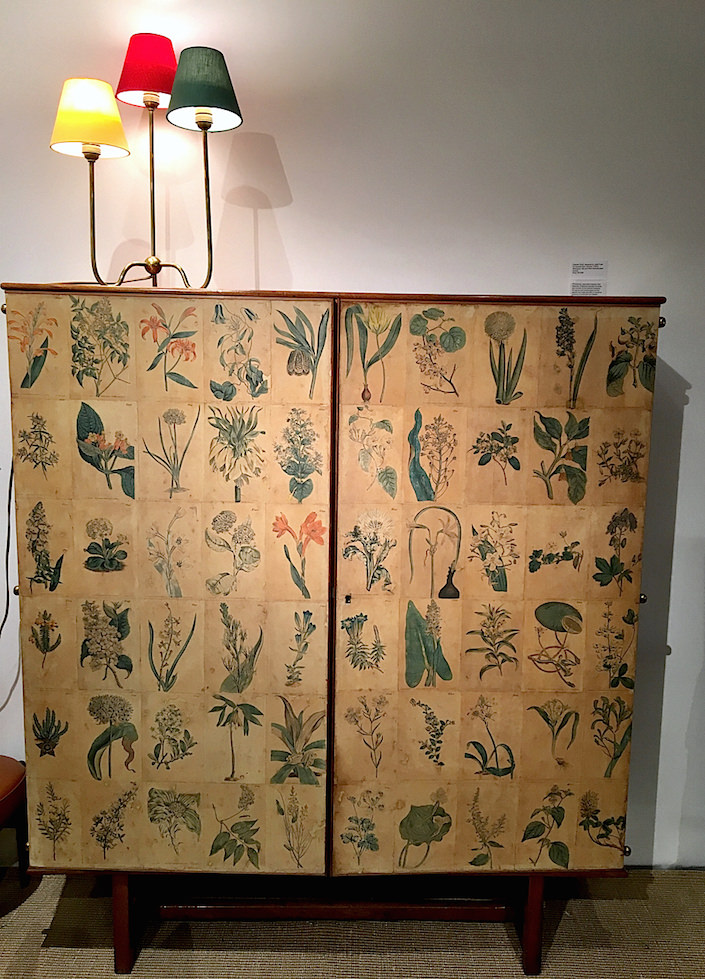 Nicholas Kilner focuses on 20th century Italian and American design, with finds by well known architects, artists and designers of the 1940s – 1960s, including Johnny Swing, whose metal chair is below. You may remember his iconic bench that sat for years at The Four Seasons restaurant.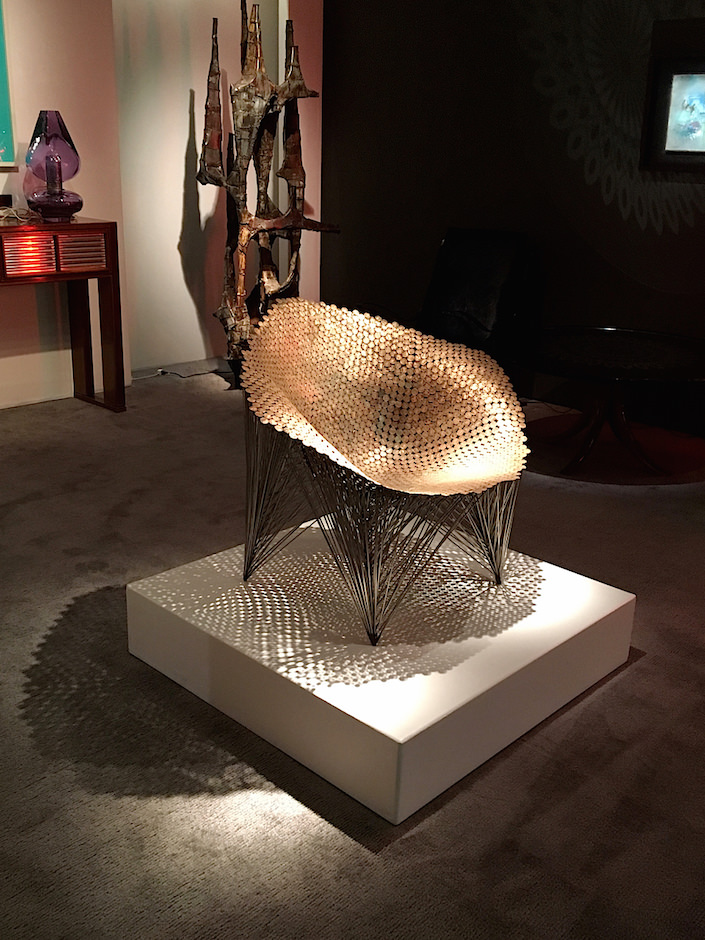 R & Company's whimsical and upbeat booth featured, among other designers, the ceramic work of the Haas Brothers, below. With Seussian eccentric shapes, they are not quite categorizable yet have an idiosyncratic appeal.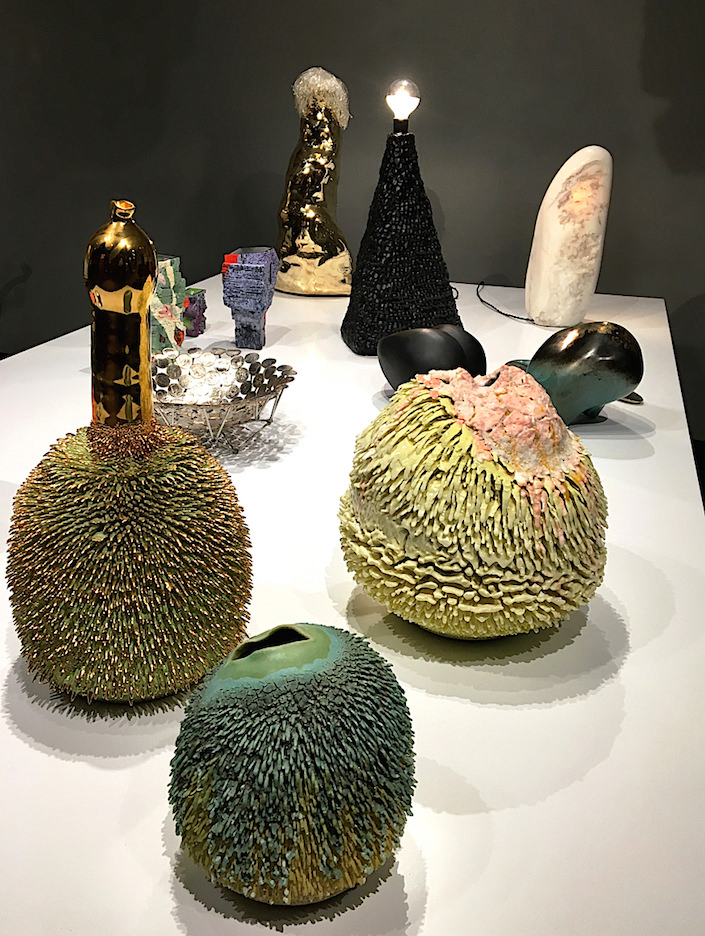 Equally colorful yet more explicable were the Roberto Rida mirrors at Bernd Goeckler's booth. The series of rounds of hand-hewn wedges of tinted mirrored glass made for a bright and decorative display.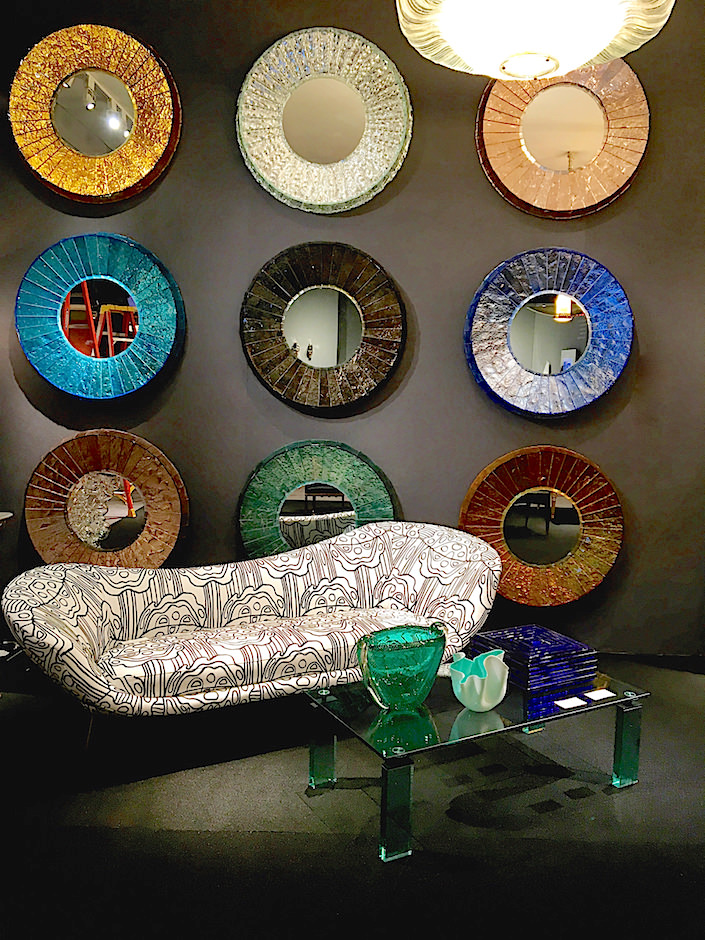 Parisian gallery l'Arc en Seine specializes in 20th century decorative arts. Their refined and elegant space included beautiful Ruhlmann chairs.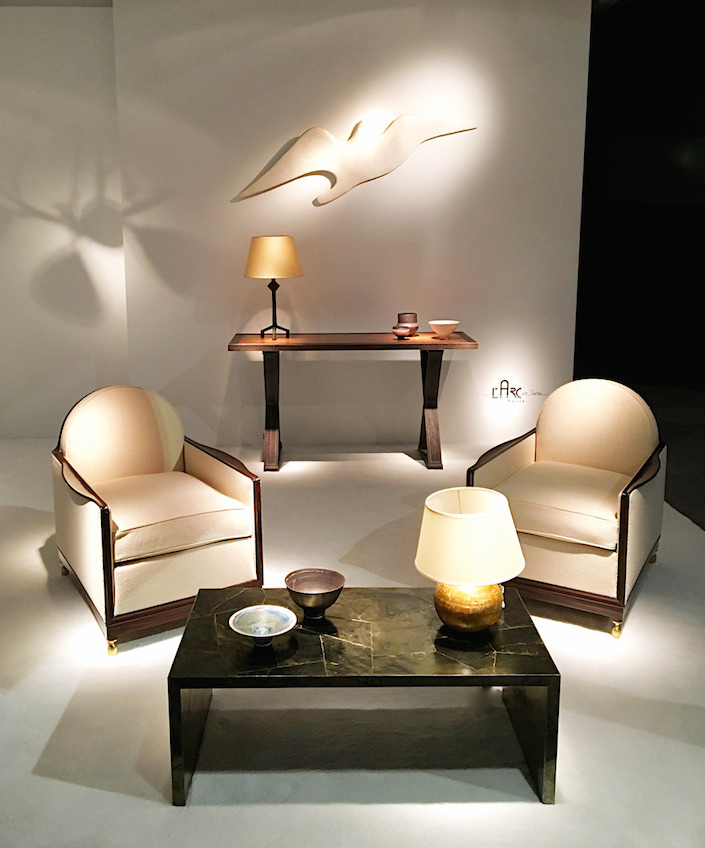 Maison Gerard is always a favorite for its accessible and wide range of curated art and design. They are showing one of the largest and most spectacular Line Vautrin mirrors I've seen.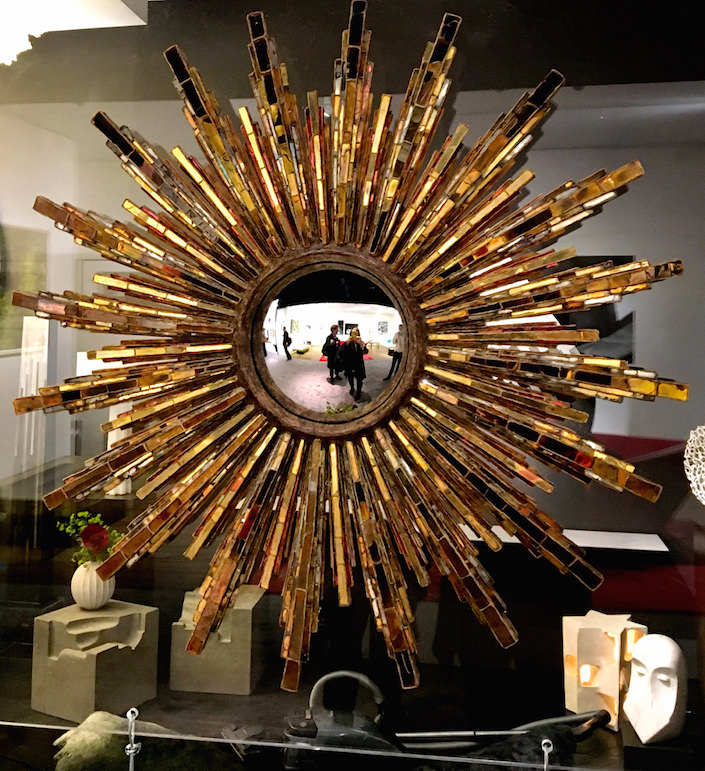 Over three feet in diameter, the mirror is composed of multicolored mirrored glass. It is a beauty.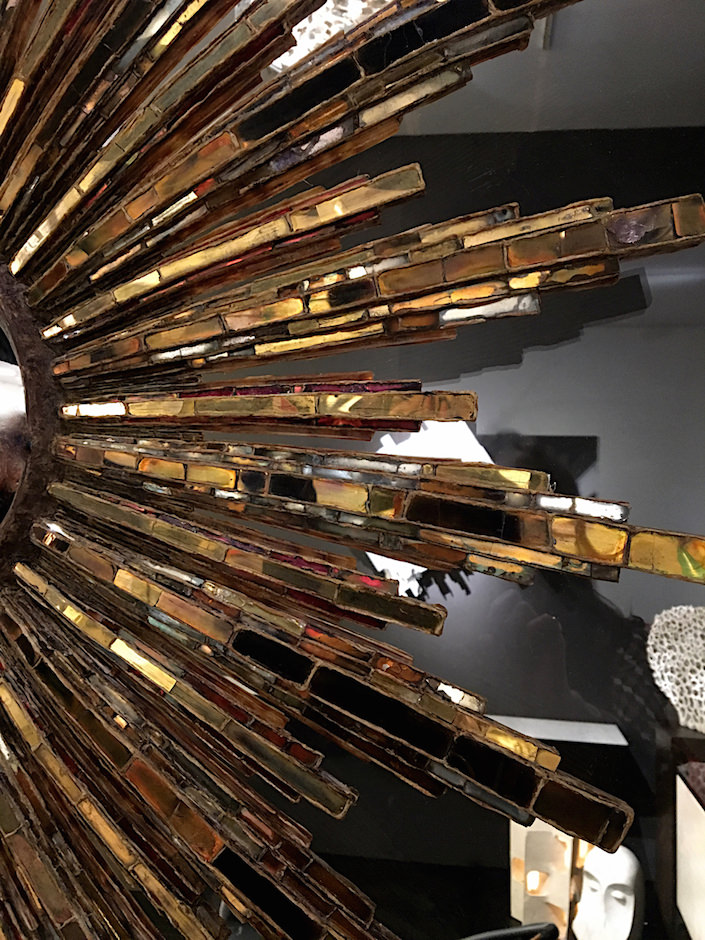 Below, a series of gorgeous bronze vases by Jaimal Odedra, who creates his pieces in Morocco, in front of a dramatic mirror by Fernando Mastangelo, made of glass and sand.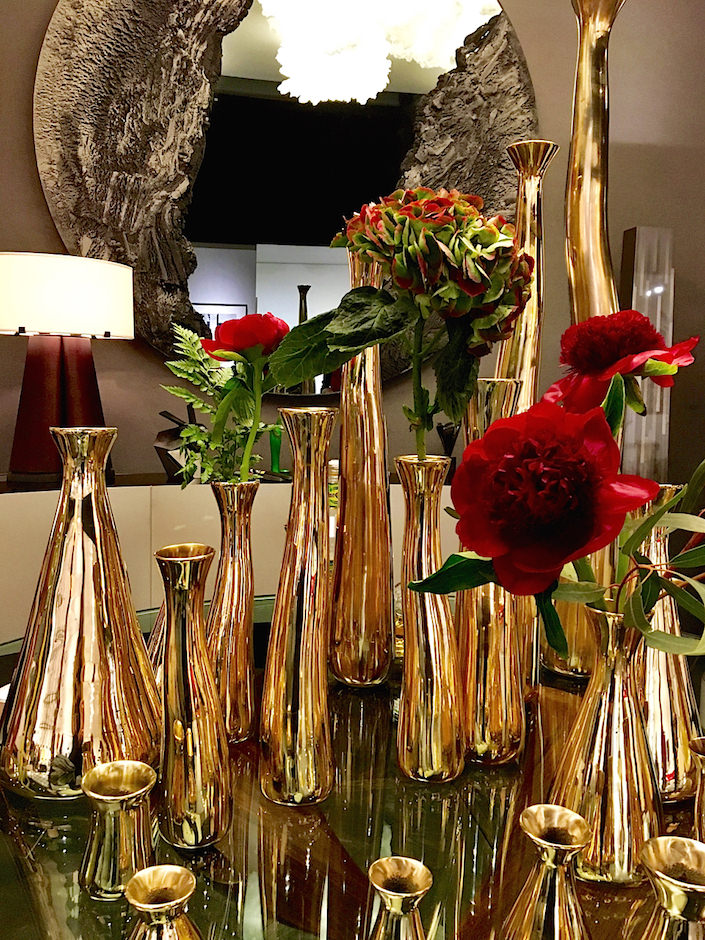 Matthew Solomon's beautiful organic sculptures have an iridescent glaze that give them a beautiful ethereal quality.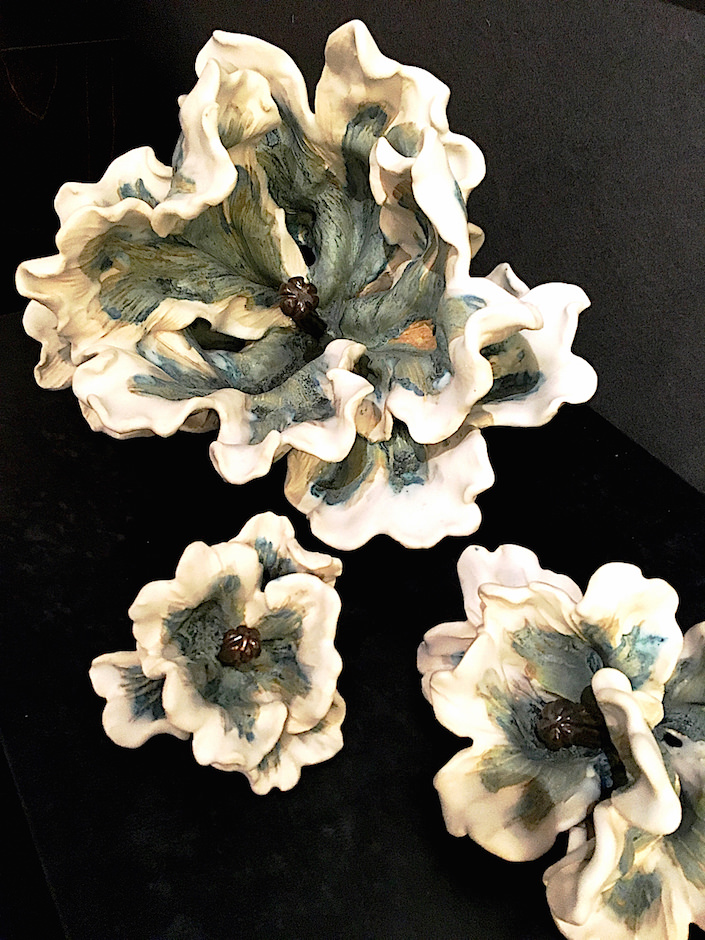 And there are several handsome new pieces by talented Italian architect/designer Achille Salvagni. We'll revisit his work separately soon.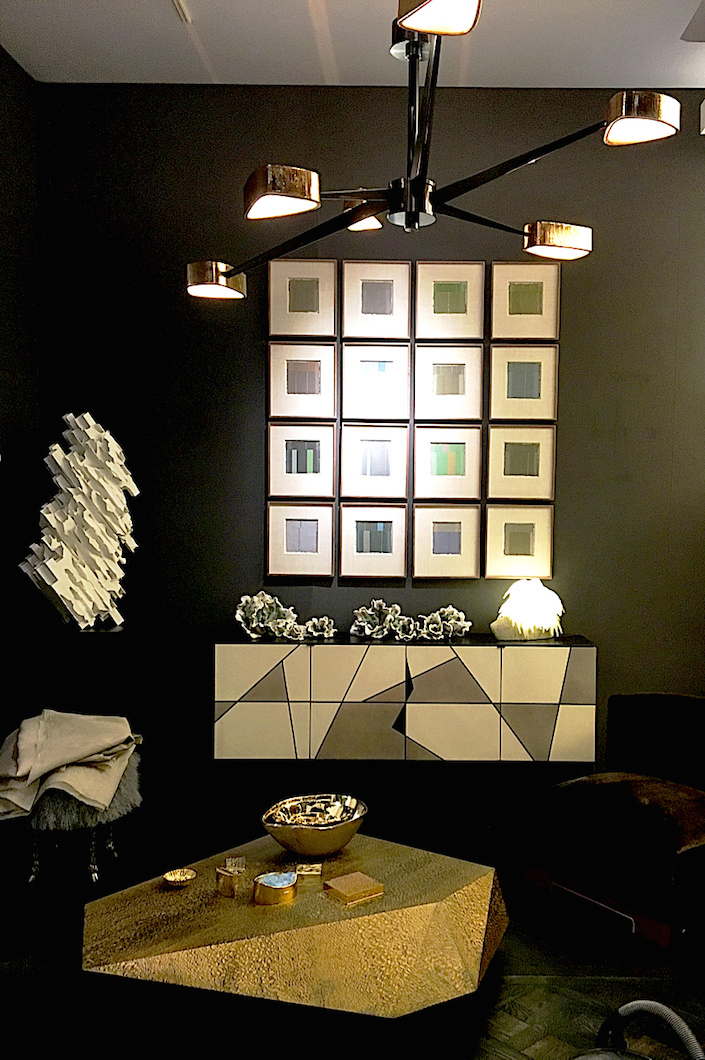 If you're in New York, stop into The Salon Art + Design show – you'll find it fascinating and inspiring.