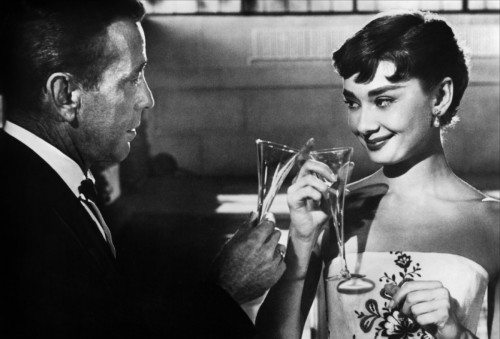 This is the age old champagne dilemma – coupe, flute or tulip! Last year I wrote about Seth Box, director of education for Moet Hennessy USA, who, in the New York Times, discussed his preferences. Not only did he voice his opinion (which of course I agree with) that Americans drink too little champagne but he also had strong thoughts about what glass to serve it in.
He admits that although flutes are "great for presentation and showcase bubbles beautifully, from the tasting standpoint, the shape isn't ideal." He prefers something rounder on the bottom that tapers on top like this Baccarat Remy stem. He classifies this as "boring but perfect".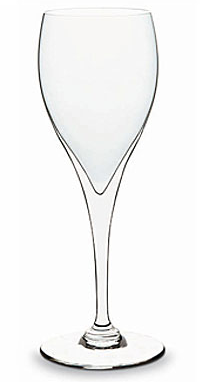 For a classic flute, he choose the Facet Champagne flute from Lalique – a beautiful classic pick. I love its elegant retro feel.

For modern he choose this fabulously sleek Inside Out glass by AMT studio (currently sold out). Such a clever design!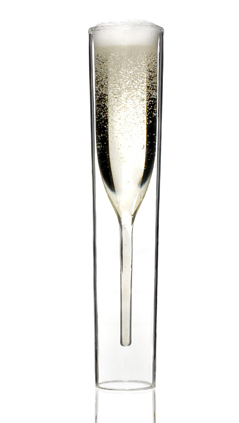 And for a retro look, he chose this sturdy Stork Club glass by New York First Company.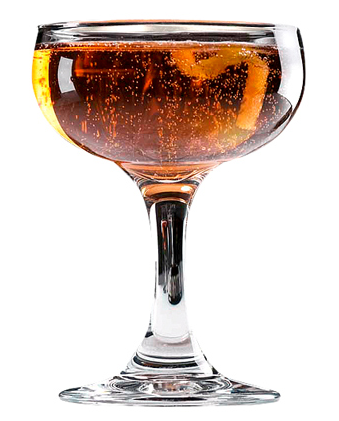 But there are so many other wonderful choices out there as well. And while many experts agree that the tulip may be the ideal shape, if you're anything like me, the champagne doesn't stay in the glass long enough for me to taste the difference!
My classic favorite is the Dom Perignon by Baccarat. It's clean elegant lines are always in style and would go with any tabletop design. It's what I own.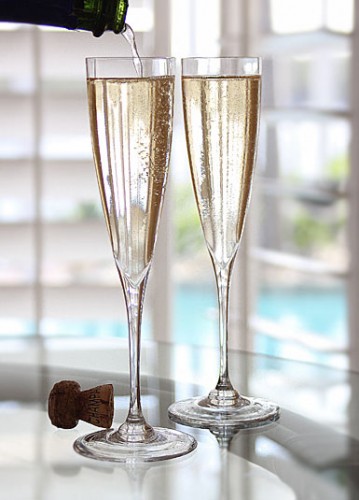 A lovely way to add a little color to your tablescape would be with the Saint-Louis Bubbles, designed by Teleri Ann Jones. This famous French manufacturer has a rich heritage and each of these flutes requires up to five days' work, involving the skills of eight craftsmen to produce the shape and five more to complete the cutting. It is available in clear or a virtual kaleidoscope of colors. I'm of course partial to what they call "Amber."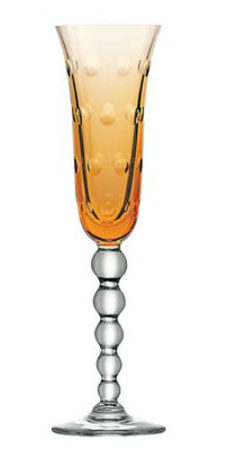 Even though this Bacchus champagne tumbler by Theresienthal was designed in the 19th Century by Henriette Steigerwald, it walks the fine line between traditional and modern style.  The rosettes and beading on this design, available in six colors, are inspired by glasses from Roman and Middle-Age glassware, reflecting the Romantic aesthetic. I love the incredibly detailing. I inherited a set of Bacchus in other shapes that I just adore. You can see the water glasses on my tartan Christmas table.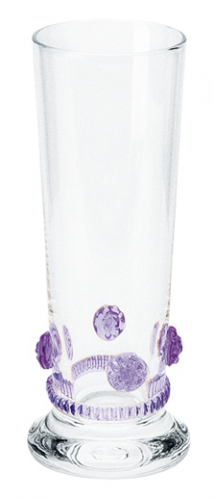 William Yeoward, one of my favorite designers, offers a variety of stunning options. Generously proportioned, these elegant Beatrice & Violet flutes are based on 18th century originals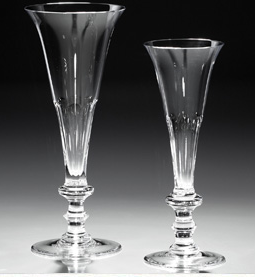 The Bunny pattern, one of my favorites, originates also from the late 18th century. The rosette motif was very popular at that time and it has a beautiful combination of delicate engraving and flat cuts.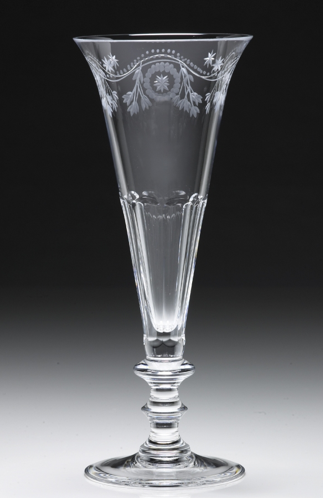 The saucer shaped Fern is a pattern from the mid to late 19th century when botanical designs were very popular and wealthy landowners were competing with each other to grow and propagate plants from cuttings brought back from exploration in exotic places.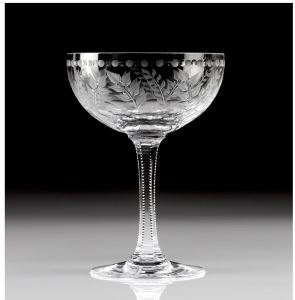 For something fun and different you could afford to indulge in these festive Montpellier Flutes. At $60 for a set of 6, they would make a sparkling statement!!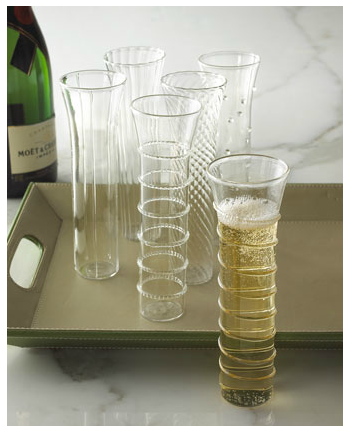 A little gilt is always a festive touch. Marc Blackwell's chic Northern Hemisphere flute would work with a modern or traditional tabletop.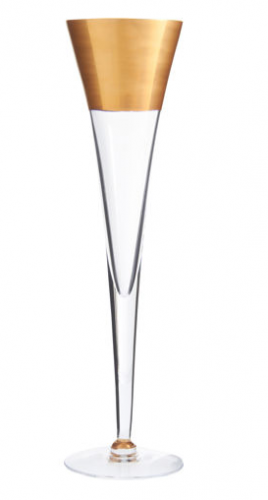 For clean contemporary lines, I like Ichendorf's Arles Champagne flute.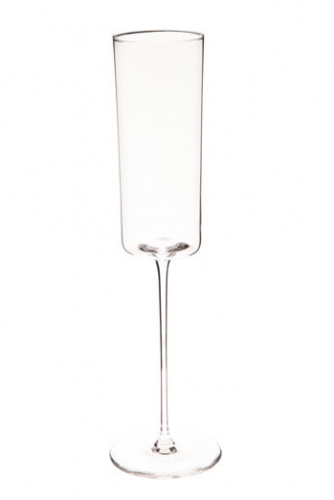 or iittala's modern classic – the Aarne, designed in the 1950's by Finnish glass designer and decorative artist Göran Hongell. It was awarded a gold medal at the prestigious Milan Triennale of 1954, selected as the symbol of the iittala glassworks for its 100th anniversary in 1981, and is part of the permanent collection of the Museum of Modern Art in New York.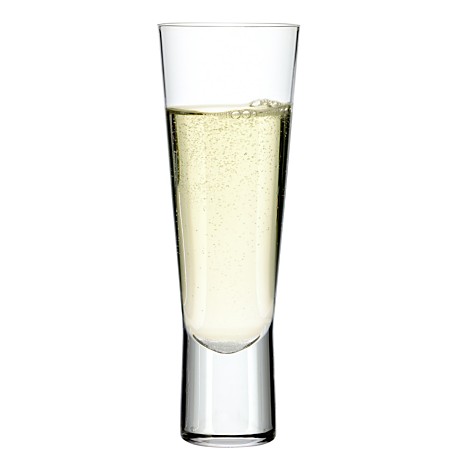 I love the idea of black and white for New Year's Eve. Add a little sophisticated dark elegance with Dibbern's Manhattan Champagne glass!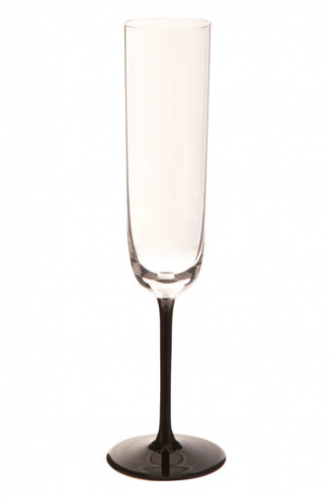 And if I were planning a slightly retro New Year's Eve in a warm weather locale, I think these Kate Spade Bubbly Daisy Saucer Champagne Glasses would be charming!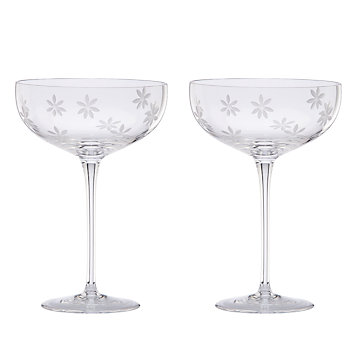 But no matter what glass you choose, you're bound to have a festive evening if you're drinking champagne, the drink of kings (and queens of course)! Happy New Year dear readers!! You've certainly made this a year to remember for me. Wishing you all the very best for 2012!