Born into an Italian family distinguished in the world of art and architecture, it is hardly surprising that Nicolo Castellini Baldissera has chosen a career in design.  With a successful interior design firm, fueled by the knowledge and tools he was both born into and acquired, he has worked on projects around the world. But nowhere is he more at home than at Casa Tosca, his beloved house in Tangier. Please join Susanna and me for a special visit to Nicolo's cosmopolitan and colorful home in this magical Moroccan city!
Nicolo's great grandfather was celebrated architect Piero Portaluppi (of Villa Necchi fame, among other projects) and his father, also a prominent architect, is co-founder of C&C Milano, the exclusive Italian textile company. Nicolo himself began his studies in Milan, moving on to study art history at Sotheby's in London, where he launched his interior design career. And Casa Tosca represents the melding of his taste, travels and experiences, incorporating his great love of color with an expert mixing of art, antiques, and furnishings.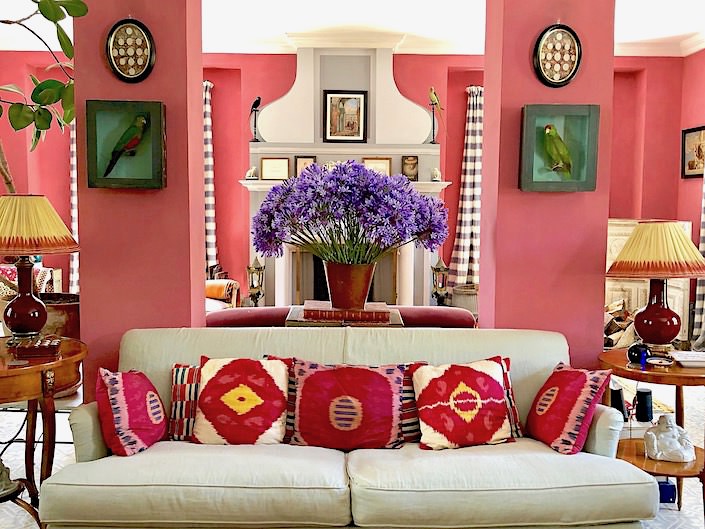 While sophisticated, Nicolo's interiors are inviting and exuberant – with an insouciant joie de vivre that is both welcoming and uplifting.
photos above by Stacey Bewkes for Quintessence
Clearly Tangier agrees with Nicolo and it is his great love for the city and its stylish international inhabitants that inspired him to write Inside Tangier. While the city has certainly changed over the years, there is still a beguiling attraction for many finding themselves enchanted by its exotic seaside locale and bohemian style.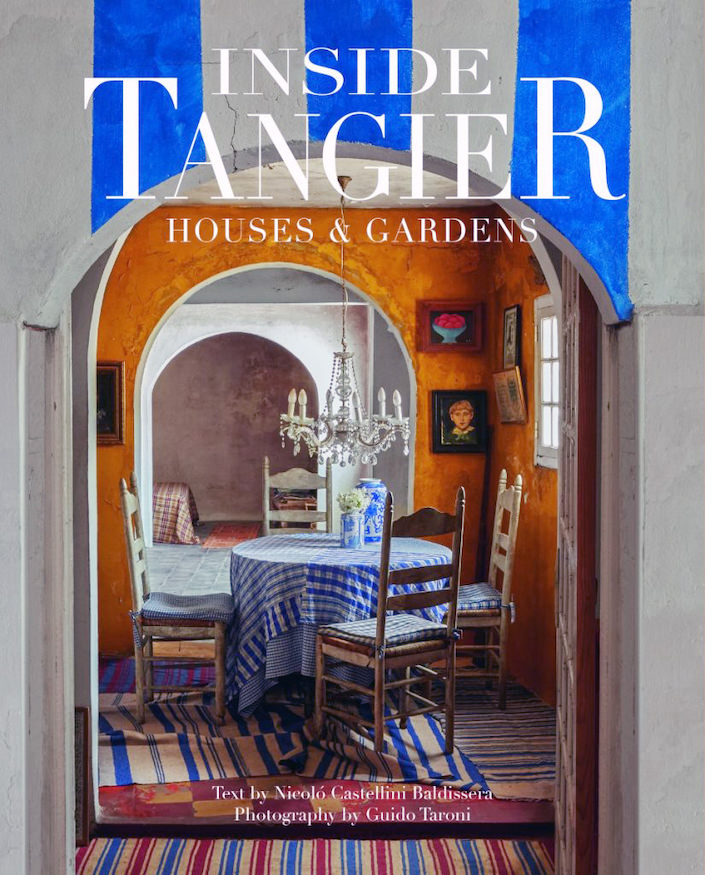 As Hamish Bowles describes in his foreword for the book, "The magic of this place was that everyone who had chosen to make a home here brought their own fantasy with them, and today new generations of tastemakers have re-imagined some of the houses that echoed with the laughter of those long-gone Tangerines, or have transformed smart townhouses…"
Home of Veere Grenney, featured in Inside Tangier, photo by Guido Taroni
The vast variety of homes and personalities featured in the book makes for fascinating armchair travel. Longtime Tangier resident Umberto Pasti explains in his introduction, "Tangier is still alive thanks to its atmosphere, the kindness and eccentricity of its inhabitants, and something that touches on the essence of this book. I can only define it as 'the spirit of decoration.' " So thank you Nicolo – we were thrilled for the introduction to Tangier and your beautiful home!
Home of Umberto Pasti & Stephan Janson from Inside Tangier, photo by Guido Taroni
And big thanks to video sponsor Vendome Press, the publisher who brings you Inside Tangier, as well as a stellar list of covetable design titles this fall. Always produced with meticulous attention to detail and quality, there are many worthy of your own design library as well as ideal gifts for the upcoming holiday season!