Of all the FOMO inducing moments at Salone del Mobile last week, one of the most inspiring was the Corian Cabana Club. Celebrating the sensory world of maximalism that the magazine espouses, Cabana Magazine and Corian Design collaborated on a mythical and muticultural journey into an imaginary village with seven cabanas, each inspired by a different culture and created by noted design personalities, all members of the extended Cabana family.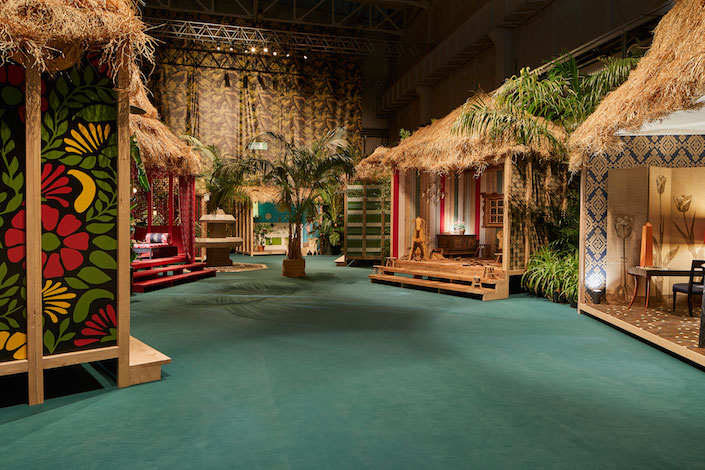 Enter this idyllic Shangri-La through The Gateway. Designed by Cabana creative director Christoph Radl (who art directed the exhibit with Cabana editor-in-chief Martina Mondadori Sartogo), the portal sets the tone with a trellis structure constructed of Corian, which, like the magazine, bridges old and new, evoking character, personality and memories.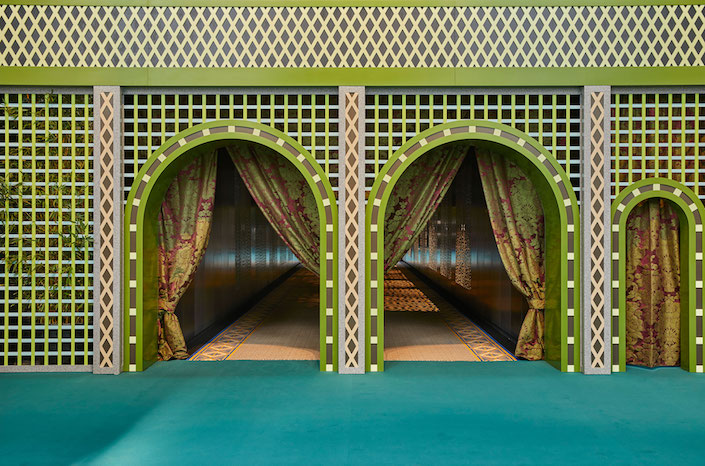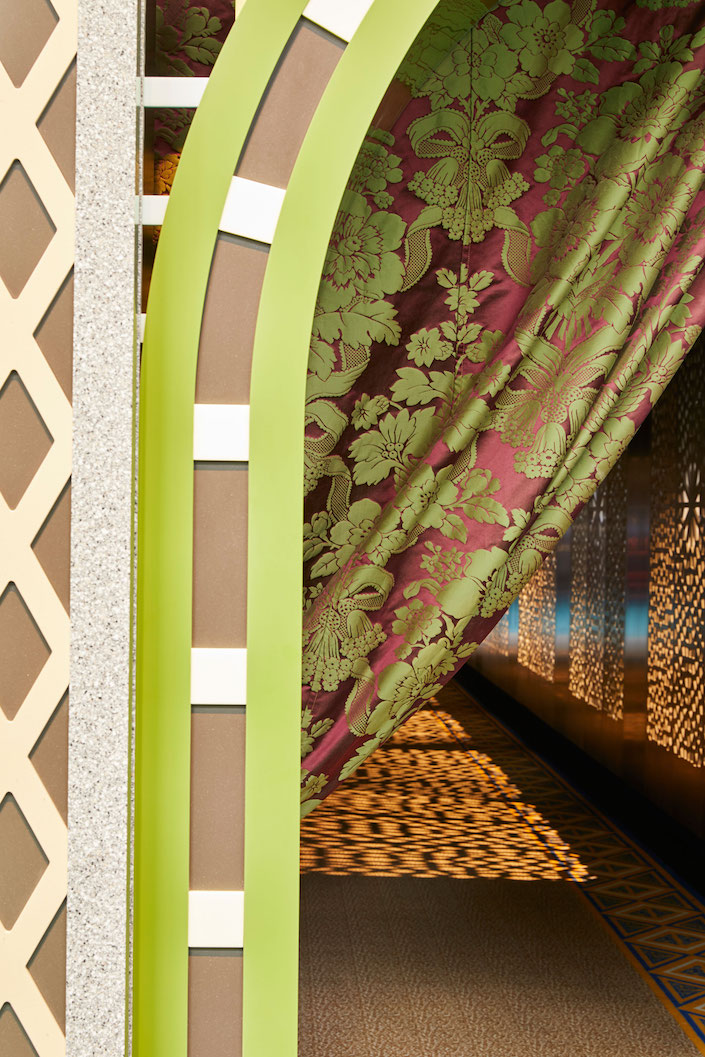 Through the gateway lies the Mystery Tunnel, an enclosed pathway with dappled light glimmering through exotic vertical panels made of 35 different colors of Corian.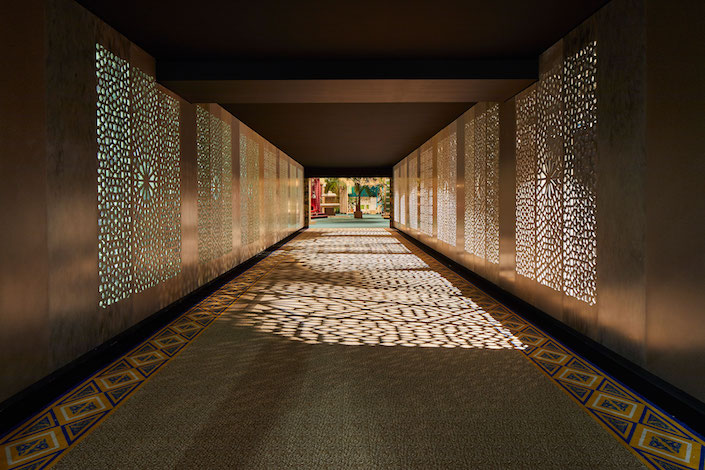 Inspired by a dream from childhood, Radl relates his vision. "It was pitch dark all around me and I could hear sounds of wild animals coming closer so I started to run toward a tiny light off in the distance. The light got more intense. It filtered in from the sides through small holes. The sounds of running water and birds chirping led me out of the darkness. And then I woke up."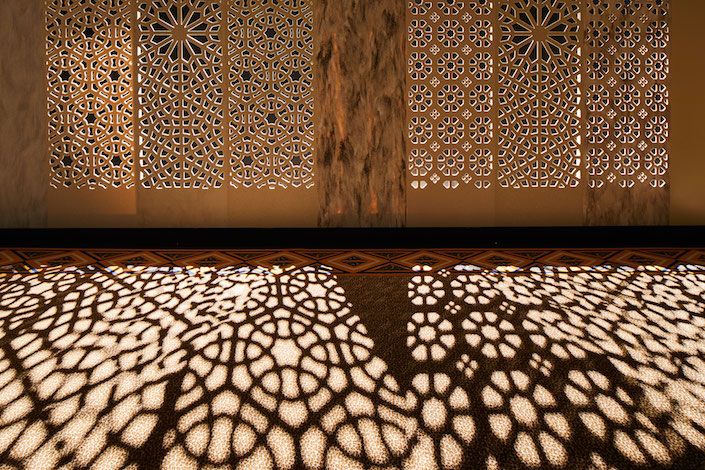 Once within the village, each cabana represents a different living space, the seven together combining to tell the eclectic nostalgic vision that is the Cabana mood. You are first greeted by the Mexican bedroom, styled by Italian fashion designer Antonio Marras in collaboration with graphic artist/art director Paolo Bazzani.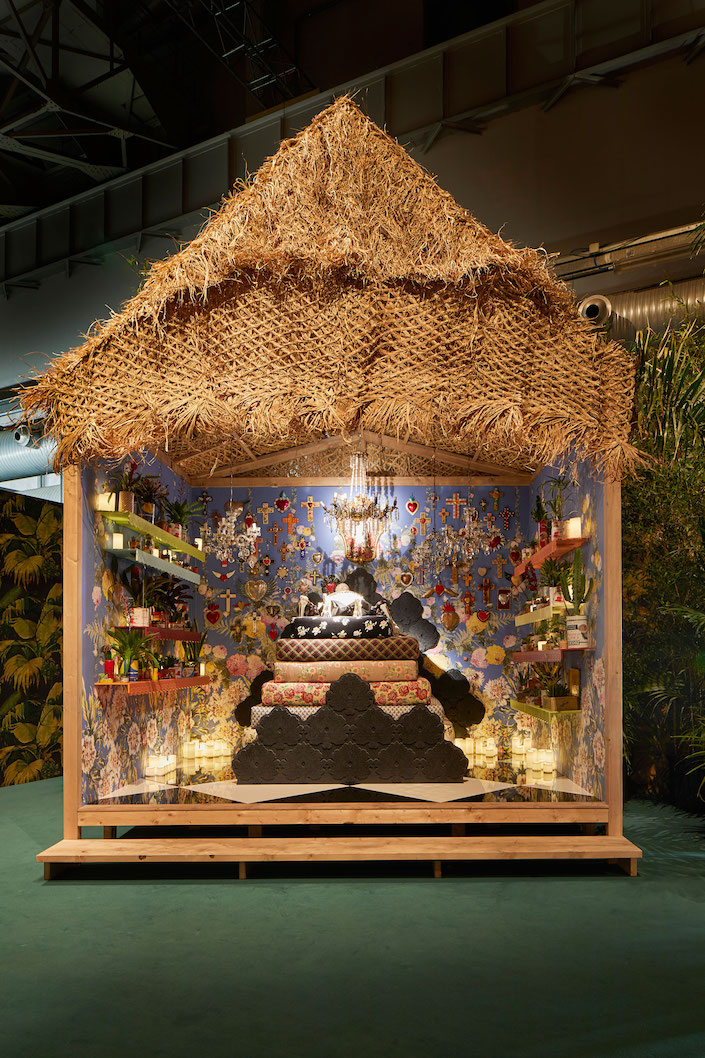 With an explosion of color, pattern and iconography, Marras created a shrine to the natural world.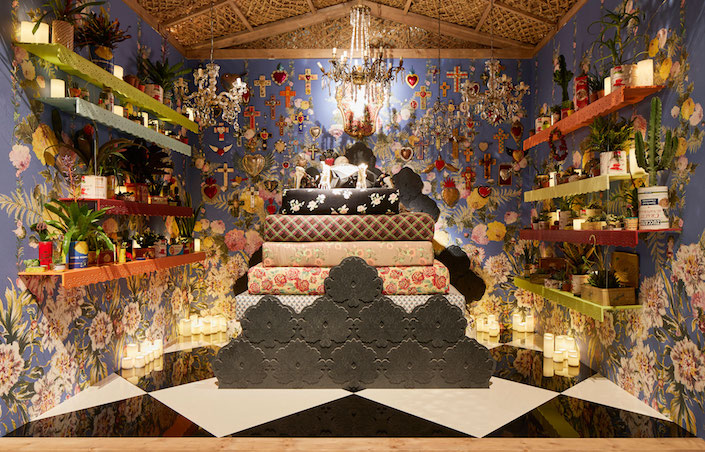 He explains "Frida Kahlo said: 'I paint flowers so that they will not die.' And so, flowers on flowers: wild flowers, buttercups, peonies, primroses, gardenias, daisies and roses. Roses and roses on a blue field for a  'rebelión contra todo lo que te encadena.' (Rebellion against everything that binds you)."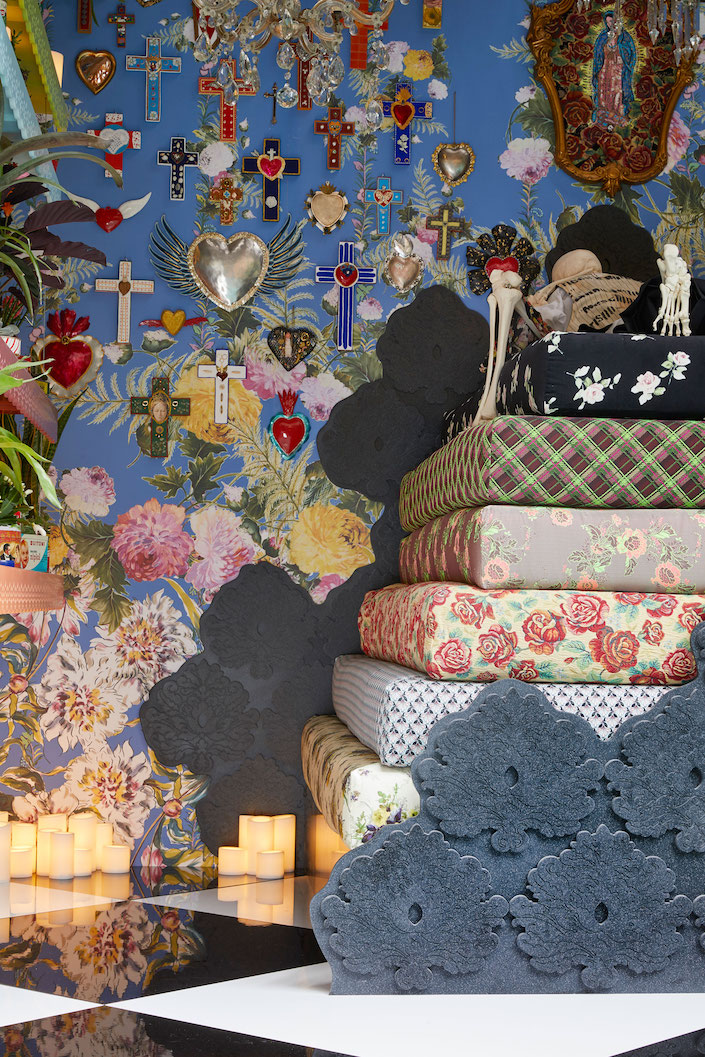 Even the exterior melds the human experience with floral narrative.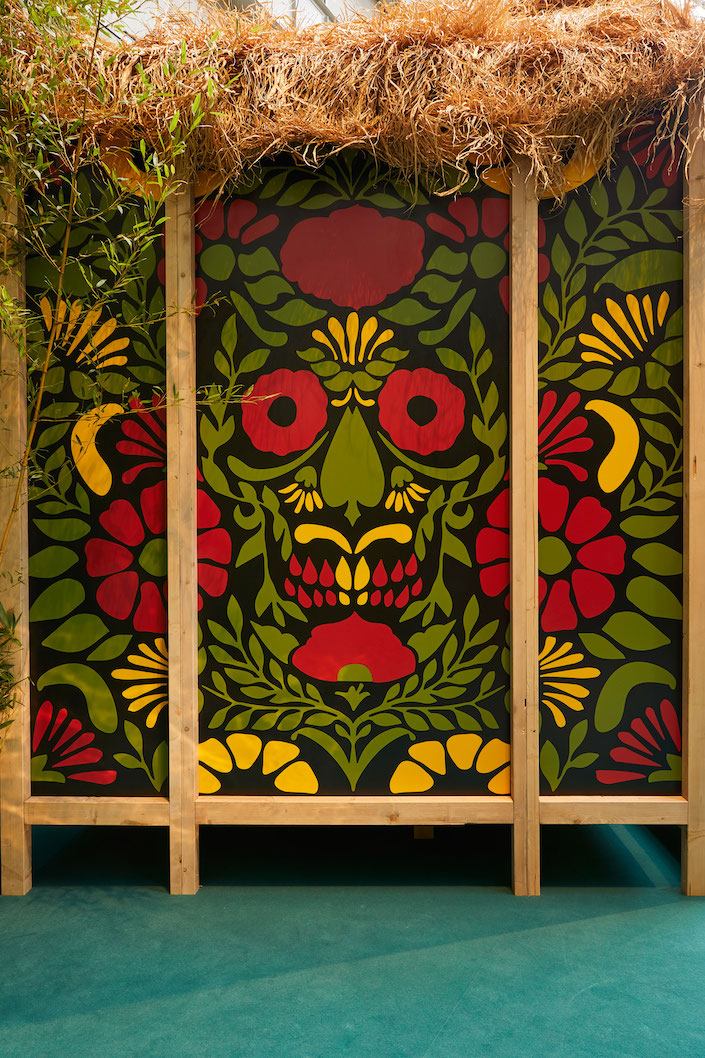 Designer Ashley Hicks, whose distinctive London apartment was recently revealed, created, appropriately, an English Study.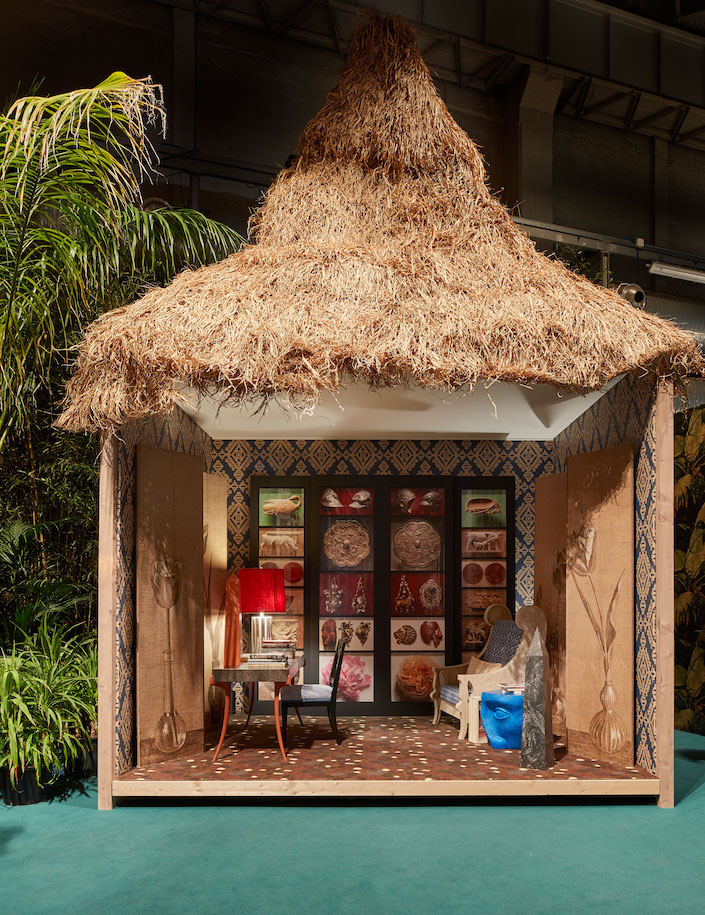 With his signature mix of classic and contemporary, he created a room filled with references to his personal design legacy.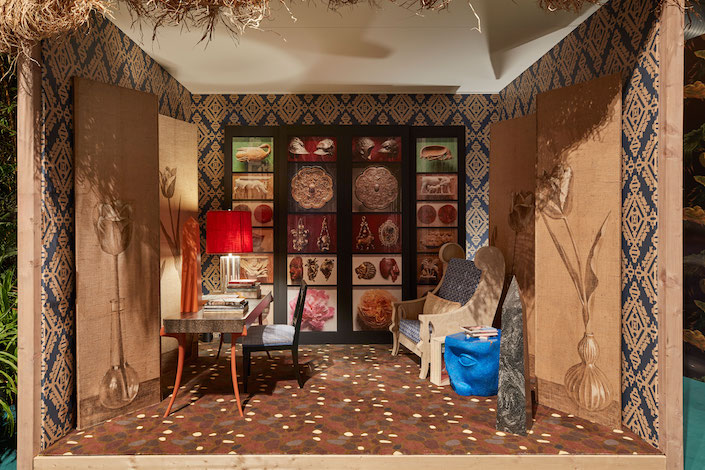 "There's a room of memories and dreams, of giant flowers, obelisks and pattern. A room for a collector who is happy with collected images of museum objects – Renaissance armor and jewels, Chinese opium boxes and pharaonic cosmetic spoons – in a cabinet whose glass doors reflect Versailles." You only have to follow Ashley on Instagram to realize his deep knowledge and love of the decorative arts.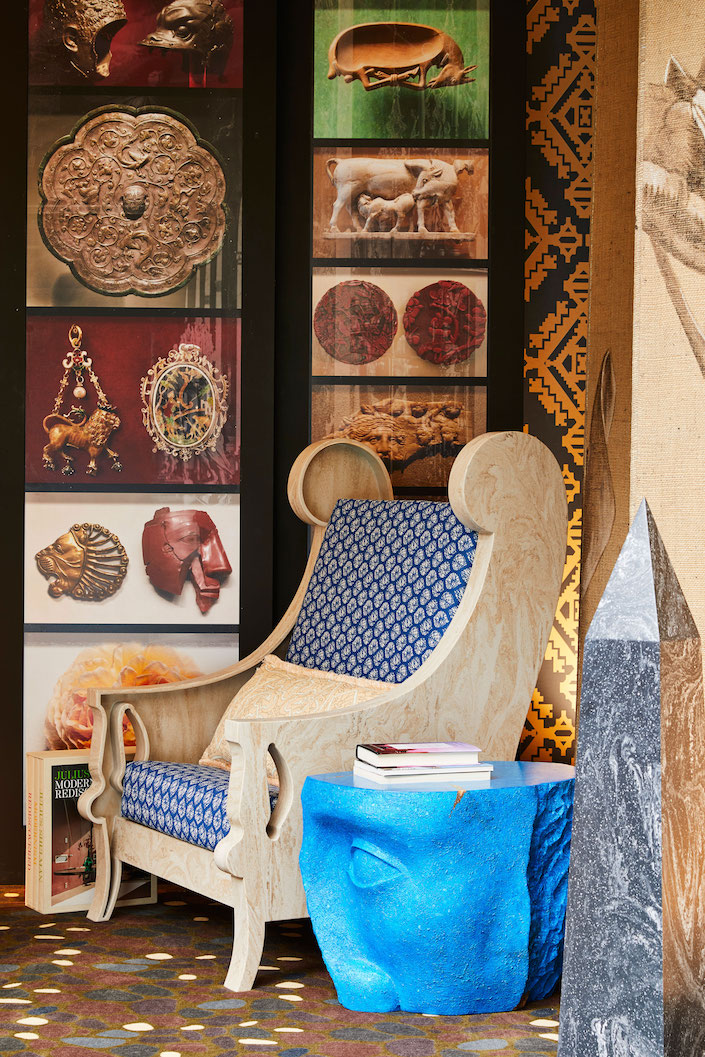 Ashley made the screens and small table with carpet, cabinet and desk of his own design. The fabrics are from his collection for Lee Jofa with Navajo wallpaper by his legendary father for GP&J Baker.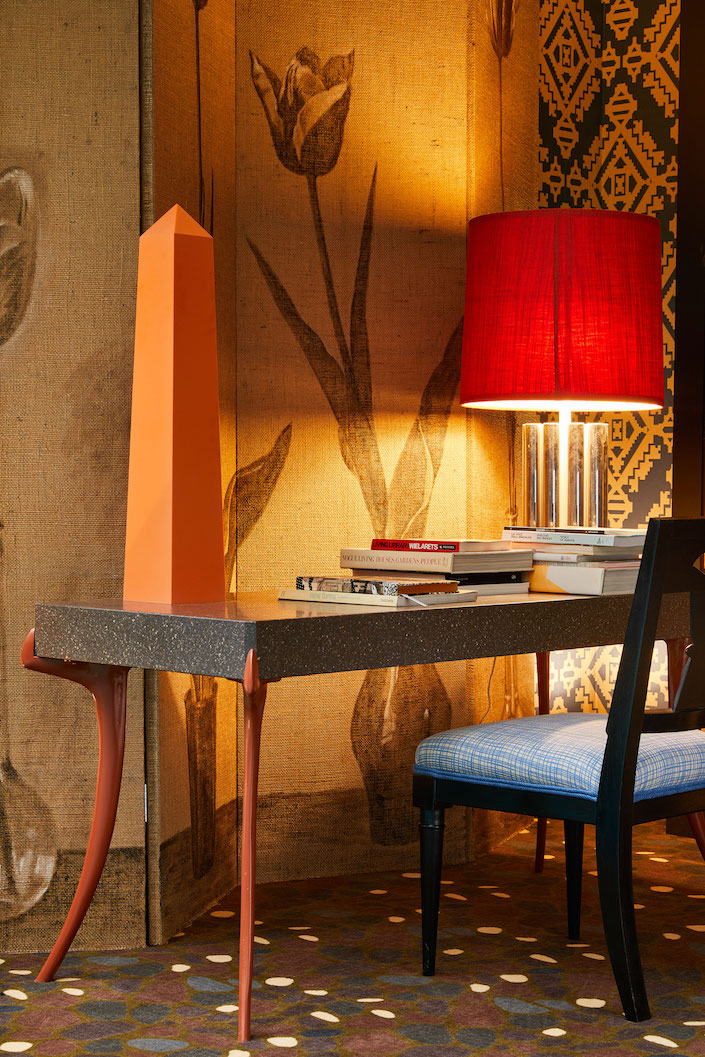 While Carolina Irving designed an American Bathroom, it has a distinctive exotic flair, with a sophisticated nod to time-honored cultures of primordial elegance.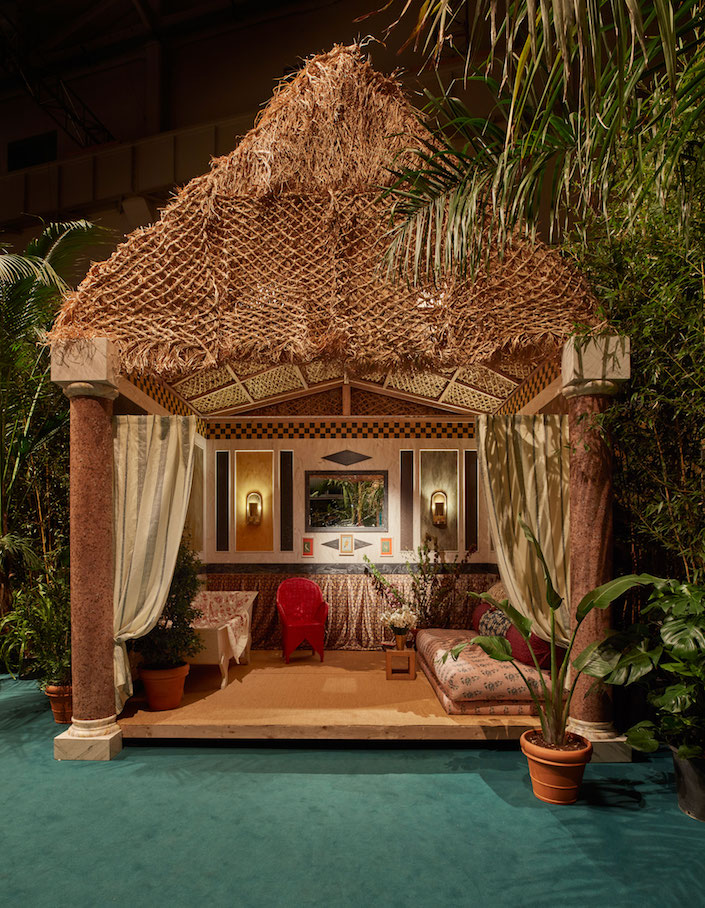 "My inspiration for this bathroom comes from antiquity. I am fascinated by ancient Roman and Byzantine basilicas with their walls covered in precious specimen marbles. I like the bathroom to be a sort of boudoir with an orientalist feeling."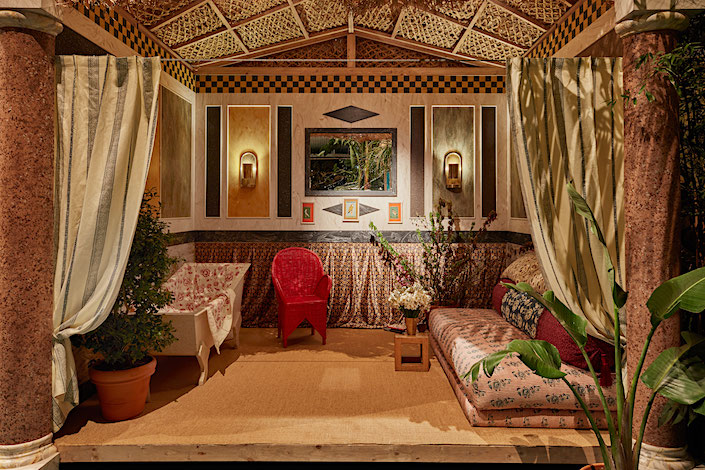 Using Jamb wall sconces, a selection of her own fabrics throughout (Kandyli a favorite I just used myself) and a Turkish style banquette, the room begs for an extended visit.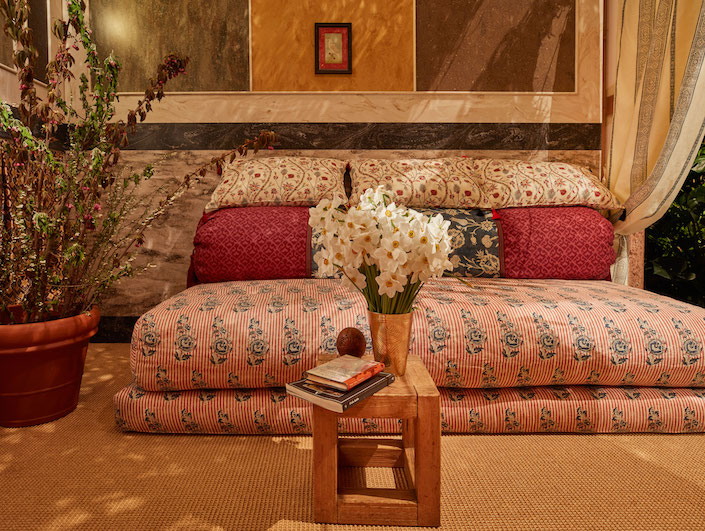 I found the use of Corian in Carolina's space particularly effective, showcasing the new direction and aesthetics of the company.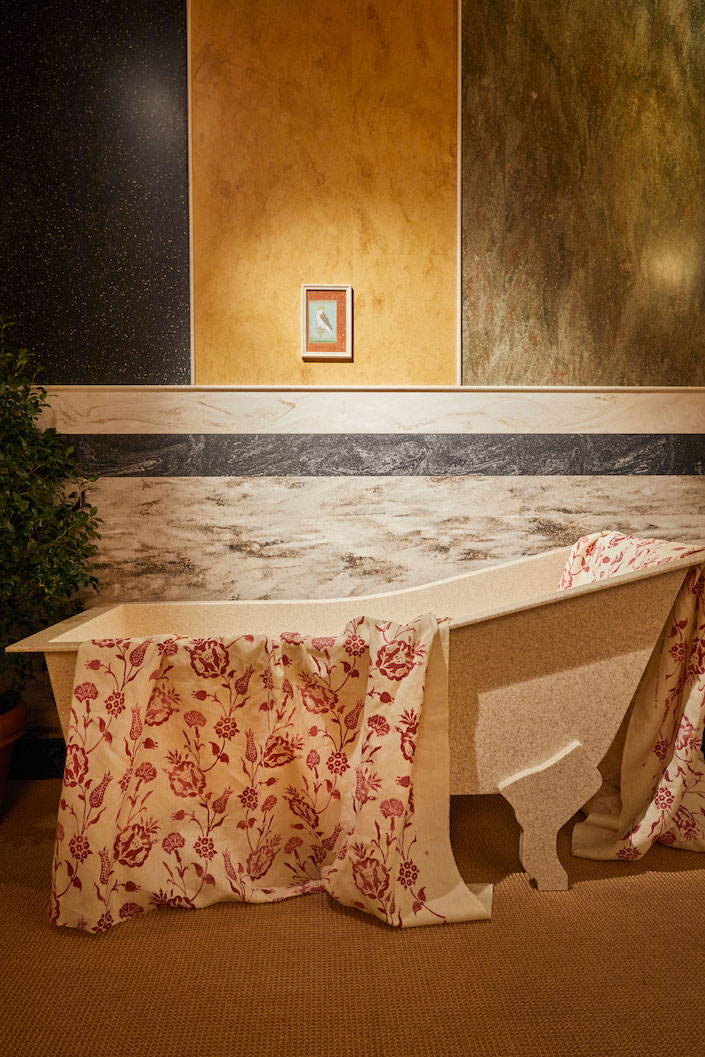 Italian artist and designer Idarica Gazzoni's colorful and pattern layered inventiveness was perfectly suited for a Chinese Meditation Room.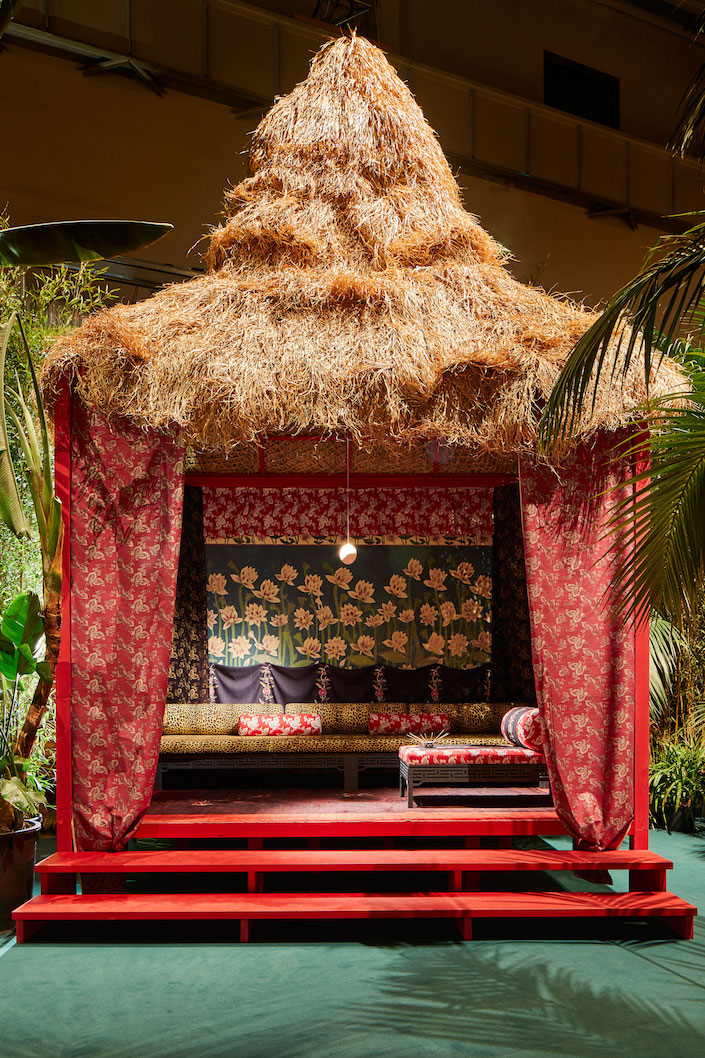 "I tried to imagine Chinese patterns combining with Rajasthani ones, the overlapping cultural areas that are influenced by trade and the Silk Route, the light coming through the openings, the silence, the colors, the silks and velvets combining with the meditation sofa and the table. Perhaps peace and fulfillment are achieved in this small box?"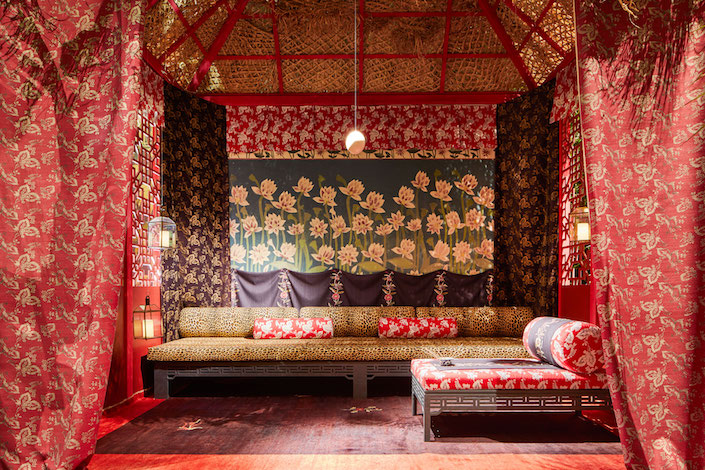 Gazzoni's own fabrics and wallpaper contribute to this fantastical space. covering walls and benches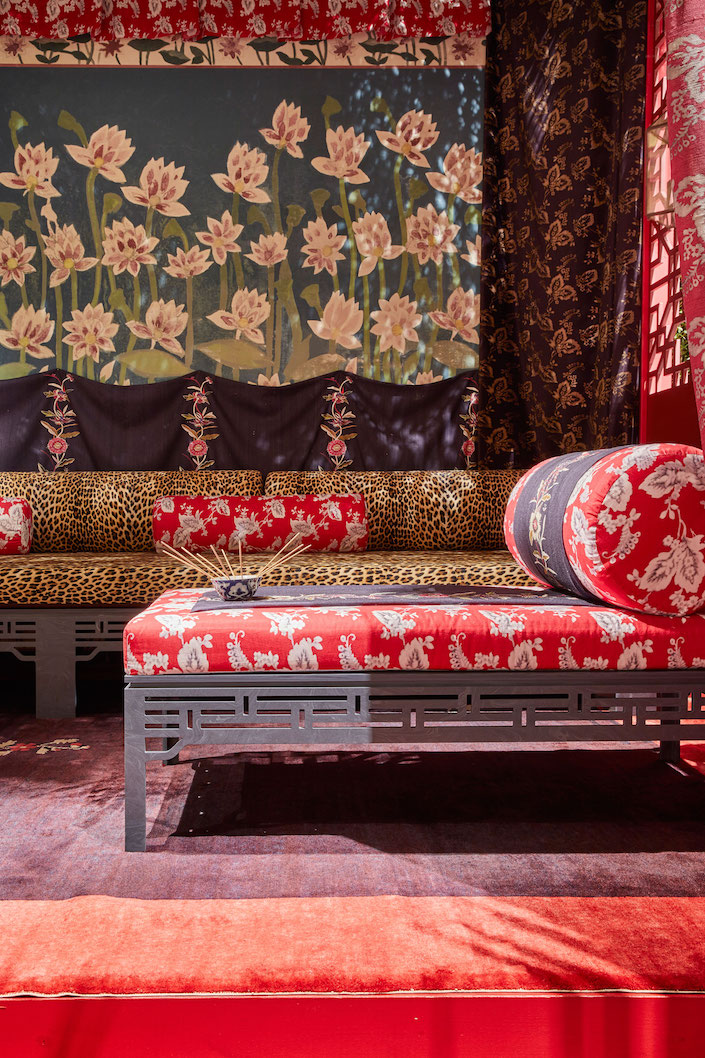 as well as the beautiful Chinese red fretwork, all crafted of Corian.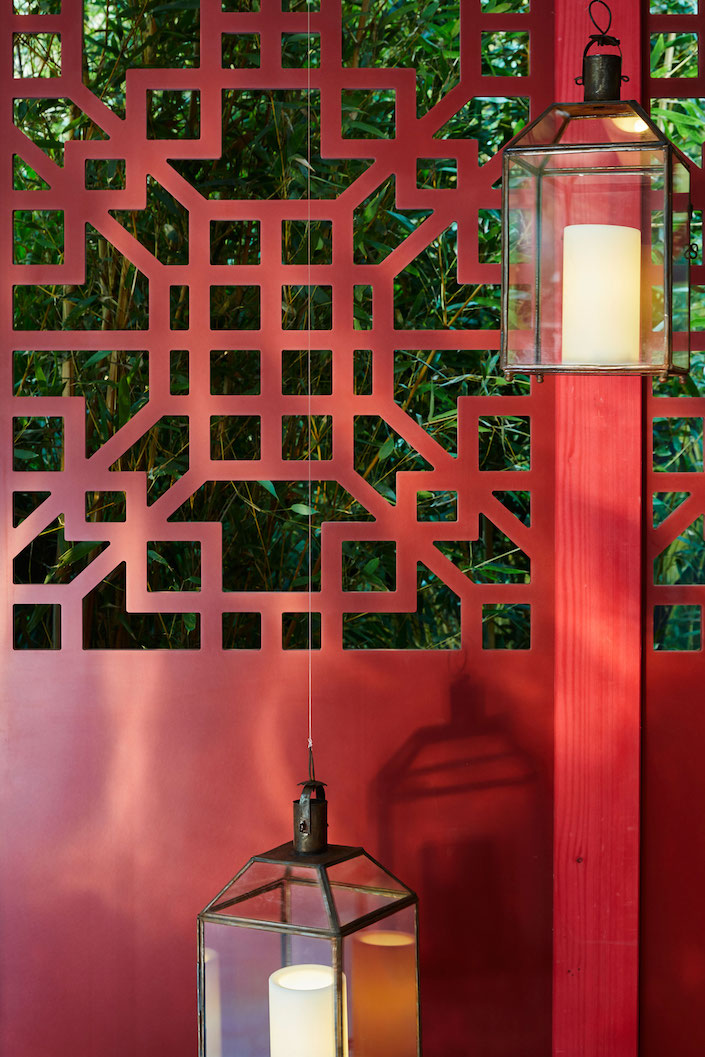 Decors Barbares founder Nathalie Farman-Farma created the wonderfully cozy Russian Living Room.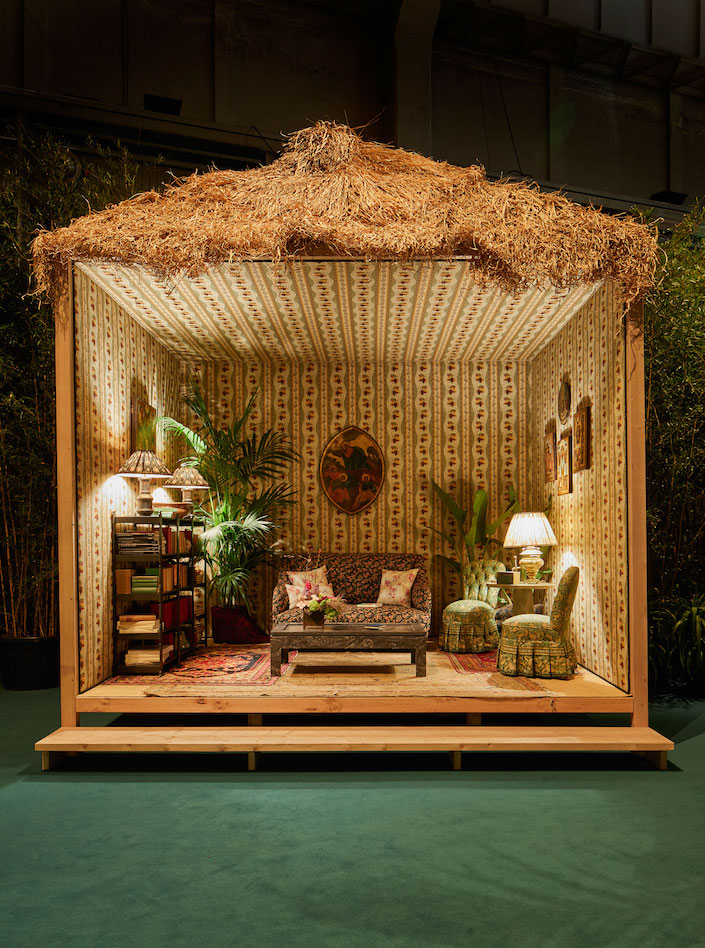 A longtime member of the Cabana inner circle, Nathalie is a well traveled and knowledgeable devotee of ethnic and folkloric craftsmanship and style, reflected in her pattern rich and colorful fabrics and interiors.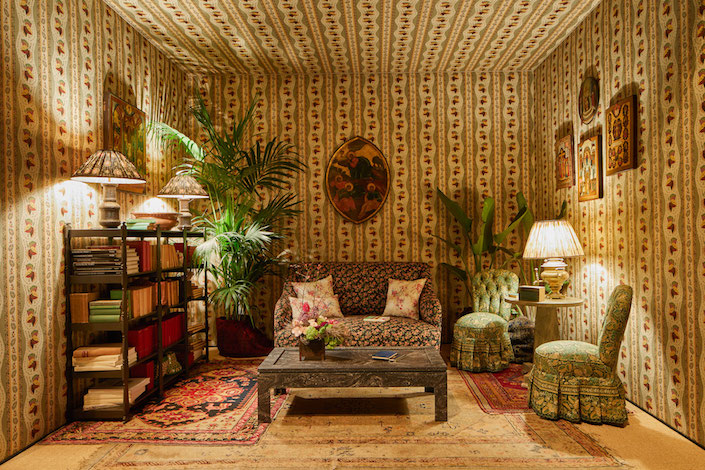 "For the Cabana living room I wanted to create a relaxed and intimate refuge, one that was evocative of the great 19th-century Russian country settings of Tolstoy and Turgenev without the formal feel of a historical interior. The floral sofa surrounded by green plants is where I imagine curling up to enjoy a good novel."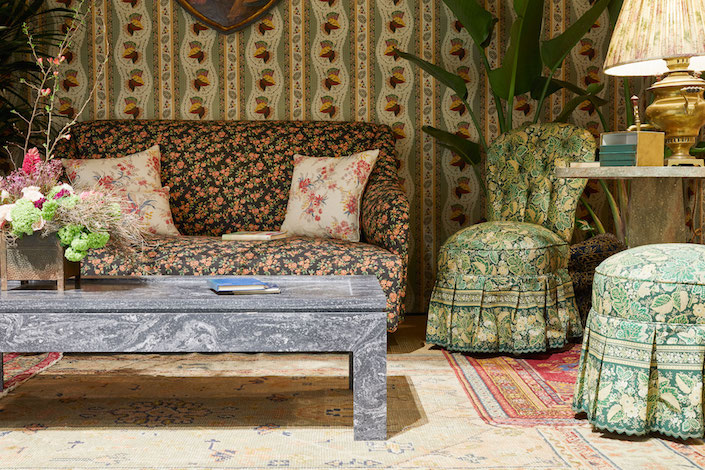 Completely swathed in her charming Casse-noisette cotton, Nathalie's space includes case goods (coffee table, bookcase and table) made of Corian custom created for the space.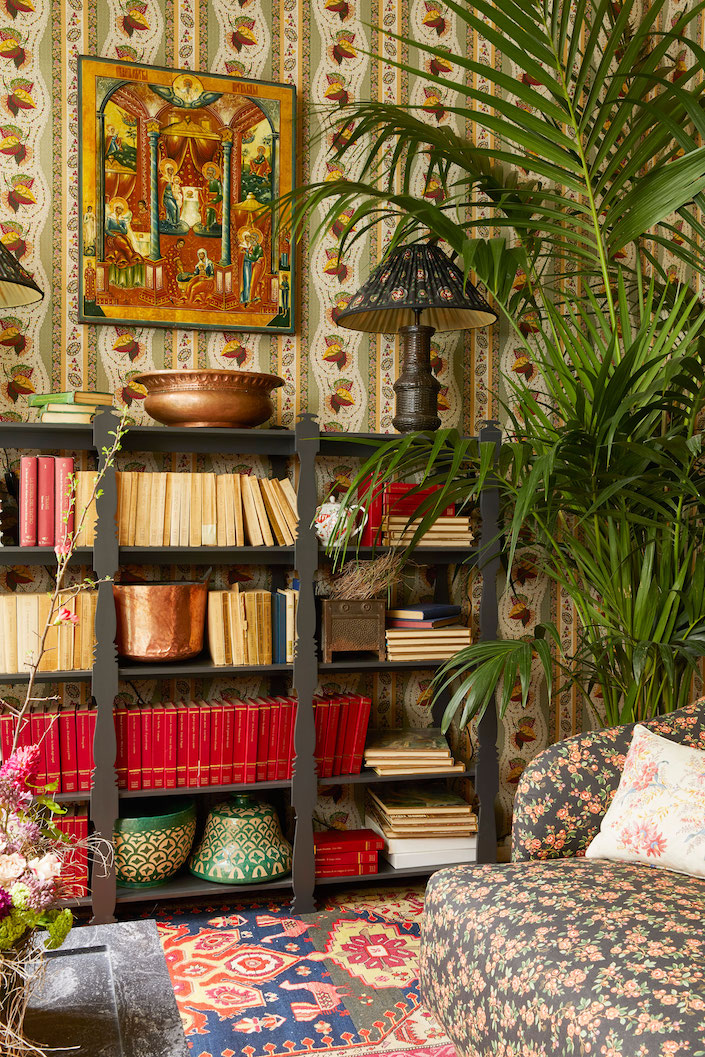 Fashion designer Stephan Janson was perfectly paired with the Moroccan Kitchen.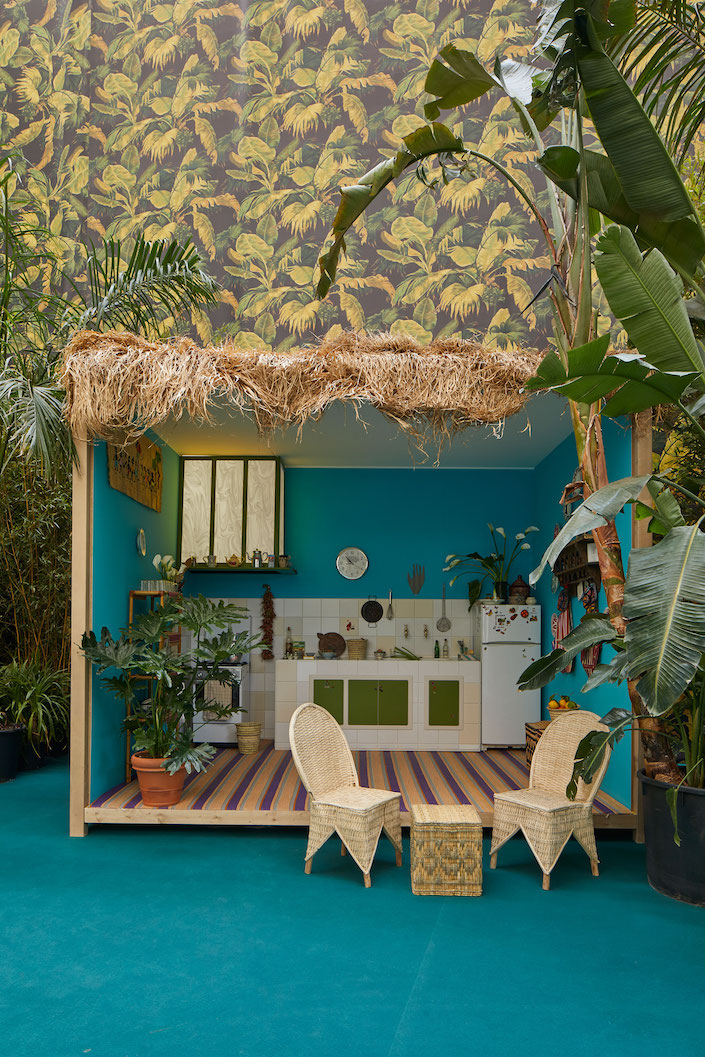 French born, based in Milan, he is often found in his beloved Morocco where he indulges in his love of gardening, evidenced here in his colorful cabana.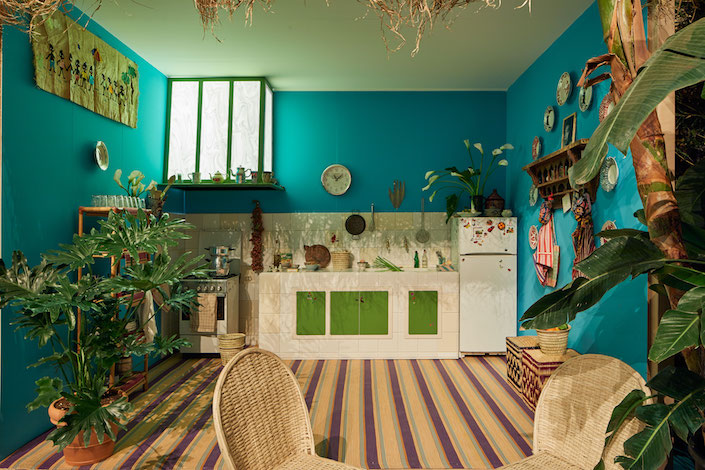 "When my colleagues at Cabana offered me to create a Moroccan room for the Corian® Cabana Club exhibition, I gladly grabbed the opportunity to show the Morocco I love. This is not the clichéd "exotic place" but the country I elected years ago to be my second home. It is now a country going through a great evolution, where modernity and tradition go hand in hand, where ancestral values learn to deal cleverly with technology, and where a simple kitchen is still the favorite family room!"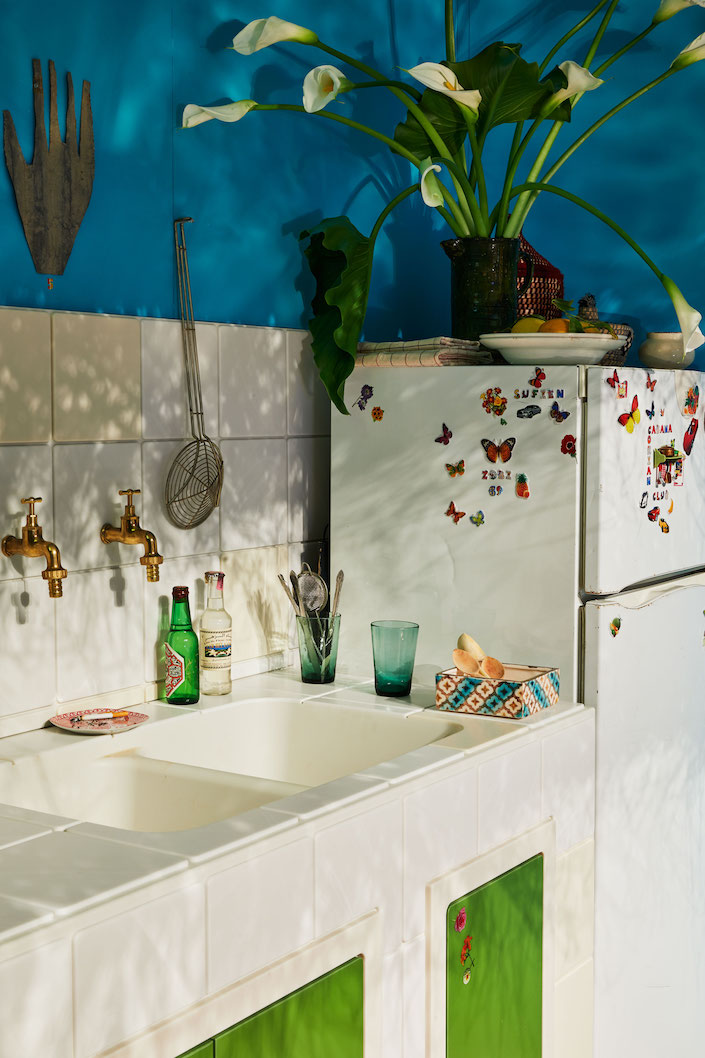 The clever treatment of the tiling shows the versatility of Corian and how it is a material limited only by the designer's imagination.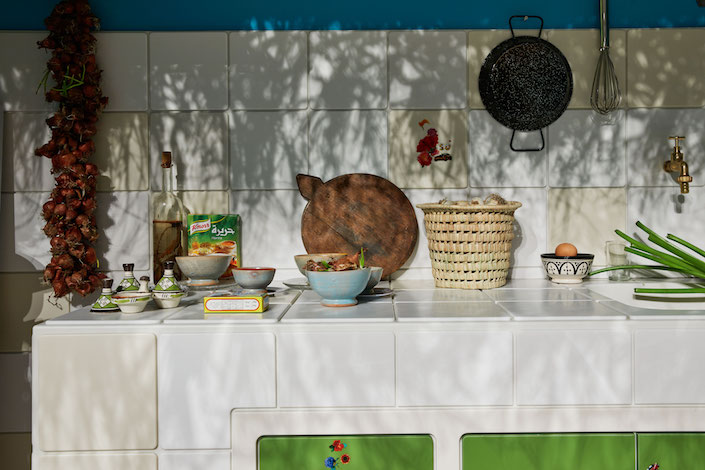 The Tyrolean Stube is an enchanting alpine confection by designer Susanne Thun.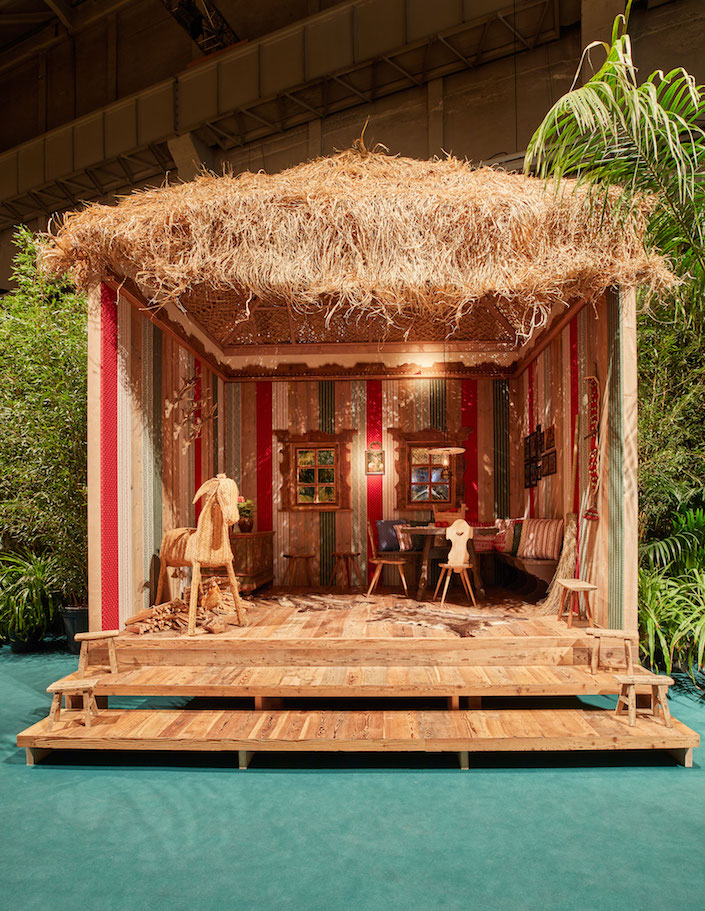 "Childhood memories. I spent my summers in an Austrian village called Gargellen. Surrounded by cows and horses, I spent time with the children of the local farmers. It was all about simplicity. We spent our days collecting mushrooms and flowers. Evenings were spent in the Stube. Stube means Gemütlichkeit. Gemütlichkeit means true relationship."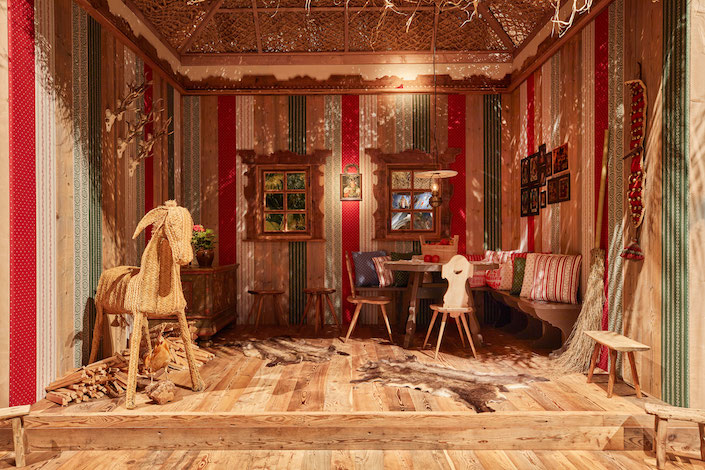 Using traditional Austrian textiles and handcrafted wooden furniture mixed with a table and bench made of Corian,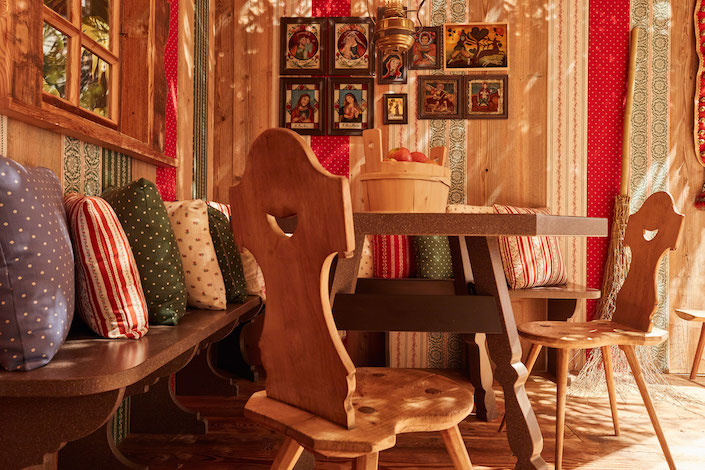 the room has an authentic Tyrolean feel.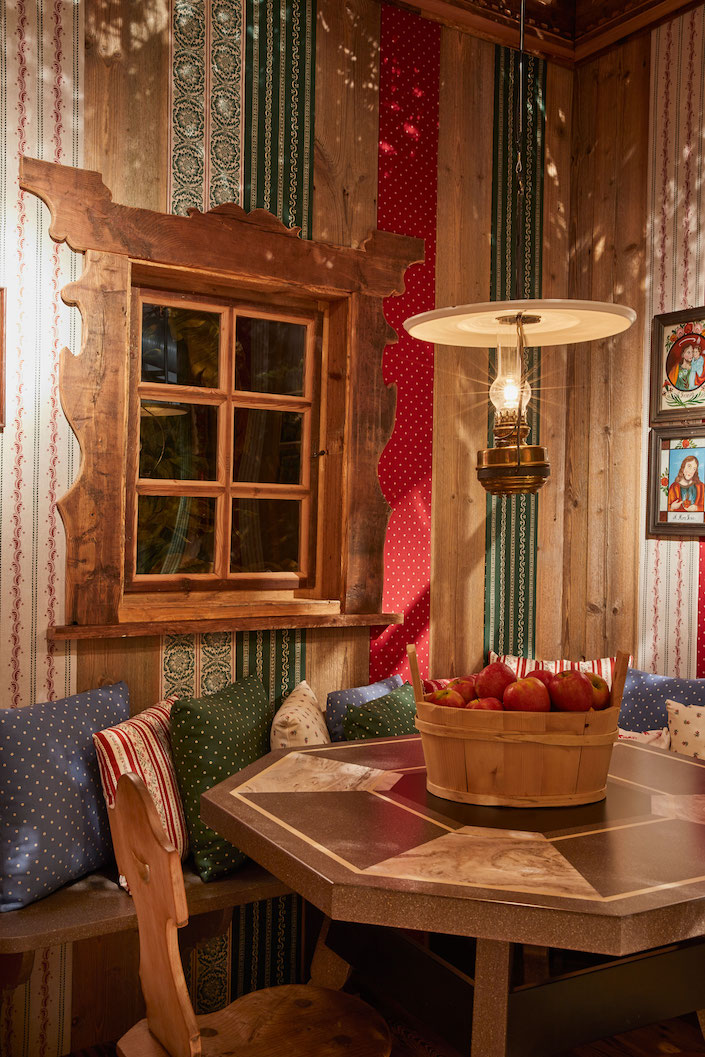 Anchoring the village as its centerpiece is architect Martino Berghinz's Spring Fountain. Completely crafted of Corian in their new Prima and Concrete collections, the sculpture is the unifying element of the virtual village, as both a gathering place, source of essential energy and elemental need for the entire natural world.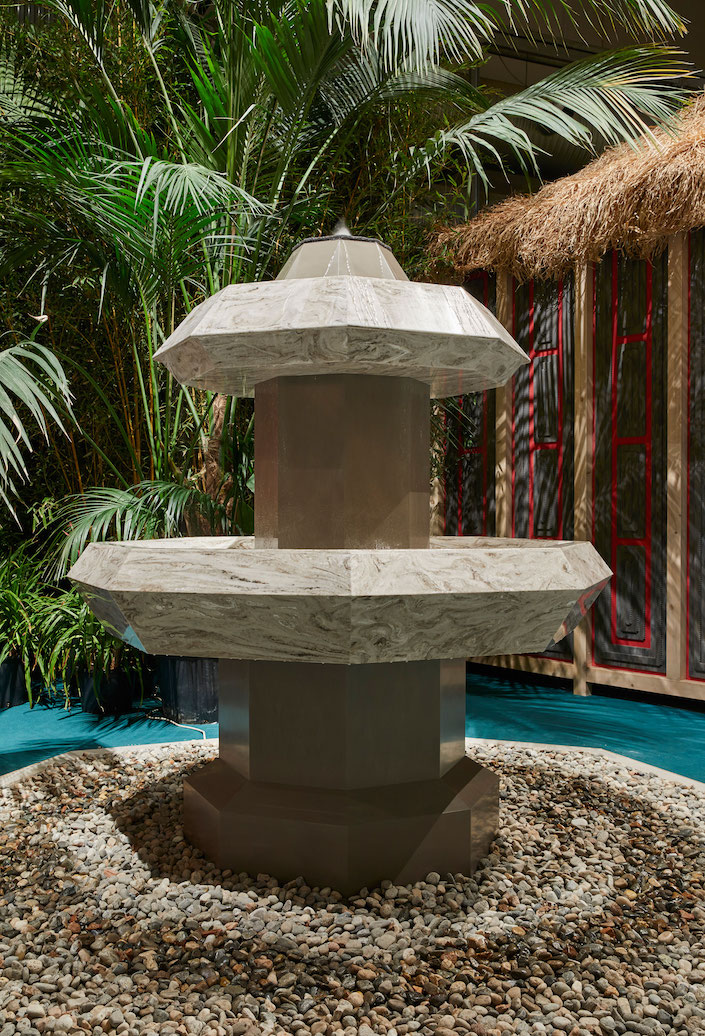 "In our village all the eclectic members of the Corian® Cabana Club drink from the same fountain and the same goes for their friends in the jungle. The fountain brings them harmony. When water comes into contact with Corian®, there is a soothing, relaxing sound and the jungle reciprocates with its melodies. Everyone loves the fountain. And Corian, too, likes the fountain because the fountain shows it how to unite with water."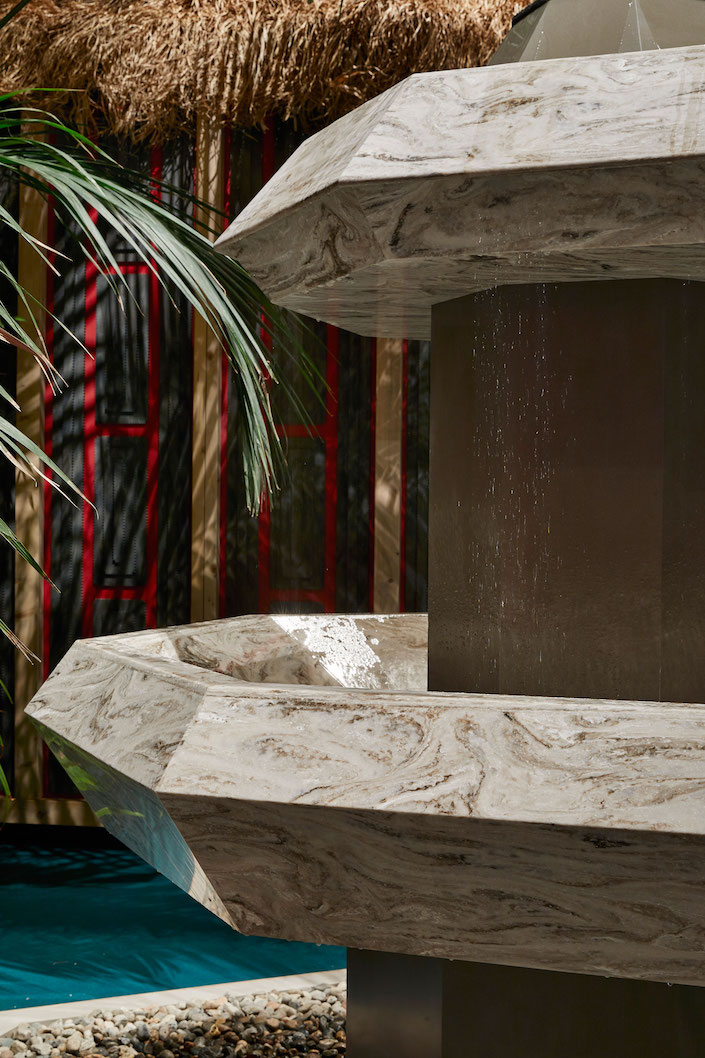 Congratulations to all involved in the Corian Cabana Club. This wonderful creative collaboration proves that sometimes it does indeed take a village!
all 
photos by Filippo Pincolini