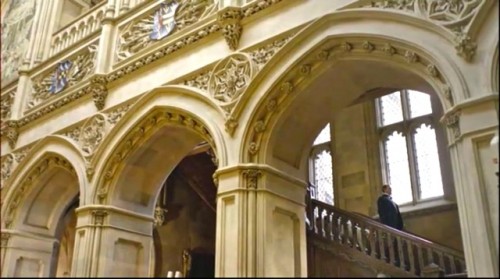 Between the mania for Downton Abbey and the popularity of Will and Kate, it's clear British style is making a comeback. It's true in fashion – think of the 600,000 visitors who saw McQueen at the Met or the fashionistas watching Kate's every move. I LOVED her here in Brit designer Alice Temperley at the recent War Horse premiere in London.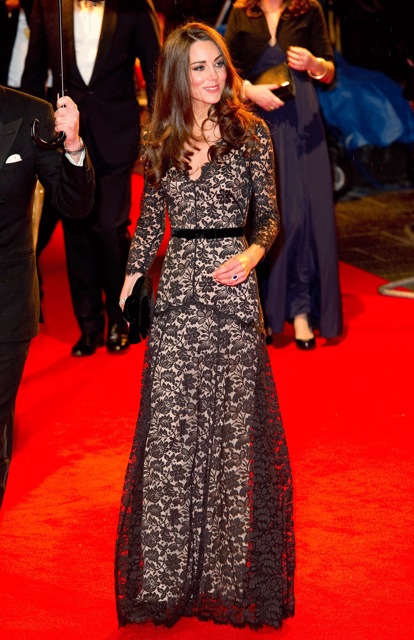 But it's the realm of design that I think holds the most fascination. Downton Abbey writer Julian Fellowes had Highclere Castle, where the show is filmed, in mind when he wrote the series. He said he wanted a house "which spectacularly testified to the confidence and soaring optimism of the Edwardian period." Perhaps with the last few years of economic restraint, people have been looking to their homes for a reassuring sense of comfort and security. And the English country house certainly evokes all that and more. The trend for brands to find heritage shows an interest in history and there's a much appreciated sense of civility that comes with all the down upholstery and wood patina.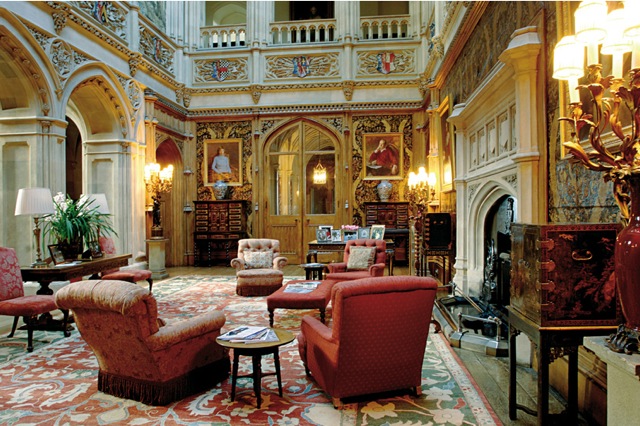 The saloon, above, and smoking room, below, at Highclere show the rooms as they are when not filming.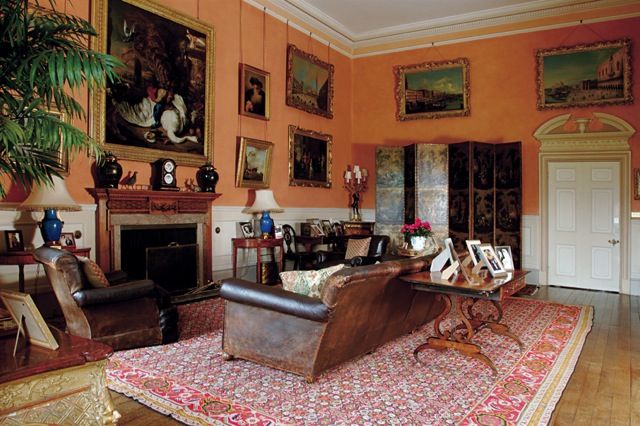 So many today emulate this style, but not many do it as well as British designer David Mlinaric, whose experience encompasses impeccable restorations of private and public historic places as well as modern commissions.
The owner of Luggala in County Wicklow, Ireland wanted it to be as it had always been. I love the hand blocked grisaille Gothic wallpaper in the hall/dining room.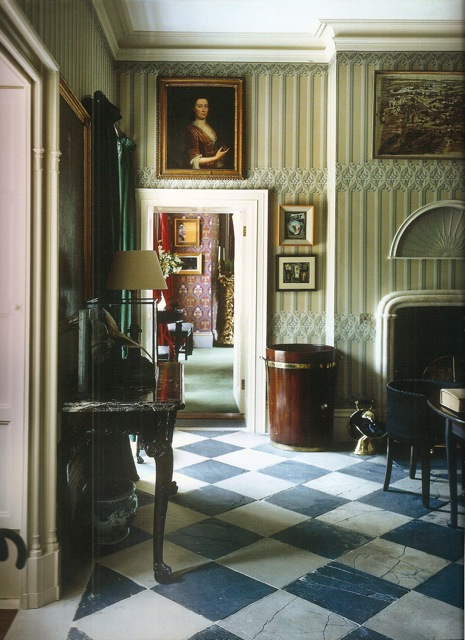 This pretty "Sweet Pea" bedroom was newly made when redecorating Waddesdon Manor for Lord Rothschild ten years ago. You would never know it wasn't part of the original house.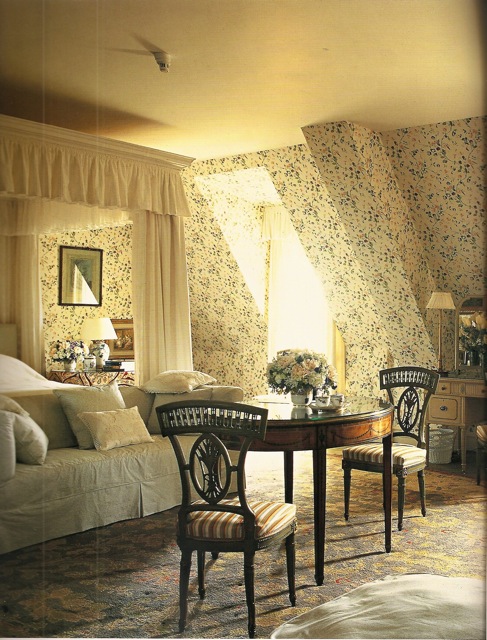 I would be very happy to spend some time in this study at Henbury Hall in Cheshire. This Palladian villa was built new in the 1980s. What you can't see in this shot, completing the picture, are the stamped green gauffrage velvet curtains and marble fireplace.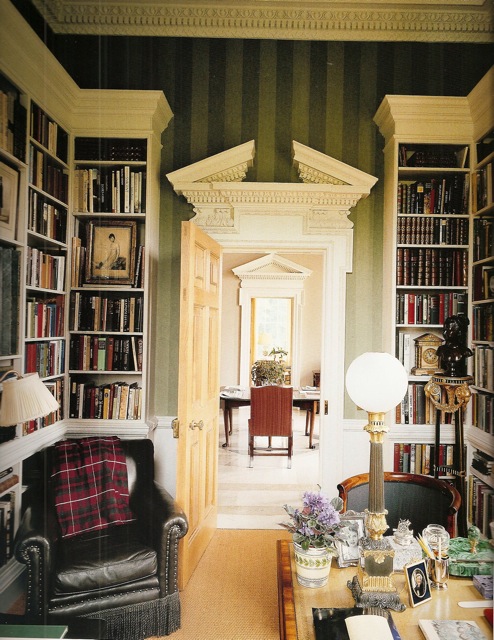 But Mlinaric also shows how you can successfully mix old and new to great effect in this studio flat in a period town house in London.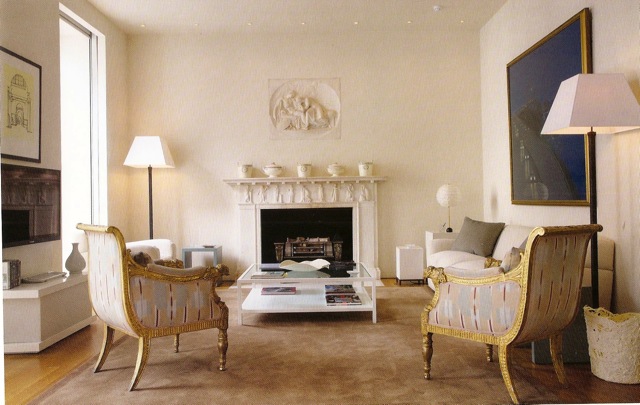 and in partner Hugh Henry's flat in Earls Court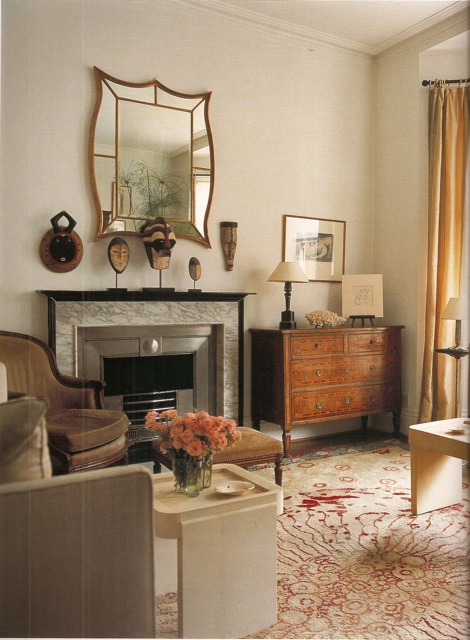 Whether you want to complete a room in full English country style or just add a piece, there is a marvelous auction coming up at Doyle New York. With wonderful selections at a wide variety of price points, there are many options for adding a bit of Brit to your home.
One of the highlights of the auction is this Regency painted and parcel gilt console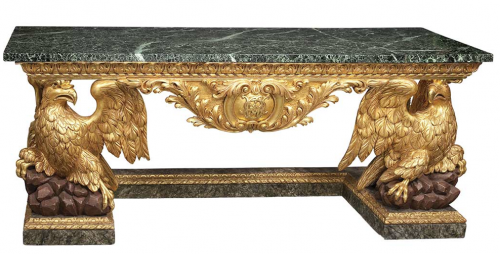 And this pair of George III mahogany library armchairs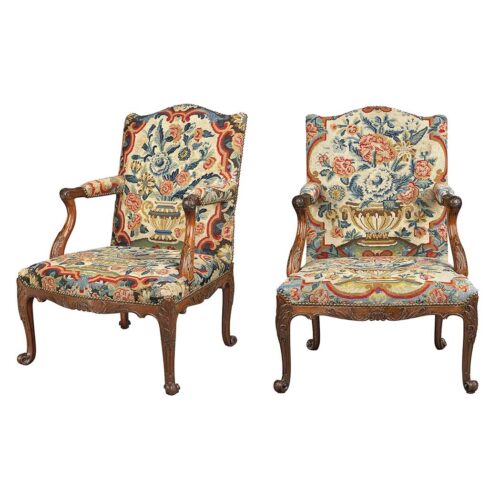 While not inexpensive, this charming George III painted quadruple chairback settee circa 1800 is not bad at a $3,000 – $5,000 estimate.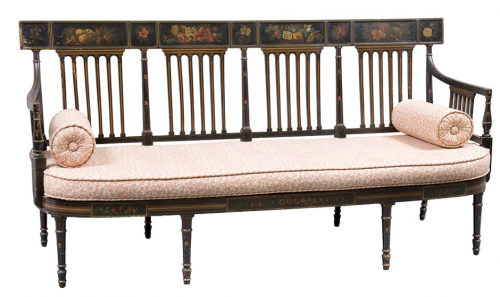 And more regency pieces with these pretty painted and parcel gilt armchairs from c. 1810 at a very reasonable $600-$800 estimate. You'd be hard pressed to buy them new at that price.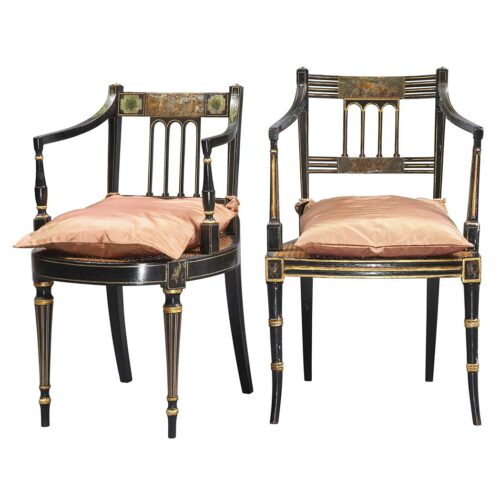 Accessories are an important part of English decor. These lovely George Edwards bird studies would be lovely with French mattes.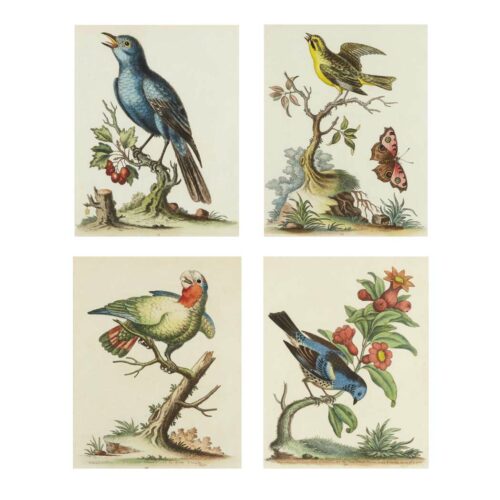 Or you could serve tea with this beautiful 19th century English porcelain dessert set.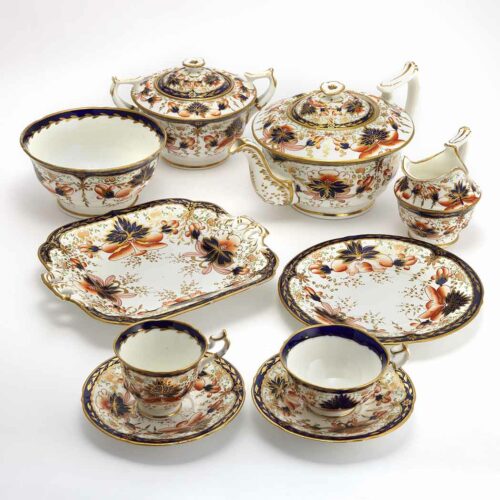 So whether you know what a weekend is or not, having a little of the Downton Abbey spirit at home, is a good thing.