Considering my posts this week, you've probably guessed the feature today is a British film (even though Dark Shadows is American, the gothic residence had heavy English overtones). And in thinking about interiors, I considered many of the movies shot at grand castles and estates but decided on one with a more modest setting. Alfred Hitchcock's Suspicion was one of my early introductions to the master. While not considered one of his masterpieces, I still always loved this romantic thriller.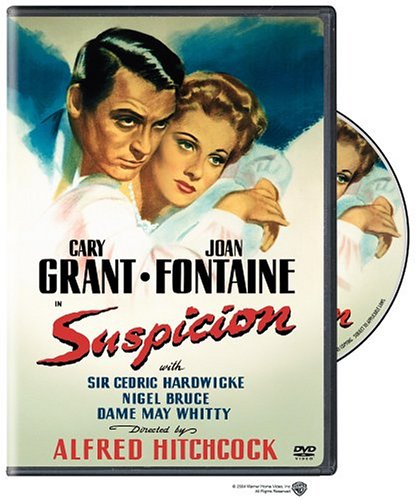 Joan Fontaine, on the heels of her performance in Hitchcock's spectacular Rebecca, earned an Oscar in 1941 for her portrayal of the shy bookworm Lina McLaidlaw. Amazingly, this was the only Academy Award earned by an actor in a Hitchcock film.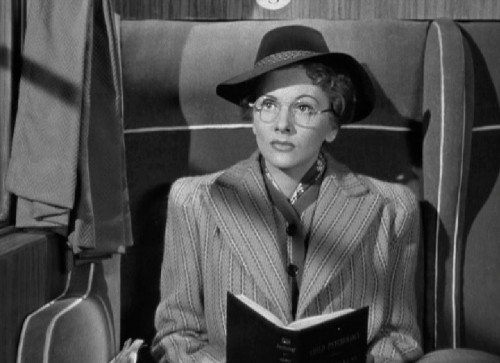 A sheltered and "carefully brought up young lady" of a well-to-do family, with, as her father says, "intellect and fine solid character," Lina is mesmerized by the handsome playboy Johnnie Aysgarth (Grant). Formerly resigned to her spinster status, she realizes he is everything she thought she could never have.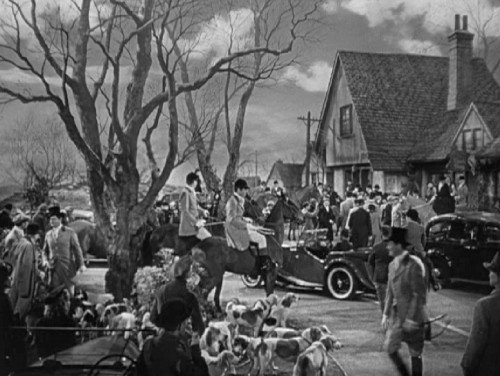 I love the English country sets in this movie. They are quietly stylish and offer so many memorable vignettes. Don't you feel that perhaps Ralph Lauren has seen this movie on several occasions?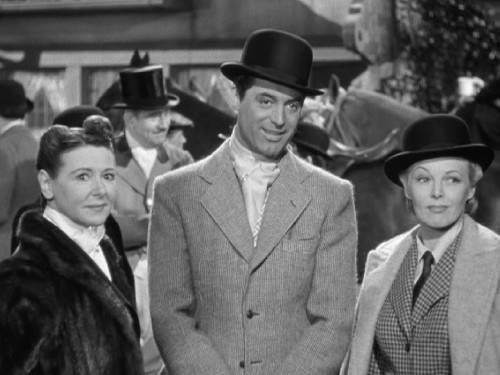 Lina and her parents live in an appropriately reserved Tudor style house reflecting their solid staid style.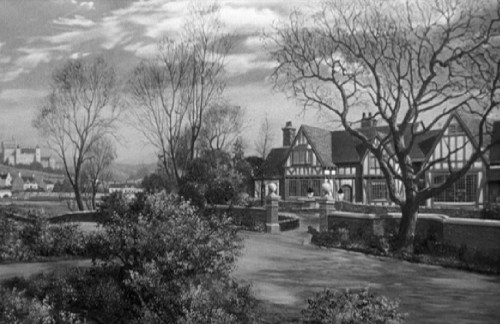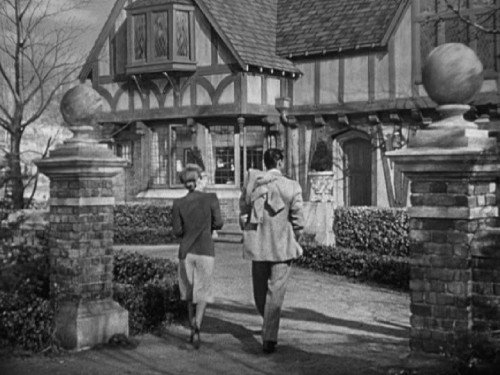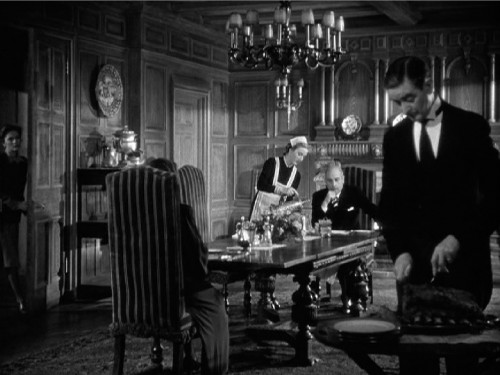 Though her father makes his distaste of the gambling, irresponsible Aysgarth exceedingly clear, Lina is smitten and elopes with him anyway.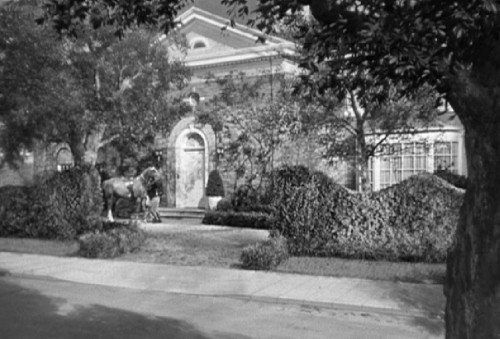 Home from their continental honeymoon, Johnnie has rented them a charming fully decorated Georgian house he can't afford.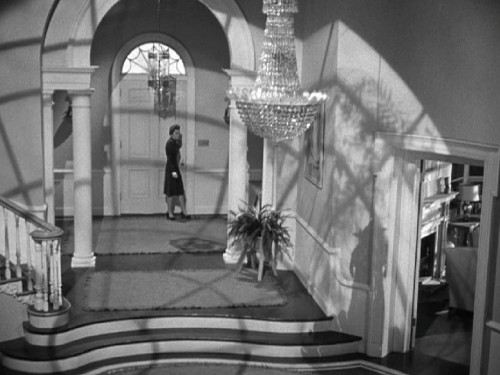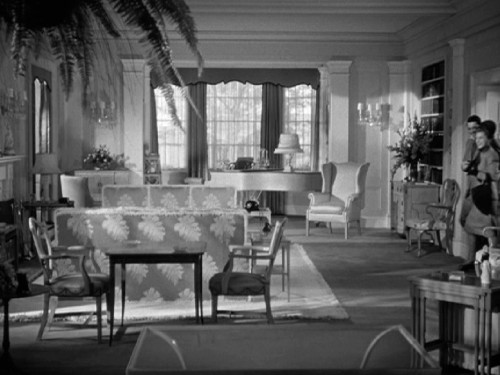 Complete with staff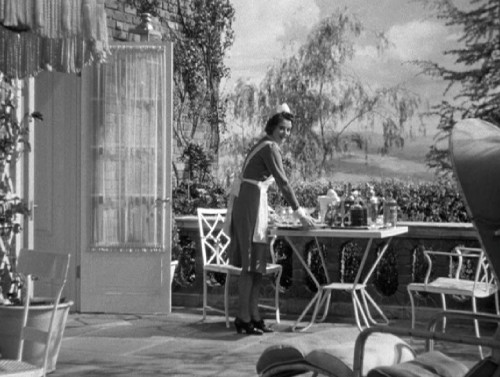 who serves tea in the drawing room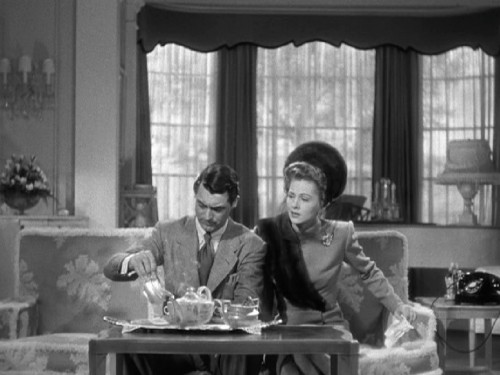 and champagne on the terrace. Remember discussing how champagne coupes were popular in the 40s?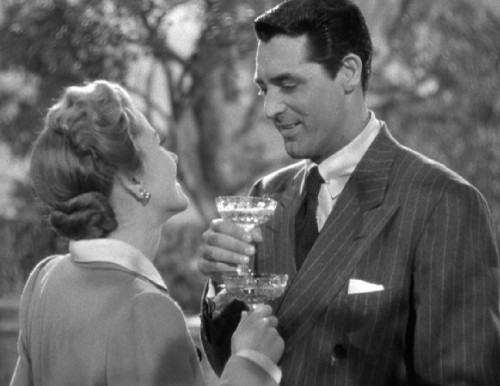 As you probably know, Hitchcock began his career as an art director which explains why his movies are so stylish and dependable for not only dramatic cinematography but also fabulous, perfectly appointed sets.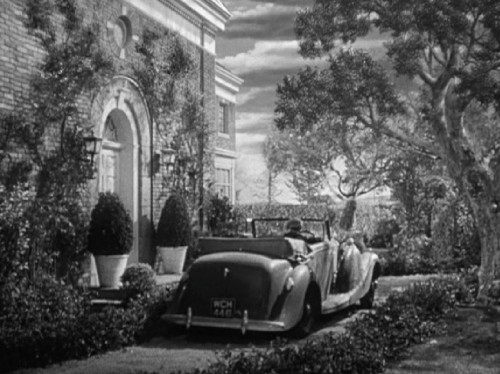 Although there are dark and dangerous plot rumblings, everything still has an elegant and sophisticated veneer. I would love for the above vignette to be a part of my daily routine. Dressing for dinner and anagrams (like scrabble) was de rigueur.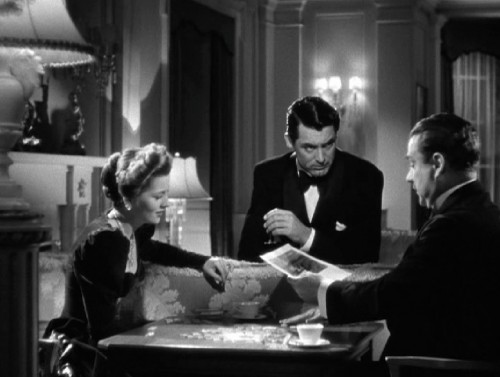 Love the necklace – not so much the shoulders.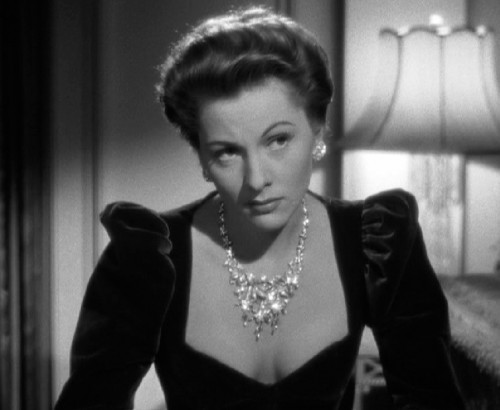 Despite the elegant trappings, things proceed rather rapidly downhill from there. Johnnie's ways start to seem less charming and a bit more sinister. His gambling turns into serious debts and there is talk of his embezzling at his job. Lina's insecurities start to get the best of her as the classic Hitchcock tension mounts in typical psychological fashion.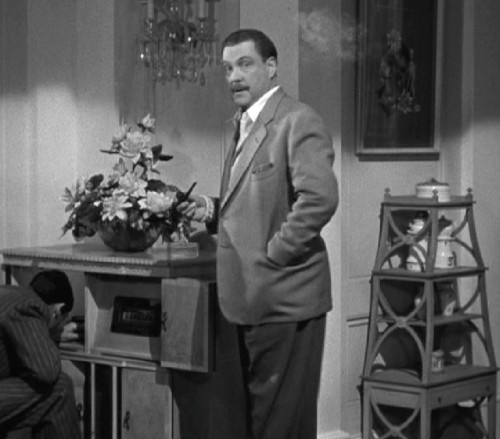 As Lina catches Johnnie in lie after lie, we too become suspicious of his actions. And then when Johnnie's best friend, Nigel Bruce, with whom he has invested, dies mysteriously, Lina is sure her time is measured. (notice the chic what-not?). It's a wild ride as evidence comes and goes – is Johnnie merely a charming spendthrift or a calculating murderer?
It's always difficult to watch a Hitchcock film without obsessing over the details. In a romantic scene, I couldn't help but notice Lina's hair, thinking how "in" such braided styles are again.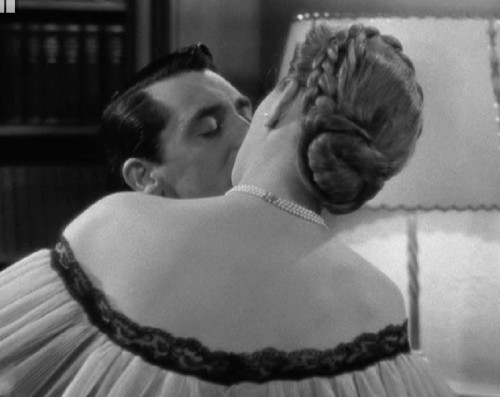 Even when Lina faints from an attack of nerves, I practically gasped when the fabulous embroidery on the back of her dress was revealed.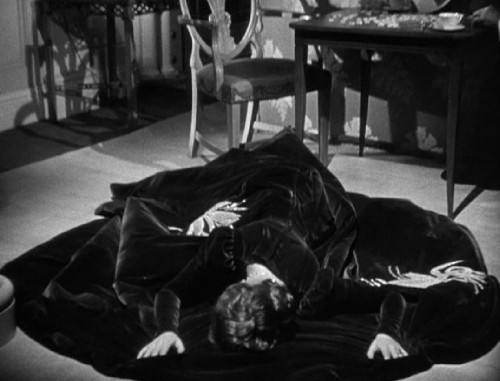 Whether you are watching a Hitchcock for the suspenseful plot, the stylish setting or both, it is always a treat. I won't spoil the ending of course, but just know that Hitchcock did change it to suit the studios and regretted it forever after. Happy viewing!