Today is the beginning of the new lunar year in China. As the most important holiday in the country, people there have already been celebrating Chinese New Year for a couple of weeks. And not just at parties. Here divers dance underwater at an aquarium in Beijing.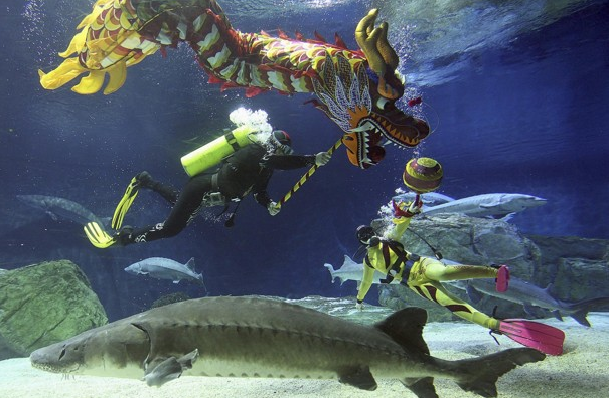 photo: China Daily/Reuters
This year we are celebrating the Year of the Dragon, marked by excitement, exhilaration and intensity. To the Chinese, the dragon symbolizes power, ambition, heroism, divinity, success, optimism and nobility which is why they have embraced the dragon in many art forms over thousands of years.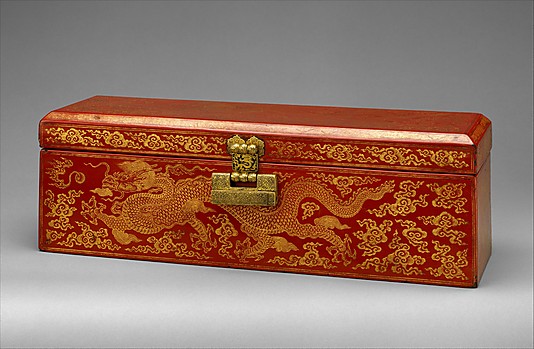 Unlike our western dragons which are frequently associated with negative qualities, eastern dragons are beautiful, wise, and kind, are worshipped and even have shrines devoted to them.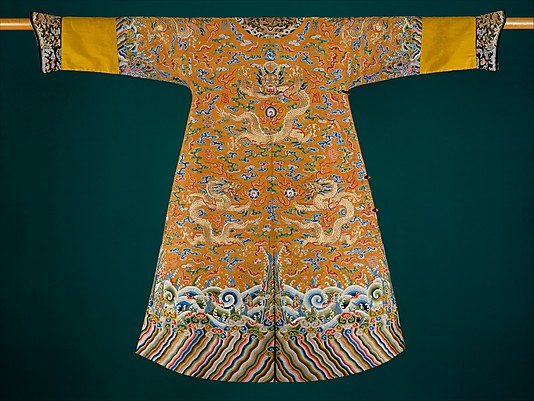 Especially following the past Year of the Rabbit which was represented by calm, this year is all about drama. People born under this sign are supposedly dynamic and charismatic, strong and  energetic and include Al Pacino, Bruce Lee, Diana Krall, Fats Domino, Freud, Gregory Peck, Joan of Arc, John Lennon, Raquel Welch, Reese Witherspoon, Sandra Bullock, and Shirley Temple. I thought it might be fun to look at a few ways we can honor the year of the dragon in our own lives.
If I were having a Chinese New Year's party, I would definitely consider this chic Chinese Medallion invitation from Tiny Prints.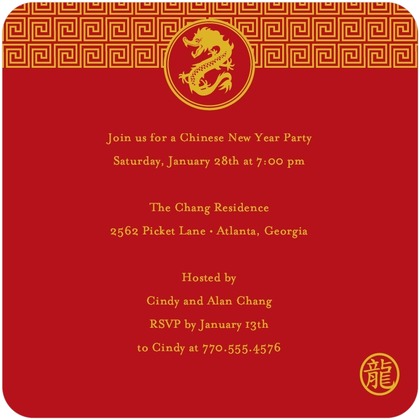 Or for my everyday stationery library I love these elegant cards from Thornwillow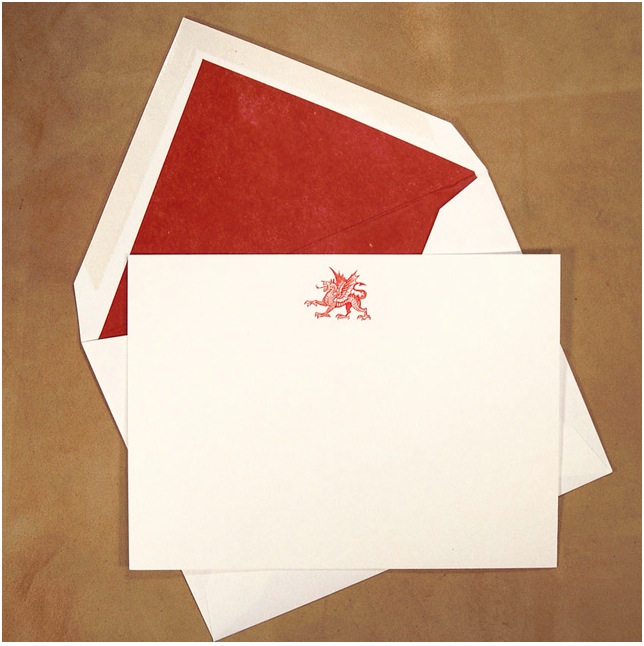 There are many ways to incorporate the strength of the dragon into your decor. I've always loved this Mottahedeh Blue Dragon pattern. This little shell dish from William-Wayne would be as perfect on the table as it would bedside.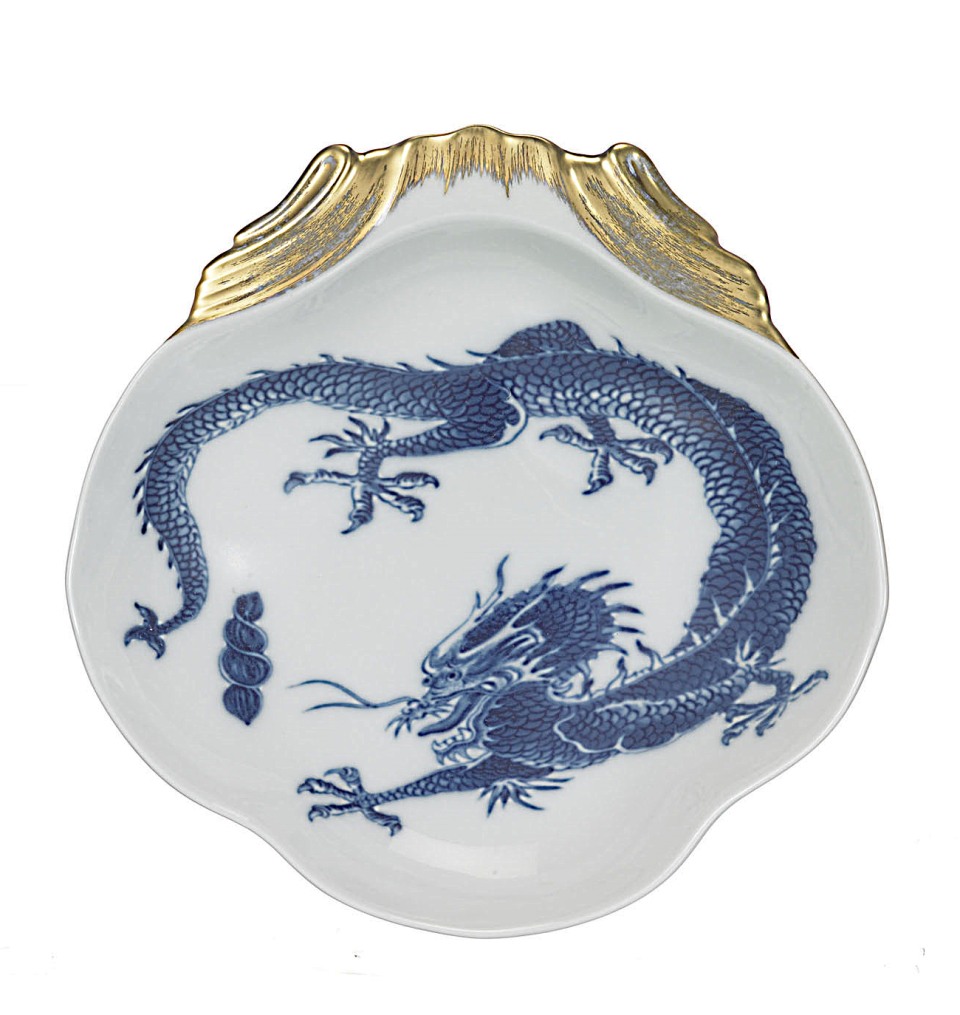 These beautiful Varga dragon votives, also from William-Wayne, could find a happy home many places around the house as well.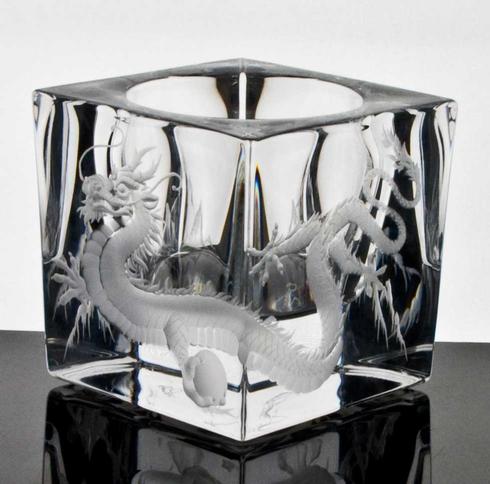 These intricately embroidered Belgian linen hand towels from Gracious Style could be a lovely addition to a powder room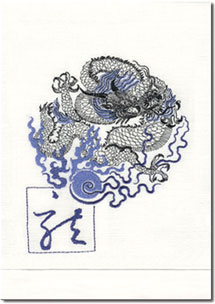 How about adding some fire to the dragon's power with these antique brass andirons from 1stDibs. They could be fun in a library with a heraldic theme.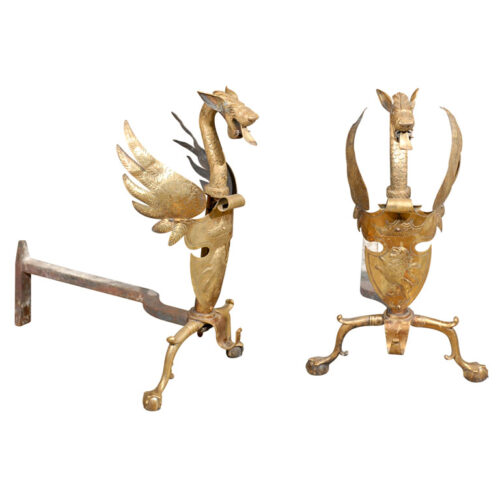 Garden stools are incredibly stylish and practical. I have them one in my bedroom next to my reading chair. These dragon motif medallion stools from Clayton Gray have a great vintage finish and can be used indoor or out.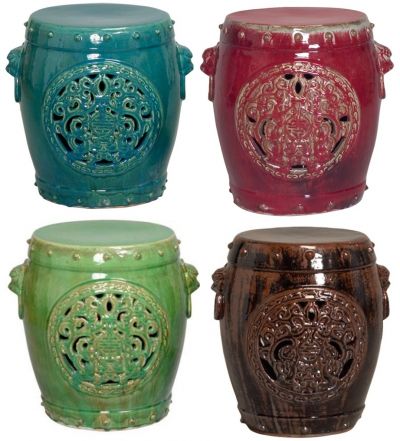 I adore these fabulous Dragon Temple Jars from Taigan. From the mid 19th century, they are elegant, decorative and versatile.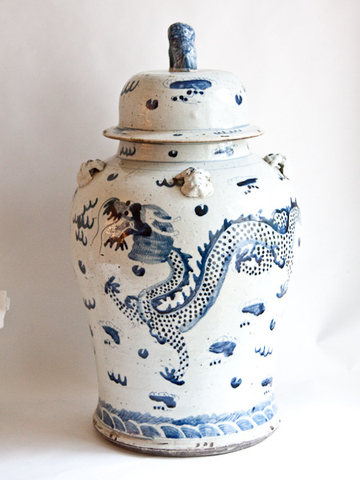 In terms of fabrics, Schumacher's classic Chiang Mai Dragon is an obvious choice. In several appealing colorways, it's also available as wall covering.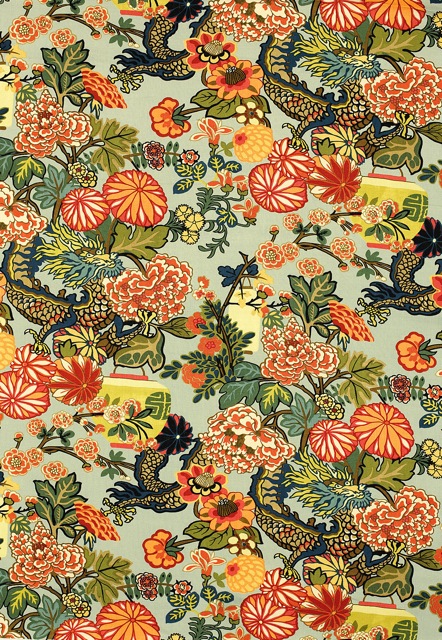 Even though there is no image of a dragon, I just had to include Bennison's Dragon flower, since it is one of my all time favorite fabrics.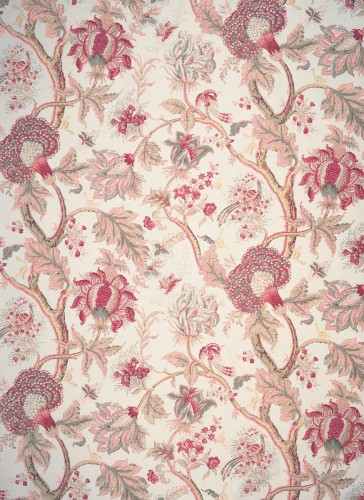 For more serious dragon decor additions, one might consider this spectacular George I Japanned cabinet on silvered stand coming up at auction in London tomorrow at Christie's. The scenes on the doors depict chinamen fighting a lion and a dragon.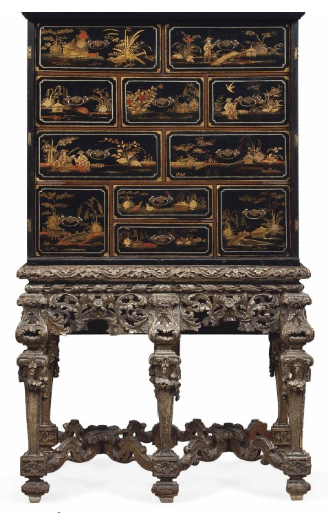 or perhaps this exquisite Belle Epoque silver gilt and jade vase with dragon handles that will be in Doyle's decorative arts auction next month.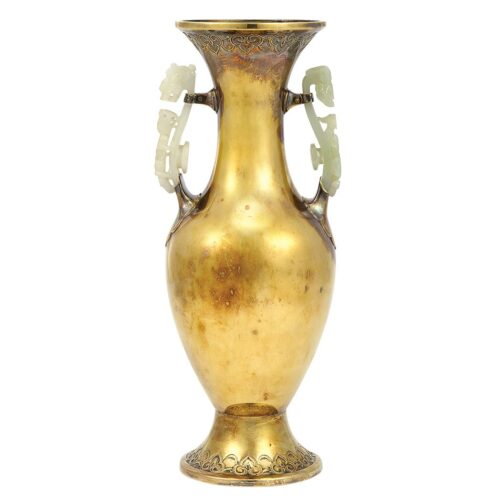 If you're looking to take the dragon theme to heart, you could sport this Paloma Picasso Chinese Zodiac Dragon charm.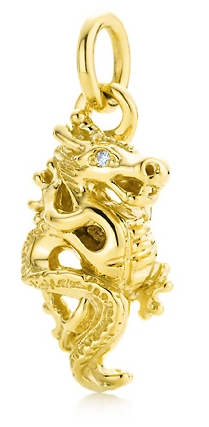 Or paint the town red with Chanel's Le Vernis Nail Polish Dragon 475

Shiseido's shimmering rouge sheer lip color in Dragon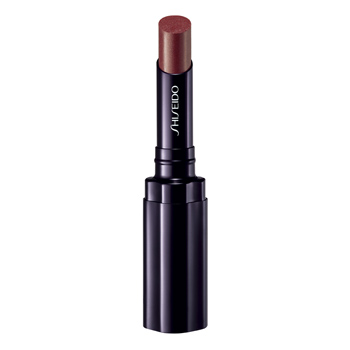 or NARS Velvet Matte Lip Pencil in Dragon Girl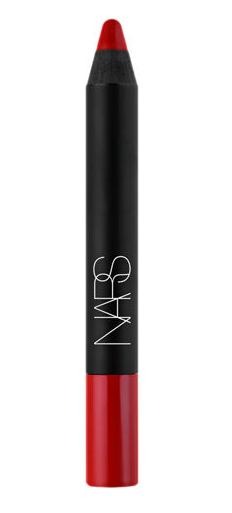 Was your guy born in any of the times below?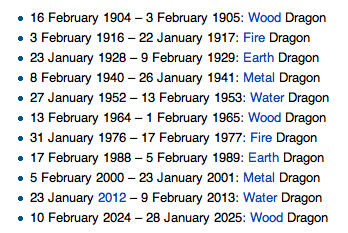 Then he is a Dragon, in which case, you might want to use it as an excuse to treat him to these John Hardy Naga silver dragon cufflinks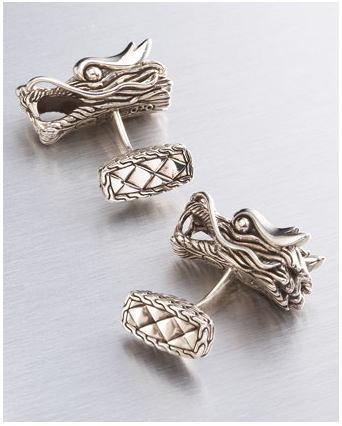 or this Salvatore Ferragamo Dragon tie – it comes in yellow as well but I think the red is much more appropriate.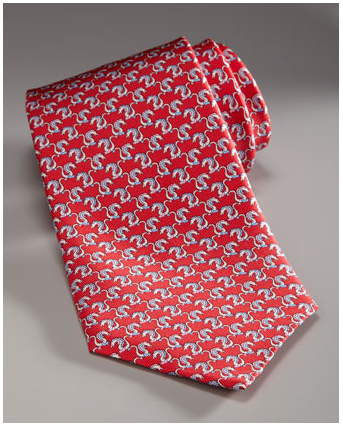 And not to forget the kids, here a few dragon items that have been popular in my house over the years.
Three Tales of My Father's Dragon – the classic fantasy trilogy of Elmer Elevator and the flying baby dragon.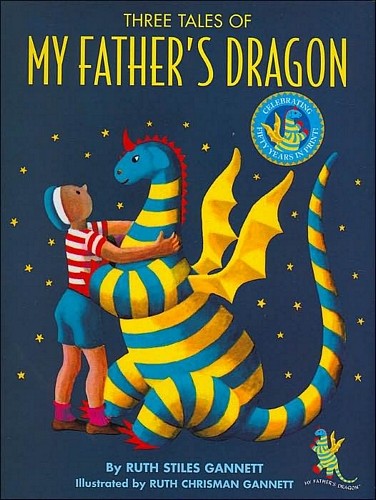 The Inheritance Cycle, starting with Eragon.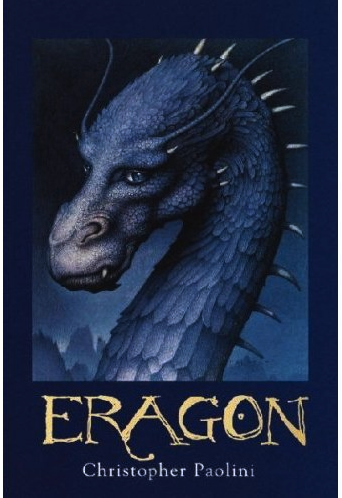 or if you're anything like us, something for the big AND little kids.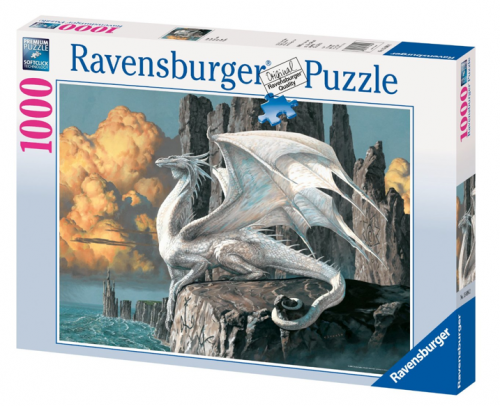 So wishing you all a very Happy Chinese New Year – good things are in store for 2012!