As a neophyte Brimfield attendee, I must admit the enormity of the event was a tad overwhelming. Luckily, after checking in at the Brimfield Tweet Up VIP tent, Michael Diver, the managing editor of Traditional Home, kindly invited me to tag along with him and Doris Athinios, Senior Art and Antiques Editor to the J&J field, the original, largest and widely considered premier show at Brimfield. Run by Jill Reid Lukesh and Judith Reid Mathieu, J&J shows on the original field where their father, Gordon Reid, began Brimfield in 1959. I wish I had allowed more time to peruse the amazing offerings at this location.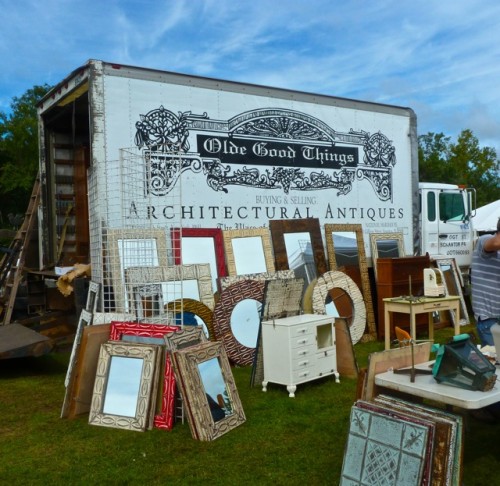 Even the trucks were of interest! As we were making our way toward the vintage jewelry that both Doris and I wanted to see, we ran into some friends.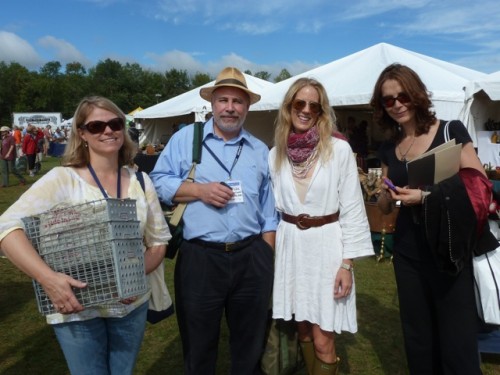 Jill Waage of Better Homes and Gardens had already scored some loot. Michael on the left and Doris on the right flank stylish editor/stylist Stacy Kunstel, also cofounder of the fabulous Dunes and Duchess.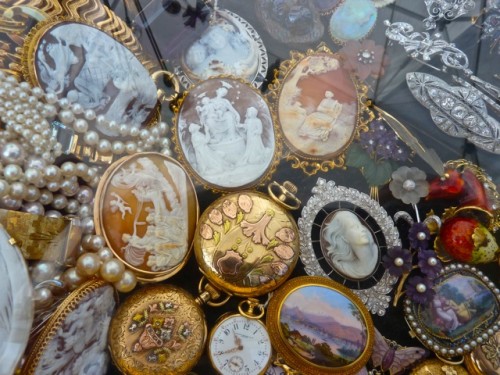 I mustered all my will power to resist the beautiful offerings at Michael Weinstein's booth. His collection of jewelry, artifacts and objets d'art was impressive but it would have taken hours to weed through all the gorgeous tempting cameos alone.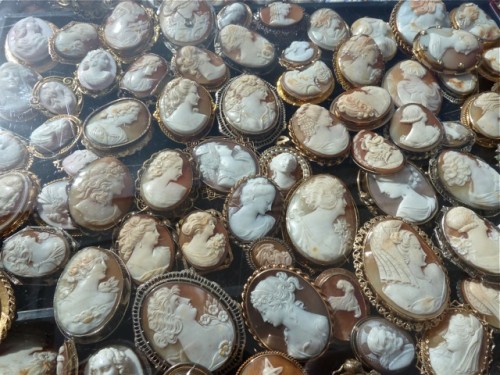 I loved all the ivory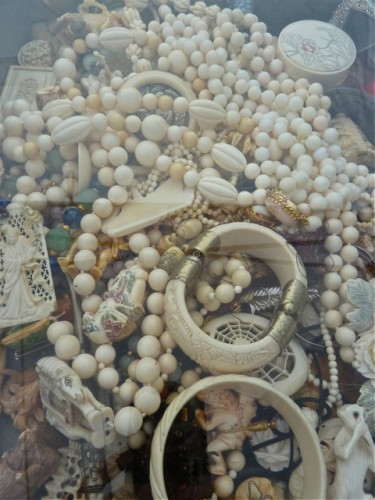 As well as this beautiful coin silver teapot.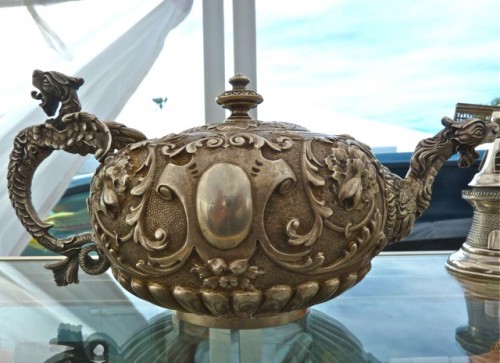 Olivia Garay is another reputable dealer with a fabulous selection of vintage jewels, such as this Austrian/Hungarian  early 20th century necklace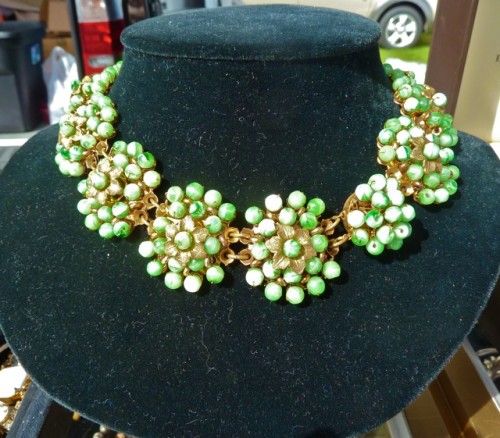 and Bakelite pin from the original factory.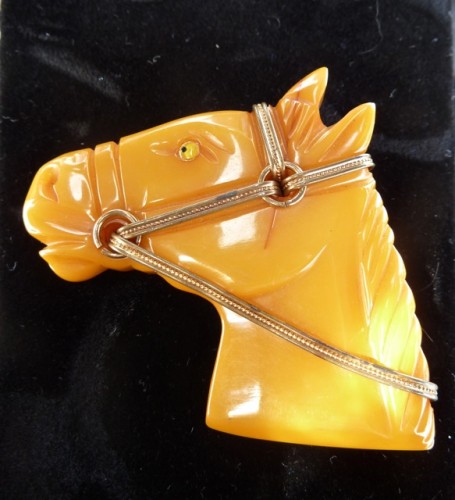 She also carries the unique work of contemporary artist Lawrence Vrba. I just loved this distinctive brooch!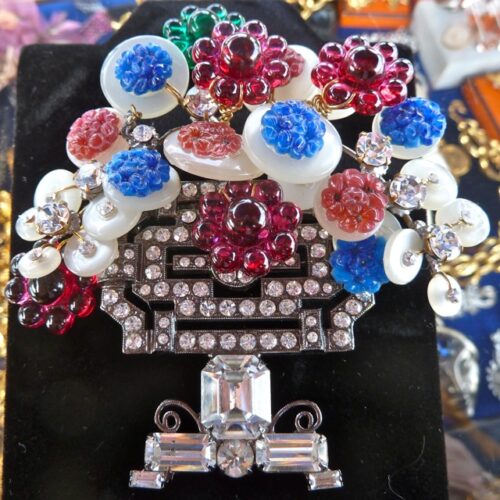 I actually ran into compatriot Kelley Moore there who found a fabulous bracelet (snapped with her phone)!!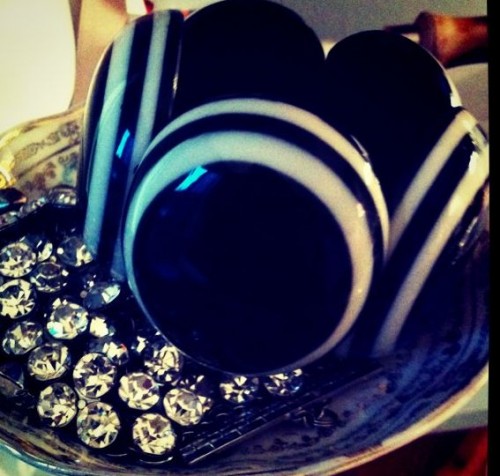 Then it was time to visit client Pandora de Balthazár's tent. But first I stopped next door at Lone Ranger Antiques, specializing in unique Swedish country furniture. Owner Jeffree Turney had a wonderful range of pieces and I'm delighted to report, a website as well.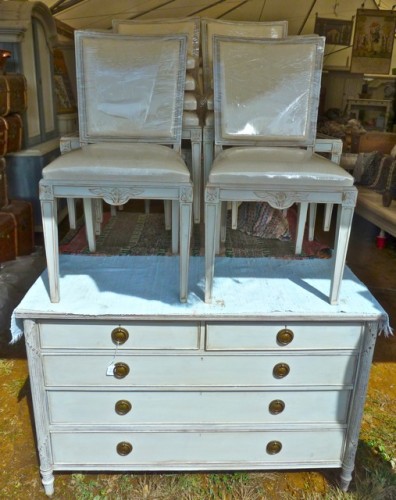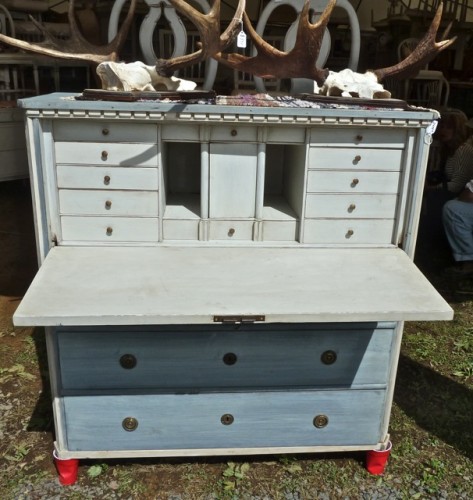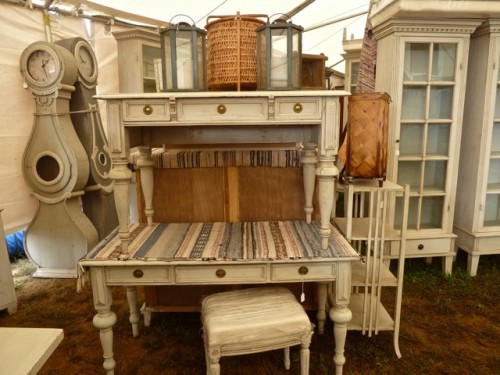 Even after working on her site for months, I was still amazed at the size and bricks and mortar quality of Pandora's tent.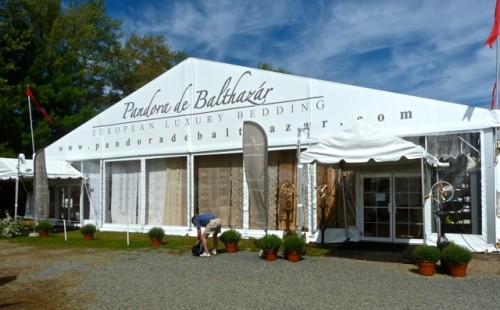 Everything was even more beautiful in person. You can imagine how much I loved the pops of orange on this elegantly neutral bed!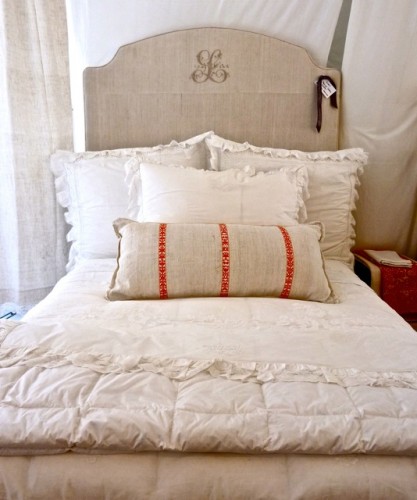 Rustic chic slipcovers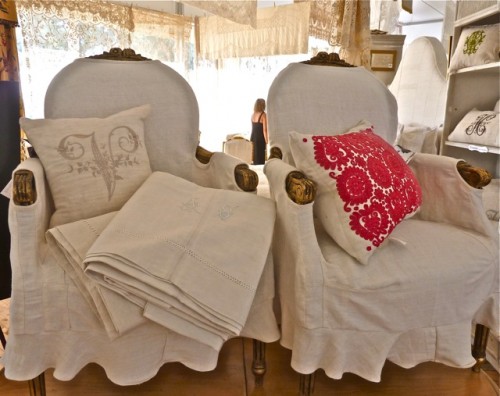 And spectacular custom upholstery on this antique bench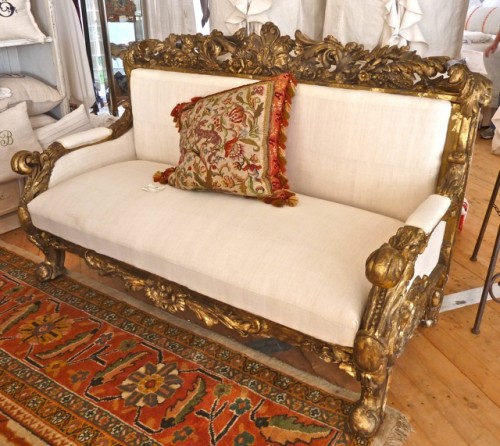 and arm chairs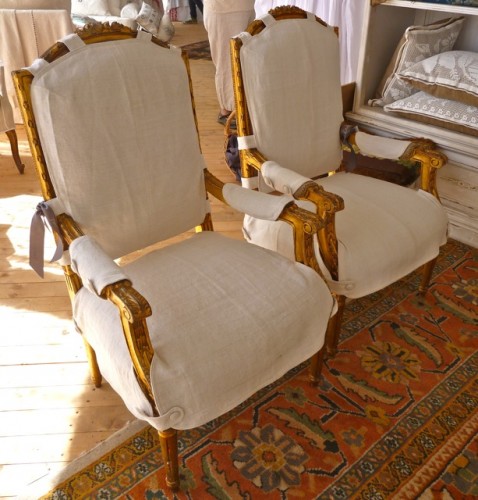 The monograms were exquisite.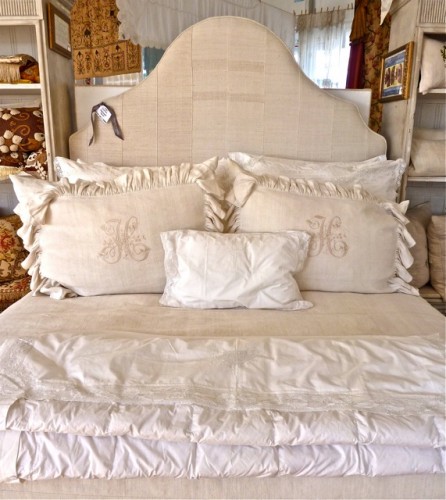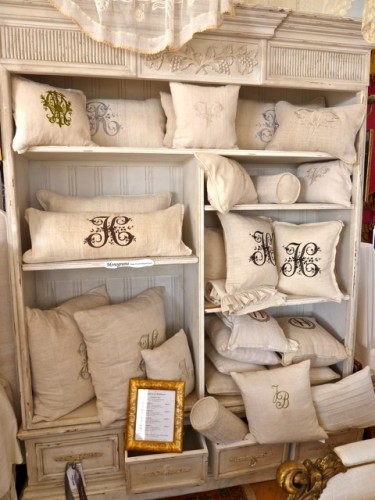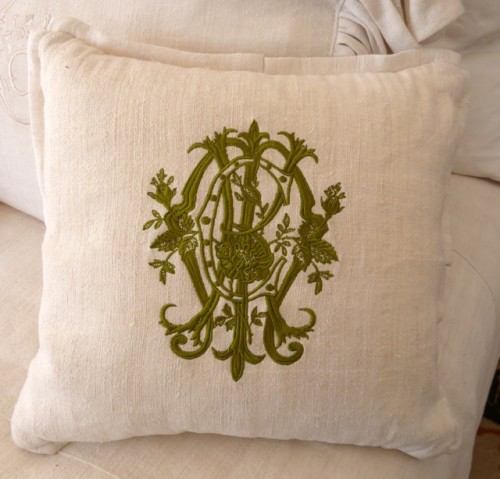 Here is the beautiful antique linen after it has been prepared for custom applications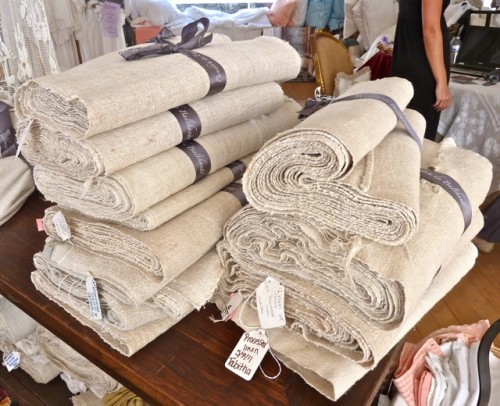 and a peek at some of the primitive antique decorative pillows.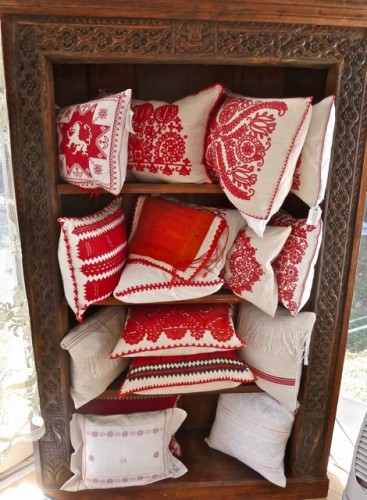 I don't have any photos of the luxurious bed because for most of the time, I was in it!! I think I might have actually fallen asleep!
On my way out, I stopped by Historical China to drool over their incredible Staffordshire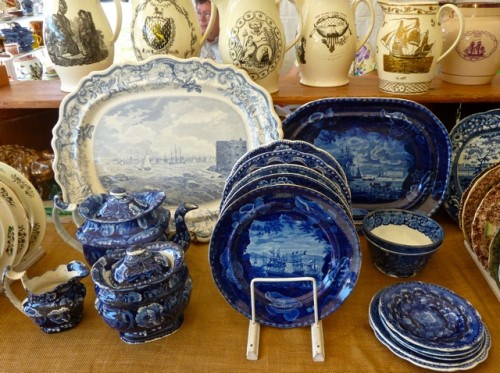 and caught site of a few other interesting looking displays including old chocolate molds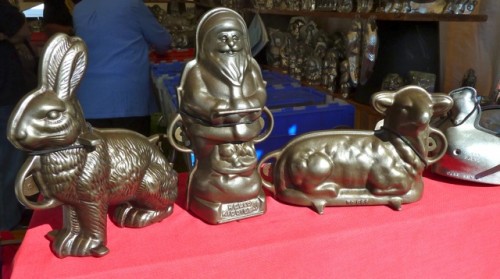 and vintage glass, both colored in my new favorite shade of green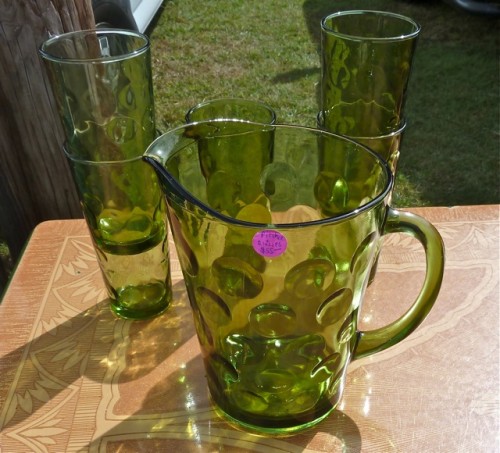 or clear as in these pressed glass examples.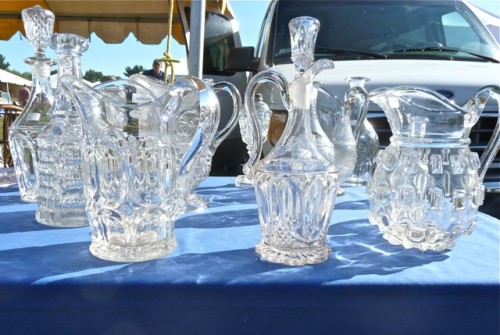 Amazingly, I managed to escape with my wallet intact! Next year I'll be sure to arrive earlier to "catch the worm". Kudos to Cynthia and Gretchen for organizing such a fabulous event!!