Today we get to tag along with Terry as she had a marvelous dinner with Paul Hobbs, one of the superstars of the wine world.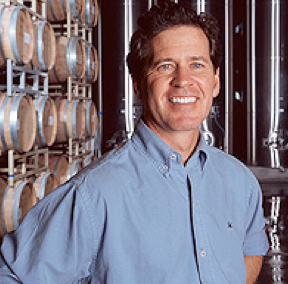 photo: John McJunkin
I have known Paul Hobbs for as many years as he has been making his wines in California. He is one of hte most serious winery owners and wine makers in the world. He not only has a claim to fame in California, but also has so much consulting work that he does in South America.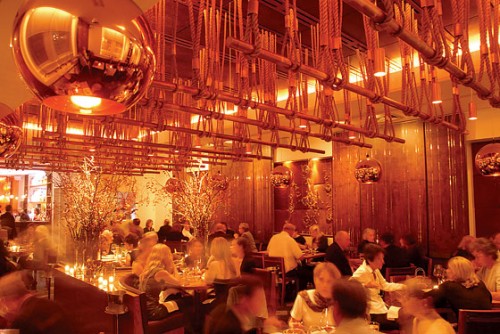 Photo: Michael Harlan Turkell
Last week Paul Hobbs was in New York at one of my favorite restaurants  – Park Avenue Autumn.  If you know this restaurant, the décor and name change by the season  ie: Park Avenue Summer, Park Avenue Winter, etc.  The food is tremendous and the ambiance is magnificent.   We had a wonderful private room and I looked so forward to this evening and seeing Paul Hobbs (me with Paul below).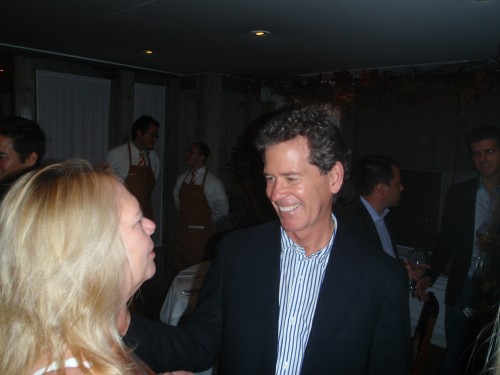 It has been years since I have seen him and his brother Matt.  Matt moved his whole family down to Argentina for a wine project that he started a number of years ago and is now back on the East Coast.  Paul got involved a number of years ago with a winey in Argentina call Vino Cobos in Mendoza and has built a large modern facility amongst the vineyards with a lovely couple.
We started with cocktails naturally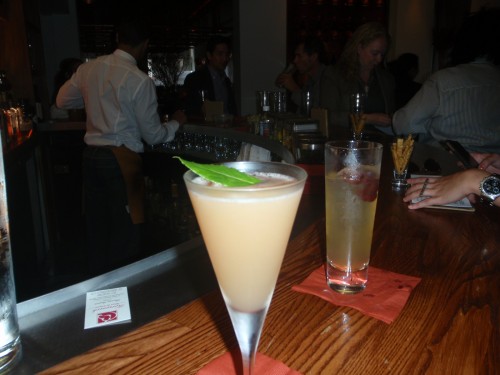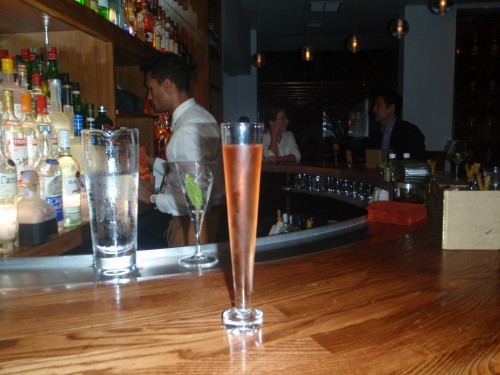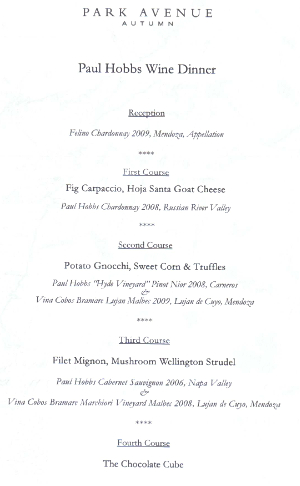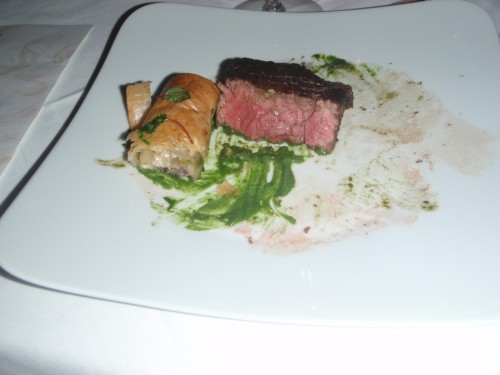 The fillet, served with Paul Hobbs' Cabernet Sauvignons 2006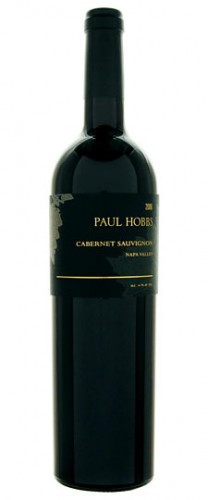 From the mouth of Paul Hobbs:
I was told, a long time ago, that the key to good winemaking is paying attention.
I started paying attention at an early age. Specifically, the day my dad brought home a bottle of 1962 Château d'Yquem and poured it into little paper cups around the family dinner table. The bouquet, the flavor, and the experience made an impression on me. I became passionate about wine and the vineyards that produce the wine. In 1969, I convinced my father to uproot a section of our apple orchard and replant it with wine grapes, and my father put me in charge of the endeavor.
My botany professor at the university of Notre Dame, a former winemaker at Christian Brothers Winery in California, encouraged me to attend his weekly wine-tasting seminars. I had enrolled at Notre Dame with the intention of becoming a doctor. These seminars shifted that focus, igniting what has become a lifelong career in winemaking.
I enrolled in the Master of Food Science program in the Department of Enology at the University of California at Davis. My thesis on oak extraction led to a job at Robert Mondavi Winery as a research technician. Valuable hands-on production experience resulted in a promotion to Enologist. Among other responsibilities I was assigned to the Opus One team, and in 1981 was appointed Head Enologist.
After several vintages with Opus One, I moved on to join Simi Winery in February 1985 as Assistant Winemaker. One of my first tasks was to author a new cabernet sauvignon style for the winery. Extended macerations and gentle handling of the fruit resulted in rich, supple wines that caught the attention of the press and wine-buying public alike. I was appointed Vice-President/Winemaker in 1989.
While at Simi, my interest in new and emerging growing regions, particularly the wine-growing regions of Chile and Argentina, intensified. It was while exploring these areas that I met Nicolas Catena. He invited me to return to Mendoza in 1989 to take charge of a new project making Argentina's first world-class chardonnay. I accepted his offer.
At about the same time I began consulting for several premium California wineries, including Peter Michael, Lewis, Vine Cliff, Fisher and Chalone.
Having put so much energy into helping others improve the quality of their wines, I eventually felt compelled to take on the challenge of making wines under my own label. In addition, learning to understand other great winemaking regions deepened my appreciation for what is unique about California; its temperate, sun-drenched valleys, rolling hills and coastal slopes display seemingly endless winegrowing potential.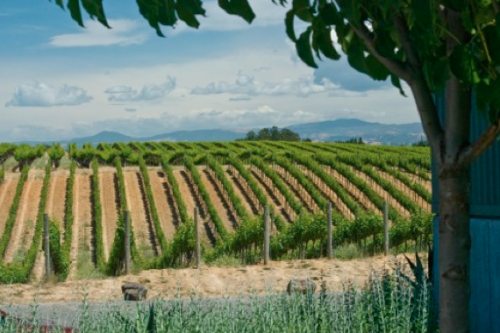 When I founded the Paul Hobbs Winery in 1991, I set out to produce small lot, hand-crafted, vineyard designate wines. I began with just three wines—one chardonnay, one pinot noir and one cabernet sauvignon. Working to capture a "sense of place" and terroir encouraged me to develop and refine a personal style rooted in tradition but embracing the ripe, forward expression to which the landscape and culture of California naturally lend themselves. Over the years, the small family of wines has grown to over a dozen as numerous new and historic vineyards have captured my attention since that first vintage.
Paul Hobbs wines were produced at shared facilities through 1998, when we purchased 19 acres of land in the Russian River Valley. Fourteen acres were planted to five clones of pinot noir and became the Lindsay Vineyard, named in honor of my great grandmother. In 2003, we completed construction of a state-of-the-art gravity flow winery overlooking the vineyard. In the summer of 2006, we inaugurated a private guest venue, Lindsay House, on the remaining land. In addition we have planted chardonnay at two neighboring properties, Edward James and El Molino vineyards.
The wines we are currently producing are the result of years of perseverance, patience and experimentation in my continuing adventure with wine. It is my great fortune that the wines I make with my dedicated team have appealed to many people around the globe. The success of the Paul Hobbs label has only furthered my curiosity and drive to find new and exciting places in the world to make wine. So, in addition to making wine in California and in Mendoza with Vina Cobos, I am currently a consultant for wineries in the U.S., Argentina, Chile, France and Canada.
Thank you Terry for this behind-the -scenes look at this legend in the industry!!