When visiting Timothy Corrigan in Los Angeles, you are greeted with the same sense of comfort and elegance that is evident in all he does. Whether in France or California, Timothy effortlessly melds his easy west coast livability with a stylish European sensibility. And while there is definitely an appreciation of old world splendor, the classic prewar Georgian colonial is most definitely designed for today's lifestyle. Join Susanna and me as we share our special stay at Tim's gracious LA home.
Hancock Park, where Timothy lives, seems an east coast-like anomaly in sprawling Los Angeles. Developed in the 1920's, with tree lined streets and pedestrian friendly sidewalks, it is a neighborhood with timeless appeal. It is no wonder that Tim gravitated toward this charming area imbued with a sense of history and stability. Once reunited with his childhood home, Tim went about restoring its prewar dignity, first making architectural adjustments for better flow and more gracious contemporary living. The living room, for example, features a new plasterwork ceiling, a fireplace mantel from France and architectural detailing that needed to be adapted for the new room openings.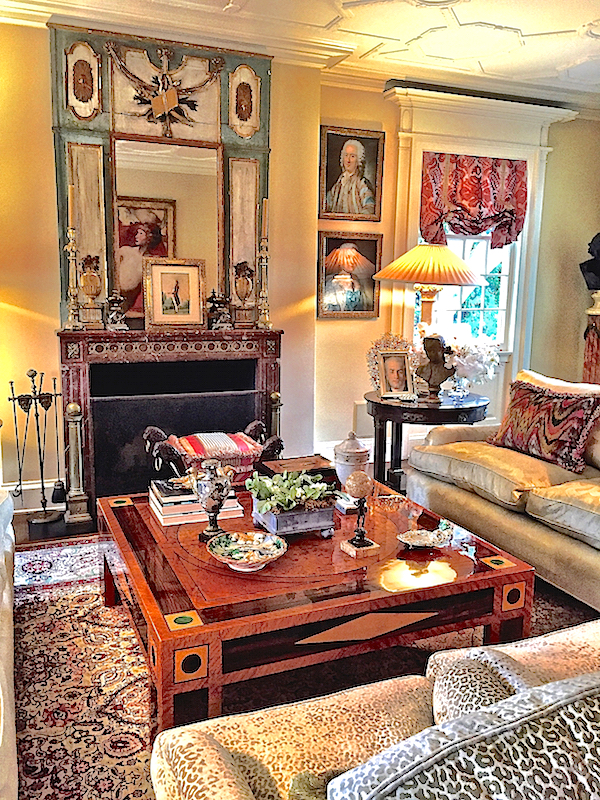 After enhancing the livability of the spaces, Tim layered in his signature mix of antiques with comfy sink-in upholstered pieces and an eclectic collection of art. The elegant entry features a study by Jacques-Louis David, for his famous Leonidas at Thermopylae that hangs in the Louvre, over an Italian chest supporting a handsome grouping, from classic bouillotte lamp to ormolu clock to a pair of marble obelisks.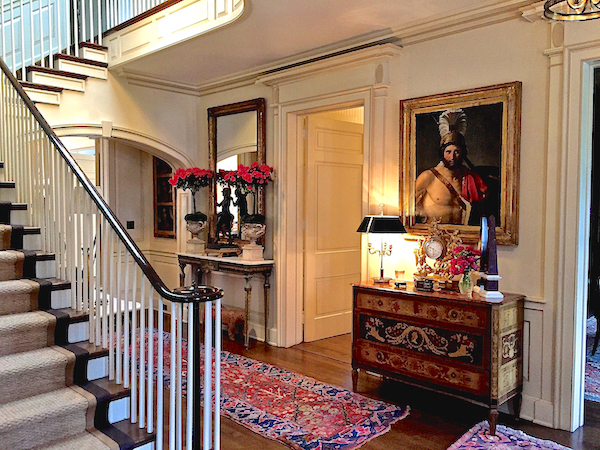 In fact, you'll find a variety of marble obelisks in almost every room – one of Tim's favorite accessories!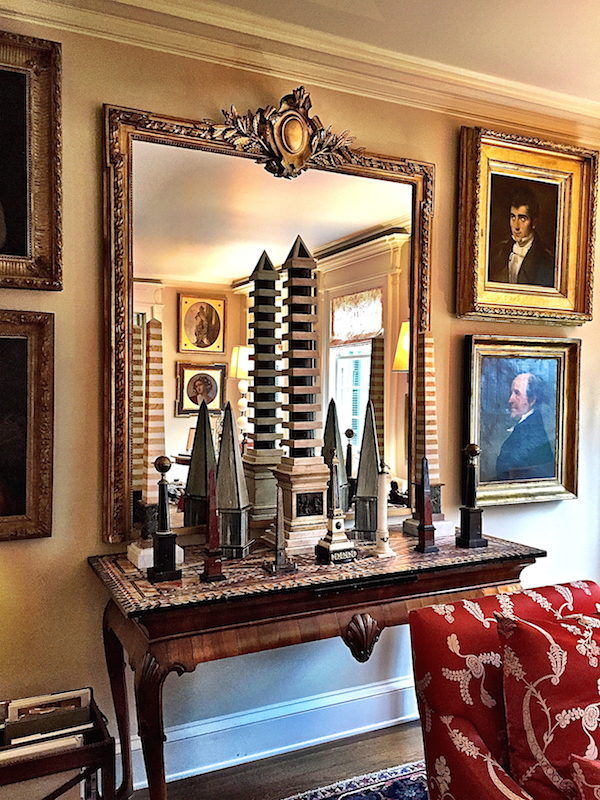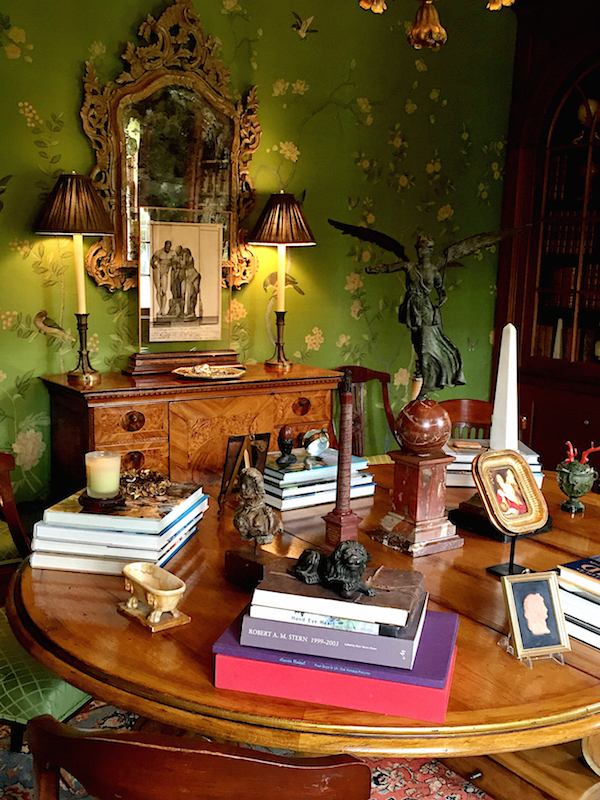 And outside is as warm and welcoming as inside,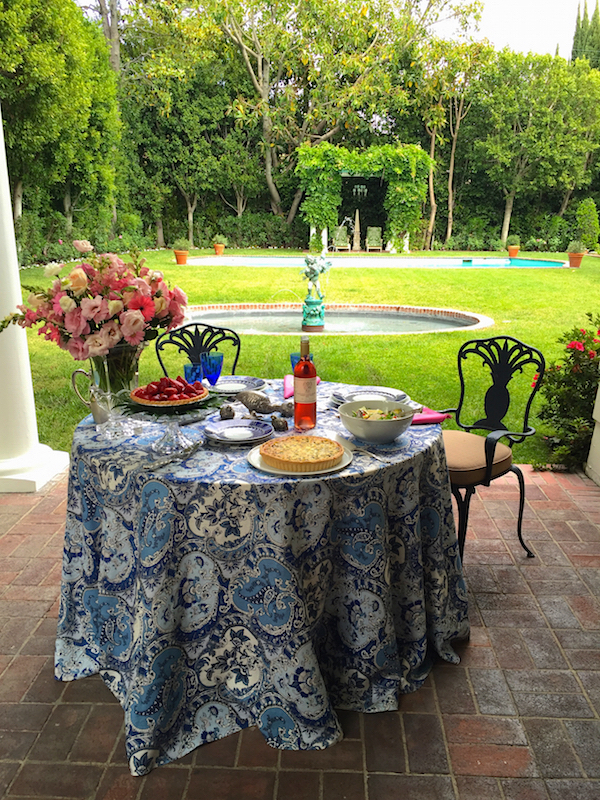 where Timothy set up a lovely lunch for us. Everything looked beautiful on a tablecloth of his Schumacher Pickfair Paisley fabric and his Star porcelain dinnerware for Royal Limoges.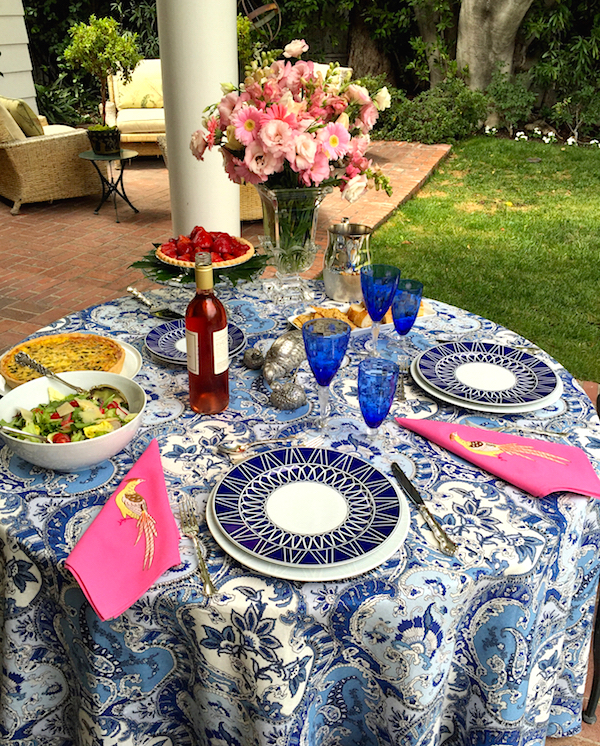 So merci Timothy, we love your gracious hospitality and welcoming style!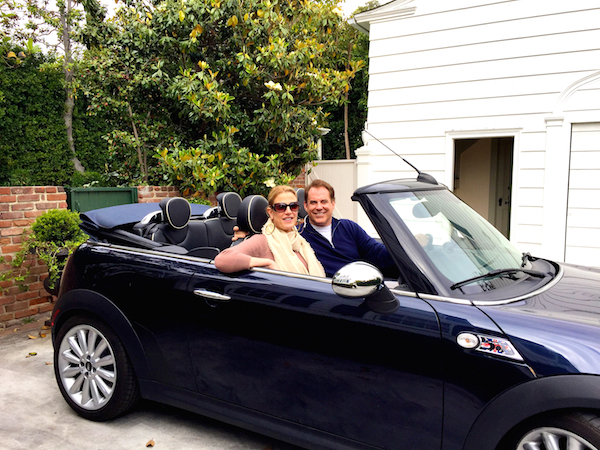 To experience more of Timothy's comfortable elegance, join us for a visit to his incredible Loire Valley château, where Susanna and I were lucky enough to be guests last year!
With luxury projects around the world, Timothy is known for his extensive use and knowledge of antiques. He promotes buying pieces at all price points and stresses that antiques can be affordable as well as good investments, especially when sourced at auctions and flea markets. Join us for an entertaining and enlightening visit with Tim to the famous Marché aux Puces St-Ouen de Clignancourt in Paris, the largest flea market in the world. With inspiration, temptation and shopping tips you'll feel like you're there!
 all photos by Stacey Bewkes for Quintessence
And to not miss any or our upcoming video visits, simply click on this link to subscribe (via the little red box).  We're delighted to be delivering many more inspiring episodes soon of designers at home – from their stylish doorsteps … to yours!