Drive up to designer Gary McBournie's charming Nantucket home and you are greeted by an enormous green privet hedge punctuated by a vibrant blue door, beyond which a gorgeous courtyard blooming with hydrangea and island friendly flowers reveals itself like a secret garden. Inside, the light filled house is infused with Gary's signature saturated colors and a mix of finds from Nantucket to his and partner, Bill Richards', international travels. Tag along with me and host Susanna Salk for a behind the scenes video visit to this bright and happy Nantucket island home!
After many years living on Nantucket, Gary finally found the H shaped ranch house he'd been searching for in Shimmo, a convenient island location. But the 1940's original was a wreck in need of total renovation and updating. No problem for Gary who transformed it into an island retreat that resists the stereotypical Nantucket themes.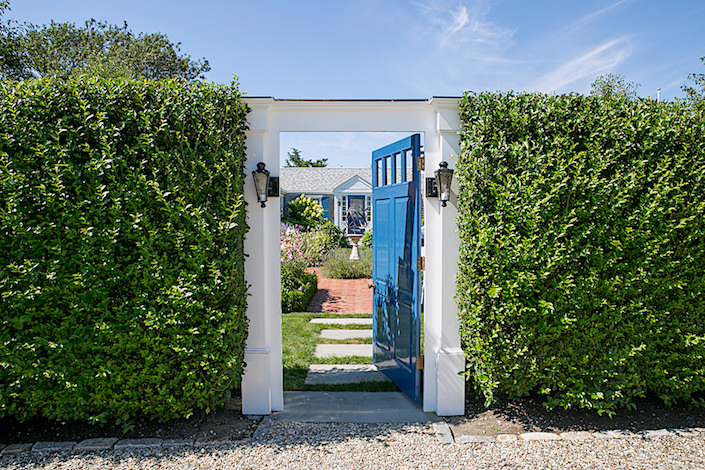 What was once a parking lot is now the spectacular courtyard garden, where Gary's and Bill's adorable welsh terrier, Winston, loves to lounge.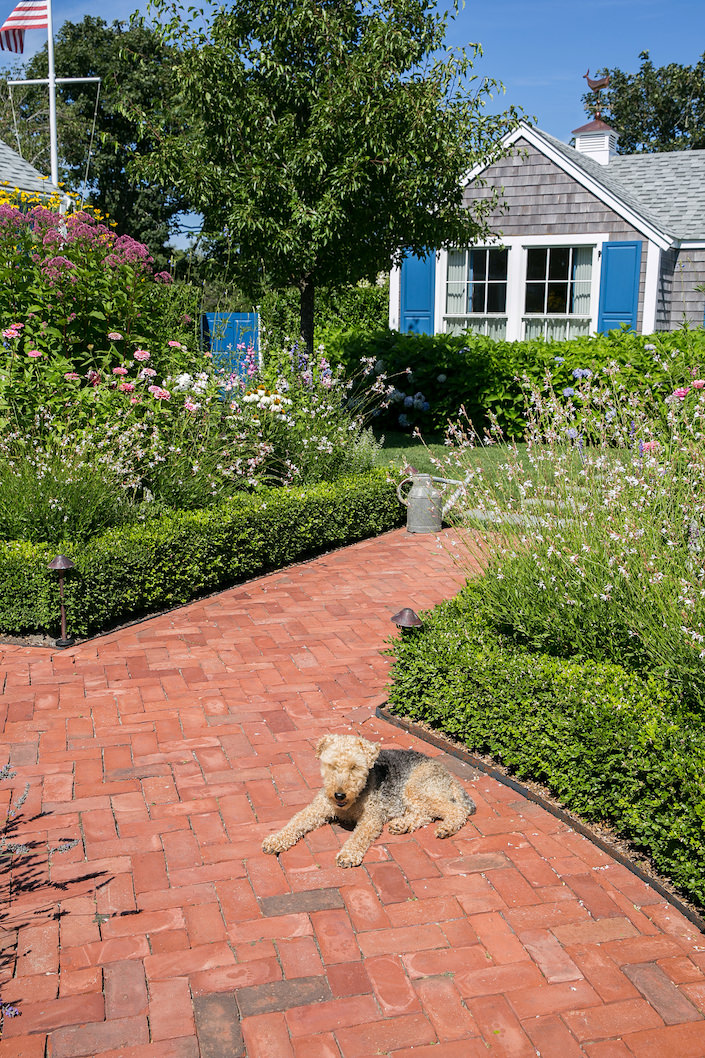 In the master bedroom, Winston's own bed is even fashioned like a Nantucket basket.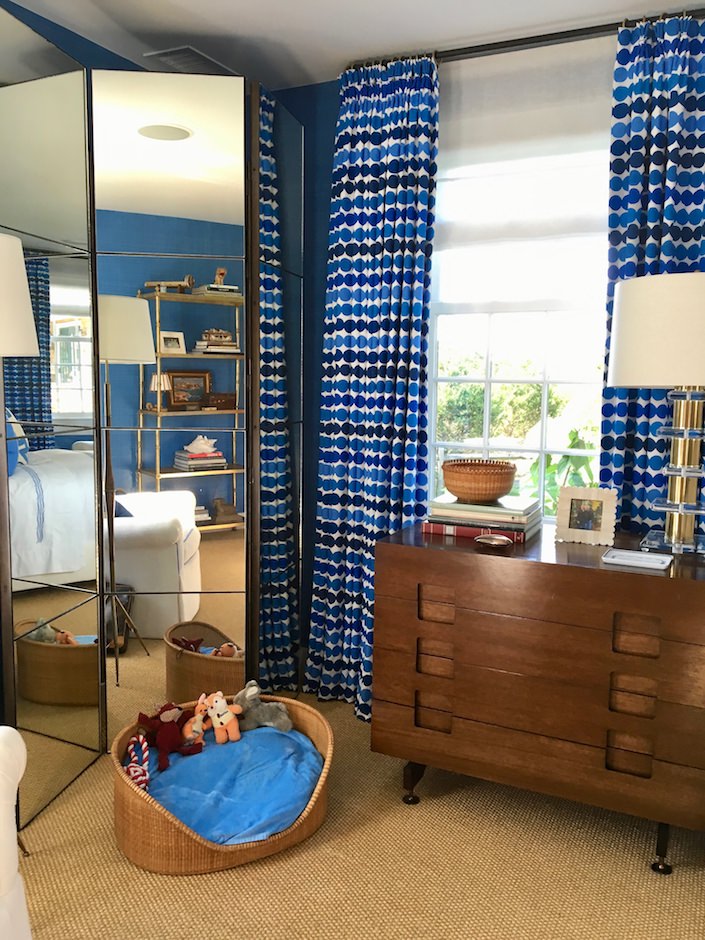 And while blue is a predominant theme throughout, often paired with Gary's favorite neutral, orange,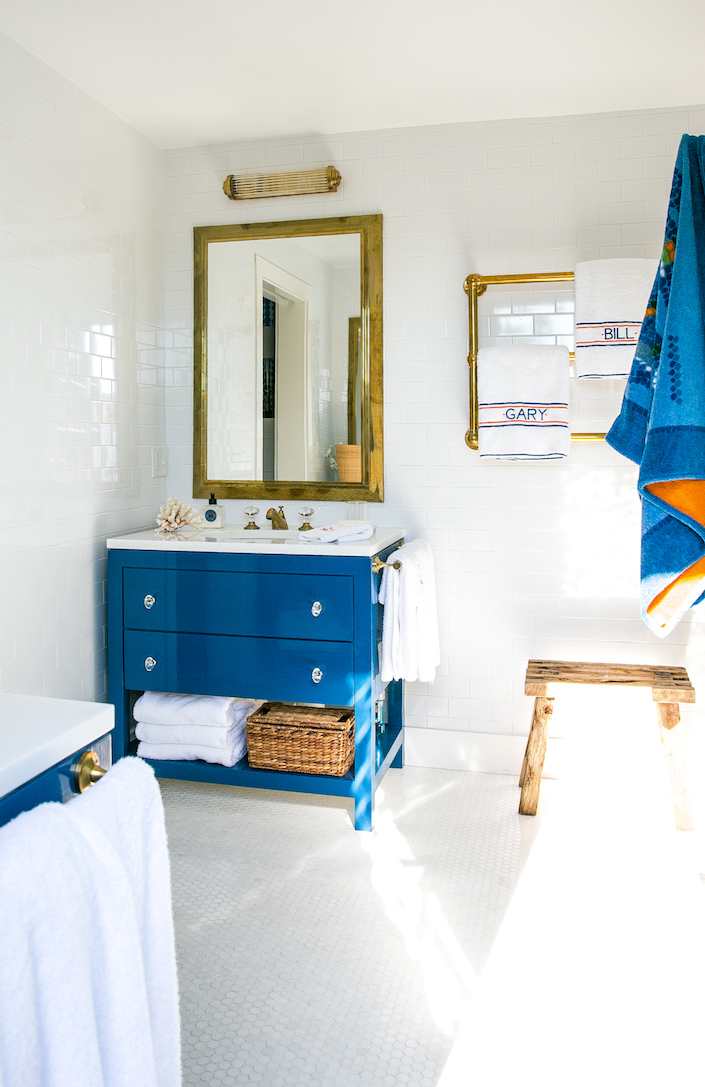 it never feels like a typical Nantucket scheme, woven deftly with inventive details and a pretty palette echoing the outdoors that plays out differently in every room, like the guest bedroom below.
all photos above by Stacey Bewkes for Quintessence
And for much of the year, you can find them on their comfortable porch where indoor and outdoor meld seamlessly in living color!Thank you Gary and Bill – we loved visiting with you in your chic island home. You can see more of Gary's updated traditional style in his book, Living Color.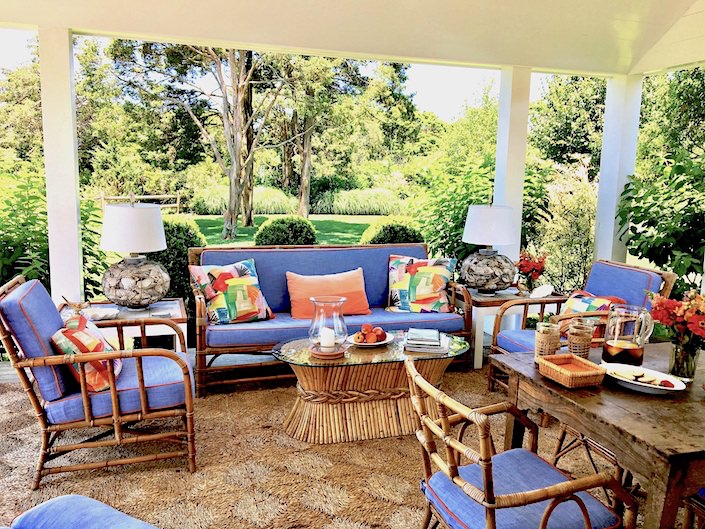 A big thank you to this month's stylish sponsor, Scot Meacham Wood Home. What happens when a Southerner with a deep connection for Scotland works at Ralph Lauren for 13 years? He opens a home shopping destination as singular and as stylish as the man himself.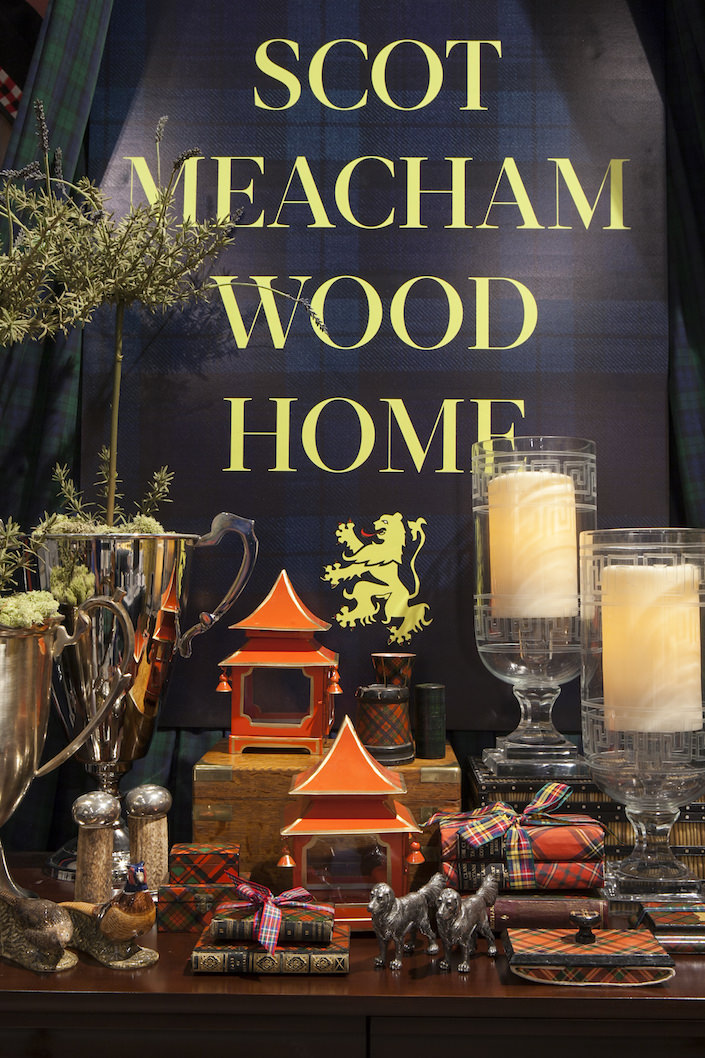 SMWHome celebrates tradition, whimsy and design style as its founder does, right down to his shoes. Check out Scot's Instagram feed for "today in footwear news," which we also documented here.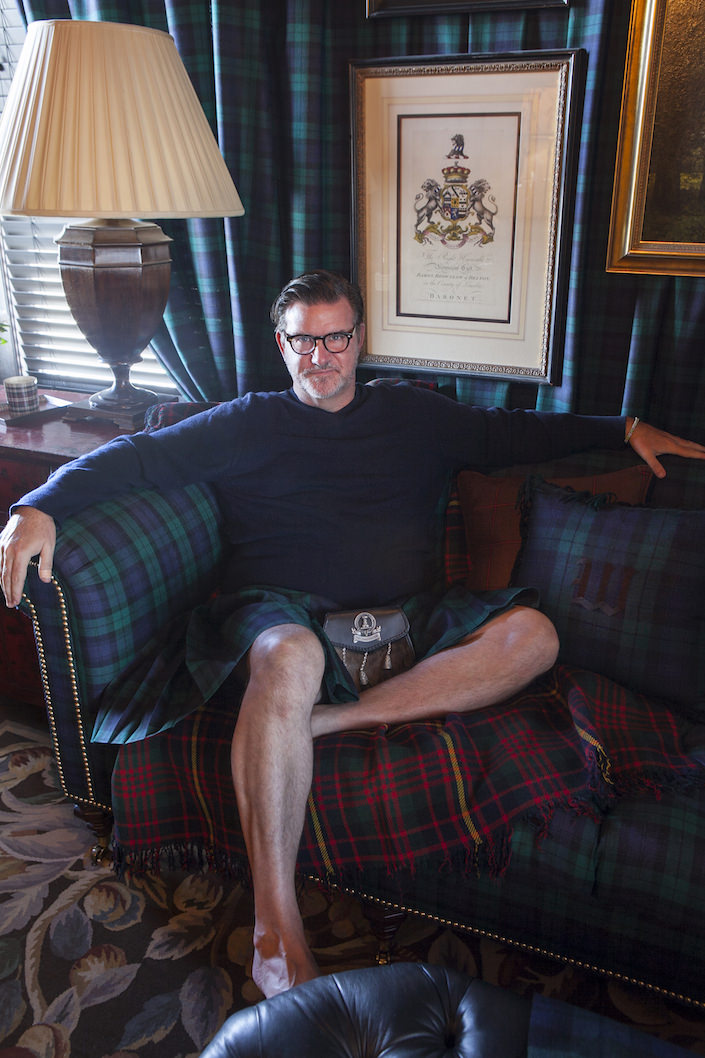 Available to 'the public' and 'to the trade' at their San Francisco Showroom / retail location at the San Francisco Design Center, this brick-and-mortar location houses the entire collection all in one place.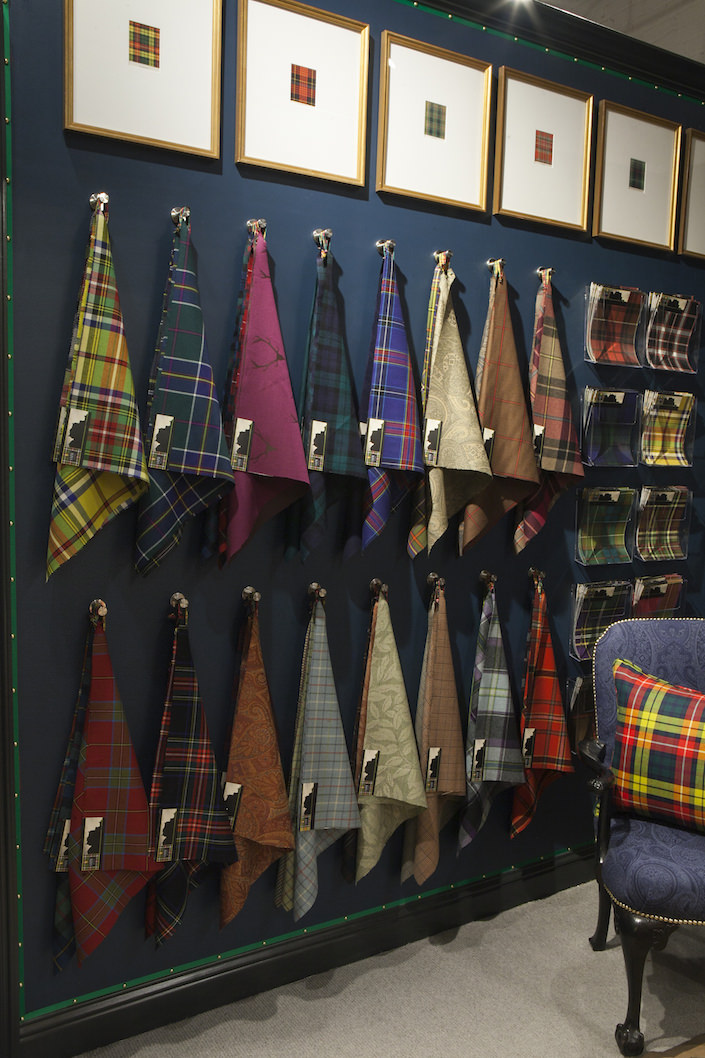 Perfect for "your own little castle," Scot Meacham Wood Home offers custom furniture that echo an Edwardian era updated for today. From ottomans to settees, to sofas to headboards, each piece longs to be covered in some of SMWHome's textiles. Scot's belief in designing "from the ground up" inspired his SMW Home/Portfolio by Nourison Tartan Carpet Collection and he brings the historic patterns into the present by infusing them with modern colorations. For walls, he's got you covered as well: with a collection of bold and graphic tartan patterns that could look as home in a castle as they could in a Manhattan apartment.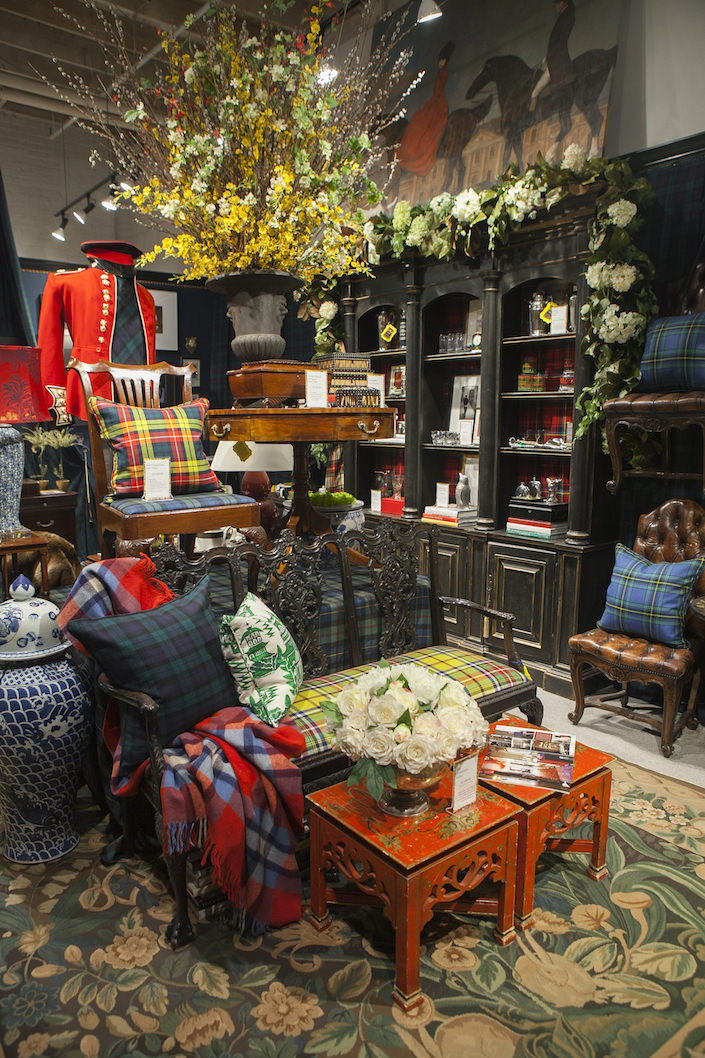 In addition there are antiques and treasures, including a gifts, tableware, accessories and one of the best selections of tartanware around, a wide variety of lighting and offerings for your pup including tartan dog leashes, collars and dog bowls for the dog AND tartan aficionados! And never one to rest on his savvy laurels, Scot will be adding botanical textiles, private label furniture and case goods into SMWHome's magnificent mix this fall.