As the snow was falling yesterday, I was reminded of designer Darrin Varden's chic Winter Solstice lounge at the 2013 Holiday House. A perfect spot to entertain during the long winter nights, the room also embraced the holiday's celebration of rebirth and renewal.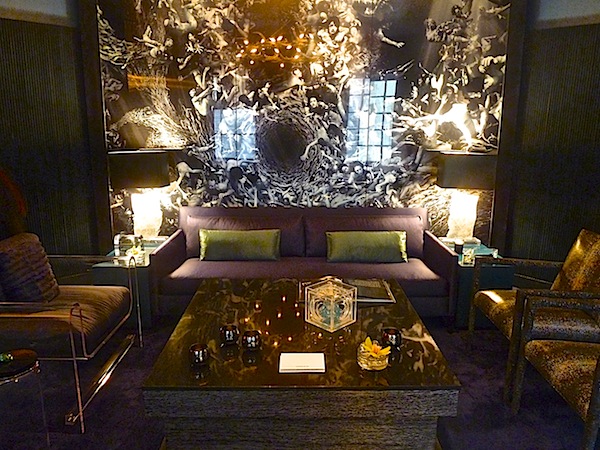 Centered on a spectacular art installation of photographer Angelo Musco's surreal landscape, the space featured dark peacock colors, custom designed furniture and sumptuous textures. A great showing for the designer's first showhouse under his own label, the space is both sleek and sensuous. I loved both the visual drama of the art and how it clearly played into the circle of life theme of the occasion.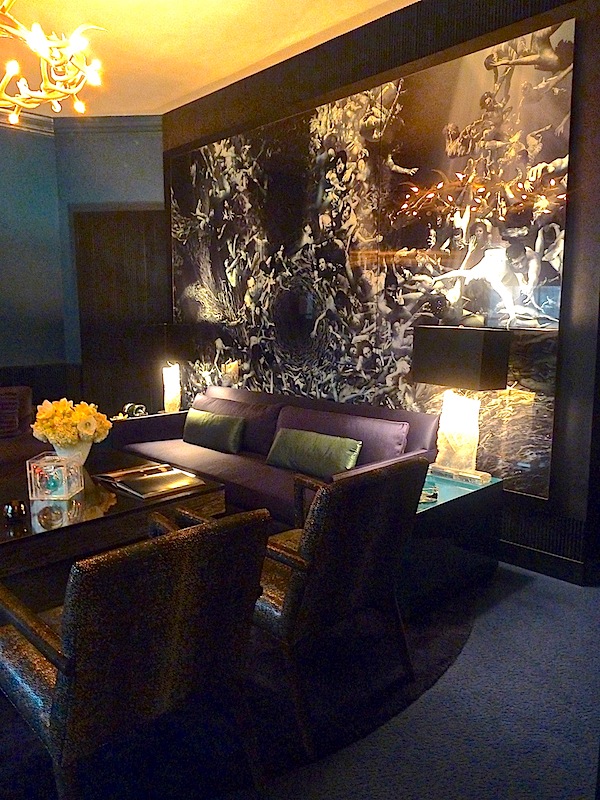 "I love how Angelo's work runs counter to any preconceived ideas. His pieces are provocative and compelling but ultimately they feel calming because they create natural forms from layers and layers of other natural forms," says Varden. "That's how I like to design, in a way that both excites and soothes, that feels comfortable but inspires thought. I always want to make something beautiful, wondrous and sexy, that's meant specifically as a place for people to experience joy."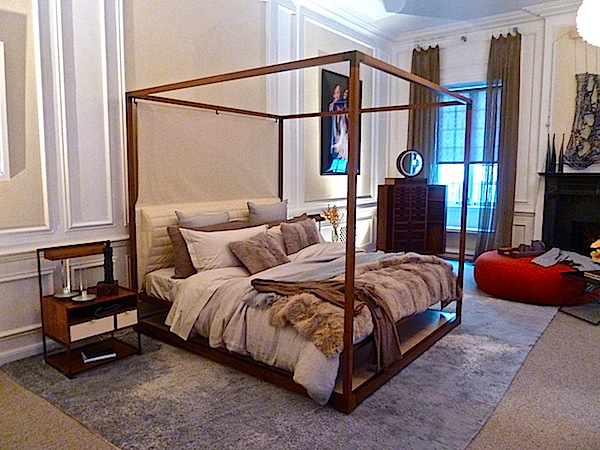 In collaborating with Sleep Studio for the master bedroom, Campion Platt created "Suite Dreams," a soothing room that encourages a restful environment. The importance of sleep and destressing has become a trending touchpoint lately. At the recent Design Leadership Summit, it was the topic of Ariana Huffington's popular keynote, who made a very clear link between well being and design, emphasizing the importance of spaces that are havens for relaxation and recharging.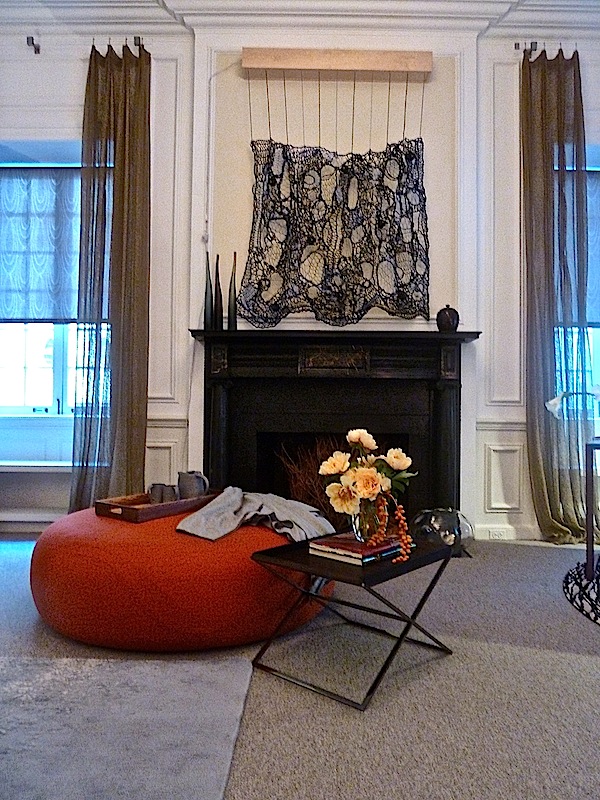 Echoing this sentiment, Platt explained "I really believe in Sleep Studio's philosophy of "Awaken, Refresh, Relax, Dream" because sleep is the most undervalued asset in our fast paced world. Designing around the concept of beautiful sleep will become more important as we all begin to more fully understand its profound effect on every aspect of our lives. I approached the "Suite Dreams" room as a study in repose – how to slow down, reflect and reinvent – by incorporating all the senses: touch, through the use of sumptuous fabrics and textures; sight, with a soothing color palette; smell, by incorporating subtle aromatherapy and, lastly, calming music and sounds for the perfect background."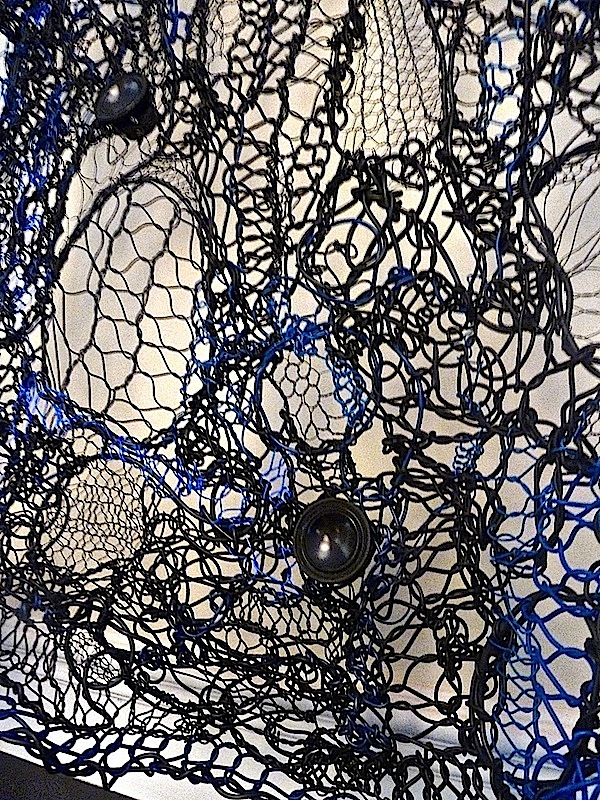 And the art in his space reflects these values. Working with Richard Taittinger Fine Art, they chose pieces that "engage the spirit around the world of dreams and the ethereal." I was particularly fascinated with Julianne Swartz's Black and Blue Weave. Hung above the fireplace it is a "symphonic collage" of woven and knotted colored electrical wires and speakers, forming a dense textile of circuits that distributes sounds harvested from the everyday – people, nature, instruments etc. From across the room, it resembles a "normal" textile and it isn't until you approach that you realize its merging of art and technology.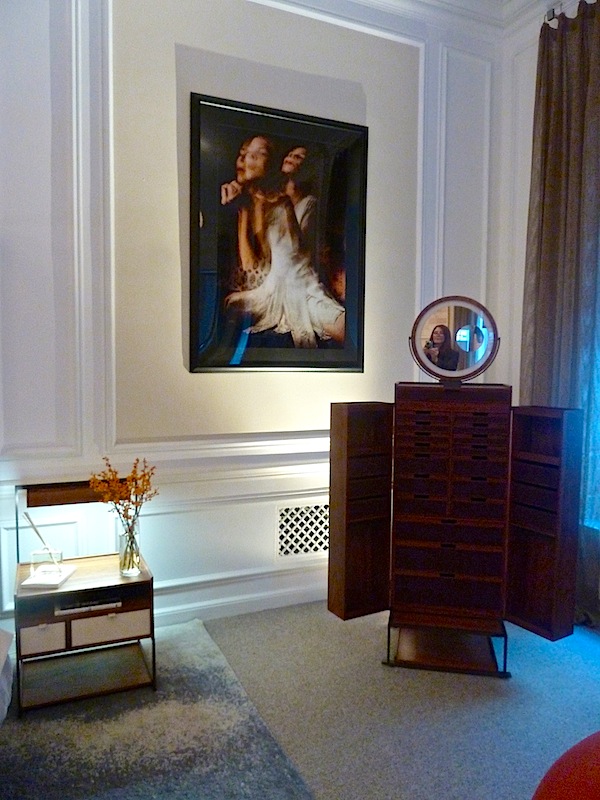 Emmanuelle Bousquet's stunning photographs are at once timeless and mysterious. With an other-worldly ethereal quality, they walk the line between dream and reality, perfectly reflecting the theme of the room. With the classical structure of the space and the modern furnishings, these beautiful photographs add a wonderful feminine sensibility that echoes the search for balance in life.
photo courtesy of Taittinger Fine Art
Jorge Mayet's sculpture is strangely compelling. The Cuban artist, now living in Mallorca, creates allegorical landscapes which again evoke an enigmatic world somewhere between sleep and the real world. This work, Free Fall II, reminded me somehow of the alternate reality of Saint-Exupéry. As it hangs somewhat precariously, it seems to express the fragility of the dream state. With its solitary tree, untethered roots, and crumbling surface, we also know, in the back of our minds, it is securely anchored.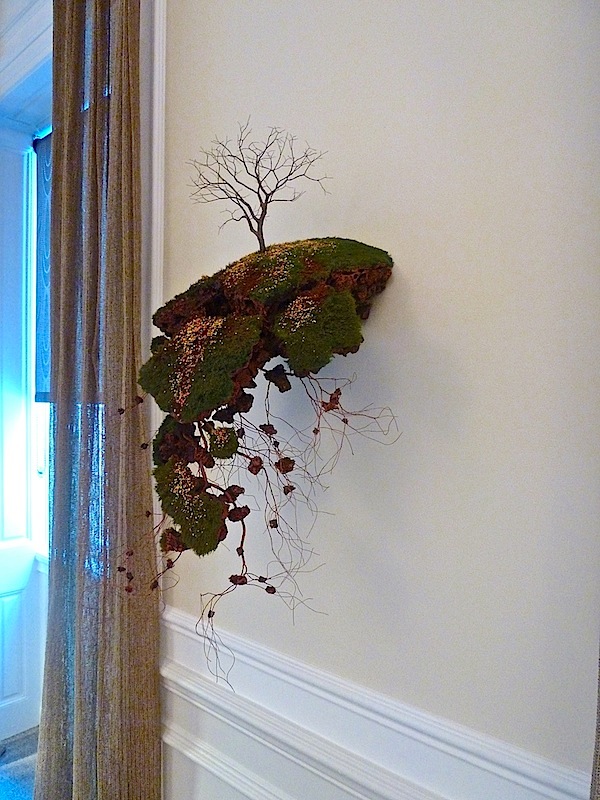 Designer Tinatin Kilaberidze paid tribute to her daughter, Nina, a burgeoning artist, in her Christmas bedroom, welcoming us with Shel Silverstein's Invitation.
If you are a dreamer, come in.
If you are a dreamer, a wisher, a liar,
A hope-er, a pray-er, a magic bean buyer . . .
If you're a pretender, come sit by my fire,
For we have some flax golden tales to spin.
Come in!
Come in!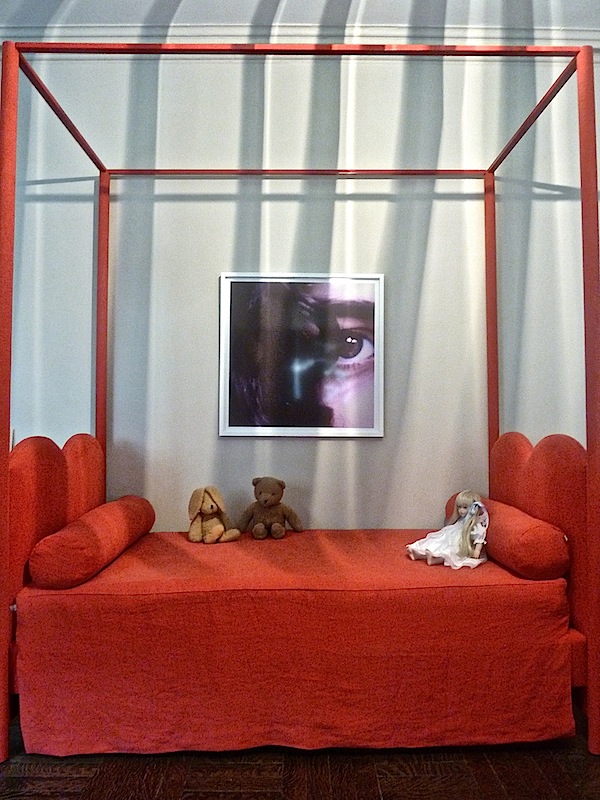 Functional art, custom furniture and refined forms were used to express a bespoke artistic environment.  Using red as the dominant color to reflect the holiday spirit, Tinatin included sculpture, art and handcrafted pieces to create a beautiful artistic world for Nina, reflected through her eye above the bed. While this scene, above, has a little of The Lonely Doll feel to it, the rest of the room expressed a more upbeat childlike naivety with magical night forest creatures mirroring Nina's personal experiences.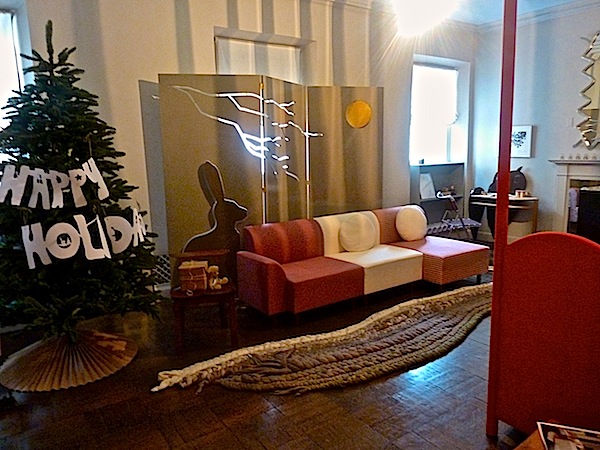 Textile artist Dana Barnes' rug runs like a river through the center of the room and like a coiled snake in the corner, in front of another of Nina's photos and a Jacques Adnet reading lamp.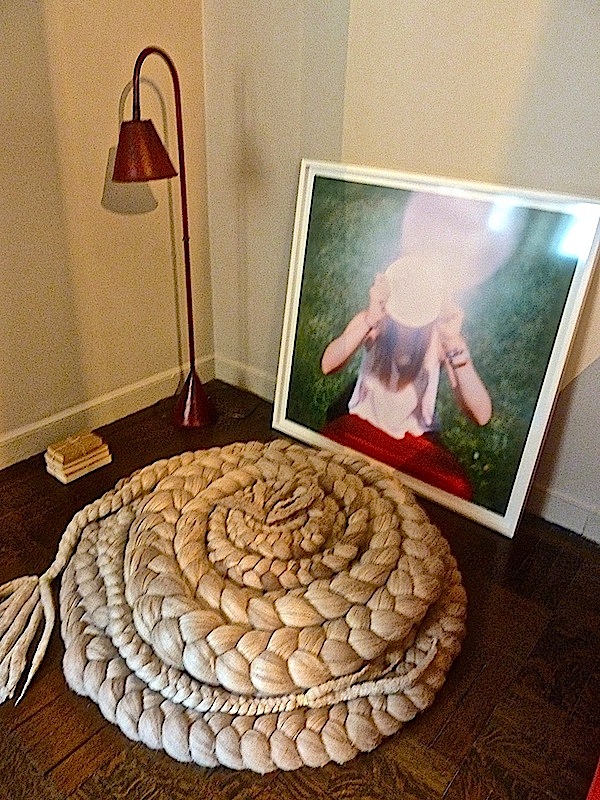 A charming corner with owl desk by the designer and Miro-esque artwork above encourages creativity.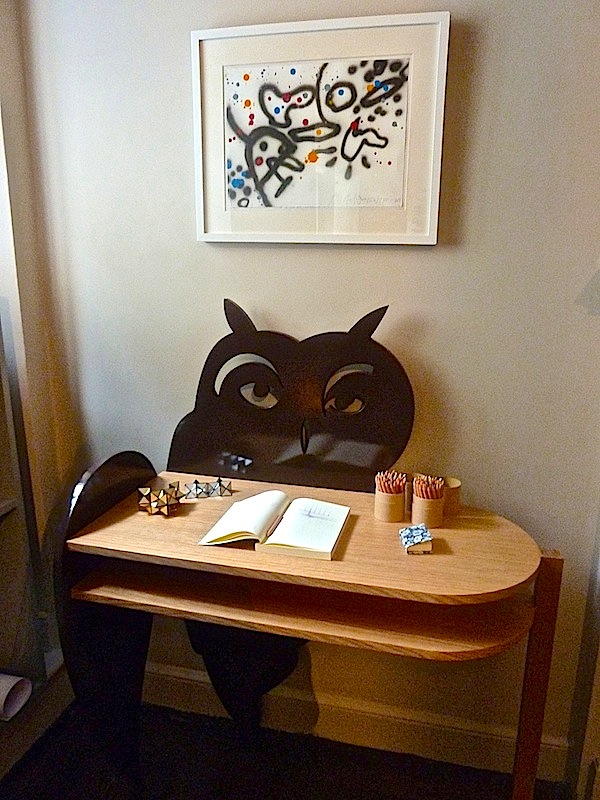 Transforming the open landing space, Jennifer Beek and Georgie Hambright of J+G Design, entitled their room "A Painterly Christmas." "We knew from the get-go that we wanted to infuse an artful vibe that would pay homage to all the artisans that we collaborated with." Hand painted Fromental panels anchored the space.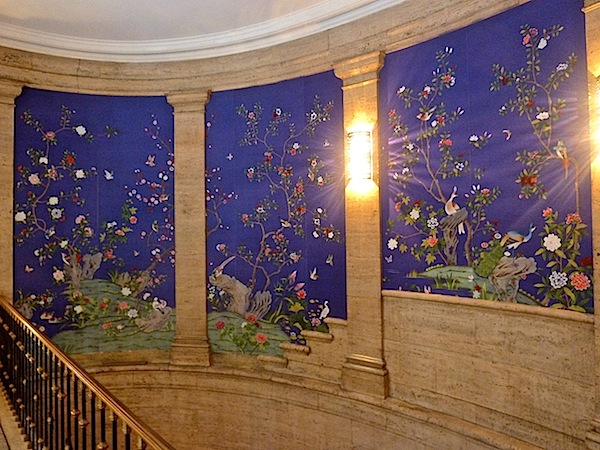 "With attention to our traditional-meets-modern style, we wanted to balance the traditional and grand architecture of the mansion with a moment of unexpected modern pop! We found an American Impressionism reproduction piece of art and had it printed on canvas. Then we literally took brush to canvas and had our own painterly moment. We chose a vibrant cobalt blue acrylic color, which correlated to the custom Fromental hand-painted silk wall panels.  Lastly, we had her framed in a traditional frame by J.Pocker and mounted on a Jonathan Adler illuminated easel from Lumens.com."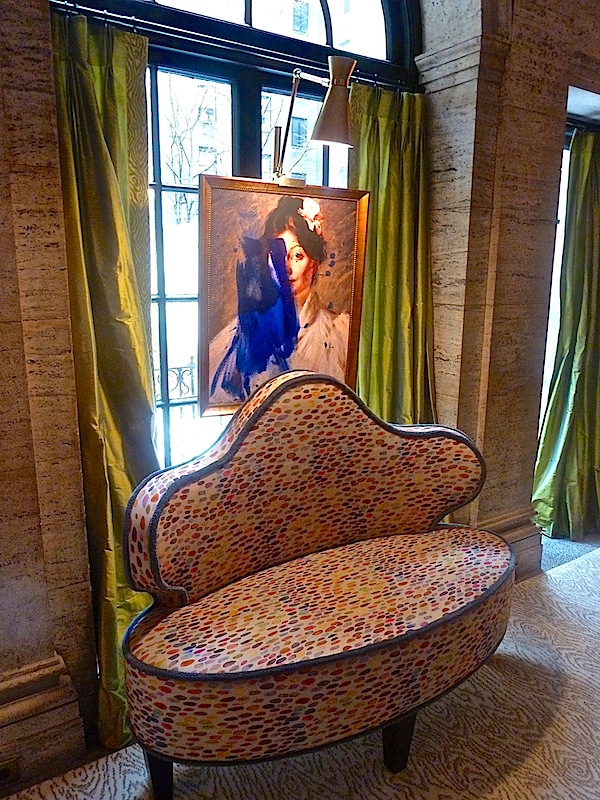 Sarah Sarna and Tina Ramchandani of Franklin Eighth transformed the small ladies lounge into a modern homage to Art Deco, celebrating Jazz Appreciation Month. "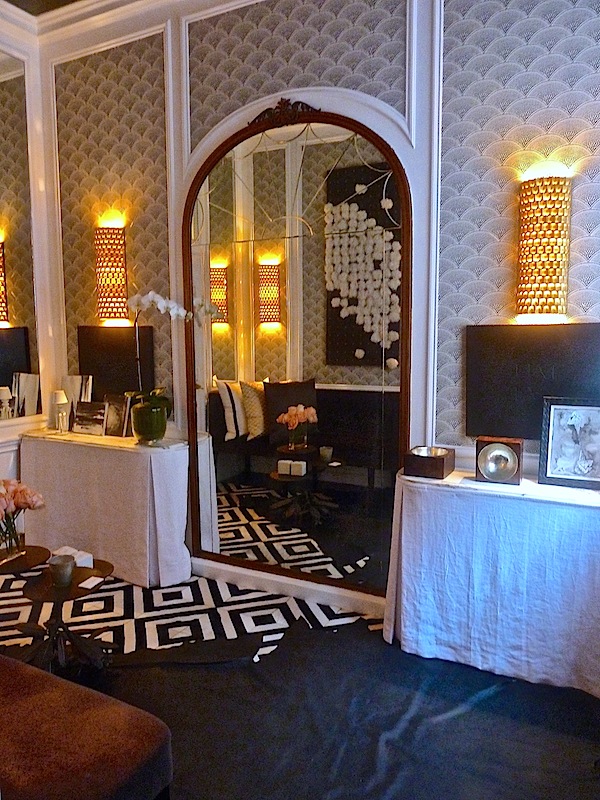 "We were inspired by the contrasts and complexity in jazz music. Our space reflects the contrasts with our black and white color palette as well as the artwork flanking the mirror provided by Dorfman Projects. One charcoal piece says "let there be light" and the other says "in shadow". We felt this was very appropriate and defined our holiday well."
above photos courtesy of franklin eighth
Layering in texture with the graphic black and white theme, the duo included this contemporary wall art by Petta Thompson, a studio whose work I love. The scale and boldness of the piece adds a fresh confidence to the space.
Petta Thompson also contributed the small black-and-white abstracts below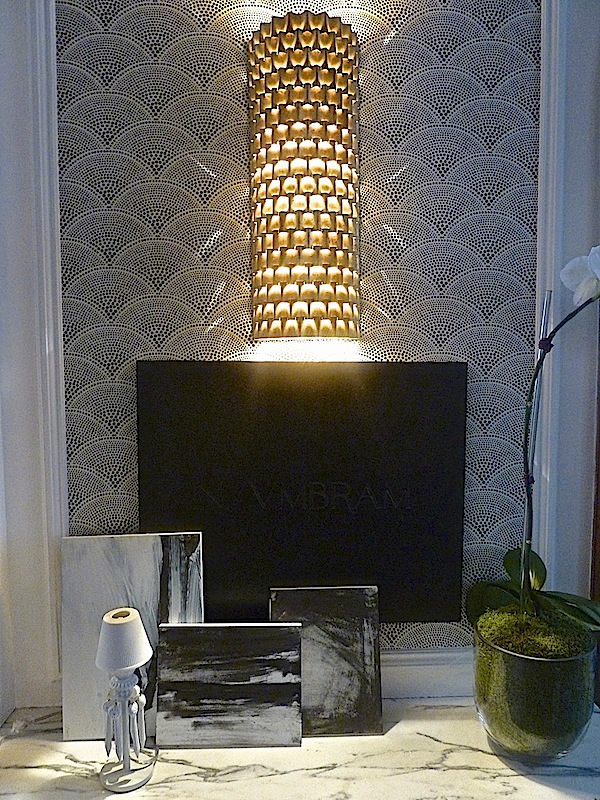 and the handsome burled-wood boxes with gold leaf centers, next to "Slow Dance Transformation, 2004" leaning by James Meyer, creating an effective and thoughtful balance of patterned textures and materials that reflect both the spirit of the 20s tempered with a contemporary vibe.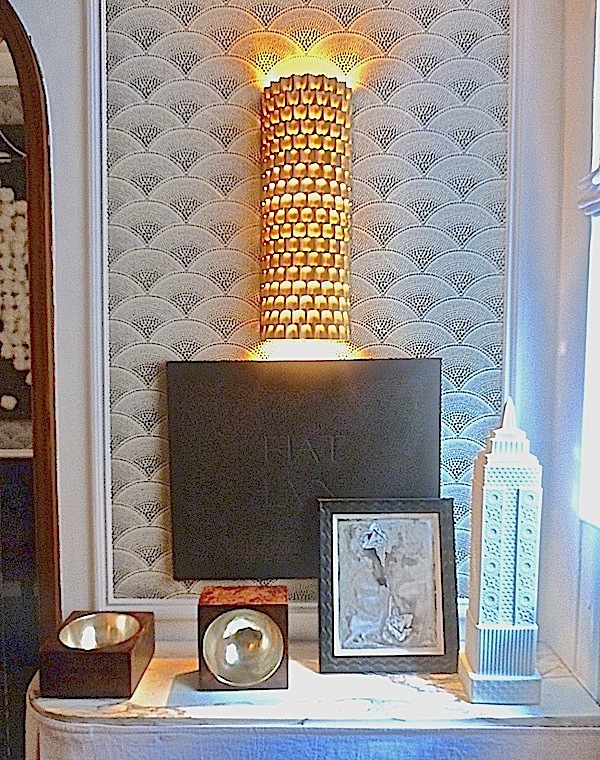 And finally, in the enormous top floor room, Ally Coulter paid tribute to the upcoming 2014 Super Bowl with a sophisticated man cave entitled "Battle on the Field, Battle for Our Lives," marrying the brute strength of the NFL players with the emotional and physical strength of women battling breast cancer.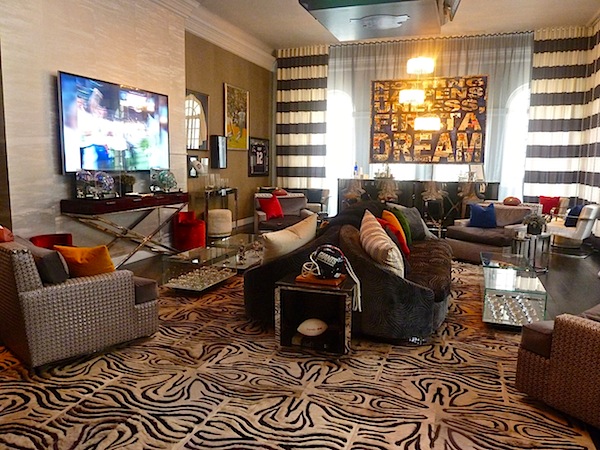 In the staircase leading up to the room, photographs by Melani Lust of breast cancer survivors in football uniforms line the walls. Symbolizing their own battles, the photos are paired with relevant football quotes and collectibles for a clever tribute to these brave survivors in the context of the space,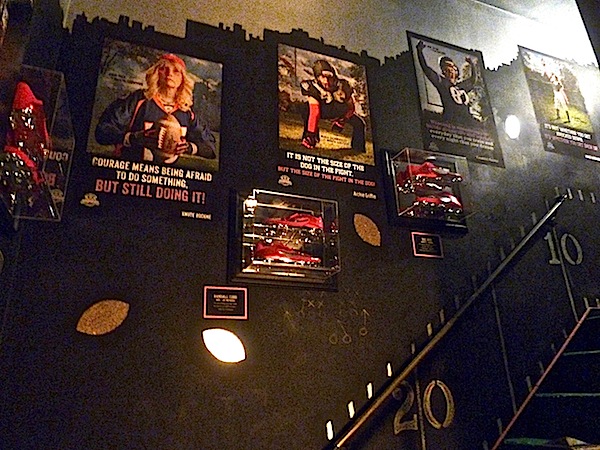 including showhouse founder and co-chairman Iris Danker, a 17 year survivor. "As a designer, I'm honored to be able to spread awareness for breast cancer through my work," said Ally.  "When people enter my room, I want them to experience the power of the life-force of the room, to feel the joy, hope, and warmth that perseverance brings."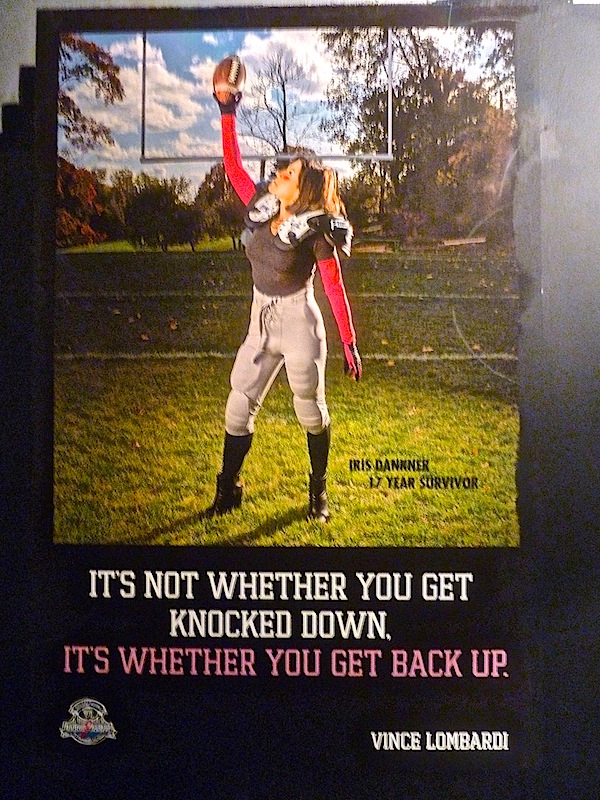 Including an incredible collection of Super Bowl memorabilia and art,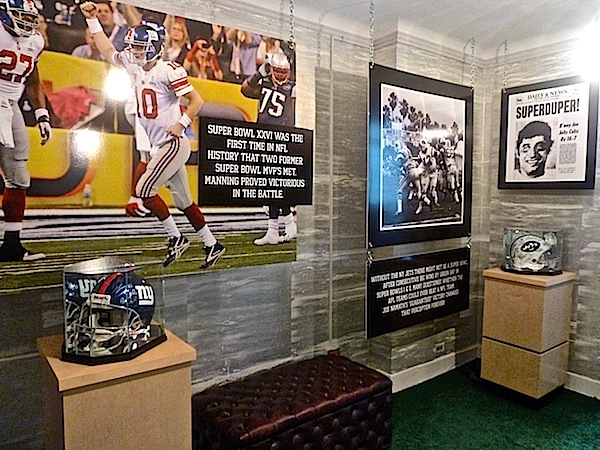 NFL Licensed 3D Pop Artist, Charles Fazzino, also contributed several original Super Bowl XLVIII works of art that were unveiled in the space.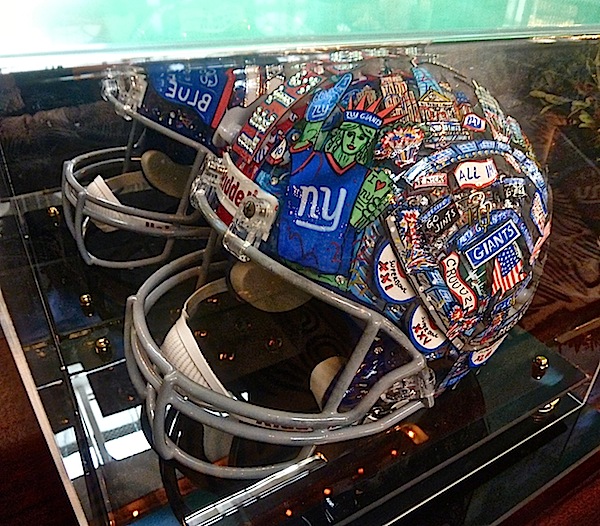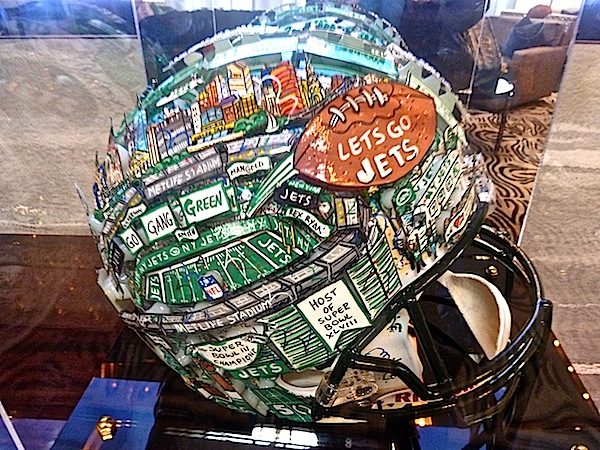 Anchored at one end by a large Peter Tunney piece over the bar, Ally's room is a multi media tribute to the men and women on and off the field.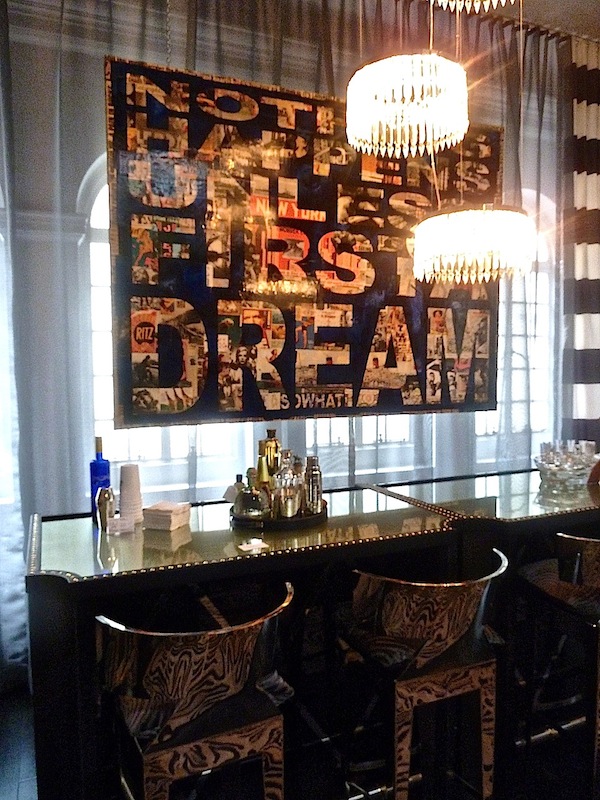 The 2013 Holiday House was an amazing tour de force of designer efforts, including an exceptional and wide ranging collection of art. To those I didn't have time or space to include, please know that every room was an impressive and meaningful contribution. Kudos to all involved in this important cause.