Proving that small spaces can have big impact, Patrick Hamilton imbued his tiny Holiday House NYC room with mansion-sized luxe appeal. Inspired by St. Patrick's Day (remembering each room celebrates a holiday or special occasion), he envisioned a vignette representing the upstairs sitting room of a Dublin row house. In the scenario, a young man, whose family has owned the house for generations, has recently inherited it and is beginning to bring his more modern personality into the picture. Swathing the room in a lush green envelope, Patrick permeated the space with a sense of  heritage and luxurious sexy appeal.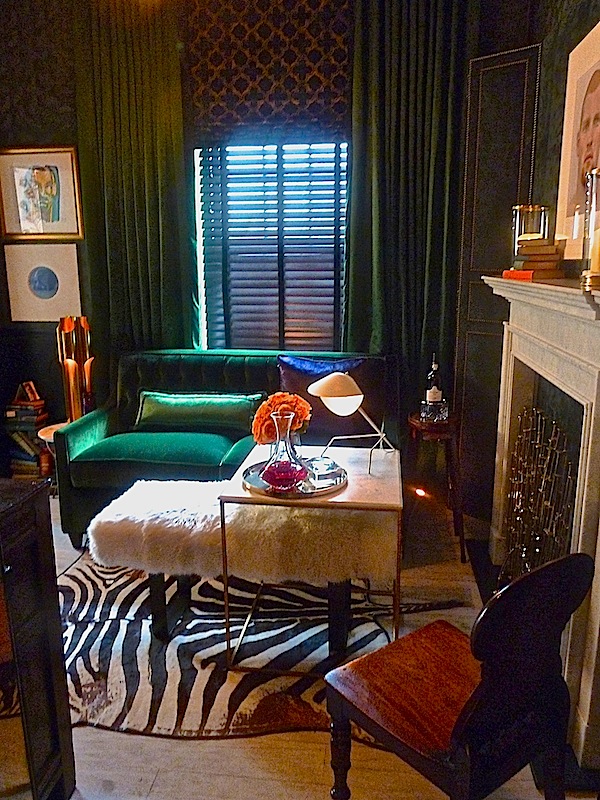 To visually narrate the young man's influence on his new home, Patrick turned to lighting but perhaps more importantly, art.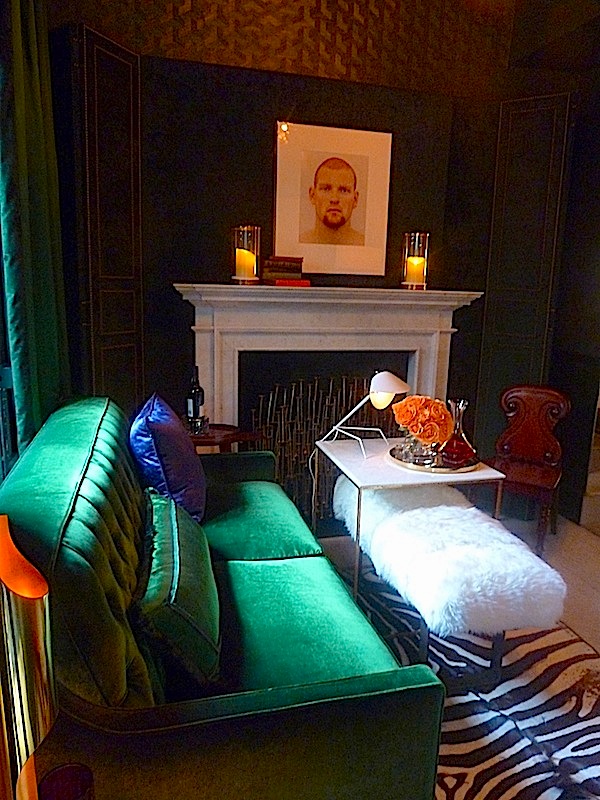 "The Martin Schoeller piece over the mantle was the first addition to the room… I'd never had the opportunity to display this piece I happily own, but when I settled on St. Patrick's Day, I knew this green-eyed ginger was coming with me!"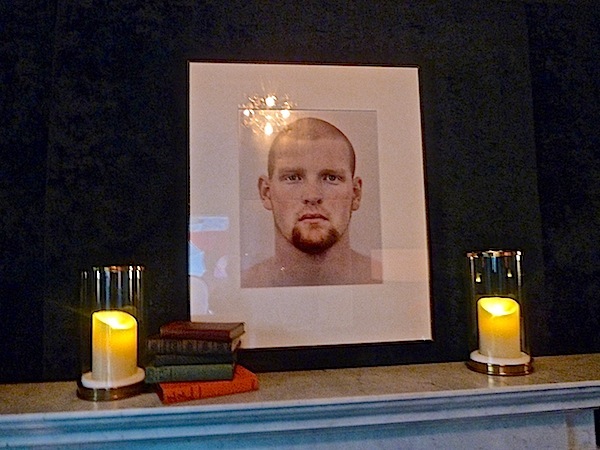 Also from Patrick's personal collection is the multi-media portrait by Dan Romer (framed by J. Pocker), top below. Chosen because its jewel tones "give the room so much life, it was also the jumping off point for some of the room's other accent colors" in both accessories and fabrics. "
"I first saw Jefferson Hayman's work at my framer, Steven Amedee Custom Framing… he does frequent showings of an amazing roster of artists. Jefferson graciously lent me the skull piece. The connection to St. Patrick's might not be super-obvious at first, but it's my nod to the keeping of saints' bones in churches throughout Europe and the Emerald Isles… so this is my modern reliquary!"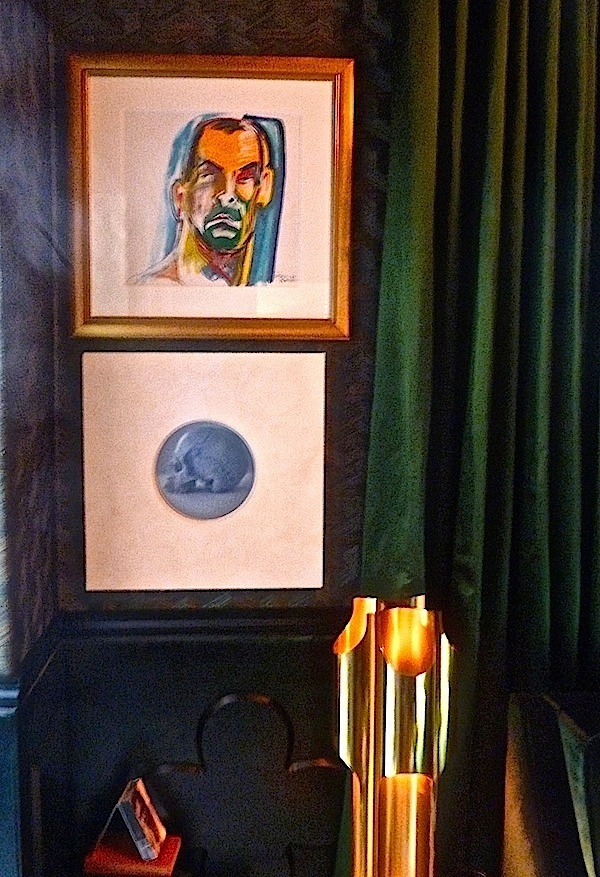 I loved Patrick's choice of this photograph by Tim Lechmacher (from Daniel Cooney Fine Art), below. Part of a photographic series of the backs of statues, it made total sense for the room both in terms of size and subject. Clearly Patrick felt the same. "It seemed the perfect balance of old and new that I wanted for the room. Plus, the scale added instant architecture, while the white negative space almost serves as a window, as does the green seascape provided and framed by J. Pocker. I imagine that to be the wild North Sea in my modern Irish fantasy! I'm also a big fan of using natural references." (my photo of the seascape was unfortunately not up to par). To read more about Patrick's room, I direct you to his blog, which includes more design details and advice as well as professional photography.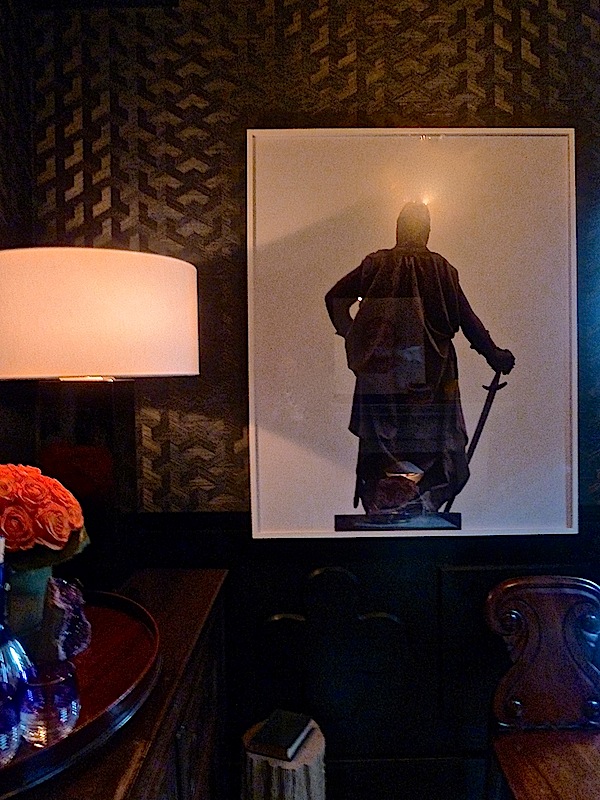 Designer Rachel Laxer always puts an edgy spin on her luxe interiors. In her Holiday House NYC Valentine's Day room, she contrasts sensuous shapes and plush materials with cutting edge functional and visual art. Mattia Bonsetti's shapely orange chairs from Paul Kasmin Gallery were the starting point for the room.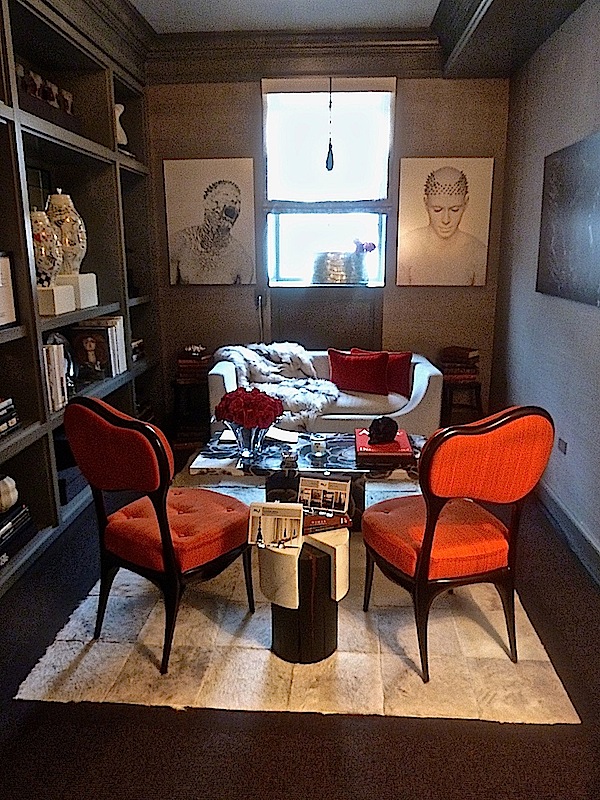 Across from their elegant presence is the more hard edged reality showcased in the photos by Dina Goldstein, images that "are an exploration of birth, life, death, pleasure and pain."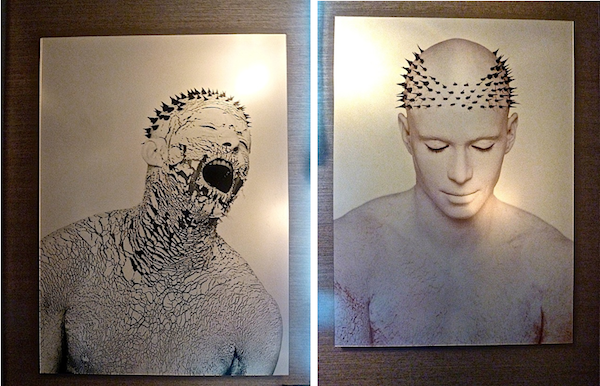 In contrast to the stark white brazen quality of Goldstein's work is the dark glamour of Colombian fashion photographer, Raul Higuera's work, whose images of Jean-Paul Gaultier,  on loan from the Vered Gallery are also currently in a show at the Brooklyn Museum.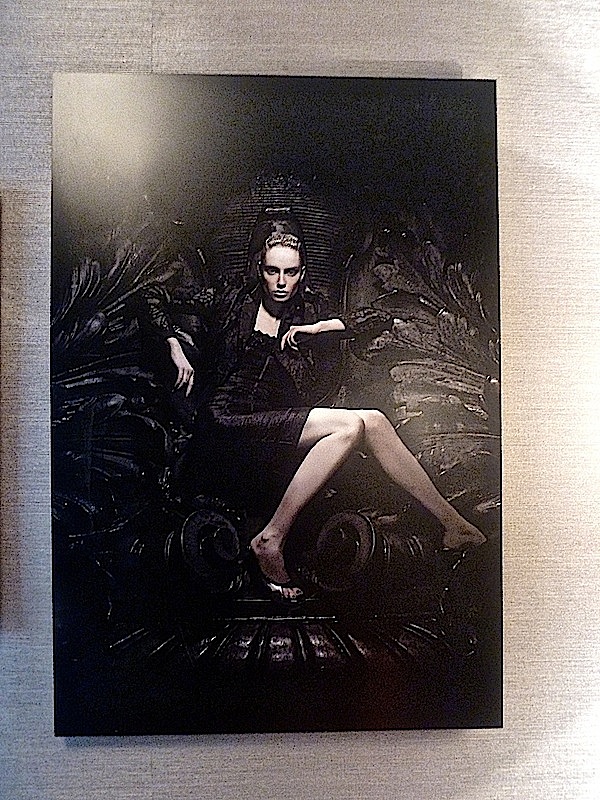 More lighthearted whimsical art is found in the bookshelves (porcelain sculptures by Jamie Hayon for Lladro)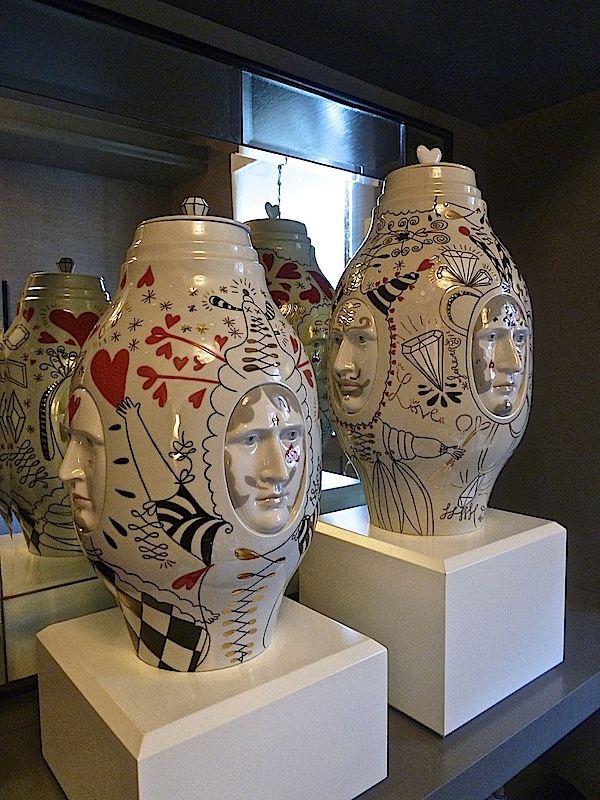 and the "suspended roses" by Ray Geary, from the Grey Area Gallery in Brooklyn, a clever play on Valentine's Day.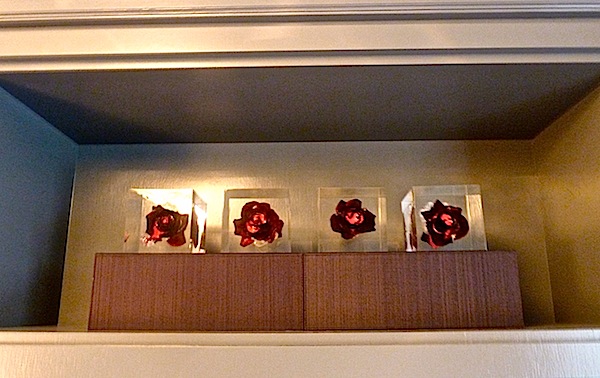 Another twist on the floral theme is seen in Peter Dayton's coffee table. A former punk rocker, whose early work graced the surface of surfboards, now focusses on his floral collages in many forms. Inspired by a collection of old House and Gardens from the 50s, they have a strong fashionable following.
photo courtesy of Rachel Laxer Interiors
Rachel's whimsical and fearless use of art to define a space is what gives her work its sophisticated substance and  style. Stop by next time as we'll continue to look at the creative use of art in the spaces.