With 22,000 square feet featuring over 80 of the hottest dealers in America, the Antique & Artisan Center is the anchor for the preeminent local design district in an industrial section of Stamford, CT. I don't know of anywhere else where there is such a concentrated wealth of so many distinguished dealers in a single venue. Ever changing stylish vignettes from a wide variety of high quality proprietors have made the center a longstanding not-so-secret source for discerning designers, collectors and retail customers in the know. Last week I attended a party celebrating a renewal and refreshening of the popular locale's brand and web site (still receiving some finishing touches).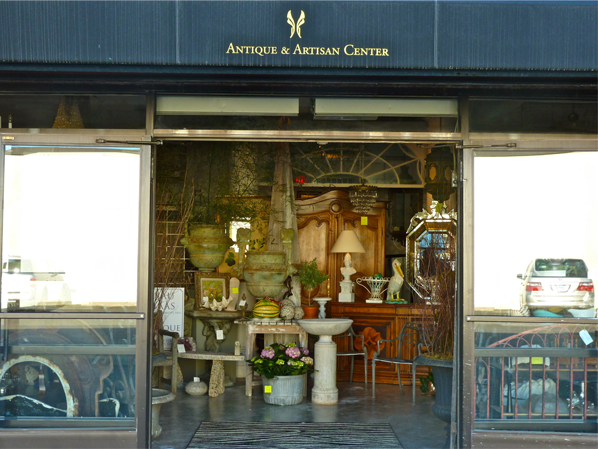 Media sponsor CT Cottages & Gardens and a robust crowd of local design savvy clients and dealers came to toast owners Ronald Scinto and Mark Candido (also owners of recently discussed Illumé), who founded the center 15 years ago.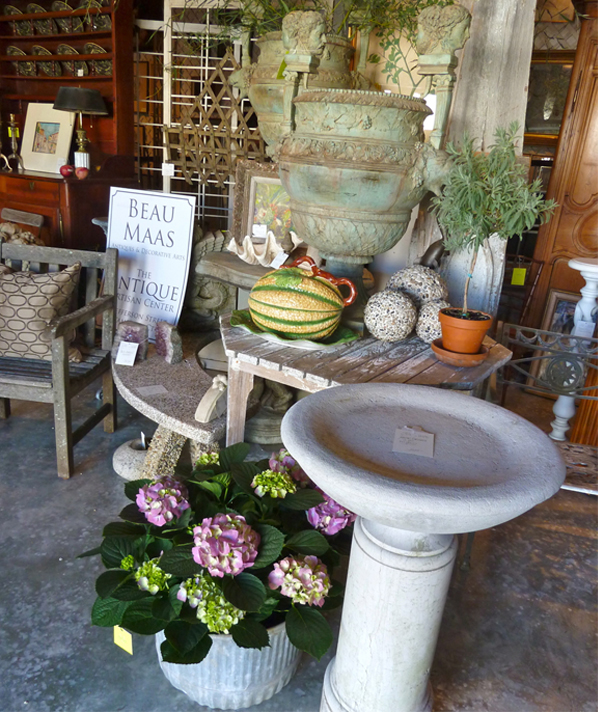 From furniture and accessories to lighting, rare books, jewelry and select fashion finds, Antique & Artisan is a treasure trove for all seeking the "chic to unique." Let me give you a tiny taste of the remarkable offerings. Beau Maas antiques greets you in style at the entrance.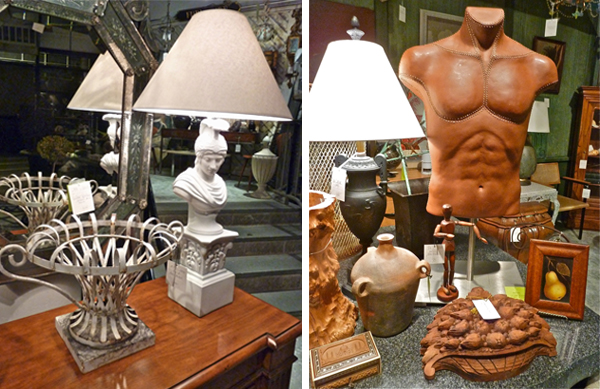 Great Meadows antiques featured a refined mix in neutrals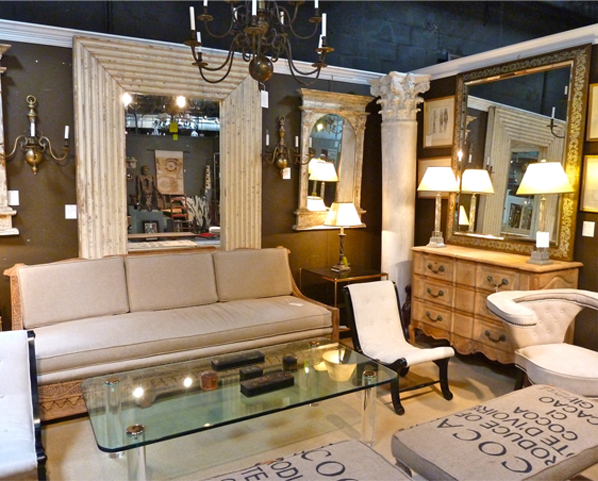 Jay & Sydelle Livingston's booth presents chic global finds. I loved this leather and silver butler's tray table with large ice bucket from Argentina and how much fun are these newly upholstered Louis XV style fauteuil chairs?!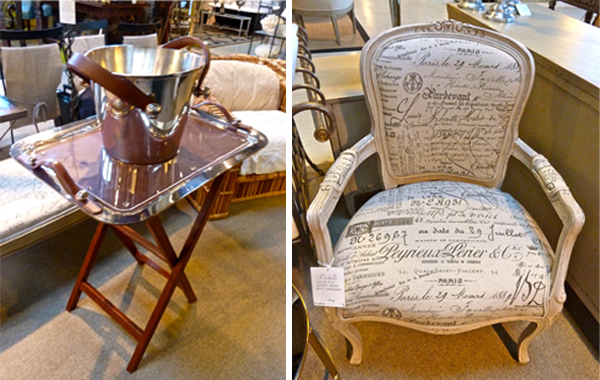 Apple Webster Home provided inspiration for a glamorous office with a lovely mirrored parson style console/desk from the '80s and fabulous oversized vine sculpture.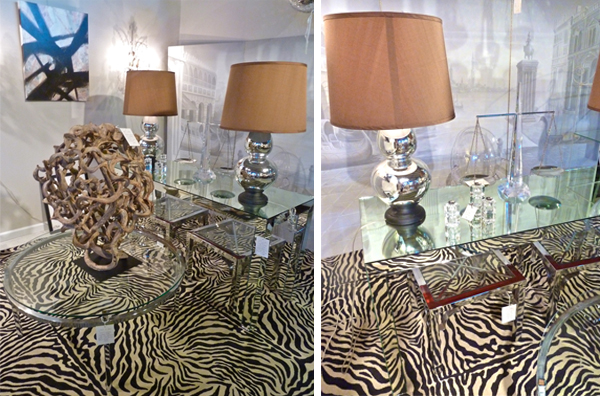 Their lucite globe ice bucket was a singular standout.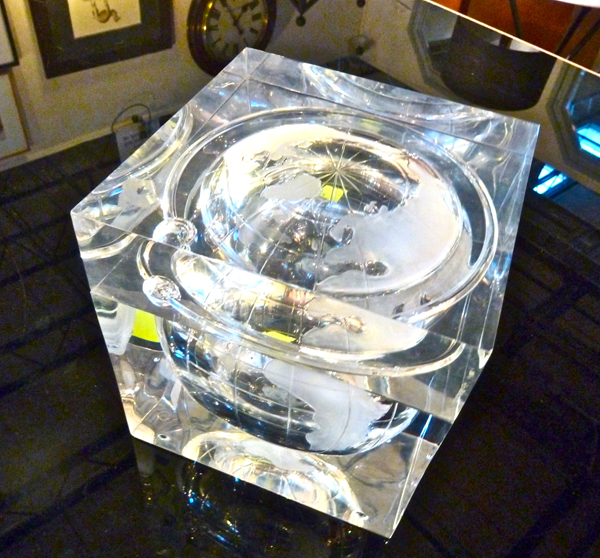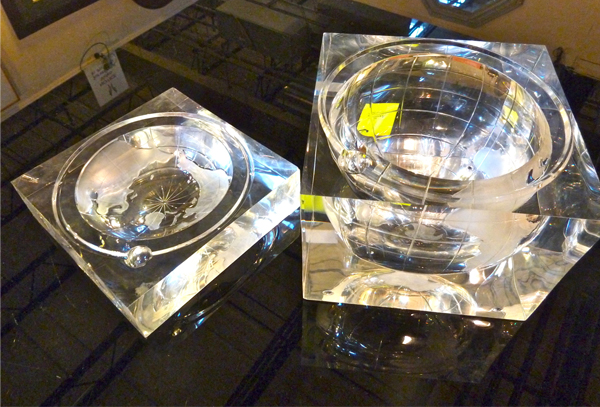 Screens are a great decorative device and there were several that caught my eye. This lovely vignette at Diane Davis' booth featured a four panel painted one with art deco metal inserts – simply stunning and so unusual.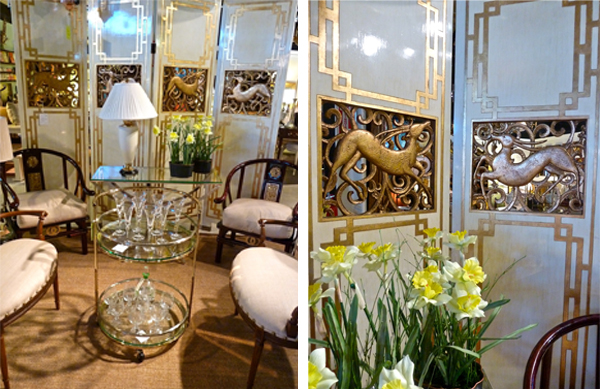 Acacia Antiques' six panel screen of Chinese hand painted wallpaper panels is mostly like 19th century and mounted later in the style of Elsie de Wolf.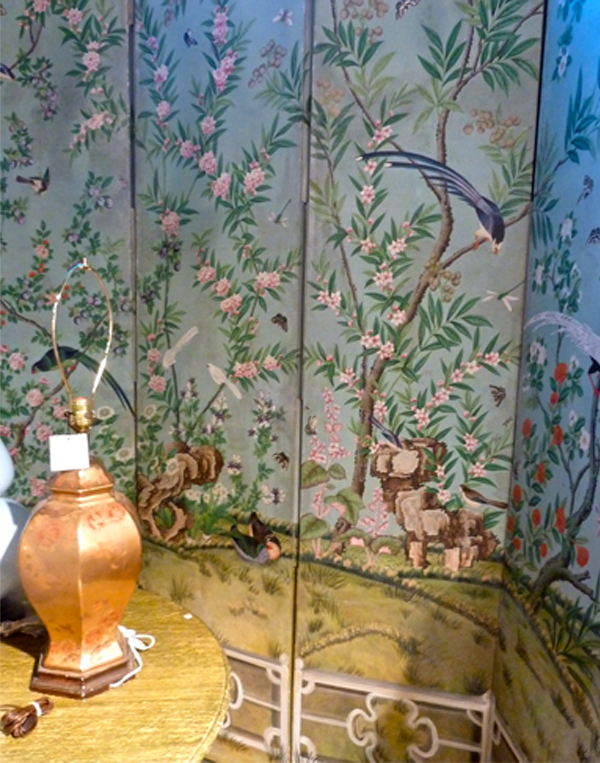 The booth also featured a charming Chippendale influenced tufted sofa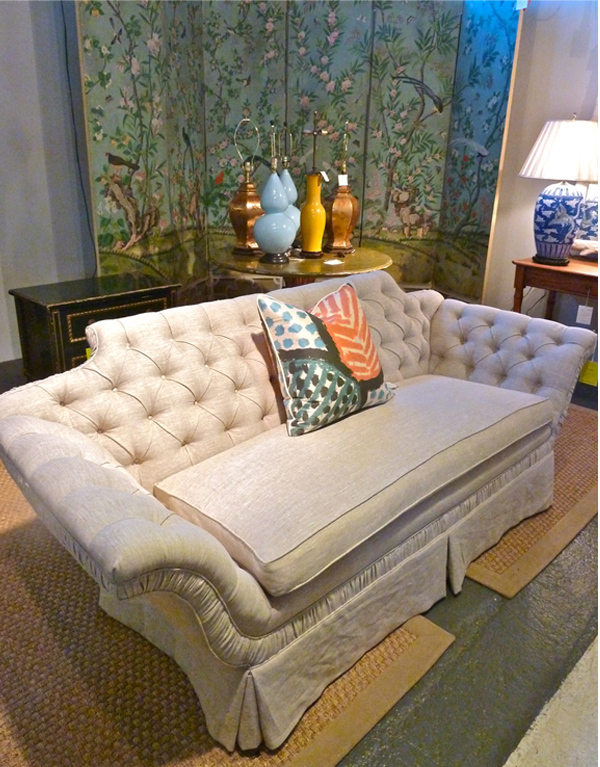 And for the classicists, a magnificent large Chinese export example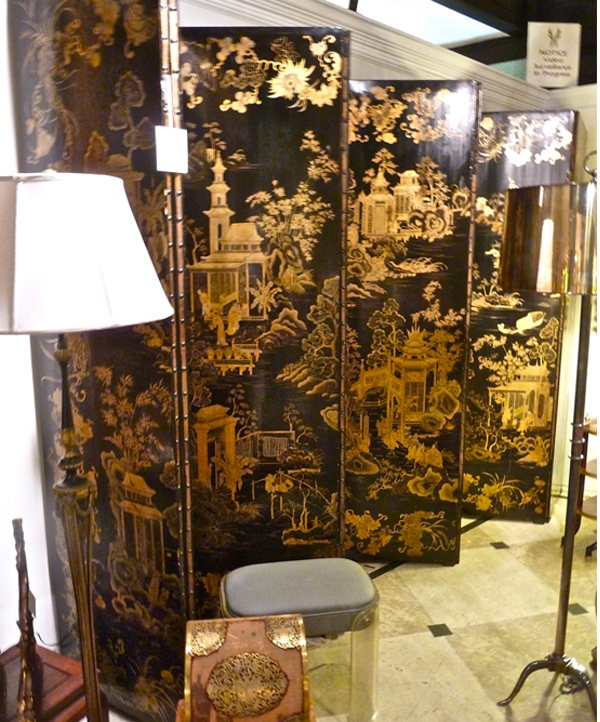 Schuyler Field's booth was like a library dream. Filled with vintage book finds and fabulous furniture and accessories, I wanted to curl right up with one of the volumes.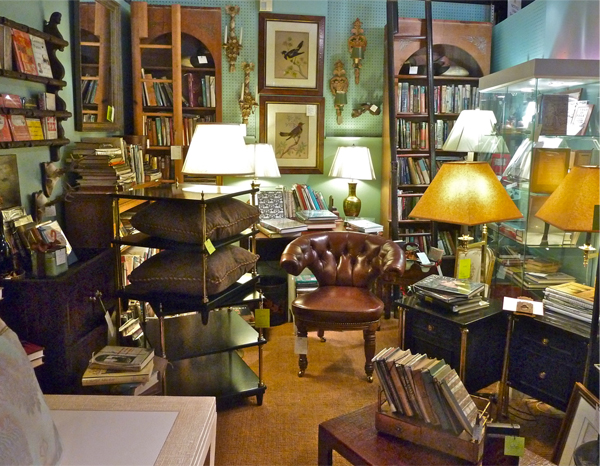 I loved these chic and versatile black lacquered and brass occasional pieces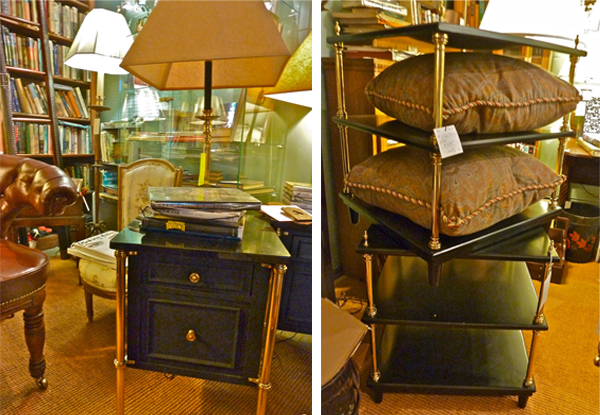 Local retail favorite Dovecote, whose store in Westport is a popular destination had a chic vignette. Known for their eclectic mix of eras and styles, their booth was a successful blending of color and texture.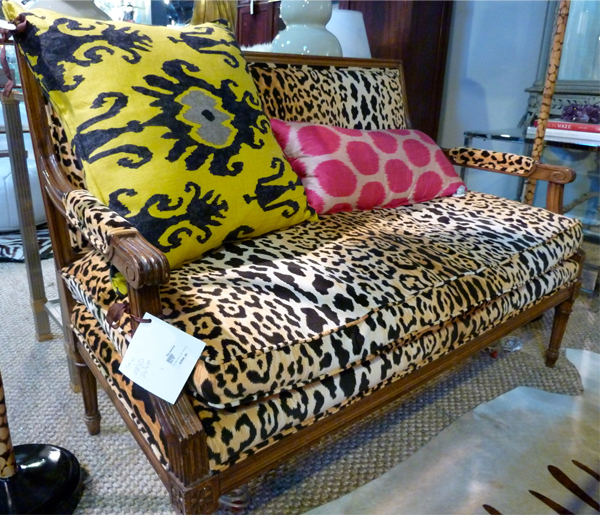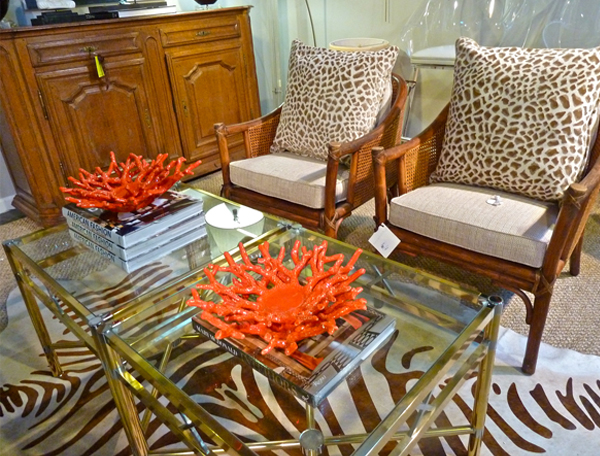 Local artist Kerri Rosenthal's Lights Out sits comfortably over an antique French console.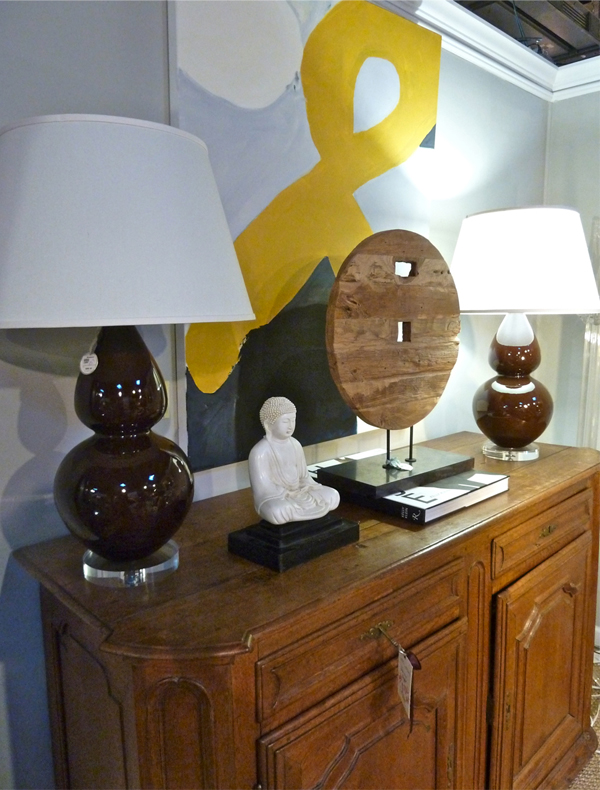 Besides being exquisitely styled overall, Alison Kinney's booth had a lust-worthy set of 20th reproductions of an 18th century Noli map of Rome, newly framed.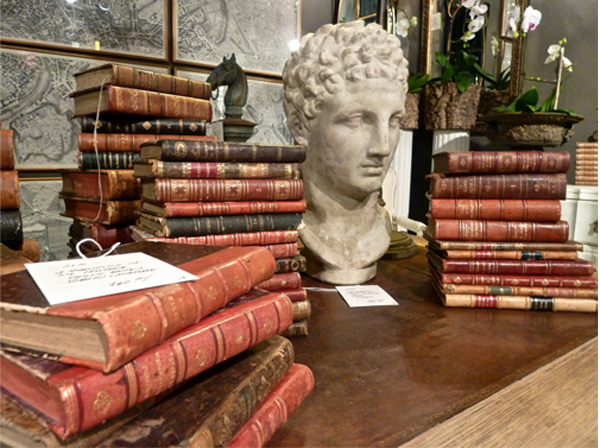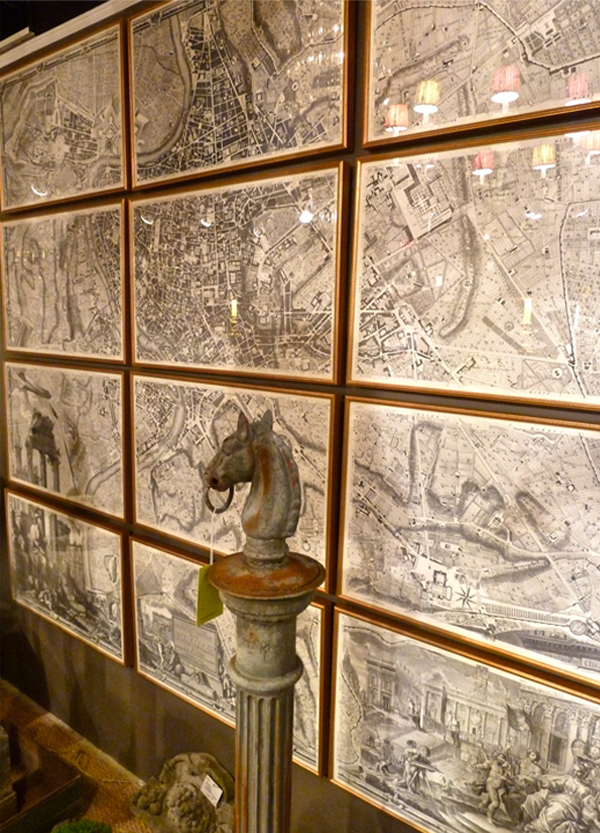 She also owns another booth with more mid century and eclectic offerings. I loved this pairing of a '60's black lacquer neoclassical style chest (one of two) and a large Curtis Jere bronze '70's wall sculpture.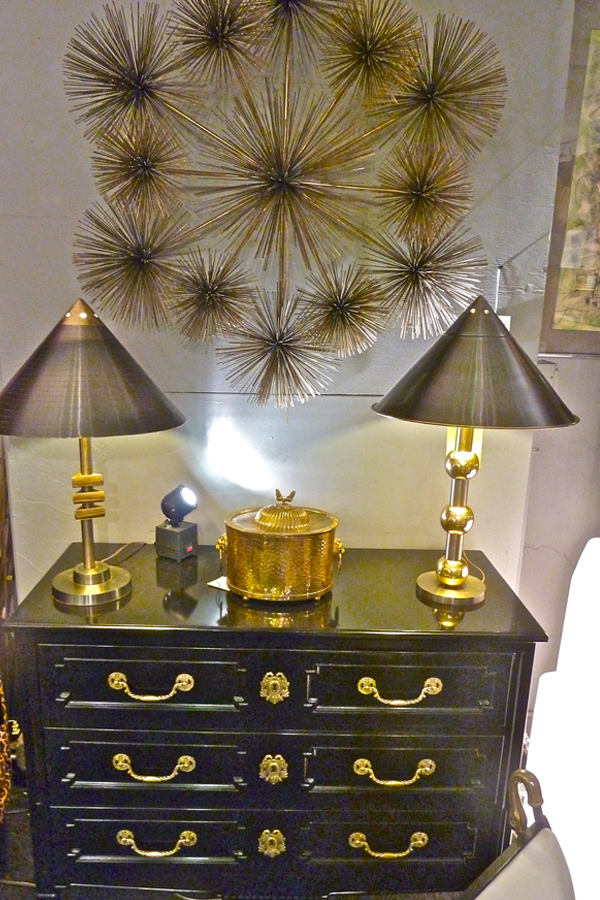 I didn't realize that Amy Vischio, the editorial and creative Director of upscale local At Home magazine, was also an artist. She took me by her booth, where she had created a rather nautical themed vignette, under the name Mixit, with her work and a pair of Antonio Pavia chairs, newly upholstered in blue velvet. I think her beautiful mixed media original, "Big Blue" sold that evening – not surprising – it had a fabulous tactile luminosity.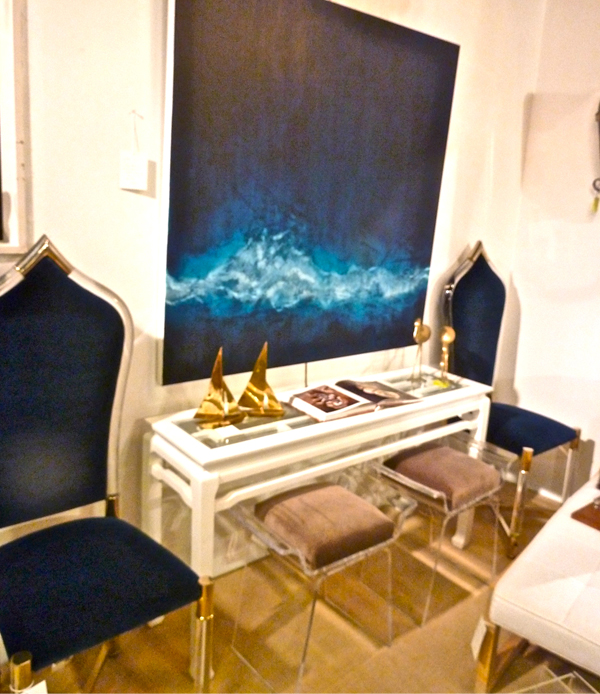 I also liked this bench in their booth, given a new chic life in black patent.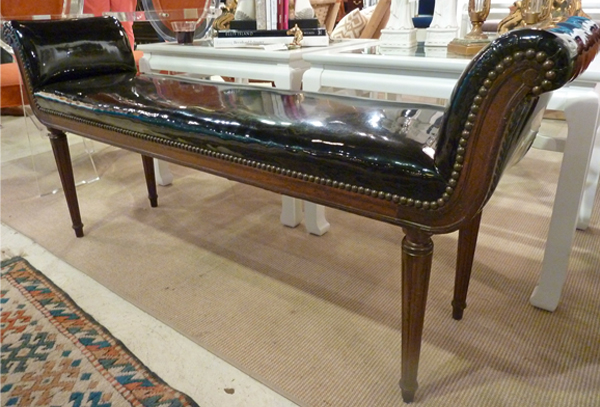 While many of the booths were of an eclectic nature, some, such as this lovely neoclassical style one were more focussed on a single style.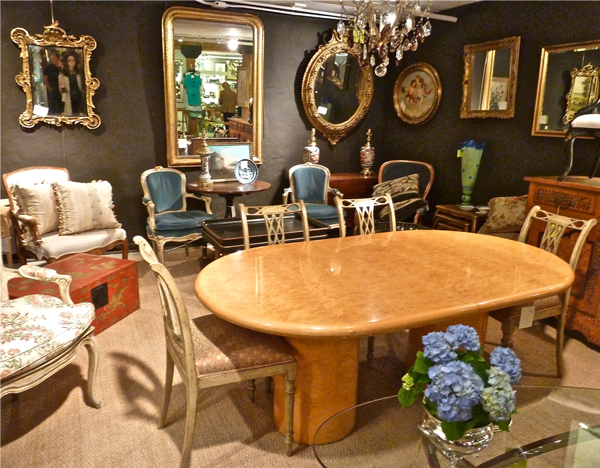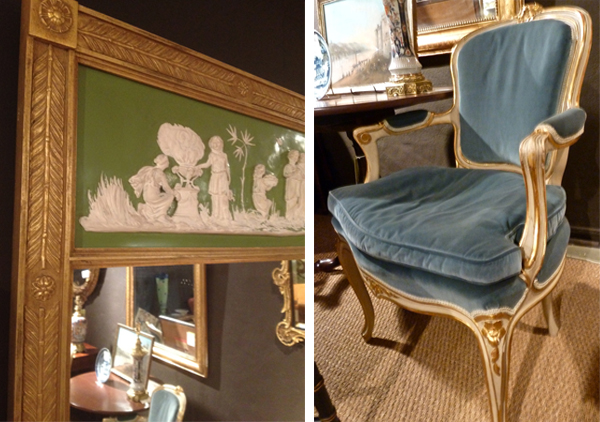 Whether you are looking for major furnishings or that special piece to make your space, put the Antique & Artisan Center on your must visit list. Conveniently located right off of I95 and near the Stamford train station, it is an easily accessible design destination that will satisfy those who love the hunt. But be forewarned, with its constantly changing inspiring vignettes, it's addictive!