It's that time of year, and even though the weather hasn't been particularly springlike, we are having the usual spate of seasonal design events. Monday evening was the wonderful Kips Bay Boys & Girls Club Presidents Dinner, honoring NYC's five interior design education institutions and the lifetime achievement award going to David Easton. Stay tuned for sneak peeks of the showhouse at the end of next week! And then this week has also been tabletop market – those who follow along on Instagram got a glimpse – full post coming soon.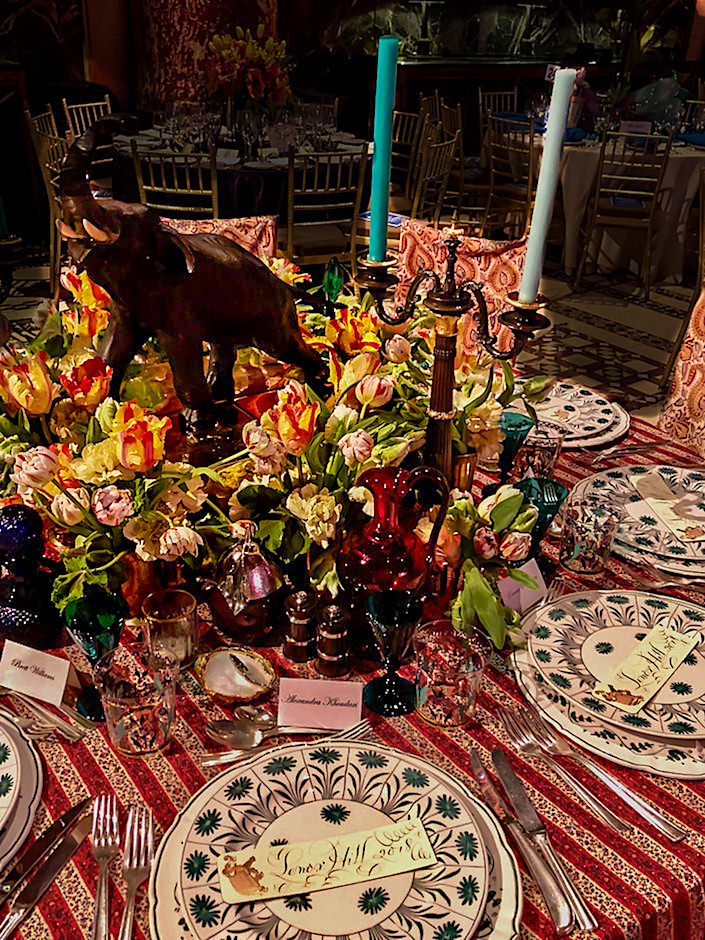 And then last night was the 2018 Lenox Hill Neighborhood House Gala. Always a favorite event of the season, this year the gala honored Sana Sabbagh for her outstanding leadership and support. In addition to, most importantly, raising funds for this worthy organization, the spectacular tables offer an abundance of inspiration for spring entertaining. Above, and below, designer Virginia Tupker created a layered bohemian table with a lush maximalist vibe.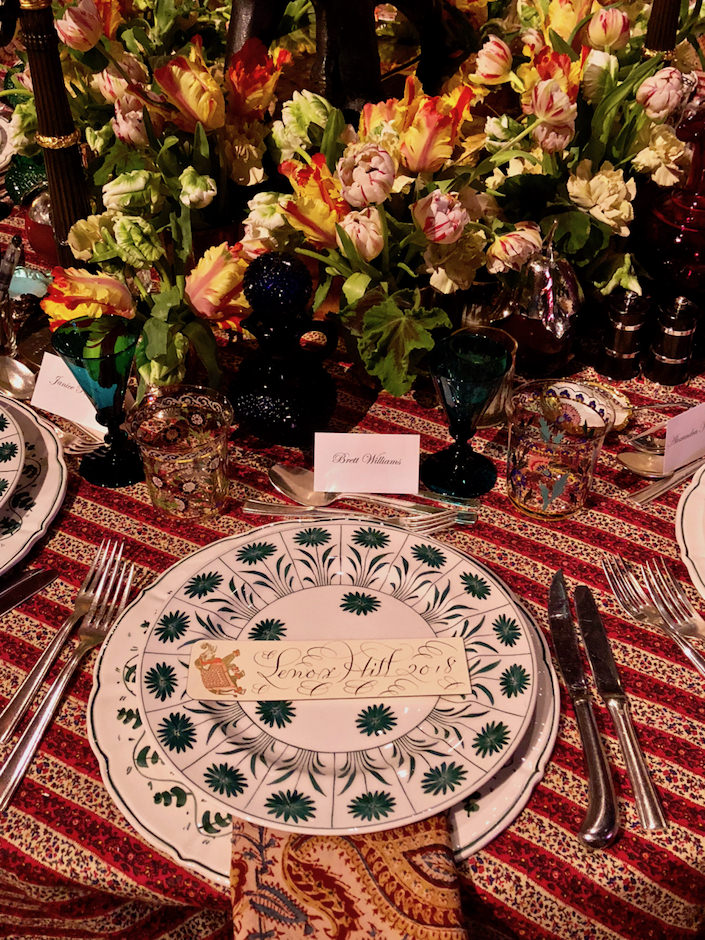 With an arrangement from Emily Thompson worthy of a Dutch still life, Virginia layered a tablecloth of Soane's new Qajar Stripe, with les Indiennes napkins, and plates from Paravicini. The charming hand calligraphed Bernard Maisner book marks were guest gifts.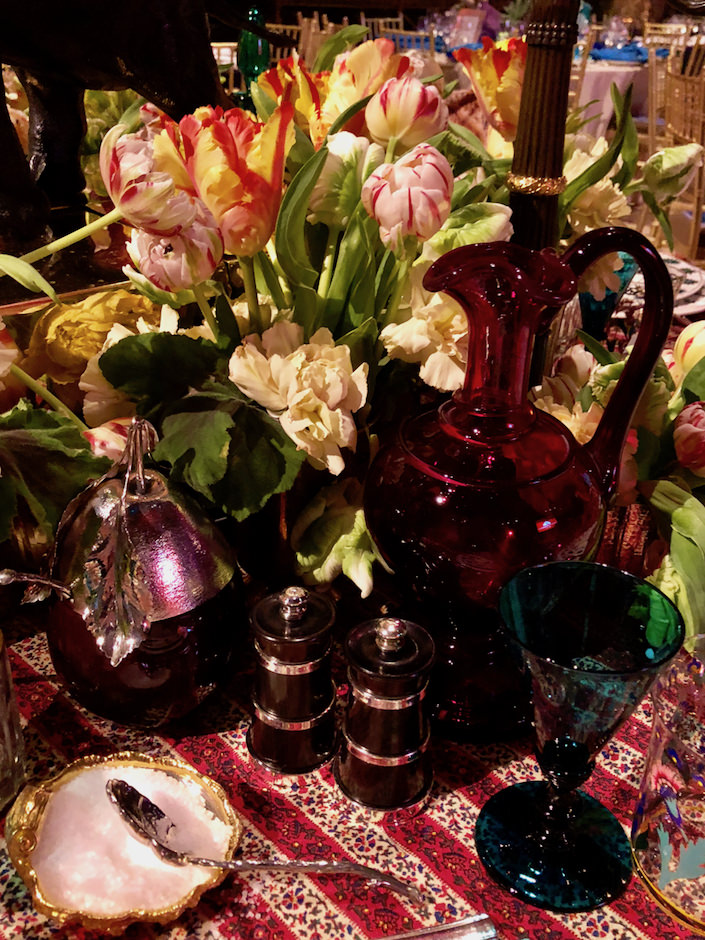 Details included green Georgian glassware from Guinevere Antiques, Odiot salt cellar, Scully and Scully salt and peppers,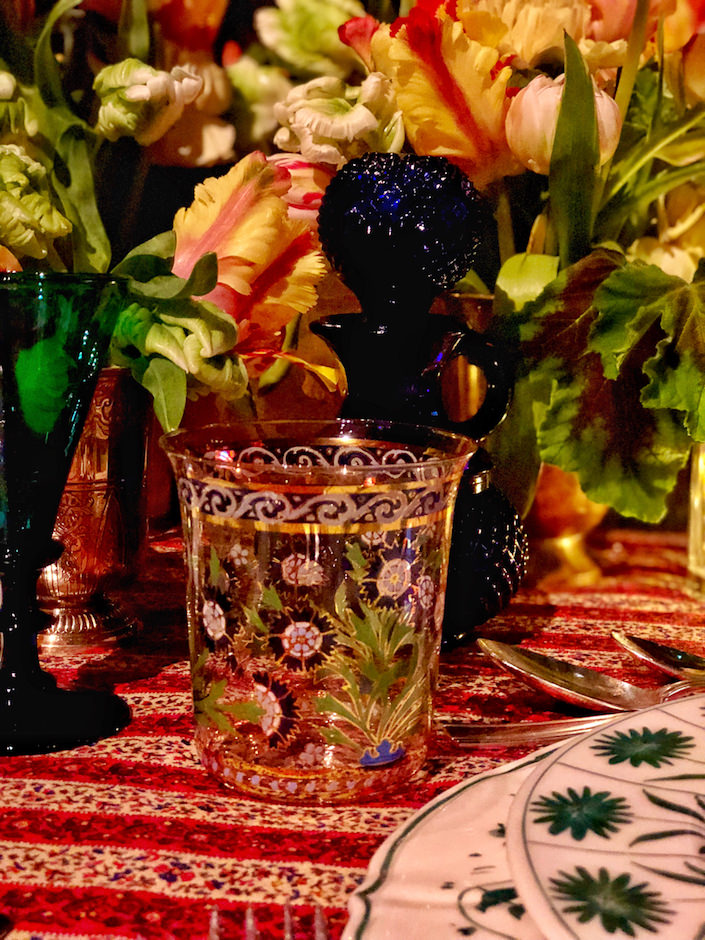 and the gorgeous new hand painted Lobmeyr tumblers that are part of an exclusive collection with Cabana Magazine and Moda Operandi. This year's theme was Make a Splash, which some designers embraced, others not so much and then there was Vicente Wolf who put his own very clever and creative twist on the term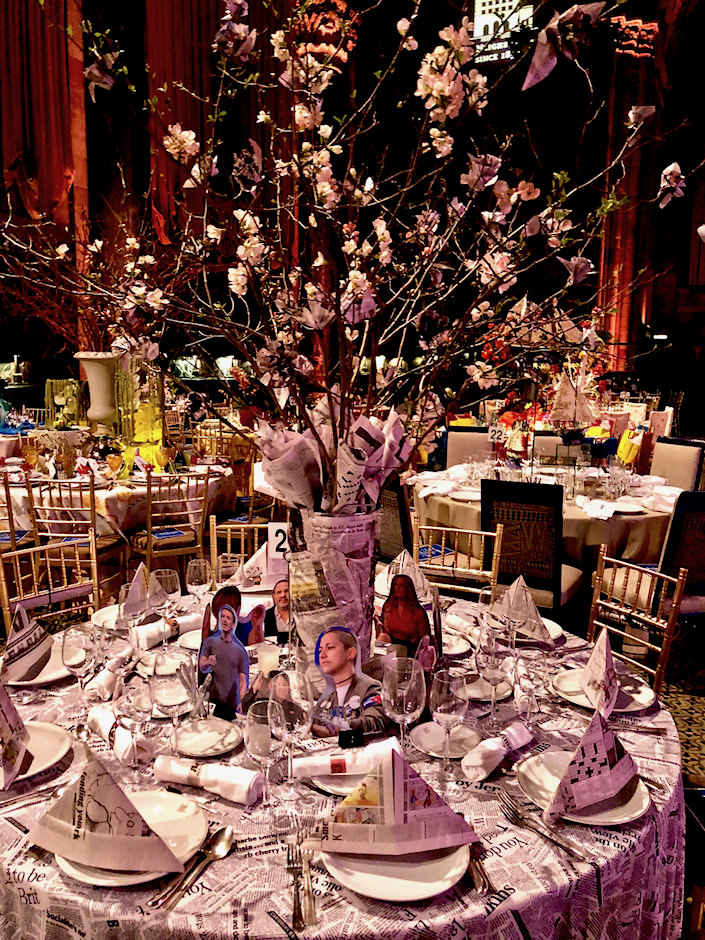 highlighting a selection of those who have made a splash in the headlines.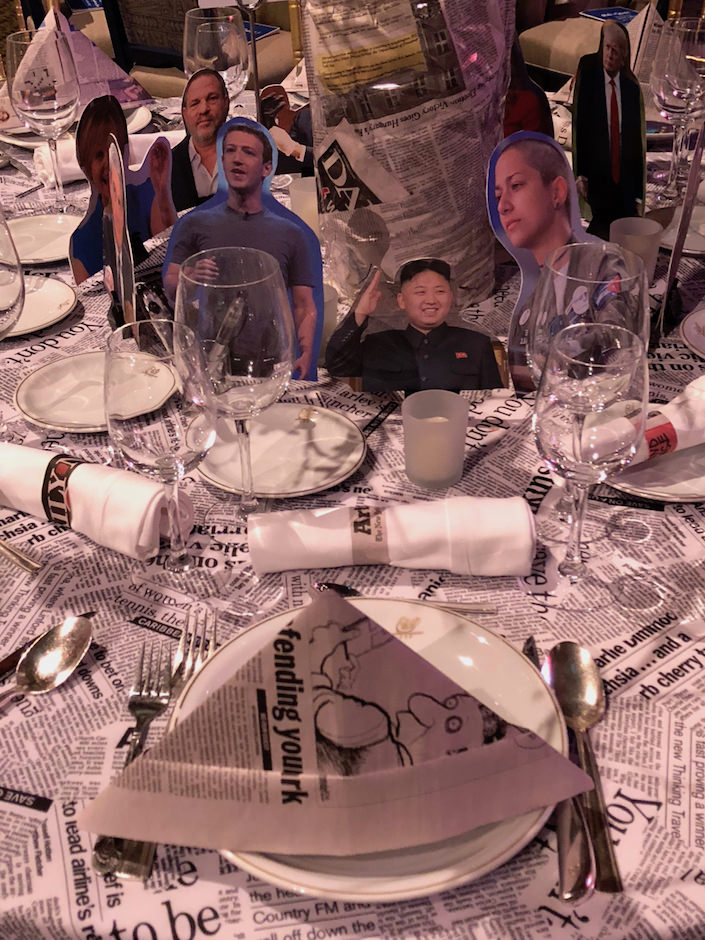 What a year!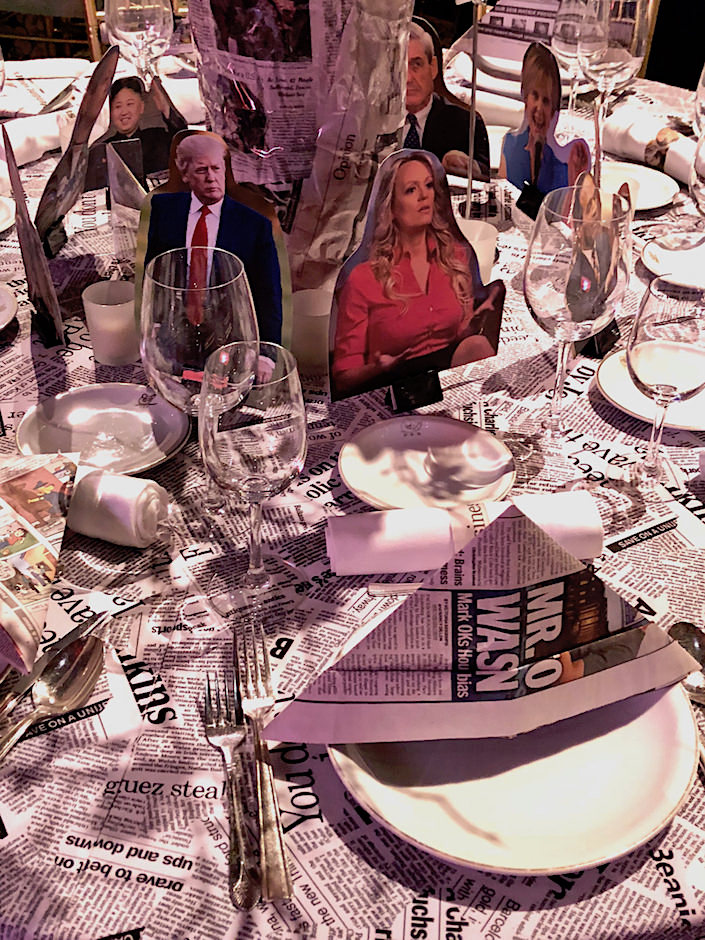 Designer Roric Tobin made a splash with color at his vibrant table.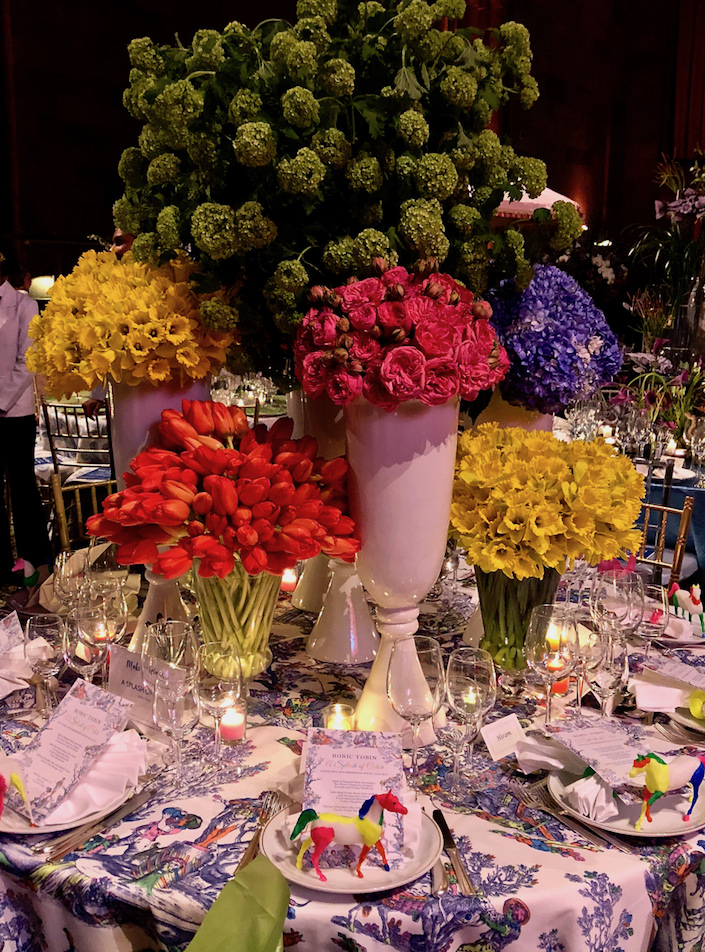 Anchoring his table with a tablecloth of Pierre Frey's les Buveurs Fluo (a classic toile updated by Mat & Jewski with fluorescent colors), Tobin harnessed the power of one in his dynamic centerpiece of masses of neon colored blooms. Horses of a different (bright) color finished the scene.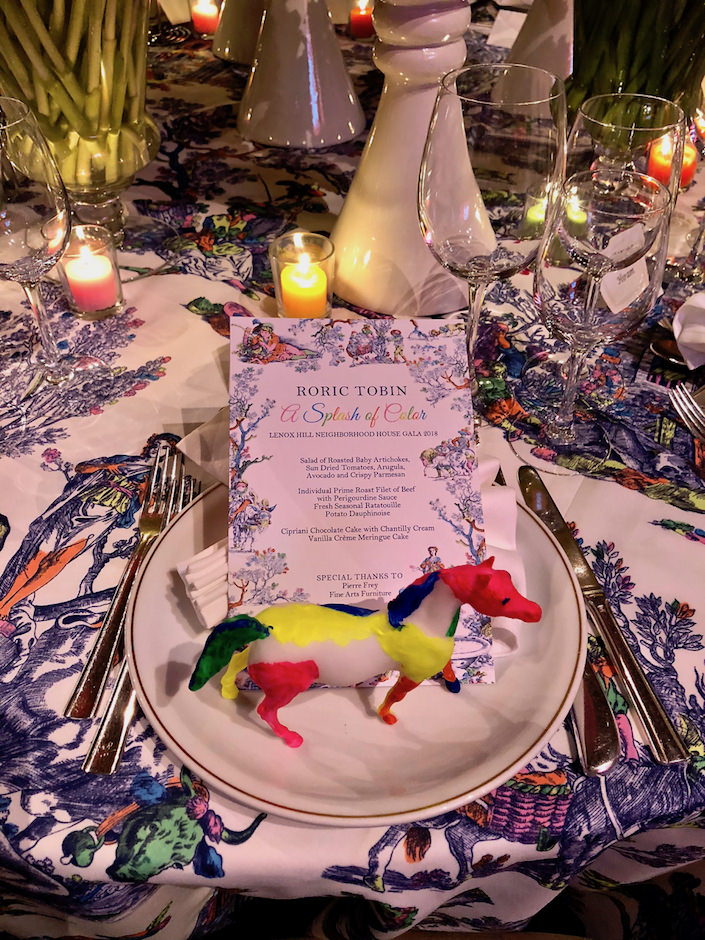 North Caroline based MA Allen wanted to showcase other southern creatives with a table brimming with color and pattern.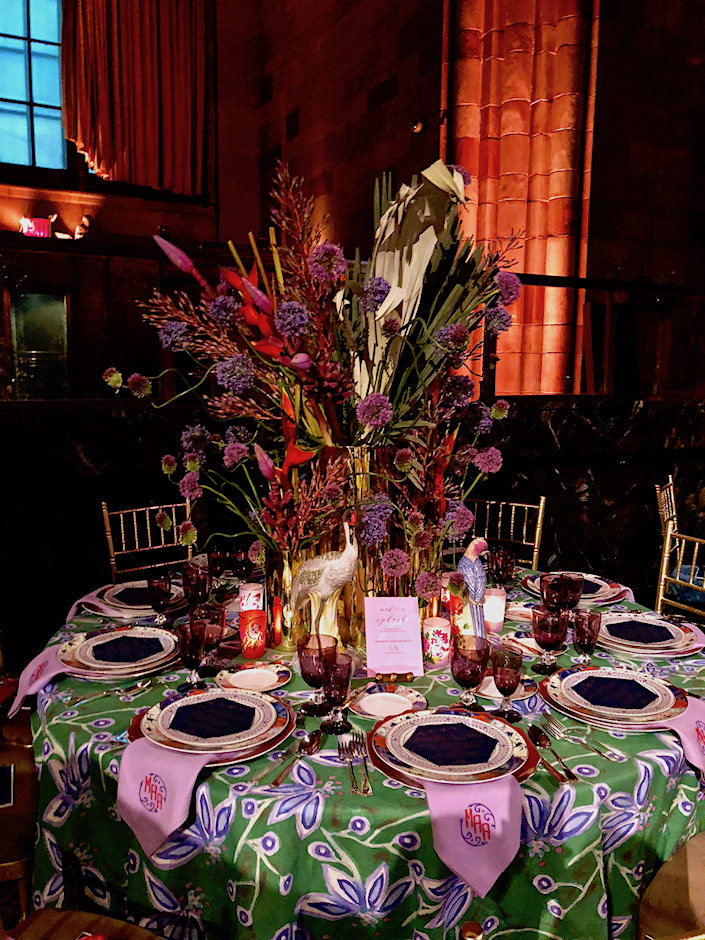 On a tablecloth of Ferrick Mason's Melodye, she included tableware from sponsor Replacements, Ltd – Versace for Rosenthal salad plates with dinner and bread plates in Raynaud's Jardin de Printemps, Gotham sterling and Aquarius Amethyst crystal from Bryce.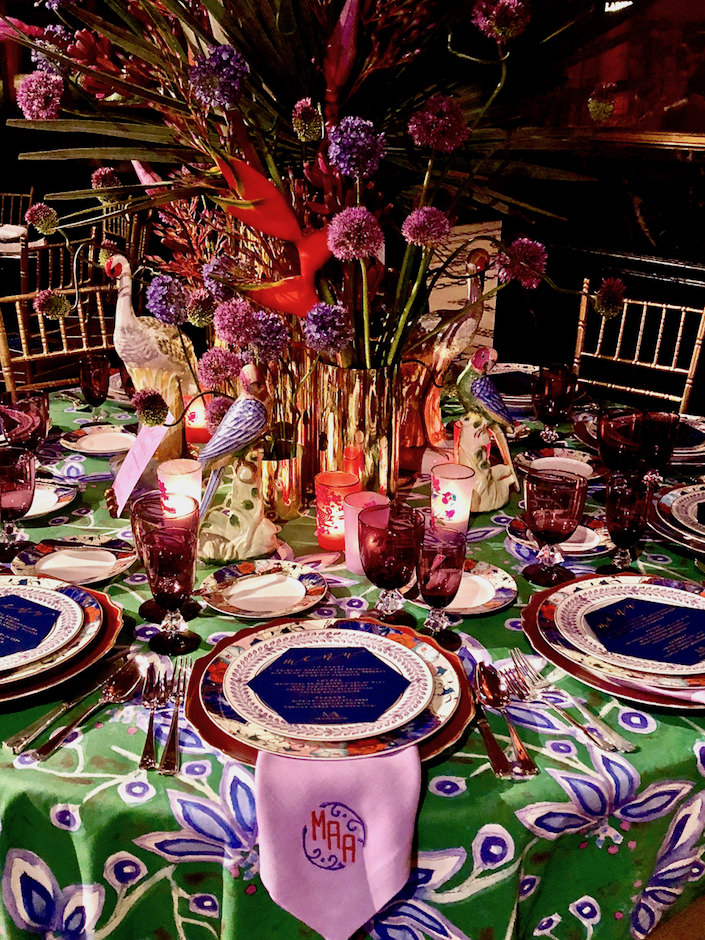 Beautiful custom monogrammed napkins from Leontine Linens added an elegant pop, enchoing the fabric and centerpiece by Metaflora.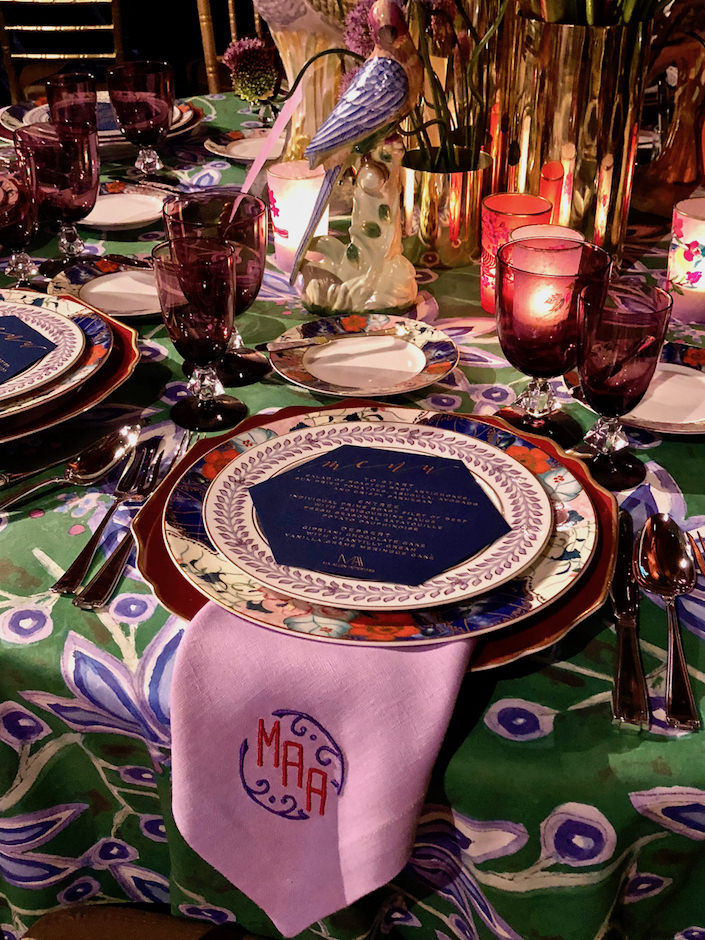 Timeless antiques and china were updated with a fresh color scheme on Jared Hughes's lovely table.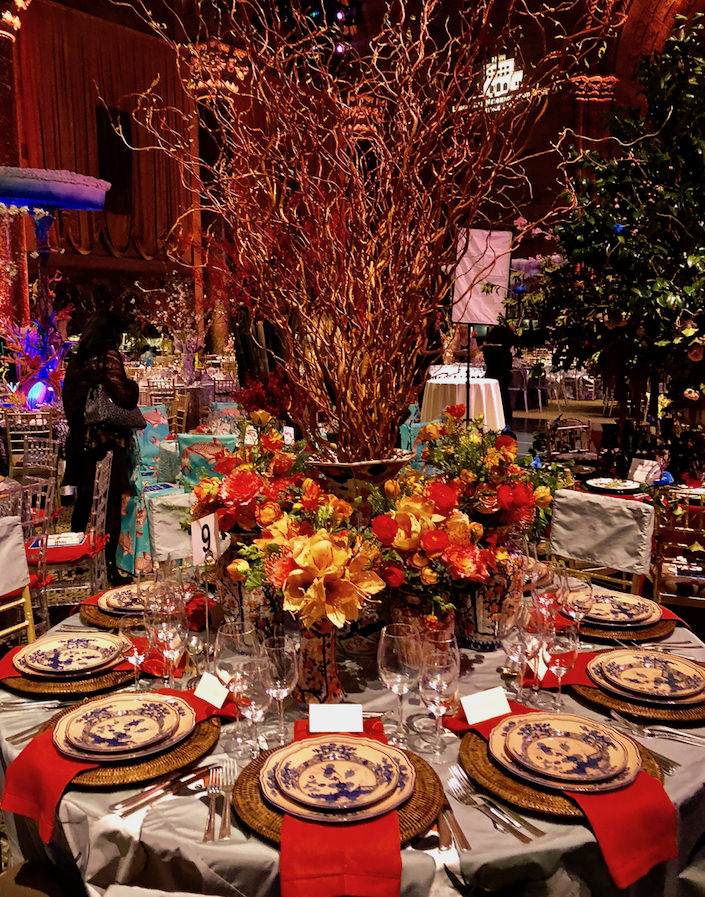 On a water themed tablecloth handpainted by Monteigne Mathison, Jared included
photo via Jared Hughes
beautiful Ginori Oriente Italiano china and stunning large antique Imari vases from William Word.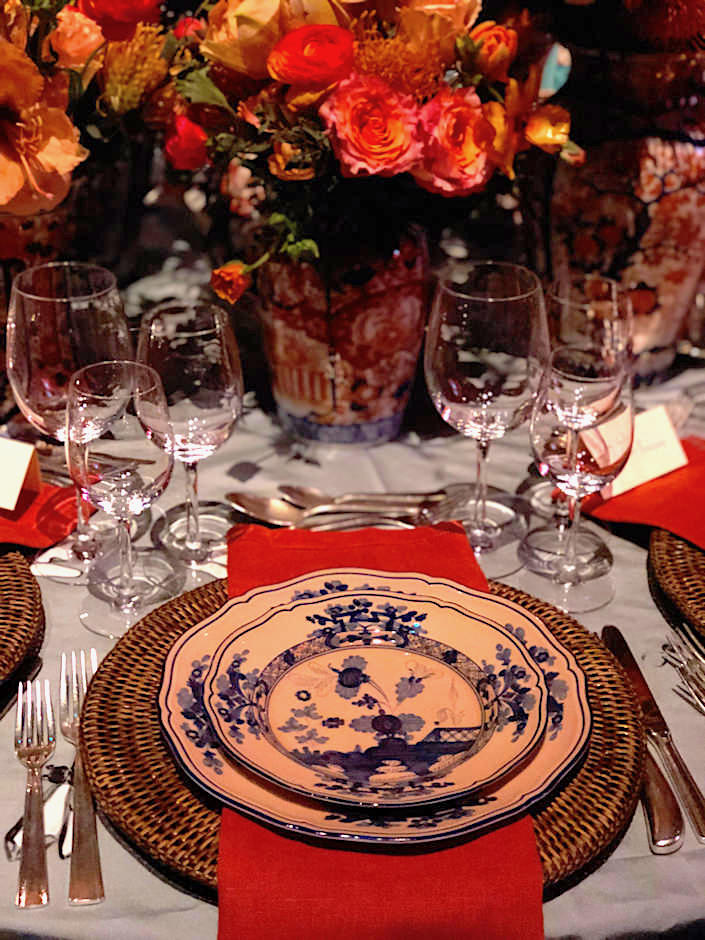 all photos by Stacey Bewkes for Quintessence unless otherwise indicated
Stop back next time for more from the 2018 Lenox Hill Neighborhood House gala.
SaveSave
SaveSave
SaveSave
SaveSave