Today we'll take a last look at more of the tables from the Lenox Hill Gala 2018 before we move on to see what was new at Tabletop Market. A hint of spring was seen at Cathy Kincaid's table where a centerpiece by Sebastian Li set the tone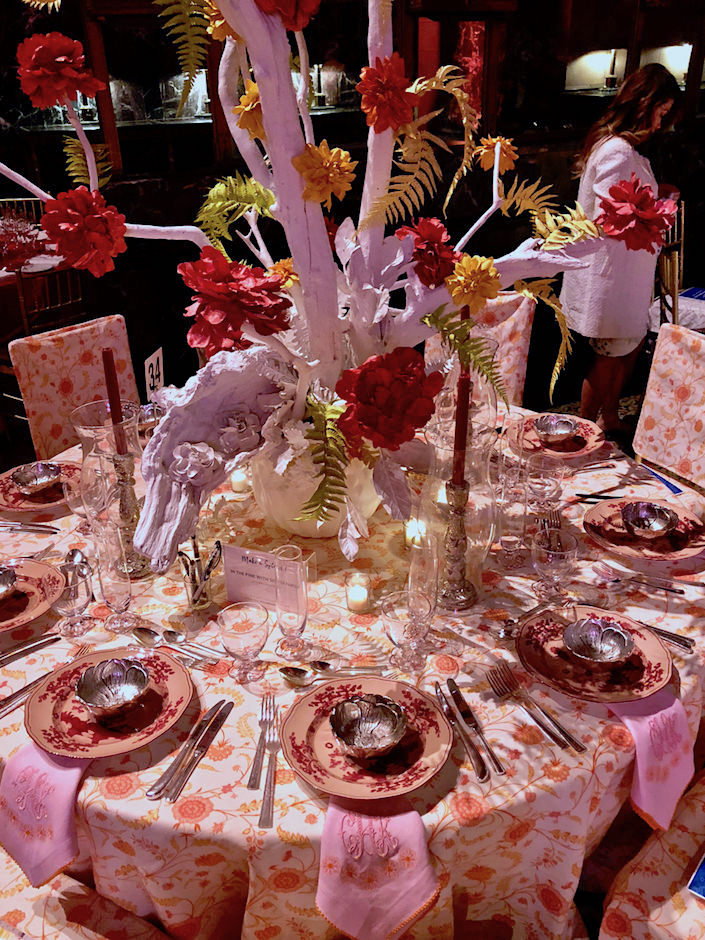 with a tablecloth in Sister Parish Design's Titania, Ginori plates and Charmajesty  monogrammed napkins completing the pretty picture.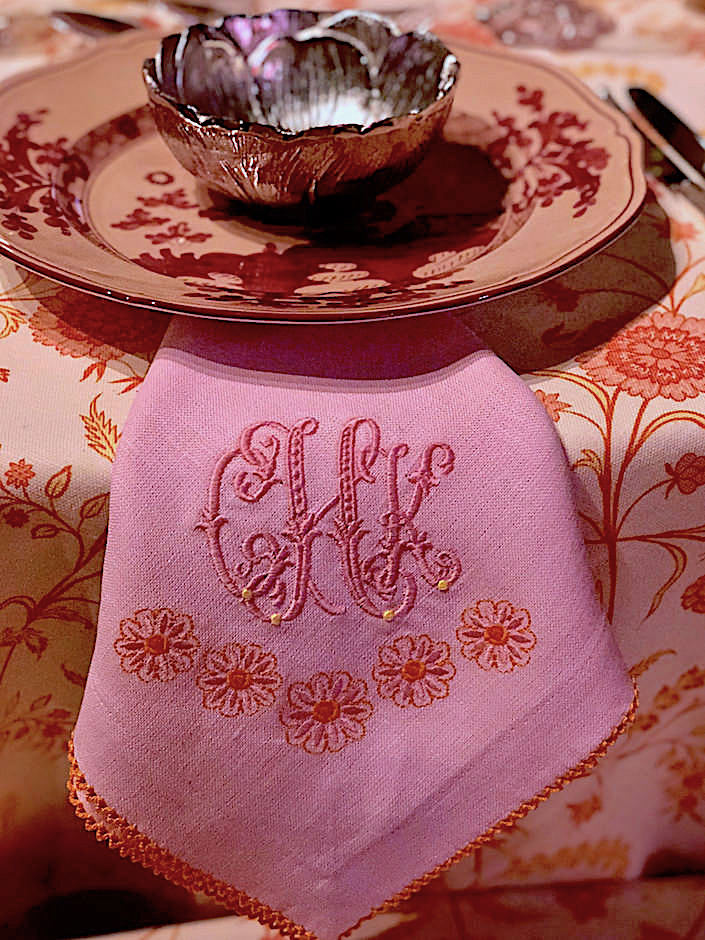 Designer Kristin McCory worked with Stellar Style Events to create her amazing centerpiece.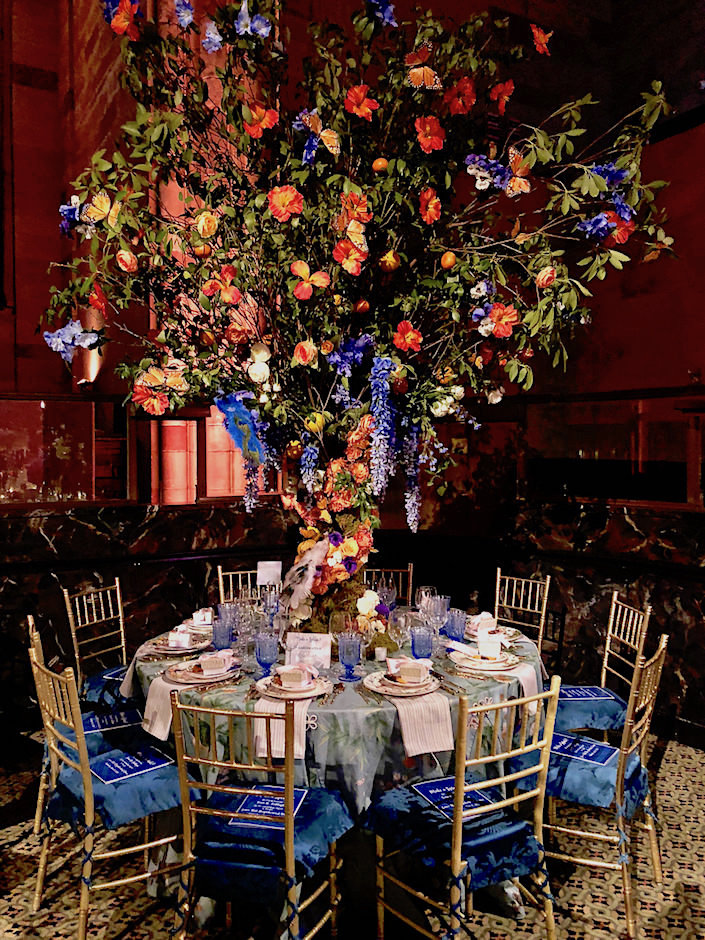 A tablecloth of Schumacher's Brighton Pavillion by Miles Redd mixed beautifully with Pottery Barn chinoiserie dinnerware (sadly no longer available).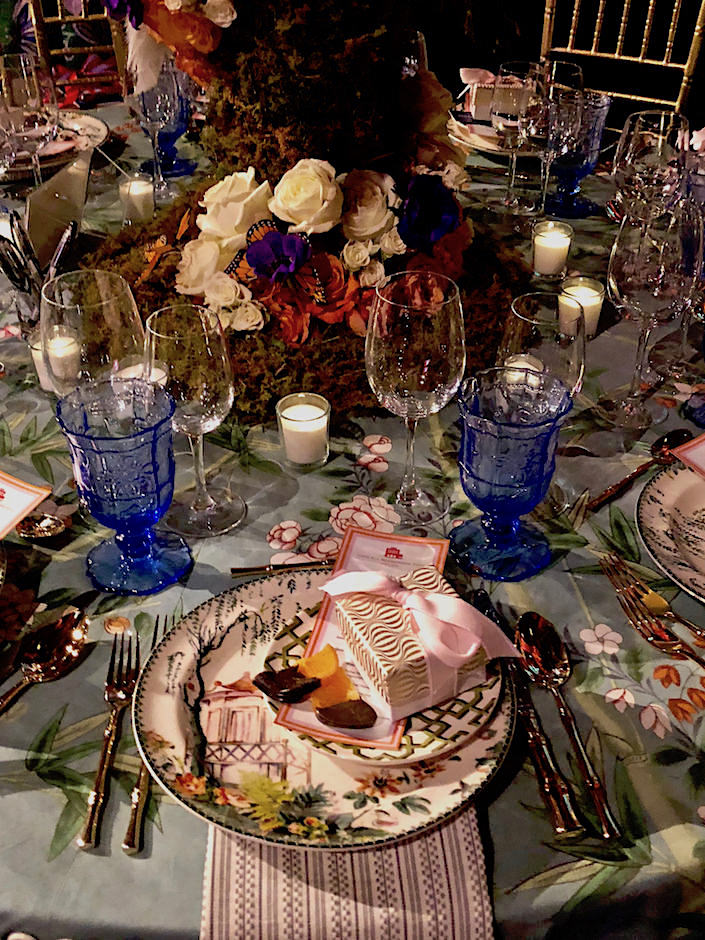 Jonathan Savage counted on his preening peacock to make a splash, atop his smashing centerpiece by Lewis Miller.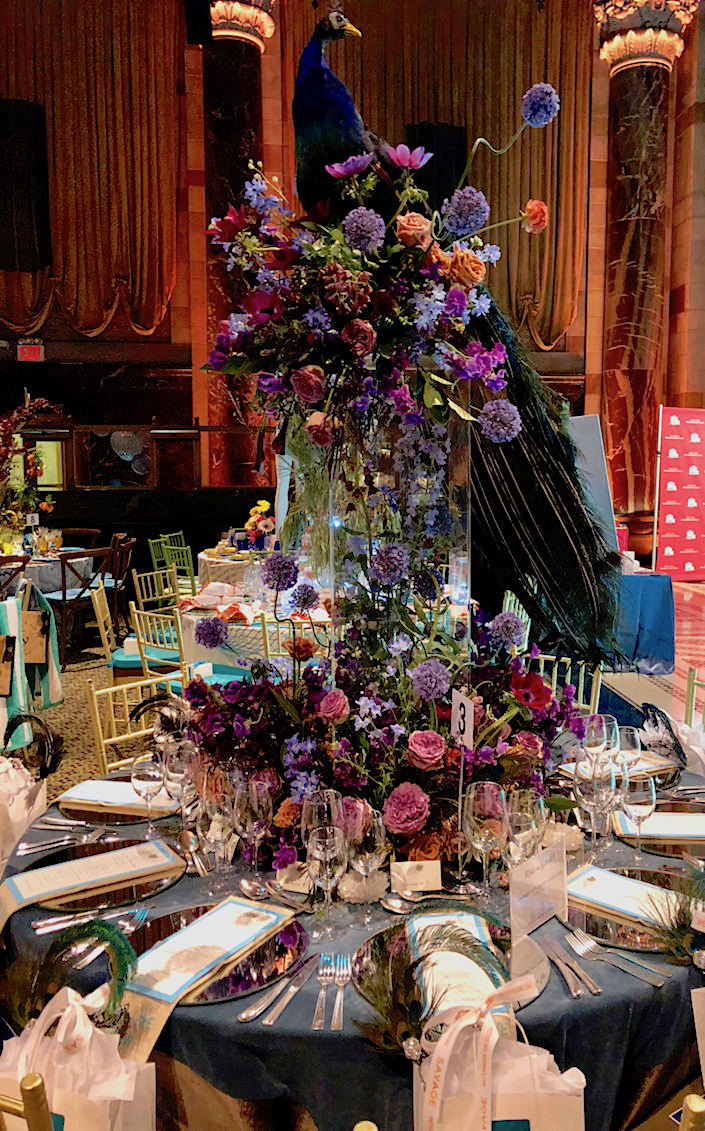 Chargers from West Elm and his own Savage Towels helped create his lush bird's eye view.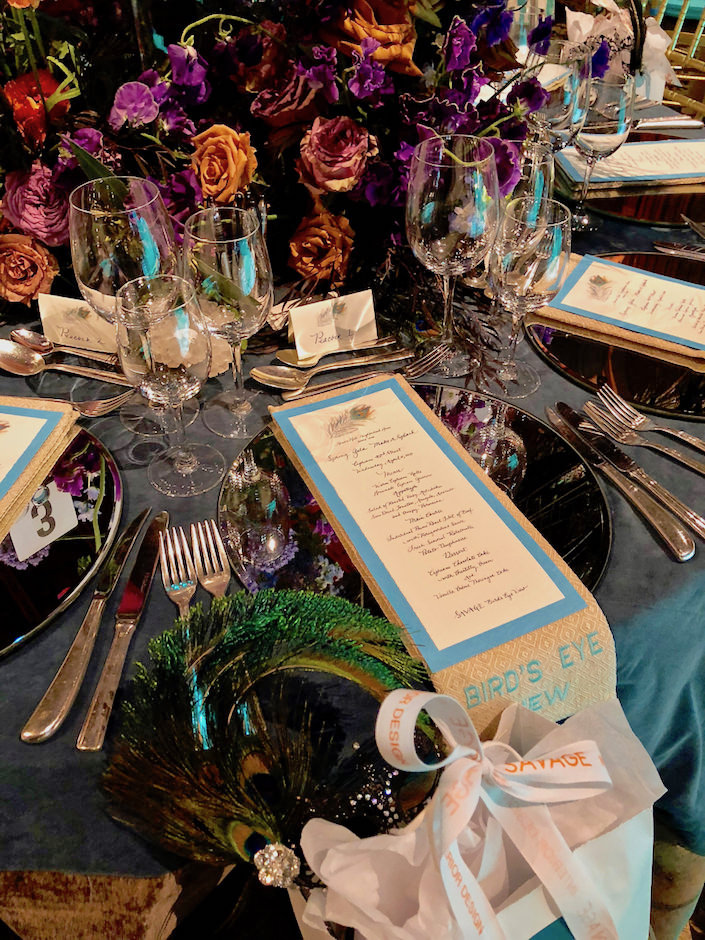 Cullman & Kravis cleverly interpreted the evening's theme Make a Splash with paint.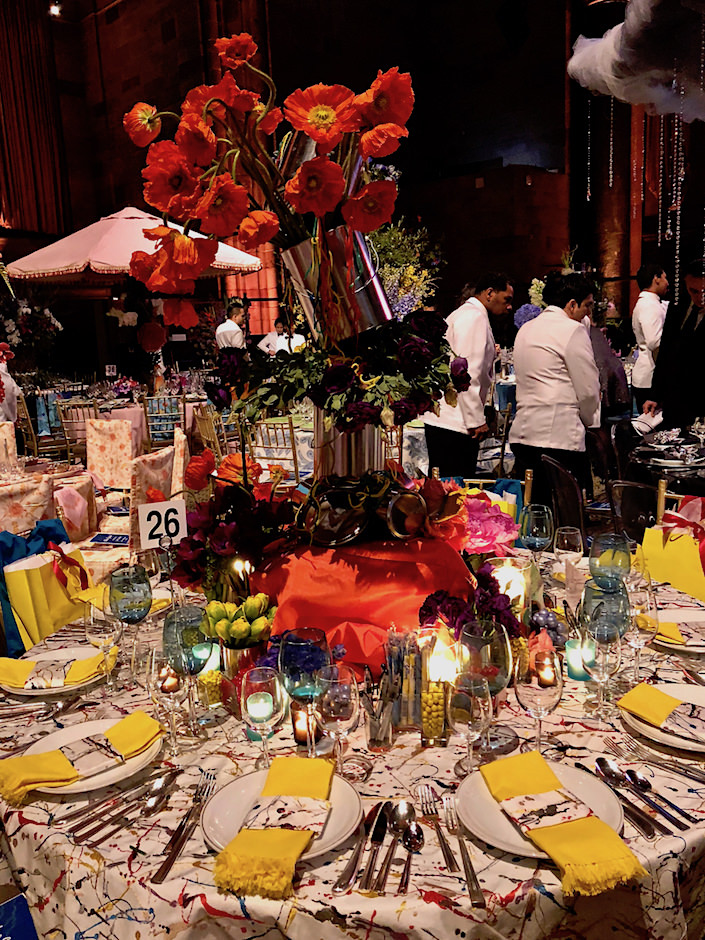 The poppy filled shiny paint can centerpiece (still not quite sure how it remained standing – another angle below)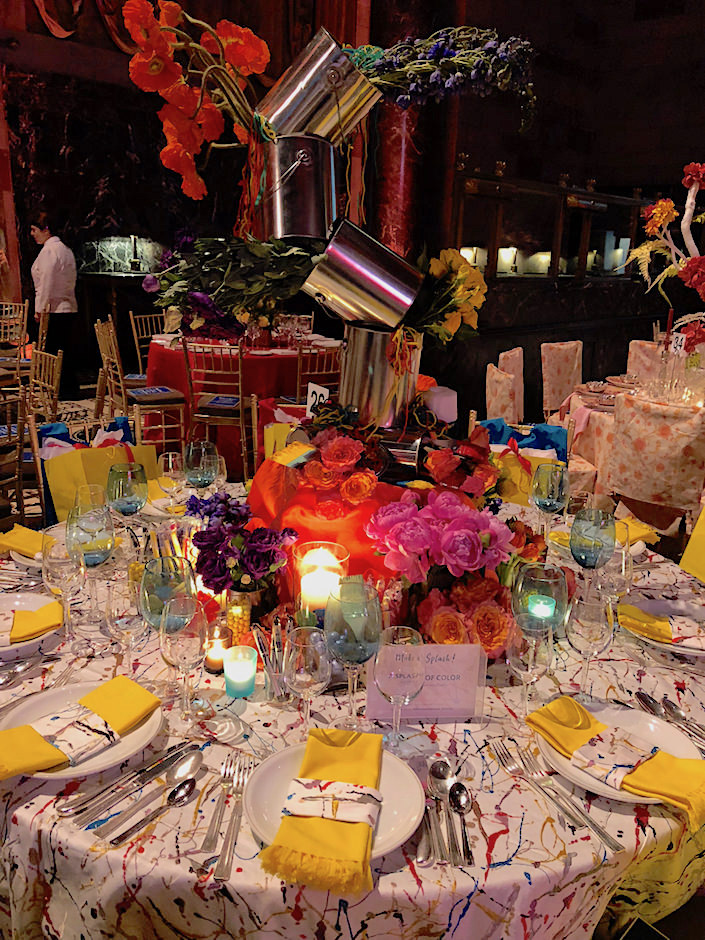 was a great contrast to the fabulous tablecloth – all embroidered as paint splatter – so creative and colorful!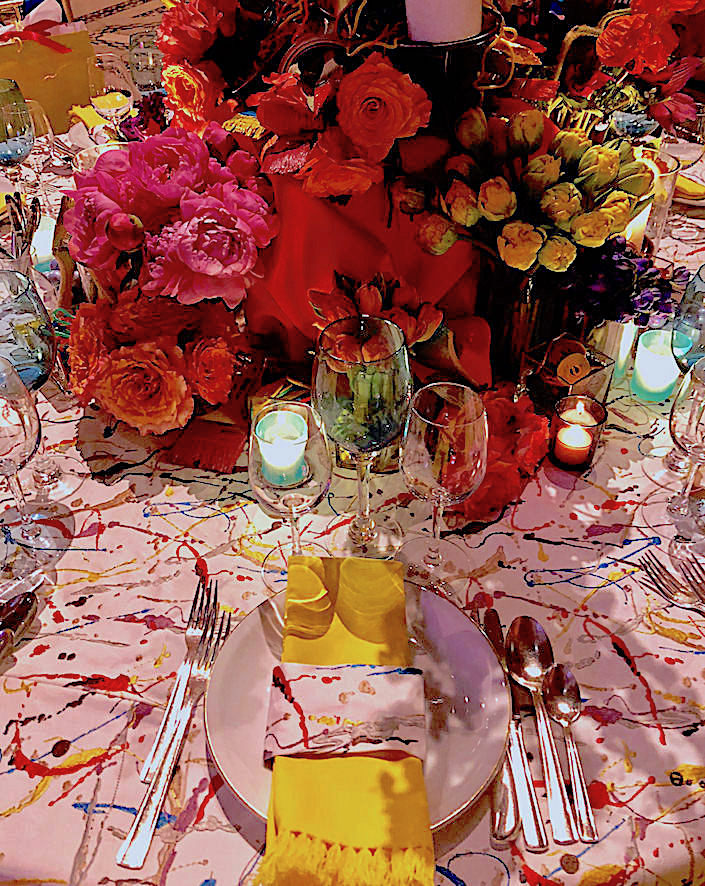 Sam Allen harnessed the theme through Carleton V's bold scaled Sea island fabric.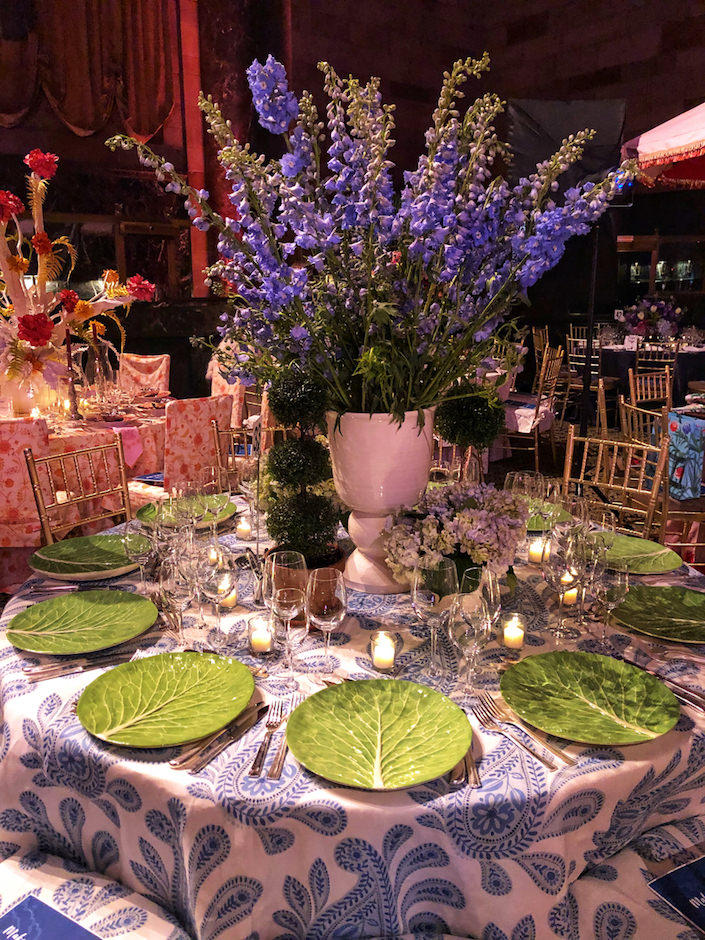 Christopher Spitzmiller's large urn and faux bois cachepots mixed with iconic Dodie Thayer plates for a fresh breath of spring.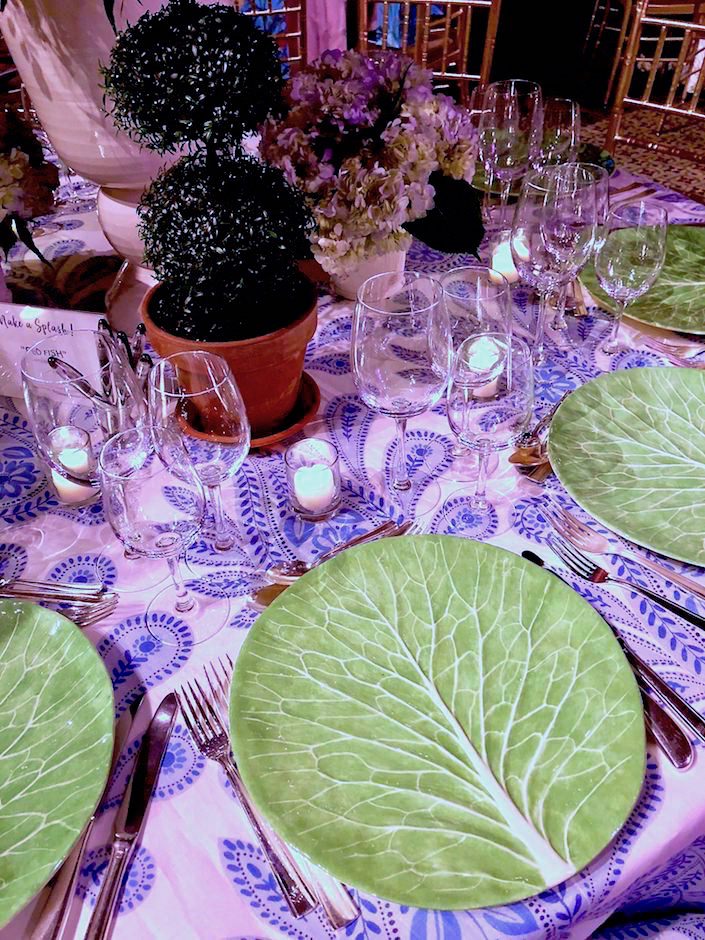 On a tablecloth of Manuel Canovas' Compiegne, a pattern based on a 17th century tapestry, Margaret Kirkland chose Julia B linens and dinnerware to create an Italian countryside inspired scene.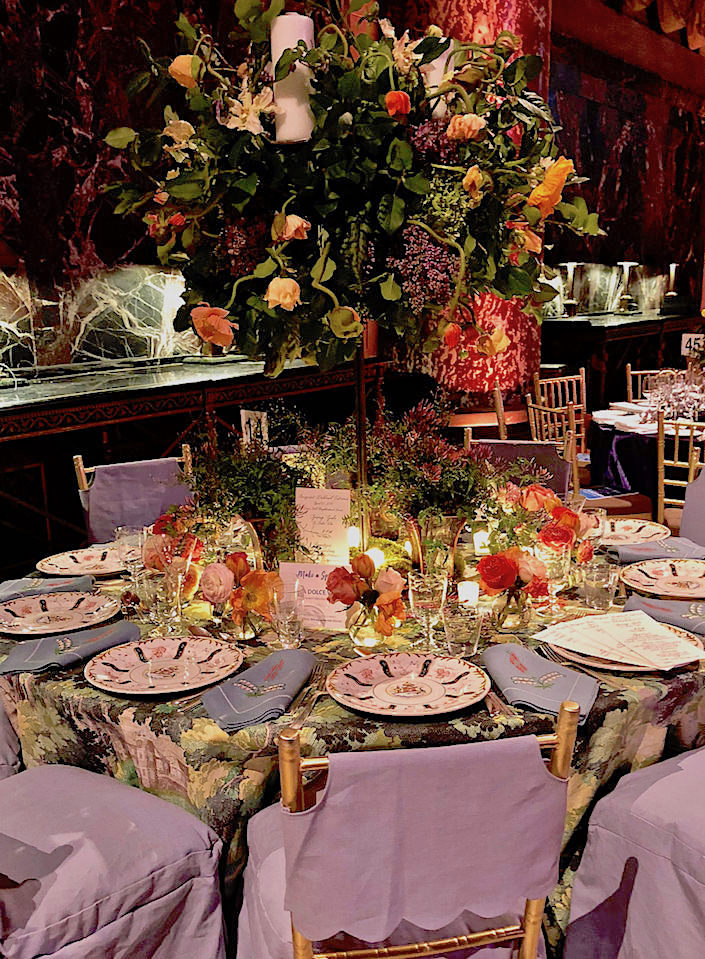 Glasses by Bunny Williams for Ballard and charming scalloped chair covers completed the fantasy.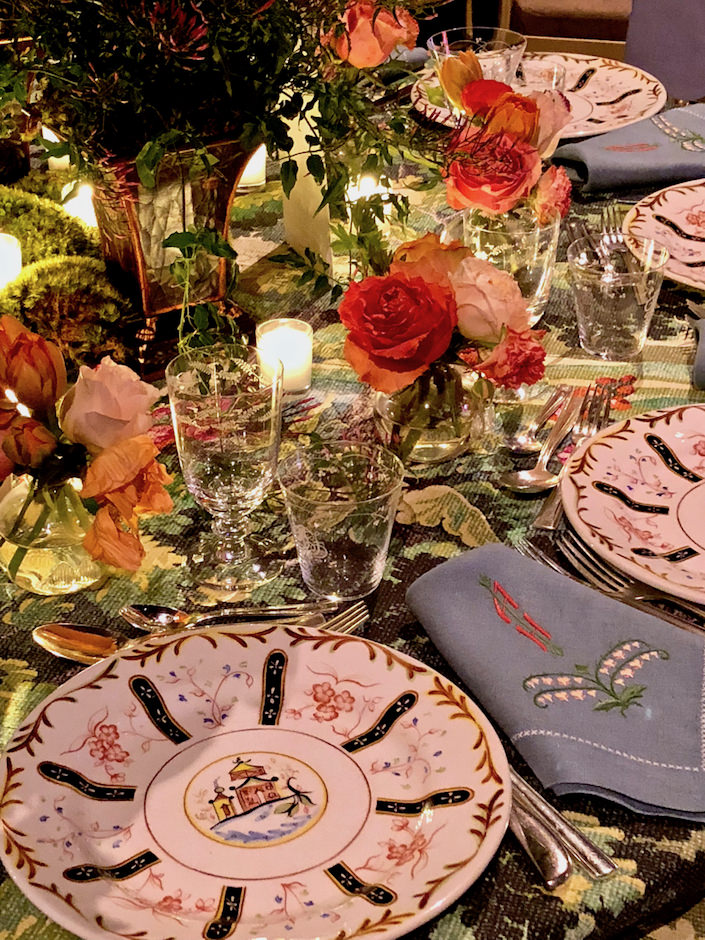 Petit Lau made a splash with her under the sea table inspired by the Thibaut Napali which include's Petit's signature vermillion red/orange.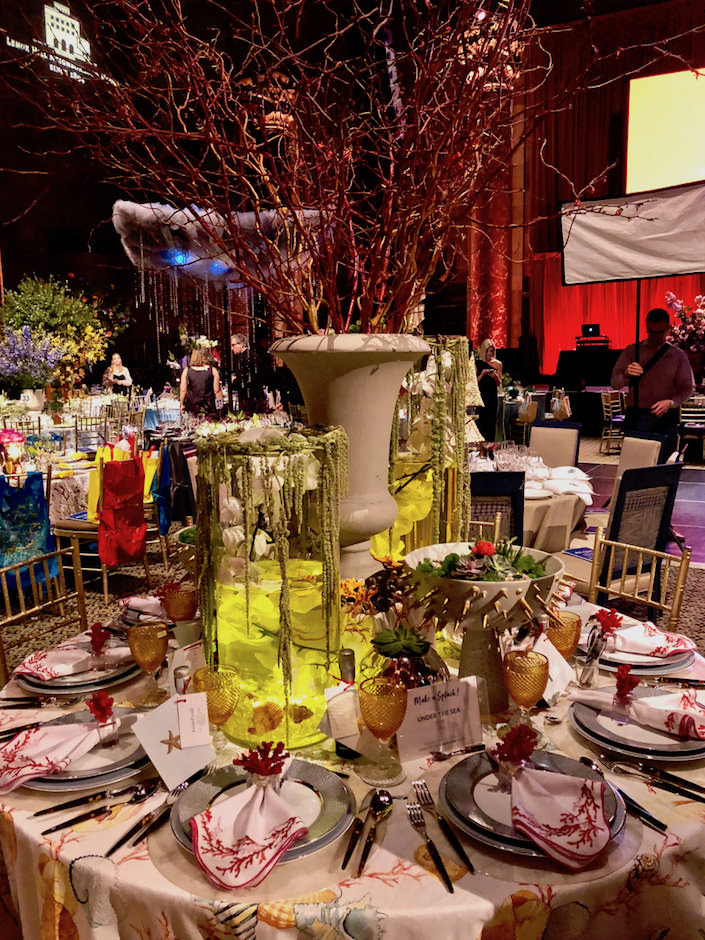 L'Objet Celestial bowls resembling sea urchins and Christofle Uni Mirror Ball Vases filled with succulents created a dialogue of matte and shiny in front of a centerpiece of orchids amaranth and quince by Petal by Pedal. Texture was added with Royal Limoges Makassar plates, Kim Seybert Capiz placemats and Vista Alegre goblets.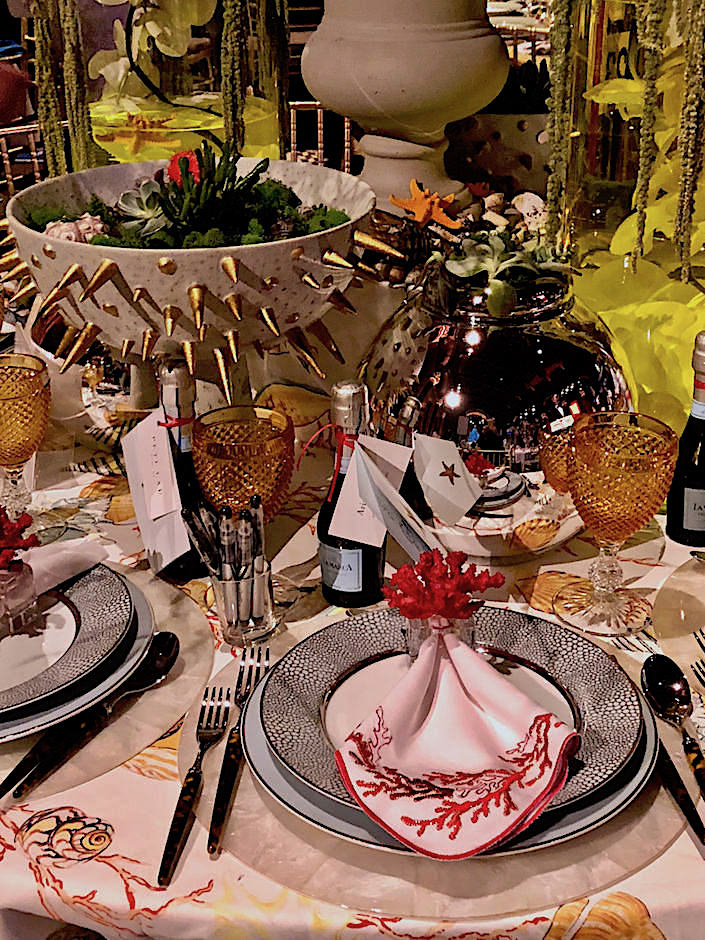 Timothy Brown referenced a very big splash – the Great Wave off Kanagawa (immortalized in the famous Hokusai painting) for his table.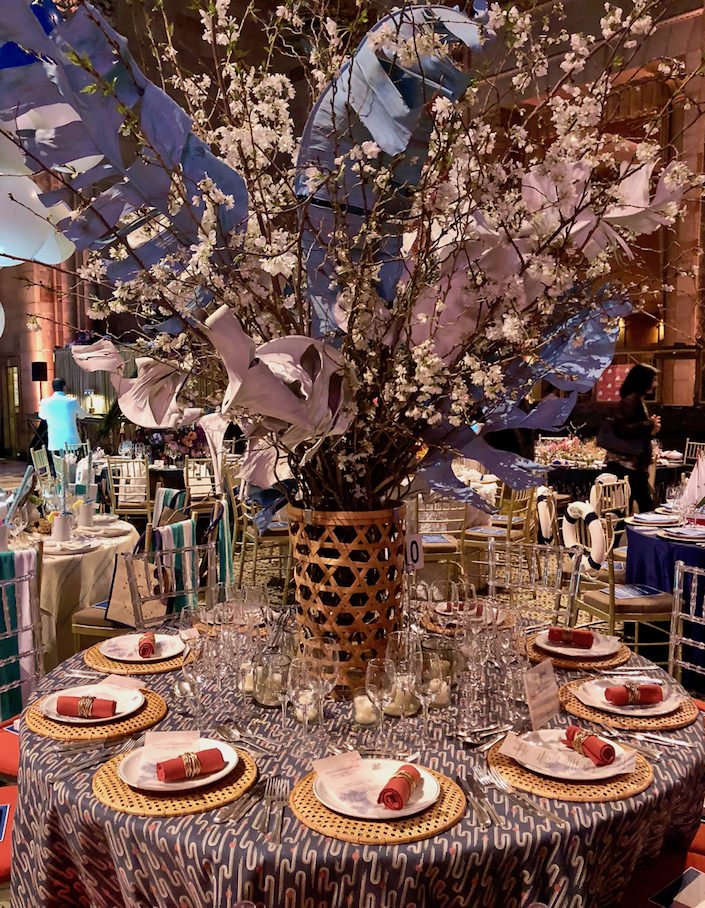 A giant centerpiece of cherry blossom and flamingo leaves by Amy Eisenstadt, perhaps relating to the current Sakura blossoming, and Zak and Fox's handsome new Roto, with bamboo accents, lent Timothy's table an understated eastern flair.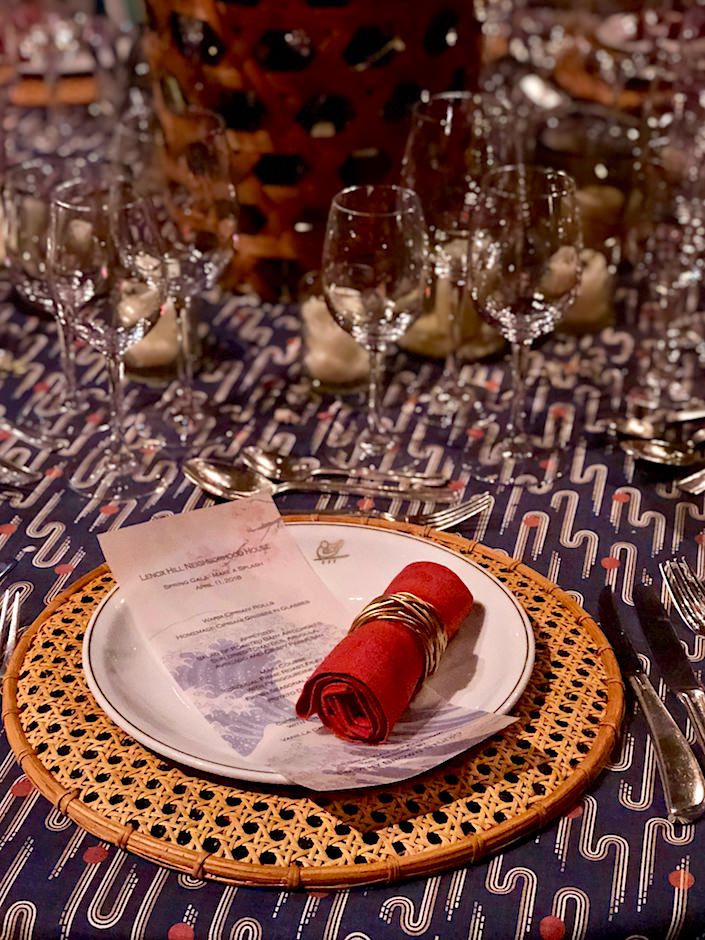 Designer Nicole Fuller teamed with luxury Italian artisan site, Artemest, to create her Isola Bella Paradise table. Vine covered chairs and tree-like centerpiece enveloped a table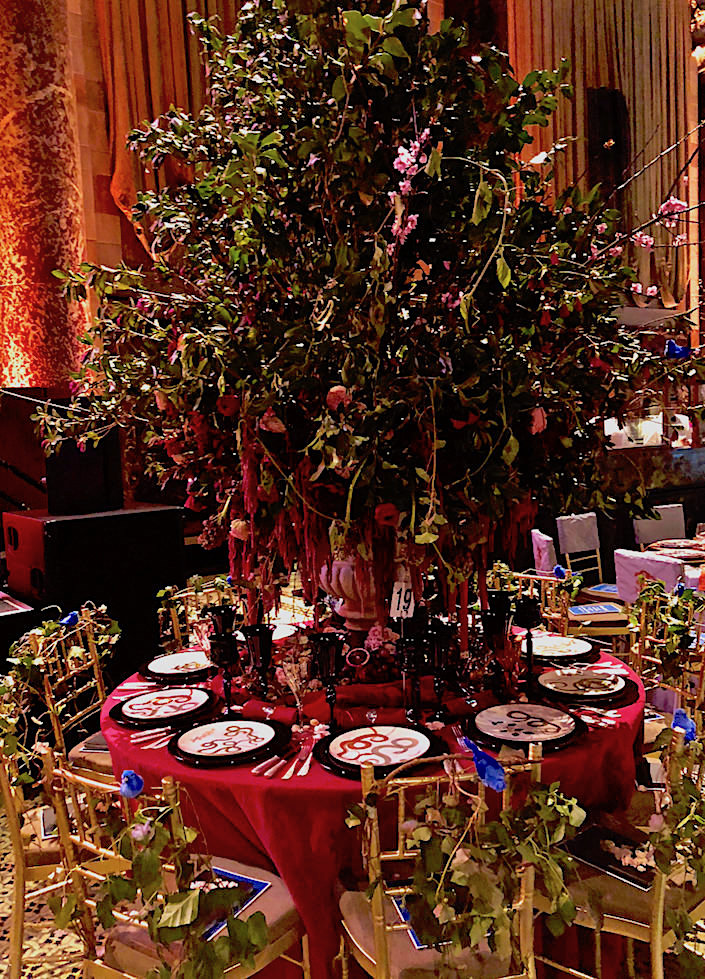 set with selections from the site.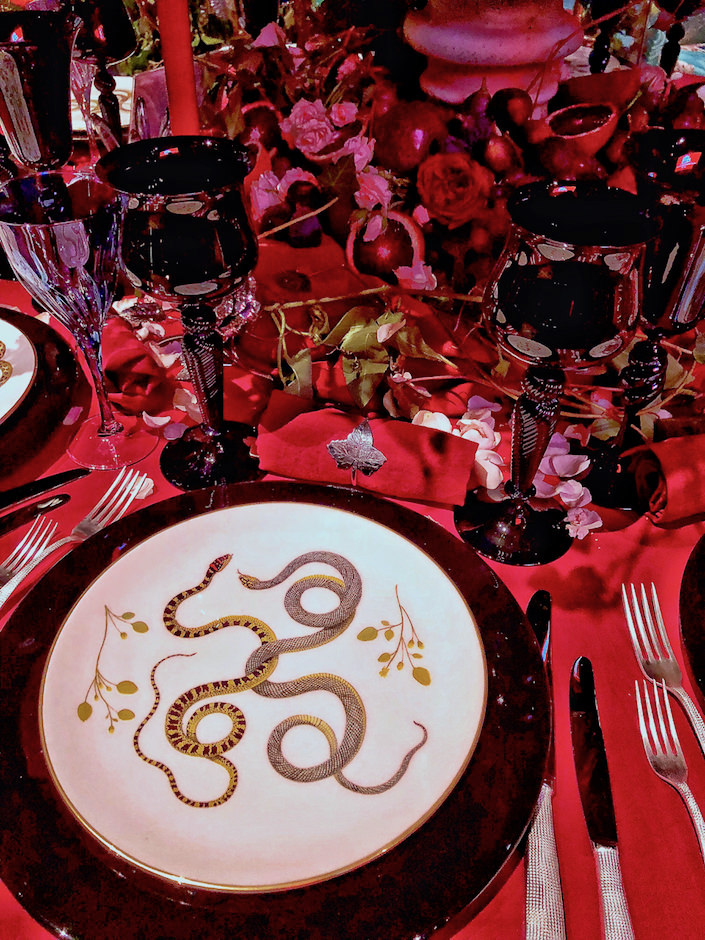 Kim Seybert constructed her table around a blossoming tree centerpiece,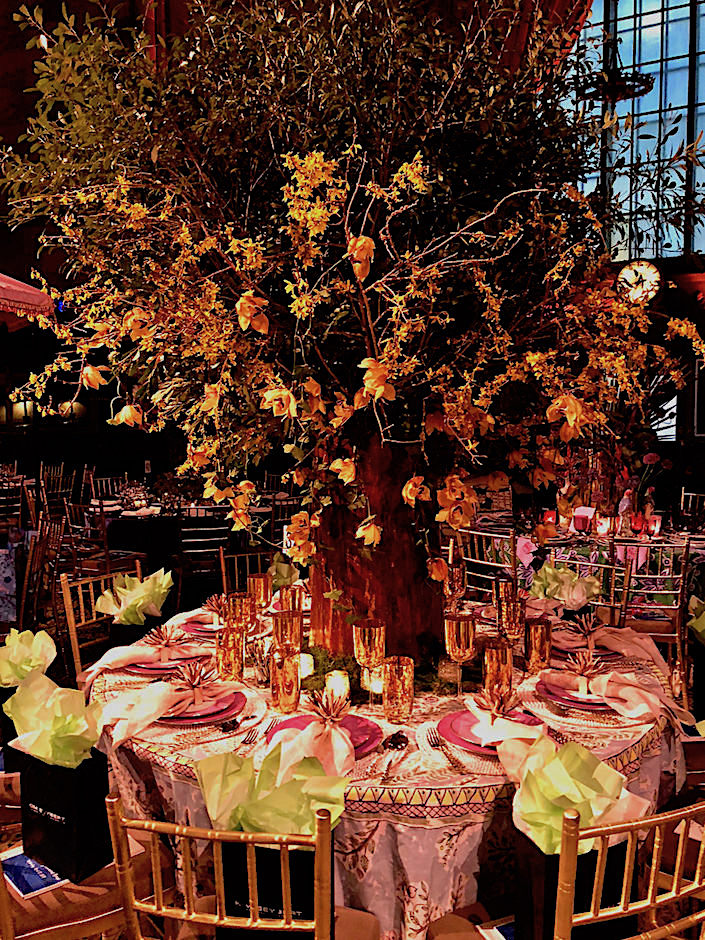 culling from her copious tabletop collections.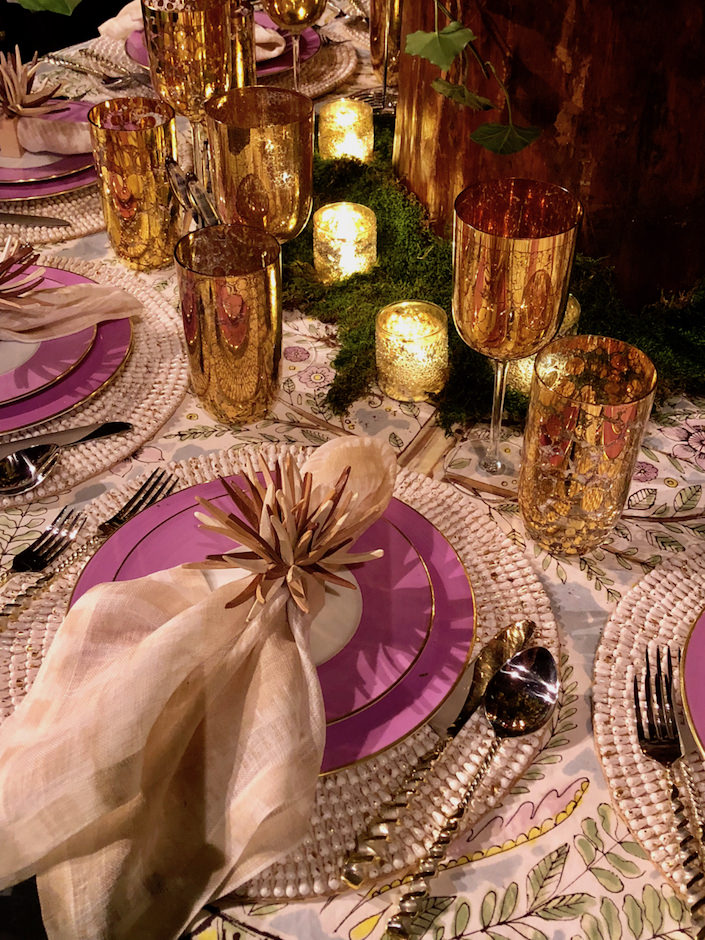 Jenny Kirschner dove under the sea to make a splash at Lenox Hill.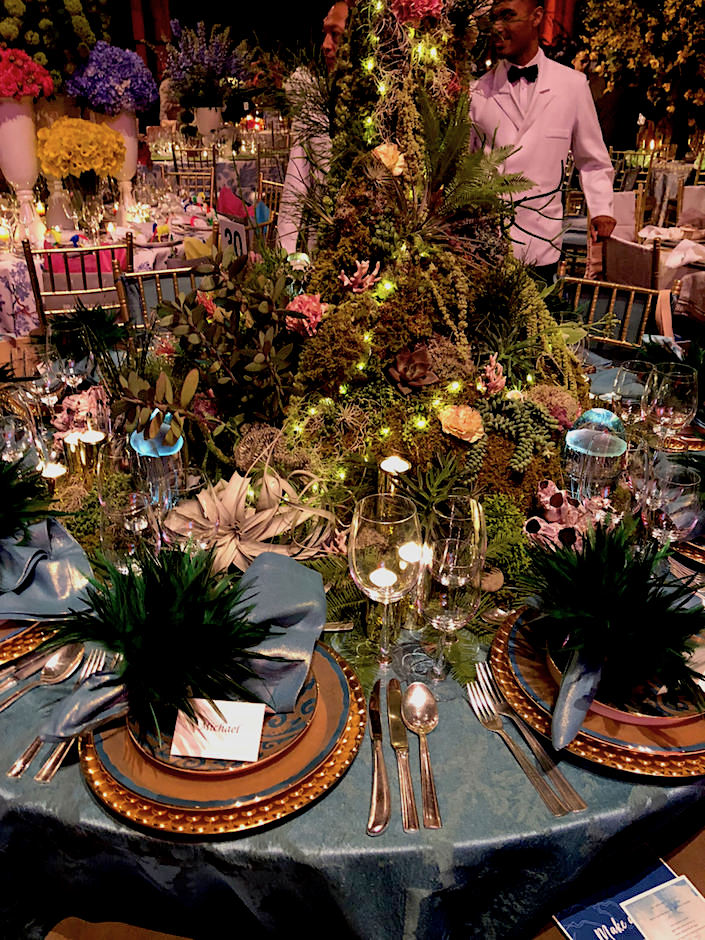 A lush centerpiece by Polux Fleuriste, fabrics from Rubelli, chargers from l'Objet with plates from their collaboration with Fortuny and flowing jellyfish sculptures from Dynasty Gallery melded for a sumptuous underwater scene.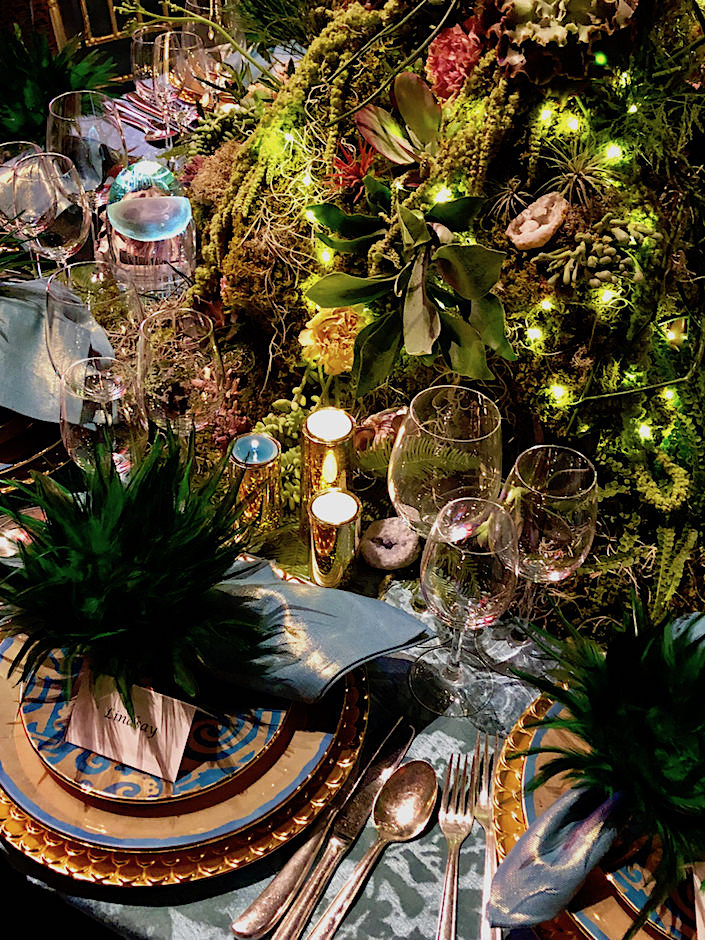 Natalie Kraiem enlisted Marzan Flowers to create a floating garden as centerpiece, inspired by the flowers in Giverny.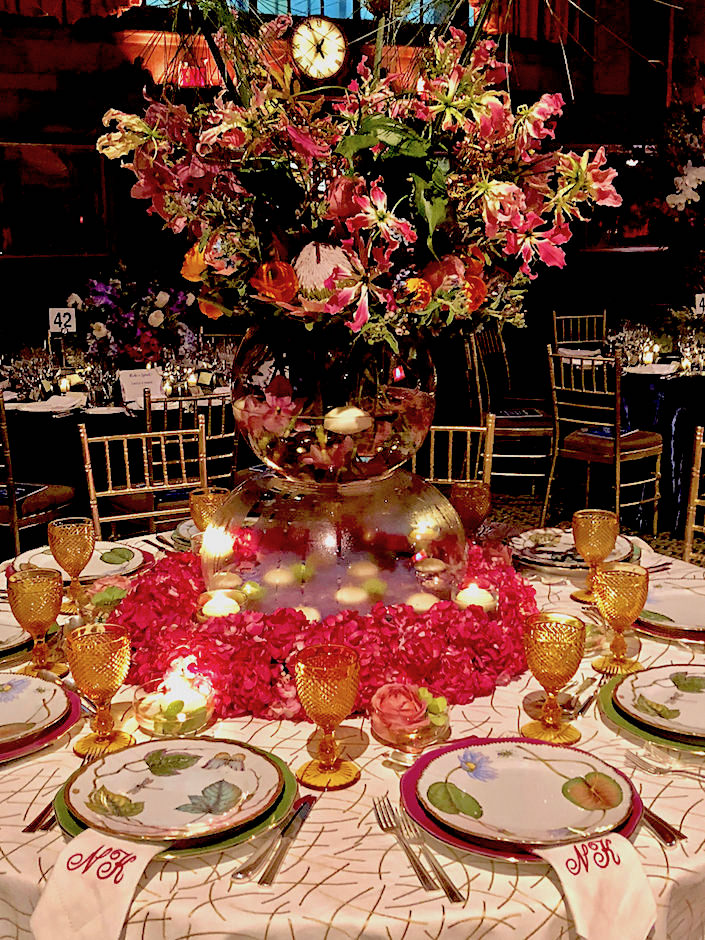 Anna Weatherley plates, Herend chargers and Vista Allegra goblets sat on a tablecloth of Kravet fabric.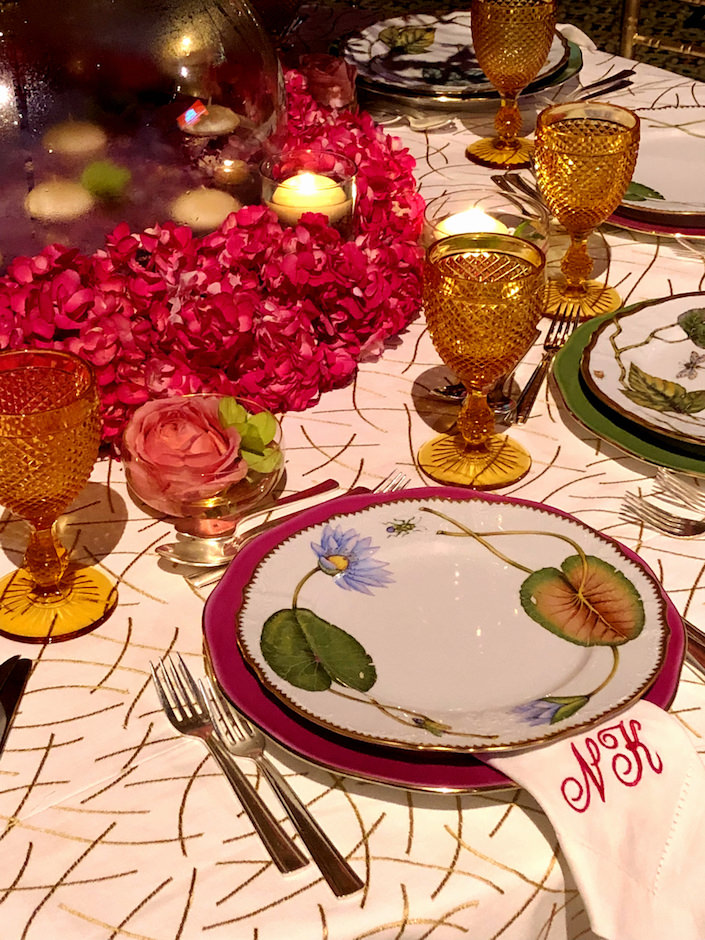 Rio Hamilton's artistic water themed table featured a lucite centerpiece by LAMOU,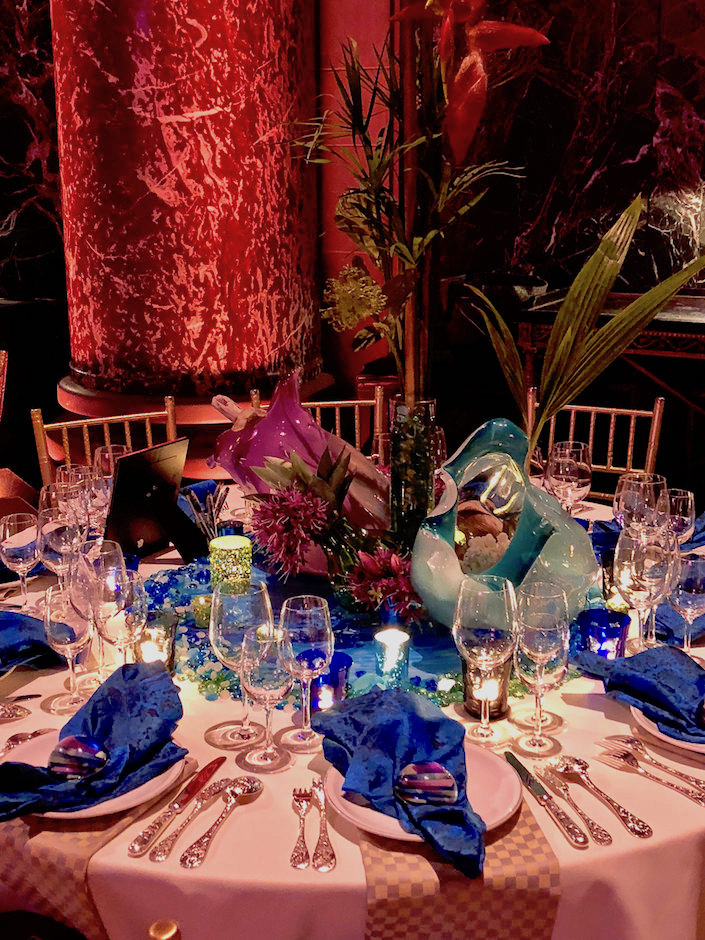 striking handblown glass vessels by Jeremy Silva, Marcel Wanders for Christofle silverware, napkins from Beacon Hill silk and Frette under plate napkins.
all photos by Stacey Bewkes for Quintessence