Ever since I saw last year's Designer Showhouse at Sotheby's, I knew Max Sinsteden and Catherine Olasky of Olasky & Sinsteden were a young team to watch. With pedigreed design backgrounds and well-traveled experience, their stylish mix of updated traditional is sophisticated and refreshing. I only had to meet Max once (although I am happy to say I have now seen him on numerous occasions) to realize that he lives large – his passion for design and enthusiasm for a life well lived is upbeat and contagious. So while it might be surprising to learn that he lives in a 525 feet rental apartment, the fact that it is supremely chic, comfortable and eminently livable is certainly not a surprise in the least!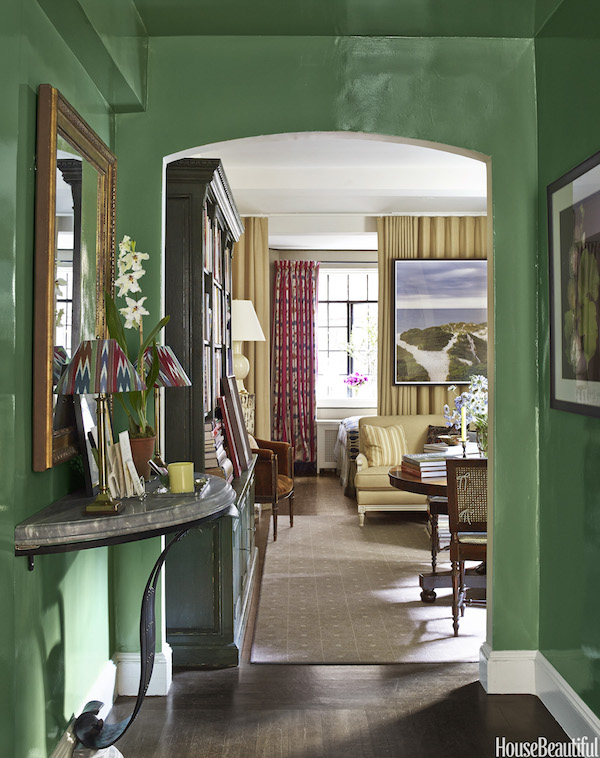 The July/August House Beautiful is their annual Small Spaces issue and I am delighted to share a sneak peek at Max's feature which is chock full of big ideas for little rooms. Max's apartment is blessed with good bones and pre-war details such as the entry arch and great large casement windows, above. While Max maintained a more neutral palette for the main living space, below, the entry is set apart with Fine Paints of Europe's glossy and enveloping Cave Creek. The jewel-like space then opens up into the light-filled studio painted in Benjamin Moore's soothing Rich Cream.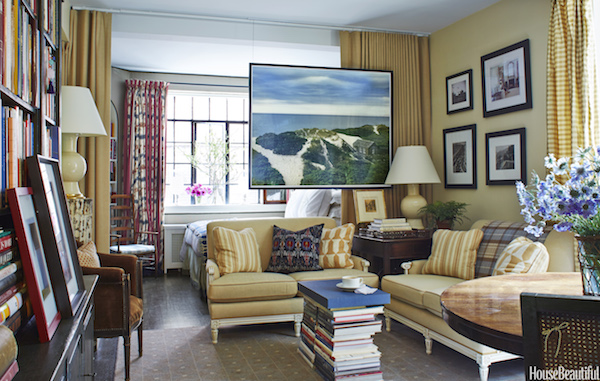 Creating a unified color scheme with the walls, Max chose Claremont's Serge Antique for the custom love seats and curtains, which cleverly cordon off the sleeping area. The curtains remain open during the day and for entertaining but can be closed for a cozy night's sleep, the backside matching the striped upholstered walls of the bedroom space. Another ingenious space-separating illusion is the large photo of Nantucket's Steppes Beach by friend Read McKendree. Hanging from almost invisible wires, it feels a part of the dividing curtain wall. And while the space may be small, Max didn't skimp on the elegant furnishings which appeal to his classic tastes. Christopher Spitzmiller lamps, antiques, piles of coffee table books and elegant fabrics such as the unlined Claremont silk check at the front window all add to the rich decorative and layered scheme, an approach which Max credits mentor and former boss Charlotte Moss for instilling in his design education. He suggests that living chicly in a small space involves knowing what goes where. "Pretend you're living on a boat. Everything should have its place. Without organization you're sunk!"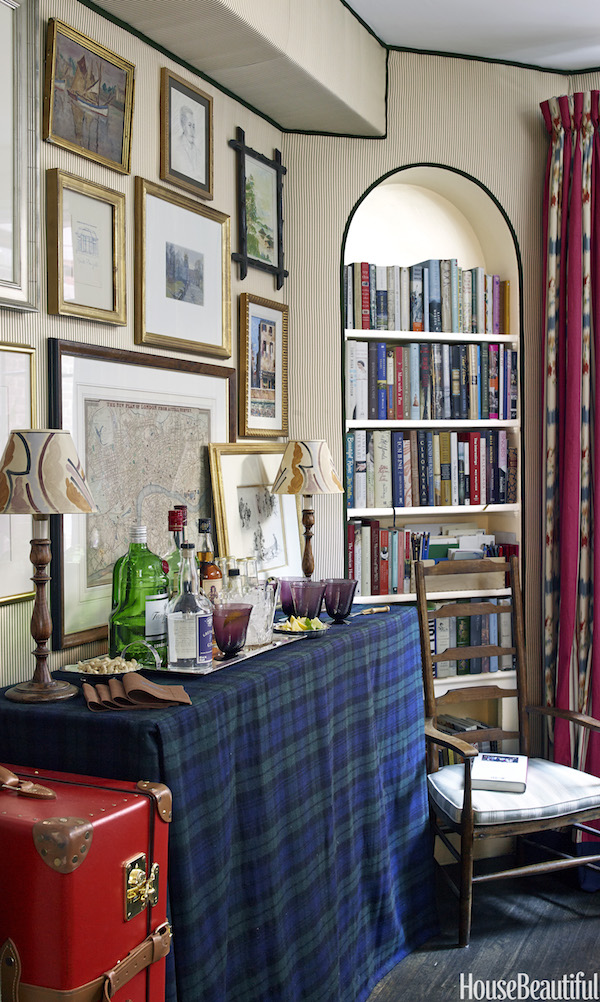 And as for decorating small spaces Max suggests "Be mindful of your colors and schemes as a whole, but make sure to give each space its own identity, "as he did in the über charming bedroom corner above where his art and book collections meet convivial bar. Details such as the Hyman Hendler grosgrain trim on the upholstered walls and pops of color as in the tartan bar cover and Claremont Guermantes curtains (hand-me-downs from Charlotte Moss – my kind of boss!!) help to articulate the space. Max is an avid and frequent host but he warns that in a small space, "There is no kitchen to shove the dirty dishes in when people arrive, so you must plan to be extra tidy and extra prepared."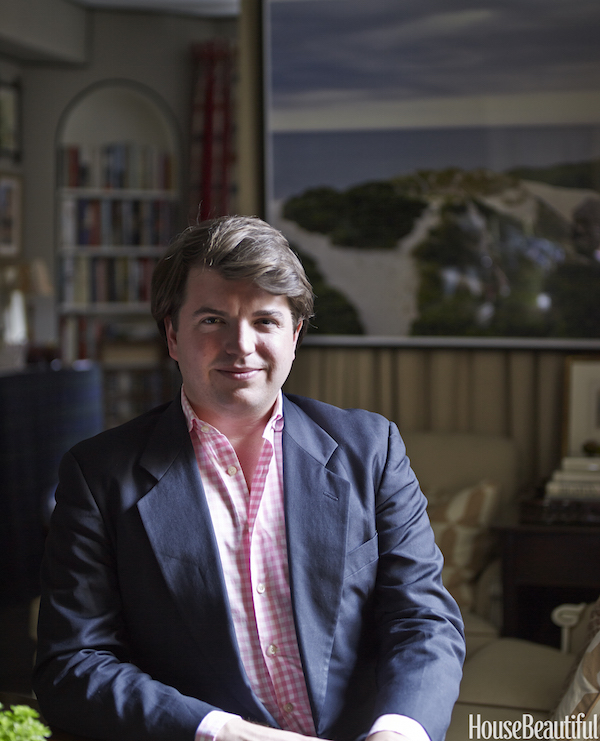 When entertaining, he insists you must know your strengths and weaknesses. "Those of us who are fortunate enough to live in New York often end up with a fraction of the space we might have elsewhere but we also have the advantage of so much right at our fingertips. When I'm in places where I have space to spread out (and make a mess!) I might make almost everything from scratch and would be thrilled to host dinner. In New York I find that with some carefully selected prepared goodies mixed with some freshly made tidbits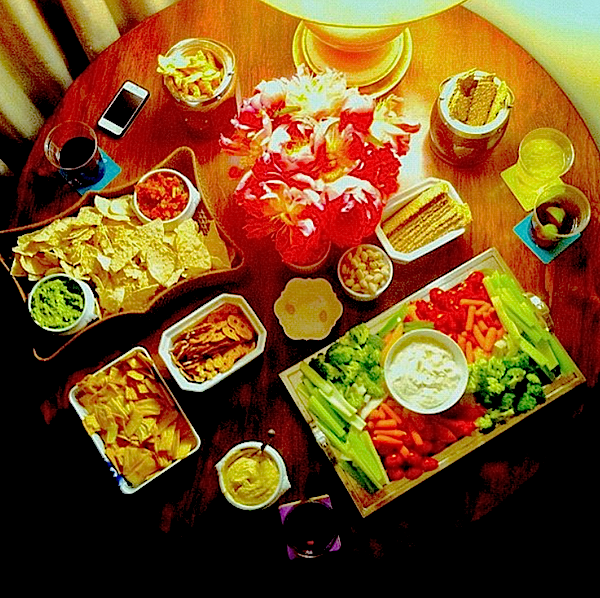 one can serve nice drinks with heavy hors d'oeuvres at home and then wander around the corner to any variety of restaurants for dinner. It gives guests a sense of the personal – we all love being in other people's homes – but it takes the edge off having to serve a whole dinner.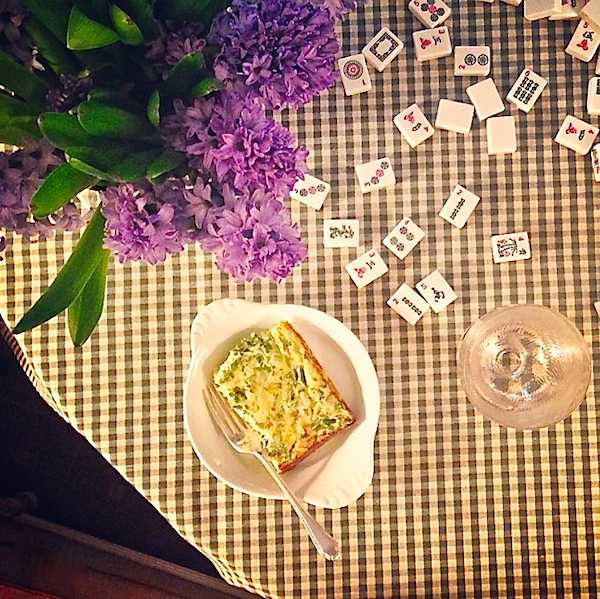 That said, I have loved hosting a little breakfast for some friends who are visiting from out of town (4 or maybe 5 people max) where I can easily make omelettes or fritattas for everyone and we can sit properly at the table. Or a dinner for four with a roast chicken in the oven and some oven roasted vegetables – things that are done when they come out of the oven and don't need sauces made up or last minute searing! Always keep a stocked bar and a hefty stack of great cocktail napkins – I leave a little stack on every surface adjacent to where I think someone might sit (makes it less likely I'll end up with rings on the furniture at the end of the night)." Thanks Max – waiting for my invite!!
Be on the lookout for the new House Beautiful in your mailbox and on newsstands next week!! In editor-in-chief Sophie Donelson's official first issue, you'll find a great line up of stylish small spaces! In the meantime, you can see a full tour of Max's apartment at House Beautiful online and read an interview with the designer.

All photos of House Beautiful feature by Ngoc Minh Ngo