One of my favorite tabletop fundraisers, the much anticipated 2017 Lenox Hill Neighborhood House Gala, was held Tuesday evening at Cipriani 42. Benefitting the wonderful work Lenox Hill NH does to improve the lives of thousands of New Yorkers in need, this year's event honored longtime Board member John Manice and designer and member of the Spring Gala Design Committee Geoffrey Bradfield. As always, the designers pulled out all the stops creating their tables, with this year's theme, "All That Glitters."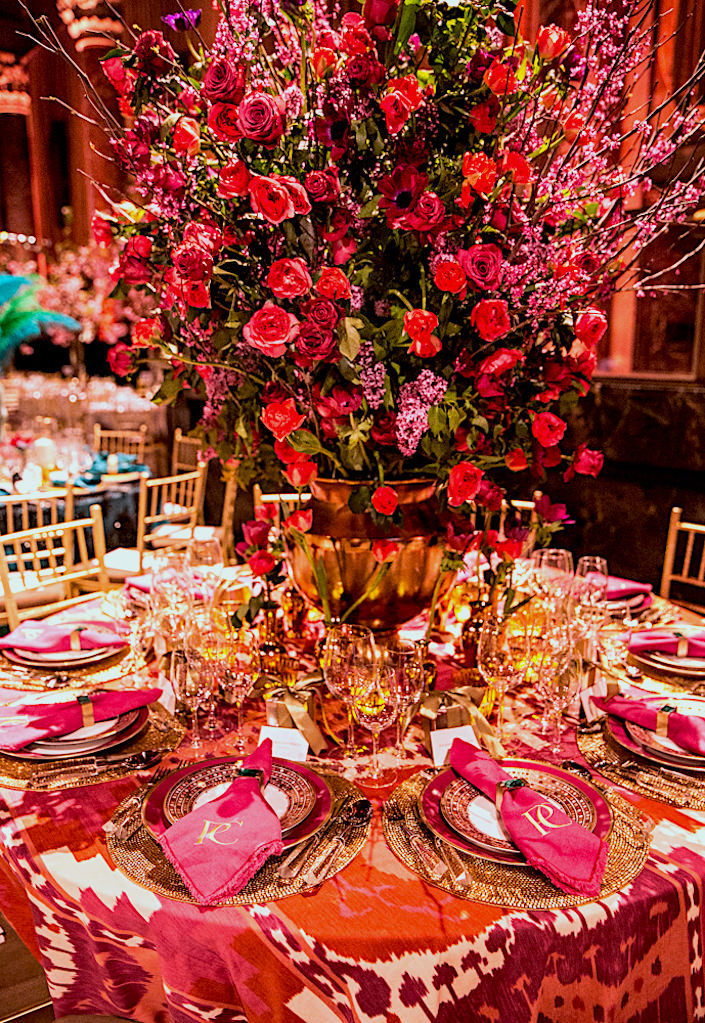 Stepping out of her more signature neutral palette, Paloma Contreras created a Jewel-Toned Fantasy. Anchored by Tom Borgese's spectacular floral arrangement, Paloma featured Schumacher's colorful Samarkand Ikat II.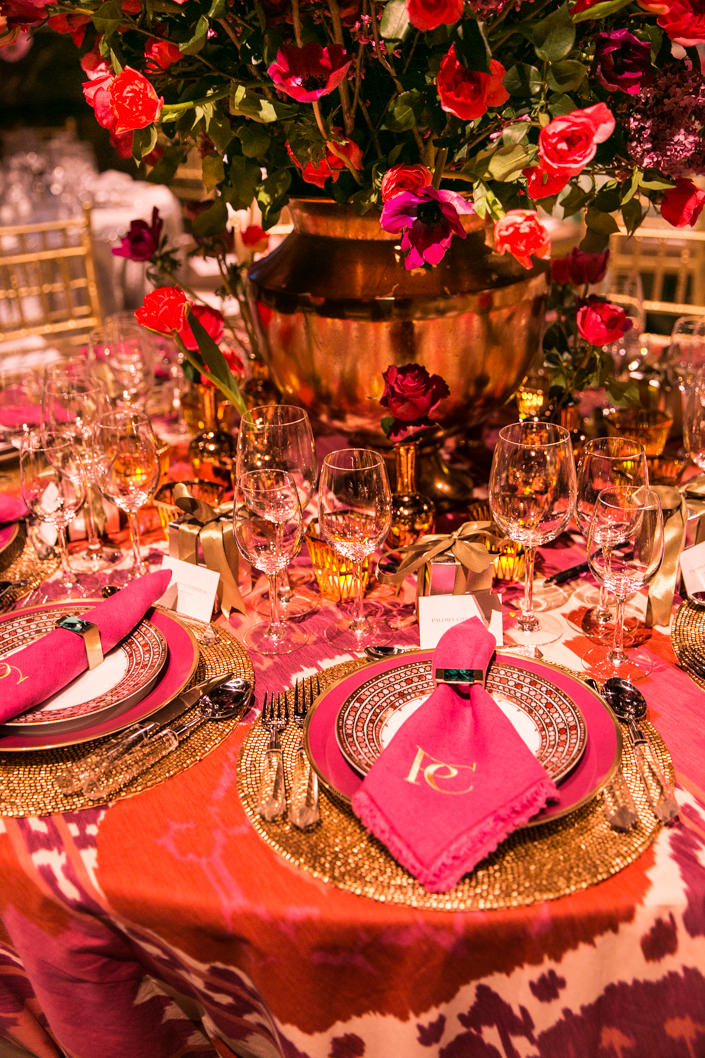 Robert Haviland & C. Parlon Syracuse plates and monogrammed napkins from A Bientot continued the color story. Kim Seybert glittering gold beaded mats, flatware and napkin rings with Ghidini 1961 votives from Artemest completed the rosy picture.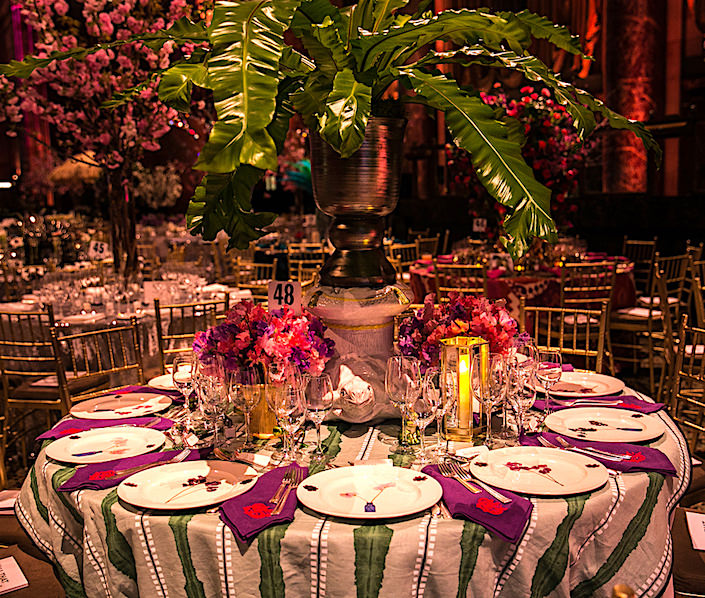 Christopher Spitzmiller's table "Sweet Spring! Sweet Peas!" was no doubt inspired by his glorious garden at Clove Brook Farm. Featuring his handmade urn, hurricanes and cachepots, Chris' table debuted his new Sweet Pea Plates, below, on a tablecloth of Templeton Madeleine fabric.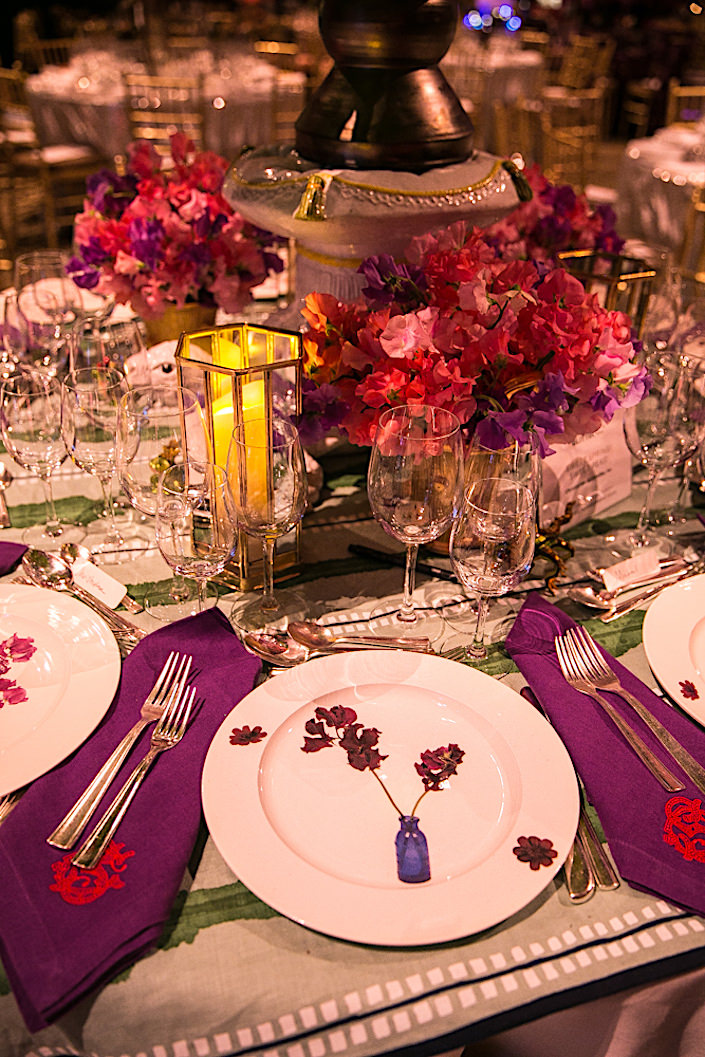 Rebecca Vizard created a Swanky Swamp table in recognition of her Louisiana Mississippi Delta home. A favorite of designers for her one of a kind pillows of antique textiles, Becky is the handiest person I know, who can make everything from the best cheese sticks to Fortuny dog collars.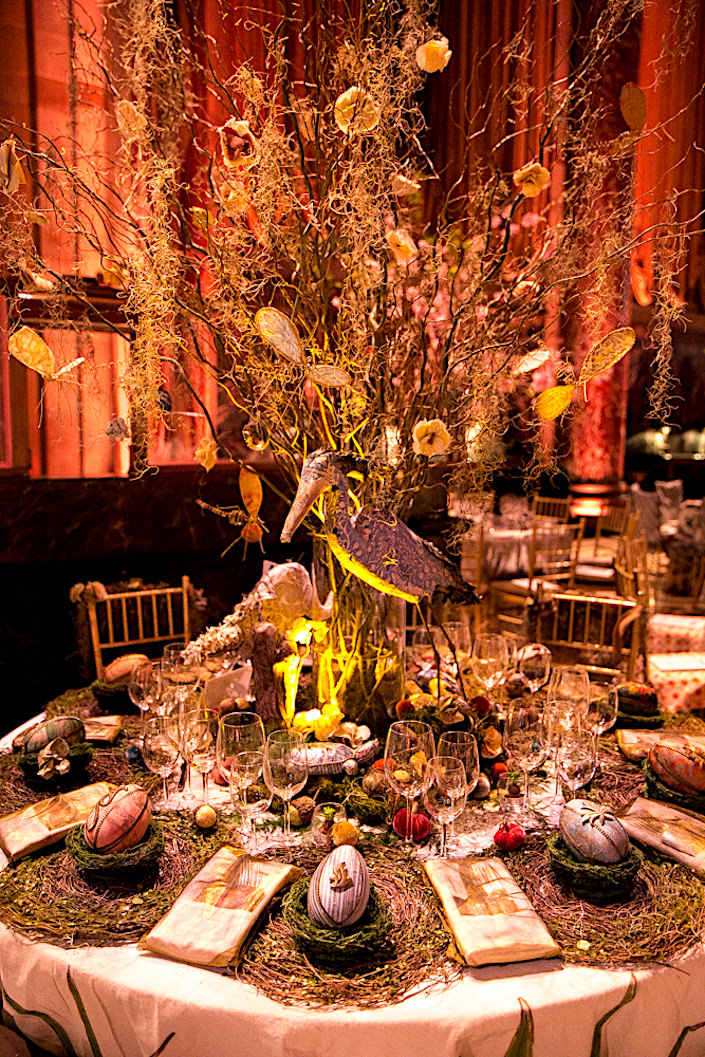 For her table, she created, among other natural forms, a blue heron and white egret out of Fortuny fabrics. The curly willow in the cylinder was dripping with Spanish moss and mosquitoes with Fortuny wings. Even the turtles and flowers were covered in Fortuny. But the pieces de resistance were the papier mache eggs covered in Fortuny and 18th century brocade embellished with antique gold trim.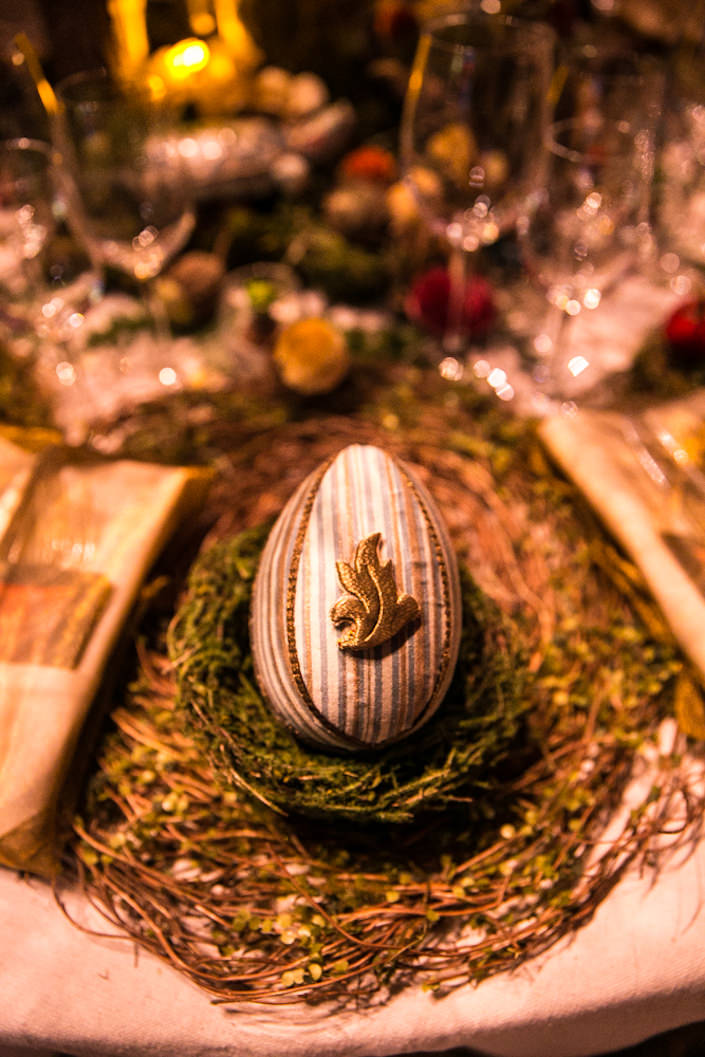 Dennis Rolland designed a table of royal peacock colors for l'Objet.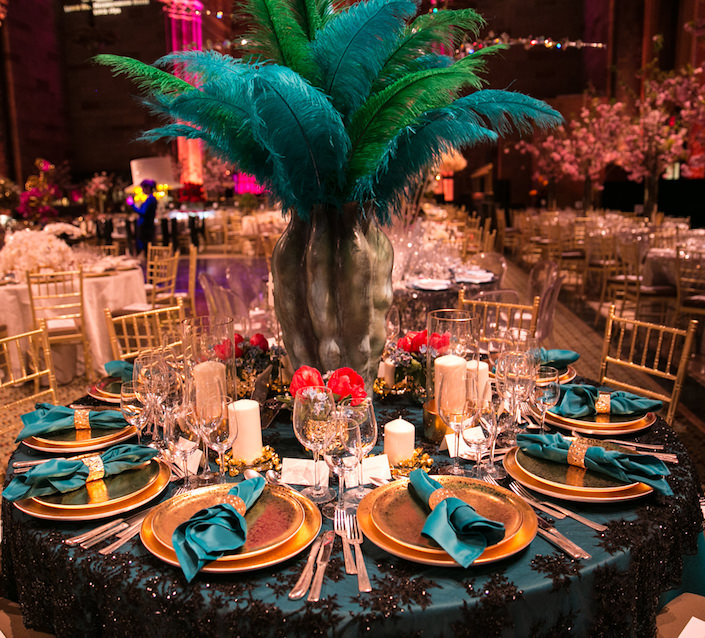 Featuring the Cenote Vase from the new Tulum collection, all dinnerware and accessories featured, also from the brand, added to the rich colors and textures of the tablescape.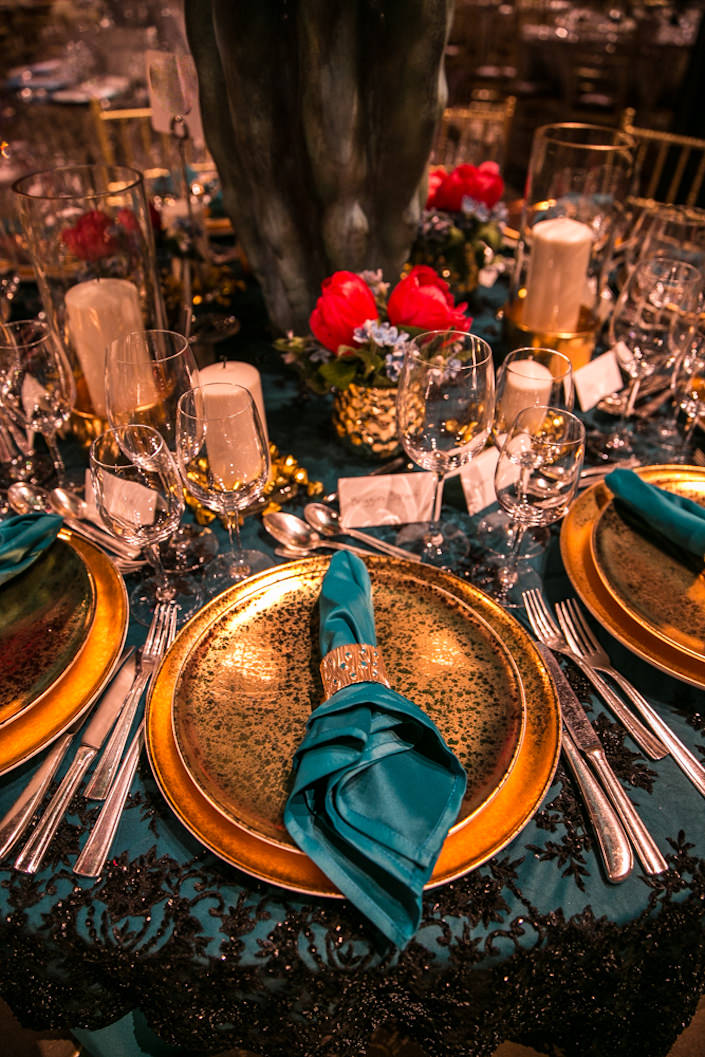 Lindsey Coral Harper channeled Truman Capote's black and white ball for her Swans of Fifth Avenue table. With a reference to her southern roots, she collaborated with Sebastian Li, who has created her Lenox Hill arrangements for the past eight years, on a centerpiece featuring larger than life silk magnolias in an oversized urn that Lindsey found and spray painted matte black.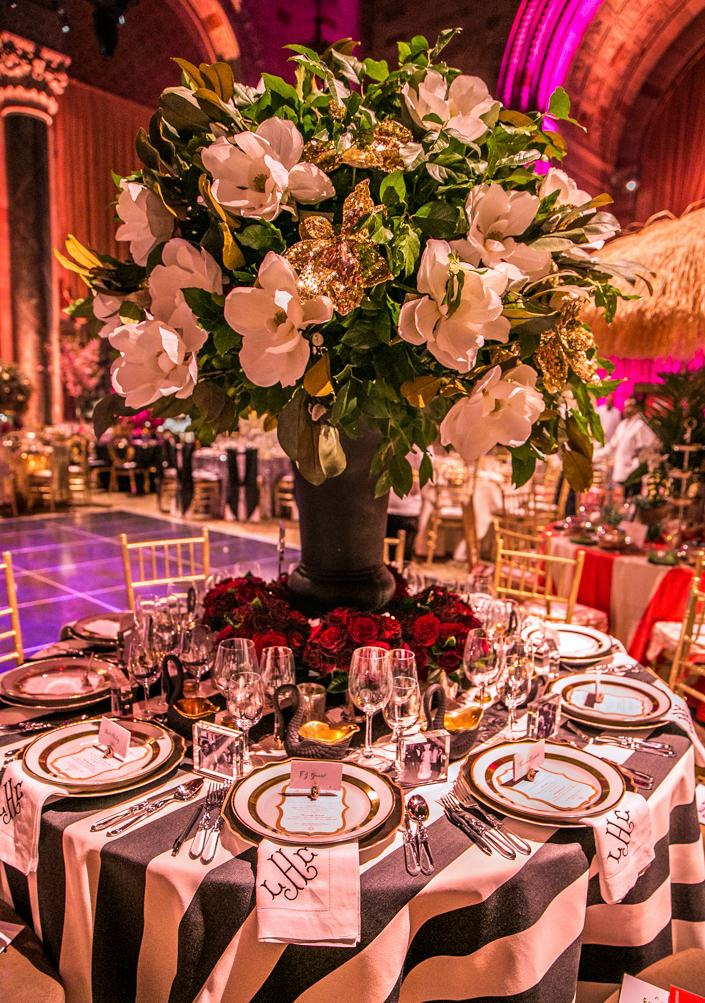 On a black and white striped tablecloth, black swan bowls from l'Objet and place cards and menus by Gina Dunlap were the perfect accoutrements. For a final additional touch, Lindsey printed out black and white photos of the original swan ball and framed them in lucite to coordinate with the Vietri flatware.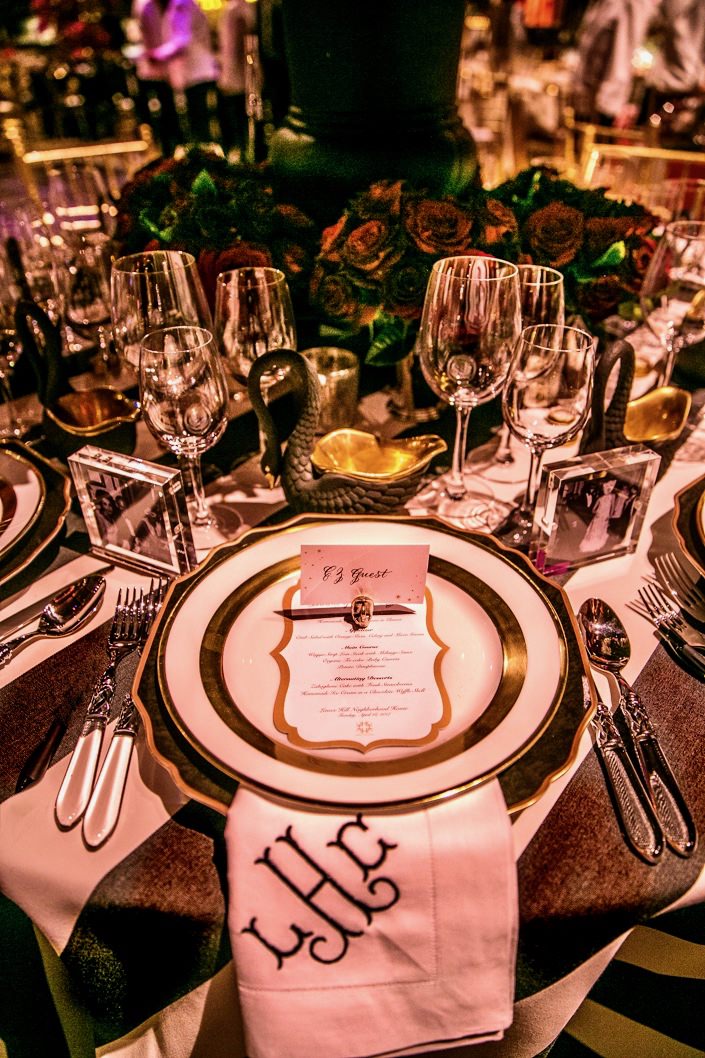 Dramatic black and white was created for "Putting on the Glitz," from Andrea Stark for Stark Carpet. Created by Sandi Hoffman Special Events, the table was created as an homage to Fred Astaire and the glamour of 1950's Hollywood.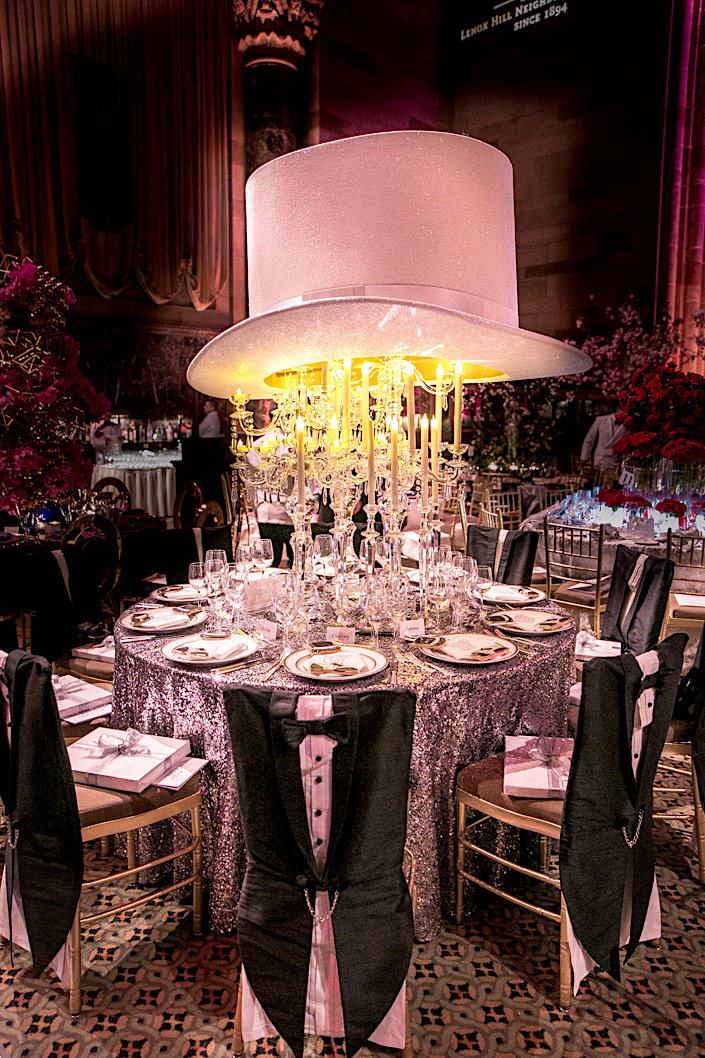 Chairs sported tuxes with bow ties and place settings included platinum embroidered napkins and custom themed cookies.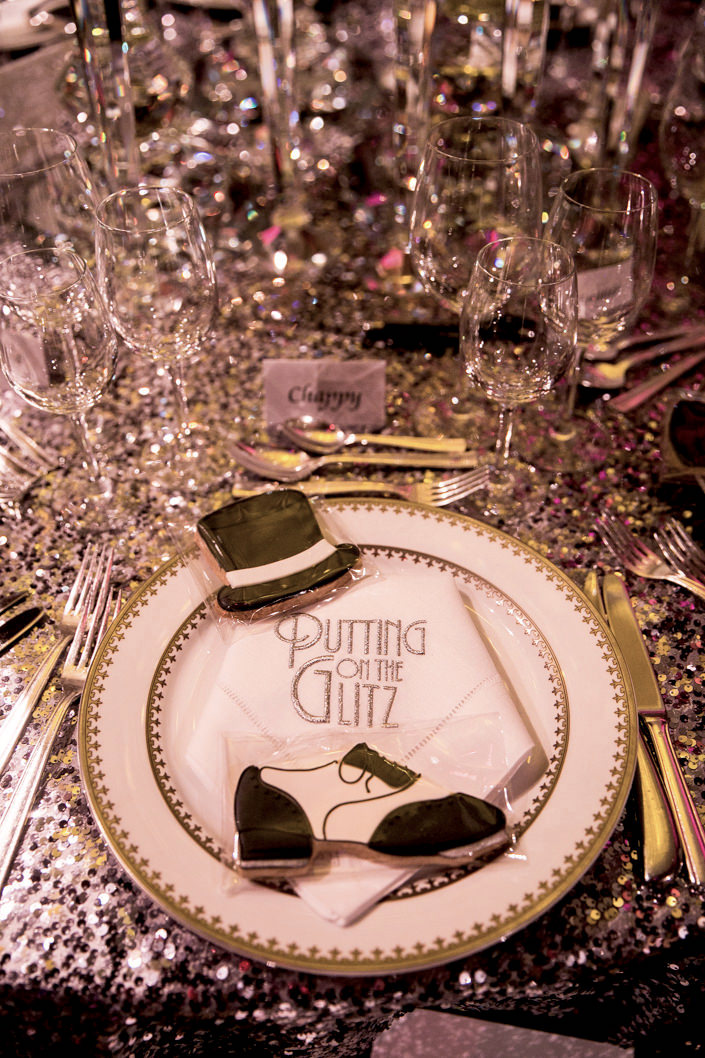 David Kleinberg and team stayed true to the evening's theme with Get Glitter Bombed, a sparkling rendition with a tablecloth of large silver sequins expertly executed by Anthony Lawrence.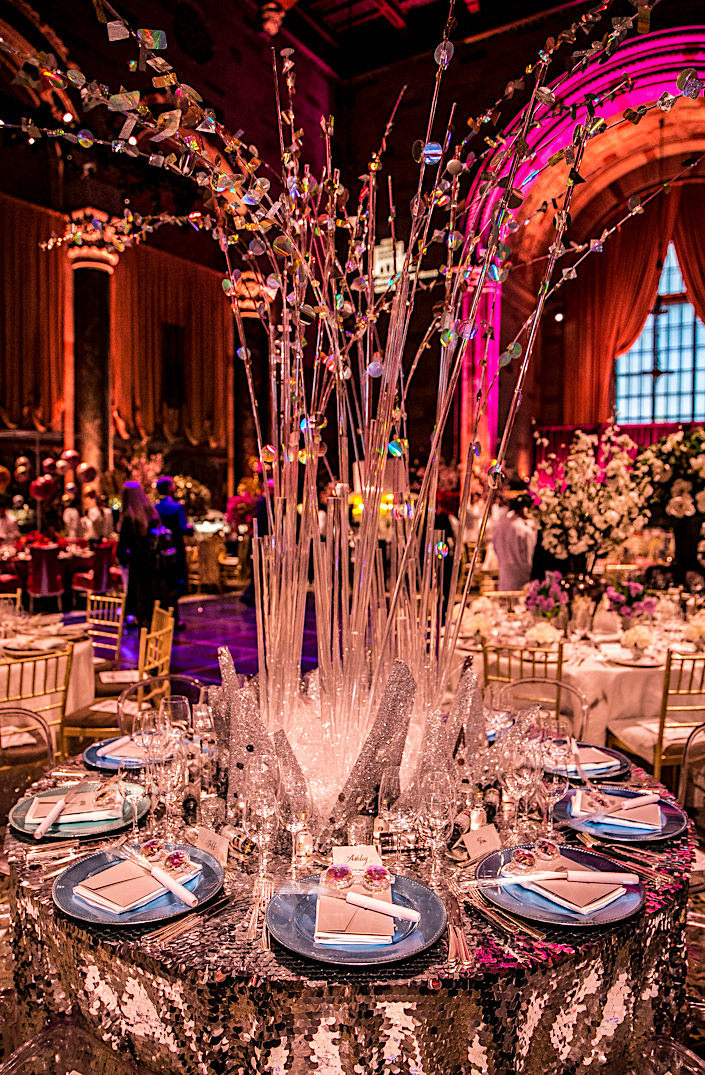 Rose colored glasses, and crystalline accoutrements accompanied each placesetting.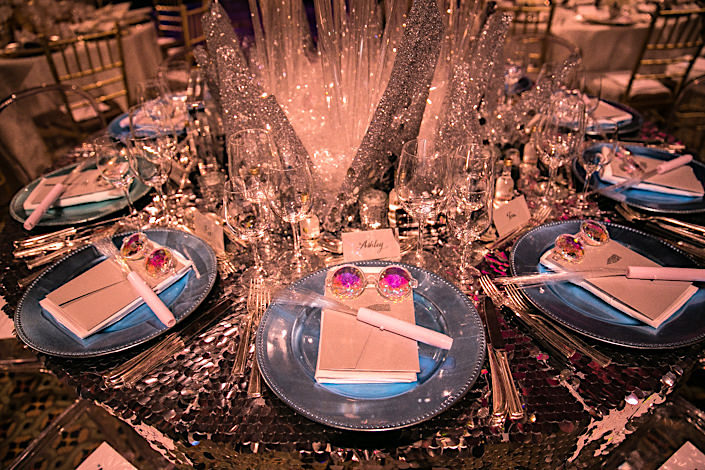 Gil Walsh brought more glitter to the evening with A Mod-Summer Night's Dream, inspired by the Bard's romantic woodland tale.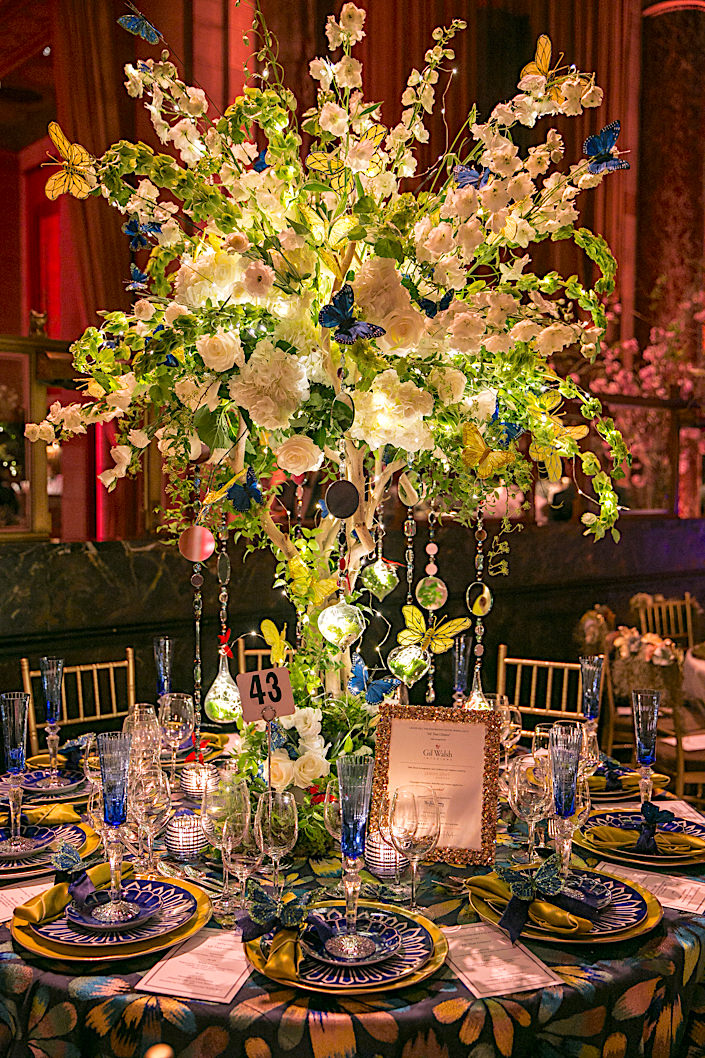 Hermès' Bleus d'Ailleurs porcelain with Baccarat champagne flutes, butterflies and votives all from Mary Mahoney, sparkled beneath a lush centerpiece dappled with moonlight from a lovely evening sky.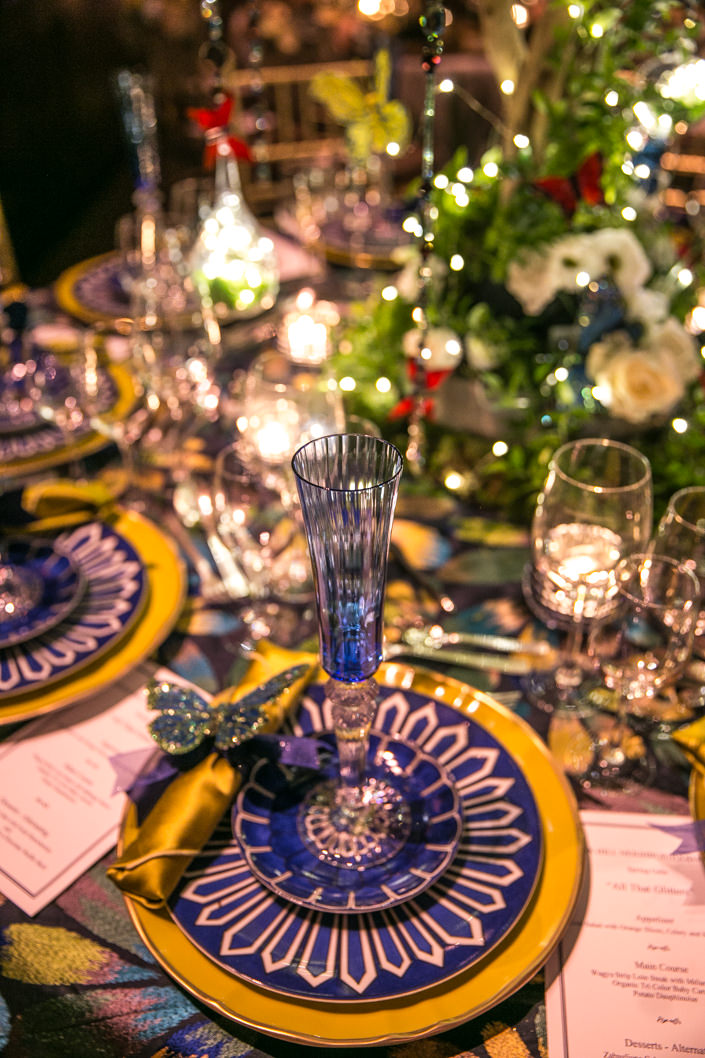 Mercedes Desio and Alberto Villalobos of Villalobos Desio designed their Silver Lining table as an elegant oasis of white. Masses of white orchids by Nicolas Cogrel set the stage with a tablecloth and napkins from Dransfield and Ross.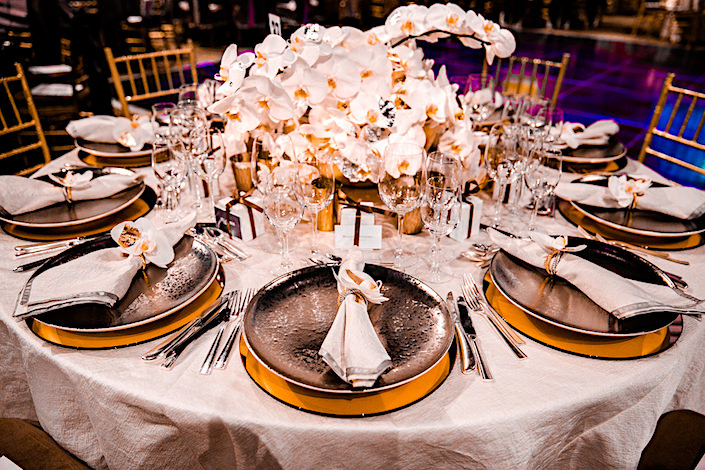 all photos by Stacey Bewkes for Quintessence
Chargers and napkin rings from l'Objet and touches of metallic on the flowers and napkins added the glitter for the celebration.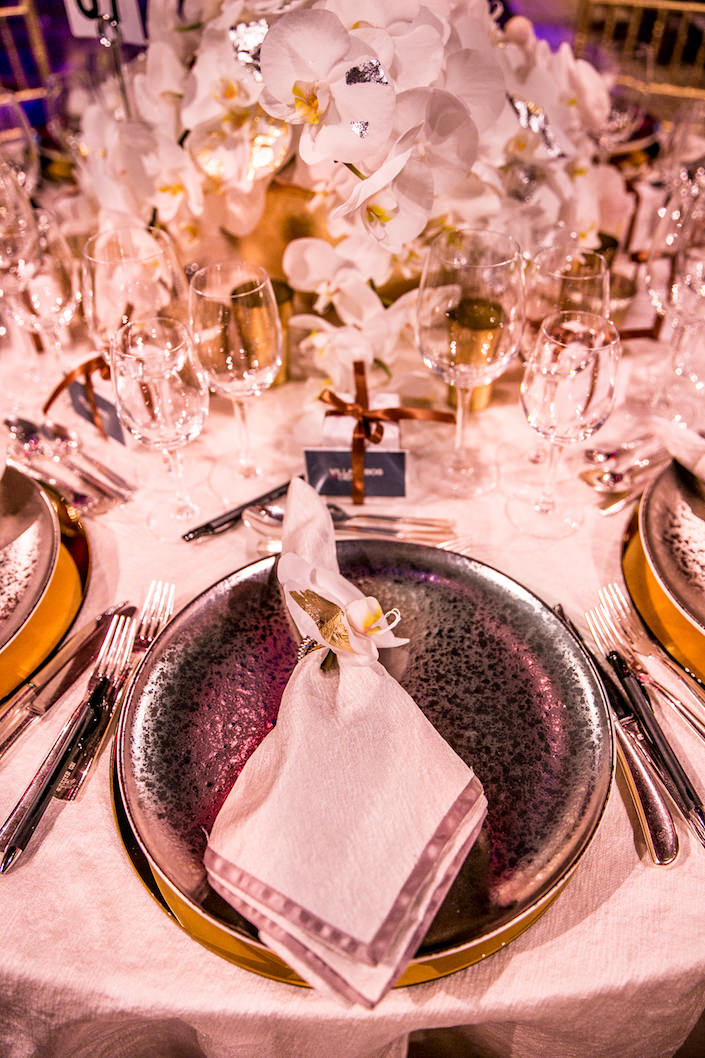 Stop back next time for more tables from the 2017 Lenox Hill Neighborhood House Gala.