One of the amazing aspects of the Hampton Designer Showhouse is how so many of the rooms flow successfully together. Nowhere is this more evident than in Lillian August's Great Room. Open to both Lee W. Robinson's entry and Kate Singer's den, Skye Kirby's and Nancy Galasso's design merges seamlessly with a cool laid back yet sophisticated beach-appropriate style.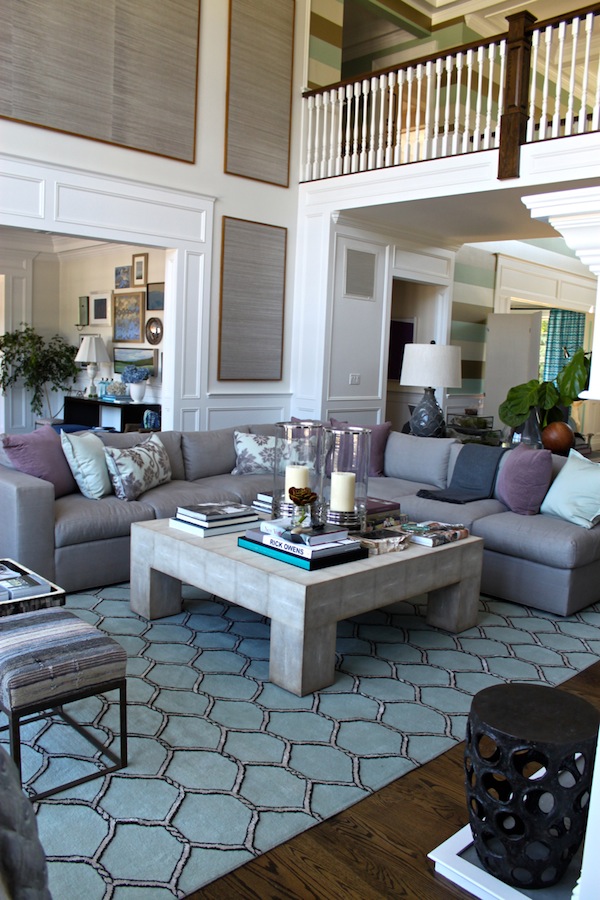 In typical Lillian August fashion, an effortless mix of contemporary and traditional elements results in an eclectic and collected look. The double height space demanded large pieces and the low profiles and clean geometric lines of the Lange sectional and Gavin Coffee Table, anchored by The Rug Company's graphic Sentinel carpet, fill the room amply without overwhelming.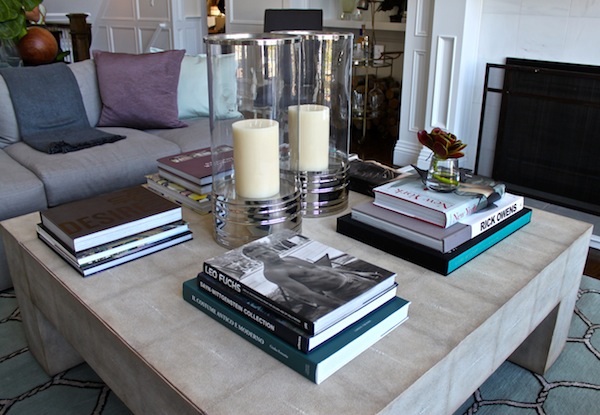 The textural quality of the faux shagreen is the perfect background for any accoutrements although I can tell you that the Leo Fuchs portrait of Paul Newman seemed to be the hit of the vignette!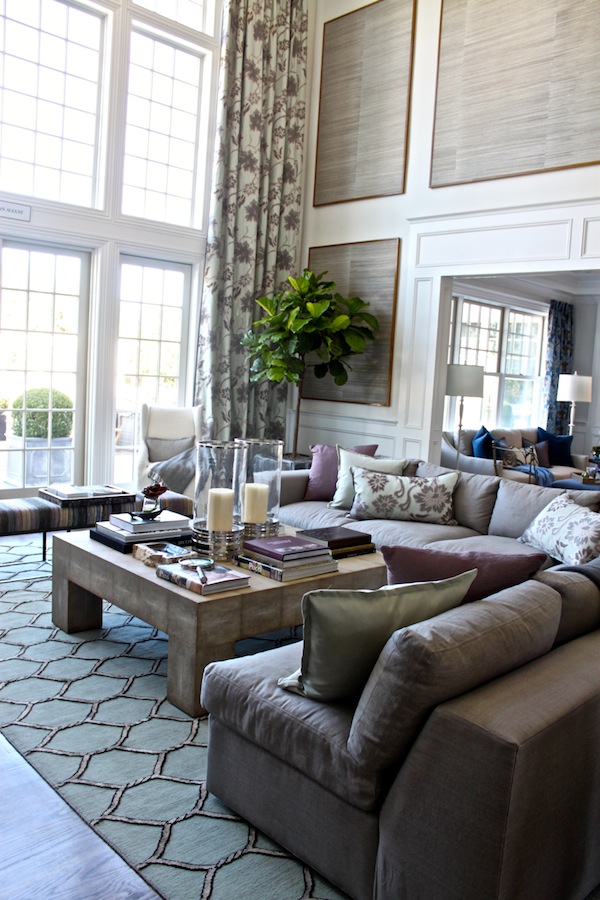 The soothing subtlety of Scalamandré Caserta Floral curtains, created in the Lillian August workroom, soften the effect of the double story windows, tempering the abundant light streaming in. And I love that they made designer Skye Kirby a skirt to match (publisher Beth Brenner had one as well)!! The whimsical peacock looks like he approves!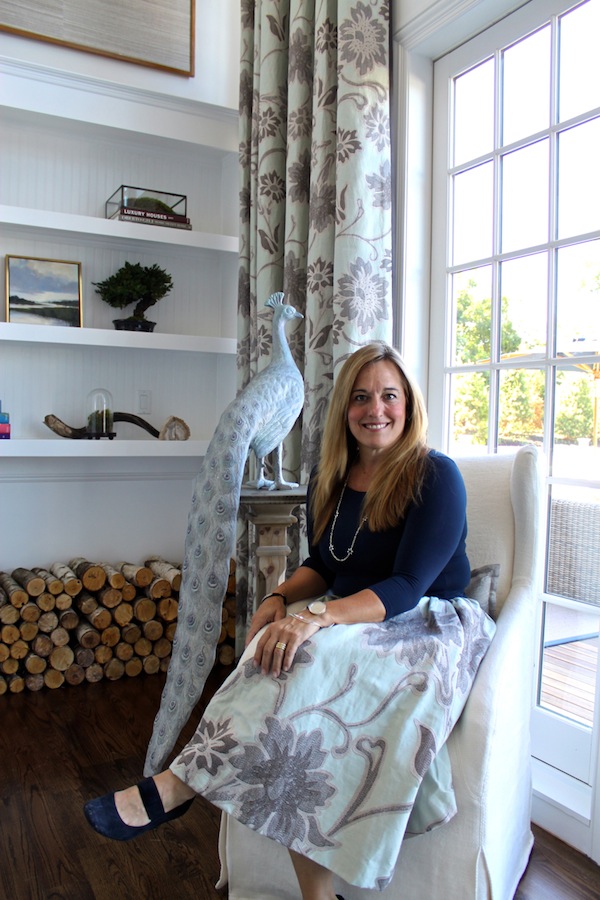 One of the challenges of working with such a large and imposing room is what to do with the walls. Kirby said she considered wallpaper but decided on framed panels of Phillip Jeffries wallcovering – a clever and effect solution that adds interest and dimension!!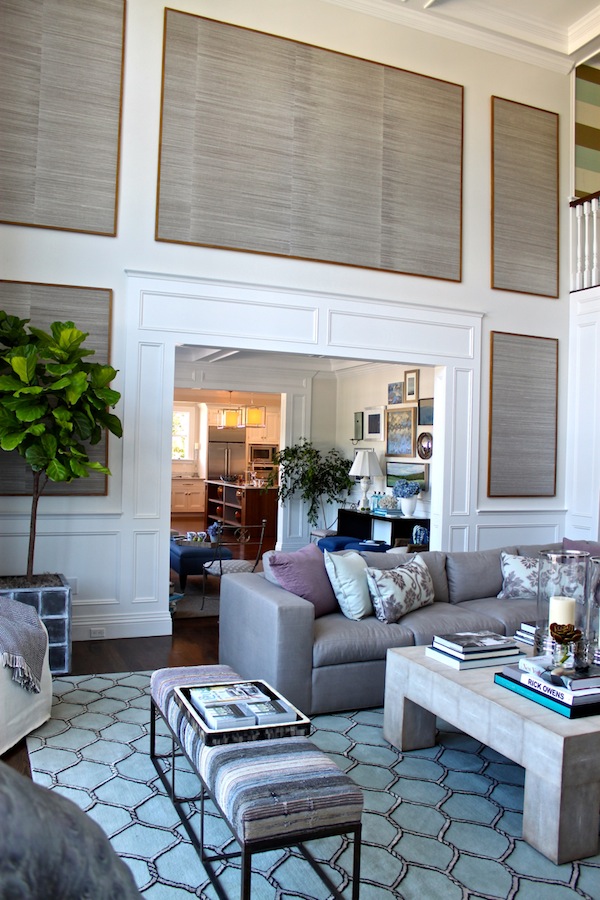 The designers' vision for the space was a family room for a couple from the city, a place to relax after a day at the beach, golf or tennis. "We have multiple extra chairs and a bench for extra guests as they come and go through out the summer…a bar – and many books to be inspired." Don't you just love this bar cart? We'll be seeing a lot more of warm brass tonalities come fall.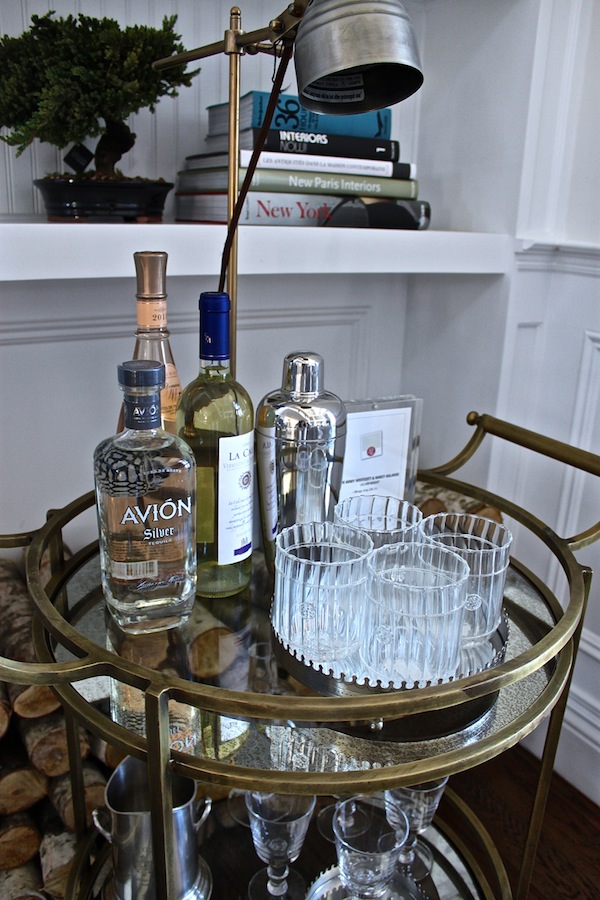 Lillian August's stores are always filled with marvelously styled vignettes and this room was no exception. Bookcases flanking the fireplace are filled with an airy accumulation of accoutrements.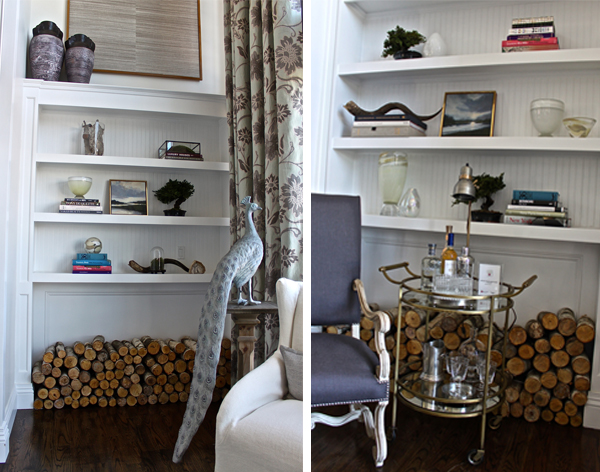 One of the highlights of the room is the antique desk, with accompanying chair, that the Lillian August antique department refinished, raised and inlaid with Edelman leather.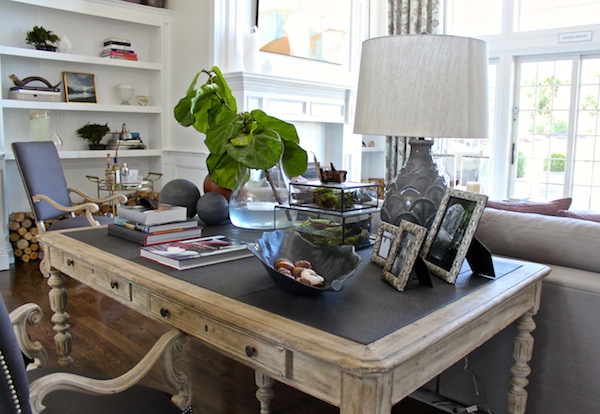 The lovely pale finish works beautifully with the more modern pieces and adds a bit of gravitas and warmth to the room. Here you can see the fabulous ostrich-like texture of the leather and eclectic accessories that tell the story of our fictional family.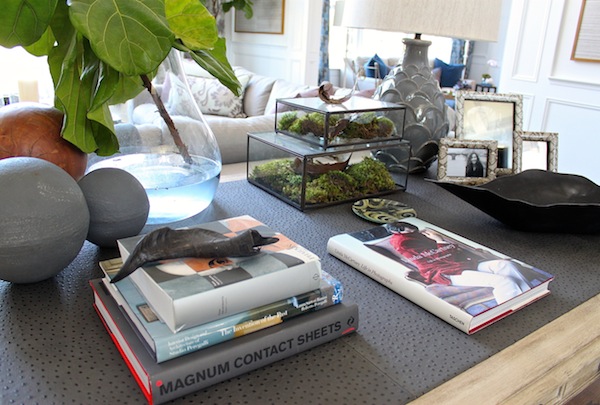 That completes our look at the main floor of the showhouse. Join me next time as we move upstairs to explore the bedrooms!