"In my own home, it's the combination and juxtaposition of meaningful details that bring emotion to every room and make me happy every time I see them." So explains Susanna Salk in her latest title, It's the Little Things. In the book Susanna successfully celebrates those details in our homes where we express ourselves the most and where our memories, our personality and our style come alive. With a wonderfully diverse selection of designs, It's the Little Things illustrates how "creating big moments in your home through the stylish small stuff" is an essential step into making your home your own.
cover photo by Tria Giovan
Throughout this inspiring and useful tome, Susanna features vignettes and details from designers around the globe who use the details to "bring depth and life to a room." Divided into five distinct chapters – Surfaces, Walls, Mantels, Little Moments and Big Moments – It's the Little Things shows us how rooms' style quotients are elevated through the details. In Rebecca de Ravenel's Manhattan apartment, she mixes old and new, with a layered eclecticism that is personal and fun. As she explained, "It's the little things that have a history, the details, the patterns, and, of course, some pretty flowers that make any room come alive!"
photo by Josh Gaddy
While black and white is always a chic combination, the bar is raised in this bedroom by Bibi Monnahan with the great details. Glamorous yet whimsical, the Fornasetti plates and mindful mix of textures and pattern add a playful exchange appropriate for anyone from stylish teen to lucky guest.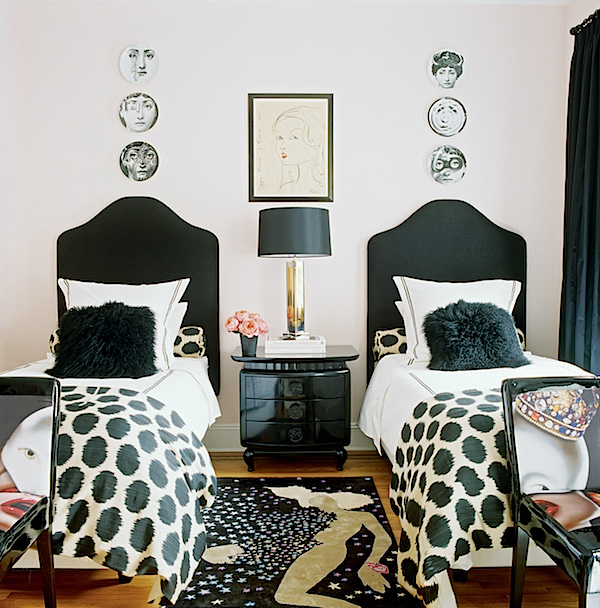 photo by Simon Upton
"We always think of small powder rooms as little jewelry boxes where we can use explosive color," states the color-and-pattern-loving Tilton Fenwick team. And indeed, the bright hues and bold scale of the wallpaper make what could have been a boring box into a scintillating spot to powder your nose!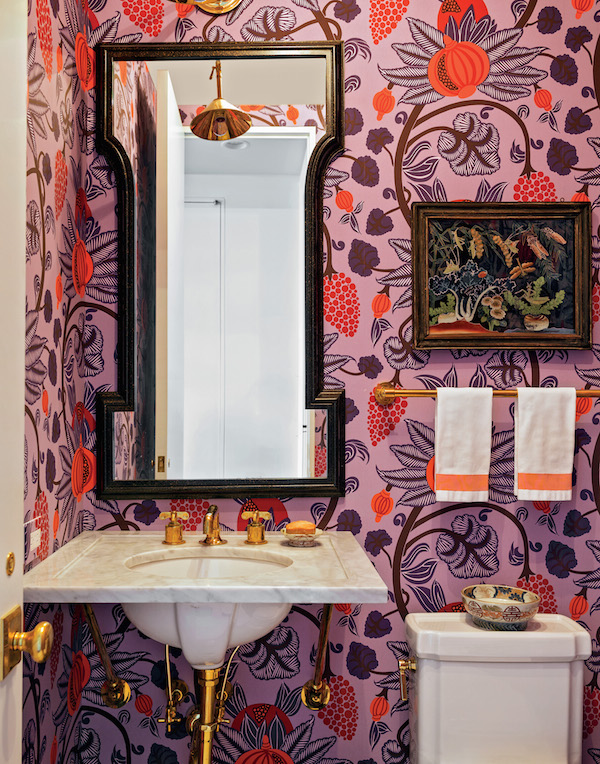 photo by Trevor Tondro
As Susanna so eloquently explains, "Miles Redd composes rooms the way F. Scott Fitzgerald composed sentences: with a dash of wit, punctuating color, lyrical romance and glamour with just a bit of edge." It's the masterful mix of design details that make this stunning scene sing.
photo by Simon Upton/The Interior Archive
With her love of coral and bold colors, Susanna was perfectly suited to this stylish bedroom in Timothy Corrigan's magnificent chateau when we visited two years ago. The unexpected mantel display adds a level of charm and whimsy to the formal French architecture.
photo by Stacey Bewkes
Your initial reaction might be that it's the stunning wallpaper alone that makes the space in Alex Papachristidis' own bedroom. It wouldn't, however, be nearly as cozy, interesting or polished without all the finishing touches that complete the personal picture. Note the variety of decorative details, from porcelains to paintings, and fearless combinations that take this from simply beautiful to truly fabulous.
photo by Tria Giovan
In It's the Little Things, you'll be introduced to masters of design who offer visual clues and helpful hints to successfully navigate your own decorating choices at home. By paying attention to details, focusing on what you love and bringing a little of yourself into the mix, you can transform your home into a meaningful place where the "everyday feels a little less ordinary."