The June ELLE DECOR is all about getting inspired. And as Memorial Day approaches, it becomes for many, focussed on the ease of summer living and weekend retreats. So I am delighted to share with you a sneak peek at a weekend house here in Connecticut, where designer Thom Filicia helped a young family create their escape from city living.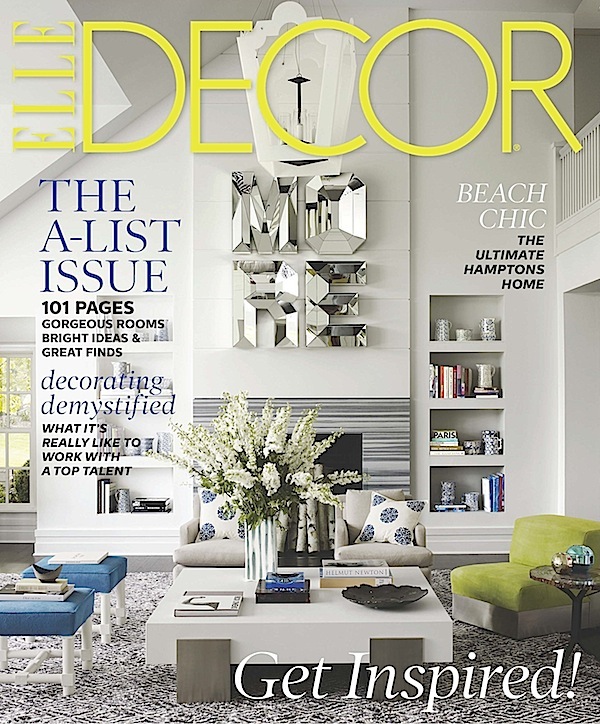 When considering where to weekend when you like in New York City, suburban Connecticut isn't on the top of most families' lists. That's usually reserved for the "big move" when your brood has outgrown apartment living or school tuitions start to outpace take-home pay. But after the relentless Friday traffic to the Hamptons became a buzz kill for this family's weekend fun, they started to explore other options. The appeal of 12 acres, a rambling 10,000 square feet and a 40 minute car ride sold them on a house in Greenwich, CT. The interiors, however, left much to be desired for a stylish NYC couple looking for relaxation with refinement.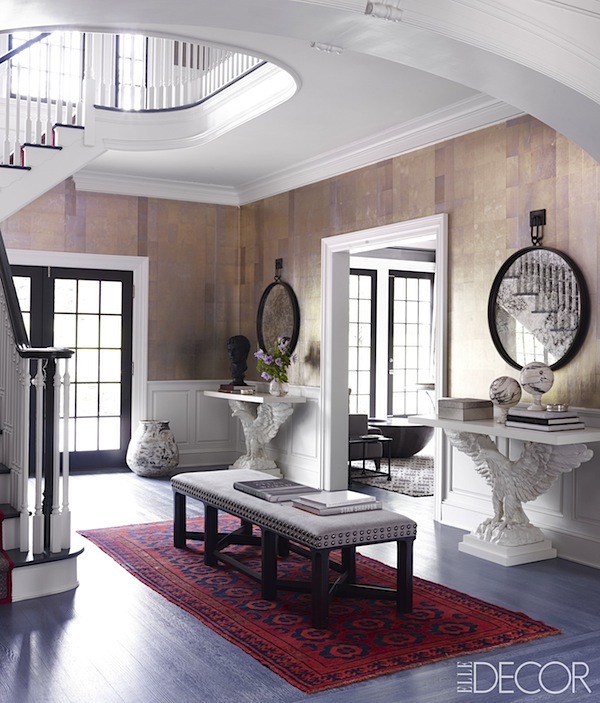 Enter Thom Filicia, the multi-talented designer, known for his casually chic take on new American style. With a focus on creating beautiful homes that are both stylish yet comfortable, he strikes just the right balance of refined and relaxed for the way we live now. Classic country with a twist sets the tone for the house in the generous foyer, above, where a pair of Thom's all American Copake Eagle consoles topped by Jonathan Burden mirrors flank a doorway. A studded Hickory Chair trestle bench offers polished practicality as a depository for book display or slipping shoes on or off. Simple elegance is imbued with a dose of urbane glamour in the subtle sheen of the walls, contrasting with the project's thematic red in the tribal rug.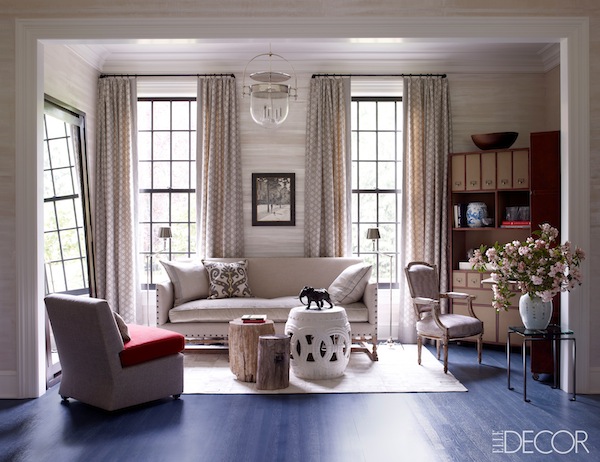 The living room is a study in eclecticism with a cultivated combination of textures and styles. Easy lounging is encouraged in the country chic 19th century Italian sofa from Lucca Antiques upholstered in Belgian linen. Yet the Mamorino plaster finish walls lend another layer of artisanal sophistication and Urban Electric's Dover Bell lantern again injects a touch of sleek modern glam.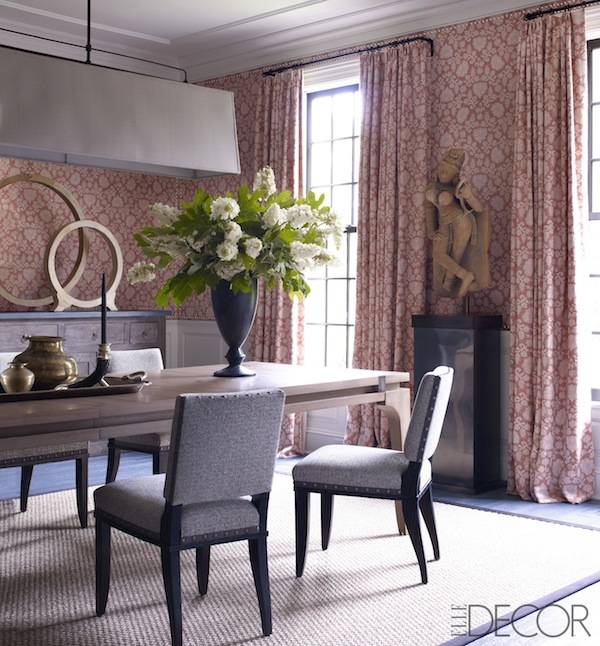 Weekend entertaining for the family became much more fashionable in this ample dining room where art meets design. Enveloping upholstered walls and curtains in a Rogers & Goffigon print are tempered by Thom's modern dining table.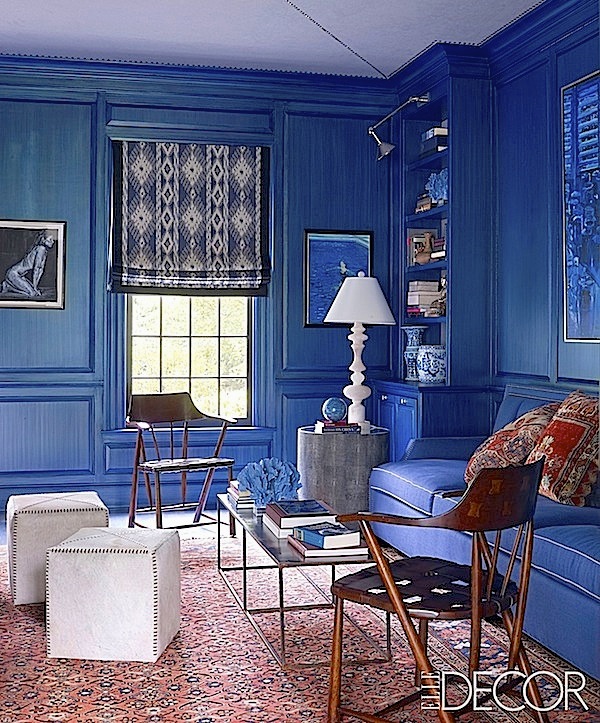 The subtle red white and blue color theme throughout is most evident in the vibrant library, painted in an appropriately named Daring Indigo by Pittsburgh Paint. High and low and old and new mix it up with a custom-made sofa, antique Persian rug and vintage webbed-leather armchairs side by side with a cocktail table from Canvas. Thom's own Otisco Indigo for Kravet adorns the roman shade.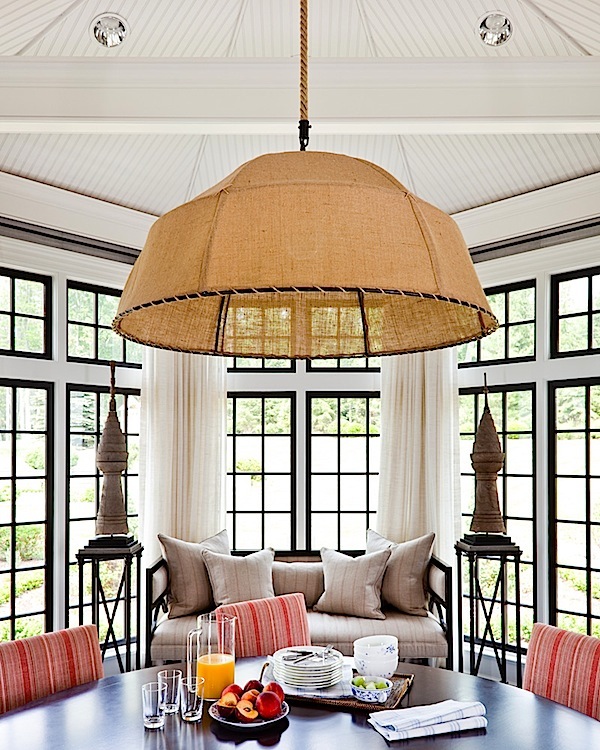 You can see more of the inspiring house in ELLE DECOR but I added the little treat of a couple of rooms not including in the piece. As you may remember from our Stylish Shopping segment with Thom, he is a fan of sculptural and bold lighting, which is used so effectively in this cheerful sunroom. I love that there are so many varied spaces for entertaining!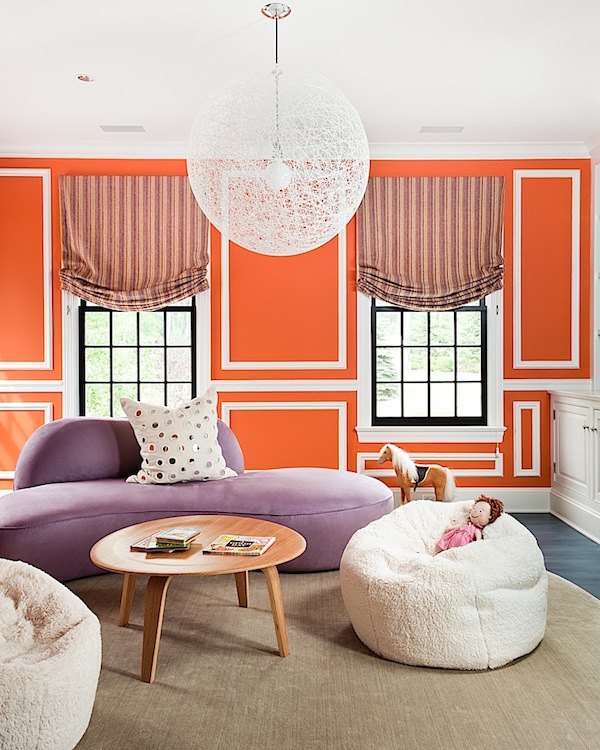 And how fun is this girl's bedroom where the red and blue are tweeked on the color wheel to become orange and purple! Another fun light fixture and bold walls are keeping some little girl in a perennially good mood! I'm sure this family is thrilled to make the trek to Greenwich every weekend where their chic new home represents comfortable family living with cosmopolitan flair! I can't wait to get my copy of the June ELLE DECOR to kick off the summer season in style! To see more about this project online visit the article on ELLEDECOR.COM here.
photos from ELLE DECOR by William Waldron; last 2 photos by Nick Johnson