Last Thursday I had the great pleasure of attending a fabulous tasting dinner with Terry, our wine expert, for Sandrone winery. It was a wonderful evening of delicious wine, gastronomic delights and wonderful company. I'll let Terry regale you with an account of her day and evening with the wines from Piemonte and then I'll add a few observations from my side of the table at the end.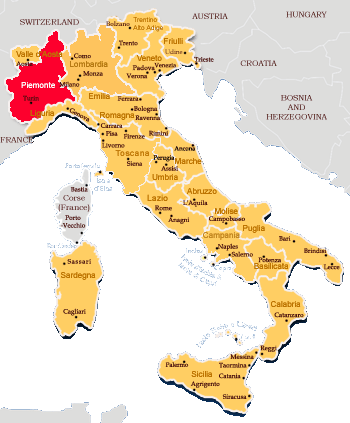 When the owners and winemakers come in to visit at Horseneck and have us taste their wine and listen to their stories, many days they arrive at 10 am in the morning since they have a full day of top retail shops and restaurants to visit.  The customers walk in and there we are with 8 bottles of different wines to sample with our spit bucket in hand.  This can go on all day long.  Like we say, "someone has to do it"!
Well, we called this past Thursday Piemonte day, starting with the winemaker Gianluca Grasso, below, in the morning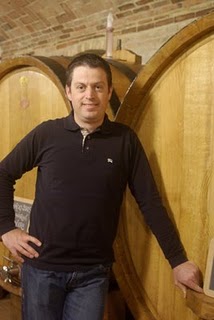 and The Sandrone father and daughter team in the evening. Starting with The Grasso wines, we tasted through their Chardonnay, Nebbiolo, Barbera Dolcetto and Barolo.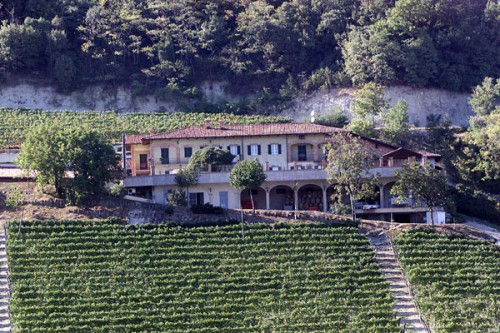 The Elio Grasso Winery is in quite an isolated position. When driving there from Barolo, you follow a long winding road with magnificent views as you finally pass through chestnut woods, emerging before the amazing natural amphitheatre of world-famous vineyards. The surrounding territory near Monforte d'Alba, once a Roman settlement, is now acknowledged as one of the great capitals of Barolo. These "big" wines combine structure with "elegance, aromatic finesse, solid character and exceptional aging potential."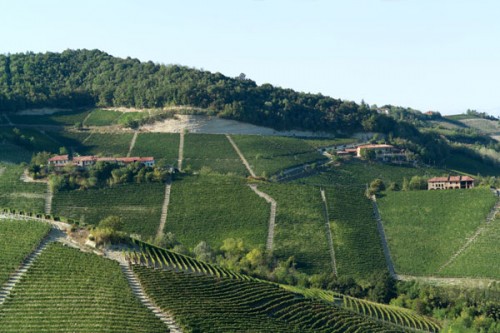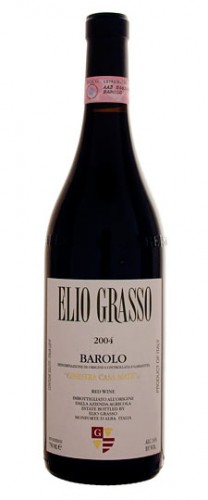 Barolos: Since the epoch-making 1978 vintage, the wines from which were released in 1982, the Elio Grasso cellar has produced three Barolo vineyard selections: Gavarini Vigna Chiniera and Ginestra Vigna Casa Maté, aged in Slavonian oak barrels in a contemporary variation of the traditional Barolo style; and Rüncot, made in a more modern way and matured in new French oak.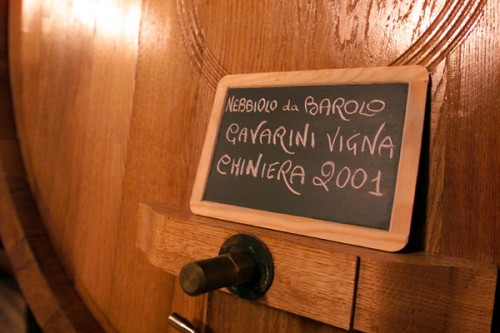 Nebbiolo has been cultivated in the area since the early 20th century. Conditions around Alba are perfect for nebbiolo production. The vines require good exposure in cooler climates that allow for their late harvest and they like the calcareous soil also prevalent in the area.
Barbera winemaking is key to a smooth finish. At Grasso, Barbera and Dolcetto were planted in the late 1970s and early 80s, with Chardonnay following in '86. Winemakers working with Barbera have a variety of ways to deal with the grape's high levels of tannins and acidity. The most common has been through blending with varieties lacking those components and creating a softer and potentially more balanced wine as a result.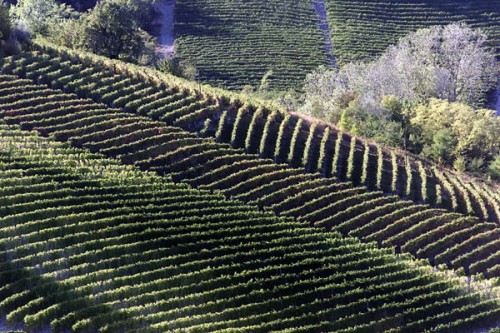 The vineyards owned by the Grasso family are the estate's greatest assets. The area where they are located has always been considered outstanding wine country.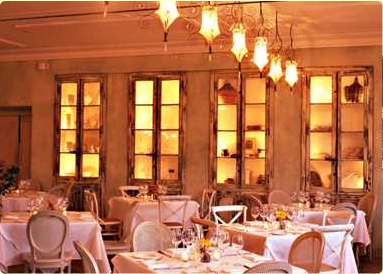 Thursday evening arrived with a fabulous dinner at L'Escale Restaurant at water's edge on Steamboat Road in Greenwich.  My dear friend Michael Quinttus, who has been in our industry for over 30 years has been working for years to build a great portfolio of estates at Vintus Wines.  One of the prized gems in his whole portfolio of importation is the Sandrone Barolo house from Piemonte.  Luciano Sandrone, who speaks Italian, German and French, was accompanied by his lovely daughter and a major part of his winery, Barbara Sandrone, who was the English speaking part of the duo. Here they are with me at the dinner.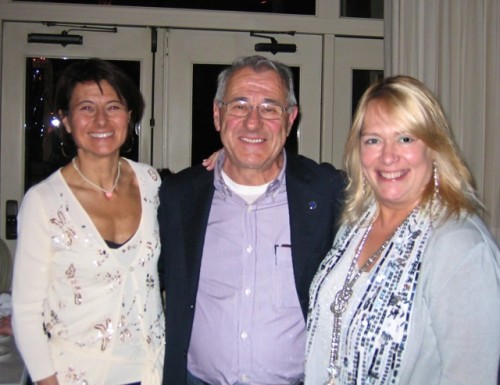 They were both very eager to have us taste all their wines with the different foods that Chef Francois prepared. The first course was a Pacific Cod over a frogs leg Bolognese.  This was one of the most delicious flavor combinations that worked with the first two wines.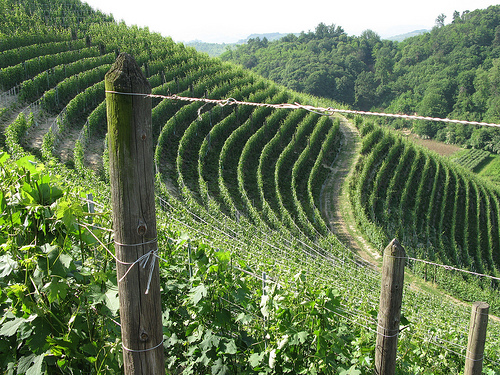 Founded in 1978, Sandrone has grown into one of the most prestigious producers in Barolo, Italy. It was with the 1989 and 1990 vintages that Luciano Sandrone caught the wine world's attention with his Barolo Cannubi Boschis, made in tiny quantities. Receiving 97 and 100 points respectively from Robert Parker, this was one of the earliest perfect scores ever given a Barolo. The winery production and vineyard holdings have expanded gradually and today the estate farms a total of approximately 67 acres, 75% of which is owned, producing about 8,000 cases a year. But most importantly, Sandrone has never lost sight of his original goals – that of creating wines of "integrity, purity and deep expression, made with passion and honesty to provide great drinking pleasure."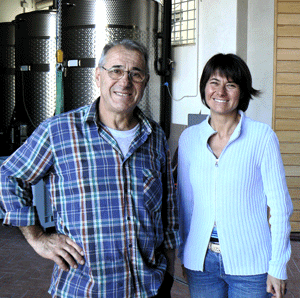 Born in the hamlet of Pozza, near Annunziata, Luciano Sandrone moved with his parents to Barolo, where his mother still lives in the same house. Neither of his parents were in the wine business, nor did either own vineyard land, but Luciano wanted to make wine – great wine.  As his family was neither vintners nor growers, he was free to make his own way, straddling a position between tradition and innovation. In the late 70s and early 80s, when the introduction of new methods was radically changing the winemaking landscape, this lack of viticultural roots would be a blessing, as it allowed him to make decisions based solely on the goal of making the greatest wine he could imagine.
Barbara Sandrone, the daughter of Luciano, has been involved with the day-to-day running of the winery operation since 1989, and on a full-time basis since returning to the Barolo in 1994. She was raised in Barolo and though she studied in Alba and London and lived in Milan, her heart was always in Piedmont; after careers in the travel and legal sectors, she began taking an active interest in the family business. Today she is responsible for all outreach, external relations and winery visitors, and tirelessly travels the globe to bring her father's wines to the public. The diversity of roles she has at the winery only accentuates her many talents and her passion for communicating the culture, wines and history of the family cantina. Barbara has two children, Alessia and Stefano, and enjoys cooking and sports in her spare time.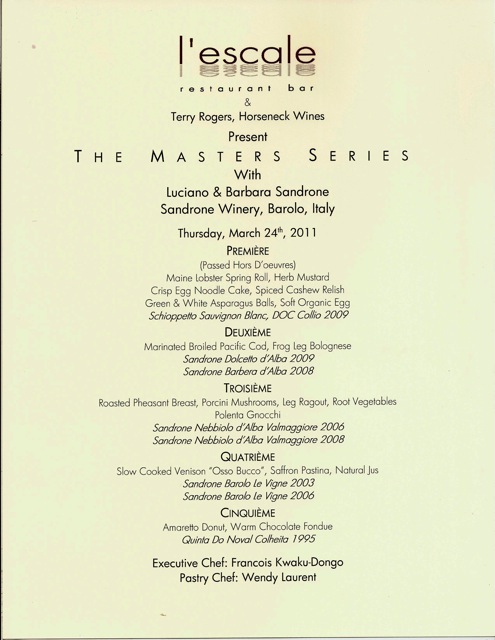 The Sandrone wines we had at the dinner are remarkably well made and well defined. The 2003 Barolo was a fabulous treat – earthy, full of licorice and spice that brings out all of flavors in the vineyards.

Thanks Terry, for an informative post and special evening. The Sandrones were a delight to meet – charming, down-to-earth and clearly dedicated to the making of their exceptional products. I wish my pigeon multi-lingual conversation with Luciano had been recorded – it was something right out of Monte Python but we somehow managed to successfully communicate nonetheless. The incredible food and wine pairings by chef Francois were a revelation, which is of course what this Masters Series is all about.  Seated in between the lovely Barbara Sandrone and urbane Michael Quinttus, I enjoyed an entertaining and educational evening! Visiting Sandrone would be a wonderful destination. The Piemonte is a beautiful region that enjoys a prime location, not too far from Milan, Monte Carlo, or the beautiful coast of Italy and France.