At this point I think it is safe to say that we are all craving spring. So try not to be too envious that Terry, our wine expert, is reporting this week from the sunny Caribbean. Go ahead Terry, make us sigh.
photo courtesy of la samanna
February is a great month to get away and enjoy the sun, surf and of course some fine wine. When you love wine like I do, one of the most important work/vacations you can have includes being able to drink good wine and champagne. If that isn't part of the deal, I would just as soon stay home. Therefore, when Jet Blue decided to change our St. Barths arrival date to a day earlier, rather than go to the trouble of changing our accommodations, we decided it was a great time to add St. Maartens to our itinerary. La Samanna is on the French side of St. Maartens, only about 15 minutes from the airport, with a stunning beach and beautiful suites. We arrived on Valentine's Day so the menu was prefixed but excellent nonetheless and the wine list at the resort is remarkable. After this brief introduction, we would most definitely make a repeat visit to this location for a long weekend perhaps just for the great service and fine wines.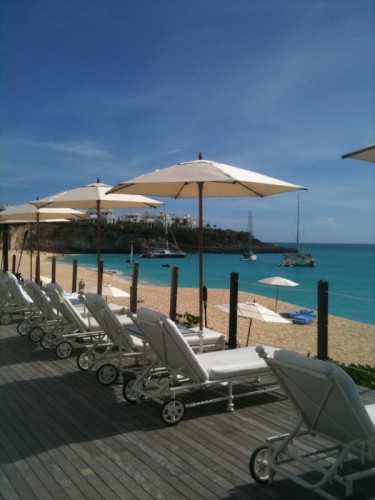 There are actually no private beaches allowed on St. Maartens, but this beach at La Samanna is gated and almost two miles long so it's not that easy for anyone outside the facility to get in.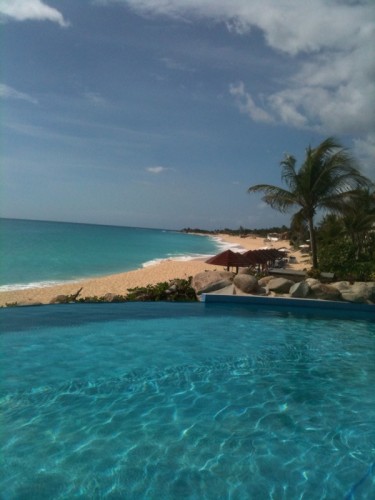 Of all the islands in the Caribbean, St. Barts is the jewel for wine selection since the majority is shipped directly from France. But La Samanna had their share of excellent picks. We enjoyed a bottle of Ramonet 2006 Chassagne Montrachet that was stunning and paired perfectly with the spiny lobster that is a speciality in the caribbean.
After our brief but lovely stay on St. Maartens, it was off to St. Barts. Our friends greeted us at the airport with the best rum punch, which is a must in the tropics. Although calorie-wise, wine and champagne are better bets, St. Barts has so many rums to choose from that it would be a shame not to imbibe once in a while!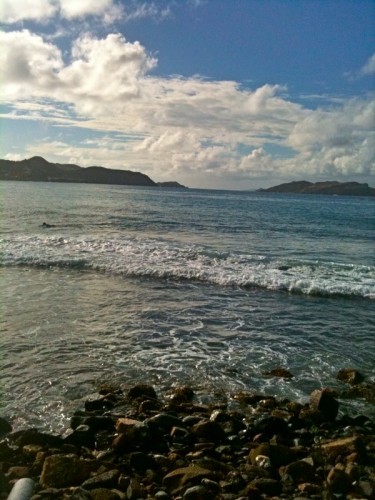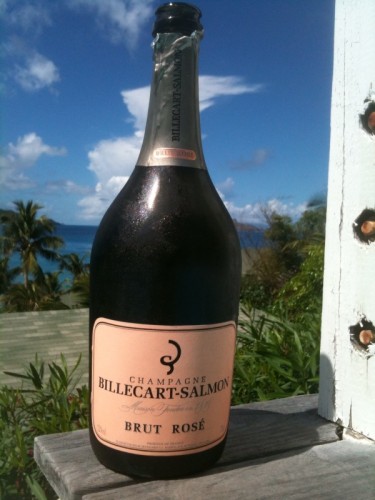 What is St, Barts without a great champagne? Billecart Salmon Rose is my choice. In 1818 Monsieur Billecart married Elizabeth Salmon and Billecart Salmon was founded – a fabulous champagne by the pool or as an aperitif.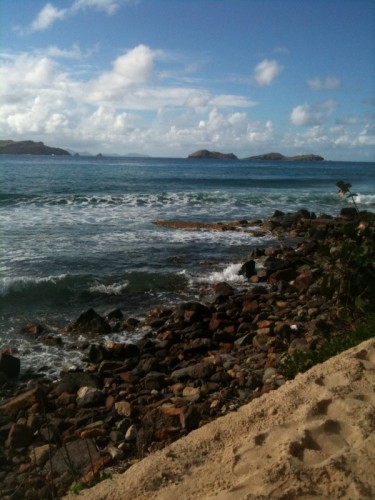 The villa we are renting sits right above the newly renovated Hotel Christopher, which has the best sunsets on the island and some of the best food. Our afternoon lunch there with the Olivier Leflaive Chassagne Montrachet Clos St. Marc 2006 was absolutely perfect with my grilled tiger shrimp over a classic ceasar salad. (not from q – ok now getting really jealous!). Leflaive, the largest landholder in the Puligny Montrachet area is one of my favorite producers. This is from the town of Chassagne Montrachet – 100 % Chardonnay from this single vineyard. Creamy and elegant, it has a beautiful balance of fruit and acidity.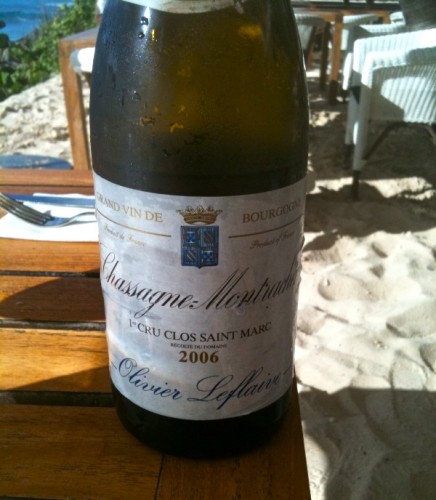 The first full day that we were here, we went to the famous Sand Bar Restaurant at the Eden Rock Hotel overlooking the Bay St. Jean where we dined on grilled spiny tail lobster, mahi mahi and the perfect accompaniment – the 2007 Drouhin Puligny Montrachet. The 2007 vintage for white burgundies has a slighter higher acidity than the previous 3 years and you could certainly tell that the balance and crispness of this wine was going to go well with the fish and the warm sea breezes.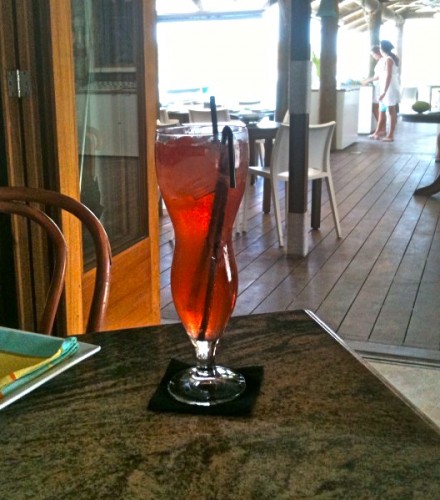 Another day we stopped back at the Sand Bar for their classic afternoon cocktail of St. Jean Bay vodka, lime juice, watermelon fruit and juice, strawberry syrup, lemon soda and a touch of cranberry juice. Delicious and refreshing!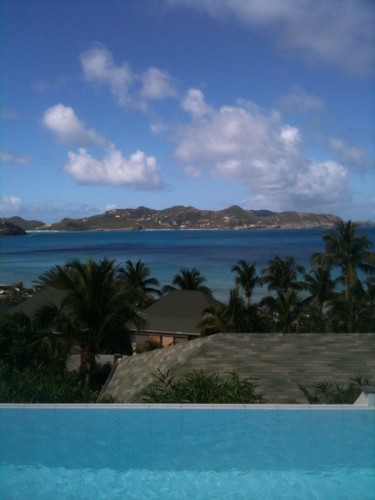 Our villa overlooks the area of St. Jean Bay. We cook many meals on our terrace. Here is the (now finished) Chateau Minuty Cotes de Provence Rose that we drank with our delicious grilled fresh rack of lamb.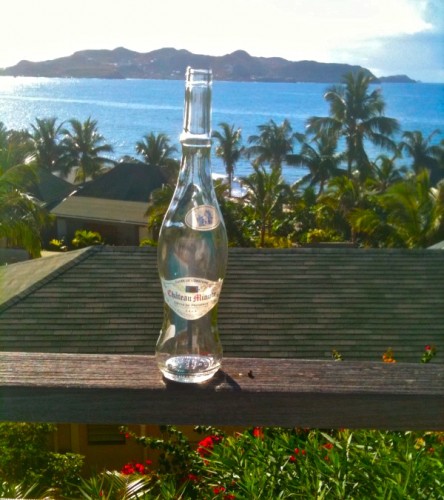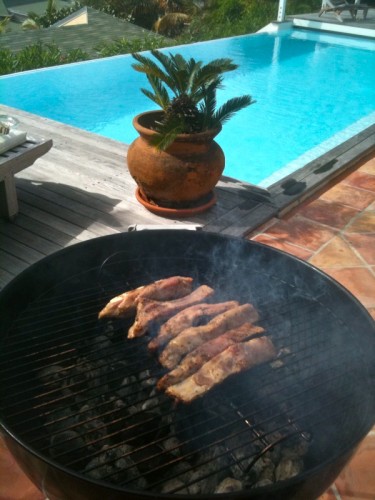 Another day we cooked fresh pork ribs on the grill at the villa for a late afternoon lunch. With them we had one of my favorite champagnes to start – the Perrier Jouet Blason Rosé at a wonderful 45 euro price. It is a level below their fleur de champagne but extremely affordable.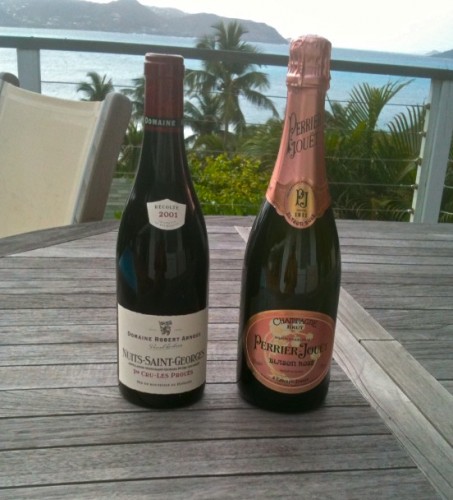 The Robert Arnoux Nuits-Saint-Georges premier cru Les Proces 2001 needed a bit of decanting, but this French pinot noir was perfect with my rib and sauce concoction of hoisin and barbeque sauce with a nice dry rub to start. The Domaine Arnoux is now called Domaine Robert Arnoux Lachaux, as the son of Robert married the daughter of the Lachux family, bringing a dowry of another one or two pieces of land and vineyards – so now the domaine in current vintages is Domaine Arnoux Lachux, which I'm delighted to say will be coming to Horseneck soon.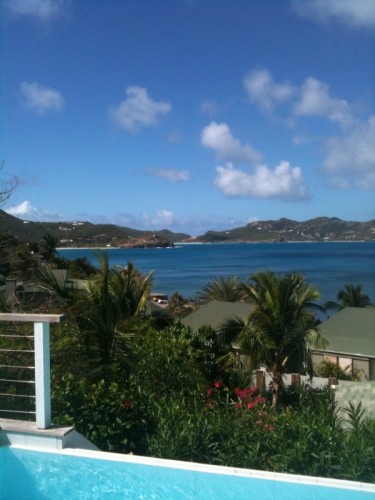 And no matter what the evening held in store, the best breakfast drink is no doubt the Laurent Perrier rosé champagne!!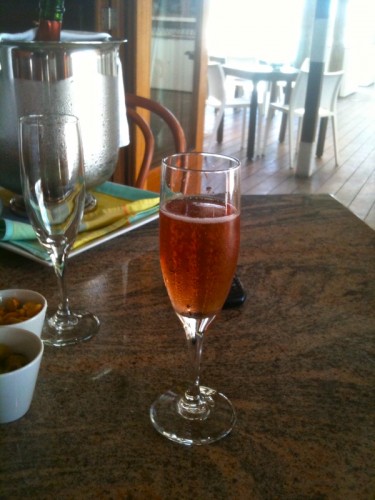 The Relais et Chateau resort Le Toiny, is one of the most exclusive on the island. The view overlooking their beautiful large villas is fabulous. Located in the Cote Sauvage, the emphasis here is on privacy and exclusivity.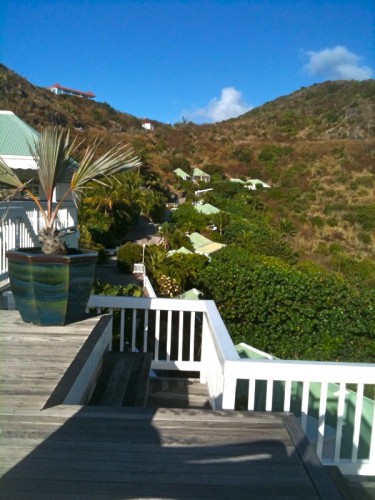 So if you are looking to take a break from the cold, I highly recommend a visit to St. Barths or perhaps la Samanna, where the relaxing atmosphere mixes well with the fabulous food and wine. And if some tropical travel is not on your agenda, you could always enjoy these champagnes and wines at home, perhaps in front of a fire, to create your own private get away.
All photos Terry Rogers