Many of the design developments from 2013 are still going strong for the coming year including a love of brass, blue, nature inspired pattern and print and the appealing tactile quality of velvet. And like the return of flowering fabrics, velvet offers a plethora of possibilities for updates on tradition. With some final picks from Paris Deco Off, here a few favorites spied in my all too brief visit to the showrooms. Dedar introduced a full line of opulent options. The star of the show was their spectacular Coup de Foudre cupro velvet.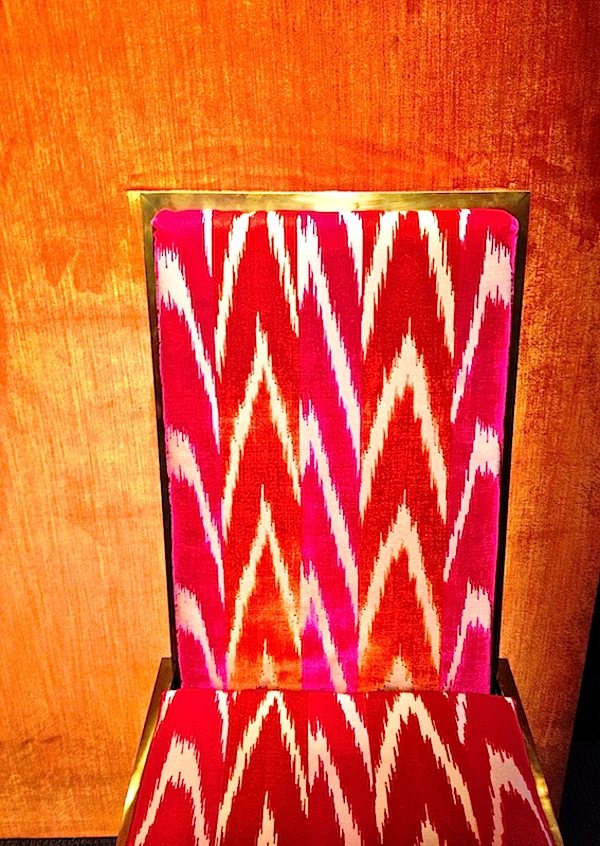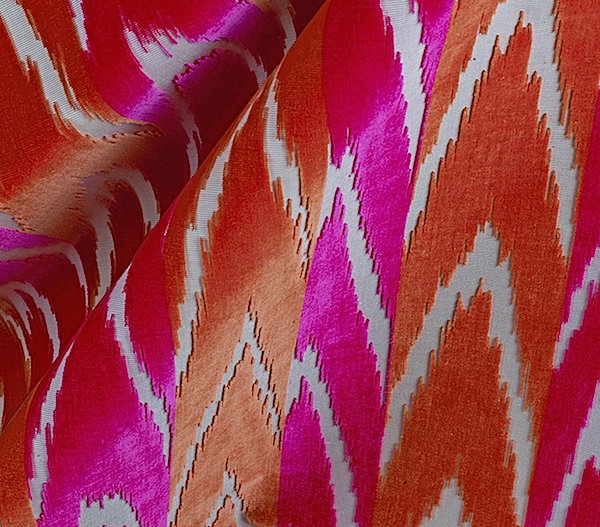 A gorgeous hand woven jacquard inspired by Persian designs, the two toned pattern is available is five luscious colorways including the eye popping pink and orange above and a rich blue variation below.
two previous photos courtesy of DEDAR
The Romeo & Giulietta Chiné is an incredibly elegant and rich silk velvet. Its subtle texture is achieved through a creative artisanal process. The yarns are tied into separate bundles, each dyed into three differing related tonalities giving an understated color variation to the finished fabric.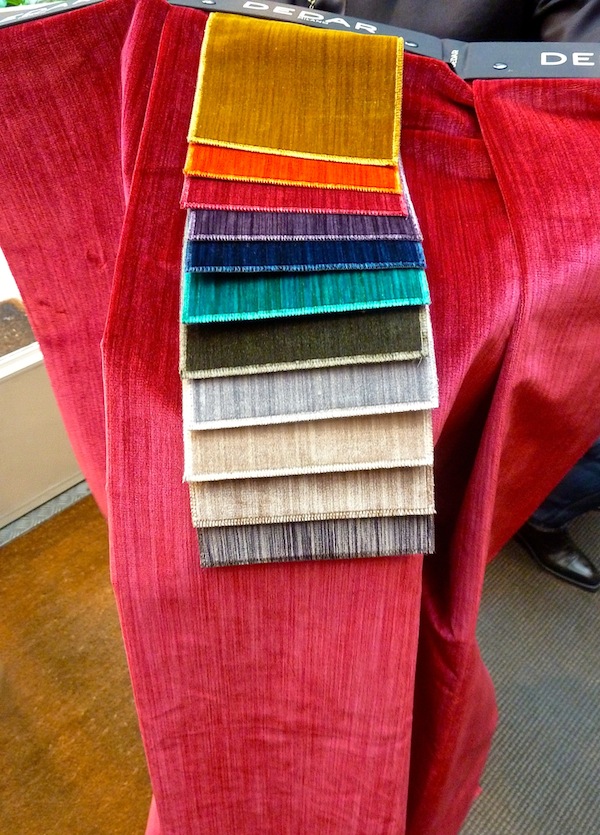 Artfully displayed in their Rue de Seine pop up shop, it stands in front of their new satin Funky Stripes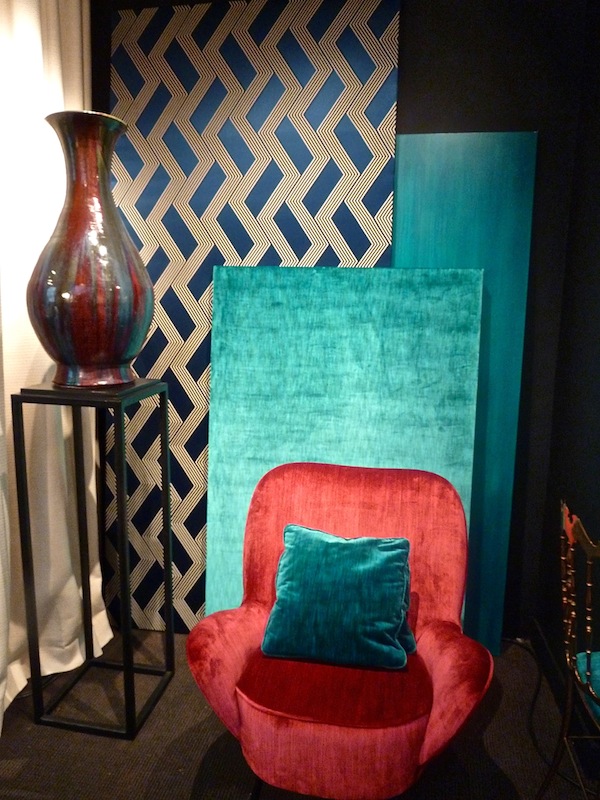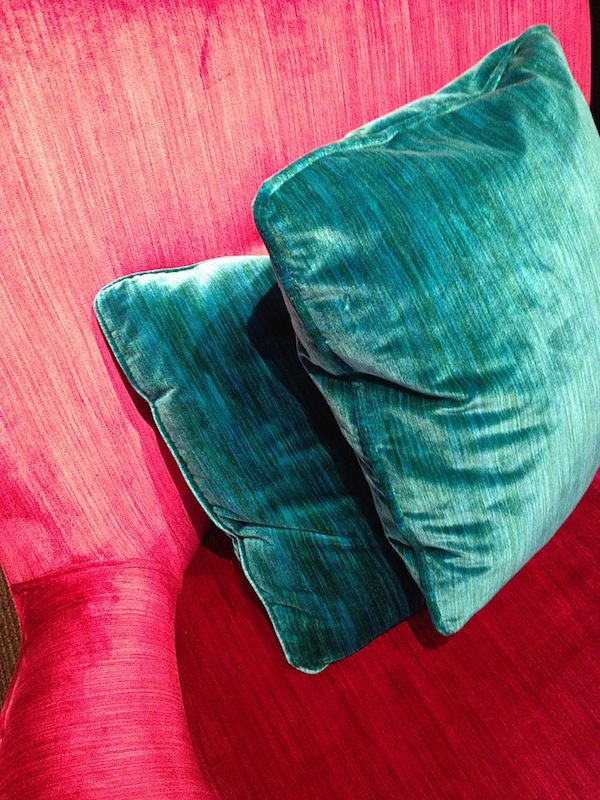 and looks exquisite on this classic chinoiserie chair.
photo courtesy of DEDAR
Hop, a whimsically retro patterned cotton velvet sits under DEDAR's glorious new Pure Damask, a luxurious contrasting combination of wool and silk.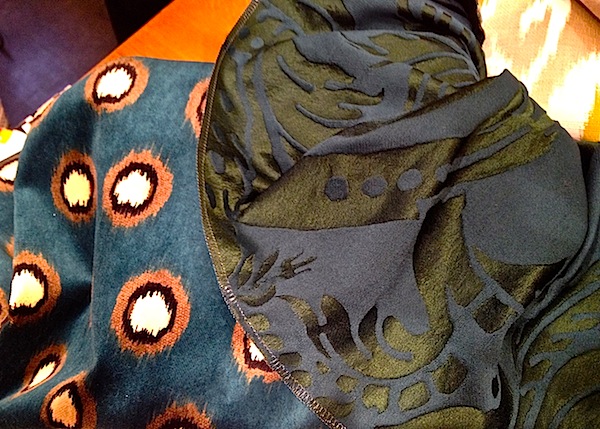 Jim Thompson introduced their sumptuous Chedi silk velvet as part of the new Temple of Dawn collection. With a truly luxurious hand, it would enhance any environment.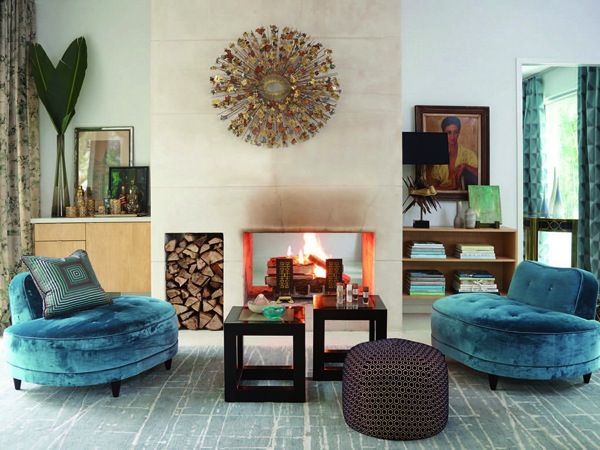 Hand finished for an antique feel and appearance, Chedi is named for the sacred part of the temple that houses important relics. In 18 lush colorways, it catches the light so you can see the contasting warp, as here with the lustrous gold threads peek through – truly beautiful.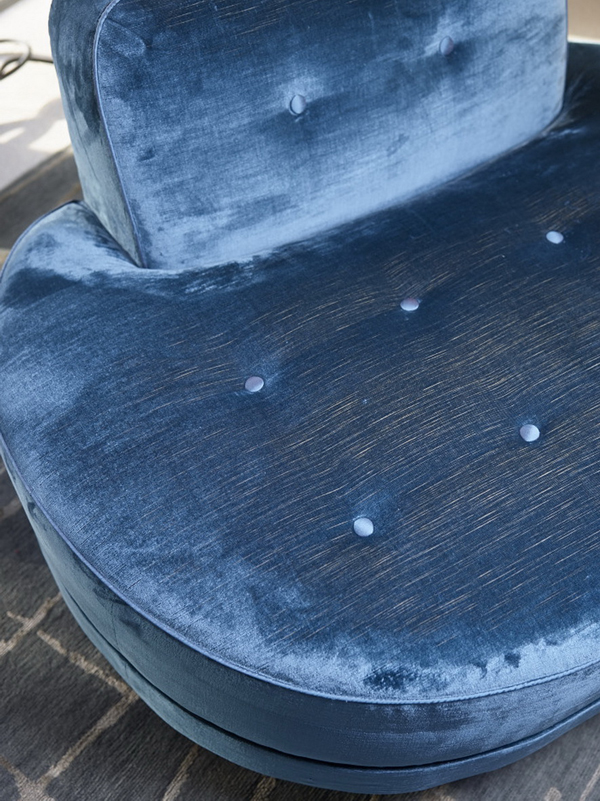 For something a little more baroque, Pierre Frey presented Visconti in their Fadini Borghi line. A classic Louis XIV style pattern, the velvet is available in the neutral Sabbia, below, and Carminio, a rich renaissance red. I love how they styled this – old and new – it's the key to a fresh take on tradition.
photo courtesy of Pierre Frey/Fadini Borghi
Lastly, the pattern driven fabrics at Fortuny are finally joined by some splendid solids. In Paris, the company premiered two beautiful new velvets. Brioso is a 100% mohair velvet. I'm afraid my photo doesn't do justice to its rich and robust texture and subtle color, perfect to pair with the printed fabrics in the line.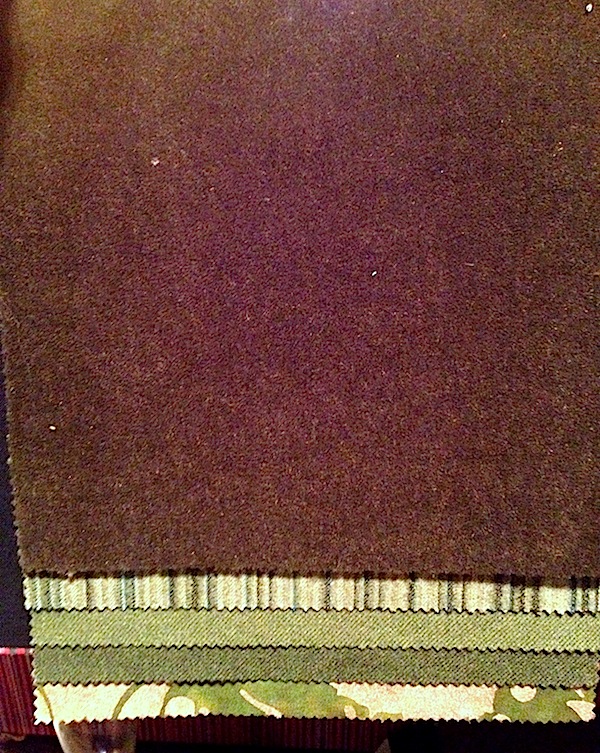 Legato, below in Old Rose, is a luxurious cashmere (70%) and silk (30%) velvet. For those of you familiar with this fabrication from fashion, it offers a super soft fabulous drape and is a welcome and versatile addition to the collection.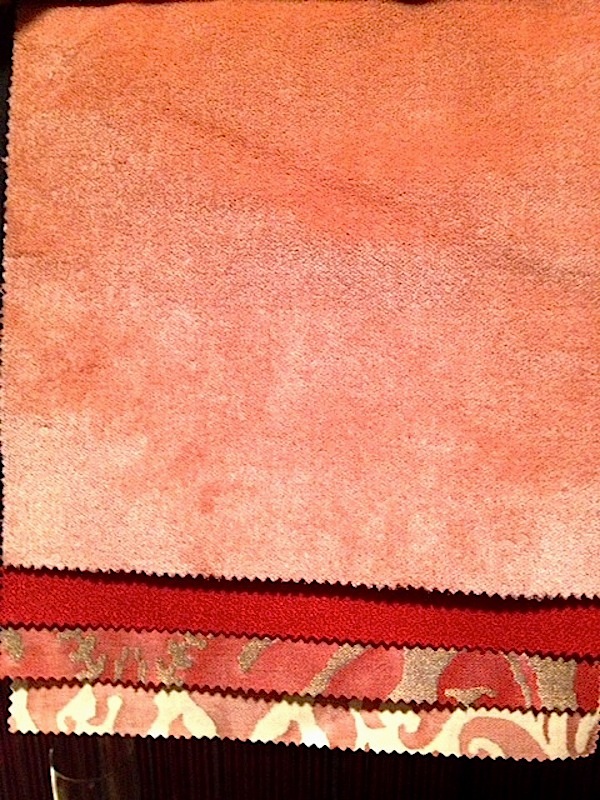 Stay tuned later this week for a very special take on the NYBG Orchid Dinner and coming next week, the exciting premier of our new video series.