I have known the Tilton Fenwick design team of Suysel DePedro Cunningham and Anne Maxwell Foster almost since the beginning of both of our journeys in 2010. It was a quick start out of the gate for the talented duo. They were published in TradHome and named one of the Top 20 New Trad designers to watch within months of opening their doors and shortly thereafter were the subjects of my first video feature, which gives a little background on the team. Since then they have been additionally published, featured in showhouses and charity events such as Design on a Dime and widely acknowledged for their colorful, layered and pattern-infused take on traditional design.  So it was no surprise to learn that they have teamed up with Duralee to produce a fabulous fabric collection full of their distinctive design sensibility. I was thrilled to have the opportunity a couple of weeks ago to visit with them at Duralee's offices to get a sneak peek at the line.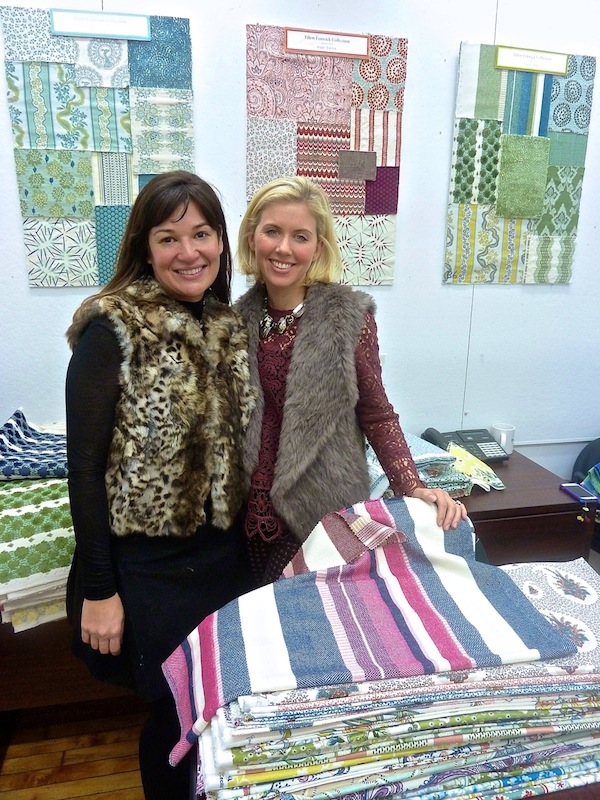 Anne and Suysel first met Duralee in 2011, when, as an advertising partner with TradHome, the fabric company sponsored a studio tour for each of the featured designers. And a mere year later the Tilton Fenwick team received a call asking them to collaborate on a collection, following in the footsteps of John Robshaw, Eileen Kathryn Boyd, Phillip Gorrivan and Thomas Paul, all of whom have created lines for the label.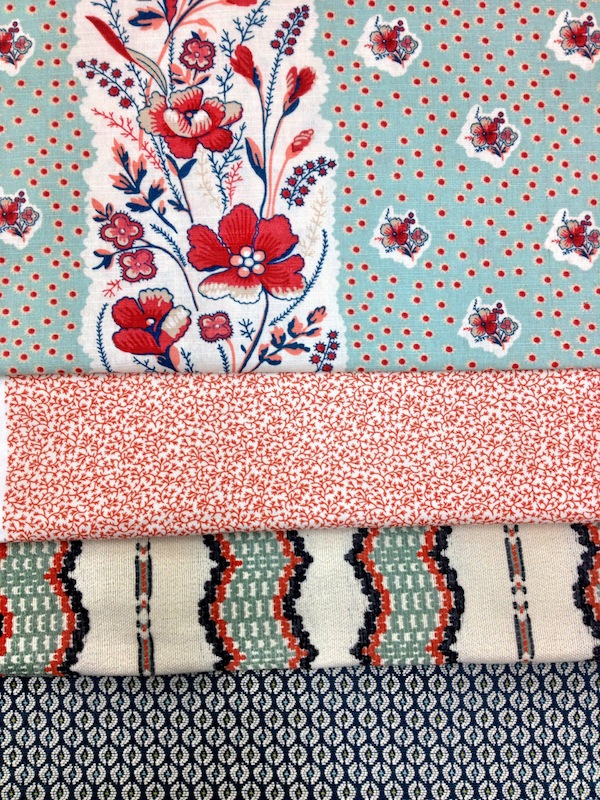 I asked Anne and Suysel about the experience of creating their textile collection. "Being our first foray into product design, the team at Duralee, especially Samantha Baker, director of prints (below top, second from right) and Lauren Pelusio, director of wovens (below top right) at the design studio, were our guides throughout the entire process.  From design conception, selection of qualities, creating color ways, down to finalizing the 158 SKUs in the collection, they were truly amazing to work with. They gave us advice but also gave us the creative leeway and confidence to take chances."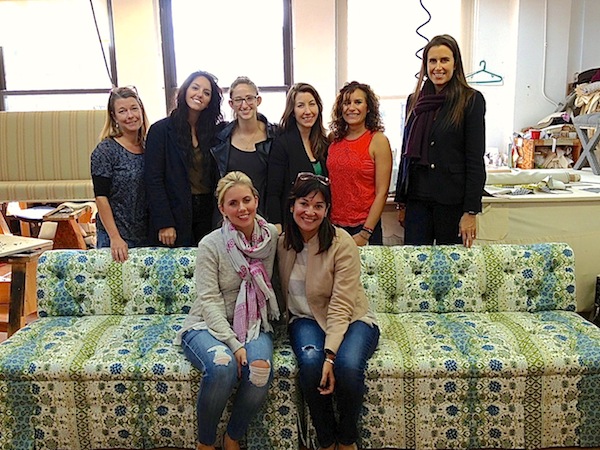 Their first fabric developed, Rocat, is a cornerstone of the collection, epitomizing the team's aesthetic and what they're always looking for themselves – colorful statement prints, especially ones with borders that can be applied on curtain panels, sofa skirts, pillows and seat cushions. Featured above on tufted settees crafted by their go-to upholsterer Luther Quintana, one can see how Rocat successfully walks the line between traditional and contemporary. As does Zulla, a pretty play on paisley, below.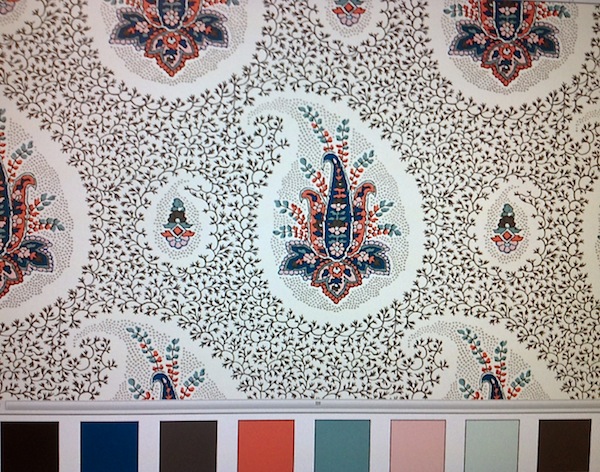 You can see how many colors go into each of their statement patterns as they worked with the charming Zulla during development on the computer.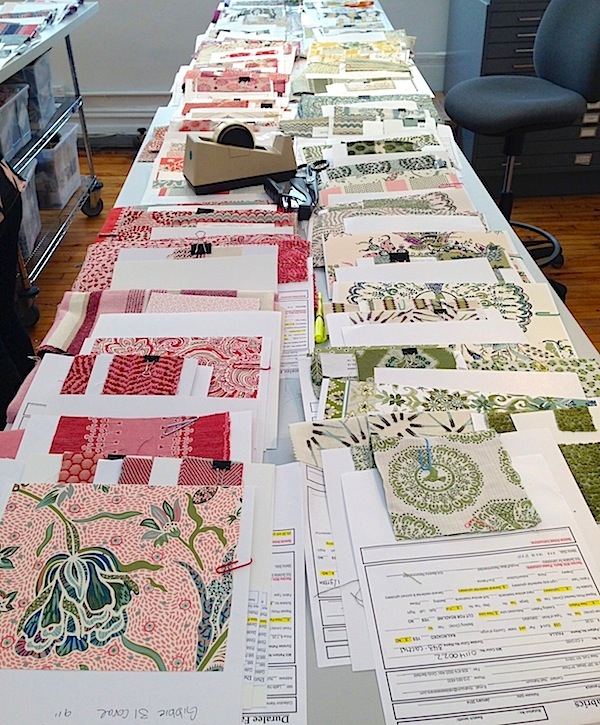 And there are a myriad of fun coordinating prints and wovens creating plenty of mix and match opportunities. Above is the line coming together as the team spread them out by colorway. And below a selection of color coordinated wovens as they came in, from left to right, Scout, Armstrong, Cline and Barlow.
four photos above courtesy of Tilton Fenwick
You can see how the team's formal training in design, focussing on proportion, scale and color contributes to the bones of the collection. And their love of layering with unexpected combinations of color and pattern lead to their goal of uncovering hidden harmonies, "where the combined whole becomes greater than it's individual parts." Two of their favorite florals, named after Anne's daughter Gibbie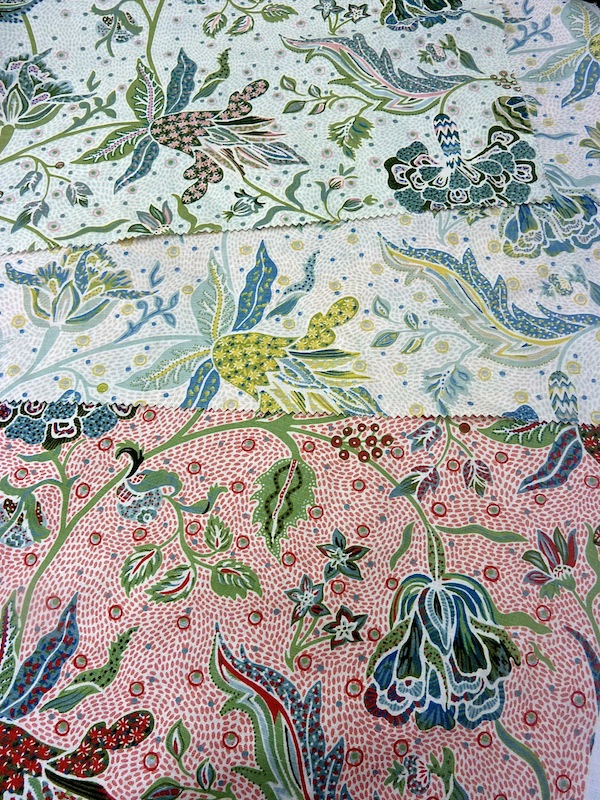 and Suysel's daughter Cecilia,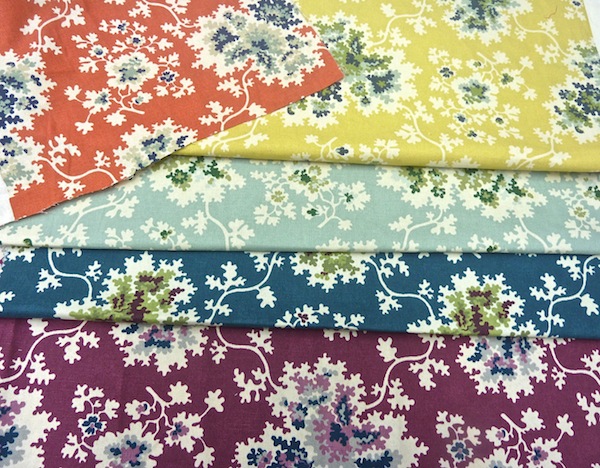 play nicely with so many of the overall patterns and stripes, such as the animal inspired Haute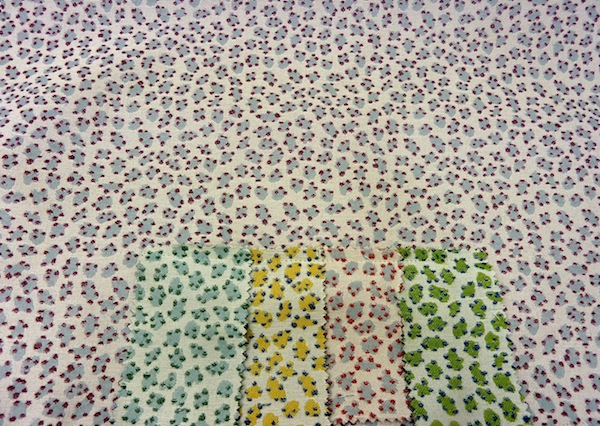 printed stripe Eze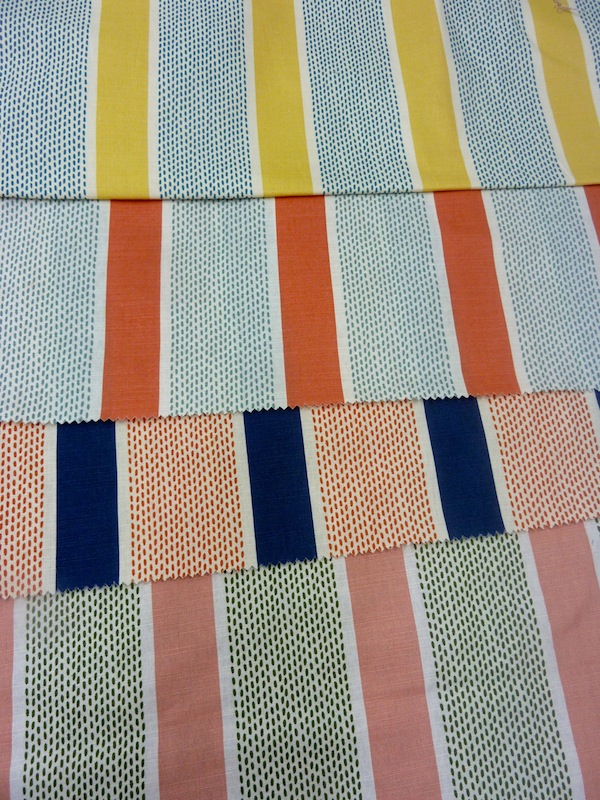 woven stripes Gideon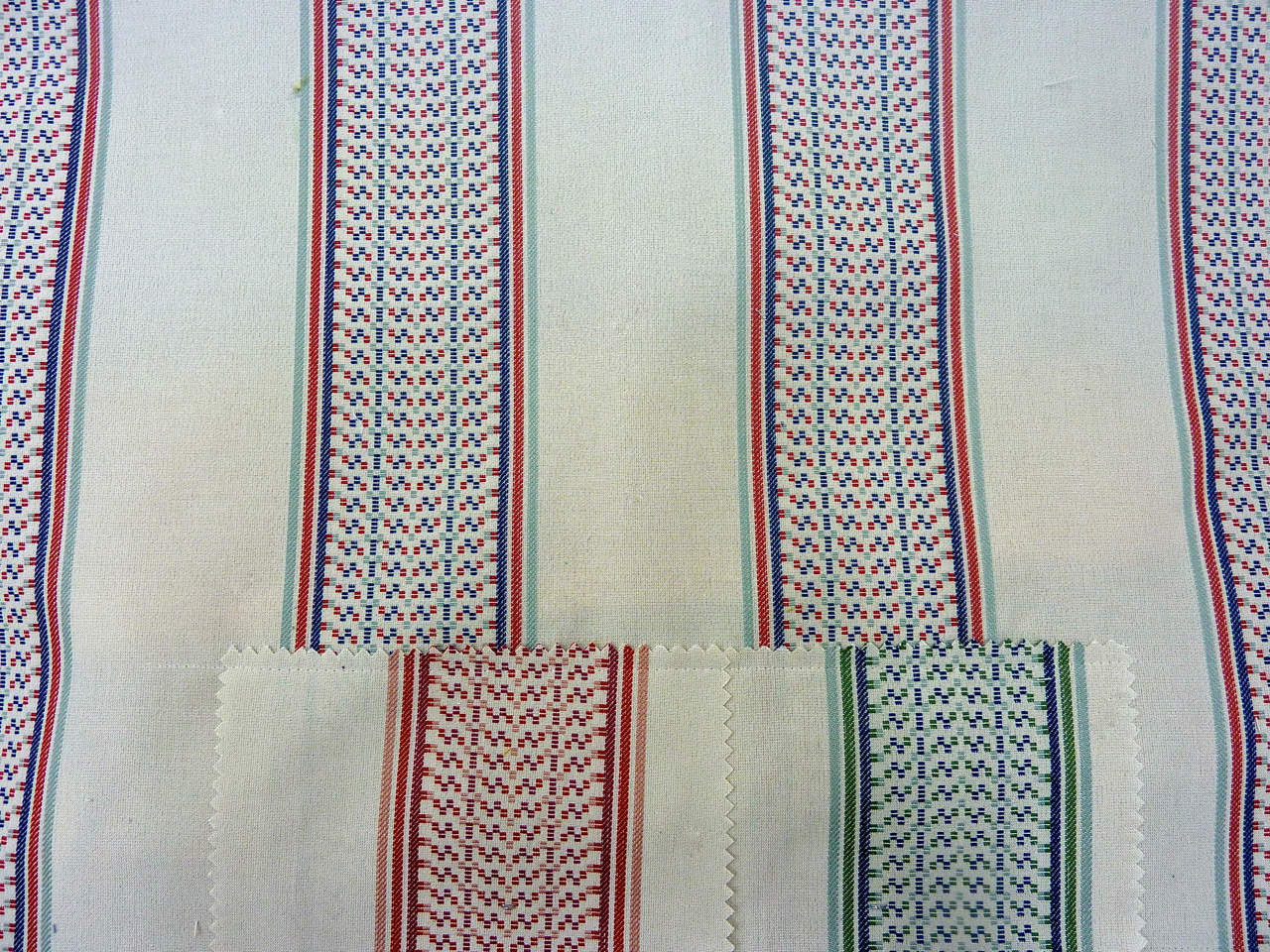 and Armstrong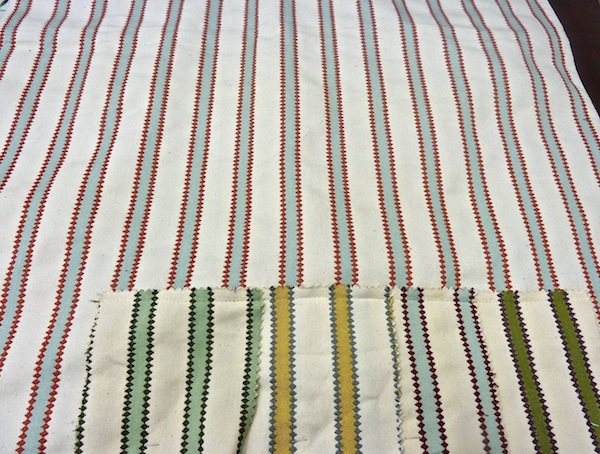 or fashion inspired Dallas (named after Anne's adorable pup).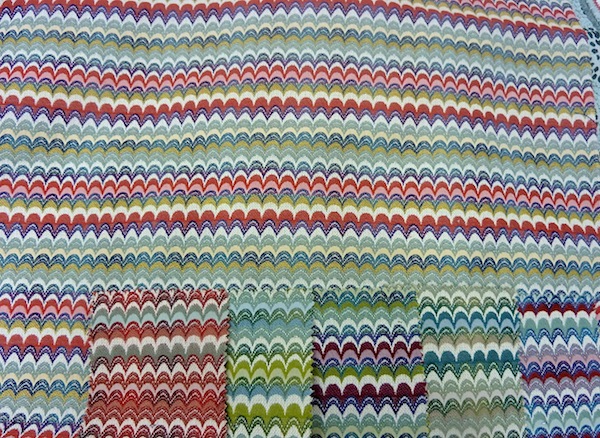 Other fabrics perfect for bold pattern play include Maris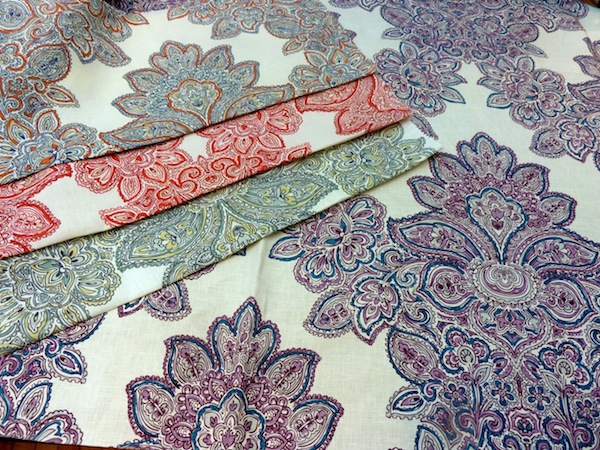 and Chilvers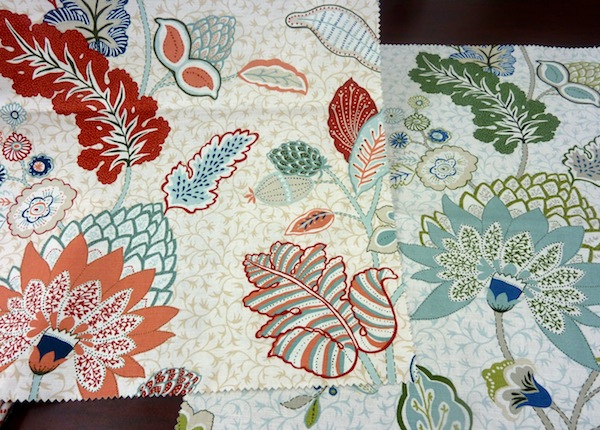 The team cited Olsen as a woven favorite, an upholstery-weight thick stripe incorporating charming details. The mint/red colorway is fabulous with a very Madeleine Castaing feel.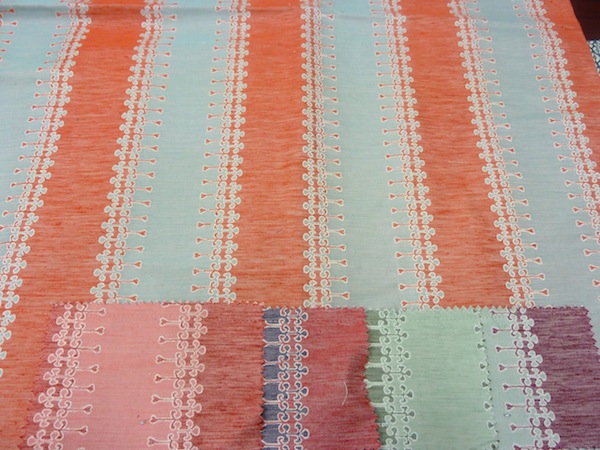 And they would love to see Soskin, a cut velvet stripe with a subtle animal print, on an enormous sofa.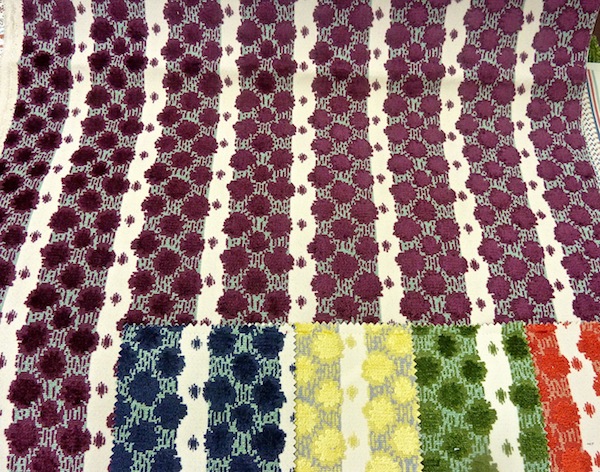 Other pretty wovens include Whittaker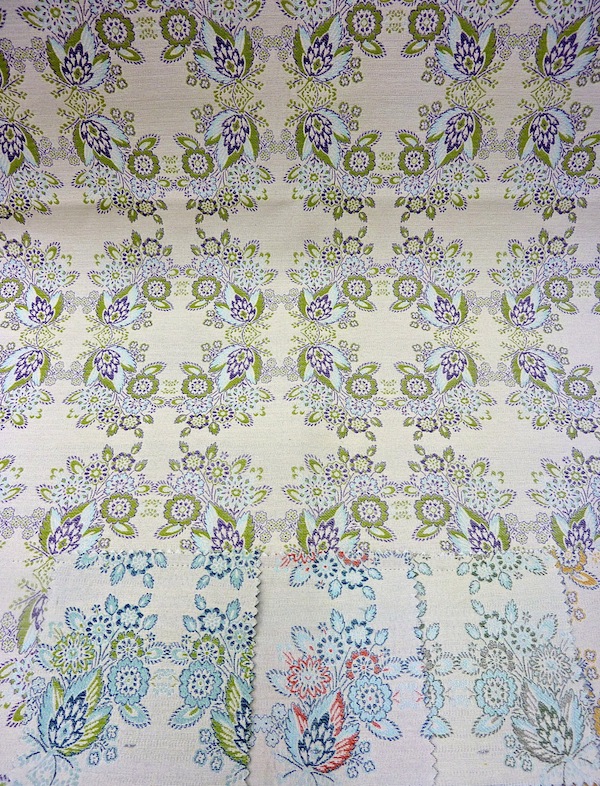 and Brenner, which, like much of the collection, are named after designer friends in the industry.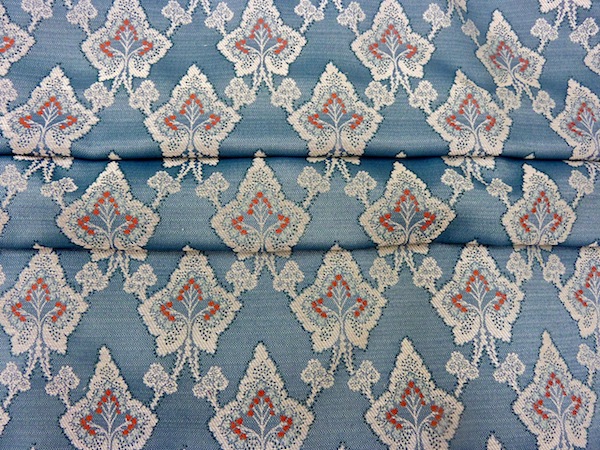 I was honored to be included with the introduction of the super soft wool blend stripe Quintessence.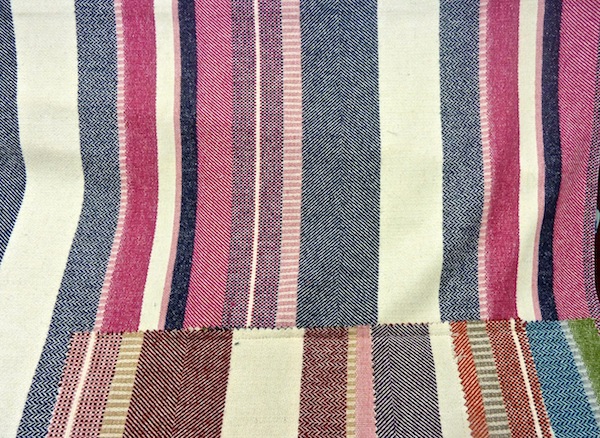 Here you can see the details in my favorite colorway.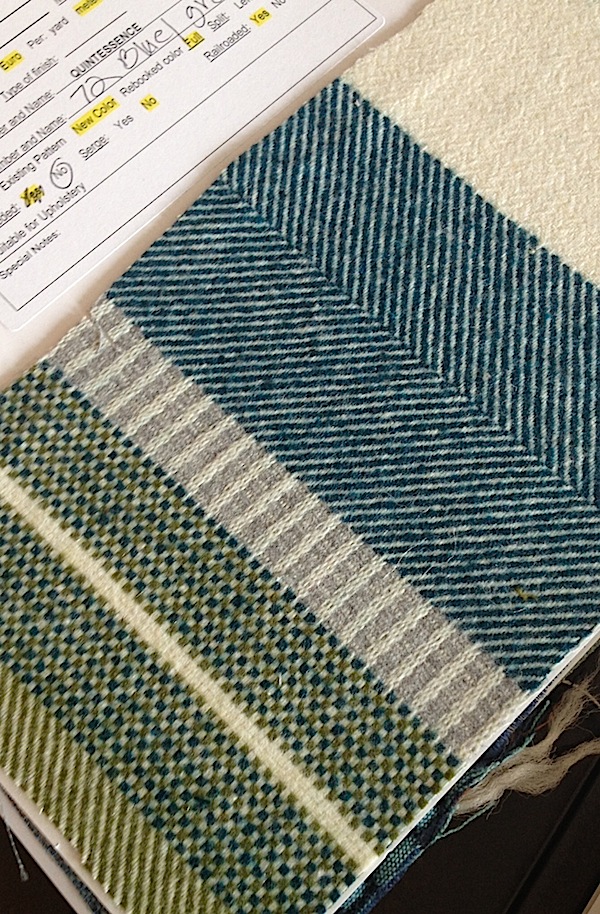 I already have potential plans for the graphic Jax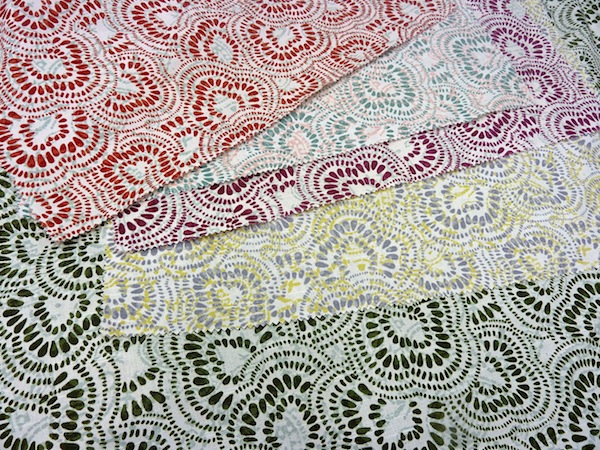 and perhaps the stunning Sissy, which feels rather like an English handblock.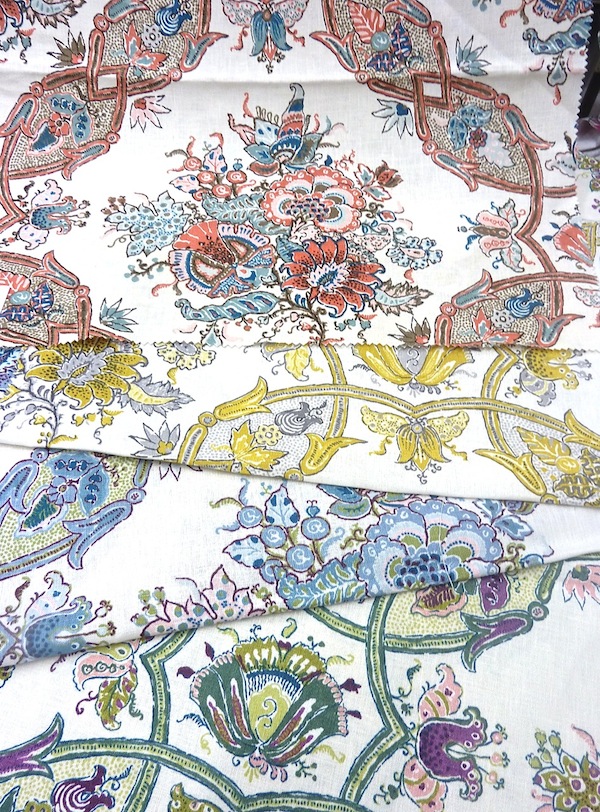 So now with a beautiful fabric collection and a capsule rug collection with Studio Four, what's next for the dynamic duo? They are expanding their client base, with new jobs including two in Texas and "We dream of a wallpaper line! That would be the icing on the cake for us." Well some people get to have their cake and eat it too – it just might be Tilton Fenwick!