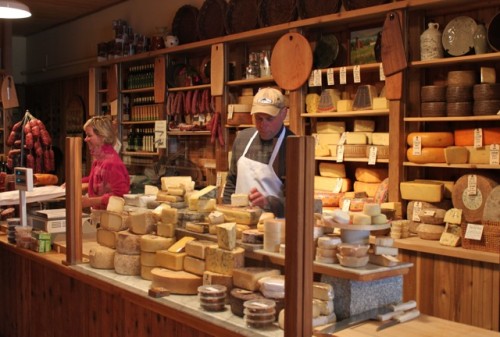 In my food universe, Ken Skovron is the big cheese. As the owner of Darien Cheese, Ken is one of the most well respected specialty food shop owners around. I've been buying delectable products at this fabulous store for over 20 years but I'd never really talked to Ken about the genesis of his business. I had the opportunity to do that the other day.
Darien Cheese originally opened in 1967 and was bought by present owners Ken and Tori Skovron in 1986, who have since transformed the store into one of the most distinguished cheese shops anywhere. Ken got his start started working behind the counter at Greenwich's "Cheese Shop International," the original cheese shop which started franchising at the New York World's Fair. As Ken explains, in those days Jarlsberg and Danish Fontina were considered gourmet cheeses. Like many of us, he was a kid who grew up eating Port wine cheddar but after he began tasting some of the more flavorful authentic varieties, he was hooked. Following a brief stint in fashion, Ken realized his true calling was food. He returned to Greenwich, eventually managing the store and then moved on to join the largest U.S. food importer/distributor to help them develop a specialty cheese program. It was during this period Ken met many of the pioneers who were changing the face of the specialty food industry like Joel Dean and Giorgio Deluca of Dean & Deluca as well as the Balducci family.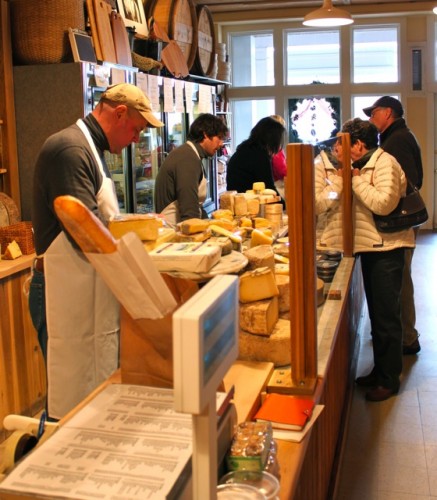 But Ken discovered he missed the connection with the customers, so after looking around for a store, he ultimately settled in his current location. As Ken describes, it was a tough start. In the mid 1980s, when Martha Stewart was the rage, serving pinwheels on top of Brie, he was doing something outrageously different – trying to sell funky raw milk cheese that people didn't quite understand. It wasn't until six years later, as more people began to travel and more Europeans starting integrating the area, that the business really started to grow. The wonderful raw, unpasteurized cheeses that Ken discovered through his travels and from people like Dean and Deluca are really his passion. And it became Ken's mission to discover the people making these artisanal products, although he is quick to point out that "artisanal" has become such a corporate buzz word he is now loathe to use it. He prefers to just say handmade by real people.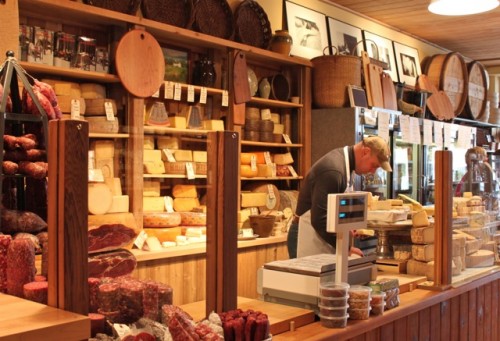 Most of Ken's products still come from Europe where it all started. And within this culture, he searches out the truly authentic, such as the St. Nectaire Fermier he was featuring the day I was in. This is a bona fide hand made farm cheese. The fermier appellation indicates it is from a single farm, one farmer makes it, from his own herd of cows, goat or sheep from his own property (not unlike a wine that is made from the grapes of a single vineyard). He controls the whole process from the ground up – what the animals are eating and at what time of year, the quality of the milk etc. Such examples are the most honest expressions of cheese making and what Ken looks for. This is what's closest to his heart and the raison d'etre of his business – introducing customers to these special hand made products and their heritage.
Many of these farmers now seek out Ken. They know that he will handle their product correctly, ripen it accurately, put it out in the right condition, know what it should taste like and perhaps most importantly, know how to communicate this to the customer – that this is something special and why. All not necessarily true at a large store like Whole Foods for instance. Neal's Yard in London, the famous cheese purveyor, is a perfect example. They come to Ken's shop every summer to do a demo. They don't do that anywhere else in the entire country. When they went home this year, they told an industry magazine about their visit, referring to Darien Cheese as one of the best cheese stores on the planet! People come from all over to Ken's shop and for good reason. He has incredible product in incredible condition (he ripens his own cheese so that it can be presented at just the right time), he hand selects and imports all the cheese personally, and has relationships with the producers who know what he likes and wants to sell.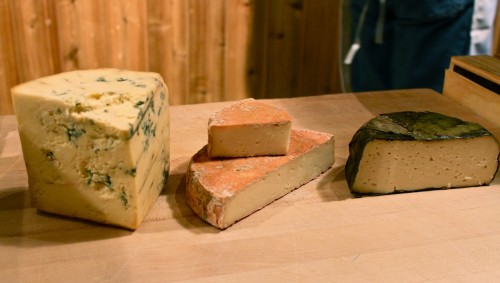 On this recent visit Ken showed me three prime examples from each cheese category as seen above.

The goat cheese, Cardo hails from Sleight Farm near Somerset, England through Neal's Yard. Like an Époisse, it is a washed rind cheese (where the outside is frequently orange-y in color). The cows are grass fed in summer pastures. But what makes it special is that they use thistle instead of traditional rennet to curdle the milk, imparting it with a pungent yet delicate almost floral flavor. Ken is the only store in the country that carries this special offering and gets only 16 wheels a year. Delicious!!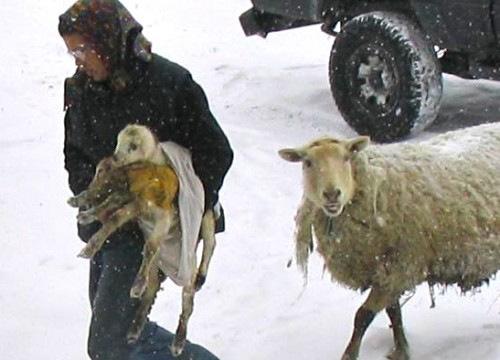 The sheep milk cheese Ken showed me was from Sally Jackson here in Washington State. She is the original American cheese artisan and has been making unpasteurized chestnut leaf wrapped cheese for over 20 years – long before it was the hip thing to do. None of her cheeses have names – she produces three types a year – one cow, one goat and one sheep variety, rare to do on one farm. Jackson's cheeses are not about finesse. They are wilder and more about the environment – a reflection of the nature in which they are made presenting a wide variation. The sheep milk cheeses are higher in butterfat and therefore creamier. And this was exactly that – creamy with a mellow earthy muskiness. Jackson produces only small quantities and I'm delighted that Ken is able to carry her wares.

Lastly and possibly my favorite is the cow milk cheese Stichelton from Neal's Yard. Stichelton is one of very few unpasteurised English blue cheeses. It is made using organic, unpasteurised cows milk from Collingthwaite Farm in Nottinghamshire. This cheese is the result of an ongoing project and partnership between the farm and Neal's Yard that Ken has also been involved with. Without going into too many details,  let it suffice to say that the making of this particular cheese is a very time consuming arduous task. But the results are worth it. This is the smoothest, most buttery blue cheese I have tasted. Think of the spicy quality of a typical blue, with a smoothness totally unlike the usually crumbly texture of a Stilton,  mixed with the nuttiness of a Gruyere and an almost sweet caramely aftertaste and you have Stichelton – a masterpiece in cheese making and a perfect example of the evolution of cheese by modern artisans.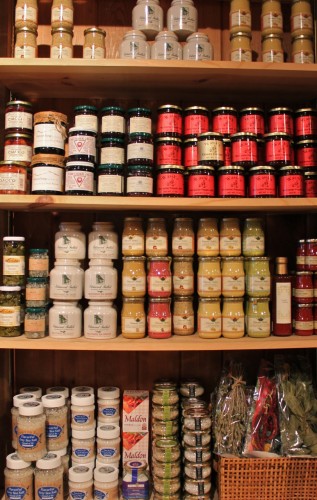 I must also add that although Darien Cheese's main focus is naturally on cheese, it also carries many other wonderful products, from Ken's delicious in-house Corsica label California olive oil to an incredible selection of charcuterie, jams and chutneys, olives and marinated vegetables, pastas and much more, all from small artisanal producers. Their fresh baguettes and specialty raisin cheese course bread are delivered daily from The Kneaded Bread in Portchester, NY.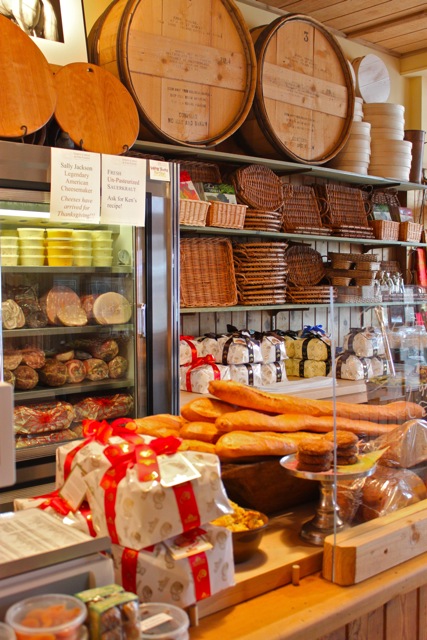 Shopping at Darien Cheese is an intimate experience – Ken and his staff (including Tori, Lisa Duggan and Kevin Defreitas) take the time to find out exactly what you want even if you don't know yourself. You are never rushed, even during the holidays when the double line extends well out onto the sidewalk. You are always encouraged to taste before you buy and are educated in the process, all in the most friendly and unintimidating atmosphere. This is the kind of place I'm sure food pioneers like Alice Waters and Thomas Keller would love. If you live within driving distance, it would be well worth your while to visit this incredible store. You'll be glad you did!