As I look back through my photos from TENT London, I am amazed to see the incredible assortment of eclectic excellence. Some companies showed impressive uses of technological advancements. I loved Ditto, a revolutionary new 3D modular product from Danish company 3form. The fabulous orange notwithstanding, I adored the unlimited level of customization this offered. From partitions or room dividers to wall features or art pieces, the variations are endless.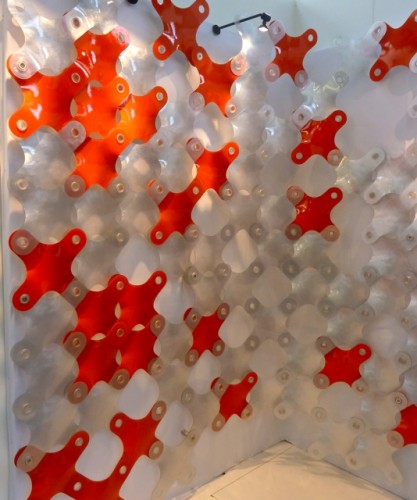 The majority of the producers, however, were focussed on more handmade or artisanal craftsmanship. Bodo Sperlein's luminous ceramics for Nikko were beautiful. Another successful example of creative collaboration – between a British designer and Japanese company. I was particularly taken with the Blossom collection, a combination of east and west resulting in an organic grouping of beautiful floral inspired porcelain.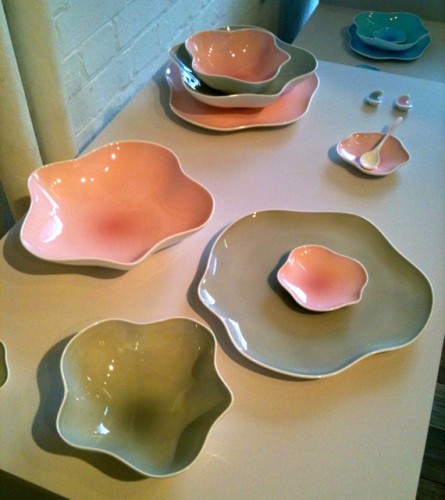 You can see the colors a bit better in these product shots from the company.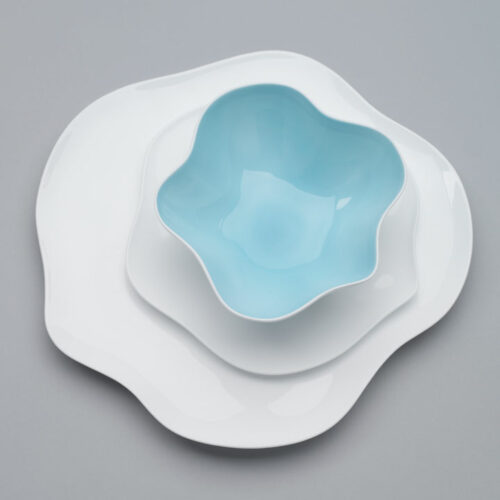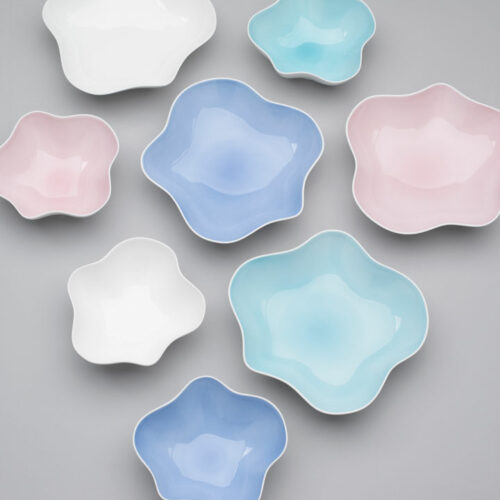 The translucency of the bone china also translated beautifully to these graceful Blossom pendant lights, a very popular trend at the shows.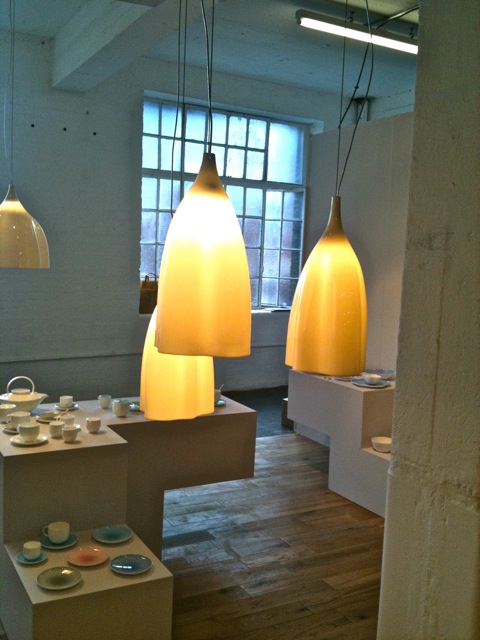 Furniture ranged from the modern graphic shapes of Prague-based Jan Plechac's Icon chairs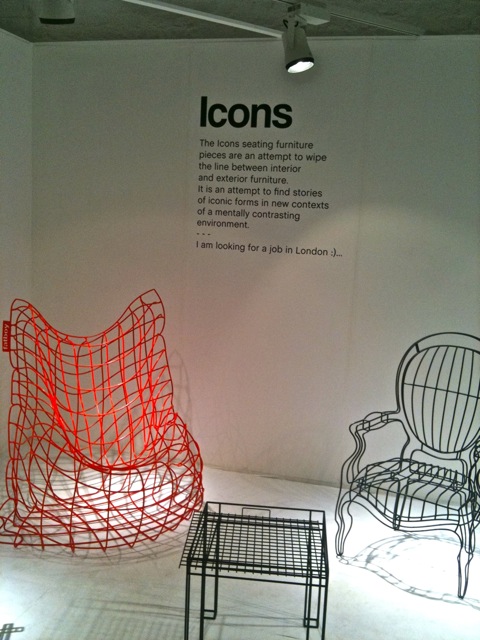 to one of my very favorites, the REX chair by Slovenian designer Niko Kralj. Originally designed in 1952, the chair is part of a larger folding furniture collection. It is no surprise to me that it was chosen as part of the design collection at the Museum of Modern Art in NYC. I can personally attest  to its ergonomic comfort,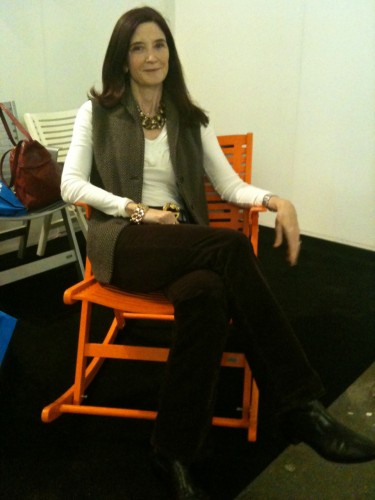 classic shape and beautiful colors with enamel-like finishes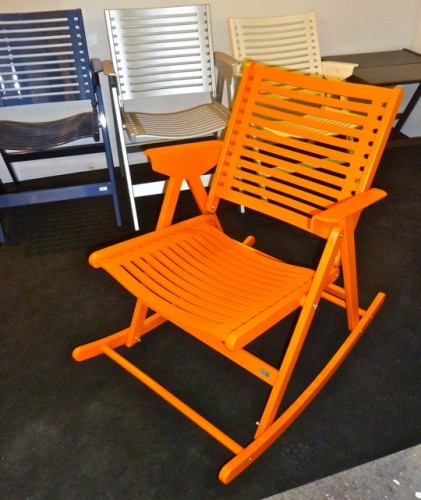 and its practical space saving design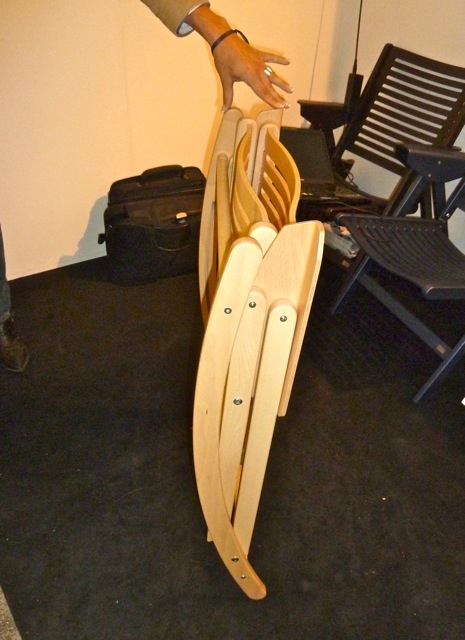 Another nod to the past was seen at London Timepiece, who carries an impressive collection of industrial and traditional clocks. The wall below represents just a tiny portion of the merchandise displayed at TENT London, much of which was sold. All the vintage items are hand restored, reclaiming their original beauty and character without losing the aged patina.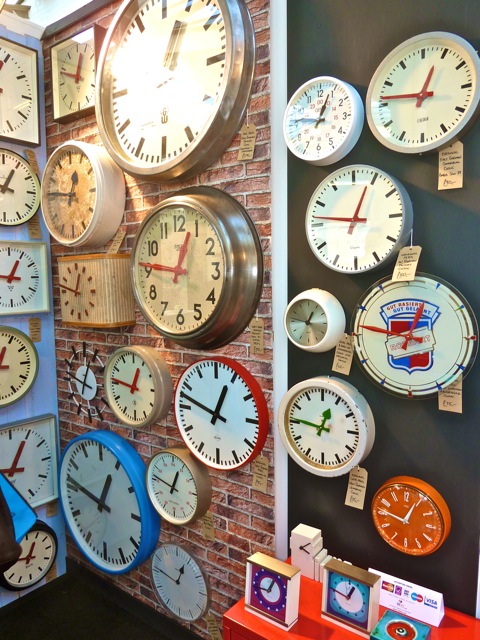 As mentioned yesterday, I found the lighting booths particularly interesting. TENT London commissioned three installations under the title TENT LOVES. My favorite of these was Studio Pepe Heykoop, the Dutch furniture design firm, whose environmentally conscious leather Skin Collection included fabulous lampshades.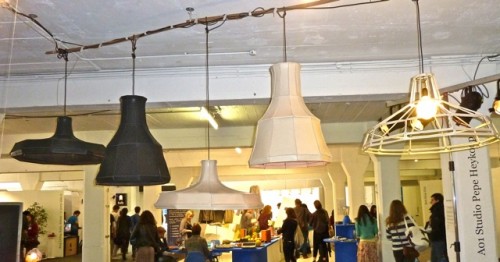 Made from the "waste leather" of the furniture industry, the lampshades are produced in conjunction the Tiny Miracles Foundation in Mumbai, India, whose goal is to provide jobs to as many underprivileged people in the area as possible. With shapes reminiscent of old industrial lamps, the lambskin makes them not only tactile and beautiful but lightweight and foldable – old and new again!!
photo courtesy of Pepe Heykoop
A totally different feel was evident at the booth of designer Daniel Latorre Cruz. His amazing Icarus lights are created from handmade paper of mulberry trees. These light and elegant fixtures had a birdlike ethereal feel. Each feather-like "wing" is removable from the wire frame for cleaning and/or packing. Available in black or white, in a variety of sizes, these  pieces would make a beautiful statement in almost any sort of space, successfully walking the line between their artisanal roots and elegant profile.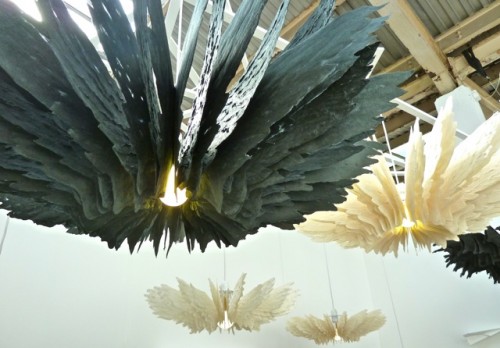 Look for a final round up of fresh designs from TENT London tomorrow.