Each year, in anticipation of the Lenox Hill Gala, I wonder how designers will top their creations from previous seasons. And each year I am amazed at the innovative ingenuity displayed. From towering to (not quite) tiny, the table decorations ranged in size and extravagance but none lacked creativity. Patrick Mele's stunning centerpiece was a festive weeping willow of colorful ribbons. Pierre Frey's new Arty linen dressed the table, inspiring a fresh and primary take on spring with simple yet lush arrangements of daffodils, blue votives and red and yellow place setting accoutrements.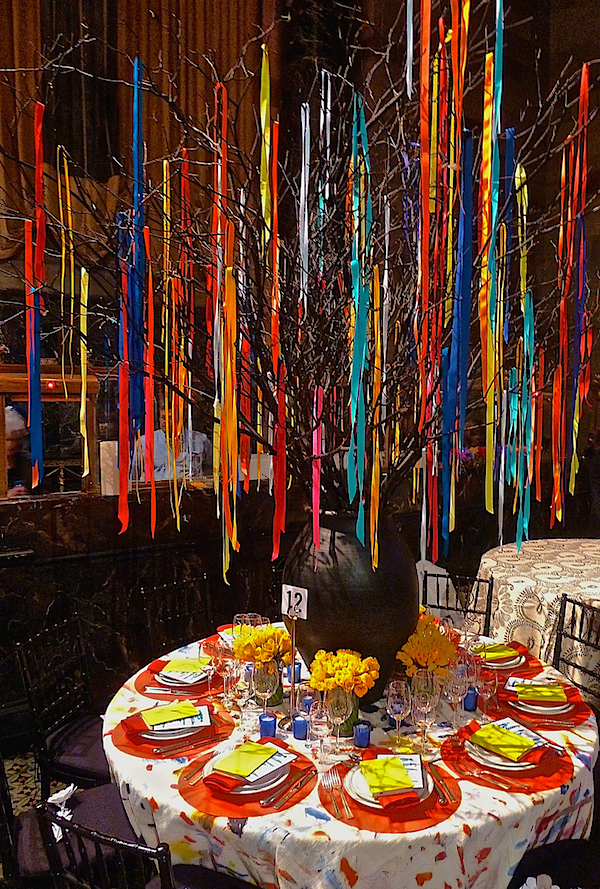 Talent finds talent, and collaborating with long time friend, Haley Sarno, Mele commissioned charming placecards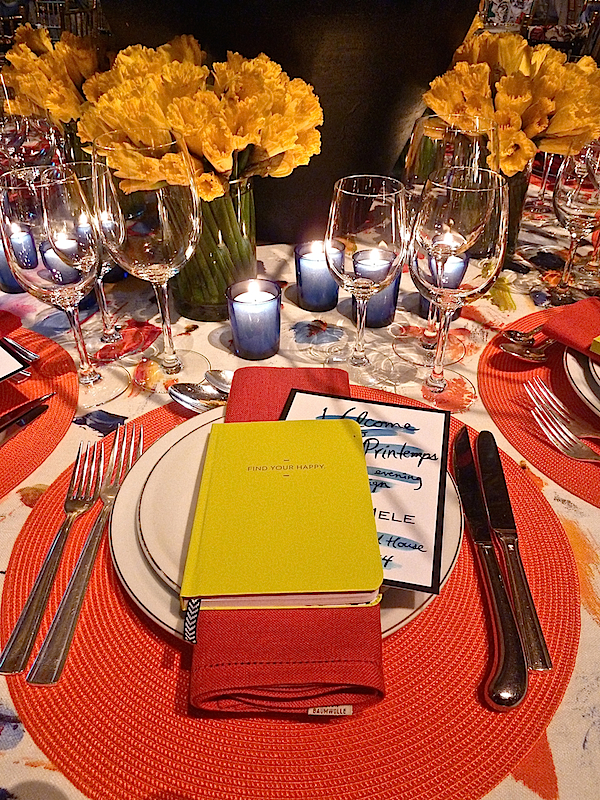 and Matisse-like paper flowers to adorn each chair.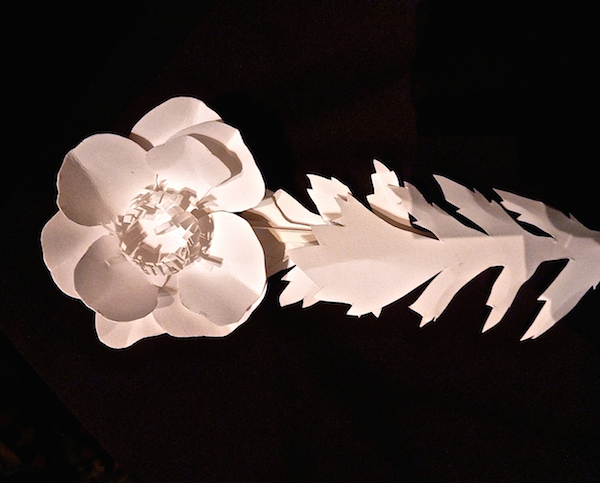 Ashley Whittaker always produces beautiful layered tables and this year's Peonies in the Park was no exception. I loved the Oscar de la Renta for Lee Jofa Arcadia fabric paired with abundant florals and herb filled Williams Sonoma lion's head soup bowls.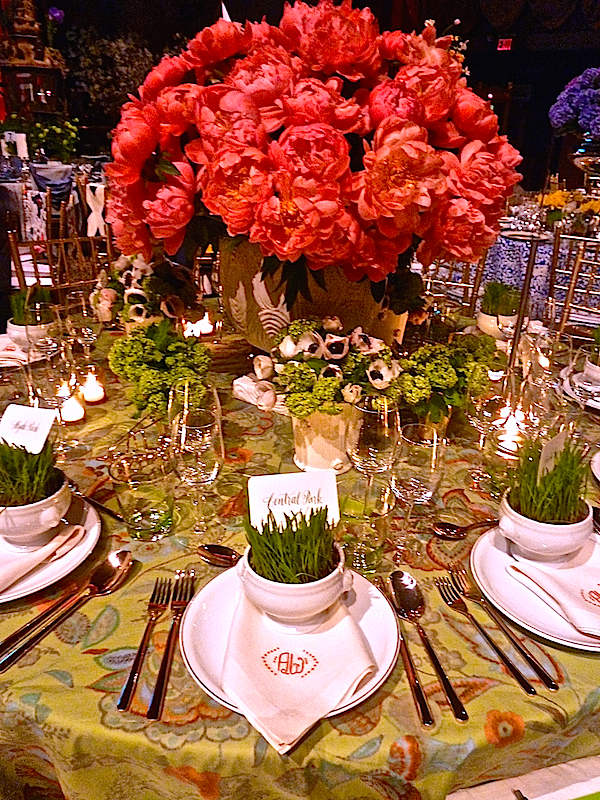 Christopher Spitzmiller's fetching cachepots were the perfect addition for smaller arrangements.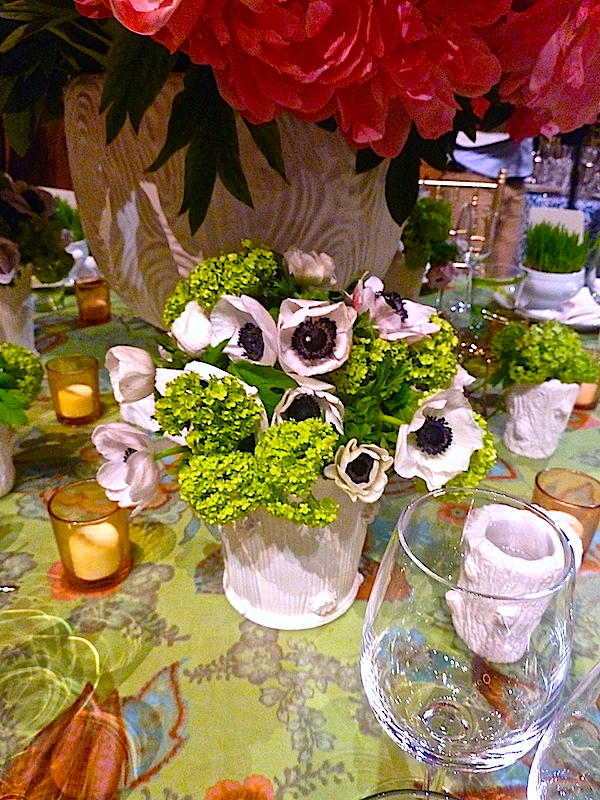 Another fresh take on tradition was Allison Hennessy's beautiful table up front and center. With a tall flower-filled etagere, she set the tone for a classic with a twist blue and white scheme, incorporating a fresh grass green with Peter Dunham's Bukhara.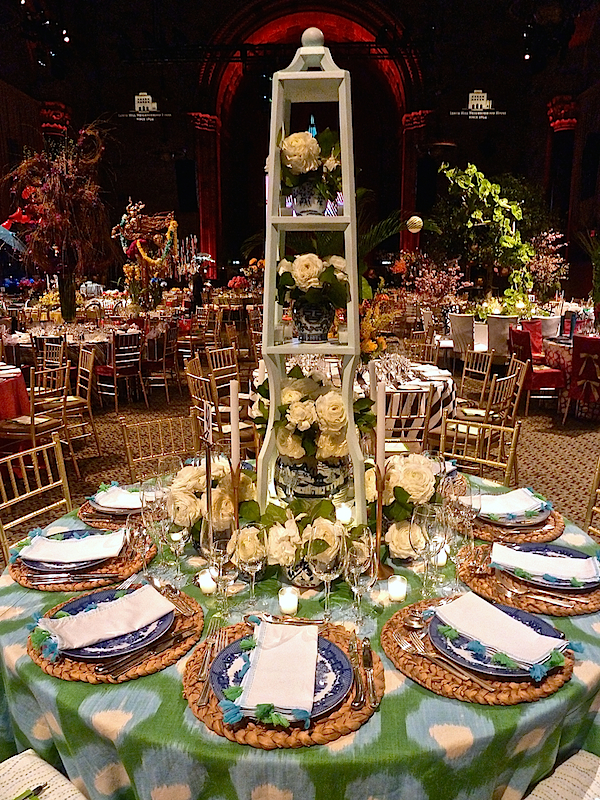 Festive Kim Seybert napkins adorned the casually chic setting.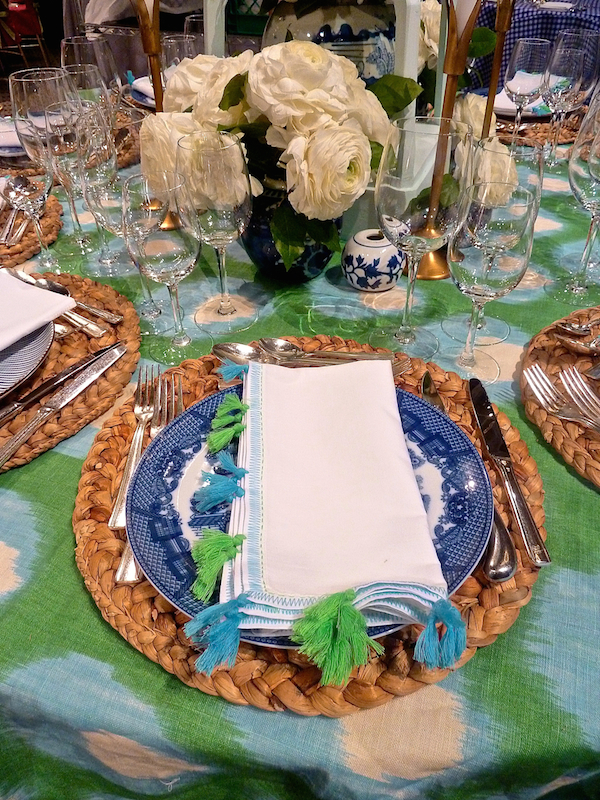 Alessandra Branca recreated her lovely tablescape that appeared in this month's House Beautiful, using her own Pagoda china with her Branca Stripe for Schumacher.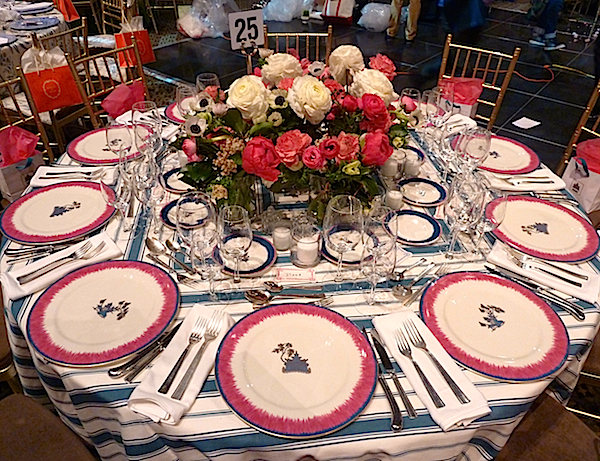 A chinoiserie chic mix of pink and blue offered a yin yang of both tailored and feminine.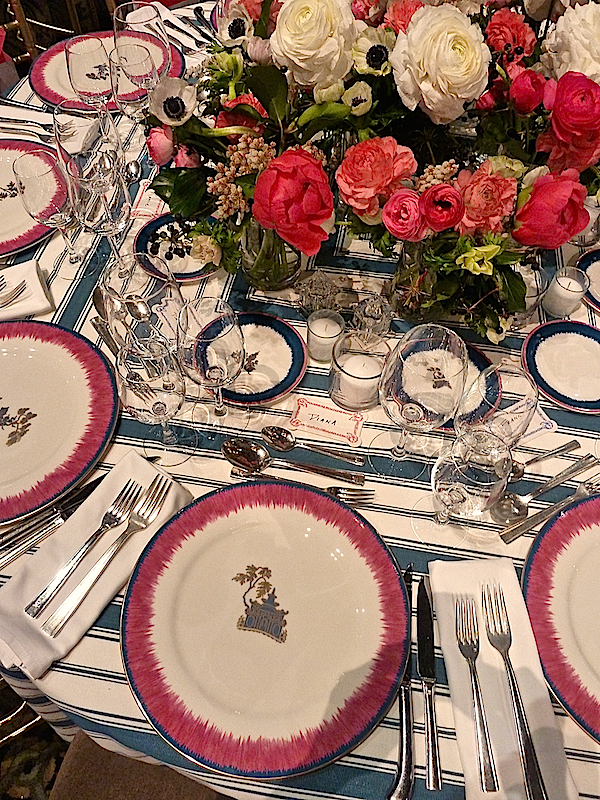 With an Empire State Building at each place, Roric Tobin channelled the classic movie An Affair to Remember for his table for Geoffrey Bradfield.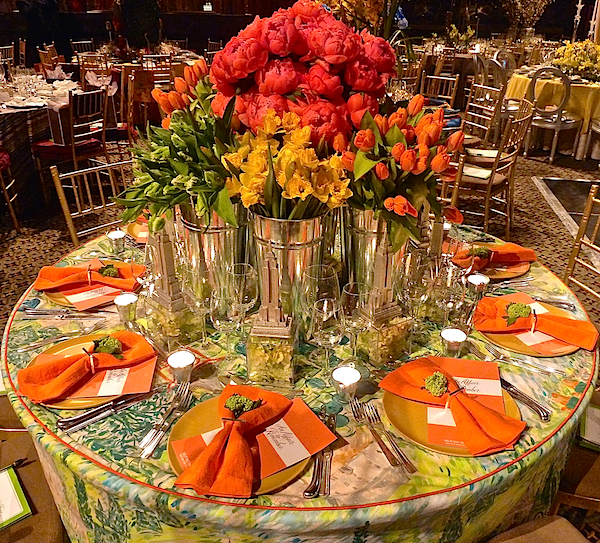 The lush color scheme commemorated Cary Grant's and Deborah Kerr's visit to his grandmother's house in Villefranche in Provence, with the bucketed flowers emulating those seen in french flower markets.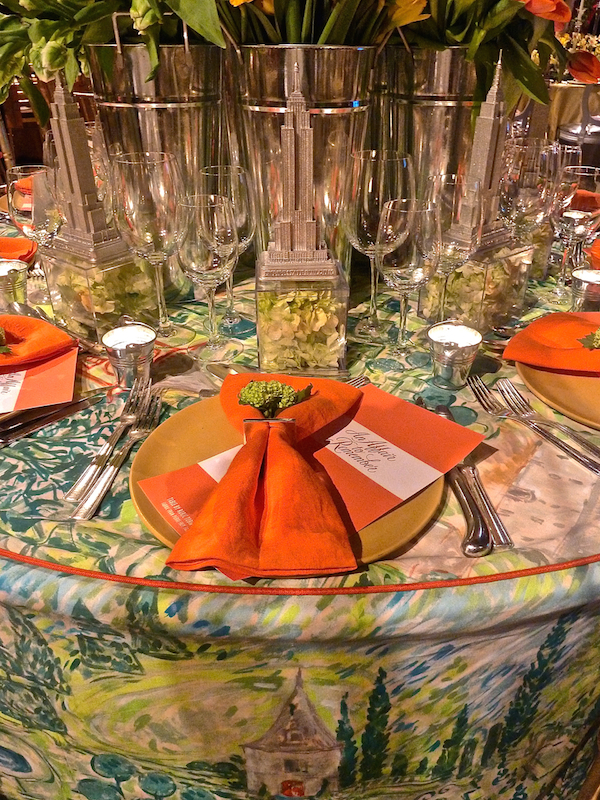 The majestic de Gournay table celebrated their exquisite hand painted porcelain, which I have written about before. Each piece is entirely hand-carved, hand-glazed and hand-painted and can be individually customized.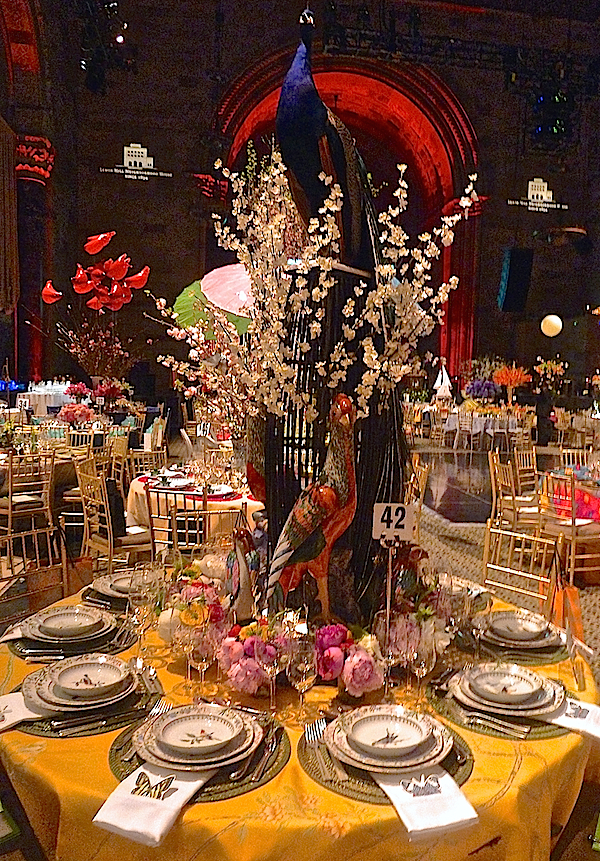 With a hand painted organza covering, their table exuded the beauty of nature captured in all its handcrafted artful forms.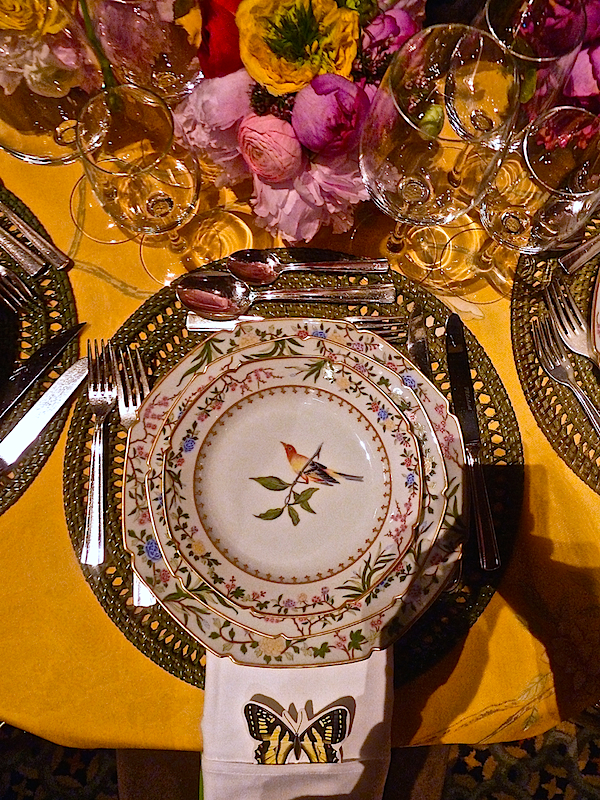 Nicole Gibbons' inspiration for her table sprang from the Balmain spring ad campaign with Rihanna. Working with Stark, she selected a Lelièvre Jean Paul Gaultier print similar to the pattern of the tile grid in the background of the ad. And partnering with TTH florist Taylor Tomasi Hill, the two created a pink based theme to echo the outfit.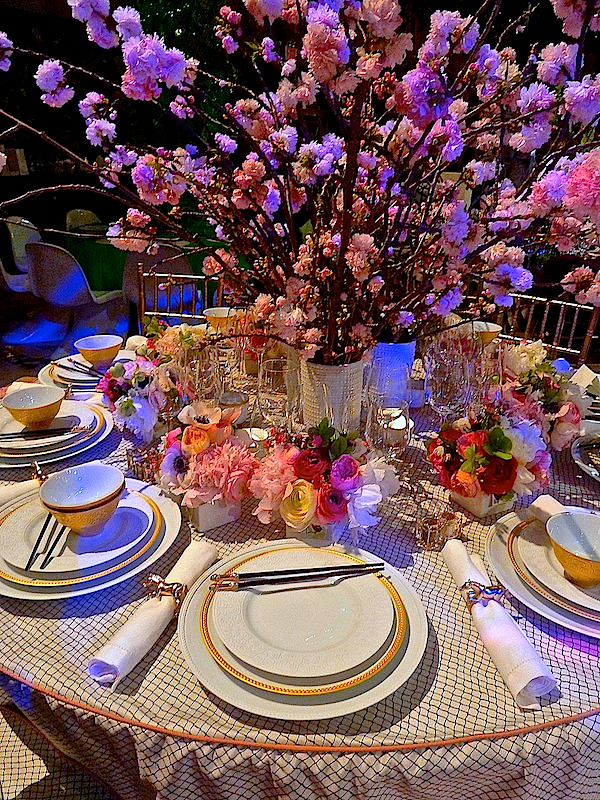 And bringing in fashionable dinnerware, chopsticks and napkin rings from l'Objet, the table reflected Rihanna's bling-y accessories.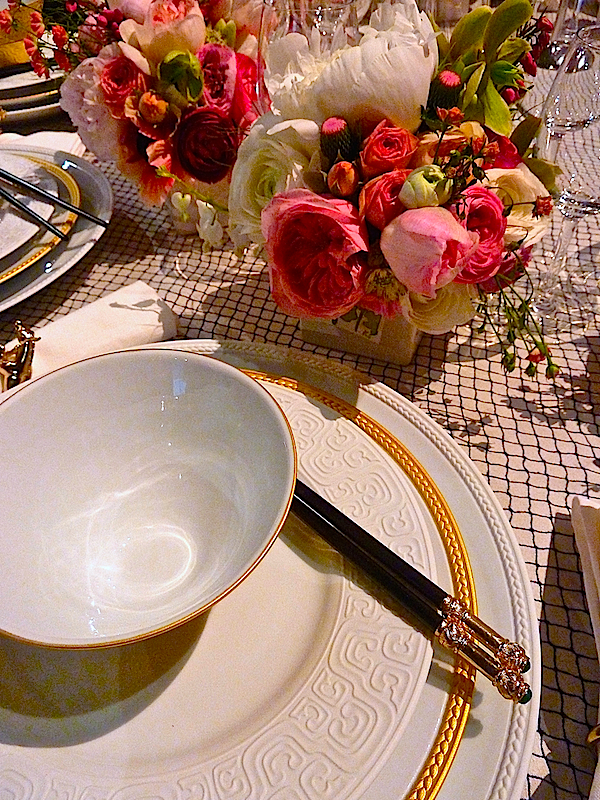 Suzanne and Lauren McGrath, the mother/daughter design team behind Good Bones, Great Pieces, created a casually elegant table with classic botanical references.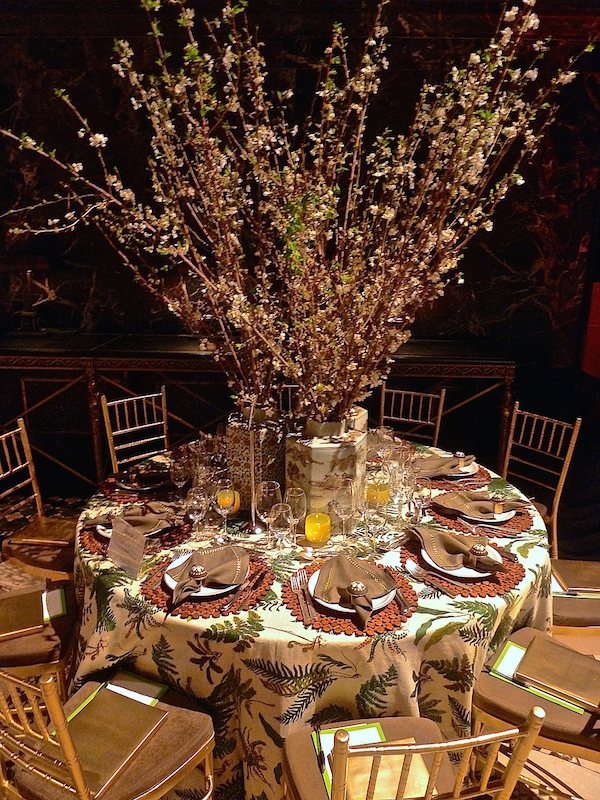 A lovely Schumacher document print Les Fougeres set the woodsy tone for the table with cherry blossoms in grouped containers creating a great dramatic statement. With Glassbaby votives and Kim Seybert Bamboo tablemats and accoutrements, this table could easily be emulated at home for a beautiful spring celebration.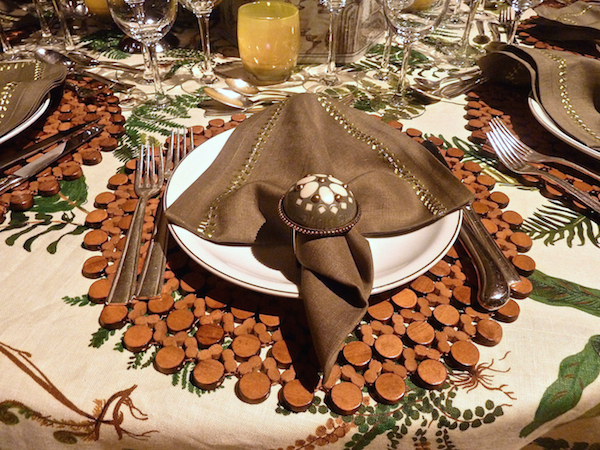 Fernando Santangelo's signature mix of old and new resulted in a vibrant table with his creative use of Dagobert Peche's graphic 1913 butterfly textile from the Neue Galerie.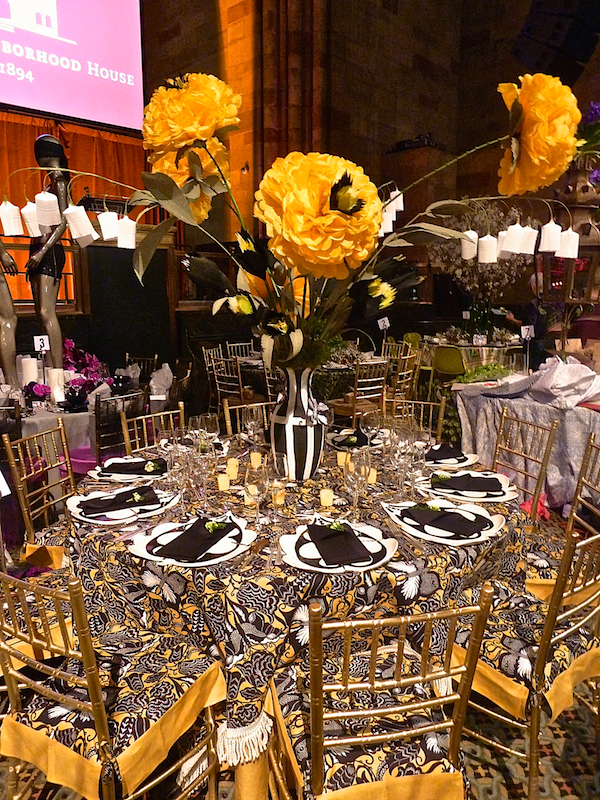 Bold black and white ceramics at the place settings and for the vase offset the dramatic yellow floral centerpiece.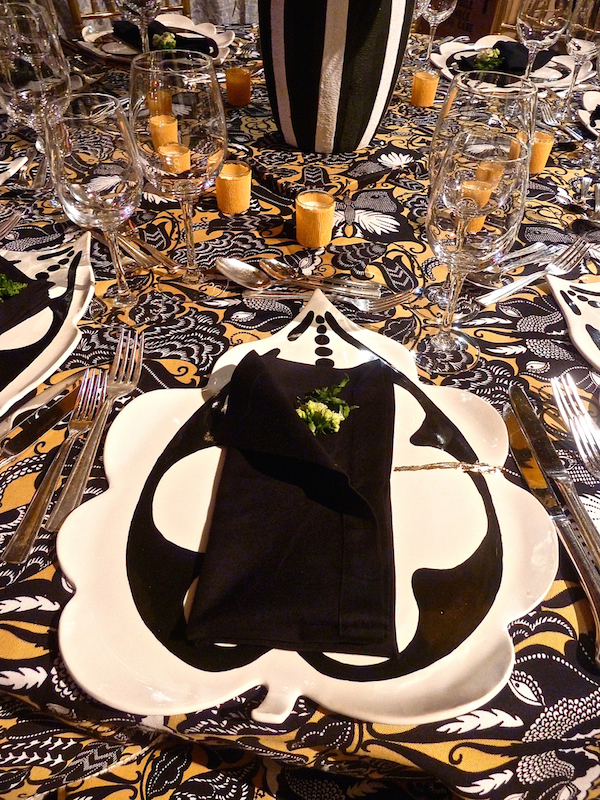 We will continue to look at the tables from the Lenox Hill gala later this week.