The mere mention of the name de Gournay instantly conjures up images of timeless elegance, of exquisite hand painted wall coverings that seem of a heritage centuries old.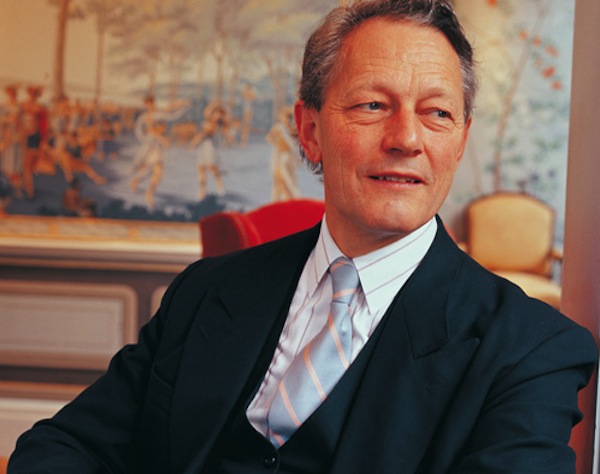 Yet the firm was founded in 1986 by Claud Cecil Gurney, above, in the same way many companies are born – to fulfill a need. After searching for artisans to restore the antique wallpaper in his own home, he discovered that this traditional art was on the verge of disappearing and made it his mission to resurrect it. Traveling to China, he searched out artists whose families had generations of experience and shared the passion for continuing these ancient techniques.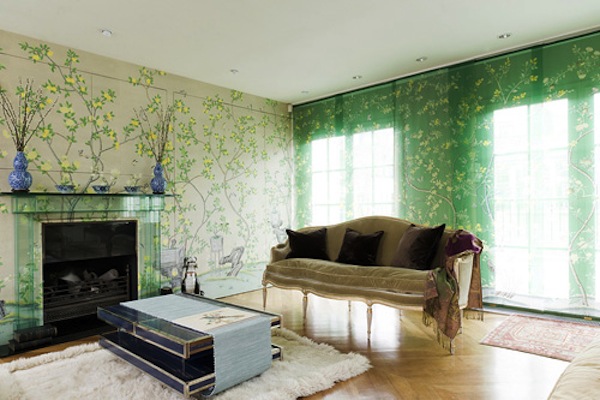 And while inspiration for de Gournay's products come from the 17th and 18th centuries, they are equally at home in contemporary settings – take a note from Gurney's own London living room, above, where his company's designs serve as backdrop to a light filled eclectic space or the dining room, which demonstrates how effective the framed panel of hand painted Rives du Bosphore paper can be.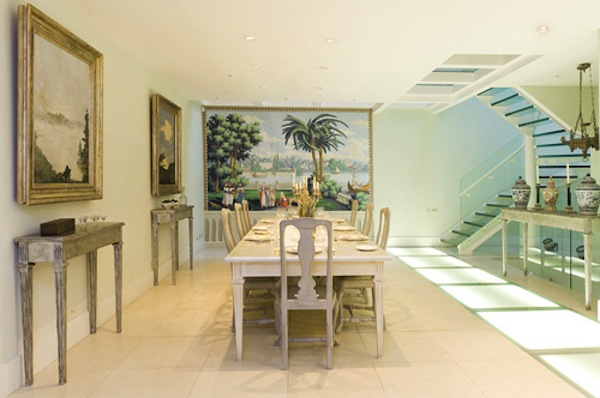 Or consider the mix of the dramatic Bamboo design in Malachite green on Pitch black painted silk in the modern bathroom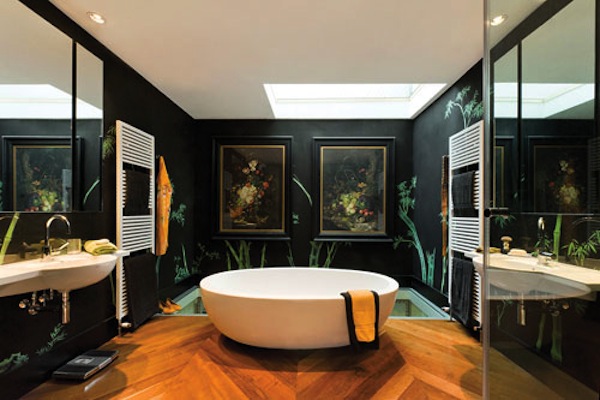 or the enveloping effect of a fully papered bedroom – have I ever mentioned my love of jib doors? A family owned company, De Gournay's products are still very much influenced by the eclectic tastes and styles of its founder, who continues to travel the world in search of inspiration.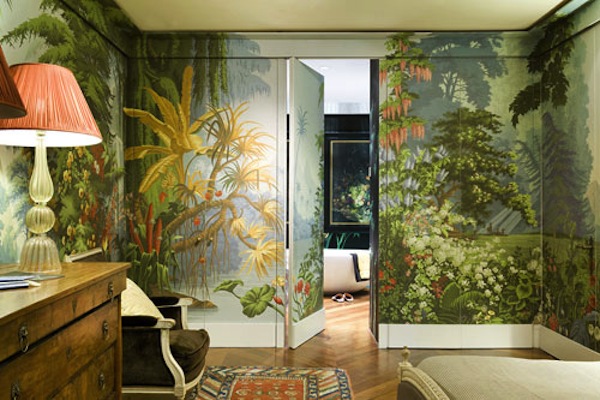 Recently the firm has continued its global expansion by opening two new flagship showrooms in New York and Paris. Last week I had the opportunity to visit the lovely new location in New York. In the heart of the design district, it sits in a charming building on the easternmost corner of 59th Street abutting the tiny park.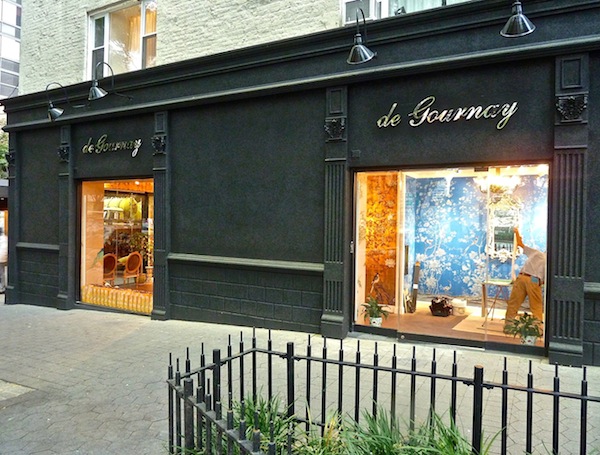 With beautiful large windows, it has instantly tempting curb appeal.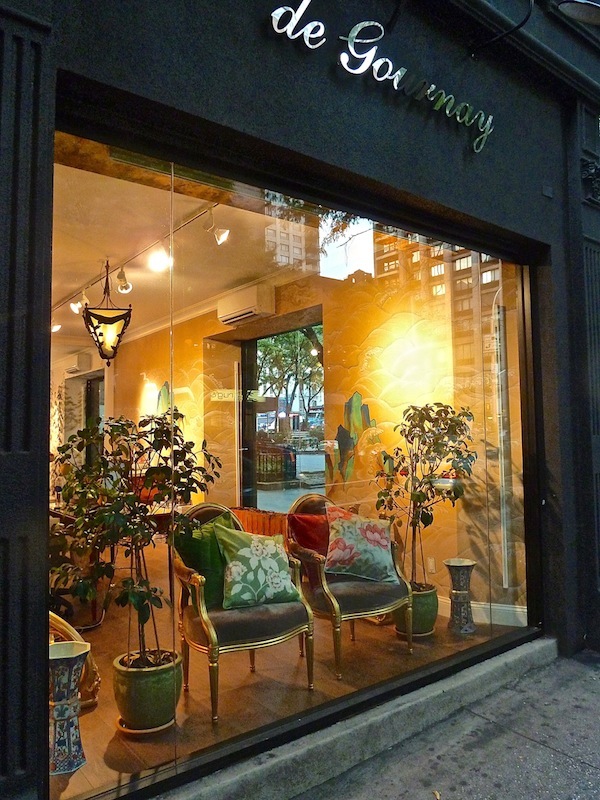 Step inside and you are immediately transported to the world of de Gournay, encompassing not only their beautiful hand-painted wallpapers but Chinese export porcelain, furniture, mirrors, custom pieces and select antiques. Your head will spin with the possibilities. As Dominic Evans Freke, director of design and production explains, "One of our great strengths is our spectacular range of striking and timeless designs we offer across a wide collection of products. I take great pride in the way in which we achieved this by sticking to our philosophy of understanding historic designs & their manufacture which guides us towards sensitive redesigns and updates of them for our modern consumers."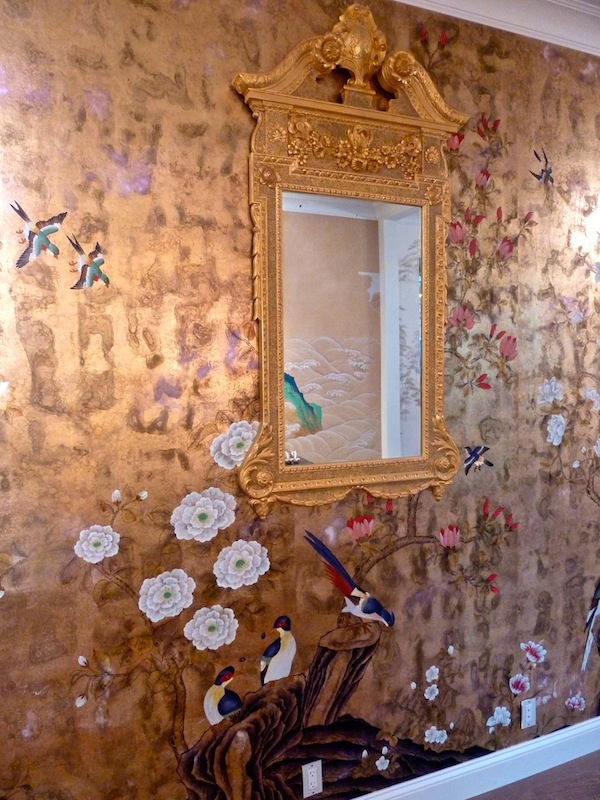 The entry area features the stunning Japanese Garden paper with their classic Architectural Broken Pediment George II mirror. The de Gournay mirrors are crafted with the same painstaking techniques used to create the 17th – 19th century originals, resulting in reproductions that not only accurate but customizable.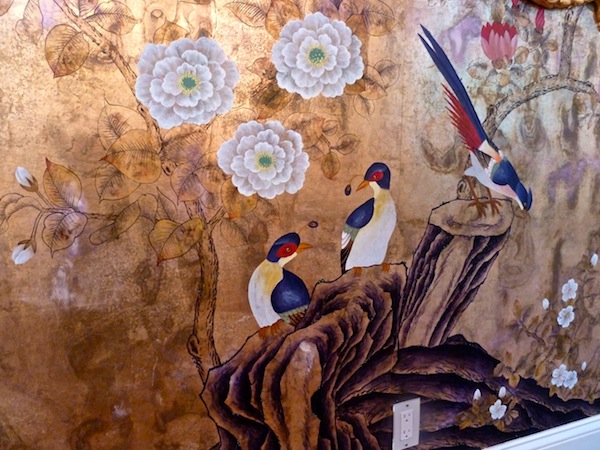 This version of Japanese Garden is on old gold gilded paper with a pearlescent antiqued finish. This involves many hours of intricate work, not only painting the scene but applying the individual squares of metal leaf which is what gives the unique layered texture.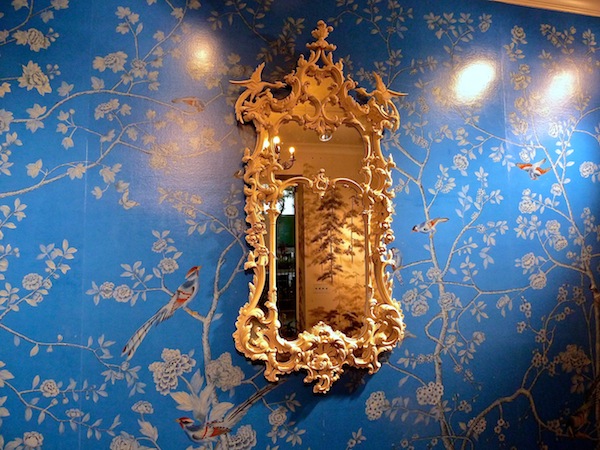 The incredibly vibrant blue of the Earlham, a classic hand-painted Chinoiserie paper, is a showstopper. The Chinese Chippendale George III mirror, shown in an off-white gesso, is a stylish piece that could work in a variety of settings. And de Gournay loves the mix. Ove the years they have collaborated with many fashion and interior designers on a wide range of projects. British designer Matthew Williamson's stores around the world feature de Gournay wallpaper and his spring 2012 lookbook is set against the Hampton Court design on a Stone Ochre India Tea Paper ground.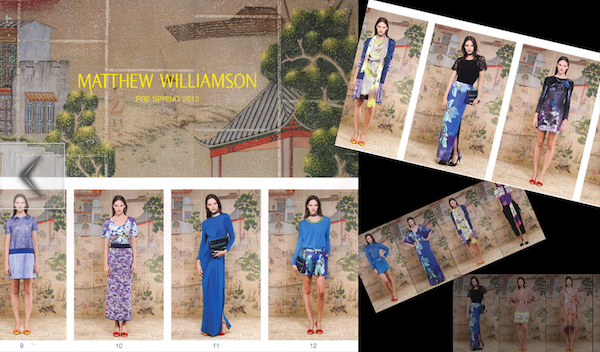 Jenny Packham's spring 2011 collection included de Gournay Summer Night Blossom silk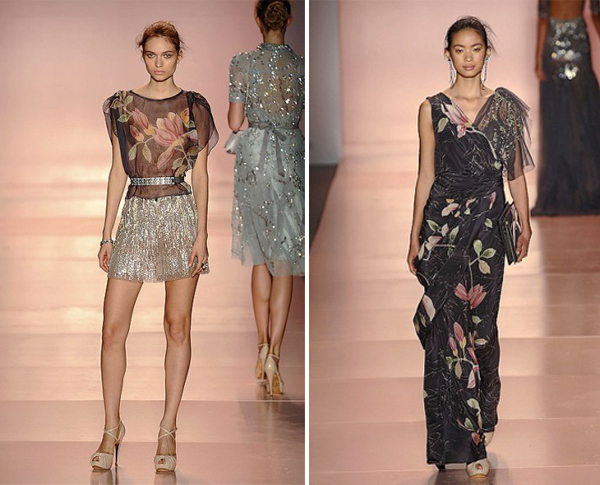 as well as a gorgeous hand painted Japanese Garden design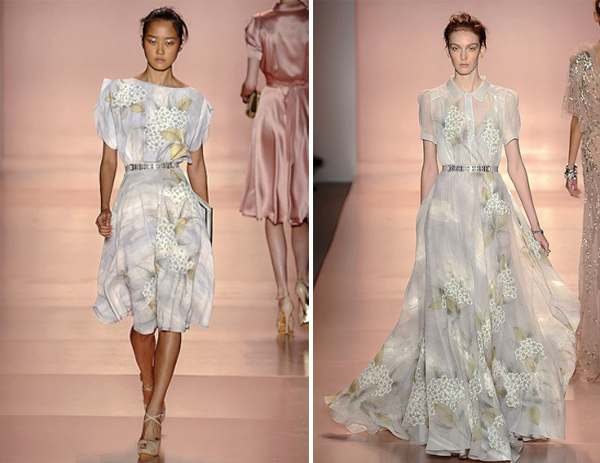 that ended up in lucky Kate's wardrobe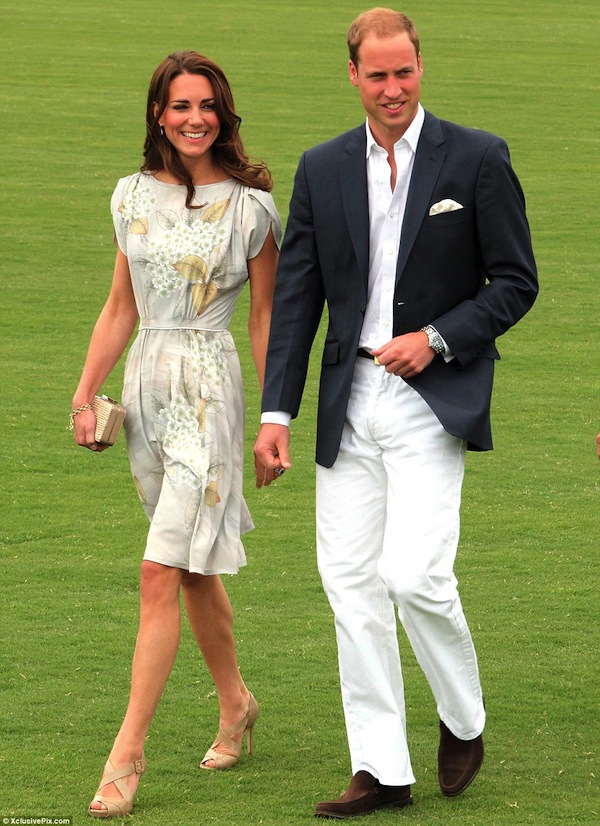 and how fun is this customized Mini for a Marks and Spencer ad last year.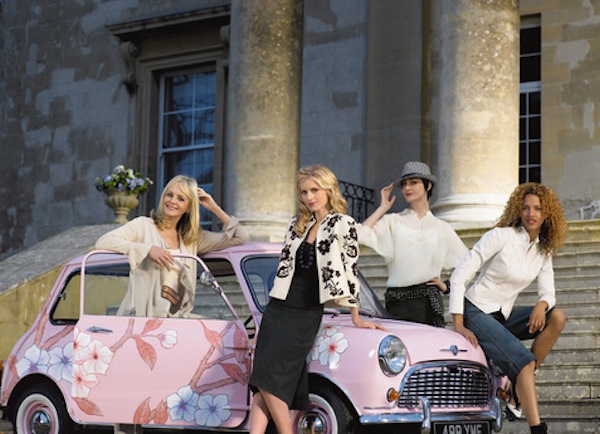 De Gournay's expansive 18th century Chinese Export porcelain collection was a revelation. Using traditional techniques that have "resisted the forces of standardisation and modernisation," they are the only company who reproduces Chinese export dinnerware – each piece is entirely hand-carved, hand-glazed and hand-painted.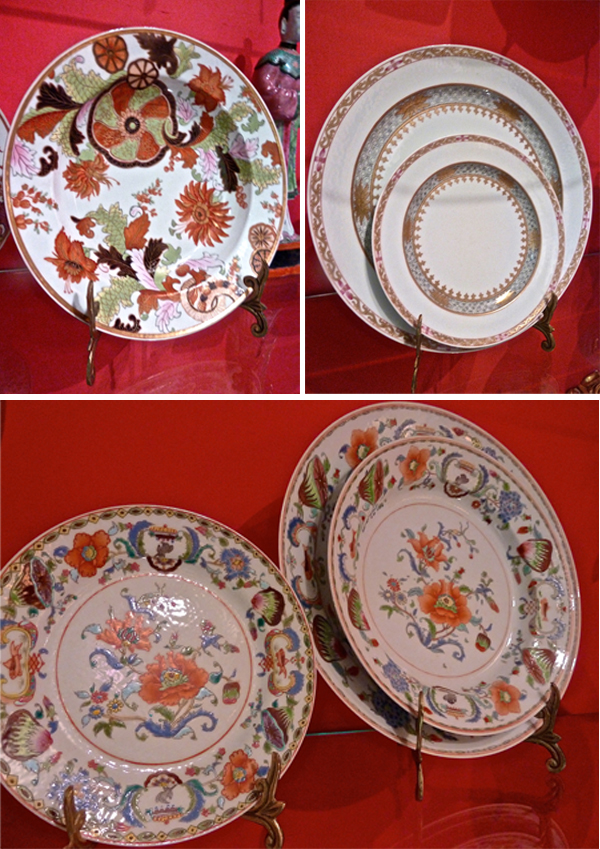 And because de Gournay is all about customization, they can complete your existing service or even custom design one for you.
De Gournay has also expanded to include a line of hand-carved and hand-finished furniture. Each piece is made using a traditional wood and offers the option of a variety of finishes. In the showroom, this Louis XV Banquette-Lit sits in front of the Monuments of Paris, part of the Papier Peints Panoramique collection. The mirror is the Chippendale Oval George III.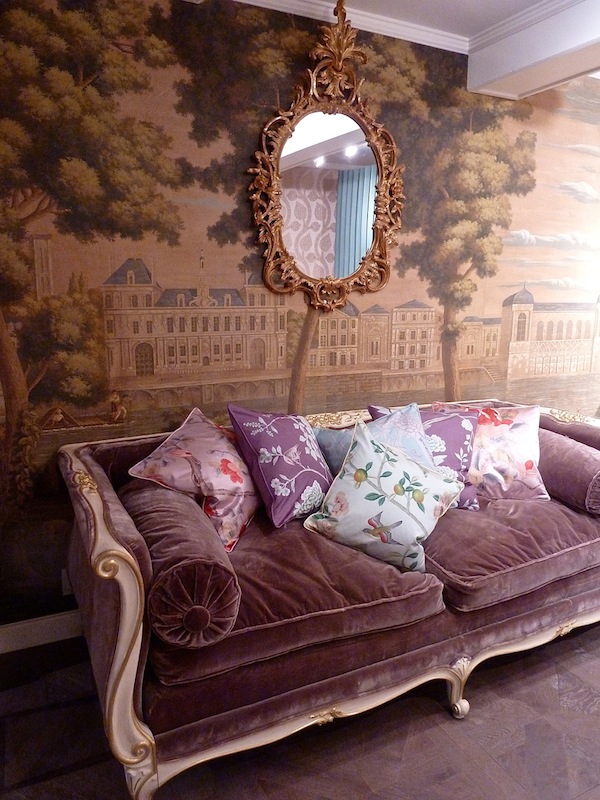 The detail in the panoramic paper is just amazing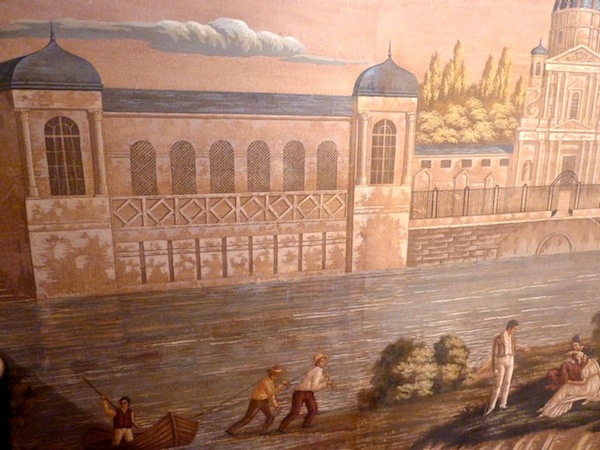 In addition to their traditional papers, de Gournay has also added new more contemporary designs in their recent Japanese & Korean and Eclectic collections, such as the popular Fishes pattern that is in the showroom powder room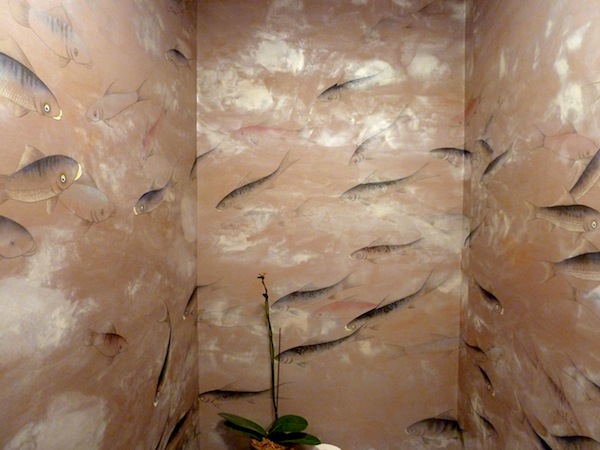 and which you may recognize from this fabulous Katie Ridder room that features the paper in Koi design colors on Edo Night painted silk.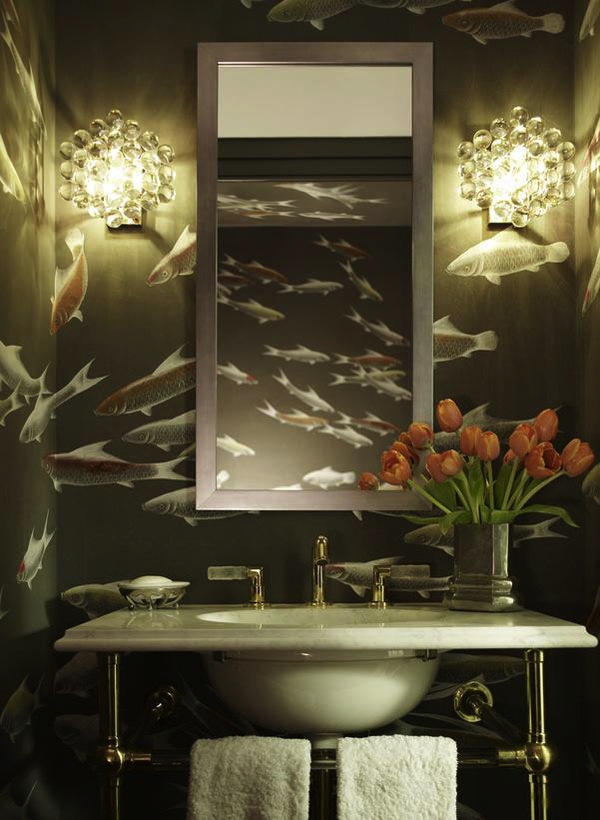 There is no end to the possibilities chez de Gournay. Next time you are in the neighborhood, I encourage you to pay a visit to their beautiful new showroom, where the friendly and informative staff can inform and inspire you. Claud Cecil Gurney explains their mission, "Our aim is to bring happiness into people's lives by creating for them light, bright, vibrant and happy interiors where they can find refuge from the busy world of markets and events. Each of our interiors is a work of art hand-painted to meet the needs of discerning clients." I will leave you with a few images, courtesy of de Gournay, further illustrating his point. This stunning bathroom, designed by Henrietta Spencer-Churchill for Woodstock Designs, features the scenic paper Early Views of India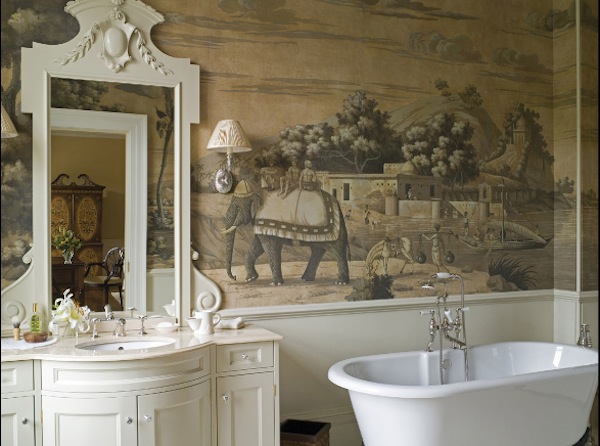 and the Temple Newsam design is featured in the romantic bathroom in Balfour Castle in Scotland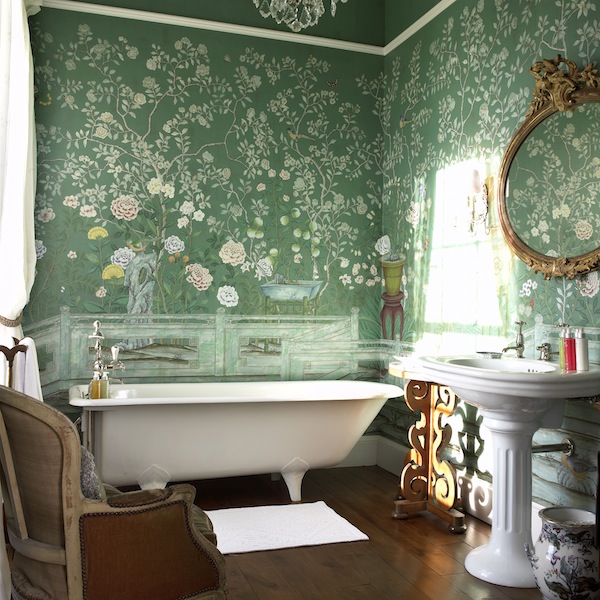 This spectacular Portobello design is in a custom colorway on 22 carat gold gilded silk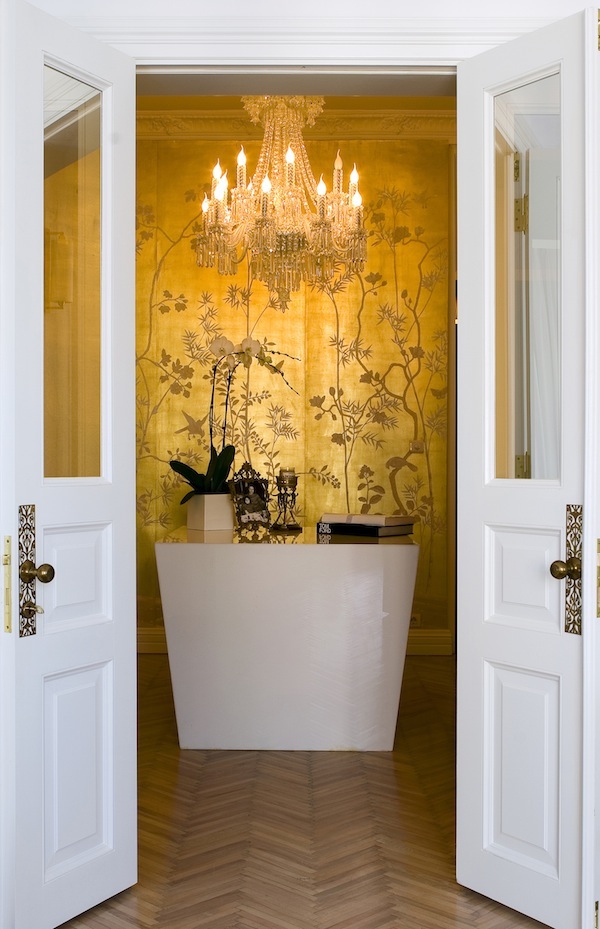 The scenic le Eden wallpaper sets the scene in the Shooting Gallery in Kit Kemp's stylish Haymarket Hotel in London.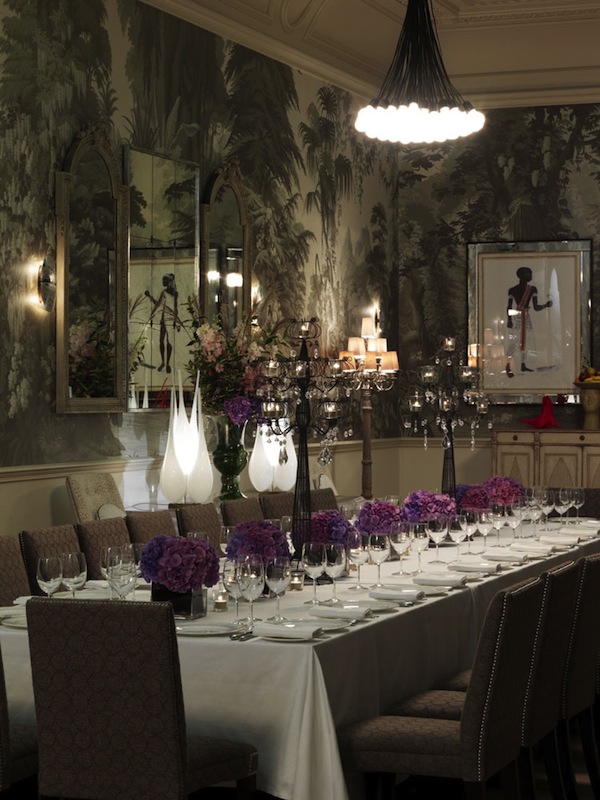 And finally the more contemporary Willow from the Japanese & Korean collection is used to great effect in the Giorgetti Penthouse at the Plaza Hotel here in New York.
 De Gournay NYC showroom photos by Quintessence lifestyle blog. All other product shots courtesy of de Gournay.