Last week Bilotta Kitchens and Bernardaud, the 5th generation French porcelain company, co-sponsored the second annual Art of the Table event in Bilotta's beautiful NYC showroom. Both family owned firms, their customer focussed businesses and forward thinking philosophies lend them a synergistic compatibility.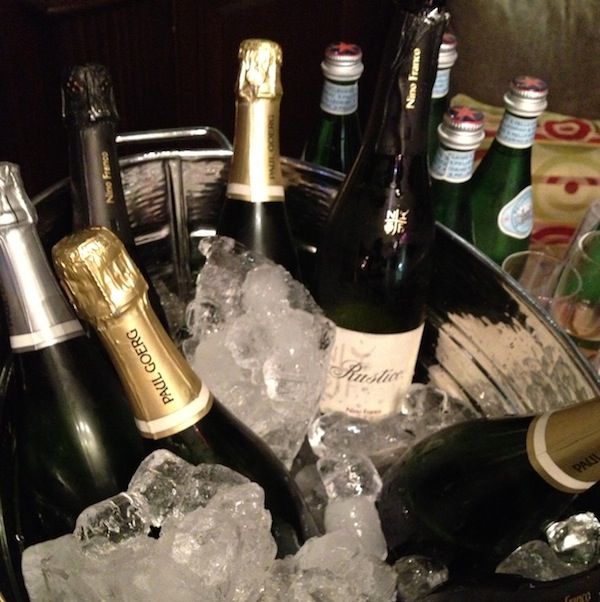 With contributions from Baccarat, Frette and Christofle and media sponsor Traditional Home, the evening drew an incredible crowd of over 300! Bubbly was flowing freely as the event celebrated women in design, featuring four diverse firms who each had an individual kitchen to style.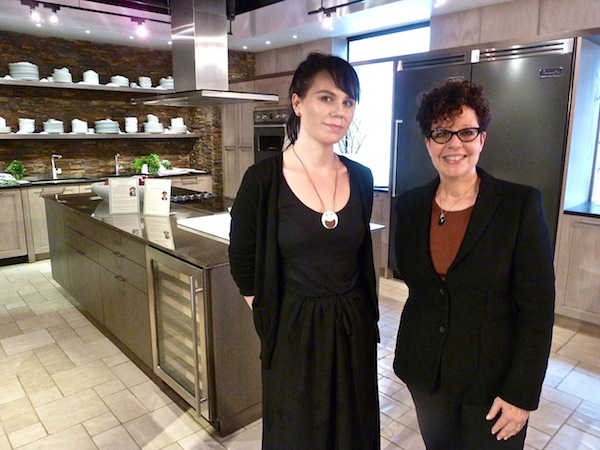 While Bilotta has their own signature collection, one of the advantages of working with the company is their range of both products and projects. The first space, for example, featured cabinetry from Rutt with a variety of surfaces including concrete, granite, marble and an amazing brick Nepal stone backsplash from Porcelanosa. Styled by Founding Principal Nancy Ruddy (right) and Interior Designer Kate Emmons (left) of the award winning architecture and interior design firm CetraRuddy, the upscale rustic feel of the space inspired them to create a holiday in the country scene.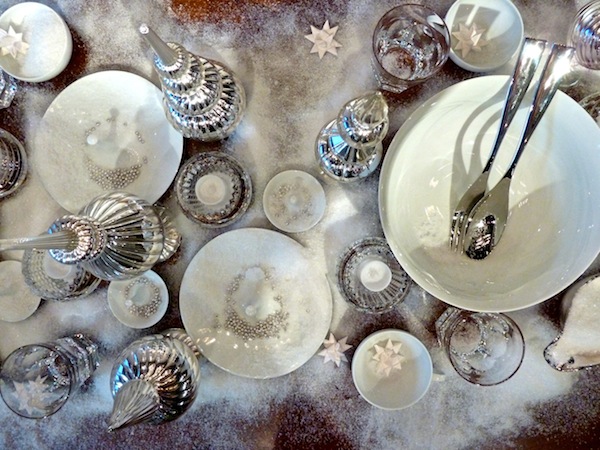 From a sparkling tablescape to vignettes for afternoon tea, featuring Bernardaud's sensual Digital porcelain,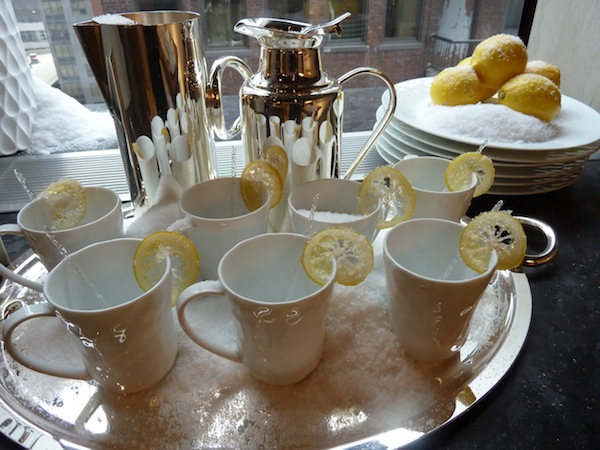 to a cozy afternoon of baking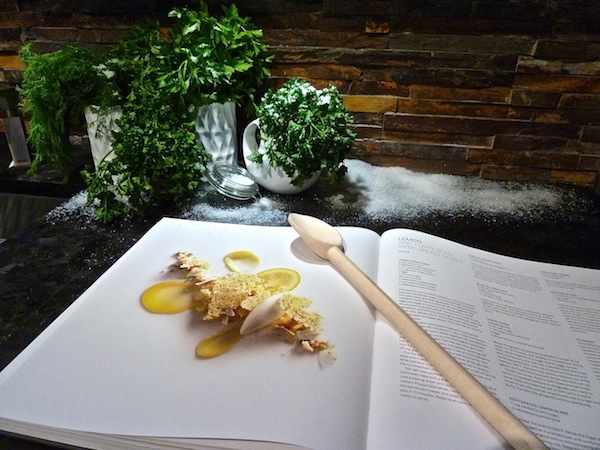 to the promise of an enchanting evening with beautiful Baccarat decanters ready to be filled,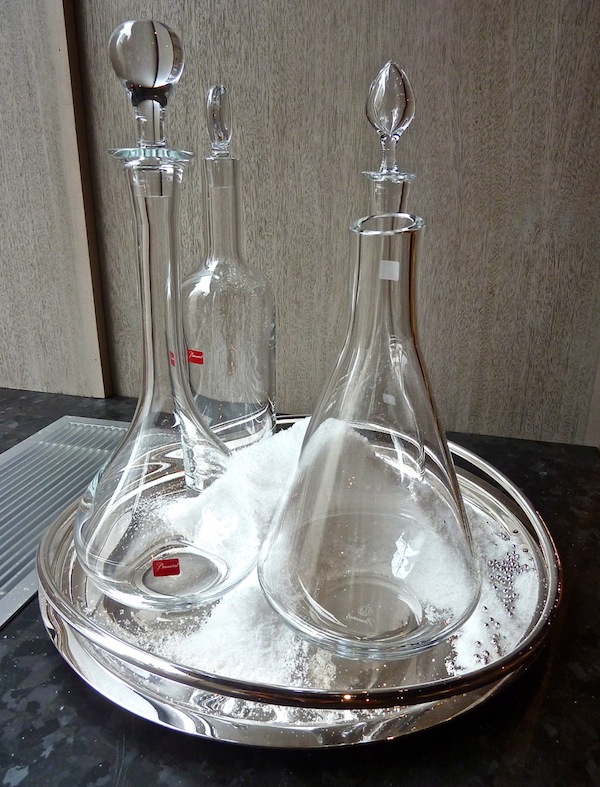 I was (almost) ready for snow.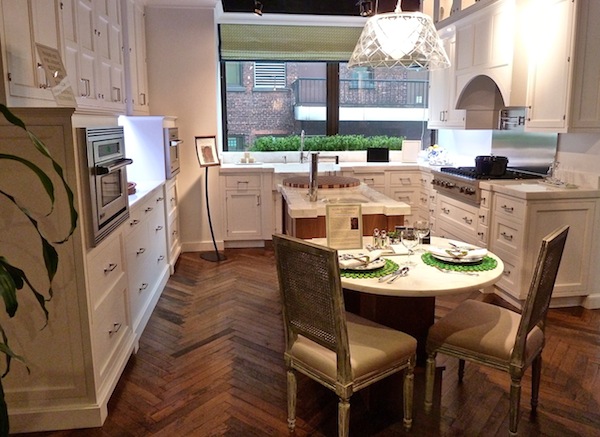 Designer Allison Hennessy's space was a bright white Bilotta collection kitchen with beautiful herringbone floors. In thinking of her vignette, Allison had a lightbulb moment inspired by the boxwood at her husband's office. The green became a theme to add color and texture to the clean white backdrop of the classic cabinetry. A roman shade of a graphic Duralee fabric, above,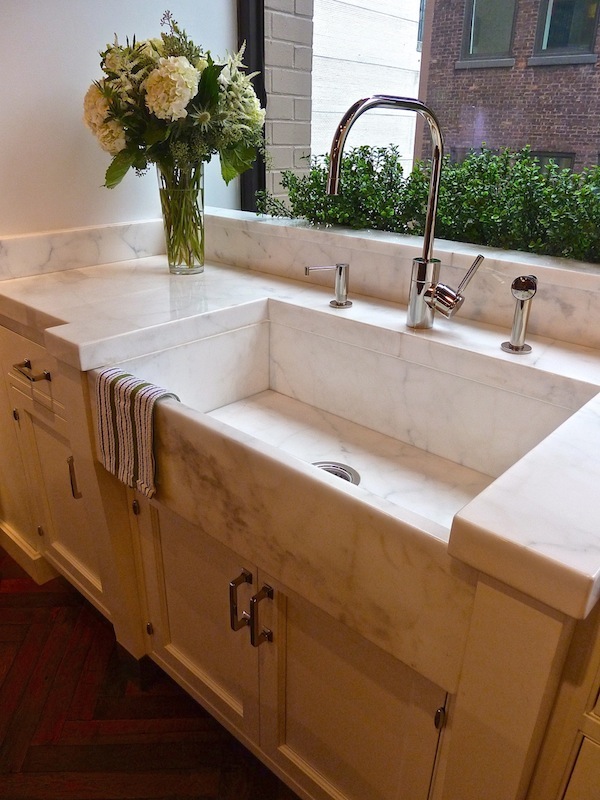 and wall of boxwood frames the view and offsets the pristine purity of the marble sink. Allison looks right at home with her fresh blue and green table setting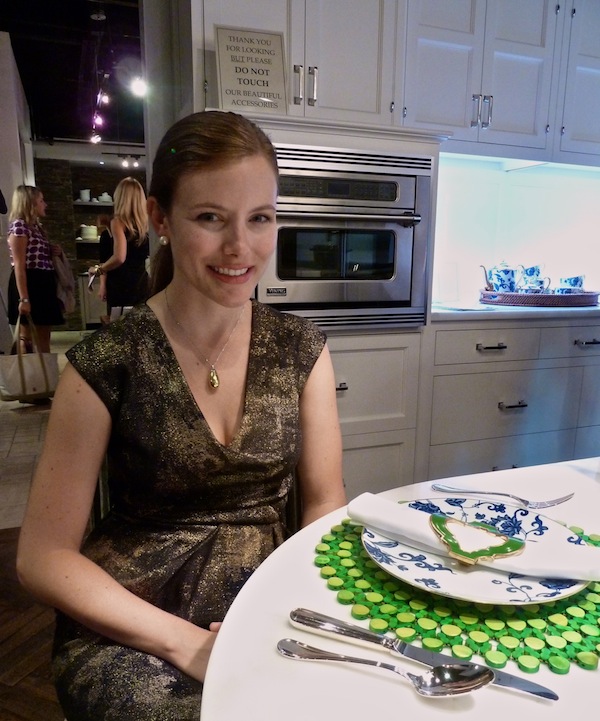 I loved the combination of the fun Kim Seybert placemat and napkin with the eastern inspired design of Bernardaud's Prince Blue – a great mix of old and new and formal and casual elements. The Christofle flatware is one of my favorite classic patterns.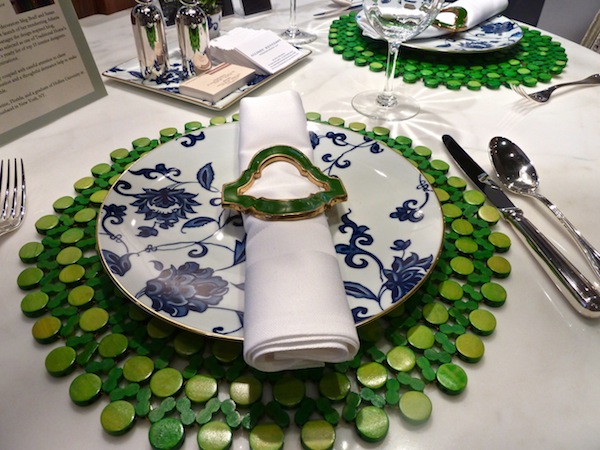 Influenced by a 16th century Ottoman ceramic piece, Prince Blue reflects the empire's love of this classic color combination, in turn inspired by ancient Ming style. The vibrant blue is achieved by unusually high kiln temperatures that gives the deep and transparent color.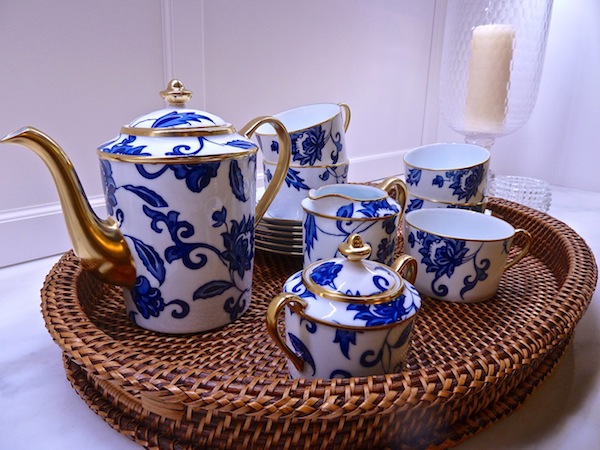 Designer Carol Brewer's space was a fate filled story. As an enormous fan of the artist, she was thrilled to use Bernardaud's Marc Chagall collection, which includes a selection of dream-like illustrations from the archives.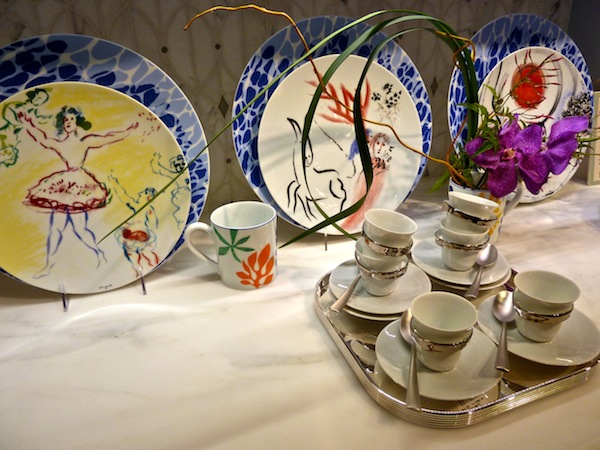 Combined with the sea inspired Rivage and new sculptural Bulle collections, it was like being transported to a chic provencal resort.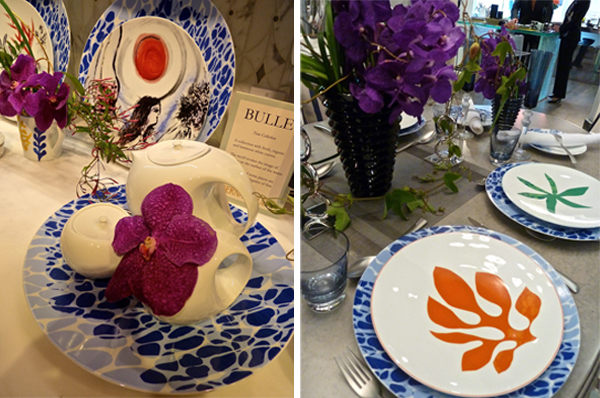 Baccarat loaned a striking chandelier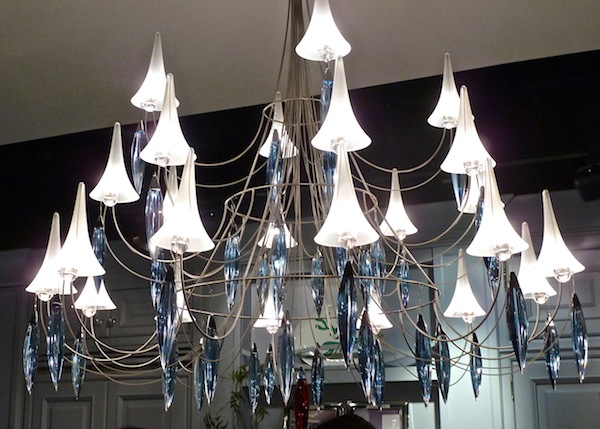 that set the tone for the beautiful blue crystal at the table.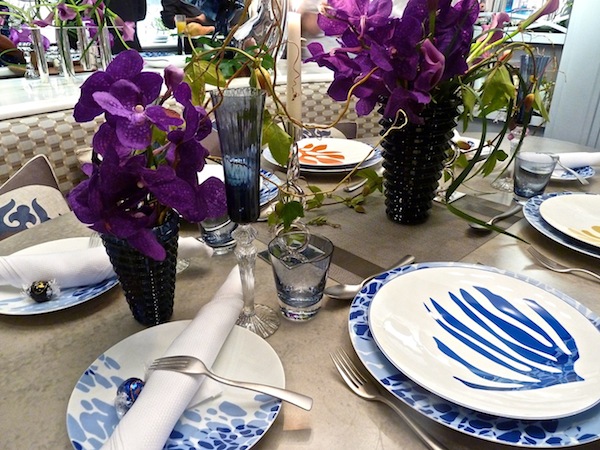 But the most amazing aspect of the vignette was when Carol hired FleurBELLA to do the floral arrangements. It wasn't until they met that Carol, below right, discovered the owner, Bella Meyer, on the left, is Marc Chagall's granddaughter – clearly a collaboration that was destined to be.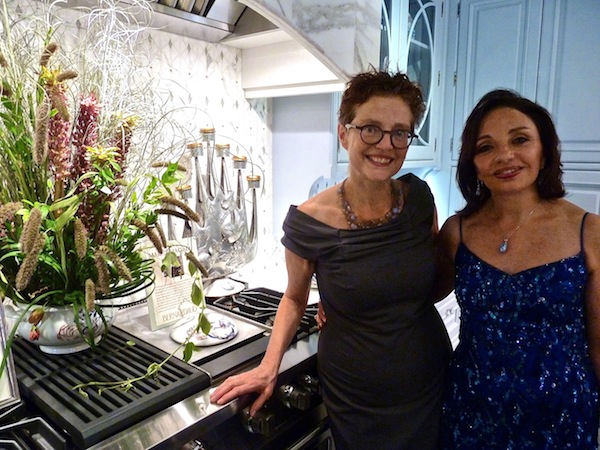 Jennifer Post's architectural design firm creates refined contemporary designs with an elegant minimalism. It was totally fitting that she received this ultra sleek modernistic kitchen to style.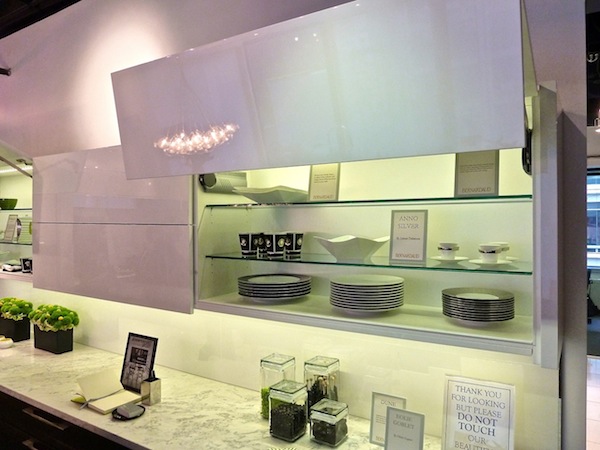 The incredibly smooth technology behind these beautiful cabinets was impressive, opening and closing with the single touch, revealing Jennifer's exacting assemblage of chic china and crystal.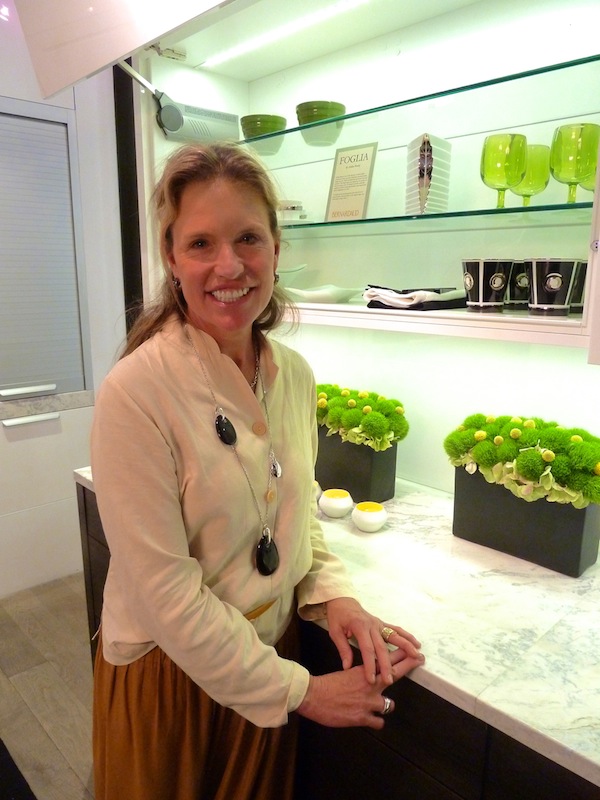 Stark black and white was brought to life with a vivid chartreuse throughout the vignette. Even the stovetop was impeccably styled with a dramatic painting by Kim Collins.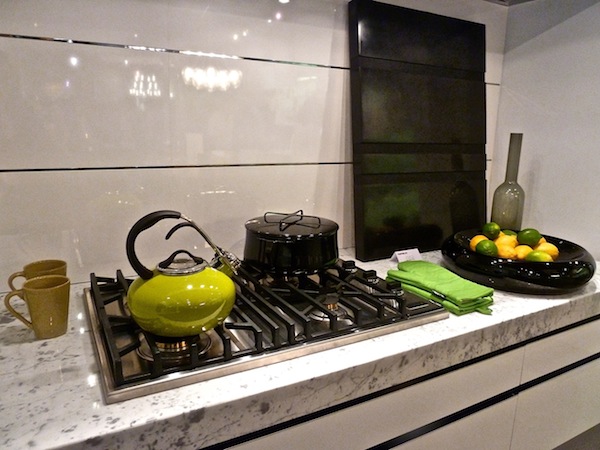 Every space was a zen-like snapshot of modern minimalism,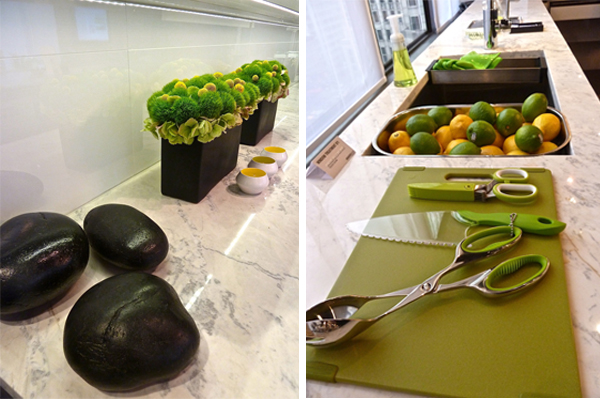 including her placesetting which featured the textural Ecume pattern. While Bernardaud has preserved its traditional heritage of artisanal techniques, it has kept the passion for their products alive with innovative and forward thinking approaches to creative design.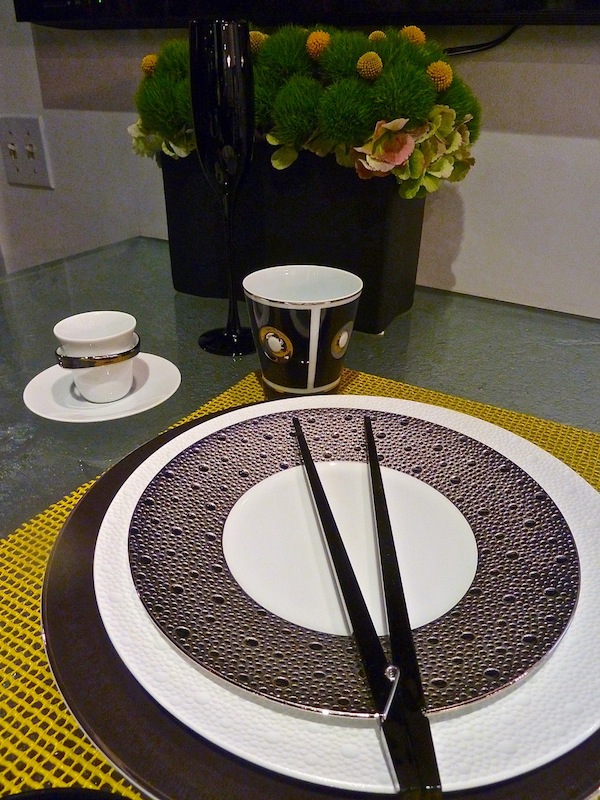 As the fall entertaining season is upon us, it is always inspiring to see how designers translate their talent for the tabletop. A wonderful evening was had by all celebrating these four female firms and their varying visions.