While other shades have come and gone, the staying power of blue at High Point this spring market proved the universal popularity of the hue. Whether fashion forward Yves Klein cobalt, classic navy or the pop of peacock, blue was prevalent in almost every showroom I visited. Within Alexa Hampton's stunning suite of rooms at Hickory Chair was this beautiful blue bedroom, featuring her Tompkins bed and Simon bench customized with a Martyn Lawrence Bullard marbleized fabric from Schumacher.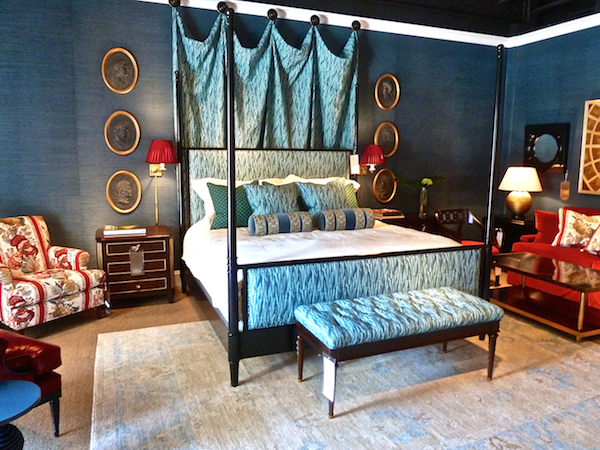 Classical allusions abounded, including her own "cobaltized" version of the Winged Victory surrounded by a series of Caesar intaglios and her Kina console.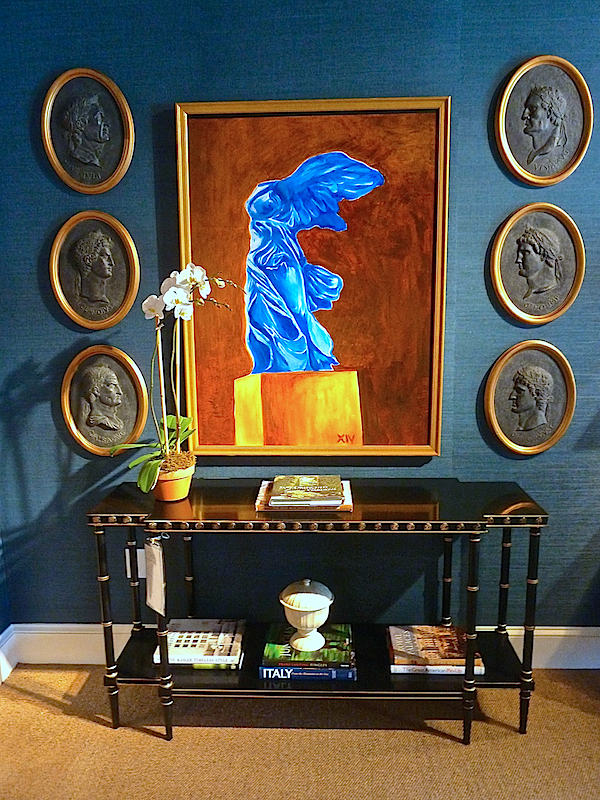 Her charming new Serena resin cocktail table appeared in blue but can be produced in any color and is the type of versatile piece at home in any setting.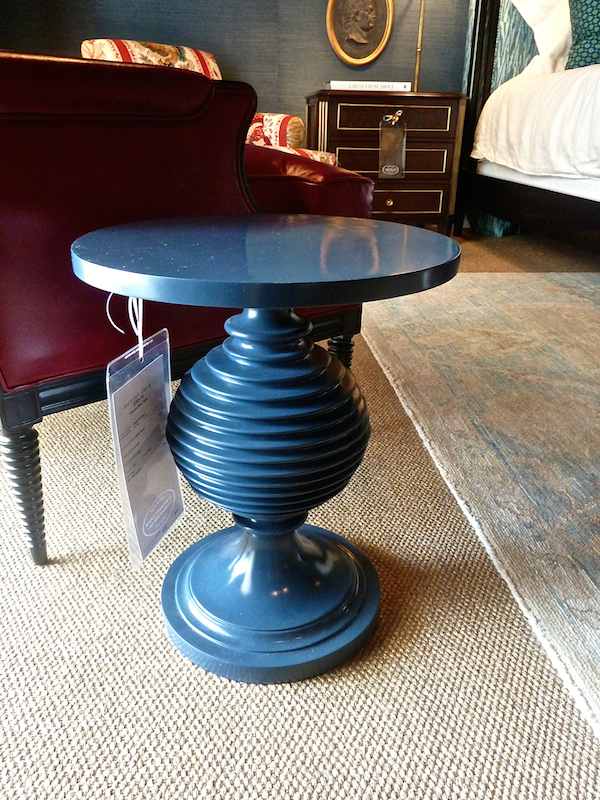 In the red room, Alexa paired a beefed up version of her Roberts sofa in blue velvet with rich red walls of Maya Romanoff's textural Weathered Walls Paper. Her new Gemma mirror, here as a pair in blue and silver adds an updated play on neoclassic lines.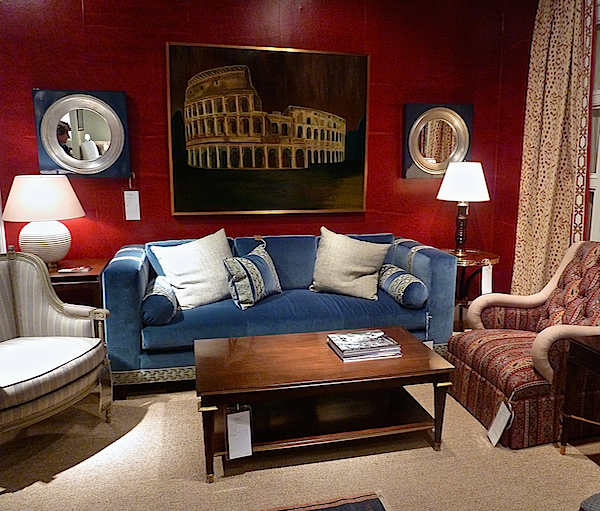 Throughout her rooms, Alexa added fabulous trim details from Fret Fabrics that took her pieces from beautiful to amazing.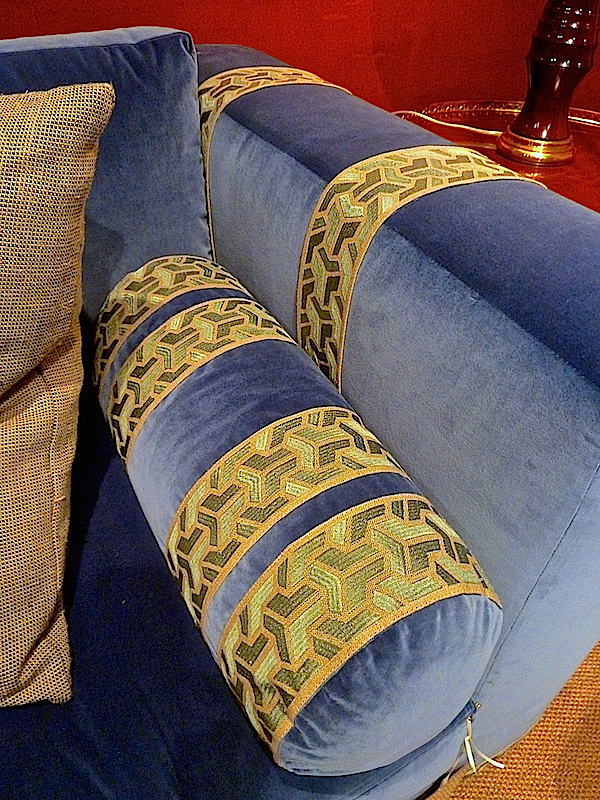 Blue is a staple at Bungalow 5 and here showed off their new mirrored console optimally.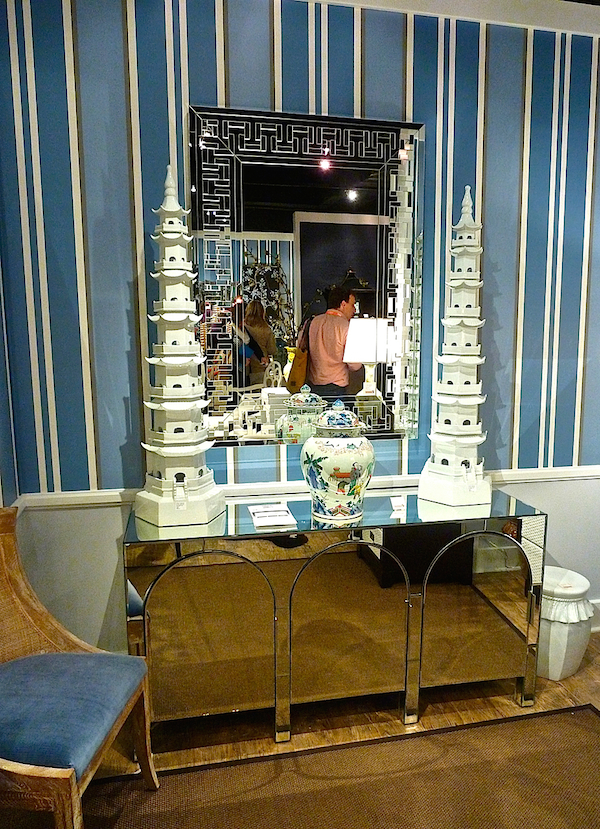 Sometimes a new iteration of a product, presented in new colors and fabrics can make all the difference. That was the case at Century where their New Tradition console looked smashing in Buckland Blue lacquer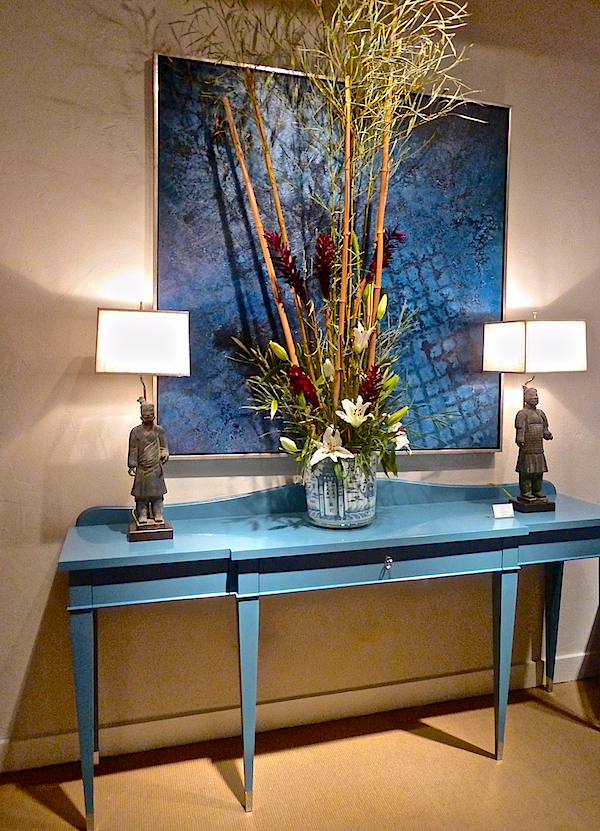 And their distinctive Serenity chair looked fresh in a slate finish with Asian influenced blue print.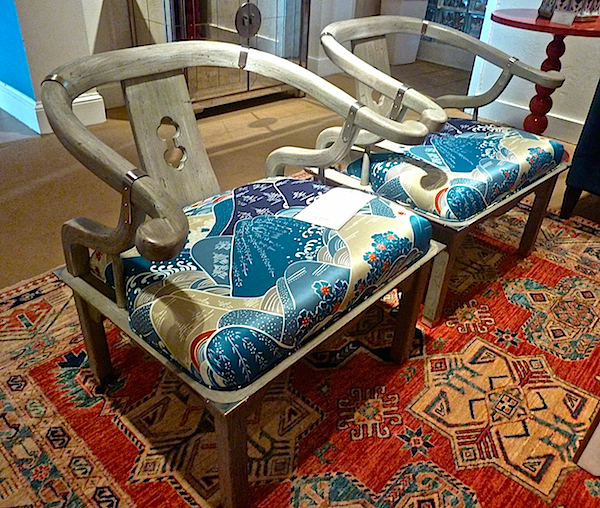 One of the major color stories at Thibaut was a crisp blue and white.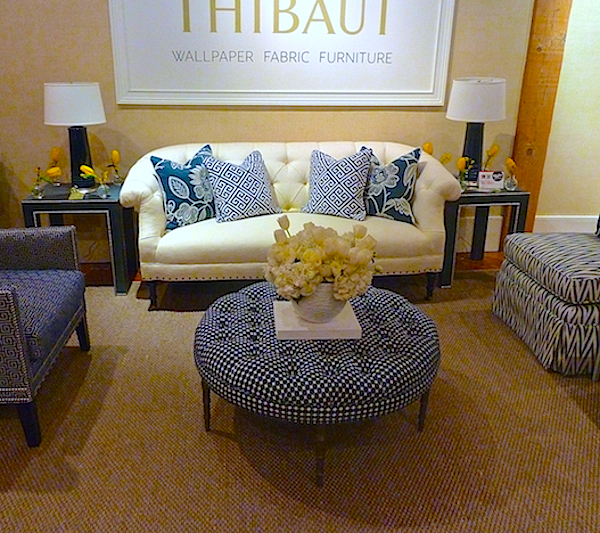 Their tufted Avalon ottoman looked tailored in the new navy woven Maximillian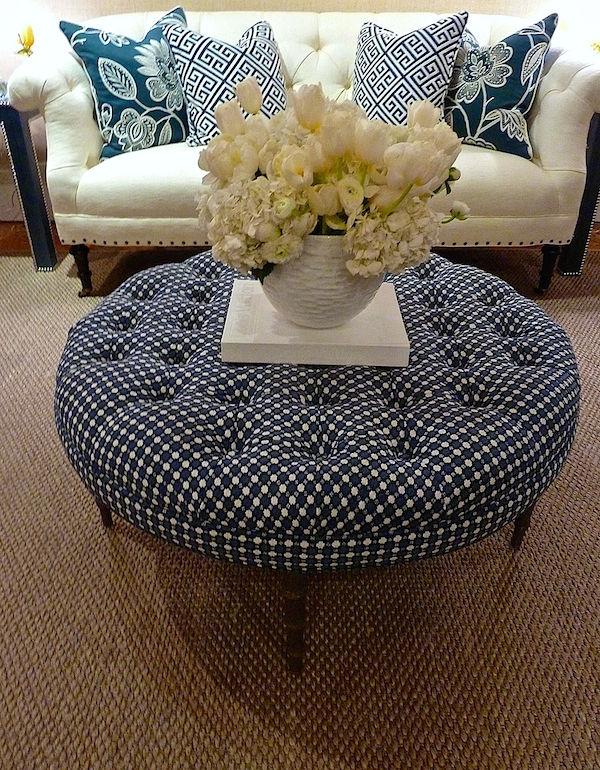 and the Princeton wing chair made a bold style statement in the new Myanmar ikat.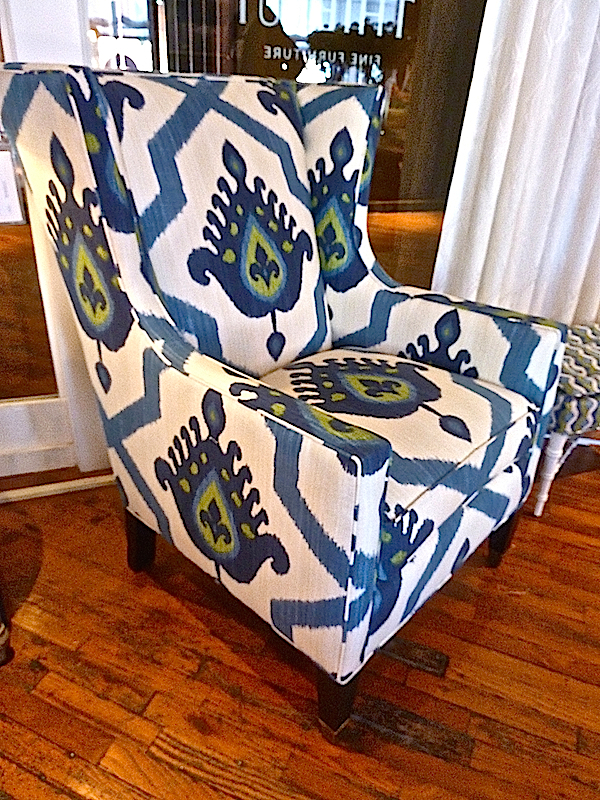 Trending florals and chinoiserie looked fresh in blues with Nemour against the embroidered Halie.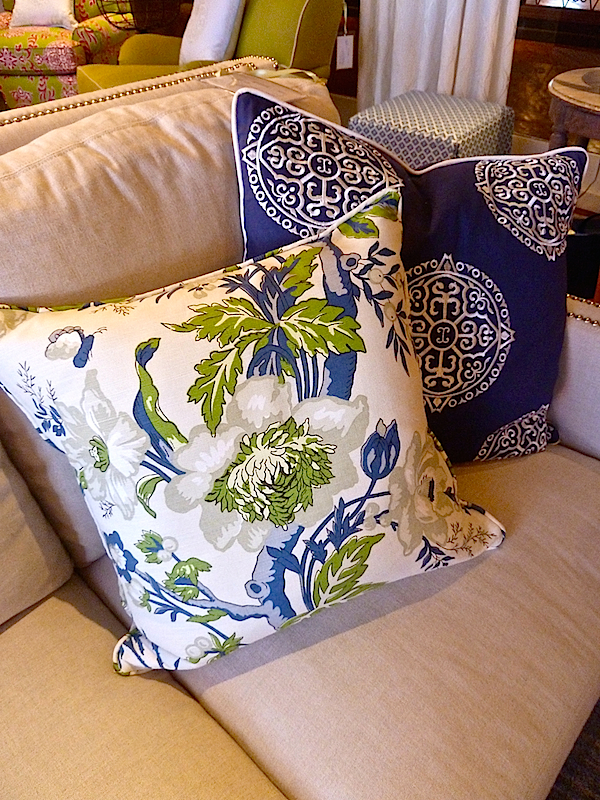 Wesley Hall updated a traditional look in blues with the fun greek key tape and velvet on a wing swivel chair combination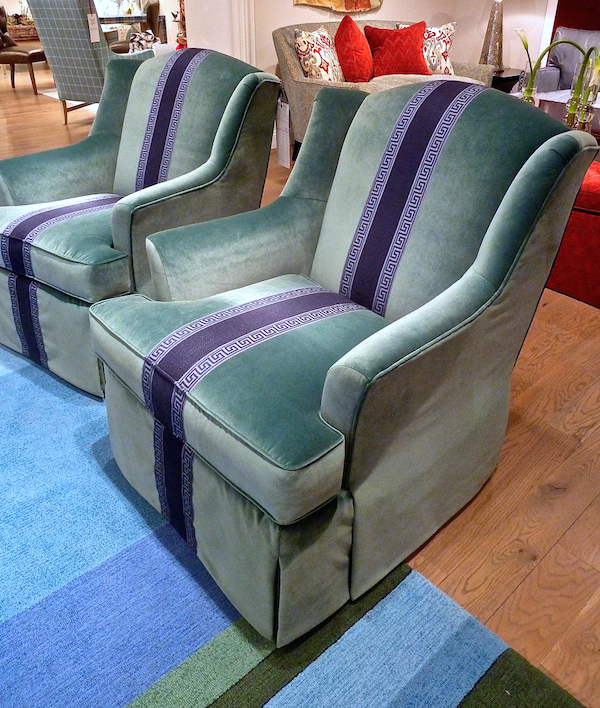 and presented a more contemporary version in blue with pattern and nailhead detailing.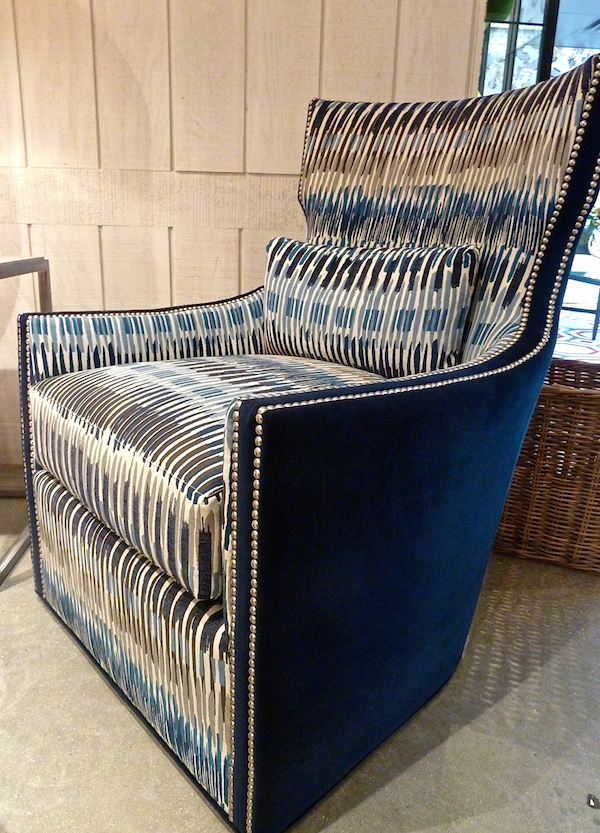 Oomph debuted several blue pieces in their new showroom in Market Square. The Eaton Chest, available in two sizes, gets its decorative appeal from a choice of tassels and beautiful hardware available in different finishes – such a clever way to add a colorful touch. The Easton Mirror, shown in their first ever silver finish can be trimmed in your favorite Oomph color. Their lamp collection was introduced earlier this year. Here the Charleston lamp in Oceanfront glaze completes the vignette.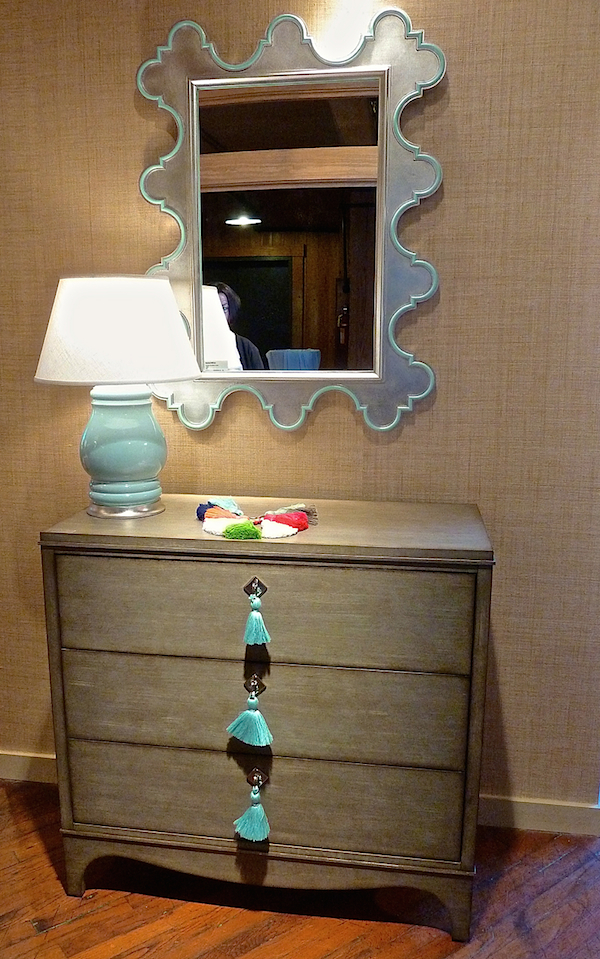 The gorgeous hand printed Tillet Textiles had a myriad of blue fabrics within their one of a kind selections.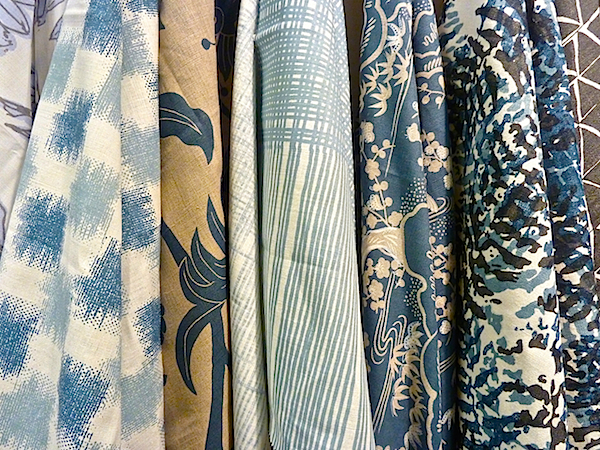 A discovery from last market, Reprotique, showed their playful chic sconces in addition to beautiful fine art reproductions. The blue leopard shield sconce would be a perfect pick for fun powder room.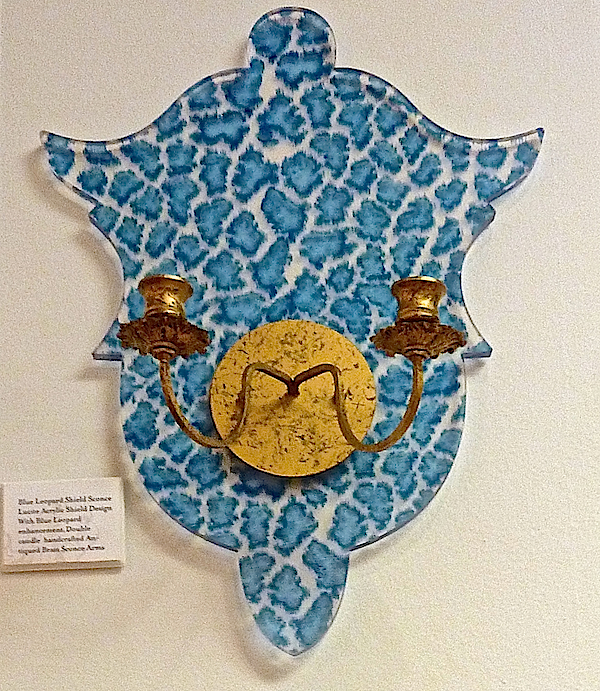 And I loved the size and appropriate chubbiness of Dunes and Duchess' new Sweet Pea table lamp in this lovely shade of turquoise.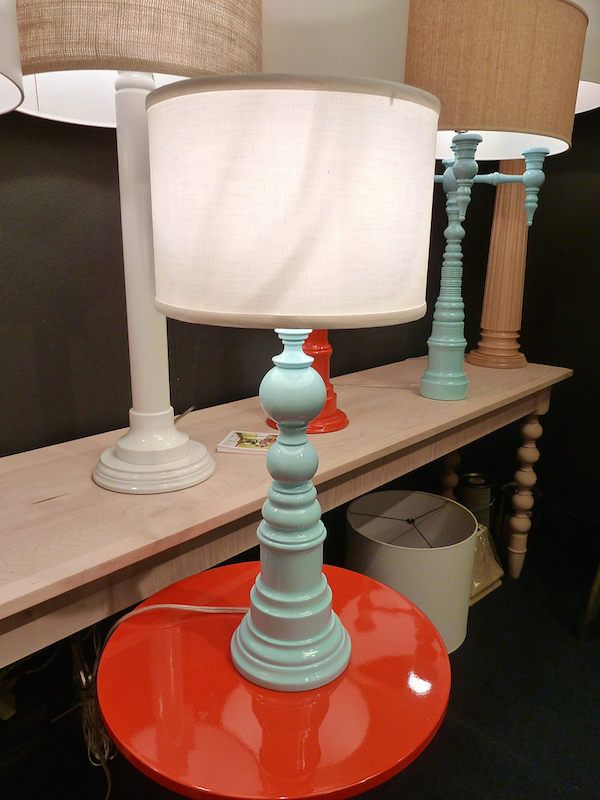 My favorite stool at Pearson appeared in blue this market.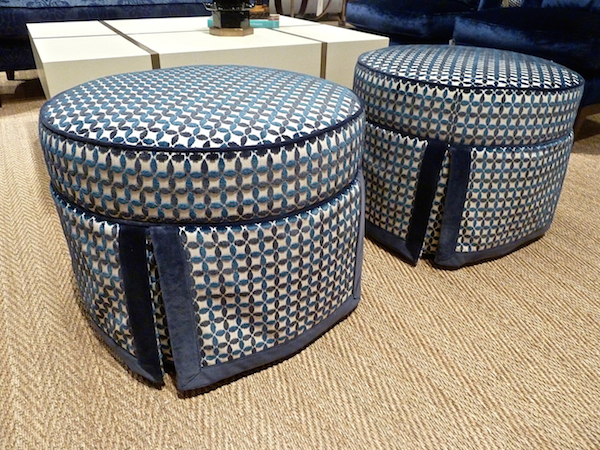 although vying for attention was this charming pair.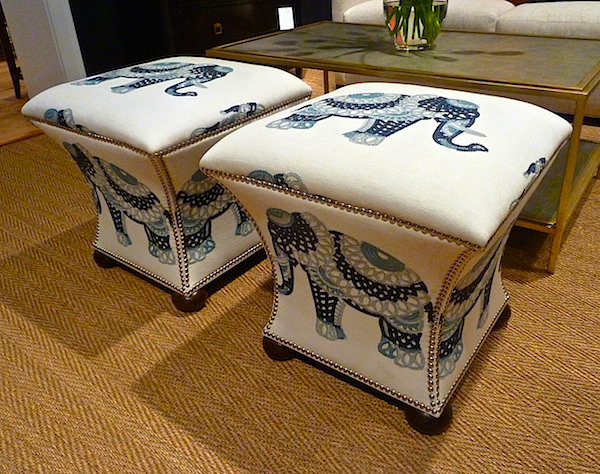 Stools are a great addition to any room, available for double duty as seating or side table. More decorative ones in blue were found at Taylor Burke. Their James Ottoman covered Cotton + Quill's ShiShi is another updated take on chinoiserie.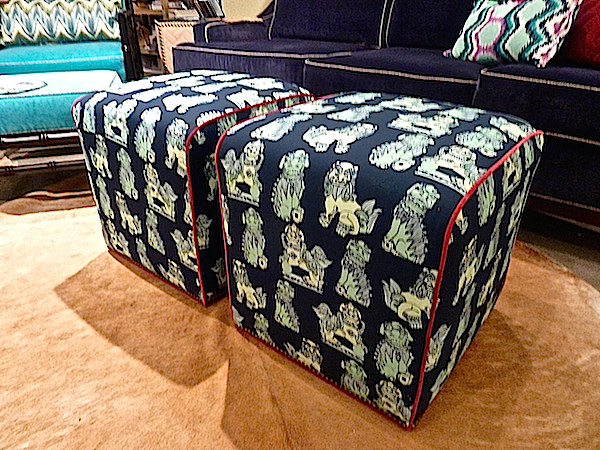 V Rugs and Home is a source worth noting. I loved these decorative perches with personality.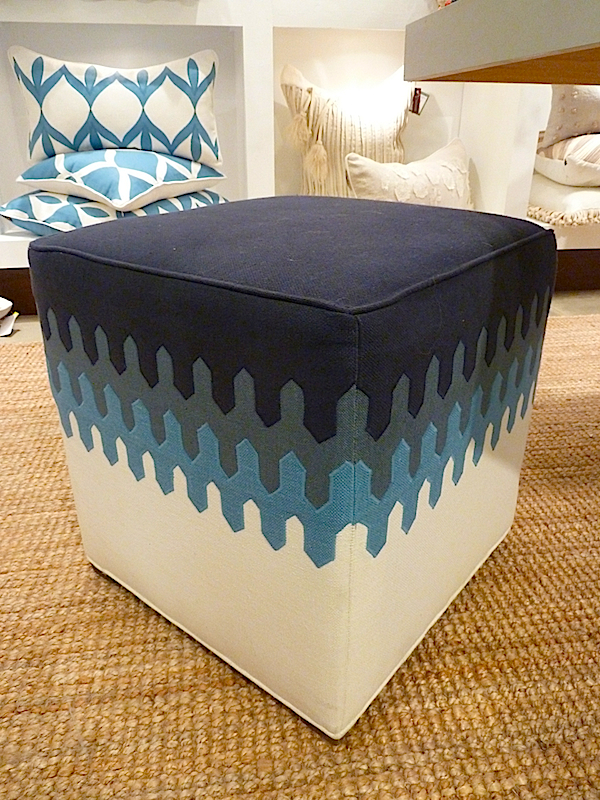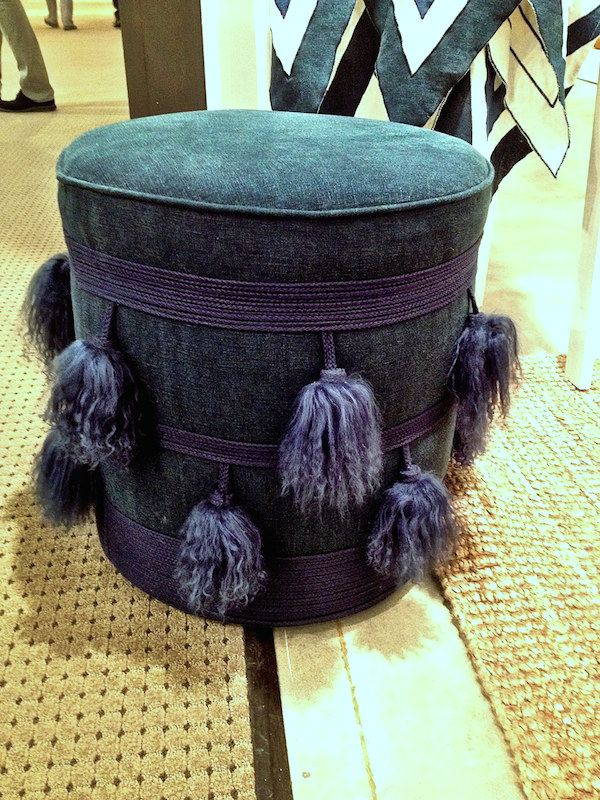 I'l be bringing you more from High Point in the coming weeks.