Designer Suzanne Kasler is well known for her sophisticated mix of classic and contemporary and in the upcoming September/October issue of Veranda she shows how it's done with a French twist in a new chateau-inspired house in Greenwich, Connecticut.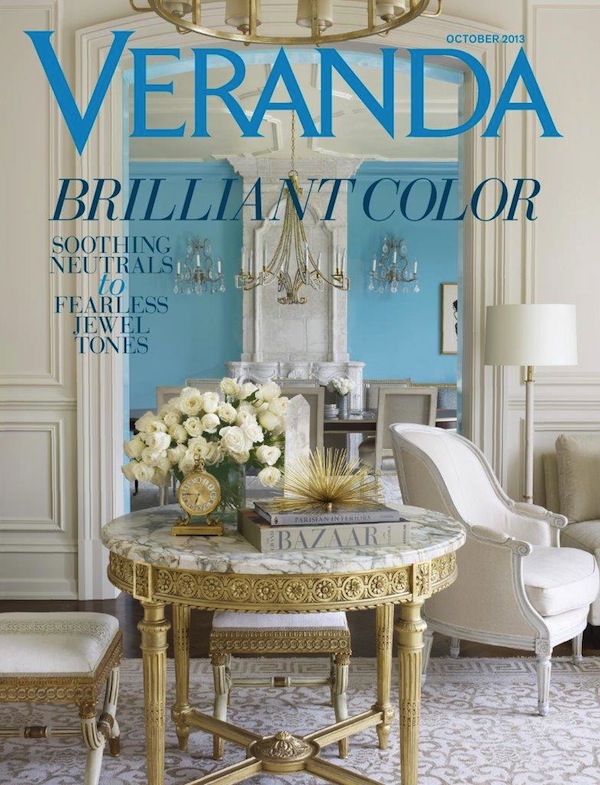 The upcoming issue is all about color, from neutral to brights, and that's exactly what Kasler focussed on in this project – mixing the two to create an exuberant yet not overwhelming scheme. "The variations create a subliminal rhythm," explains Kasler. "There's a lot of color, but it's strategically used, so it ends up feeling subtle." So as you stand in the elegant neutrals of the living room, above, the intense turquoise of the adjoining dining room is framed almost like art.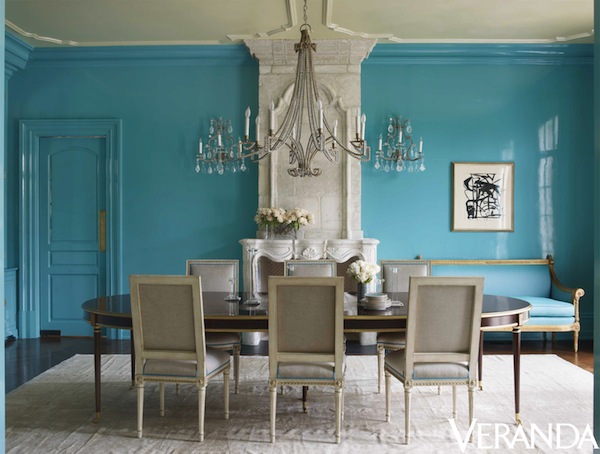 Yet enter and you are enveloped by a sparkling sea of blue. Kasler's signature trick of painting walls, doors and trim the same high gloss hue is especially effective here, allowing the antique French limestone chimneypiece to take center stage. Combining contemporary pieces, such as Kasler's Choate dining table for Hickory Chair, with the owners' antiques and their stellar collection of modern art (note the Franz Kline – cleverly hung) and you have a sophisticated eclectic mix that supports their vivacious lifestyle.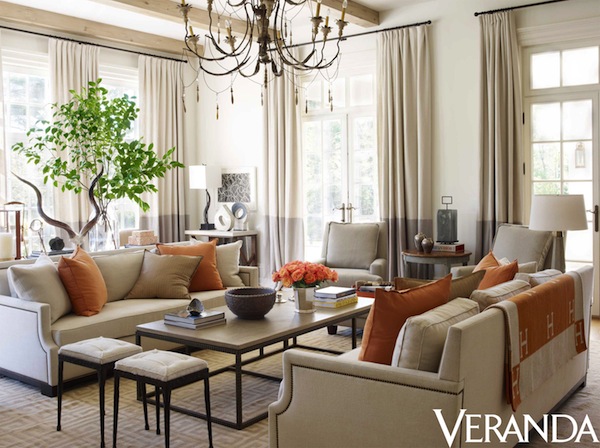 Contrast the glamorous intensity of the dining room with the laid back chic of the family room and you have exactly the dynamic that this young family was after – the best of both worlds. While frequent entertaining can take place in the more formal spaces, here, in their favorite room, they can relax in a comfortable room that is still designed with the same level of sophistication. Holly Hunt sofas form the basis of this tailored oasis.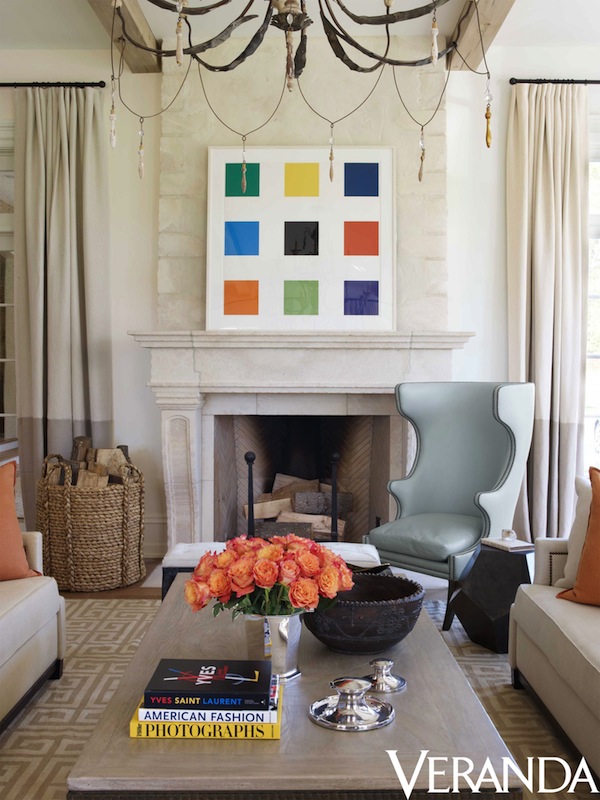 From another angle, a second (of three in the house) antique French chimney lends the requisite "something old" to the room. And a graphic Ellsworth Kelly adds a colorful punch (and conceals the TV). It's the great mix of rough and luxe textures as well as curvilinear and angular lines that makes this room sing. The square pop of flat brights in the art, for example, are the perfect contrast to the sumptuous pale leather and sinuous lines of the Dennis & Leen wing chair.
all photos by Simon Upton
The powder room is the perfect spot to go all out and Kasler certainly did here with a lavender Gracie silk wallcovering, vintage Baguès sconces and Sherle Wagner fittings. I love how the traditional romantic pattern of the walls works so beautifully with the sleek modern feel of the striated stone. It's the French appeal tempered with a modern edge. When you get your issue, you'll be able to see how Kasler executed the rest of the house. And I'm looking forward to reading the rest of the first fall issue – how did that happen?!