Finding motivation to exercise is hard enough. So when German product developer Kristof Hock got tired of working out with unattractive and institutional looking dumbbells, he decided to create a company of exceptional fitness products. Combining form and function into environmentally friendly and über chic products is not a goal I normally associate with exercise equipment. But with sophisticated designs and outstanding craftsmanship of natural materials, HOCK is the very welcome exception. I was thrilled to learn about this elegant alternative to the pedestrian norm that is already finding fans in upscale homes and spas in Europe, such as the renowned Brenners Park Hotel and Spa in Baden-Baden. Hock's first elements developed within the line were the LOFT weights. Made of hand turned, polished and waxed American Walnut from sustainable sources and cooking grade stainless steel milled to reflective perfection, they are thoughtful, elegant and effective.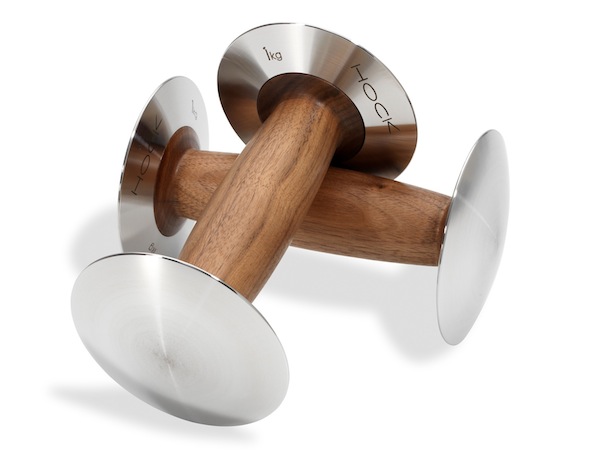 The raised shape of the wood grip and flat surface of the steel retain the comfort level even when training at difficult angles like behind the shoulder blade. Beginning at 1 kg, as shown above, they graduate to the sleek 6 kg form below.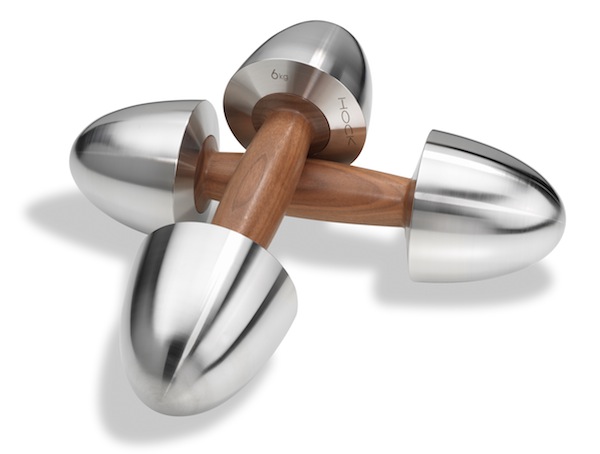 Available in a variety of configurations from a single to five pairs, special walnut and stainless racks store them safely in style with non-marking anti-slip feet.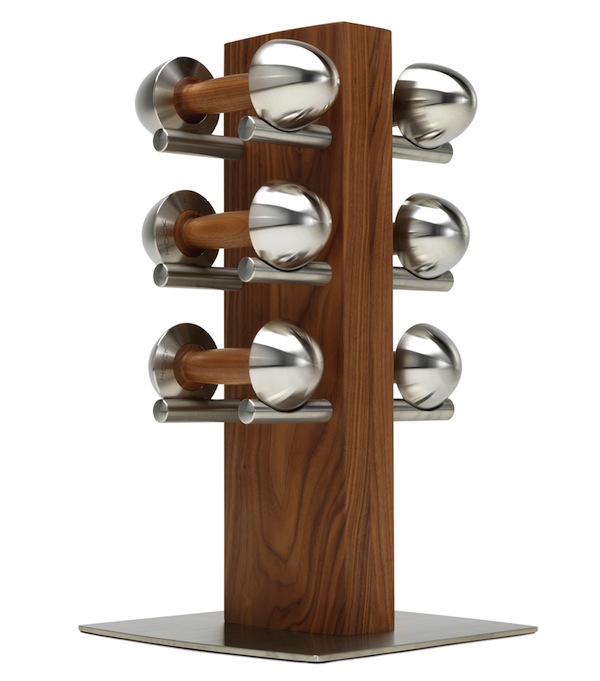 Diskus weights, designed for heavy duty lifting, are, like the loft series, made of non-reactive stainless and walnut, crafted without screws into sleek minimalist forms from 8 to 20 kg.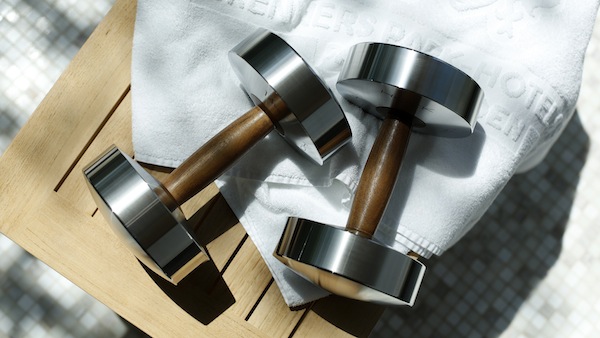 Their sturdy four sided rack includes a felt floor pad to prevent scratches.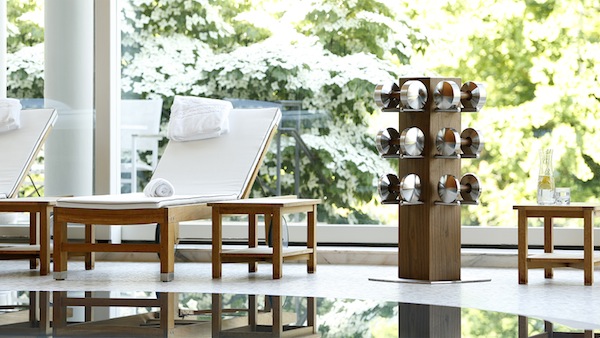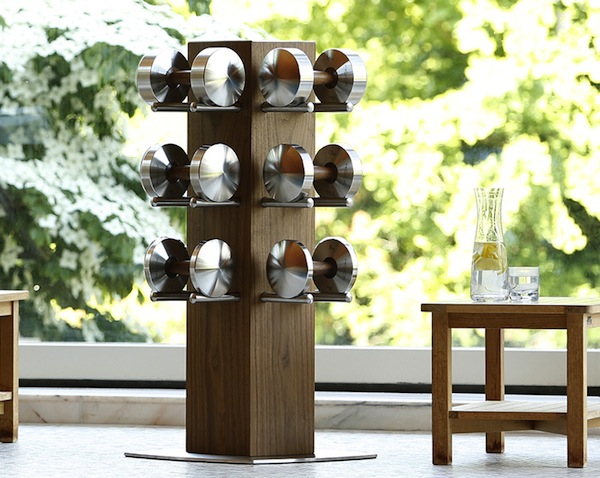 One of my favorite products in the line is the Robusto. Handheld weights perfect for toning, stretching and running, their ergonomic bullet shape, so comfortable to hold, is available in wood (in the 500 g version)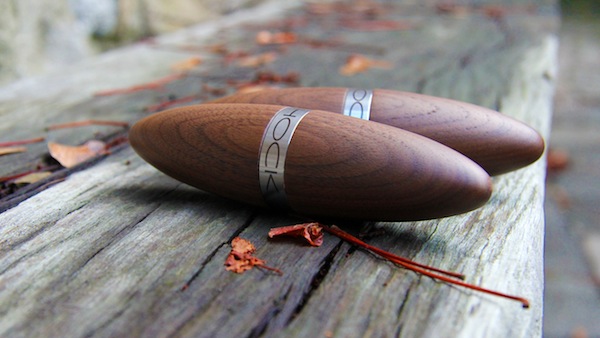 or luxurious Italian leather with an antibacterial coating, hand stitched in a small factory outside of Florence.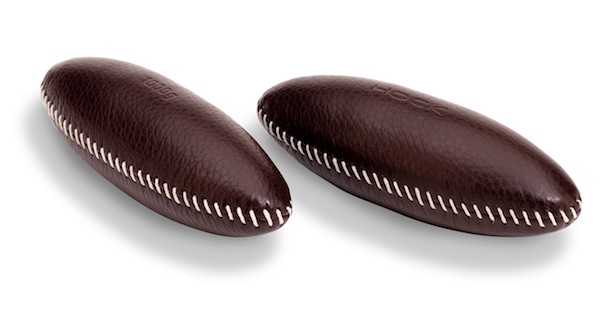 Available in brown, black or white, in 500 or 1,000 g weights,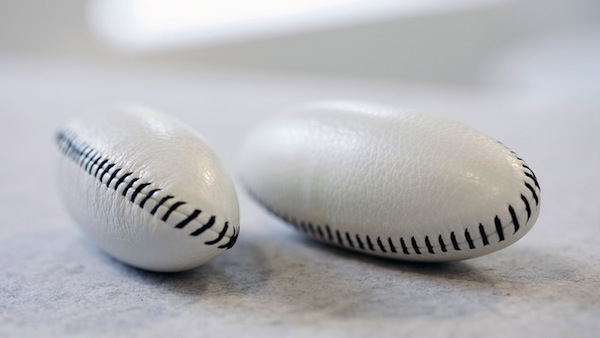 they come elegantly packaged, perfect for a corporate or personal gift.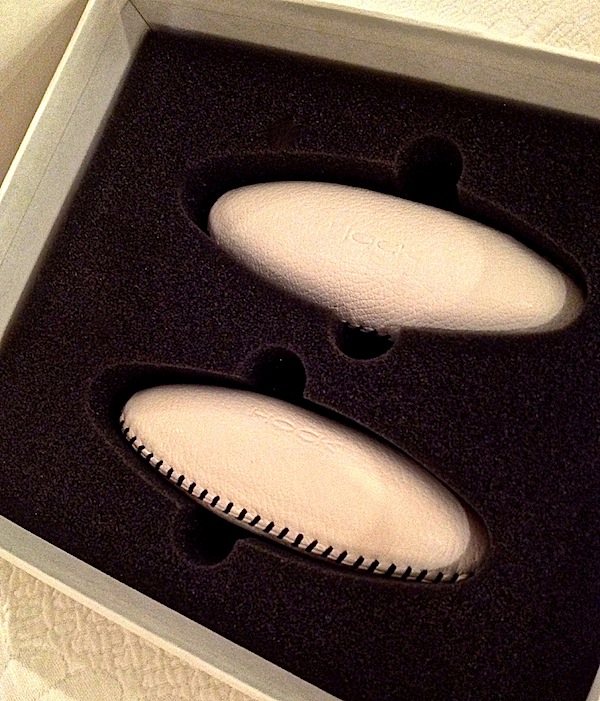 The Ropa Expander is a resistance tool of high end natural, fabric-covered latex with vegetable tanned leather handle straps. Including 2 strap lengths, it is also available in either a medium or strong strength. This is such a versatile tool to have in a home gym for arm, leg and aerobic exercises.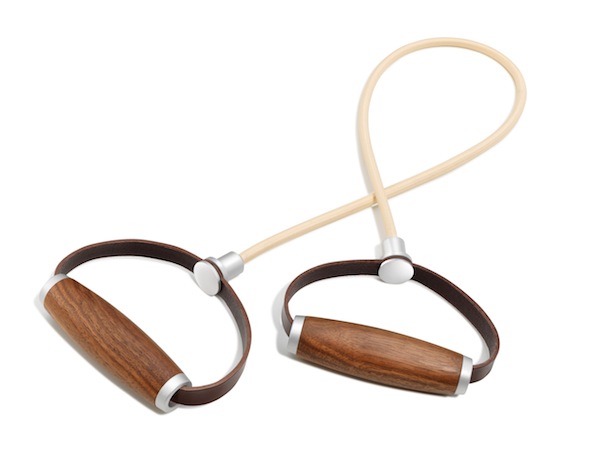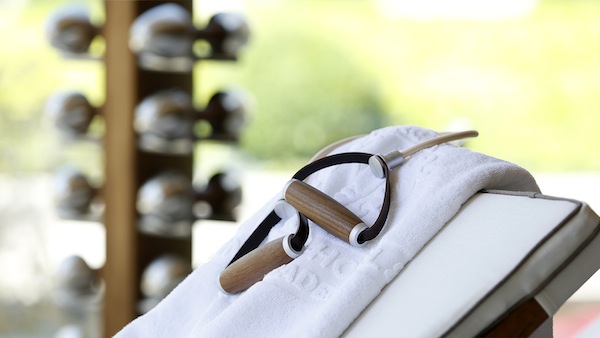 Undoubtably the chicest jumprope on the market, the Rotator Speed rope is super light weight and balanced. With a precision 4 ball-bearing system, it turns freely with no resistance and comes with a nine foot customizable natural leather rope.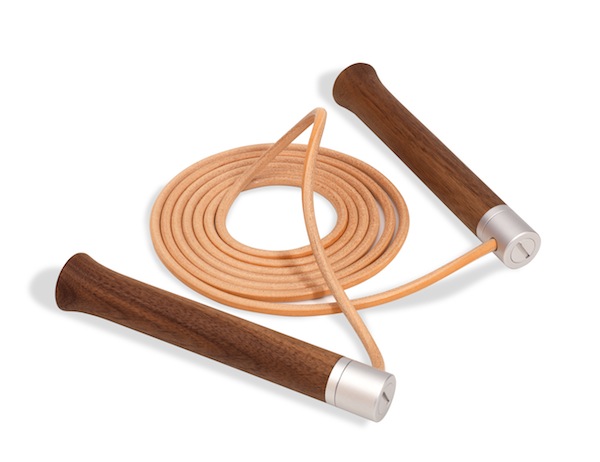 The Pector Push-Up Bars were the most difficult for Hock to execute. Supporting up to 100 kg (about 220 pounds), the aluminum frames are stable and lightweight with slip resistance (and non-coloring) silicone feet. I am still working my way up to regular push ups so it might be a while before I personally take these for a test run.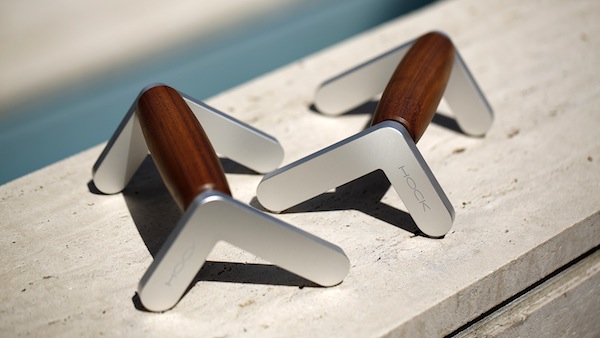 While most of this photography is courtesy of HOCK, I have seen all this equipment and can attest to its elegance, workmanship and purity of form. They are exquisitely produced pieces worthy of design recognition and have in fact already received such accolades in Germany. For interior designers working on upscale residential or commercial exercise facilities, HOCK is a must see. And for design savvy individuals looking for a little luxurious work-out inspiration, I can personally recommend the charming Robustos – perfect for perfecting those pesky triceps! Here's to starting the new year exercising in style.