When touring the Sotheby's Showhouse, a fellow visitor paid it an enormous compliment, explaining that to him it felt like a gracious grand dame apartment. He was referring not to any particular style of decoration but rather to the fact that, overall, the connected rooms felt elegant and livable in the most timeless way. And that of course is exactly the point of the exhibit – to illustrate how Sotheby's vast resources can be mixed and matched with a client's own furnishings to create a chic, comfortable and harmonious home. As Andrew Ogletree, an English furniture specialist at Sotheby's and one of the show organizers, said, "The pairing and juxtaposition of the pieces in the curated interiors not only reflects each designer's own vision, but also illustrates the myriad types of objects Sotheby's has to offer both the seasoned connoisseur and to those who are new to the auction world."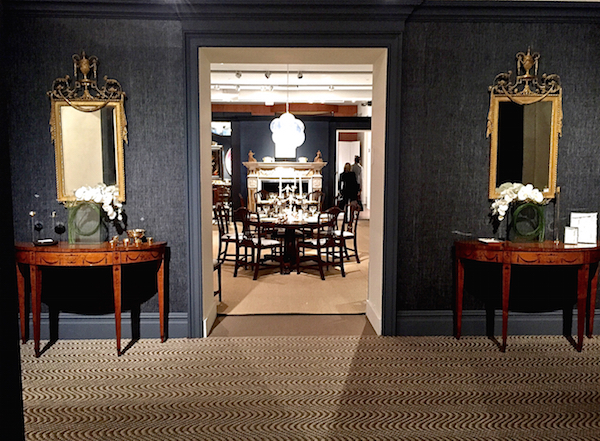 I appreciated how Trey La Fave's design of the showhouse allowed for residence-like enfilades. You can see above how beyond AREA's handsome gallery lies the dramatic dining room designed by Russell Piccione.  Almost like a salon, the large space allowed room for two round tables from the auction, rosewood William IV and Regency center tables, which function perfectly as a pair, surrounded by a set of George III chairs, a George II marble chimneypiece and a fantastic assortment of fine art and decorative pieces from many periods. Thoughtful placement of furniture with art and the inclusion of the beautiful Jeff Zimmerman hanging light sculptures show the power of the mix and bespoke pieces.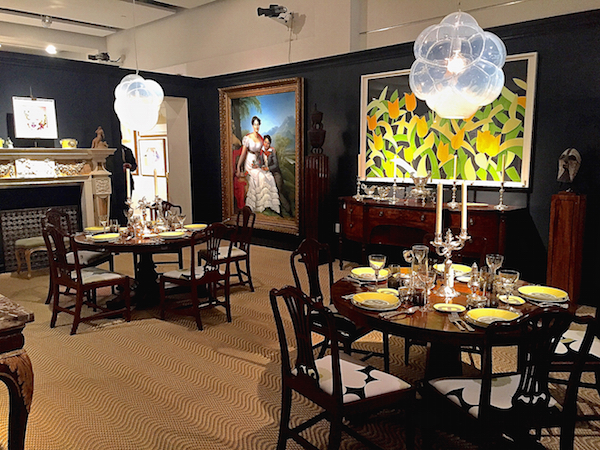 Russel's choice of  Hermes' contemporary Rallye 24 porcelain in yellow for the table is just brilliant. Its platinum graphics bring out the best in the 18th and 19th century silver from the sale while the yellow echoes the tones in the Alex Katz painting above.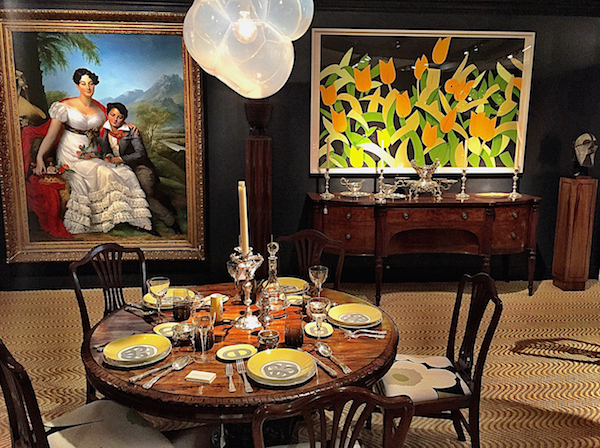 I also liked the placement of Chuck Close's portrait of Philip Glass, as if he is almost a member of the dinner party.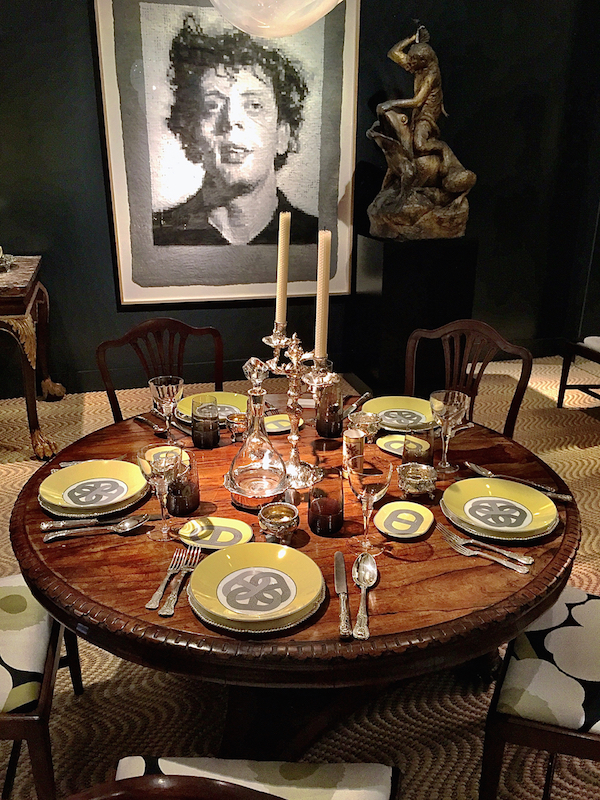 A George II style marble topped side table functions elegantly as a console/buffet, with ample room for beverage service including an 18th century Derby tea set, repeating the yellow of the Hermes.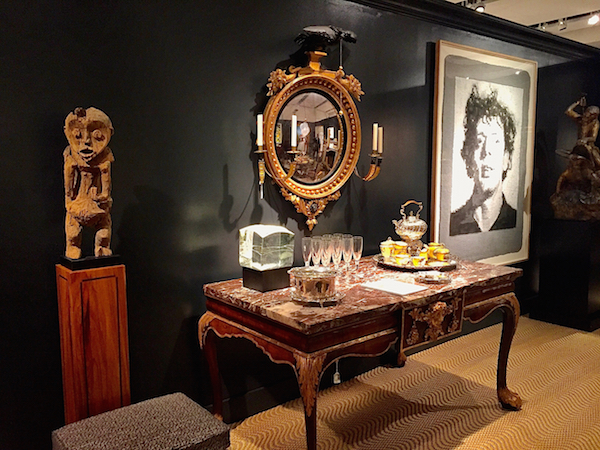 A fabulous Regency convex girandole mirror adds reflective drama to the vignette.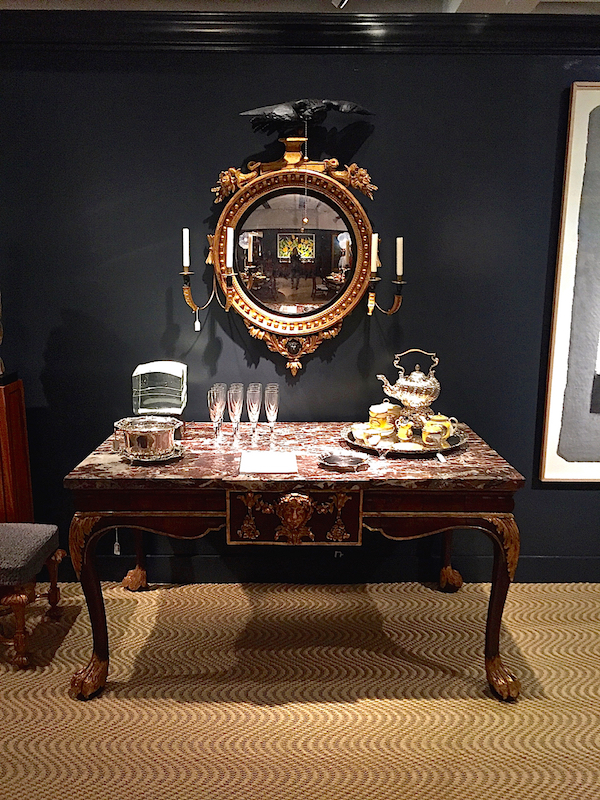 But I think my favorite aspect of the room just might be Russell's handling of the entry wall. Here symmetry rules assisted by the power of scale. A pair of James Rosenquist lithographs hang above a pair of George II eagle console tables, each accessorized with George II silver and a contemporary Paul Belvoir table lamp. So well done – old and new working together each enhancing the other for a bold and chic statement.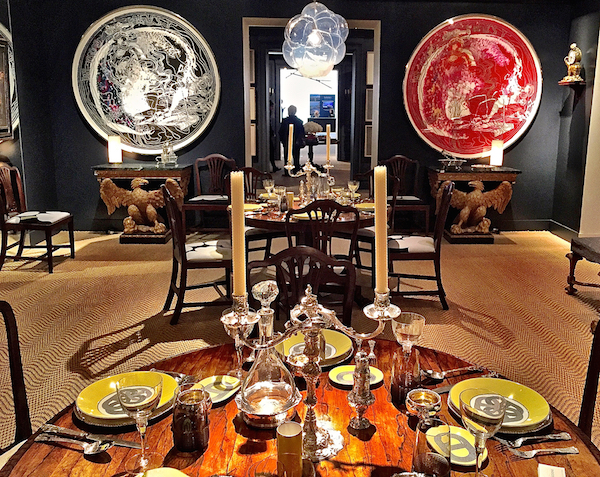 And when I returned to see the final rooms, Juan Carretero's library was lit so beautifully, I had to include a few more shots.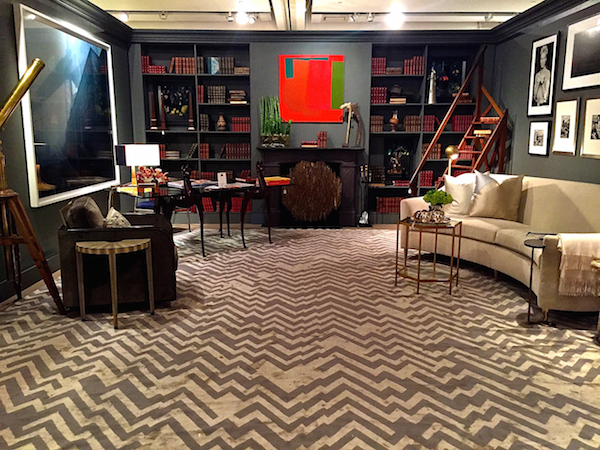 all photos by Quintessence