Tis the season and as we all plan our holiday celebrations, there is no better place to look for inspiration than the incredible repertoire of David Monn, as captured in his recent book, The Art of Celebrating. While many of Monn's events may be larger than life, from parties at the White House, galas at the Met's Costume Institute and affairs at the New York Public Library, there is much to glean from his thoughtful and individualized approach to each and every celebration.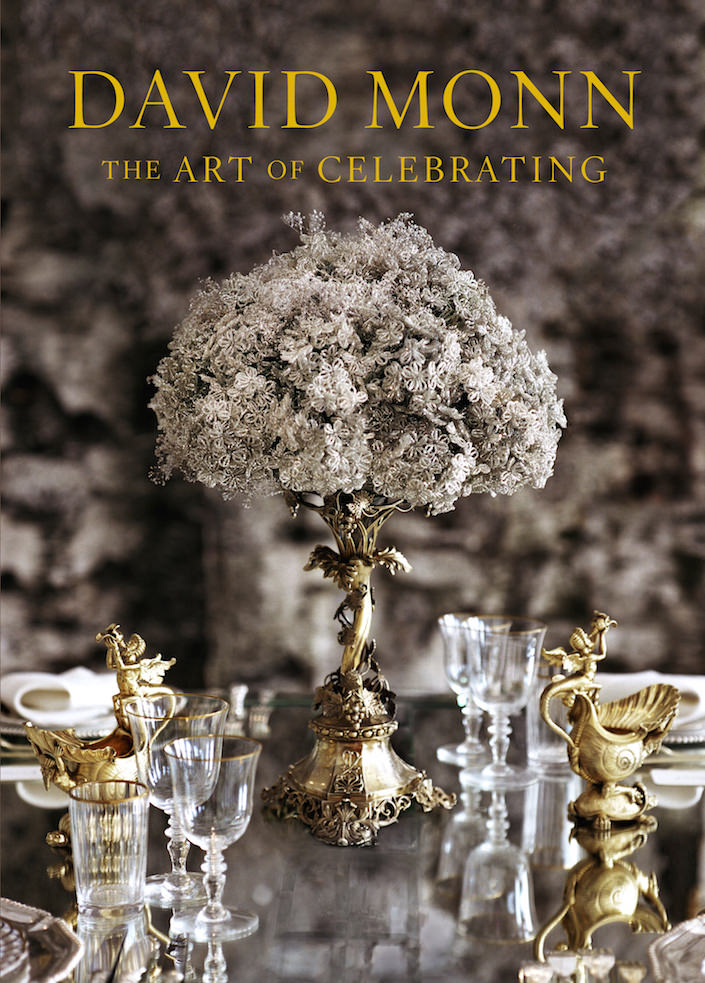 Monn is guided by three principals – authenticity, scale and detail, which must all successfully work together and engage all the senses to tell the story. And this is what sets him apart – these are not merely beautiful affairs, but creative experiences, elevated by Monn's sense of curiosity and ability "not merely to look but to see." Sense of place is always an integral part of Monn's events as well. For a surprise birthday party in a historic palazzo in Venice, Monn found and rented the chairs original to the palazzo and commissioned a local company of women, who still weave on 18th century looms, to make tablecloths and seat cushions that echoed the interior architecture. In the candlelit dining room, Baroque music echoed the era of Vivaldi while Murano glassware reflected the city's legacy of craftsmanship.
photo: Daniele Nalesso
For an at-home fourth of July party, Monn strove to combine the holiday's theme of patriotism with a sense of all American nostalgia. Bold overscale gestures of a large draped flag and enormous anchored balloons in the pool set the tone within the traditional red, white and blue scheme.
photo: Michael Molinoff
In creating the many events he has orchestrated for institutions, Monn abides by the same principles, editing the focus so there are clear opening and closing moments as well as "connections with the participants that transcend the particular moment." For an evening honoring architect Frank Gehry for the Gugenheim, Monn's directive was to find a unique location and for everything to be completely green and recyclable. His solution was to hold the gala at the Piers, a then undiscovered locale. And the theme honored Gehry's signature use of cardboard. Even the centerpieces, below, were crafted from the medium and filled with grapes. Leftovers were sent to City Harvest and all other elements were either donated to charitable causes, recycled or sent to compost.
photo: Brian Dorsey
For a winter wedding at the Pierre Hotel, Monn brought the frosty adjacent Central Park indoors. Frozen winter white was evoked with trees lit with illuminated crystals over a monochromatic palette including centerpieces of fruit painted to look like bisque, inspired by Grinling Gibbons' 18th century wood carvings.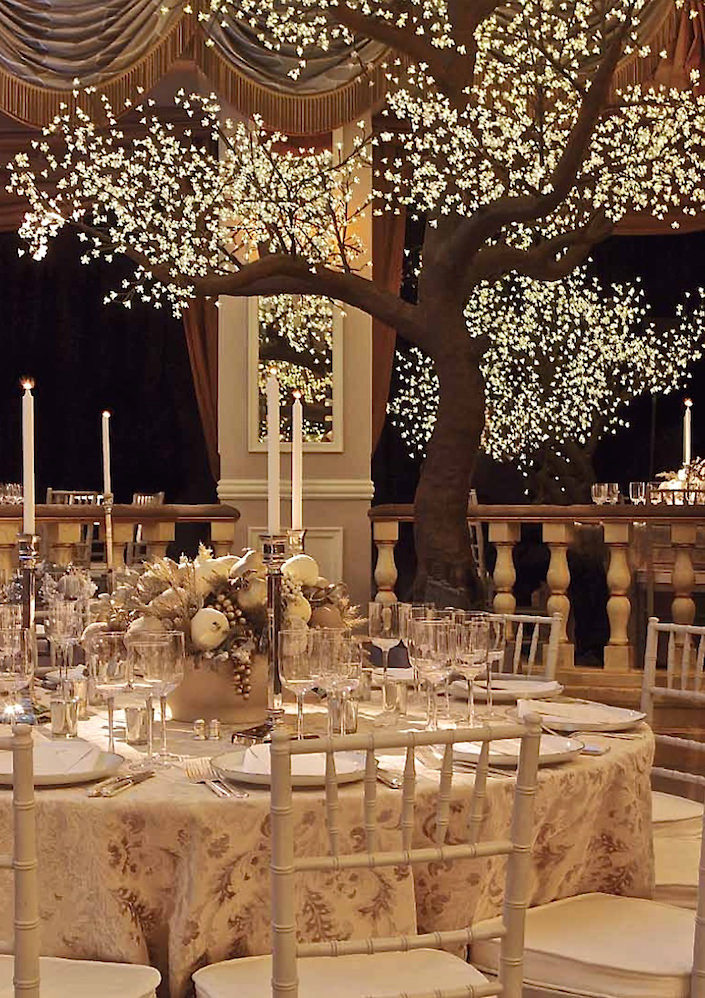 photo: Lynn Saverese
For another event in Venice, this time honoring Ellsworth Kelly during the Biennale, Monn created a chic dinner for 250 in the Granaries, once storehouses, now owned by the Cipriani. For scale and a sense of organic freshness, Monn brought in lemon trees from a nursery in the Vento, below.
Photo: Daniele Nalesso
The result was a space of elegant rustic chic.
Photo: Daniele Nalesso
To celebrate his book publication, David Monn turned to a location with which he was intimately familiar. For over a decade he designed the annual New York Public Library's Library Lions gala, celebrating literary and cultural honorees in this iconic building. For this very personal evening, which I was lucky enough to attend, he created magic from the first moment.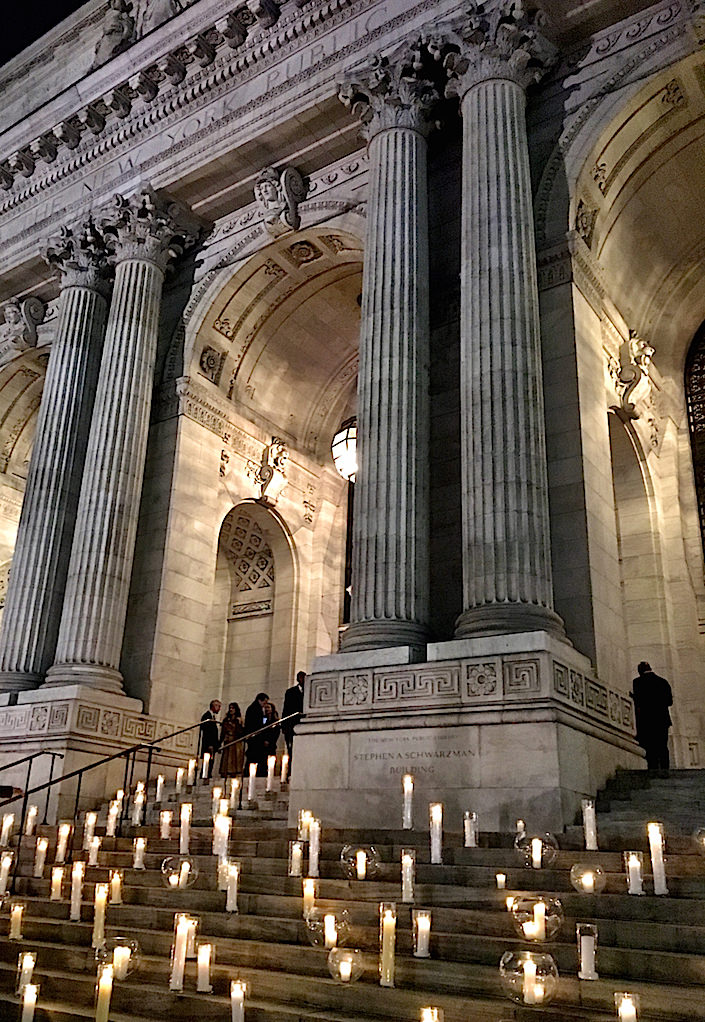 Inside, giant trees and impressionistic wall murals created the ambiance of an impressionist garden.
two photos above by Stacey Bewkes
From a large institutional gala to a small private party, David Monn knows how to craft experiences of authentic beauty. In each of the 26 events featured in The Art of Celebrating, he shares his process to illustrate, inspire and hopefully spread the gift of beauty.