As the new May/ June Veranda Magazine is about to hit mailboxes and newsstands, I was delighted to recently meet with editor-in-chief Clinton Smith to discuss not only the beautiful new issue but also where Veranda is heading under his auspices.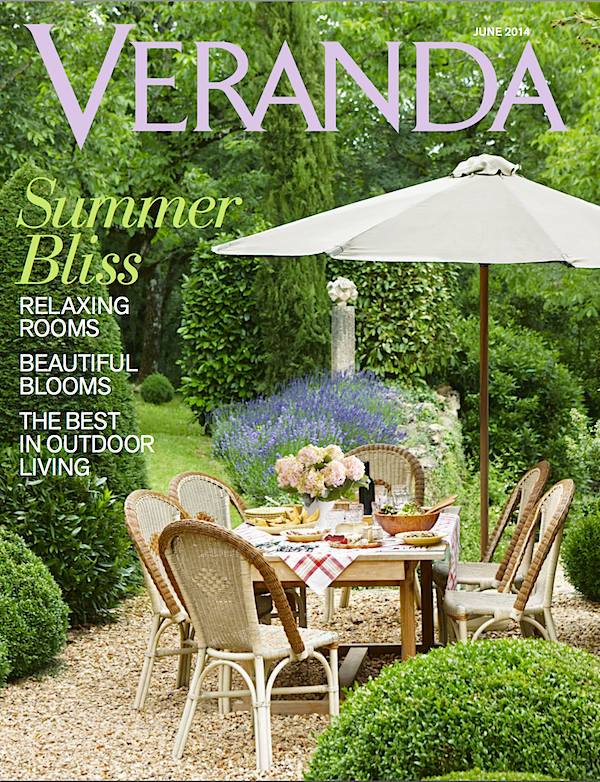 Veranda has always featured beautiful homes across the country and will continue their focus on diverse geographic projects whether California or New York, Texas or Florida or even abroad. The new issue, for example, features projects by Victoria Hagan & Oscar Shamamian in Greenwich, Connecticut, Windsor Smith in Los Angeles, Anne Bass in Litchfield County (CT), O'hara Davies-Gaetano in Orange County (CA), Nestor Santa-Cruz in Palm Beach, Marston Luce in France, and Kelli Ford in Texas. In looking for projects, Smith shared it's all about quality, authenticity and craftsmanship. Antiques dealer Marston Luce's restored 15th century farmhouse in the Dordogne region of France, featured on the cover, and below, took 15 summers to complete. "I took my time, elegance comes from a slow accumulation of things I love," Luce shares in the piece. This attitude so captures the spirit of Veranda. And the fact that the article includes the full essence of the home, inside and out, is also a Veranda trademark. As Luce says, "Discovering the garden is another way of experiencing what the French call savoir vivre."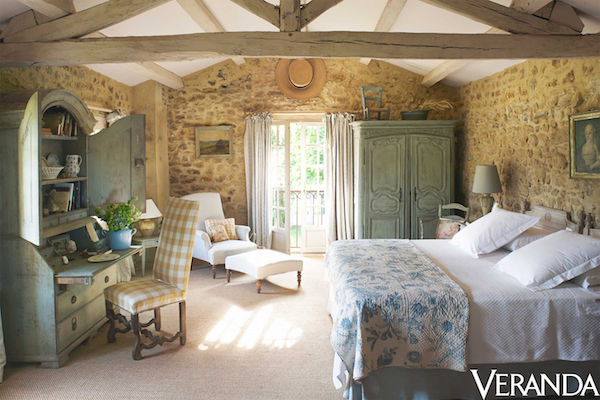 Honoring the legacy of the magazine, featured projects all share Veranda's signature sense of place, graciousness and warmth. Whether it's a French hilltop or the heart of Dallas, it's not just about interior design, it's about a way of life. In the issue, designer Kelli Ford shares the setting for a fabulous dinner party in her own Moorish style poolhouse, below. And while her fearless and bold Texan approach to design is the exact opposite of Luce's provencal patina, they both share an authentic vision that welcomes you in.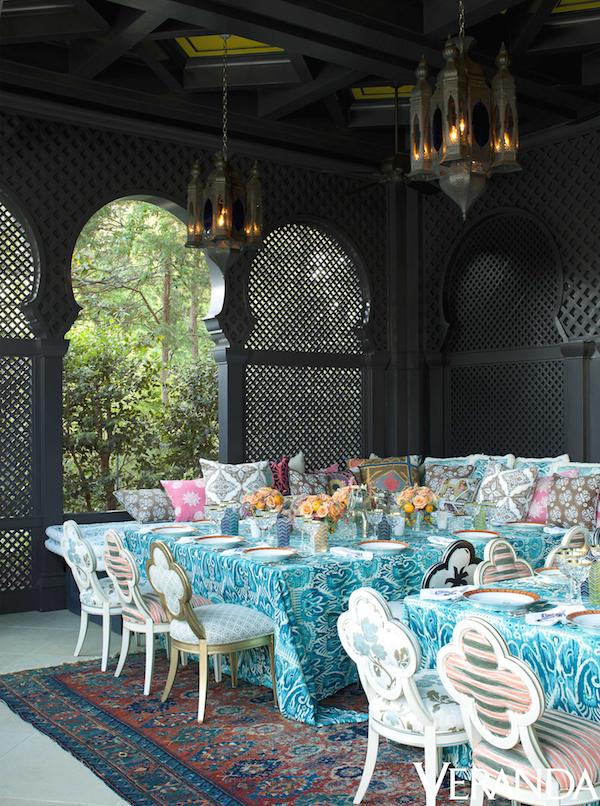 Entertaining is an integral part of the magazine and will be featured in almost every issue going forward. Veranda has always been about lifestyle. As Smith explains, "Whether gardening, jewelry, travel, fashion, or art, our readers have a passion for living. All of those things are so intertwined these days. It's no longer that what you're buying for your home is distinct from what you're buying to wear because so many influences reflect off each other and are happening simultaneously. Lifestyle, entertaining, gardening etc. are at the core of Veranda's DNA and aren't going away."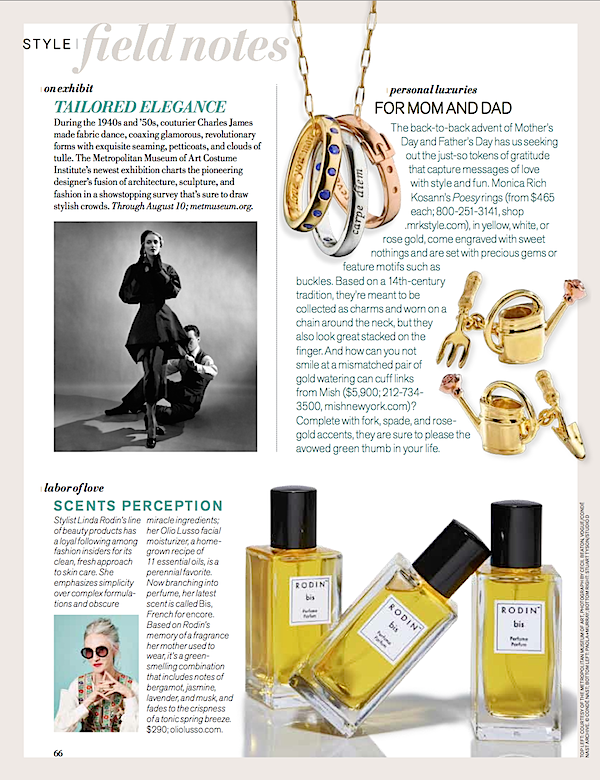 Veranda is a luxury magazine and of course that is a loaded term these days, meaning something different to everyone. For some it means designer logos and labels but the Veranda reader is all about quality and details with an emphasis on beauty and craftsmanship, which is also addressed in the three front of book sections, Elements of Style, Bringing Beauty Home and The Cultivated Life. Three new pages, one in each of the sections, under the heading Field Notes, debuted in the last issue. These fun entries include events, shop and showroom openings, lifestyle ideas and of course shoppable temptations. May/June's for the style section, above, includes the new Met exhibit, Linda Rodin's new perfume and ideas for Mother's and Father's Day gifts from Monica Rich Kosann and Mish.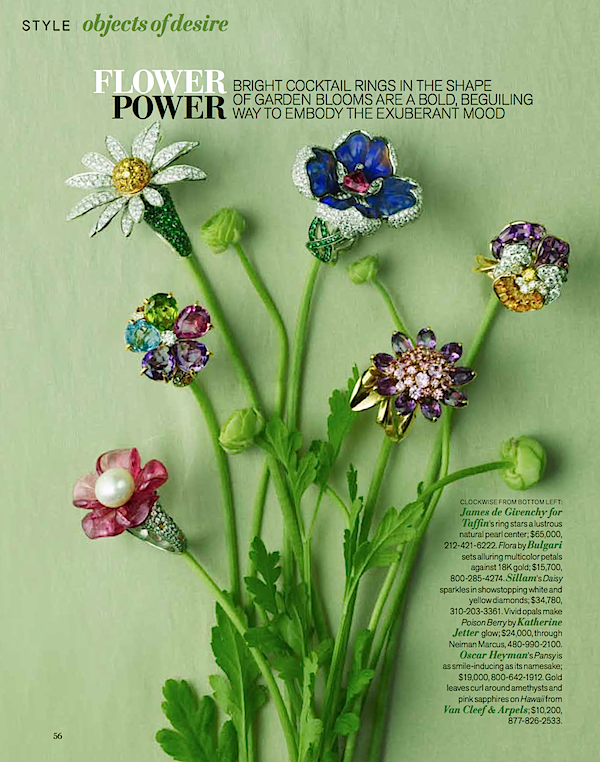 Objects of Desire, the covetable jewelry column, has always been one of my favorite front of book sections. With florals overtaking the worlds of fashion and design, May/June features flower-inspired cocktail rings – one of the two pages above from a gorgeous shoot with Gabriella Imperatori-Penn. In fact I am happy to report that Veranda will be expanding its style coverage overall. These news-driven pages offer the magazine the opportunity to report on timely discoveries within the three front of book themes. Under the Style section, In the Air, themed product pages marrying design, fashion, beauty and culture, debuted last month with inspiration from formal French gardens. The upcoming issue includes Veranda's chic take on safari style. Another new addition to Style is Mood of the Moment. Premiering in the July/August issue, it is a color page all about the best in home furnishings, decorative accessories, fabrics, paints and wallccoverings. Focussing on one color or color combination, I'm thrilled that July/August will feature everyone's favorite blue and white – perfect for summer.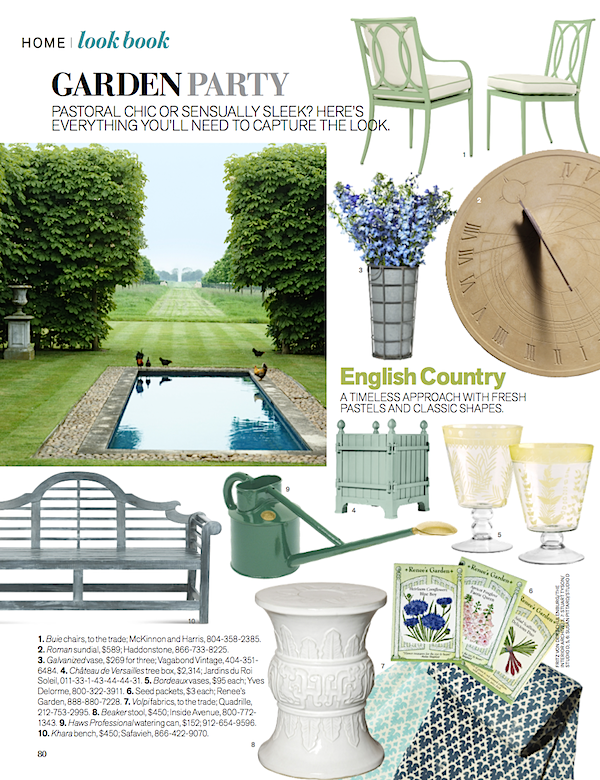 Within Home, Look Book is a new in-depth take on one space. May/June will appropriately look at outdoor living. Presenting three different lifestyle looks, English country style, above, a relaxed California vibe and a tropical Riviera verve, the pages will share shopping ideas for each style. And coming in July/August are two more front of book departments. A new travel column, Here and There, in the Life section, will share noted tastemakers' inspiration in the dual cities they call home. And Designer in Residence, in Home, are resource pages where interior designers, architects and product designers will be opening their little black books to reveal their secrets of "forever style." I am so excited about all the great refreshing content Clinton is bringing to an already wonderful title. I know I'll be checking my mailbox every month for the latest "cheat sheet for the well-lived life!"